OnPay Payroll Software Review
OnPay has one service plan that can handle all of your payroll processing and payroll tax requirements.
OnPay costs $40 per month, plus $6 per employee per month.
You can pay employees via direct deposit, paper check or prepaid debit card.
This review is for small business owners who are considering using OnPay for payroll processing.
OnPay provides affordable payroll software that makes it easier for small businesses to manage their finances and employees. The software is intuitive and straightforward to use and is designed for businesses across all industries. OnPay combines its extensive payroll tools and HR services with the latest technology to deliver an all-inclusive experience. From a budget perspective, OnPay is especially great for small businesses because it has only one rate and companies can run an unlimited number of payrolls. Plus, its self-service features can save a lot of time for small organizations, which may not have dedicated HR personnel on staff.

OnPay Payroll Software
The Verdict
OnPay is our choice for the best payroll service for very small businesses because of its low price and ability to handle all payroll and tax responsibilities from an easy-to-use platform.
OnPay Editor's Score: 97/100
| | |
| --- | --- |
| Pricing | 100 |
| Features | 95 |
| Usability | 100 |
| Employee self-service | 90 |
| Customer service | 100 |
Editor's note: Looking for information on payroll systems? Use the questionnaire below, and OnPay will contact you to provide you with the information you need:
Why OnPay Is Best for Small Businesses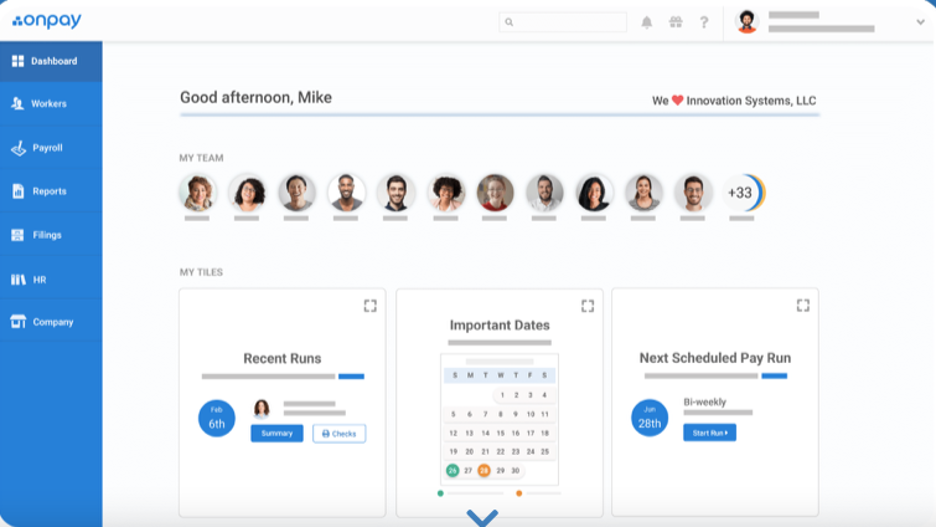 OnPay is a great solution for small businesses thanks to its affordability and easy-to-use interface. Source: OnPay
After extensive research, OnPay is our pick for the best online payroll service for small businesses. OnPay is the ideal solution for small companies because of its simple cost structure, easy-to-use interface, and ability to handle all payroll and payroll tax responsibilities. 
That affordability and simplicity doesn't mean you won't be getting a rich suite of features. OnPay provides unlimited payroll processing, handles all payroll tax responsibilities and integrates with many popular accounting programs. It also includes PTO management and access to HR tools at no extra cost.
We appreciate that OnPay offers a tax guarantee that all of its work will be done on time and correctly. We also have to highlight that its customer service was among the best we encountered during our research of online payroll services. Customer support is an especially important consideration for small business owners, who often handle payroll on their own and may need additional help. For these reasons, we found OnPay to be the best option for small organizations.
OnPay offers only one package. Many of its competitors give businesses three or four plans to choose from.
Pros
OnPay is intuitive and easy to use for businesses in any industry.
The service is affordable for companies on a tight budget.
OnPay provides outstanding customer support. 
Cons
The vendor doesn't have a dedicated mobile app. 
There are no customizable plans for bigger companies. 
Usability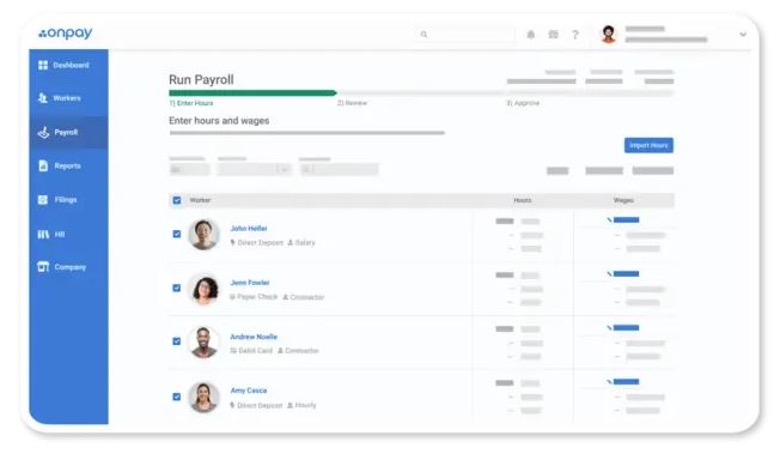 OnPay makes it easy to run payroll and pay employee bonuses regardless of your industry.
Source: OnPay
One of the best things about OnPay is how easy the software is to use. To run payroll, just add the hours each employee worked, and double-check that the proper deductions are withheld. You also have the option to add any employee bonuses or commissions. OnPay allows one-time changes to pay rates and deduction amounts.
The system instantly calculates the payments and displays the totals for review. If everything is correct, the payroll will run. You can then print checks on your own, have the money deposited directly into your employees' bank accounts or distribute funds via prepaid debit cards.
Adding employees into the system is also a simple process. You start by filling in basic details about the employee, including their name, address, birth date and start date. From there, you'll add the following information about their pay rate:
How often they're paid
Whether they're a contractor or employee
Whether they're an hourly or salaried employee
How much they're paid
Federal and state withholdings 
Once that information is entered, the staff member is automatically saved into the employee roster and is eligible to start getting paid. Employees also have the option to onboard themselves by logging in to the system and entering the details on their own, which can save business owners a lot of time.
To ensure you remember to run payroll on time, you can set email reminders for up to 10 days before payday. OnPay emails employees once payroll has been completed so they know to look for their paychecks or to check their bank accounts for a direct deposit.
OnPay Features
Unlike other payroll services that limit some features to certain plans, all of OnPay's valuable tools are included when you sign up. Below are the functions that stood out to us.
| | |
| --- | --- |
| Full-service payroll | Quickly pay employees and contractors by check, debit card or direct deposit.  |
| Payroll tax services | OnPay manages your payroll taxes and filings. |
| Built-in HR team | The software comes with employee onboarding tools.  |
| Integrated benefits | Use the service to manage dental, vision, life and disability insurance.  |
| Accounting integrations | OnPay integrates with accounting software like QuickBooks and Xero. |
| Customizable reporting features | Create customizable reports and view and filter them in real time.  |
Full-Service Payroll
OnPay can handle all of your company's payroll needs. The service allows an unlimited number of payroll runs each month for W-2 employees and 1099 contract workers. The option to run payroll at any time allows you to create multiple pay schedules for different types of employees. For example, contractors can be paid weekly and salaried employees every other week.
With OnPay, employees can be paid by check, prepaid debit card or direct deposit. For direct deposit, employees are paid two days after each payroll run. You can also print checks for employees using any standard printer.
One thing we loved is that OnPay recently updated its payment processing experience. The company has made it faster to view and manage pay items at the worker level. You can tab through team member listings to quickly review everyone on your payroll and add additional items, like cash tips or bonuses, with just a few clicks. You can also manage things like tax overrides, garnishments and any other deductions.  
Payroll Tax Services
OnPay will also handle your payroll tax responsibilities. The service calculates your payroll taxes each month, processes the required payments, and pays local, state and federal tax agencies for you. In addition, the company prepares and files quarterly and annual payroll returns. 
At the end of the year, OnPay generates W-2 and 1099 forms, which employees can log in to the self-service portal to access. OnPay guarantees its tax services, and if the company makes a mistake, it will fix the problem and pay any fines or interest you accrue. This is fairly standard in the industry.
The company also provides detailed alerts to help businesses catch any mistakes before they occur. For instance, you'll receive a notice if there's a missing tax, you have a negative net pay amount or there's just an unusual compensation amount. This backup system can give small business owners peace of mind.
Built-in HR Team
OnPay provides HR services like onboarding tools, new-hire reporting, offer letter templates and access to an HR resource center. While most competitors, like ADP and Gusto, have similar HR capabilities, they usually charge more money for these services. We really appreciate that these functions are included with OnPay at no additional cost.
For instance, our review of ADP highlights that its employee handbook wizard is available only on its more advanced (and thus more expensive) plans. But with OnPay, all clients have access to a handbook builder. Using smart fields, you can add all the documents your employees need access to, like the company mission statement, policies surrounding time off or paid holidays, and performance management procedures. Once you've created your handbook, you can send it to all new employees. This feature is a great way for small businesses to create efficiencies and ensure all team members are aware of the organization's standard processes.
Integrated Benefits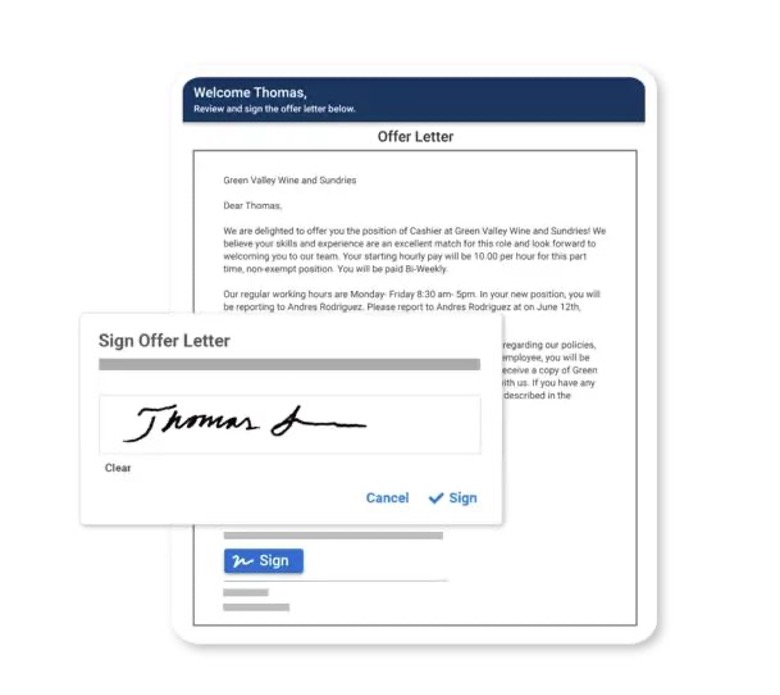 You can use OnPay to distribute offer letters and manage employee benefits.
Source: OnPay
In addition to HR services related to employee onboarding, OnPay facilitates the administration of employee insurance benefits, workers' compensation plans and 401(k) retirement plans. The vendor is licensed in all 50 states, and you'll receive support from an in-house team of brokers. You can receive quick quotes generated via the platform's employee census.
The OnPay system can also assist with managing other perks, such as PTO and commuter benefits. The program is further equipped to help with COVID-19 compliance, like tracking COVID-caused sick leave, and provides tools that enable remote work.
Accounting Integrations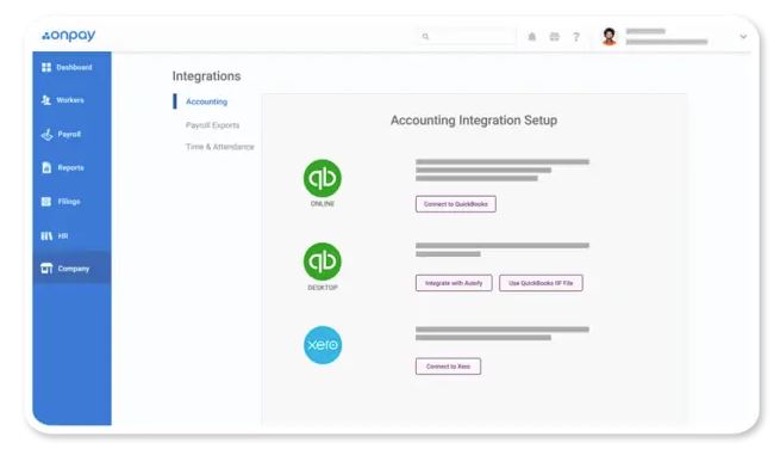 OnPay integrates with popular apps like QuickBooks and Xero so your company's financial information is synced. Source: OnPay
OnPay integrates with several accounting applications, including QuickBooks Online and Xero. While this basic capability is on par with rivals, generally speaking, OnPay's accounting software integration is more robust than what most payroll providers offer. Every time you complete a pay run, the payroll data will update automatically in your accounting software. [QuickBooks also offers its own payroll software. See our review of QuickBooks Payroll for all the details.]
Customizable Reporting Features
OnPay allows businesses to create customizable payroll reports that can be filtered in real time. Custom views can be saved for easy access by finance teams, any HR leaders or your accountant. Users can add or remove more than 50 data points and arrange columns in any order. These reports can be downloaded as a spreadsheet or PDF, and they can also be exported via your accounting software integration. [If this kind of function is important to you, also check out our review of Paychex, which offers more than 160 report types and customization too.]
OnPay Cost
OnPay offers straightforward pricing for all customers. The company charges a monthly base fee of $40 per month, plus $6 per employee per month. Unlike other payroll providers, which usually have tiered pricing options that include different features, OnPay's monthly fees include all of the services the vendor offers.
The only other expense you may incur is for year-end tax forms. OnPay charges $5, plus shipping, per employee to print and mail year-end tax forms to your business, or $6, plus shipping, per employee to mail forms directly to each employee. However, you can print W-2s on your own for no additional cost.
There are no long-term contracts with OnPay. You pay month to month and can cancel at any time at no charge. There are no annual fees or extra fees for withholding, remitting or filing payroll taxes. What's more, all new customers receive the first month of service for free. You do not need to provide credit card information to start using OnPay. However, to progress in the free trial and actually use the software, you have to connect your business bank account.
We love that OnPay is transparent about its pricing. The company's website clearly outlines the costs and includes a price calculator that determines your exact monthly fee based on how many employees you have. Some payroll services we evaluated require you to call for a price quote, while others give only a price estimate and won't provide specific pricing until you commit to their service.
OnPay has a simple monthly cost structure: a $40 base fee, plus $6 per employee. For this price, you get access to everything OnPay offers.
Setup
OnPay is a cloud-based payroll service that doesn't require any software to be installed or maintained and is accessible online from anywhere. When a business owner is ready to get started with OnPay, they're assigned to a New Accounts Coordinator, who walks them through the onboarding process. 
This account representative ensures that they have your tax IDs in the system and that prior wages have been migrated over. If you're transferring data from your old payroll service, OnPay can take care of some of this work for you. You give OnPay your current payroll information, and one of its staff members will set up your new account and have it ready to use within three business days.
This rep can even walk you through running your first payroll to help you get used to using the software. This ensures that new customers have the support they need to get set up in a compliant fashion and with no added expense.
Customer Service
OnPay supplies customer support by phone Monday through Friday between 9 a.m. and 8 p.m. ET, and it also provides assistance by email and live chat. "Emergency email support" is available on weekends. In addition, the company has an extensive online help center with more than 200 new or updated articles. 
We were very impressed with the support we received from OnPay when we called the company, posing as a business owner interested in picking the right payroll service. During our initial call, we were greeted by a company executive instead of a typical customer service representative. 
Despite hearing that we were only looking for information for a potential new business, the executive took the time to answer our questions instead of passing us off to someone else. Throughout our nearly 30-minute call, the executive answered each of our questions clearly and comprehensively. 
He also took the time to explain how the company was founded and why he felt it stood out from other vendors. While other companies we spoke with tried to convince us that their service was the best, OnPay did so in a way that focused on its offerings rather than bashing its competitors. This was very impressive.
During subsequent calls, we received the same high level of customer service, even though we were speaking to support representatives and not company executives. In our follow-ups, the representatives were friendly and helpful. They answered all of our questions thoroughly, and by the end of our conversations, we had a clear understanding of how the system worked. 
Though OnPay is not accredited with the Better Business Bureau, it does have an A rating, which is another indication of its commitment to quality customer service. For comparison, competitor Gusto has an F rating, as noted in our review of the Gusto payroll service.
Offering employees payroll advances in certain circumstances can build goodwill. Since OnPay allows unlimited payroll processing, running a special payroll in such situations is no issue. Note, however, that this is different from on-demand payroll.
Drawbacks
One potential downside of OnPay is that it doesn't have a mobile app. It does have a mobile-friendly website, but some organizations like being able to access their payroll system through a secure app.
Another downside to keep in mind is that there is a charge to have year-end tax forms mailed to you or your employees. However, you can always print and distribute them yourself for free.
Methodology
To evaluate OnPay and the level of service it provides, we attended an hourlong demo in which two of the vendor's employees explained how the software works and answered our questions. We also posed as a potential customer and made calls to see how we'd be treated by customer service representatives.
As part of our investigation into the top payroll providers, including OnPay, we considered the payroll process, integrations, customization, pricing, usability, setup and other factors for each product. To find the best solution for small businesses in particular, we looked for companies with straightforward pricing, all-inclusive plans and strong customer service.
OnPay FAQs
What is OnPay used for?
OnPay is used for payroll processing and payroll tax services, in addition to HR functions. The software lets business owners run payroll, onboard employees and manage employee benefits.  
How much does OnPay cost?
OnPay costs $40 per month, plus an additional $6 per employee. This price gives you access to all the features OnPay offers. There are no tiered pricing plans. 
Does OnPay provide a mobile app?
The company's website is mobile-friendly, but there is no dedicated mobile app. 
Overall Value
We recommend OnPay for … 
Small businesses looking for a full-service payroll solution at competitive pricing.
Businesses that want detailed accounting integrations.
Organizations that need flexible and customizable reporting features. 
We do not recommend OnPay for …
Companies that want a payroll provider with a dedicated mobile app.
Business owners looking for customized pricing plans.

OnPay Payroll Software
The Verdict
OnPay is our choice for the best payroll service for very small businesses because of its low price and ability to handle all payroll and tax responsibilities from an easy-to-use platform.

Jamie Johnson
Contributing Writer
Jamie Johnson is a Kansas City-based freelance writer who writes about finance and business. She has also written for the U.S. Chamber of Commerce, Fox Business and Business Insider. Jamie has written about a variety of B2B topics like finance, business funding options and accounting. She also writes about how businesses can grow through effective social media and email marketing strategies.