ADP has been around for over 70 years and has a strong brand reputation as a payroll industry leader. It is our best pick for complex and expanding businesses needing an all-in-one payroll and HR service, such as multistate firms and companies in regulated industries.
Pros
ADP offers automated payroll and tax filing services.
All packages come with onboarding assistance.
You can access your account on a desktop computer or via ADP's mobile app.
Cons
ADP's pricing isn't as transparent as other payroll providers.
The price can become expensive as you add on more features.
ADP is one of the largest payroll service providers and has been around for more than 70 years.
ADP offers payroll processing, payroll tax management, accounting integrations, new-hire reporting and HR services.
To get pricing information, you must contact ADP for a custom quote.
This review is for business owners who are thinking about using ADP as their payroll provider.
With over 70 years of experience and more than a million corporate clients, ADP is one of the world's leading payroll service providers. The company expanded from its initial HR focus to include payroll services as well. Now, it combines these two related services in a suite of software packages that can grow as client businesses expand. ADP's proprietary RUN payroll software is an especially good option for growing businesses, since additional services can be added on as needed. Small businesses receive automated payroll processing and tax filing services, while larger companies are able to call on HR support and benefits management tools.
Editor's note: Looking for information on payroll systems? Use the questionnaire below, and our vendor partners will provide you with the information you need:
ADP Payroll Editor's Rating:
9.2 / 10
Pricing

8.5/10

Features

9.5/10

Usability

9/10

Employee self-service

9.5/10

Customer service

9.6/10
Why ADP Is Best for Growing Businesses
While our review of Paychex explains why we named them the best online payroll service for businesses of any size, competitor ADP similarly stands out because it can meet the needs of small, medium and large businesses. Specifically, we found ADP's payroll platform capable of growing and expanding in tandem with your company.

Your dashboard can be tailored to your role and a built-in search bar makes finding any tool in ADP a breeze. Source: ADP
We outline the specific characteristics of the four payroll plans below, in the ADP Online Payroll Plans section. In summary, the Essential plan is designed for startups and offers basic payroll functionalities. As a company's workforce expands, it could upgrade to the Enhanced plan, introducing additional features including preemployment background checks and paper check mailing. If the owner needs HR assistance, the company can switch to the Complete package, which provides both payroll and HR tools. The flagship HR Pro package gives companies even more HR support.
Any business can sign up for these higher-tier plans from the outset, but we welcome the fact that your chosen ADP platform can scale over time as needed. It's also significant that ADP has a presence in 20 countries worldwide, making it a good fit for multinational companies. ADP also claims to offer payroll and outsourcing in more than 140 overseas markets.
ADP Workforce Now is ADP's all-in-one solution for payroll, HR, talent acquisition, time tracking and benefits administration. RUN Powered by ADP refers specifically to its payroll platform, which can grow to become ADP Workforce Now as you add more features.
Usability
ADP's RUN software is easy to use to process payroll, but the platform's additional services are just as straightforward. As your business grows, you'll appreciate having a single system that is capable of handling virtually all of your HR needs.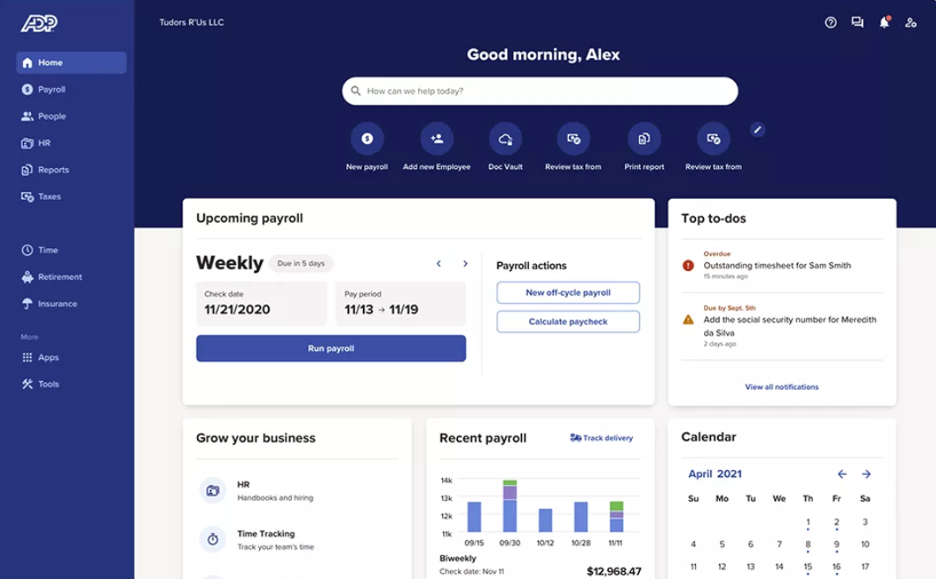 ADP offers a neatly organized and customizable dashboard that offers an overview of all your most important data and must-do tasks. Source: ADP
ADP's online payroll service, which uses spreadsheet-style forms, is simple to learn. Because it's a cloud-hosted system, it doesn't require any software downloads. You can access it online or through the mobile app. In our demo trial of ADP, we found the interface colorful and easy to use, with intuitive top and sidebar menus.
A key benefit we really liked is the platform's "Run & Done" feature, which allows you to automate the payroll process when you know employees are working the same hours each week. You can also set up reminders to process payroll or receive alerts about any security-related changes to your account. ADP's employee app lets your staff view pay stubs, manage direct deposit, change 401(k) contributions and download tax forms.
ADP allows you to manage HR and payroll tasks within one system, and the employee self-service app gives workers access to their information online.
ADP Features
All of ADP's plans for RUN come with basic payroll processing. As your business grows and you upgrade to higher tiers, you can access other features that help you manage the people side of your company. 
| | |
| --- | --- |
| Payroll processing | Pay employees via direct deposit, paper checks or prepaid debit cards. |
| Payroll taxes | ADP takes care of your local, state and federal tax filings. |
| Accounting integrations | Export payroll data into QuickBooks, Xero, Wave or a CSV file. |
| New-hire reporting | ADP facilitates state-mandated new-hire reporting. |
| HR services | Higher-tiered plans come with additional HR tools. |
| Time and attendance | ADP's time and attendance system automatically syncs with your payroll service. |
Payroll Processing
You can process payroll online through RUN, via the mobile app or over the phone. Import or manually key in employee work hours each pay period to calculate paychecks based on wages or salary. ADP also manages tax deductions, health insurance premiums and retirement contributions to ensure paychecks are accurate every pay period.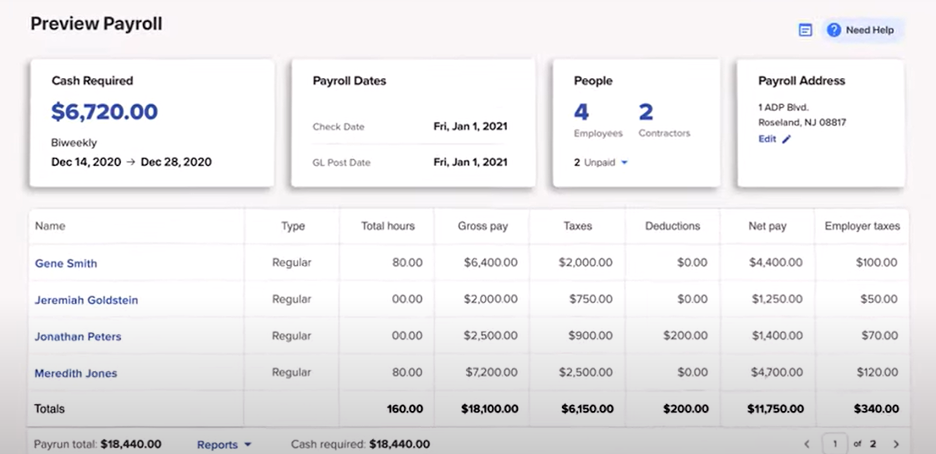 See at a glance what you'll owe employees in a certain pay period, offering transparency into one of your biggest expenses as a business owner. Source: ADP
You can pay employees via direct deposit, prepaid debit card or paper checks delivered to your office. The ADP team can even sign the direct deposit stubs and paper checks before stuffing them into envelopes for you. [Read related article: Should You Use Paycards or Direct Deposit?]
Payroll Taxes
ADP calculates your payroll taxes and forms, then submits your payments to local, state and federal agencies. The vendor's staff members are available to answer tax questions, and if the company makes a mistake, they'll pay any fines or penalties you incur. With all of the plans except Essential, ADP will also manage your state unemployment insurance.
ADP creates and distributes W-2 and 1099 forms to your employees and files these forms with the IRS on your behalf. Employees can access these forms through the employee self-service app.
Accounting Integrations
You can export payroll data from ADP into QuickBooks, Xero, Wave or a CSV file to upload into your other business software. This makes it easier to collaborate with your accountant and manage your finances. [Both QuickBooks and Xero are among our recommendations for the best accounting software.]
New-Hire Reporting
For all plans, ADP facilitates state-mandated new-hire reporting by filling out and filing all the necessary paperwork on your behalf. ADP has also developed payroll and HR reports that you can view and customize — these can be valuable for businesses that want to use analytics to inform business decisions.
HR Services
Every ADP package includes some HR features; namely, employee self-service, digital new-hire paperwork and even employee shopping discounts. But if you sign up for one of the higher-tiered plans, you'll receive additional HR tools. These include ZipRecruiter online job postings to help you fill open roles and conduct pre-employment background checks, which comes in handy if you'd rather not contract separately with one of the top background check companies. 
For businesses on the Complete or HR Pro levels, ADP also offers an employee handbook wizard to help you create your own toolkits for onboarding and offboarding, and a robust library of HR forms and documents. If HR assistance is a high priority, also check out our review of Gusto, which we named the best payroll service for added HR services, including benefits management.
Time and Attendance
ADP's add-on time and attendance system automatically syncs with your payroll service. Employees can clock in and out with time clocks, web browsers, phones and mobile apps. The platform shows when employees are nearing overtime, notes unplanned absences, and highlights timecard exceptions for managers. It records meal breaks and transfer time between locations, and it supports biometric login options as well.
Like the best time and attendance software, this module tracks paid-time-off (PTO) accruals and allows employees to request vacation and sick days. ADP provides performance and productivity tools to monitor progress on specific projects and track the time each employee spends on each project during their workday. 
ADP has developed tools, processes and customization options to manage even the most complex business models. That makes it a great choice for larger, regulated and multistate employers that need one system to manage all workforce data.
ADP Cost
For the purposes of this review, we looked at RUN's features and pricing for businesses with fewer than 50 employees. However, because ADP is able to scale its platform as your business grows, there are also plans for companies with over 1,000 employees. Those packages are tied to ADP Workforce Now, which has more tools for hiring employees and performance management, among other functions.
ADP Online Payroll Plans
The plans for RUN vary in pricing and features, but all four include payroll processing. Here's how they break down beyond that.
Essential: With this plan, you can pay employees by debit pay card, direct deposit or paper checks delivered to your office. The package includes new-hire reporting, standard payroll reports and general ledger integrations with popular accounting software. Employees get access to a self-service portal.
Enhanced: This plan adds state unemployment insurance management and the option to have ADP sign and stuff paper checks for you. With this package, you can also run pre-employment background checks and post job openings through ZipRecruiter.
Complete: The third tier of ADP package introduces HR services, like an employee handbook wizard and applicant tracking. You also receive access to HR training, toolkits, forms and documents. ADP's HR help desk provides support on demand.
HR Pro: The most comprehensive of ADP's four package tiers expands on the Complete plan with enhanced HR help desk support, additional help creating an employee handbook, and legal assistance and training for you and your employees.
ADP Online Payroll Pricing
ADP typically only provides prices for its payroll services via custom quotes. The vendor determines its costs for each business based on the following factors:
Your current payroll data platform
The specific payroll and HR services you select
How many employees you have
How many states you operate in
When we requested a quote for the Enhanced plan for a business with 25 employees paid biweekly, ADP gave us a price estimate of $115 per payroll, plus $2.11 per employee. If we wanted to run payroll weekly instead of every other week, the price would double. This makes ADP a relatively expensive proposition. Its rival Gusto, in comparison, allows business owners to process payroll as often as they want with no additional cost.
ADP charges a one-time setup fee of $200. However, the representative we spoke with said they would be able to waive that fee and offer us the first three months of service at no charge. Companies signing up for small business payroll processing can also qualify for three months' free service.
ADP charges a base fee, a per-employee fee and a per-payroll fee. Contact the vendor directly to get a quote for your exact needs, and enter the conversation planned to negotiate.
ADP Setup
Once you're ready to move forward with ADP as your payroll provider, contact customer support to get started. Unlike other payroll providers, you can't get up and running with ADP in just a few days. It can take four weeks or longer to implement the system as you provide the required documentation and schedule the setup across multiple departments. While a few weeks becomes insignificant across a long enough timeline, it's a delay worth considering if your payroll requirements are time critical.
ADP will assign you a dedicated customer support team to walk you through the entire process. This team will work with you to get you set up in the system and ensure you understand how to use the software. Plus, ADP provides detailed articles on its website that explain how to facilitate payroll. The company also regularly hosts online webinars and in-person events for further training.
ADP Customer Service
Reach out to the ADP customer support team by phone or through an online help form 24/7. You can also contact the local service center in your area for more assistance. 
To test ADP's customer service, we contacted the company by phone and email posing as a business owner interested in payroll services. The ADP representative walked us through the software and answered our questions thoroughly. The rep focused on learning which service plan would be best for us instead of pushing the highest-priced plan, something we appreciated. We received an easy-to-understand price quote in writing that showed the comparative price structure across the vendor's service plans. Each time we reached out for customer support, we received prompt responses with clear answers to our questions.
ADP's website also offers several valuable self-help resources. It provides support for both administrators and employees, including detailed answers to a wide range of questions. Online resources include separate collections of guides aimed at small businesses and midsize/enterprise firms, plus calculators, tax guides and downloadable forms. ADP hosts several monthly webinars which it then makes available on-demand in a digital catalog that's searchable by role, certification, business size and topic. The blog section of the website is comprehensive and covers a spectrum of topics, although many of these are incidental to payroll or HR.
ADP Drawbacks
The biggest drawback we found in our review of ADP is that it charges per payroll. This makes the solution pricey for small businesses that run weekly payroll cycles or frequent off-cycle payrolls for commissions and bonuses. Most online payroll services charge a flat fee that allows unlimited payroll runs each month. See our review of OnPay for an affordable alternative with an unlimited payroll structure.
If budget isn't a concern, the implementation process may be. As noted above, ADP setup can take more than a month. This could be a limitation for businesses with an immediate need for a payroll service. Fortunately, the software is user-friendly once implemented.
ADP is an accredited member of the Better Business Bureau with an A+ rating. However, more than 900 complaints have been filed against the company in the last three years. It holds a 1.06 out of 5 BBB customer rating, while its current Trustpilot rating is 1.5 out of 5 based on 2,215 reviews.
Methodology
To find the best payroll services on the market, we conducted extensive research comparing dozens of payroll providers. As part of our examination of ADP and other products, we looked into each solution's payroll processing, implementation, customer support, pricing, integrations and other aspects. By evaluating ADP in relation to its rivals, we were able to see where its RUN service stands out and where it falls short. We also contacted the company directly to get a sense of the type of customer service it provides.
When determining the best payroll service for growing businesses, we paid particular attention to the plan options and whether each package offered builds in ways that could meet the needs of scaling companies. We found ADP well-suited for businesses' evolving needs. 
ADP FAQs
ADP payroll is a payroll processing service provided by ADP, a large vendor that markets HR-related solutions for businesses of all sizes. Its payroll software, known as RUN, allows companies to easily pay their employees and payroll taxes.
The cost to use ADP's payroll services depends on the specifics of your business. Unlike some of its competitors, ADP doesn't have standard pricing that applies to all companies. Rather, it provides custom quotes based on certain factors that are unique to each company. The pricing is based on the services you select, how many employees you have, and how often you run payroll.
ADP does not offer a trial period, but you can contact the vendor for a demo to see how the software works. Its competitor OnPay has a one-month free trial with no credit card needed.
Overall Value
We recommend ADP for … 
Startups or small businesses that want a scalable payroll solution.
Companies that need additional HR services, like hiring and onboarding tools. 
Businesses that want self-service options for employees. 
We don't recommend ADP for …
Companies looking for the most affordable payroll provider.
Businesses that need to get up and running with a payroll provider immediately. 
Neil Cumins contributed to this article.