Productivity apps can help you stay organized and focused on the tasks at hand.
There are productivity apps that specialize in project management, while others are designed to help boost communication.
Some productivity apps are free, but others can cost anywhere from a few dollars a month to several hundred per year.
This article is for small business owners interested in exploring productivity apps.
Running a small business means handling an endless onslaught of tasks and juggling multiple – sometimes competing – priorities. Staying organized, focused and sane through it all is challenging for every small business owner. Fortunately, productivity apps make it easier for you and your team to get things done.
When you let these programs drive the day-to-day busywork, you can use the extra time you've earned back to focus on growing your business and satisfying customers. We've rounded up some of the best productivity apps that can be a useful part of your company's software solution set and broken them down into categories.
Project management apps
1. Asana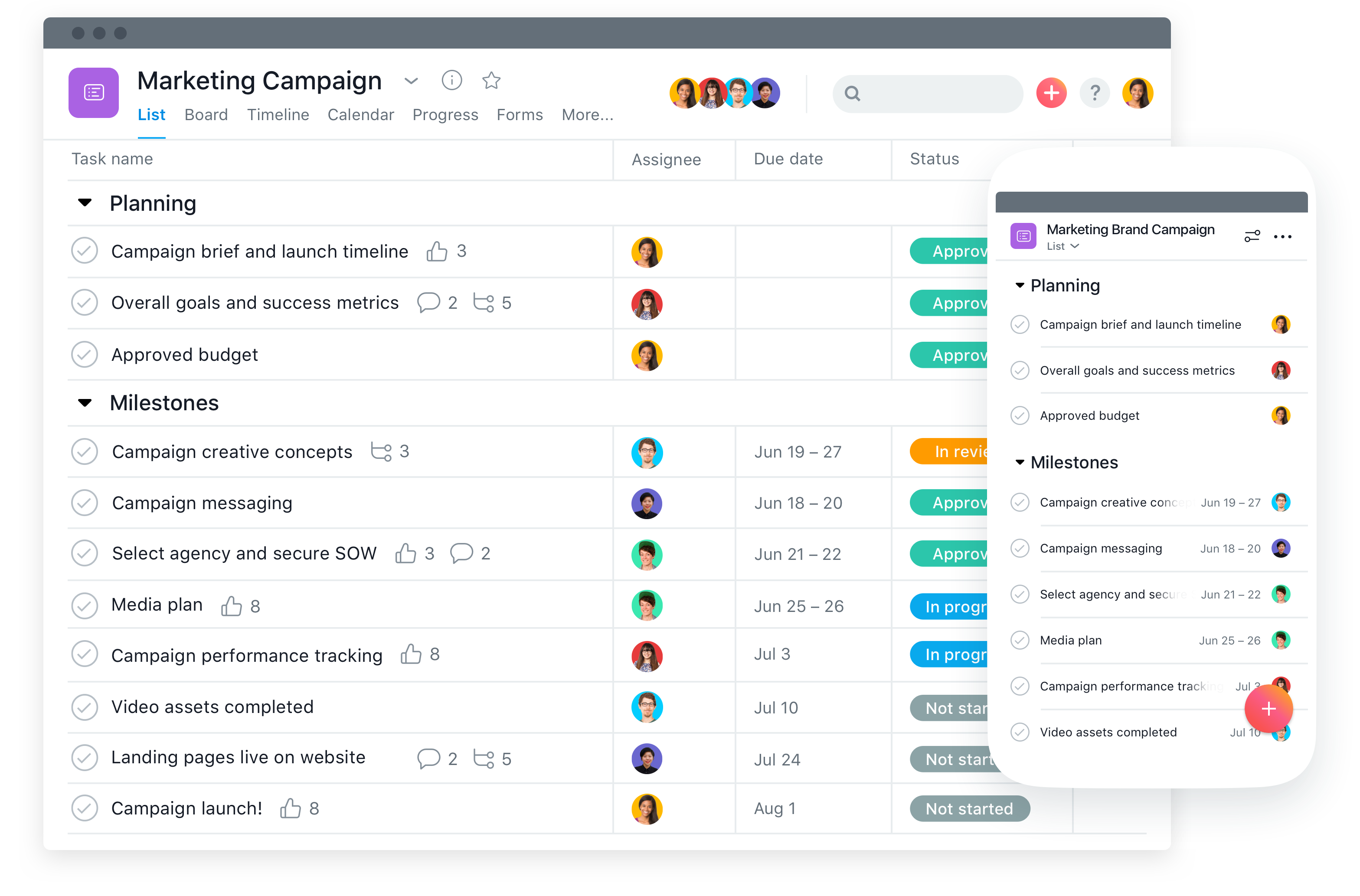 Credit: Asana
Asana is a project management tool and business productivity app aimed at helping teams stay focused on goals and hit their deadlines. Asana integrates goal-setting with a deadline schedule, so you can create projects, establish goals, and manage each step of the process. Asana is also a great solution for task management, as you can create different boards to shift tasks as they are completed or communicate with team members in threads under each task. In addition, Asana provides tools to visualize where staffers are in a project, like project timelines and a team calendar view.
As a productivity tool, Asana provides small business owners with the ability to manage all their important tasks and goals in one place. It integrates with other workplace apps, such as Slack, Zoom, Microsoft Teams and Google Workspace. Asana provides a free Basic version with limited features for individual entrepreneurs and smaller teams of up to 15 people. Those who want to unlock custom fields, task dependencies and templates, Gantt charts, guest access, and more can explore Premium, Business and Enterprise plans aimed at larger organizations.
Asana key features
Project management
Goal setting
Task management
Asana pricing
Basic: Free
Premium: $10.99/month, billed annually
Business: $24.99/month, billed annually
2. Basecamp

Credit: Basecamp
Basecamp is a go-to collaboration solution for many organizations. You can manage projects, your team and company-wide communication. Each designated project features different sections to help you facilitate processes: a to-do list, message board, schedule, place to save files and "campfire" chat for general team communication. Threads are a pillar of the Basecamp model. They allow you to receive updates on the progress of an individual project or discussion at a glance. Basecamp also offers a "company HQ" section that is visible across the organization and allows managers to schedule automatic check-ins with their team. This eliminates the need for repetitive status update meetings. 
Basecamp is more expensive than some other solutions, but the company argues its features and capabilities make it a complete platform, as opposed to using a combination of other tools. Basecamp Business is available for $99 per month, with a free 30-day trial so you can determine if it's the right fit for your company. There is also a free Personal plan that is limited to 3 projects and 20 users.
Basecamp key features
Project management
Cross-team communication
Automatic check-ins
Basecamp pricing
Personal: Free
Business: $99/month
3. monday.com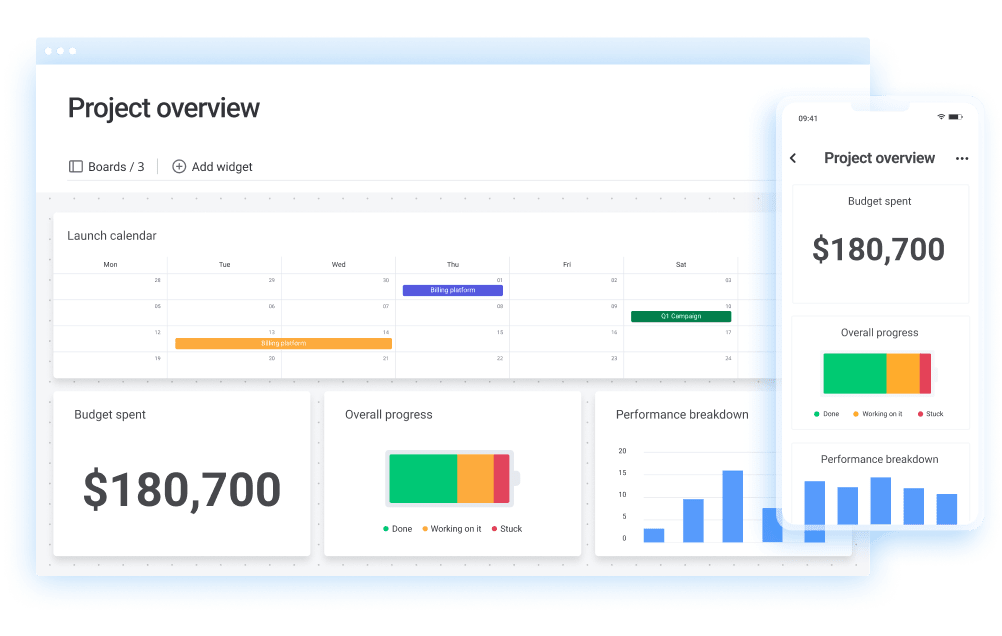 Credit: Monday.com
Monday.com is a powerful project management and customer relationship management (CRM) tool that brings all your tasks, projects and client information into one place, facilitating cross-team collaboration and communication. You can easily create custom project dashboards, set up product roadmaps, manage your team's workload, and save precious time by automating repetitive tasks.
Real-time updates on your team's activity, automation features and integrations with third-party services make monday.com a productivity favorite. This app maintains a clear timeline of each project and creates knowledge bases where you can store documents and other information related to your projects. Monday.com has a variety of plans for businesses, including a limited Free plan available for up to two users.
monday.com key features
Project management
Customer relationship management
Cross-team communication
monday.com pricing
Free (up to 2 seats)
Basic: $8/seat per month, billed annually (minimum 3 seats)
Standard: $10/seat per month, billed annually (minimum 3 seats)
Pro: $16/seat per month, billed annually (minimum 3 seats)
4. Trello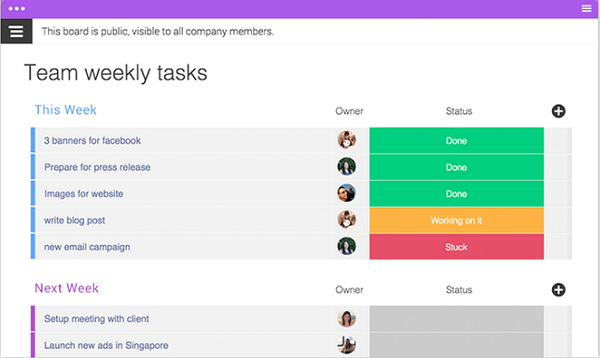 Credit: Trello
Trello is a great productivity app for process-based projects and tasks. Using Trello involves creating boards and advancing tasks between stages with a simple drag-and-drop method. It's a quick, easy and visual way to understand where your team members are in the process. You can assign tasks, set priorities, add attachments, leave comments, and connect to other productivity apps like Slack, Microsoft Teams and Google Workspace. You can also create individual boards for each project. Trello has a free tier, as well as Standard, Premium and Enterprise plans.
If you want a basic way to track task progress, create "To Do," "In Progress" and "Done" boards. Drag-and-drop your tasks into each place as they go through the different stages.
Trello key features
Task management
Project management
Kanban process
Trello pricing
Free
Standard: $5/user per month, billed annually
Premium: $10/user per month, billed annually
Enterprise: $17.50/user per month, billed annually (decreases with the number of added users)
Note taking apps
5. OneNote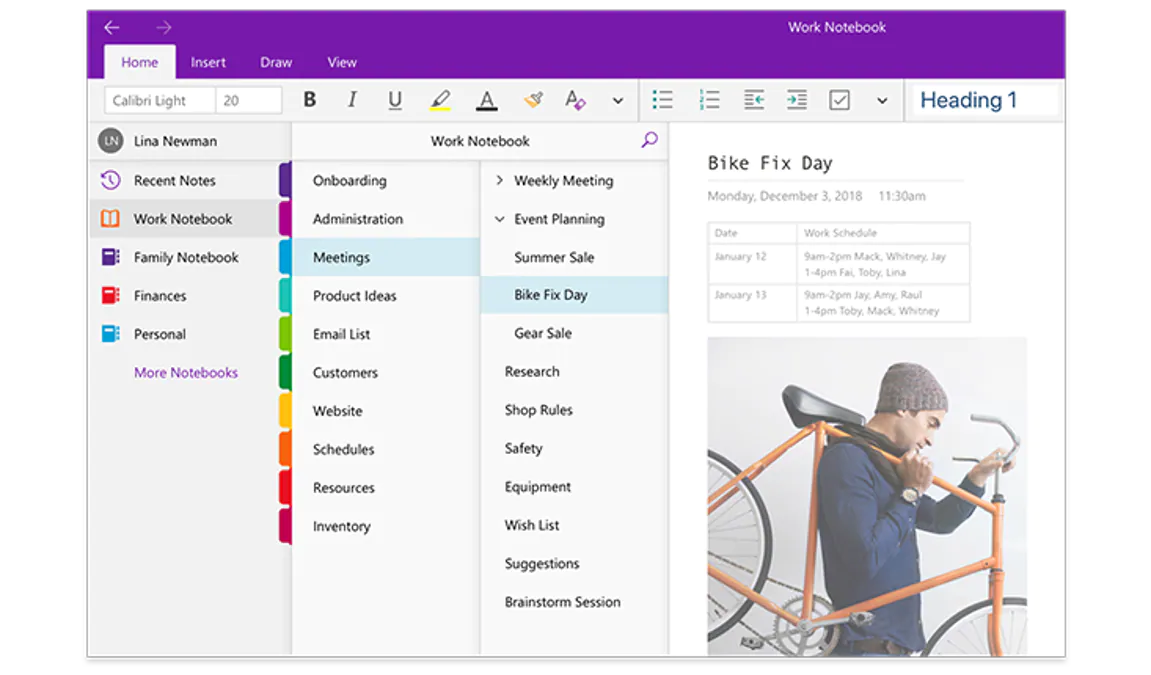 Credit: OneNote
Microsoft OneNote is a robust yet simple note-taking app. It's a great solution for business owners who need to compile a lot of information on various projects in one place. Its intuitive notebook layout makes breaking topics or projects into pages and sections easy, and the program provides a lot of smart features. For example, if you copy and paste a quote from an online source, OneNote automatically includes the URL so you can reference it later. OneNote is also stylus-friendly, so on devices like an iPad, Surface or capable tablet, you can ditch pen and paper to take notes or mark up your material. The notes are shared across the team, so you can easily brainstorm and collaborate on your projects and tasks.
OneNote is free, with an Office 365 subscription required for deeper integration with the rest of the suite.
Microsoft OneNote uses your OneDrive storage, so if you happen to exceed the free 5GB limit, you can increase it to 100GB for an additional fee.
OneNote key features
Note-taking
Handwritten note conversion
OneNote pricing
6. Evernote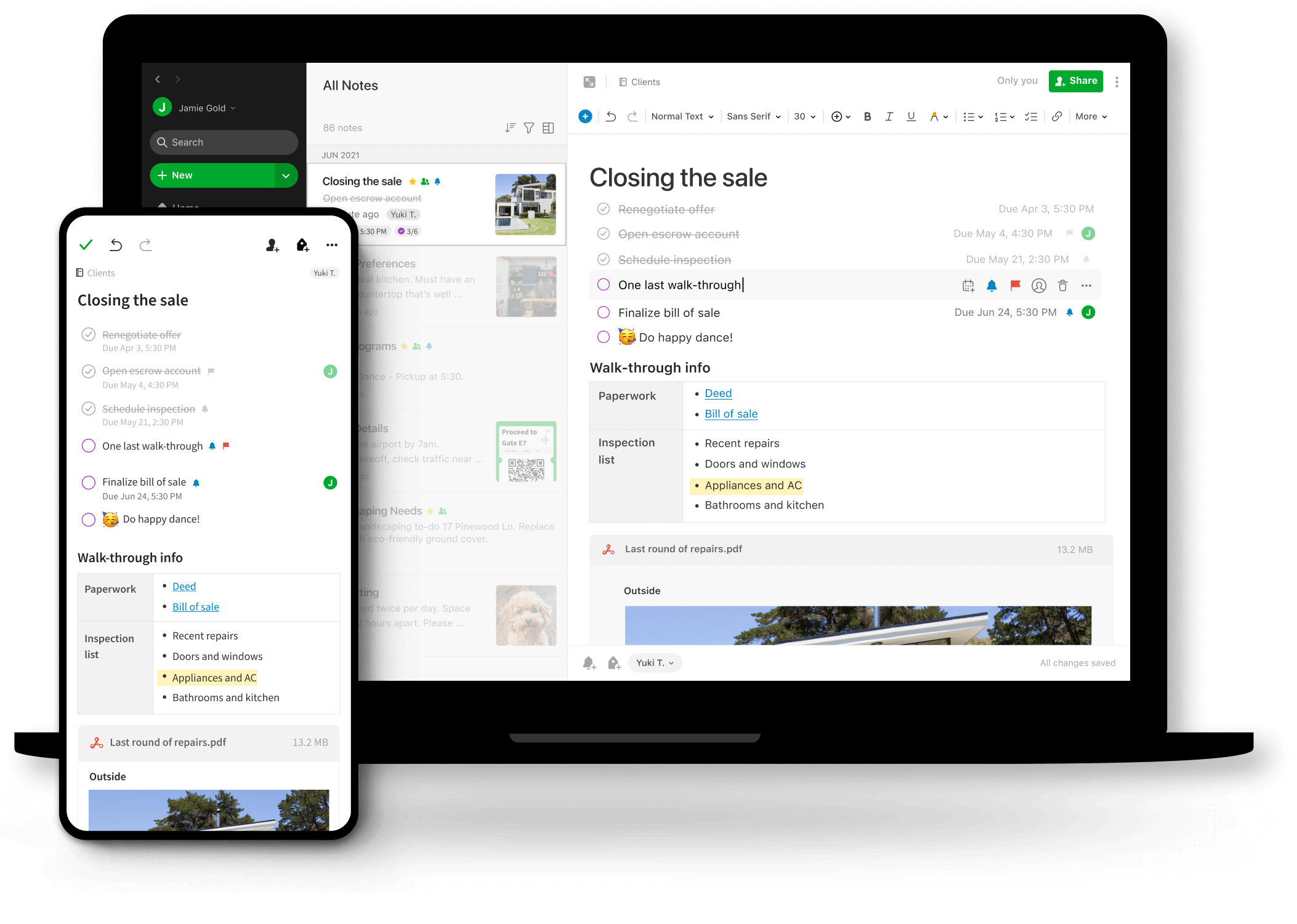 Credit: Evernote
Evernote is one of the most popular and comprehensive note-taking apps that can accommodate both small and large teams. It helps you organize everything you need to get work done – such as text notes, clipped images, PDFs, web pages and Slack conversations – all in one place. With Evernote, you can even record and add voice messages whenever and wherever an idea strikes you. On top of that, it allows you to create to-do lists, sync your calendar and set reminders, and clip web pages, articles and screen captures to add to Evernote with one click.
While Evernote offers a Free plan with basic note-taking and file management functionality, it's limited to only two connected devices and allows minimal file size and monthly uploads. However, its premium plans, starting at $7.99/month with a free 14-day trial, give teams access to core features like calendar sync, reminders, offline notes and integrations with Slack, Outlook, Microsoft Teams and more.
Evernote key features
Note-taking
File management
Web clipper for adding web pages, articles, and so on
Evernote pricing
Free
Personal: $7.99/month
Professional: $9.99/month
Teams: $14.99/user per month
Focus apps
7. Focus@will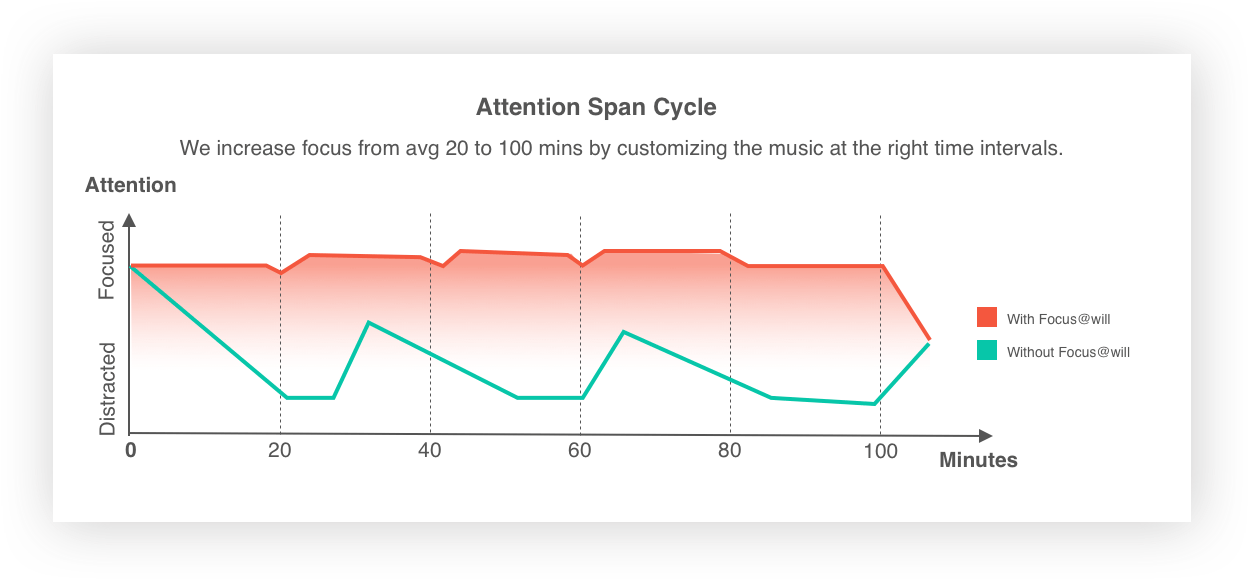 Credit: Focus@will
Focus@Will builds a personalized sound profile based on the type of worker you are. It tailors music options so you can stay focused and increase productivity as you listen. The app breaks down your personality type based on how you think, how you approach problems and how easily distracted you are. This is an ideal service for employees who work in loud, open offices or public settings, as well as for work-from-home team members who want to block out their household noise and get in the zone.
If you want to boost the productivity of your entire company, you can select Focus@Will's Workplace plan, available for teams with 5+ members. The vendor offers a discounted price between $0.50 and $2.75/user per month, depending on the size of your team.
Focus@Will key features
Tailored focus-enhancing music
Productivity tracker
Focus@Will pricing
Monthly: $7.49/month
Annual: $52.49/year
Two Year: $45.00/year
Workplace: $0.50-$2.75/user per month
8. Tide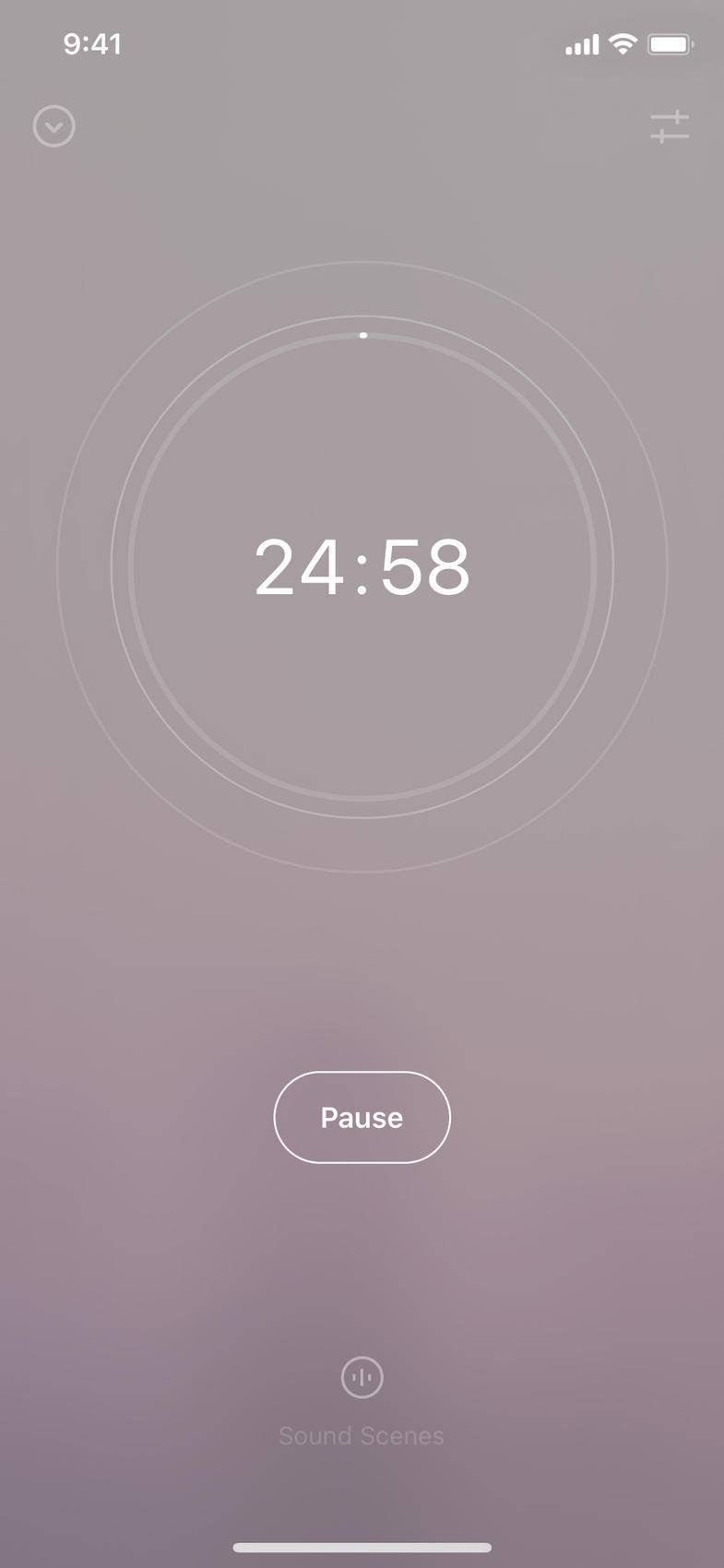 Credit: tide.moreless.io
Like Focus@Will, Tide uses calming sounds to keep you focused and alert. It provides soothing natural soundscapes, like rain, and is a great choice for those who swear by the Pomodoro technique. Tide can regulate how long you're working and taking breaks, allowing you to be more productive for longer. It requires you to work and concentrate for 30 minutes to earn a five-minute break. This can help with procrastination and allows you to stay attentive while working. You can also use Tide to help you sleep and wake up in a more restful, natural way. Tide is a free service available via apps for Android and iOS, as well as a Google Chrome browser extension.
Tide key features
Focusing sounds
Pomodoro technique
Tide pricing
List apps
9. Todoist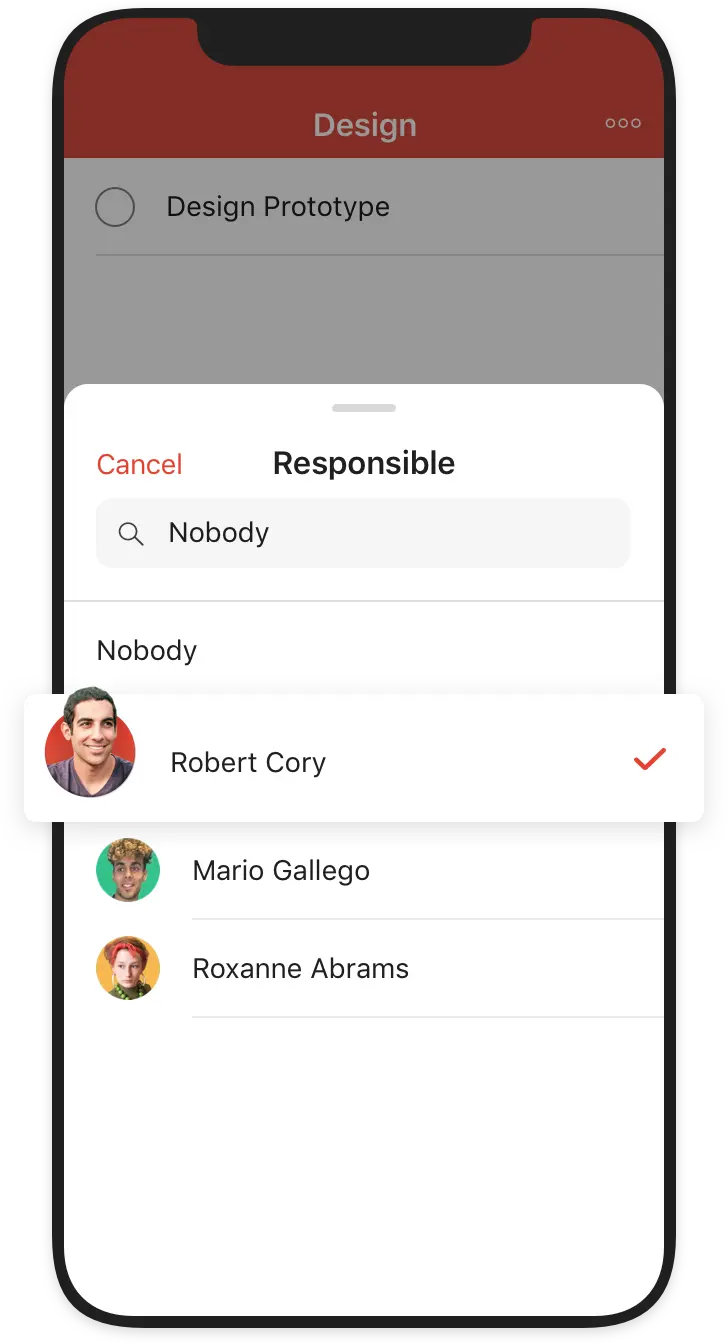 Credit: Todoist
Todoist is one of the best list-making and time-management apps for iPhones and Android devices. You can use gestures to start new tasks and click them off when complete. The app allows you to set and track productivity goals, prioritize tasks and implement recurring due dates to ensure you never miss a deadline, and stay on top of all your tasks.
Todoist Business is great for teams, as you can assign tasks to co-workers, set deadlines, and add details so everyone is on the same page. The company provides impressive visualization tools as well, so you can view the progress you've made on various projects.
Todoist key features
Time management
Task management
Todoist pricing
Free
Pro: $4/month, billed annually
Business: $6/user per month, billed annually
Automation and integration apps
10. IFTTT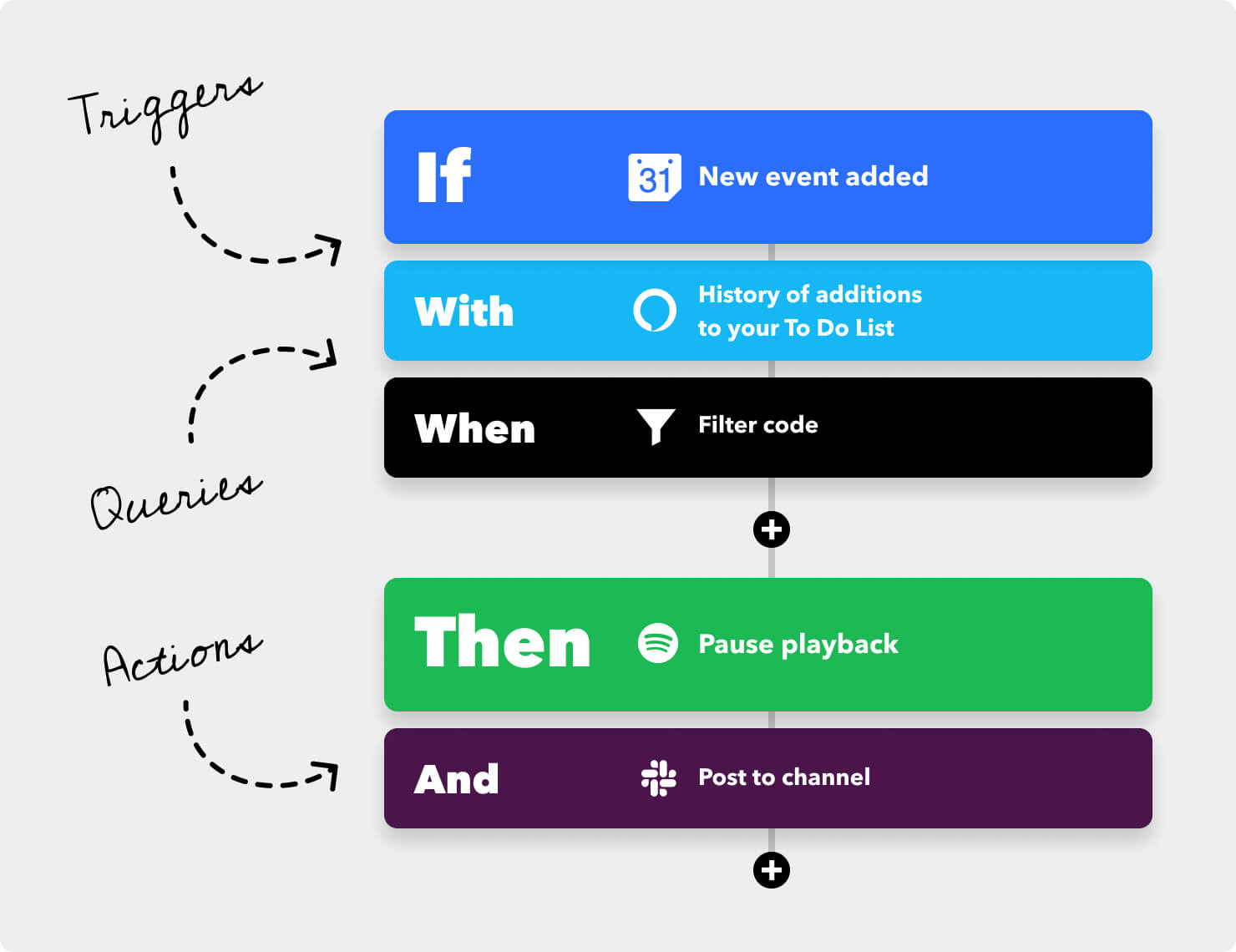 Credit: IFTTT
IFTTT (which stands for "If This Then That") can be used to connect your apps, devices and services and ensure they are working together seamlessly. For instance, you can use IFTTT to save new email attachments from Gmail directly to Google Drive, send Evernote notes as messages to Slack, or transform calendar events into tasks in Todoist. It can also be used to log every call you make to a Google spreadsheet or mark the time you spend in a set office location as work hours in your Google calendar. Additionally, IFTTT can help you save time and improve your SEO strategy by automatically sharing content across multiple social platforms and tracking every piece of it in a dedicated spreadsheet.
IFTTT is perfect for organizations that want to pursue deeper integrations with the many cloud-based services used for business operations. The vendor offers a free 7-day trial of its premium plans so you can play around with its numerous integrations and test its suitability for your company.
IFTTT key features
Automation
App cross-compatibility
IFTTT pricing
Free
Pro: $2.50/month
Pro+: $5/month
11. Zapier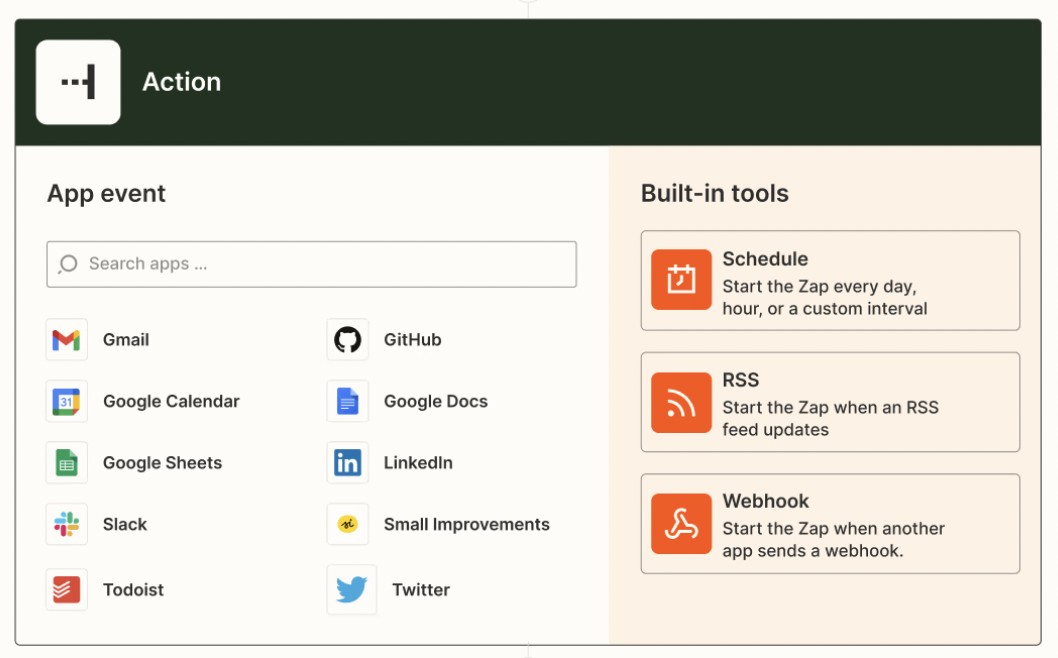 Credit: Zapier
Zapier is an online service that connects apps you use for your business. It is similar to IFTTT but more focused on online business applications. You can sync all of your favorite apps, such as Gmail, Dropbox, Slack, Zoom and Mailchimp.
Zapier saves time as you switch between applications and lets you quickly create workflows across platforms. While it's possible to set up complex workflows and integrations, you can start small and use Zapier's no-code automation editor to connect your favorite marketing, team collaboration and customer communication apps. For example, you can automatically add new leads collected from social platforms or your landing pages straight to your mailing list or CRM software.
Zapier key features
Automation
App cross-compatibility
Zapier pricing
Free
Starter: $19.99/month, billed annually
Professional: $49/month, billed annually
Team: $299/month, billed annually
Company: $599/month, billed annually
Communication and collaboration apps
12. Slack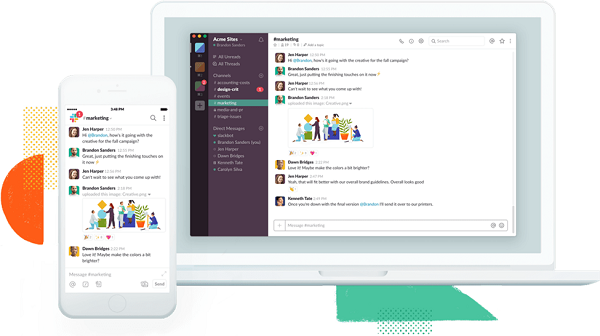 12. Microsoft Teams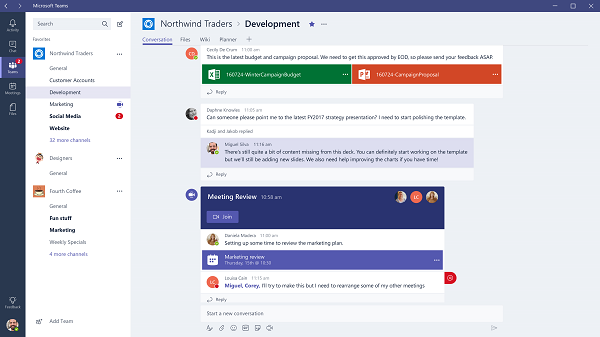 Credit: Microsoft Corporation
Microsoft Teams is a strong competitor to Slack. Its main advantage is its tight integration with the Office ecosystem. If you're already paying for Office 365 and want real-time chat and collaboration features, Teams could be a great solution for your business. It also offers built-in video conferencing functionality and provides company-wide access to files and documents.
Microsoft Teams offers a limited browser version and powerful desktop, Android and iOS apps.
Microsoft Teams key features
Company-wide communication
Video conferencing
File sharing
Microsoft Teams pricing
Basic: Free
Microsoft Teams Essentials: $4/user per month, billed annually
Microsoft 365 Business Basic: $5/user per month, billed annually
Microsoft 365 Business Standard: $12.50/user per month, billed annually
Microsoft 365 Business Premium: $22/user per month, billed annually
Scheduling apps
14. Acuity Scheduling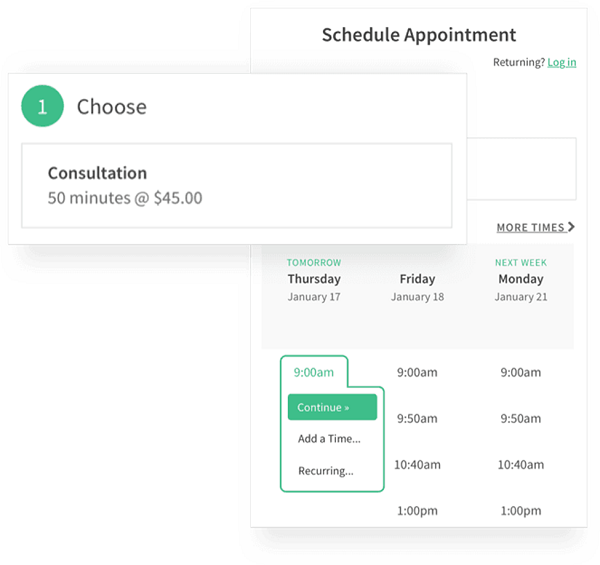 Source: Squarespace
If you want the best free scheduling app, Acuity Scheduling is a strong contender. The service vastly simplifies the process of scheduling appointments with clients, partners or interviewees to reduce the perpetual back and forth over email. The app allows the meeting partner to select one of your available time slots, which then automatically syncs with your calendar. This helps avoid double-booking and makes it easy to coordinate multiple meetings.
With Acuity Scheduling, you can send reminders and follow-ups via email or SMS to reduce the chance that connections get lost. You can enhance its functionality by connecting to video conferencing apps like Zoom or online payment systems like PayPal. Acuity Scheduling has a basic one-person free plan, with additional pricing tiers for advanced features that come with a free 7-day trial.
Acuity Scheduling key features
Scheduling tools
Online payment integration
Acuity Scheduling pricing
Personal: Free
Emerging: $14/month, billed annually
Growing: $23/month, billed annually
Powerhouse: $45/month, billed annually
Financial apps
15. Expensify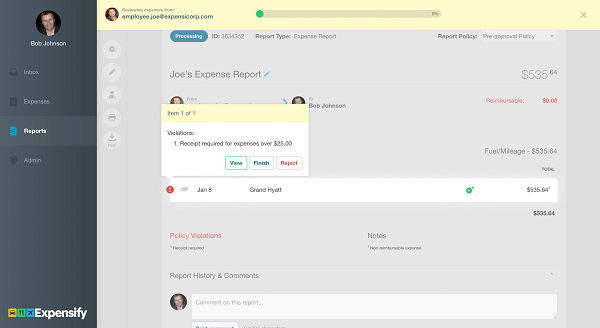 Credit: Expensify Inc.
Expensify promises one-tap expensing through the company's iPhone or Android apps. You can scan receipts, track mileage and get dollar amounts converted to currency around the world. Expensify also offers a free business credit card linked to the app that allows you to easily manage employee expenses and payments.
Expensify plans are available for individuals and groups with pricing based on the scanning and tracking capabilities in each package.
Expensify key features
Expense management
Business credit card
Accounting automation
Expensify pricing
Free
Track: $4.99/month, billed annually
Submit: $4.99/month, billed annually
Collect: $5/user per month, billed annually
Control: $9/user per month, billed annually
The benefits of using productivity apps
Productivity apps can improve your business's efficiency. Some apps excel at time and task management, while others are geared exclusively toward team collaboration or specific tasks like invoicing or meeting scheduling. While most productivity apps can help improve a certain aspect of your operations, the best tool is the one that fits your particular business needs. Here are some of the advantages of using productivity apps in your company.
Save time.
Time is one of your most valuable business resources. Efficient time management can ensure your and your team's time is optimized and spent doing significant work rather than hopping from minor task to minor task or procrastinating. Many productivity apps help workers plan their day, stay on track, reduce distractions and meet deadlines. [Read related article: Distracted Workers Are Costing You Money]
Some time management apps are based on classic productivity methodologies like Pomodoro and Getting Things Done (GTD).
Automate repetitive tasks.
There's nothing more tedious than drafting the same email or completing the same small task over and over again. Many productivity apps help automate these time-consuming activities through the use of smart templates, workflow builders and scheduled reminders.
Improve team collaboration.
No matter how small or big your team is, it's essential everybody stays on the same page and works together to achieve business goals. Productivity apps help workers easily communicate, collaborate on tasks, and track each other's progress. Many solutions allow you to send instant messages or organize group chats, leave comments, share updates on projects, and combine information from multiple sources so all parties can access the most up-to-date file versions at any time.
Streamline operations.
With some productivity tools, you can design workflows that are implemented across your business. Whether you need a project plan template, sales pipeline, progress update workflow or a time-tracking system, the right apps can help you optimize your business processes and add structure to your day-to-day work.
Facilitate remote work.
Today's teams are often distributed, mobile and want the freedom to complete tasks or check in as needed on mobile devices. Especially now, when a remote workforce has become the new normal for many companies and you need to avoid hiccups in productivity, apps can help your workers complete tasks and collaborate with teammates just as efficiently as in the office. In fact, with some of the focus-centered tools, productivity can actually increase when working remotely.
Productivity apps for business success
With so many productivity apps out there, it's essential you choose the ones that meet your business's specific needs and address your team's weak points. The right productivity apps can help streamline your business operations, automate repetitive tasks, improve team collaboration, reduce distractions, facilitate remote work and save you valuable time and money. Once you identify the tools that can increase your company's productivity, consider implementing them across the board to maximize their benefits, align your processes and ensure smooth operations and business success.
Nadia Reckman, Sean Peek and Matt D'Angelo contributed to the writing and research in this article.