HR software helps businesses streamline critical HR functions, such as payroll, performance management and compliance. Organizations of any size can benefit from HR software, but each platform excels in different key areas. In order to choose the right HR software for your business, it's important to consider the size of your company, long-term goals and available resources. To help you choose the best HR software for your business, we compared the information we found in our Bambee review and BambooHR review to analyze these two leading HR software providers side by side.
Bambee vs. BambooHR Comparison 
Pricing
Bambee
Bambee offers transparent pricing that begins at $99 per month and increases based on the size of your business. 
These are Bambee's current pricing plans:
0 employees: $99 per month with no setup fee
1-4 employees: $299 per month plus a one-time $500 setup fee
5-19 employees: $399 per month plus a one-time $500 setup fee
20-49 employees: $699 per month plus a one-time $1,500 setup fee
50-99 employees: $1,299 per month plus a one-time $2,000 setup fee
100-149 employees: $2,499 per month plus a one-time $2,500 setup fee
150-249 employees: $3,699 per month plus a one-time $3,500 setup fee
250+ employees: Custom pricing
Bambee's $99 plan enables new organizations that haven't hired their first employee to prepare to do so. Once the first employee is hired and customers move to the next plan tier, they will have unlimited access to a dedicated HR manager via phone, email, and live chat.
Bambee's pricing model is unique among many of its competitors in that it charges by the size of your business rather than offering a set price per employee. 
BambooHR
Unlike Bambee, BambooHR does not offer transparent pricing. In order to learn more about the costs associated with its offerings, you must contact the sales team and request a quote by phone or through the BambooHR website.
BambooHR offers two pricing plans with different levels of access. The first is the Essentials tier, which includes employee records, benefits tracking, standard reporting, document storage, email alerts, time-off management, single sign-on, mobile app functionality, workflows and weekday email support.
The second is the Advantage tier, which includes everything in the Essentials tier, plus advanced reporting, branding, audit trails, open API, BambooHR Marketplace access, employee satisfaction gauge with eNPS, onboarding, offboarding, e-signatures, training progress and weekday telephone support.
Winner: Bambee
We like that Bambee offers a unique pricing model, but the setup fees with Bambee are a bit higher than those of other solutions — some of which have no setup fees at all. This is something to consider as you shop around. Bambee's pricing transparency is helpful for businesses that have a set budget and want to know exactly what they're getting before moving too far along in the process. On the other hand, because BambooHR doesn't publish pricing on its website, there may be room for negotiation. The only drawback is that it may be hard to predict how pricing could change as your company grows or needs additional services.
Features
Bambee
Hands-on HR guidance: Bambee customers receive support from a dedicated HR manager. This individual can help with everything from writing job descriptions to crafting HR policies.
Custom HR policies: Every business faces its own challenges. Bambee's custom HR policies can help alleviate some of the stress around maintaining good policies that support both employers and employees. These policies can address everything from PTO and dress code to sick leave and social media.
Internal compliance: Compliance issues can be overwhelming for small businesses, so we appreciate that Bambee offers customized policies, procedures and documentation. Bambee helps create and maintain labor policies, ensuring you remain in compliance with local and federal guidelines. In addition, Bambee offers long-term document storage and mandatory training as required by law.
Recordkeeping: Employee record retention rules can vary greatly between localities, states and federal agencies. Bambee HR makes it easy for businesses to comply with requirements with Bambee Cabinet, a safe document storage system made to support Bambee customers in all aspects of employee record retention.
Payroll processing: Bambee offers two-day direct deposit to help ensure employees are paid efficiently. Bambee also handles all federal, state and local tax management. We like that Bambee offers guidance from its HR manager on important payroll issues, such as wage and hour regulations.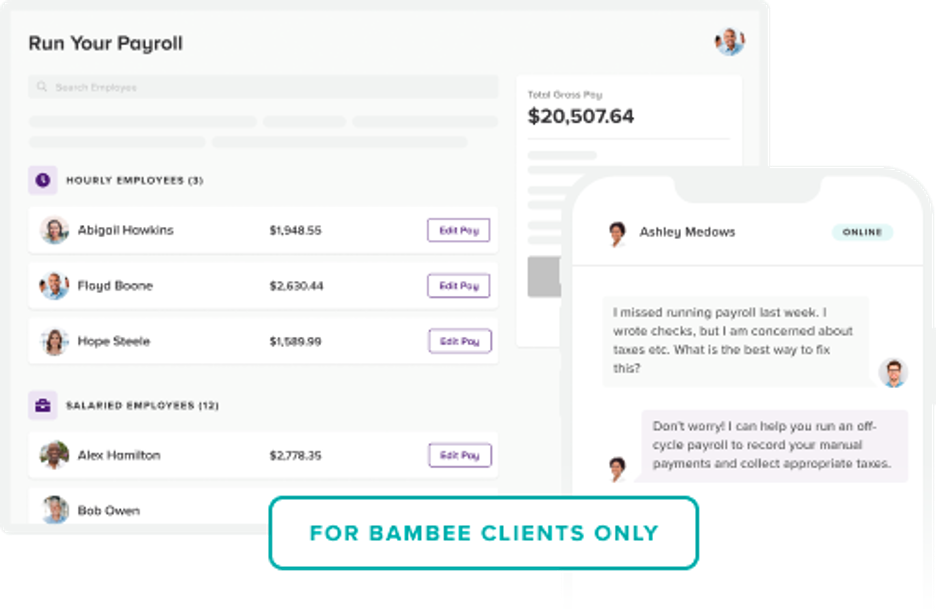 Bambee's payroll processing feature makes it easy to manage taxes, as well as access additional support for questions related to wage and hour regulations. Source: Bambee
Employee feedback collection: Bambee's Employee Voice function gives employees the ability to submit honest feedback, thoughts or concerns, anonymously or with their name included. Employers will find this feature valuable for tracking any trends and encouraging employee engagement and communication.
BambooHR
HR data and reporting: The BambooHR platform is intuitive and customizable, which allows for easy access to detailed reports. The platform offers 49 built-in reports. It's simple to collect and analyze data, often with just one click. BambooHR's wide array of reporting options also makes it easy to track performance management trends across the company and individual teams. 
Hiring and onboarding: BambooHR offers applicant tracking, new-hire onboarding and offboarding. Bamboo HR's applicant tracking has an option for different stakeholders to be added to teams with different permissions and communication, making the candidate review process more efficient for everyone involved. Onboarding is made easier with customizable templates and automatic reminders for employees to complete required tasks. Offboarding features can help businesses gain more insight into an employee's experience and departure while also ensuring company data is safe and secure after an employee's final day.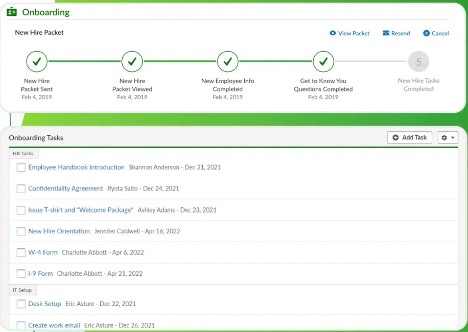 BambooHR's onboarding features offer simple checklists and step-by-step processes for both employer and employee, ensuring important tasks are handled efficiently. Source: BambooHR
Employee experience and performance: BambooHR uses a combination of Net Promoter Score (NPS) and open-ended employee feedback to deliver research-backed employee engagement information. Additionally, it offers employee well-being check-ins to help increase retention and reduce burnout. BambooHR's performance management features make it easy to identify opportunities for growth. Performance evaluations are easy to customize, and both self- and manager assessments are available. 
Payroll, time and benefits: BambooHR's time and attendance software makes it easy for employees to clock in and out via web or mobile. With geolocation, managers receive a snapshot of employees' locations to ensure accurate tracking. BambooHR also has a feature for project time tracking so you can determine how much time an employee spent in certain customizable categories. Since overtime requirements vary by state, BambooHR includes built-in overtime tracking features. We appreciate how streamlined BambooHR's features are in this category since they can help reduce administrative time and offer clear reporting.
Winner: BambooHR
We really appreciate all BambooHR has to offer in terms of performance management and the overall employee experience. BambooHR's mobile app makes it easy for employees to manage their time, performance goals and required training even on the go. BambooHR also offers strong hiring and onboarding features to help ensure a smooth talent acquisition process. For organizations quickly increasing headcount that are focused on maintaining a strong culture as they grow, these features are all helpful to have.
Customer Service
When choosing an HR software platform, consider customer service. If you should run into any difficulty using the features or troubleshooting technical difficulties, a responsive support team is essential.
Bambee
Unlike a lot of HR solutions, Bambee offers customers a dedicated HR manager once you've hired your first employee. Having a single person dedicated to your business is especially helpful for smaller employers and startups that are navigating HR functions for the first time. In addition, Bambee offers unlimited chat, phone and email support. Customer support agents are available Monday through Friday from 8 a.m. to 6 p.m. PT.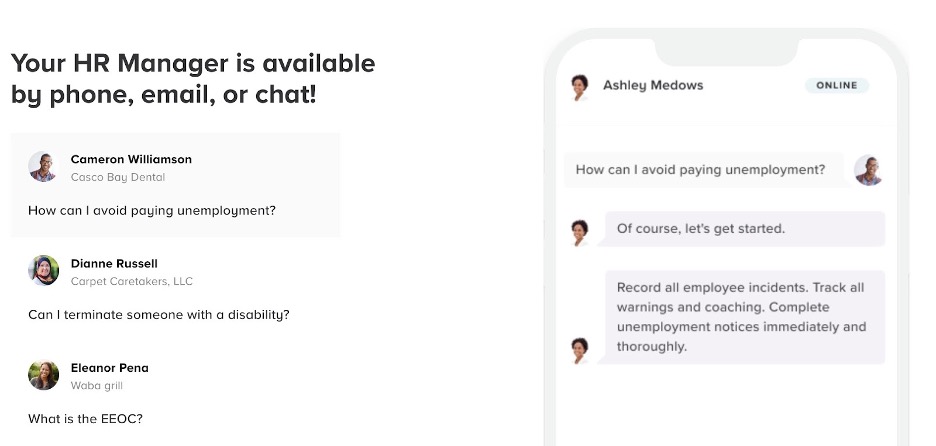 Bambee provides customers with a dedicated HR manager. Support can be accessed via phone, email or chat. Source: Bambee
BambooHR
Customers that select BambooHR's Essentials package have access to email support Monday through Friday from 8 a.m. to 5 p.m. MT. Those that select the Advantage plan can access live phone and chat support Monday through Friday from 8 a.m. to 5 p.m. MT, in addition to the email support covered in the Essentials package. Further, the BambooHR website is full of online tutorials and interactive guides for those who prefer a self-help approach.
Winner: Bambee
We appreciate that Bambee provides customers with a dedicated HR manager. Sometimes consistent hands-on support is what you need. This extra guidance may be especially beneficial for startups or smaller companies with less HR software experience. However, Bambee's customer support hours may be less convenient for employers on the East Coast. We were disappointed to see that BambooHR's Essentials plan includes email support only, although the Advantage offers phone and chat. If you aren't concerned about access to more hands-on support, BambooHR may meet your needs. 
Free Trial
Bambee
Bambee doesn't offer a free trial for potential customers. You can schedule an overview call to discuss your needs with a representative of Bambee on the company's website. The Bambee YouTube channel does have some helpful videos, including a previously recorded demo. We do wish Bambee offered a free trial so you could easily try out its features.
BambooHR
BambooHR offers potential customers a seven-day free trial to learn more about the product and support. The free trial includes access to the following:
Hiring and applicant tracking
Onboarding and offboarding
Paid time off
Time tracking
Performance management
Benefits tracking
Employee database
Reporting and analytics
BambooHR Mobile for iPhone and Android
We appreciate the access available during the seven-day trial offered by BambooHR. Since pricing is not transparent, it's not clear whether or not all of these features are included in a standard package, so that is something we recommend discussing with a BambooHR representative. 
Winner: BambooHR
It's always helpful to see what you're purchasing in action before moving forward. Sometimes a demo alone isn't enough. We appreciate that BambooHR does offer a seven-day free trial. However, since pricing is not transparent, it's difficult to determine how utilizing certain features may impact pricing. Although Bambee doesn't offer a trial, you can likely run through a live demo with customer support. And since pricing is clearer with Bambee, it may be easier to determine how the product fits your budget and needs, even without a free trial.
If you choose to connect with BambooHR and complete a free trial, be sure to ask what is included in your customized pricing. You want to ensure the solution you choose meets both your budget and needs.
Usability
Bambee
Customers can access the Bambee platform via web app or web browser. The user interface is easy to navigate and doesn't require any advanced technical skills. We appreciate that the platform is easy for the average person to navigate. This is especially helpful for smaller companies that don't have a lot of HR support. Employers can easily access documentation and data. Managers have the ability to assign tasks to employees and can also manage individual employee settings and permissions. Another thing we appreciate about Bambee is that the platform verifies all HR policies are up to date and reaffirmed by employees on a semiannual basis. The platform makes it easy for both employers and employees to stay on top of necessary tasks without any prior experience using Bambee products.
BambooHR
Both employers and employees can access BambooHR via web app, web browser or mobile phone. We appreciate that BambooHR offers mobile access given today's business environment. The dashboard is very people-focused so users can quickly view items like birthdays, recognition and PTO. The BambooHR platform also makes it easy to locate any new notifications about appointments, applicants and more. We appreciate BambooHR's employee-centric platform because it makes it easy for leaders to see performance management metrics as well.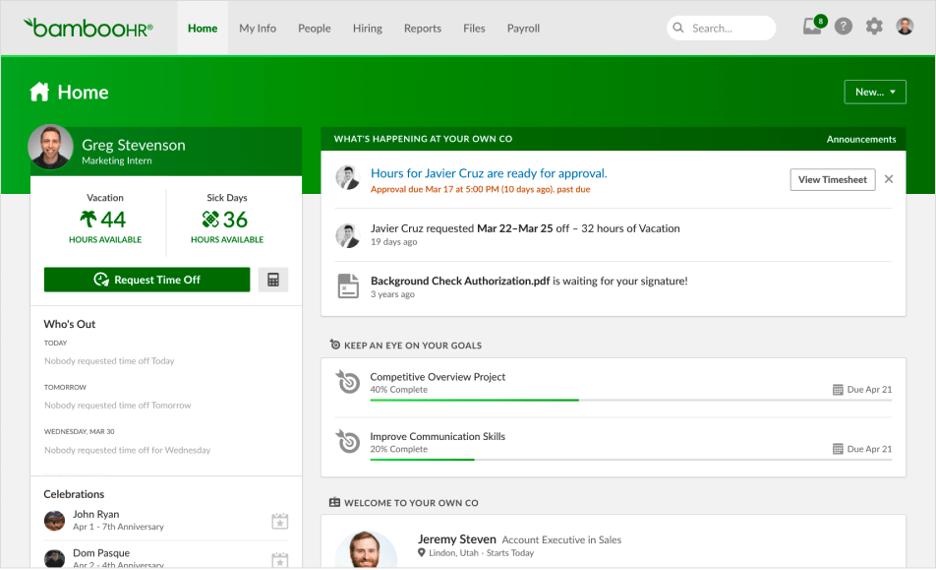 The BambooHR platform is people-focused, highlighting its emphasis on performance management and employee engagement. Source: BambooHR
Winner: BambooHR
We really like the people-focused interface offered by BambooHR. It's very simple to use, and it helps both employers and employees prioritize engagement, performance and communication. We appreciate how this interface can help employees feel more connected to the organization, and we see great potential for its use in building a strong company culture. We also appreciate that BambooHR offers mobile access. This can be incredibly beneficial for some organizations. While we wish Bambee offered mobile access, we do find great value in Bambee's ease of use. This platform will be a great fit for smaller organizations that are really focused on ensuring compliance, risk, payroll and other critical functions are easy to manage without a large HR staff. Everything is in one place, and navigation is very intuitive, so someone without a lot of HR experience will still find it easy to manage.
BambooHR has over 20,000 customers across more than 50 industries.