Bambee HR Software Review 2023
Bambee offers affordable HR software plans for small businesses interested in building out their HR policies and better managing risk.
Companies that work with Bambee receive direct access to a dedicated HR manager who can help them write HR policies and job descriptions, terminate employees in a compliant manner, and mitigate other HR risks and challenges.
We reviewed the top HR software options on the market and selected Bambee HR as the best HR software for risk management.
This review is for small business owners who are considering implementing Bambee HR as their HR software provider.
Bambee is an HR software service designed to help startups and small businesses navigate complex HR and compliance issues. Bambee can help businesses handle all of their HR needs, including building employment policies from scratch, setting up ACA-compliant employee benefits and navigating delicate HR processes such as employee terminations. Due to Bambee's unique focus on employment policy support and hands-on compliance support, we chose Bambee as our pick for the best HR software for risk management.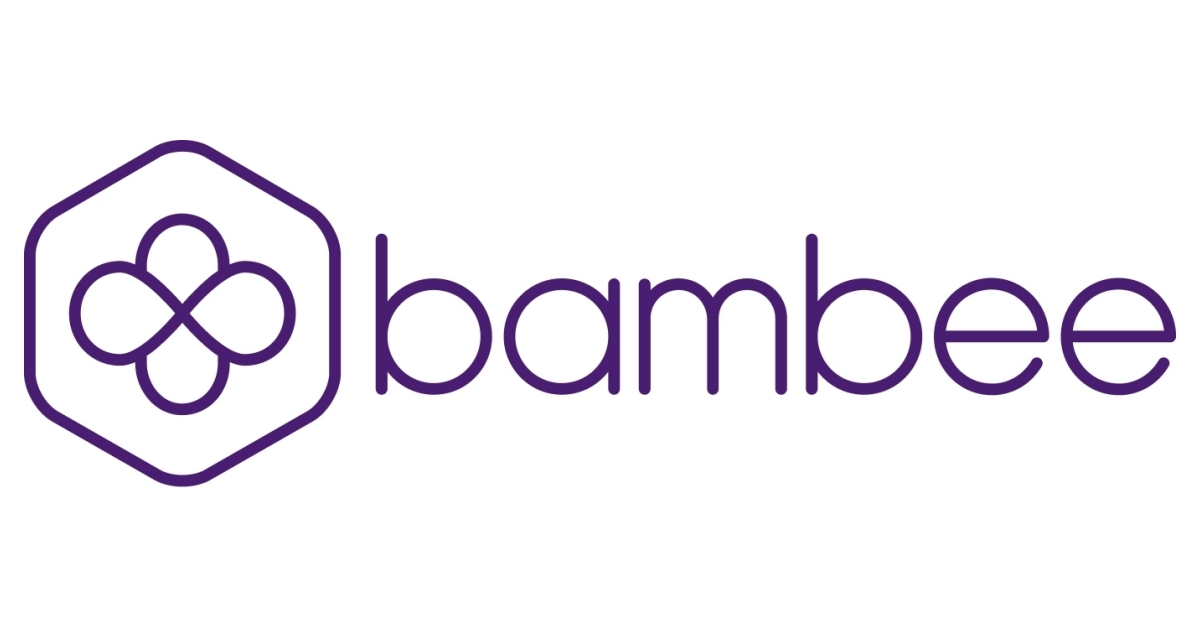 Bambee HR Software 2023
The Verdict
Bambee offers robust risk management tools and dedicated HR support for small businesses. It offers a wealth of compliance tools, including custom HR policy creation and compliance training courses, making it our top choice for risk management.
Bambee Editor's Score
Bambee Editor's Score: 92/100
| | |
| --- | --- |
| Features | 85 |
| Pricing | 95 |
| User interface | 90 |
| Integrations | 90 |
| Customer service | 100 |
Why Bambee Is Best for Risk Management
Bambee provides automated risk management and compliance tools, and customers also receive hands-on compliance support from a dedicated HR manager. We consider this an incredibly valuable resource for risk management because it is so easy for small businesses to make mistakes in today's business climate. 
Many startups or very small businesses can't afford to hire an in-house HR manager, but without one, it's easy to make a costly mistake by misclassifying an employee, miscalculating payroll taxes or not following the proper procedures when firing an employee. Having clear, written HR policies that are compliant with applicable laws and regulations is one of the most important risk management measures that small businesses can take. 
Pros
Subscribers have a dedicated HR manager assigned to them for hands-on support while navigating complex processes such as employee terminations and compliance issues.
Bambee is one of the only HR software services that provides assistance in creating and writing company policies.
Bambee offers a large library of online training courses on key compliance topics, such as sexual harassment, workplace safety and ethics.
Cons
Bambee HR does not have a mobile app.
Bambee does not administer employee benefits.
There is a setup fee when enrolling in Bambee HR's service.
Usability
Bambee HR can be accessed through a web app or web browser. The platform has a very user-friendly interface that is simple and does not require a lot of technical skills or experience to navigate. Since Bambee's services are targeted toward startups and companies that may not have an in-house HR team yet, we liked that the platform was clean and intuitive enough for someone without prior experience to easily navigate.
Documentation is a key piece of risk mitigation, and Bambee supports this with great employee file and document management tools. Bambee allows employers to easily access employee data, notes and documents in a central employee file. Managers can assign to-dos to each employee that will show up on the employee's dashboard and in their staff file. Employers can even manage individual employee settings and permissions in their staff file.
Bambee's HR Autopilot tools are also key for risk management and mitigation. Bambee automatically verifies that all core HR policies are current, signed by your employees and reaffirmed semiannually within the platform. Your dedicated HR manager can craft any HR policy that your company needs. Policies can be distributed, acknowledged and stored in the platform, making it easy for employers to ensure that each employee has access to up-to-date policies and that there is a paper trail of their acknowledgment of them.
Over 10,000 businesses use Bambee HR's Autopilot features to manage compliance.
A major component of Bambee HR's service is ongoing communication with a dedicated HR manager. Business owners can utilize chat, email or phone to communicate with their designated HR manager. Competing HR software vendors typically assign dedicated support representatives only for onboarding or at higher subscription levels. The in-platform messaging tools offer an easy way for clients to stay connected with their HR manager and ask quick questions. We do wish that Bambee had a mobile app for on-the-go messaging, but the chat feature does work in mobile browsers.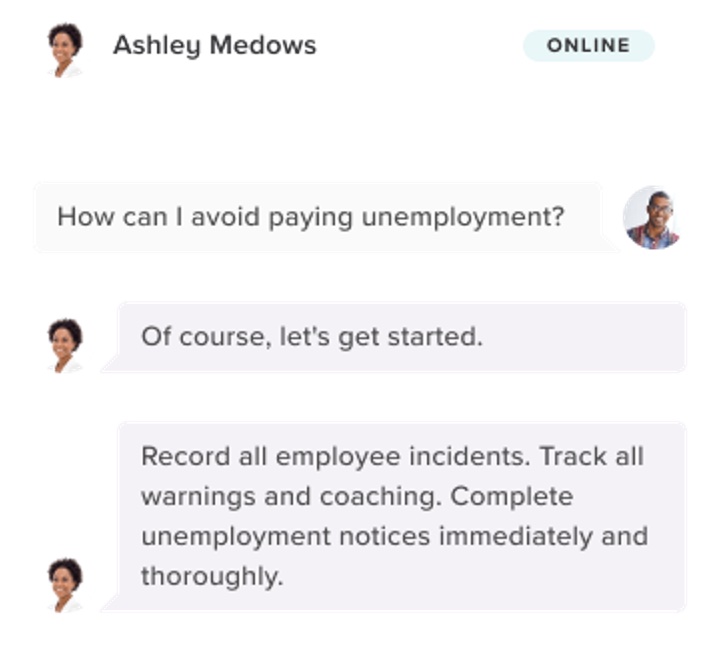 Chatting with your dedicated HR manager is a great way to get answers to questions as they arise. Credit: Bambee HR
Bambee Features
| | |
| --- | --- |
| Hands-on HR guidance | Bambee pairs each customer with a dedicated HR manager who can provide guidance on complex HR processes. Businesses can minimize risk by speaking with an expert on topics like employee classification and terminations. |
| Custom HR policies | Bambee's dedicated HR managers can create policies for your business. The Bambee platform can also distribute these policies to employees and collect digital signatures from them. |
| Training and certification management | Bambee can help businesses track required training and certifications to improve compliance. |
| Performance management | Bambee can manage the entire performance review process. |
| Payroll processing | Bambee's guided payroll feature and dedicated payroll support help employers navigate the payroll process. |
| Employee feedback collection | Employers can solicit feedback from employees through Bambee HR's Employee Voice feature. |
Hands-On HR Guidance
The primary thing that sets Bambee apart from its competitors is the hands-on HR support that Bambee customers receive from a dedicated HR manager. Small businesses often run into compliance issues due to improper employee classification (especially in states with complex independent contractor laws), terminations, and unclear or improper HR policies. Having a dedicated HR manager as a resource allows these businesses to minimize risk by conferring with an experienced and knowledgeable HR specialist to ensure that they are proceeding in a compliant manner and have the right policies and documentation on file.
Custom HR Policies
One of Bambee's most important HR software features for risk management is its employment policy tools. Bambee offers a mix of automated tools and hands-on support for small businesses that need to build out their HR policies. Many startups and small businesses avoid developing proper written policies because the process can be time-consuming. However, not putting your policies in writing can lead to compliance issues and a lack of clarity for employees. Bambee's dedicated HR managers can draft clear written policies and distribute them to employees to make sure that everyone is on the same page and risk is minimized.
Training and Certification Management
Compliance is a huge concern for startups. It can be hard for small business leaders to keep track of all the labor laws and regulatory compliance considerations facing their business. This is especially true for businesses that hire remotely or operate in different states with varying laws. 
Mandatory training in areas like sexual harassment, workplace safety and business ethics is one of those issues. Requirements vary by state regarding the specific training that needs to be provided and whether it needs to be done only by managers or by all employees. Bambee HR can take care of these important mandatory trainings. Business owners can track employees' progress and completion within Bambee's platform to ensure everyone finishes their assigned courses.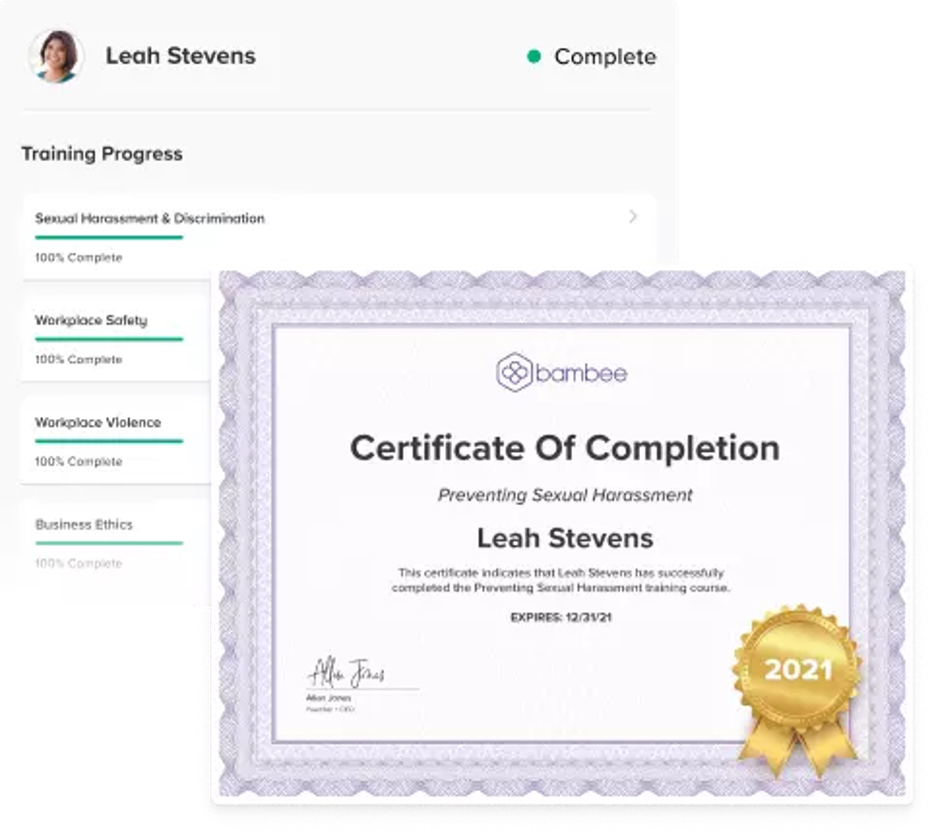 Employees can earn certificates within the platform, including sexual harassment training certificates.   Credit: Bambee HR 
Bambee HR not only supports training compliance, but its dedicated HR managers can also guide business owners through other compliance issues, such as unemployment, wage issues and EEOC claims.
Performance Management
Bambee offers a variety of performance management tools designed to support goal tracking and encourage regular conversations between employees and managers regarding performance. Managers can create report cards detailing employees' performance and their progress toward their set goals. They can also leave encouraging messages or helpful suggestions for employees within the Bambee platform.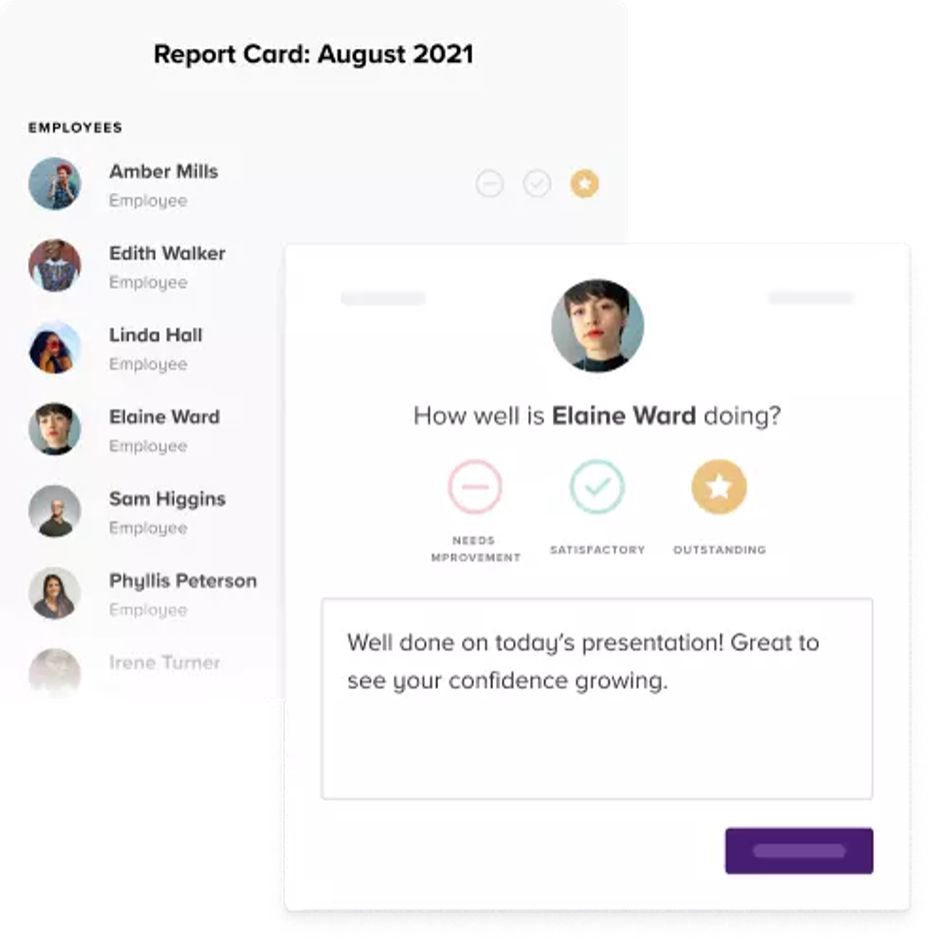 Bambee HR's performance management tools help managers provide frequent feedback to employees.  Credit: Bambee HR
Payroll Processing
Bambee HR offers payroll processing features on par with competitors in the industry. Employers can provide two-day direct deposit for employees, and Bambee HR can automatically handle federal, state and local payroll taxes. Bambee HR can also provide guidance on employee classification, laws regarding scheduling and compensation, and other payroll matters.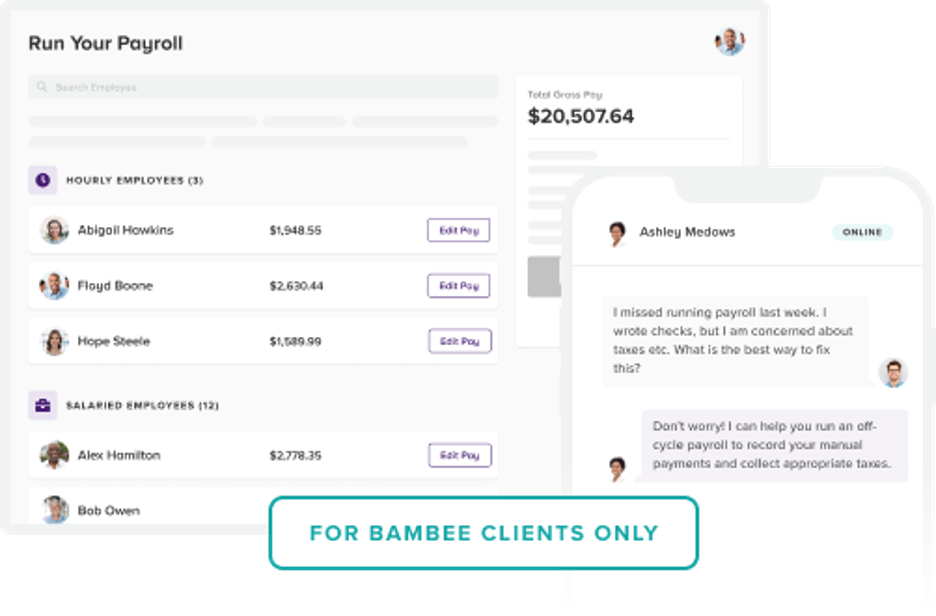 Bambee subscribers can access guided payroll tools within the platform and reach out to their dedicated HR manager with any questions. Credit: Bambee HR
Employee Feedback
Bambee provides a special feature to help employers solicit feedback from their employees. Bambee's Employee Voice function allows employees to share concerns or feedback, either anonymously or with their names attached. Bambee HR advises that this feature can be used for collecting employee feedback on job and workplace satisfaction, as well as for encouraging employees to recognize one another's accomplishments.
Bambee Pricing
One thing to note about Bambee's plans is that its pricing model differs from those of many of its competitors. While many HROs charge a per-employee fee, Bambee charges a flat monthly rate based on the size of your business. Pay attention to the setup fee for each plan, as they are higher than those of comparable plans at many competitors.
Here are Bambee's current plans:
0 employees: $99 per month with no setup fee
1-4 employees: $299 per month plus a one-time $500 setup fee
5-19 employees: $399 per month plus a one-time $500 setup fee
20-49 employees: $699 per month plus a one-time $1,500 setup fee
50-99 employees: $1,299 per month plus a one-time $2,000 setup fee
100-149 employees: $2,499 per month plus a one-time $2,500 setup fee
150-249 employees: $3,699 per month plus a one-time $3,500 setup fee
250+ employees: Custom pricing
All plans except the zero-employee plan include unlimited phone, email and chat support with a dedicated HR manager.
Setup
The setup process for Bambee is fairly straightforward. New customers are asked to provide information about their business and existing HR policies. Bambee HR then assigns a dedicated HR manager who will audit your existing HR policies and procedures to identify any gaps in those policies and guide you through the onboarding process. We asked Bambee how it pairs businesses with the right HR manager, and we were informed that HR managers are assigned based on their experience level, industry expertise and fit with each client's company culture.
The implementation timeline can vary depending on the needs of the customer. Onboarding can take as little as one week for simple implementations. Businesses with extensive setup needs should expect onboarding to take longer. The only thing we didn't like about Bambee's onboarding process is that there is a setup fee, which isn't particularly common among Bambee's competitors.
Once the initial data migration and account setup process is complete, your assigned HR manager will complete an audit of your existing HR policies. Then, they will provide guidance on any necessary updates or gaps in your current policies. We really like this added step in the onboarding process, as it's important for employers to review and audit their existing policies each year, but this can get overlooked by busy small business owners.
There is a one-time setup fee for this audit and setup process for Bambee HR. Depending on your chosen subscription plan, the fee can range from $500 to $3,500.
Customer Service
One of the biggest advantages of Bambee HR as an HR software service for startups is that each business is assigned a dedicated HR manager. This dedicated HR manager can answer questions related to the platform or HR topics. Business owners can contact their HR manager by phone, email or live chat. 
Bambee HR representatives and customer support agents can be reached between 8 a.m. and 6 p.m. PT, Monday through Friday. This is a relatively standard support window, but it may be inconvenient for employers with a large number of staff members based on the East Coast. If you are looking for an HR software vendor with 24/7 customer support, check out our Paychex Flex HR software review.
Drawbacks
One major drawback of Bambee HR is that there is no mobile app available for employees or administrators. Most of the competing HR software services, including Paycor, Paychex and Gusto, offer mobile applications that support common functions such as payroll reporting and timekeeping. However, the web platform can be accessed on mobile browsers.
Another drawback is that Bambee's services are limited when it comes to employee benefits. Bambee's HR manager can help employers craft employee benefits policies and navigate relevant compliance matters, such as ACA compliance, but Bambee does not directly administer employee benefits. Employers looking for HR software with stronger benefits functionality may want to read our Zenefits HR software review.
Methodology
We conducted comprehensive research and analyzed dozens of HR systems to identify the top HR software solutions on the market. We attended a product demo with Bambee staff to explore the user interface and explore the service offerings. We also reviewed product videos and current customer reviews. When looking for the best HR software for risk management, we prioritized features such as compliance training, HR policy creation tools, termination guidance and ACA-compliance support. Bambee provides a great mix of hands-on risk mitigation support while also integrating risk management into the various platform tools, making it our top choice for risk management.
Bambee FAQs
Does Bambee HR do payroll?
Bambee HR offers a guided payroll add-on that includes two-day direct deposit, payroll support from a dedicated HR manager, and automatic handling of federal, state and local taxes.
Can Bambee HR help with employee terminations?
Yes. Bambee HR can help business owners navigate employee termination situations and provide coaching throughout the entire process. It can also help with the preparation of any necessary documents.
Can Bambee help with 1099 staff?
Yes, Bambee's platform can be used to manage 1099 workers. Bambee's dedicated HR managers can also provide guidance on compliance matters related to employee classifications and working with 1099 contractors.
Does Bambee provide employee benefits administration?
Bambee can provide compliance support regarding employee benefits, but it does not manage or offer employee benefits directly.
Does Bambee HR have a mobile app?
Bambee HR does not have a mobile app, but some of the platform's features and communication tools can be used on mobile browsers.
Overall Value
We recommend Bambee HR for … 
Startups and small businesses that do not currently have an HR manager or internal HR team.
Businesses that need support navigating compliance issues.
Companies that do not yet have clear written company policies or an employee handbook.
We do not recommend Bambee HR for …
Large and enterprise businesses.
Businesses that want extended customer support hours.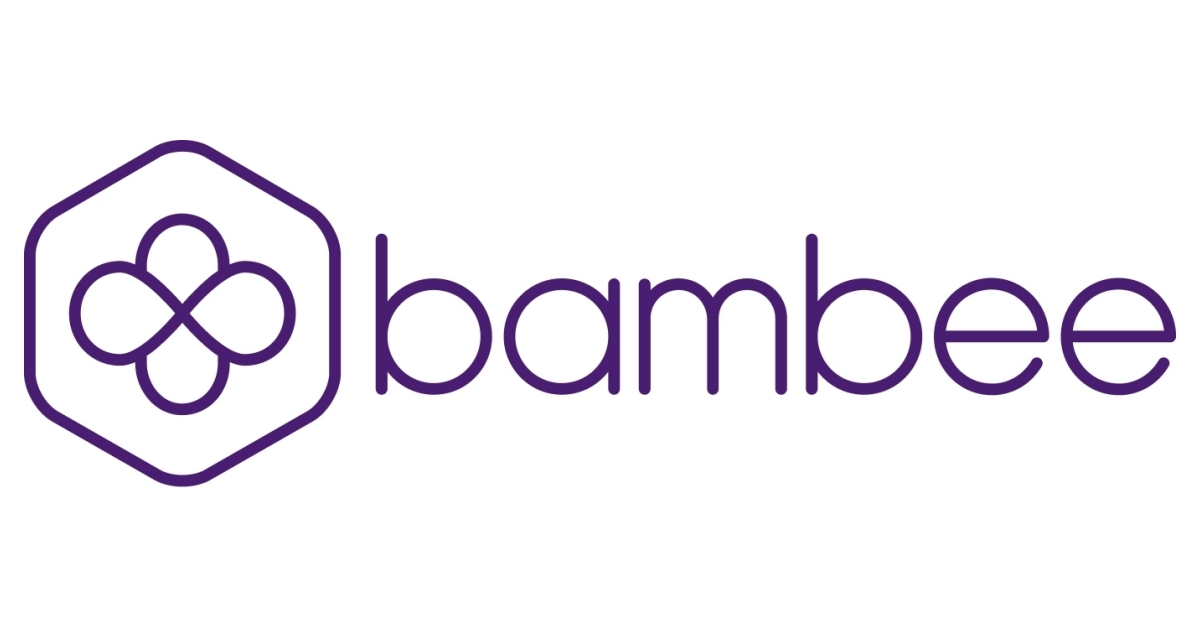 Bambee HR Software 2023
The Verdict
Bambee offers robust risk management tools and dedicated HR support for small businesses. It offers a wealth of compliance tools, including custom HR policy creation and compliance training courses, making it our top choice for risk management.

Kaylyn McKenna
Contributing Writer
Kaylyn McKenna is a freelance writer specializing in business, tech, and leadership. She received her MA in Industrial-Organizational Psychology from Touro University, and enjoys using her industrial psychology background to share management, HR, and organizational effectiveness tips with small business owners. She has covered topics related to business law, compliance, employee retention, company culture, and management strategies.