Managing human resources functions becomes essential when your business has employees who depend on you. HR solutions vary widely, but most provide administrative HR services, employee onboarding, payroll processing, HR compliance, benefits administration and performance management. Some organizations handle HR responsibilities in-house using the best HR software. Others opt for more extensive assistance from a professional employer organization (PEO). 
Rippling and BambooHR are excellent HR solutions that can take the headaches out of HR management. However, your business, industry and organizational style may make one platform more preferable. We pulled pertinent details from our comprehensive Rippling review and our in-depth review of BambooHR to help you compare these solutions. 
Rippling vs. BambooHR Comparison
Pricing
Rippling
Rippling is a highly customizable HR platform with numerous add-on features. As such, the company doesn't provide detailed pricing online. However, Rippling does state that its base workforce management platform, Rippling Unity, starts at $8 per employee per month. To get more information, businesses must contact a Rippling representative for a custom quote.
Note these details about Rippling's pricing structure:
Service tiers: Rippling Unity pricing starts at $8 per employee per month. The other tiers — Core, Pro, Unlimited and Enterprise — may also incur monthly base fees, but you must contact Rippling to learn more. All plans include essential workforce management features, such as policy management and workforce analytics.
Numerous add-ons: After signing up for a workforce management plan, you'll add HR, finance and IT functions as needed for an additional price. We appreciate the customizability this affords businesses. Your prices will depend on user numbers and the specific add-ons you want. You can also opt to use PEO or EOR services. We like that businesses can access atypical add-ons — like IT asset management, mobile device management and app management — alongside HR functions such as domestic and global payroll processing and recruiting and onboarding services. 
No free trial: While we were disappointed that Rippling doesn't offer a free trial, we appreciated that users can access a free demo to test the software before signing up.
BambooHR
BambooHR offers two HR plans — Essentials and Advantage — that include standard features for onboarding and managing workers, including HR reporting, time-off management and benefits tracking. Additional essential HR features — including payroll, onboarding and offboarding tools, time tracking and performance management — can be included for additional fees. 
Similar to Rippling, BambooHR doesn't list prices online. You must contact a representative for a custom quote. 
Note this additional information about BambooHR's pricing:
Per-user costs: Although BambooHR doesn't list pricing online, existing BambooHR customers have claimed their plans cost between $5 and $40 per user per month.
Free trial: We like that BambooHR offers a seven-day free trial for users to test the software risk-free. 
Pricing model: Companies with 20 or fewer employees are charged per employee per month, and companies with over 20 employees are charged a flat monthly fee.
Discounts: Volume discounts are available, and a 15 percent discount is available for registered nonprofits.
Winner: BambooHR
BambooHR edges out Rippling in the pricing category. While we would have liked to see more transparent pricing online, we appreciate that both companies provide a high degree of customizability. The two vendors have similar pricing structures, but we gave BambooHR the win because we like that it includes a seven-day free trial and that users can choose from multiple base plans.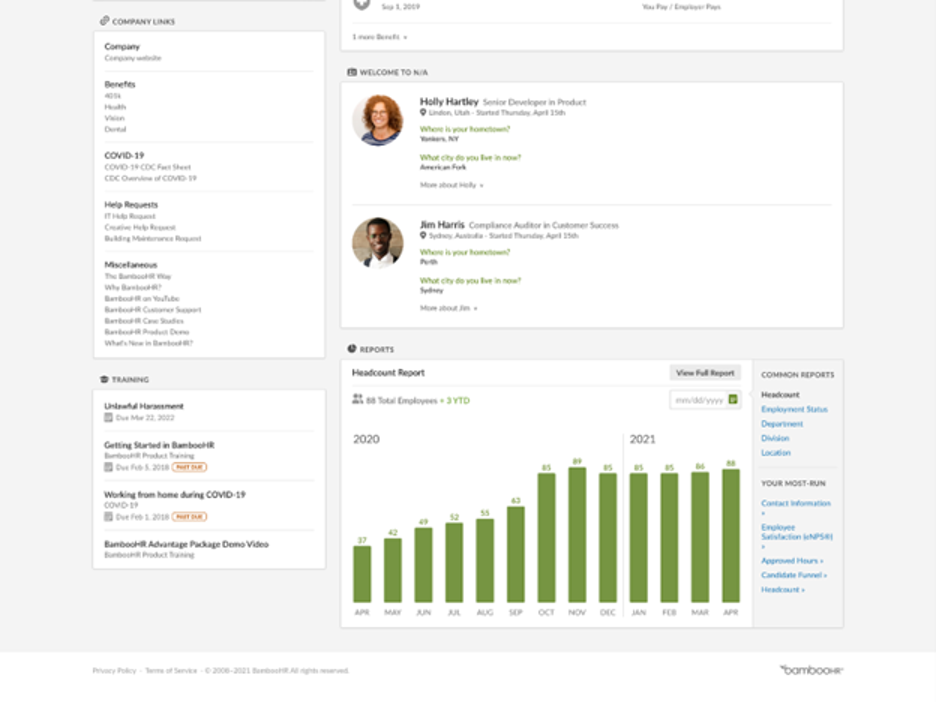 All BambooHR plans include reporting capabilities. Source: BambooHR
HR Services
Rippling
Rippling's HR services are highly customizable. Here's what businesses should know: 
Basic HR features: Rippling Unity's base plan includes essential administrative HR features, like onboarding and offboarding, vacation and leave management, HR policies (like PTO policies), workforce analytics and more. 
Additional HR services: We were impressed by the wide variety of services that allow you to customize your plan. You can access functions such as employee directories, new-employee recruitment, document management, benefits administration, payroll and tax filing, learning management, reporting, expense management, app and device management, time and attendance tools, and PEO and EOR services.
Finance and IT options: We also like that add-ons from Rippling's finance and IT modules can help you run your business. The inventory, expense and app management tools can be incredibly helpful.
Automations: We really like that Rippling allows users to automate many of their HR processes by configuring permission settings and creating custom workflows.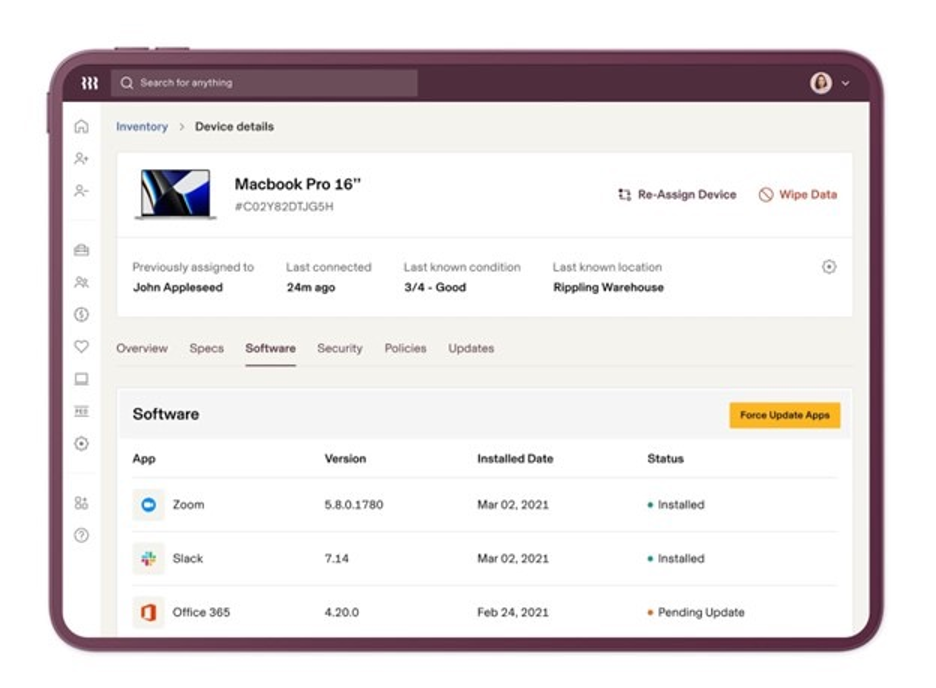 Rippling's HR functions extend to detailed device management capabilities. Source: Rippling
BambooHR
BambooHR is also highly customizable and supports a wide range of functions. Here are some notable elements: 
Essential HR features: We like that every BambooHR plan includes essential features such as document storage, benefits tracking, time-off management, reporting, workflows and approvals, alerts, and employee self-service. 
Additional HR services: BambooHR's Advantage plan adds numerous helpful HR functions. You can smooth the process of hiring new employees with applicant tracking and employee onboarding. There's also offboarding, training tracking, employee surveys, custom access levels and alerts, and an open API. 
Add-on features: BambooHR offers optional paid add-ons, like payroll processing (U.S.-based employees only), benefits administration (U.S.-based employees only), performance management and time tracking.
BambooHR's employee survey feature can help you glean insights that increase productivity and reduce turnover.
Winner: Rippling
Rippling and its expansive offerings win the HR services category. While we like that BambooHR offers all of the essential HR features a small business would need, Rippling takes it a step further with its workplace automation capabilities. We also like that Rippling's services can be configured to meet any business's specific needs and manage HR, IT and finance functions from one location.
Payroll
Rippling
Rippling's payroll functionality is a paid add-on. Here's some of the vendor's notable payroll information:
Payroll taxes: Rippling's payroll functionality handles your payroll taxes. It can automate your payroll tax calculations for federal, state and local taxes, as well as manage your payroll deductions.
Global payroll processing: We were impressed that Rippling offers domestic and global payroll processing for employees and contractors. It's one of the few HR platforms we reviewed that offers global payroll processing. 
Rippling payroll requirement: Rippling PEO and EOR users must utilize the company's payroll platform. This requirement is standard in the industry. 
BambooHR 
BambooHR's payroll services are also paid add-ons. Here's what you should know:
Payroll processing: Companies with U.S.-based employees can add BambooHR's payroll processing functionality. Switching to BambooHR's payroll typically takes less than four weeks.
Payroll taxes: BambooHR can take care of your federal, state and local tax filings within the U.S. 
Payroll reports: BambooHR offers payroll reports that provide valuable insights.
Winner: Rippling
Rippling is the winner for payroll. While we found BambooHR's payroll functionality sufficient for small businesses within the United States, we like that Rippling can also handle global payroll. Rippling also offers a range of customization features, allowing users to configure many payroll settings.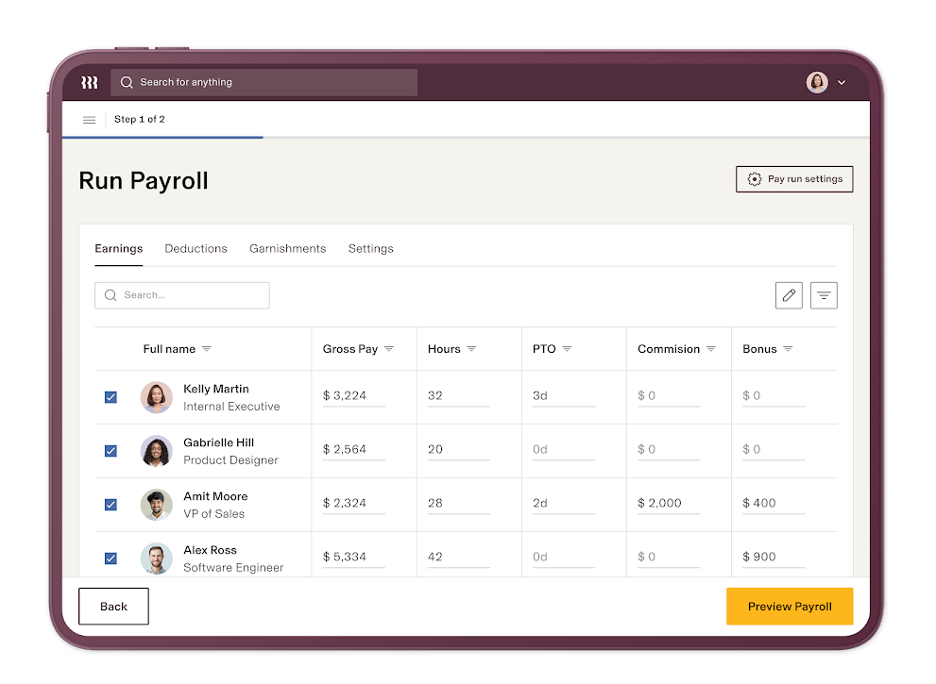 Rippling boasts a powerful payroll platform for domestic and global workers. Source: Rippling
Usability
Rippling 
When we tested Rippling's software, we were pleased with how intuitive and manageable it was for being such a powerful tool. It's a highly customizable platform that allows businesses to essentially automate their HR processes and workflows. While the setup may take some time and care, you'll be able to handle your HR functions with ease afterward. We also appreciate that Rippling allows users to manage HR and IT functions from one location, thus reducing the need to learn and integrate multiple platforms.
BambooHR 
We really liked BambooHR's clean and easy-to-navigate interface and dashboard. During testing, we found the software straightforward to use and learn. We especially appreciate that the platform includes numerous self-service features that enable employees to manage many of their own HR functions.
Winner: Tie
We're calling a tie on this one. Both platforms are user-friendly, but in different ways. The most user-friendly platform for you will depend on your resources and needs. We like that BambooHR is intuitive and user-friendly from the start, allowing employees to learn the platform easily. On the other hand, it can take a little more time to customize Rippling's automations and configure its settings. Once they're established, however, the platform automates your HR processes.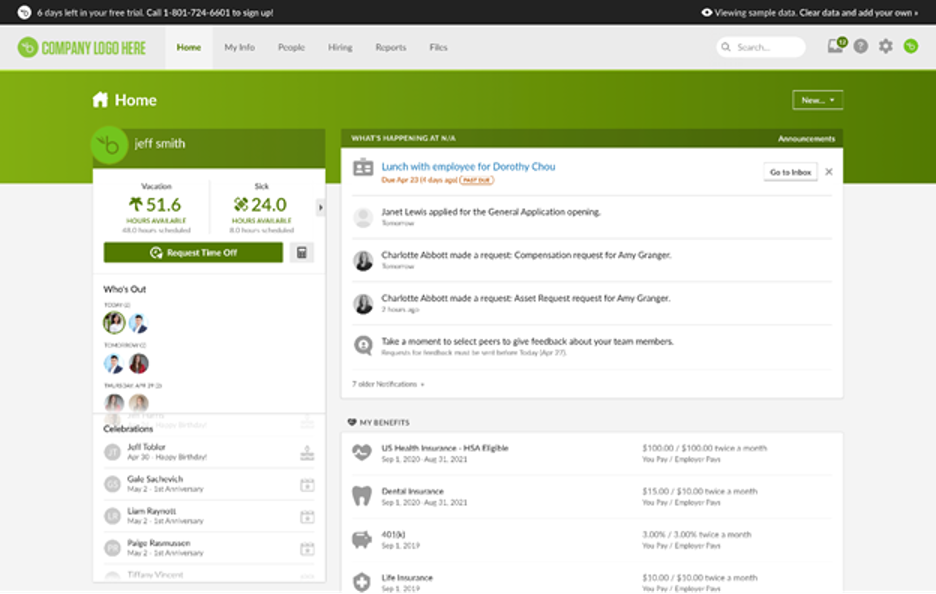 BambooHR's user interface is clean and easy to navigate. Source: BambooHR
Customer Support
Rippling
All Rippling plans provide email and web chat support. If you want phone support, you must add Rippling's Help Desk: HR Support feature to your plan. Rippling also has online resources (blogs, templates and a help center) that we found to be on a par with competitors' offerings.
BambooHR 
BambooHR's Essentials plan includes email support; the Advantage plan includes email, web chat and phone support. Businesses can access customer service Monday through Friday from 10 a.m. to 7 p.m. ET. Additionally, BambooHR offers several online resources, including a content library, a webinar library, blogs, guides, glossaries, calculators and product updates.
Winner: BambooHR
This was a close call, but we're declaring BambooHR the winner here. Both providers offer somewhat limited support for their base plans. However, we like that BambooHR provides phone, email and web chat support for its higher-tier plan instead of charging an extra support fee as Rippling does. We were also pleased with BambooHR's extensive online resources and product updates.