BambooHR is a great employee monitoring software option for businesses seeking performance management and HR tools. Because of its open API, it can integrate with a variety of HR management software suites and third-party applications.
Pros
BambooHR combines employee monitoring functions with wider HR and payroll services.
The software supports hiring and onboarding, with an ATS accessible by app.
The platform offers extensive performance tracking, with self-evaluations and peer-to-peer feedback.
Cons
BambooHR lacks the granular monitoring that many competitors provide.
Human resources functionality combined with an employee monitoring solution may not interest companies with satisfactory HR systems in place already.

BambooHR is a robust human resources software system, as opposed to a traditional employee monitoring solution.
The platform includes comprehensive performance management tools, plus the ability to track job applicants and streamline onboarding and offboarding.
The software is available in two service plans that charge on a monthly per-user basis.
This review is for small business owners who want to learn about BambooHR's employee monitoring and human resources features.
BambooHR is our choice as the best employee monitoring software for businesses interested in performance management. It contains tools for evaluations, peer-to-peer feedback and workplace absenteeism monitoring. It's also good for departmental comparisons, which is useful for directors to compare and contrast different teams and groups of employees. This cloud-hosted, all-in-one human resources information system has tools for hiring and onboarding new employees, tracking paid time off, keeping employee records, and processing payroll. While it's far less granular than other monitoring platforms, it is a comprehensive HR suite.
BambooHR Employee Monitoring Software Editor's Rating:
7.9 / 10
Cost

7/10

Features

5/10

Compatibility

9/10

Usability

8/10

Customer service

8/10
Why BambooHR Is Best for Performance Management
While Bamboo HR isn't a traditional employee monitoring program that tracks which websites employees visit or how many special characters they type, it can help you understand how your team members are performing. In particular, it highlights which areas they are excelling in and which areas need improvement. For these reasons and more, BambooHR is our choice as the best employee monitoring system for businesses interested in performance management.
What makes BambooHR ideal for companies that want to manage employee performance is the ability to create and monitor individual employee goals, allow peer-to-peer feedback, and set up self-evaluations and manager evaluations for performance reviews. In addition, employees can access this information to see how they're tracking against their goals. BambooHR also provides a performance report that lets those in charge compare engagement at all levels of the organization, including company-wide. These reports can provide valuable insights into which employees and teams are performing at a high level and who needs extra attention to improve the quality of their work.
In addition, BambooHR offers a recruiting platform designed to help streamline the hiring process. Its applicant tracking system (ATS) can be accessed remotely via an app for both iOS and Android. It provides a digital system to ensure new hires have completed their onboarding materials on their first day, as well as an employee directory and organizational chart, company calendar, benefits tracking, and storage for critical documents like employee handbooks and new-hire paperwork.
Plus, payroll processing features come with full payroll tax services, employee self-service, comprehensive reporting and year-end tax forms. The time tracking feature records hours worked and calculates overtime.
Usability
A modern interface makes BambooHR's software simple to navigate. The platform offers many customizable enhancements supported by a solid customer service team so that businesses can get questions answered when necessary. However, it's hard to make a direct comparison to other employee monitoring software we looked at when you consider that BambooHR offers a wealth of additional human resources assets while lacking advanced monitoring tools such as risky keyword flagging and geotechnology tracking.
That said, a benefit of BambooHR is the integrations it offers. The platform integrates with more than 50 popular programs and apps that many businesses already use, including Glassdoor, Indeed, Okta, Slack and Zapier. [Follow these practical tips for using Slack at work.]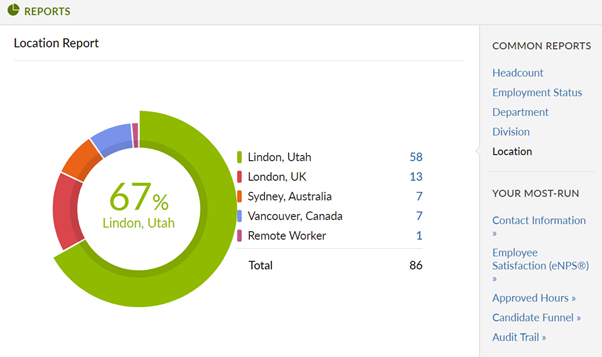 BambooHR Features
| | |
| --- | --- |
| Hiring and onboarding | The software combines an ATS with a mobile hiring app for Android and iOS. |
| Employee records | The system is better than any traditional employee monitoring platform for holistic HR work. |
| Remuneration | The solution includes time tracking and payroll functionality. |
| Form tracking | You can add signatures, monitor progress and confirm completion. |
| Custom reports | Premium subscriptions offer self-made templates and reports. |
Because of its wealth of human resources functionality, it's best to consider BambooHR an HR platform first and an employee monitoring system second. Keep reading to find out what we mean.
Hiring and Onboarding
While most employee monitoring software platforms are all about checking who printed what file and how long a certain employee spent on Slack yesterday, BambooHR takes a more holistic view. In particular, its focus is on the recruitment and onboarding process. The premium Advantage subscription includes an ATS to optimize recruitment and selection, with onboarding and offboarding tools, including ready-made paperwork.

Employee Records
This solution offers detailed tracking, including timeclocks and timesheets, while from a monitoring perspective, we welcome the audit trail functionality that lets you see who adjusted system data and when. The ability to supervise the supervisors is an underappreciated feature among BambooHR's employee monitoring rivals, as is being able to create custom access levels for different tiers of management. Features added for the 2022 iteration include new browser login notifications and duplicate e-signature templates.
Remuneration
If a primary function of employee monitoring software is to ensure employees are working hard for their wages, BambooHR formalizes this process. It can calculate overtime and generate payroll reports, and you can add on employee performance reports as you consider your compensation plans. This provides a visual comparison of both performance and engagement, highlighting employees worthy of recognition and a bonus.
Form Tracking
It's impressive that e-signatures can be generated and then tracked through the BambooHR system, ensuring that employees are approving the items they need to without overstepping their boundaries. There's also electronic document storage for handbooks, onboarding paperwork and other vital documentation. Monitoring elements include tracked peer feedback, with insightful questions that enable employees to identify strengths and weaknesses among their colleagues.
Custom Reports
We like the ability to create, monitor and collaborate on individual goals within the BambooHR platform. Feedback is generated on an ongoing basis, with automated reminders issued by the system as needed. Self-reflective directors and senior management can also commission company performance reports, tracked over time to demonstrate how employees feel about the workplace and where improvements could be made. This ties into the "HR" part of the vendor's name and reflects the fact that employee retention is usually preferable to recruitment.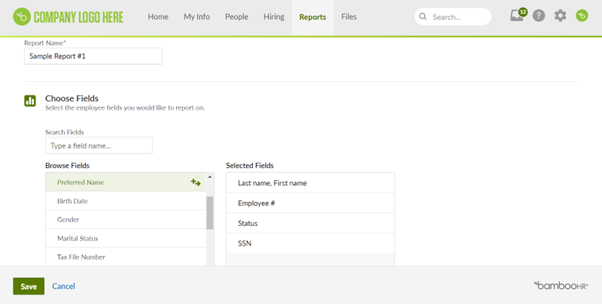 Whether you have a one-person HR department or a whole team, BambooHR can help by providing data in an organized fashion, streamlining the recruitment process, and promoting your company culture.
BambooHR Costs
BambooHR has two pricing plans. Both software packages are accessible via the cloud and can be used on any internet-connected computer or mobile device.
Essentials: This plan includes time-off management, benefits tracking, employee records, document storage and standard workflows and approvals.
Advantage: This plan includes everything in the Essentials plan, plus an ATS, onboarding and offboarding tools, electronic signature software, time tracking, advanced reporting and workflows, custom access levels, and personalized branding.
BambooHR recently decided to follow the approach taken by other employee monitoring providers like Veriato: They're cloaking their pricing rather than making it publicly available for comparison purposes.
To obtain specific pricing for your business, you'll have to fill out an online form or call the vendor. We reached out to BambooHR for the latest pricing while researching the platform, and after a few days, the company confirmed that these are the prices as of May 2022:
Essentials – $4.95 per employee per month
Advantage – $8.25 per employee per month
Additional fees apply for the software's performance management tools, as well as the payroll processing and time tracking services. A sales rep will provide you with a custom quote based on the services your business needs.
Setup
Companies with legacy software or a lack of IT proficiency can take advantage of an optional implementation service when they first sign up with BambooHR. A dedicated project manager oversees the transfer of your business's data to the BambooHR ecosystem, importing and then structuring the software to suit your specific needs. This is a great option for time-poor or less IT-savvy businesses, especially since employees can be given self-service access to update personal data or identify upcoming PTO.
The vendor shows an equally proactive approach to reassuring prospective clients by providing a free demo of its software. It also hosts a weekly webinar every Thursday morning, where newcomers can get an overview of the features BambooHR offers. This is an especially impressive customer service offering that really sets the company apart.
BambooHR is a great option for a stand-alone performance management system because of its open API. This allows the product to integrate with a variety of other human capital management software suites and third-party apps.
If your company requires a custom integration of some kind, reach out to BambooHR. Its developers can connect with your HR or IT team to make it work.
Customer Service
There are different customer service options based on the plan you choose. With the Essentials plan, you can contact the customer support team by email only. Advantage users can reach out by email and phone, but only during the vendor's working hours, which could be problematic.
As mentioned, BambooHR also offers live online training and webinars from its boldly titled "Customer Success team." There is also an online knowledge base and videos that can teach you all of the ins and outs of the platform.
Drawbacks
BambooHR does have some limitations in terms of its employee monitoring capabilities. It's far less granular than some other employee monitoring solutions, such as ActivTrak and SentryPC, and it doesn't offer threat protection or data loss prevention. You can't block and filter websites or receive notifications of suspicious activity, nor can you monitor email, social media or instant messaging platforms. You have to think of BambooHR as a full-service human resources information system platform rather than a solution that prioritizes employee monitoring above all else.
We'd be remiss if we didn't note that some users have experienced difficulty in having their software customized. We recommend you discuss any system customization you might need with a BambooHR rep before signing up to ensure that what you want is possible.
It's also worth mentioning that BambooHR's mobile app isn't easy to navigate and its usability could be improved. If you plan on using the mobile app, we suggest asking for a demo when discussing your service options so that you can see if it provides the usability you're looking for. The app offers a lot of tools that serve different needs, and the sheer number of features (and their complexity) might explain why some users get confused by (or frustrated with) the mobile user experience.
Because it excels at human resources functions, we also include BambooHR in our roundup of the best HR software.
Methodology
We examined 10 employee monitoring software platforms through hands-on investigations, online presentations and general research. We evaluated what each application featured or lacked compared to key rivals and watched demos whenever possible.
We also considered the employees' point of view because they sometimes see employee monitoring software as intrusive. In looking at the upsides of using such systems, we particularly like that BambooHR's comprehensive HR functionality enables high-performing employees to be singled out for praise and recognition.
FAQs
Essentials, the more affordable of BambooHR's two offerings, lacks the hiring and onboarding functionality of the more expensive Advantage plan and its open API. However, it still delivers email support and a webinar library, with the same array of employee self-service and HR management tools as its pricier sibling.
The mobile app provides access to an array of BambooHR tools on both Android and iOS devices, including performance management functionality. It also tracks attendance, which is useful for keeping an eye on staff while they're working but you're not.
Overall Value
We recommend BambooHR for …
New businesses with no existing HR software.
Companies looking to improve both their employee monitoring and HR provisions.
Businesses that would like to reward strong employee performance.
Organizations that want each piece of software to dovetail with many others.
We don't recommend BambooHR for …
Companies that would like full monitoring of employees across a spectrum of operating systems.
Businesses that want granular control over keystroke logging, application use and IM conversations.
Organizations that need their employee monitoring software to proactively identify breaches in company security.