SentryPC is the most affordable employee monitoring solution, with six cloud-based plans, low per-user rates and screenshot add-on capabilities. It tracks which websites and apps workers access, filters content and detects portable drives.
Pros
SentryPC has extensive features, including geofencing for specific devices.
The system can be installed remotely and uninstalled with a single mouse click.
The vendor provides free updates for the lifetime of your subscription.
Cons
SentryPC doesn't work on mobile devices, Chromebooks or Linux machines.
Beyond the standard 500 screenshots, saving another 500 costs $19.95, with no option to purchase fewer than that.

SentryPC offers six affordable cloud-based plans for employee monitoring, each costing an annual base fee, with an additional fee if you want more licenses.
The software can track portable drive usage, print jobs, clipboard and file activity, website and app usage, employee hours, and locations.
The platform has customizable reporting features and real-time alerts.
This review is for small business owners considering SentryPC as their employee monitoring software.
SentryPC is the best employee monitoring software for small businesses on a budget because it's affordable, it's easily scalable and you're not bound by user minimums. It offers six cloud-based plans with annual subscription rates that many smaller companies find manageable. The software is easy to use, and its features include content filtering and blocking, website and application monitoring, time and activity tracking, and keystroke logging. Its downsides are limited operating system compatibility and a limited number of screenshots.
SentryPC Editor's Rating:
8.5 / 10
Cost

9/10

Features

9/10

Compatible OS

7.5/10

Usability

10/10

Customer service

7/10
Why SentryPC Is Best for Businesses on a Budget
With individual licenses costing barely $60 per user per year and economies-of-scale discounts offered with bulk purchases, SentryPC is a highly cost-effective employee monitoring platform. Its affordability is partly due to the service being entirely cloud-based, without the need for physical software. This centralized control system also brings every monitored device into one interface, accessible from anywhere in the world and updated in real time.
Smaller businesses are unlikely to need a wealth of functionality, but SentryPC still delivers plenty of features, including an ingenious geofencing tool. This instantly alerts managers if a device is relocated outside a specific area, such as an employee taking a laptop home with them from the office. Other sophisticated touches include keystroke monitoring, an easily digestible chronological timeline of events for each user and visual chart exporting in a variety of formats, including CSV and PDF. These features are all available to every subscriber; there are no tiered packages with differing features like with rival brands such as Veriato.
Another advantage for smaller firms with limited budgets is that the cloud-based nature of SentryPC means the latest version is always accessible and can be downloaded from within your account. Because these are free for the lifetime of your subscription, there's no need to pay a premium for the latest software or soldier on with increasingly outdated monitoring technology. We especially like that updates aren't installed automatically since unannounced overnight changes to a familiar interface can be both annoying and confusing.
It's also worth noting that SentryPC markets its software as useful for families and schools as well as businesses. That's unique within this industry, and while it's not directly relevant from a corporate perspective, managers with children at home might appreciate being able to monitor, filter and control the computing activities of their youngsters in a similar manner to their employees.
Distracted workers hurt a business's bottom line. Employee monitoring software is one way to ensure staffers remain focused on their responsibilities and not outside concerns.
Usability
SentryPC has an ordered and colorful interface, packed with practical touches like a notification queue for administrators to view new alerts. It can block websites and raise alerts if anything untoward is logged, with an extensive array of customizable features tracking everything from print jobs and file transfers to keystrokes and portable devices.
While it's impressive that SentryPC works on versions of Windows from the early 2000s and is compatible with both Mac OS X 10.6 onward and all subsequent macOS platforms, the lack of mobile support is a major flaw. Ditto the lack of support for Linux and Chrome. Buyers seeking coverage across any (or all) of these platforms should select a more all-encompassing option such as InterGuard, which we've also tested. See our InterGuard review for all the details.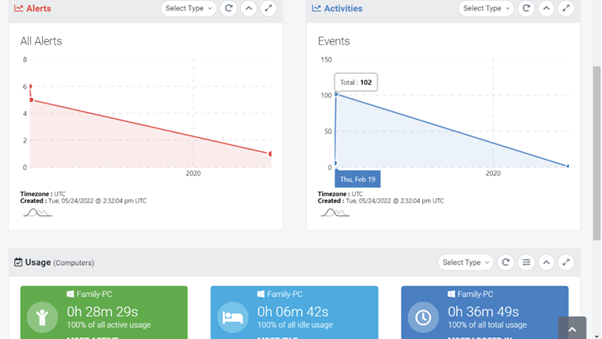 SentryPC Features
| | |
| --- | --- |
| Extensive monitoring | Monitor everything from webchat to print queues. |
| Reporting capabilities | Break down key alerts for easy review. |
| Time management tools | Employ basic time and attendance monitoring. |
| Geolocation monitoring | Find stolen devices or AWOL staff. |
| Content filtering and blocking | Set up blanket or employee-specific restrictions. |
With essential employee monitoring features and affordable pricing, you can rest assured that you're getting your money's worth with SentryPC. Here are the key functions in detail.
Extensive Monitoring
SentryPC comes with a host of valuable tools and features for monitoring employee behavior and activity, such as recording an employee's internet browsing history and live chat sessions, tracking transferred files, and noting the physical location of monitored devices. This extends across websites and apps, chats and clipboards, portable drives, and print jobs. The system can retain up to 500 time-stamped screenshots, with transcripts of chat conversations and printed files mapped throughout their journey.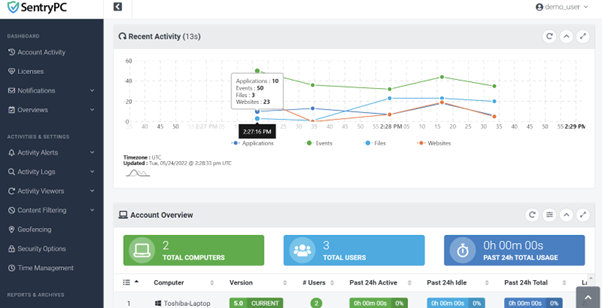 Reporting Capabilities
SentryPC offers several useful reporting features, including a breakdown of all the top alerts, which allows administrators to review general user activity. They can also study more specific activities, such as the most frequently used applications or chat tools. Reports can be customized to show only the most important data to you. There are also status reports that monitor the health of all the computers that are licensed and synced with the software.
Time Management Tools The time management tools allow business owners to set a maximum number of hours an employee should work on a daily and weekly basis, making SentryPC a backup to the best time and attendance systems by ensuring employees don't work overtime. Admins can also set an alert period, such as an automatic alert that goes off a half-hour before an employee hits their time limit. Settings for each user can be configured differently, which is especially useful when managing freelancer budgets and remote workers in different time zones.
Geolocation Monitoring
This IP-tracking tool logs the latitude and longitude of your users' devices, identifying the city they are in and giving you the option of viewing the location on a map. This helps you verify employees are where they're supposed to be during work hours. It can also help you track down a computer if it's lost or stolen. Another nice touch is geofencing, which was rolled out in the vendor's spring 2022 update. It triggers an alert when a computer enters or exits a predefined location area. The function can be enabled for any user, displaying live updates of how far inside/outside the fenced area a device is.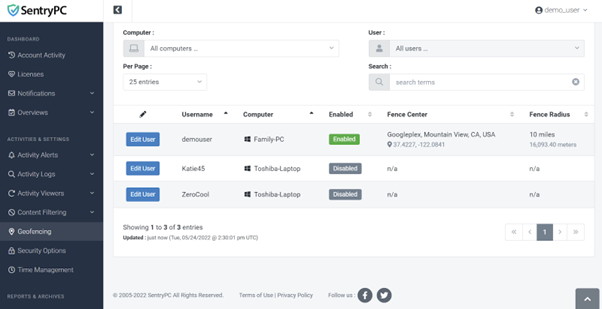 Content Filtering and Blocking
Admins can block applications, games, instant messaging apps, keywords and phrases, and websites by category and user-defined URLs. You can set blanket settings and rules for groups of employees or unique restrictions for each user. If a user tries to access something that goes against your preset rules, it will trigger the system and create a new alert in your log. This feature is great for ensuring that employees view appropriate content only and aren't engaging in behavior that could threaten network security.
SentryPC Cost
Although many employee monitoring software solutions have seemingly affordable rates like $10 per user per month, many plans require you to have a certain minimum number of users, which drives up the total cost. For a smaller business with few employees, it can be difficult to find the right monitoring software for your team.
SentryPC solves that problem by eliminating user minimums; companies can purchase a single license for a flat annual rate. Each additional license is steeply discounted from the initial rate, making it a scalable solution that won't cut too deeply into a small business's budget.
Here's what you will pay for each of SentryPC's six plans: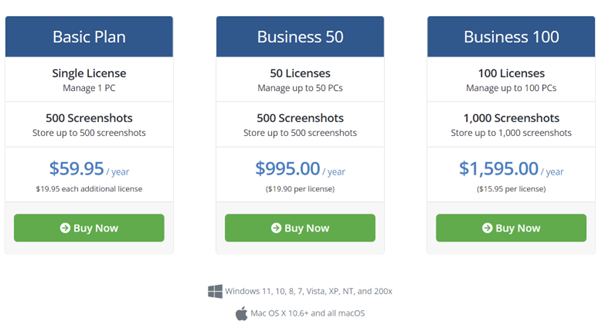 Basic: For $59.95 per year, you get one license and storage for up to 500 screenshots. Each additional license costs $19.95 per year.
Business 50: For $995 per year, you get 50 licenses and storage for up to 500 screenshots. Each additional license costs $19.90 per year.
Business 100: For $1,595 per year, SentryPC gives you 100 licenses and storage for up to 1,000 screenshots. Each additional license costs $15.95 per year.
Business 250: This plan costs $2,995 per year for 250 licenses and storage for up to 1,000 screenshots. Each additional license drops down to $11.98 per year.
Business 500: For $3,995 per year, you get 500 licenses and storage for up to 2,000 screenshots. Each additional license costs $7.99 per year.
Business 1,000: This plan costs $4,995 per year for 1,000 licenses and storage for up to 2,000 screenshots. Each additional license costs $4.99 per year.
Additional screenshots: With any SentryPC plan, you can add extra screenshots in increments of 500 for a one-time fee of $19.95. You'll have access to the extra screenshot capabilities for the entirety of your subscription.
SentryPC plans start at $59.95 per year for one license. As you add more licenses, the cost per license decreases.
Setup
You can manually install SentryPC on individual computers or install it remotely via email or using network deployment. Uninstalling it is as simple as selecting a device and clicking one button. It's even possible to conduct a cloaked installation, which installs a hidden copy of SentryPC that can't be removed or disrupted even if an employee finds it. Activated software then tracks user activity and employee work hours, website and application usage, portable devices and print jobs, chats, and clipboards.
SentryPC is cloud-based, which means you can access your account from any device with a web browser. As seen in its online demo, the software has an attractive, intuitive dashboard with a menu bar displayed along the left side of the screen that makes it easy to set up your monitoring parameters and view employee activity. Data can be sorted in ascending or descending order, filtered by device or user.
Customer Service
SentryPC hosts an integrated support section with documentation to assist you with installing the program, troubleshooting or learning more about how the software works. You can also reach the vendor's customer support through an online ticketing system. However, it's disappointing that there's no telephone support; having to complete a website form and then await a response isn't ideal if a time-critical issue occurs. This is an area where competitors like Teramind and Veriato outperform SentryPC, as each offers a blend of web chat, email and telephone support.
Drawbacks
For inexpensive employee monitoring software, SentryPC delivers a high level of functionality; however, it lacks mobile-tracking capabilities. The software cannot be used to track employees' mobile device usage. This is a limitation only if you need tracking software specifically for mobile monitoring. You can still use the software on mobile devices to view the activity and logs of other tracked Mac or Windows devices.
Another limitation to keep in mind is that SentryPC has a few Windows-only services, such as portable drive and print job logging. It may undermine corporate security if an employee can conduct inappropriate activities without detection simply by leaving their PC and using a colleague's Mac.
Methodology
We produced this evaluation alongside reviews and comparisons of nine other employee monitoring software platforms. We watched online presentations by vendor representatives, investigated the different options with hands-on demonstrations and examined what these applications lacked compared to alternatives in the market.
We also considered things from the employee perspective. While employee monitoring software can boost staff morale if positive results are fed back to them, there will be occasions when surveillance may cross a staffer's personal boundaries. SentryPC operates in stealth by default thanks to its cloud-hosted nature and remote installation setup, which some workers may consider a privacy violation. [Related article: 7 Ways Your Work Tech Is Betraying Your Privacy]
FAQs
SentryPC supports the logging of account and subscription changes, installing and uninstalling software, password modification, and many other aspects. Time-stamped screenshots capture the activity and the IP address of the device used.
The main difference is that the PC version of SentryPC supports logging of portable drives and print job activities, whereas the Mac versions doesn't.
Businesses using SentryPC can define a physical area and then receive real-time notifications if a device enters or leaves that area. Settings can be enabled or disabled at any time, such as if staff are allowed to take laptops home over holidays.
Overall Value
We recommend SentryPC for …
Companies on a tight budget that don't want to pay a premium for monitoring tools.
Managers who like the idea of free cloud-delivered updates during their subscription.
Businesses where tracking a specific device's movements is valuable or necessary.
Admins who want a clean, uncluttered dashboard with key information clearly visible.
We don't recommend SentryPC for …
Businesses that monitor mobile devices or use fringe operating systems like Chrome.
Companies that need consistent coverage across PCs and Macs.
Businesses that want telephone support for issues or inquiries.