Teramind is the best employee monitoring software for security threat protection, allowing you to view employees' screens in real time, block access to harmful content and ensure your company's data is secure. It can even show online and offline searches.
Pros
Teramind's preprogrammed warnings can nip potentially dangerous activities in the bud.
The software covers an extensive array of third-party applications, including instant messaging.
The reports can be thoroughly customized to provide the most useful insights.
Cons
Teramind is compatible with Windows or macOS only.
It's relatively expensive to buy individual user licenses, with no freemium option.
Teramind offers cloud-based and on-premises employee monitoring services.
The software can block certain user activity, track keystrokes and remotely access employee devices.
Every plan includes user behavior analytics like insider threat detection, abusive or malicious behavior detection, and interactive productivity reports.
This review is for business owners interested in using Teramind to monitor their employees' activity in the workplace.
Teramind is our choice as the best employee monitoring software for security threat protection. It goes beyond the core features of other top employee monitoring software to provide a truly comprehensive solution that is easy to learn and use. Whether you need to track which apps employees are using, block or filter website access, audit or investigate user activity, or simply prevent data loss, Teramind has you covered. It is more expensive than other employee monitoring software we evaluated and has a few limitations, but it's well worth the cost if security is your top priority.
Teramind Editor's Rating:
9.3 / 10
Cost

7/10

Features

9.5/10

Compatible OS

7/10

Usability

10/10

Customer service

9.5/10
Why Teramind Is Best for Security-Focused Industries
Teramind does many things right, particularly in the security space, where it provides granular monitoring of employees in the workplace. If an employee is misusing your devices or company information on a PC or Mac, you'll know about it. It also monitors Windows and terminal servers, Citrix, VDI, and VMware Horizon.
However, it's important to note that if your computers rely on Linux or Chrome OS, you'll have to look at offerings from competitors such as Hubstaff, while companies whose employees regularly use Android- and iOS-powered hardware might be better served with InterGuard. Read our full InterGuard review for the details.
Security Settings and Alerts
Teramind allows you and other admins to set various rules and policies that automate the employee monitoring process. These rules can flag or block prohibited behaviors and deliver warnings to users who run afoul of company policy. There are dozens of templates within the system for creating these settings, but you can also create your own policies. It's easy to define profiles for every set of users.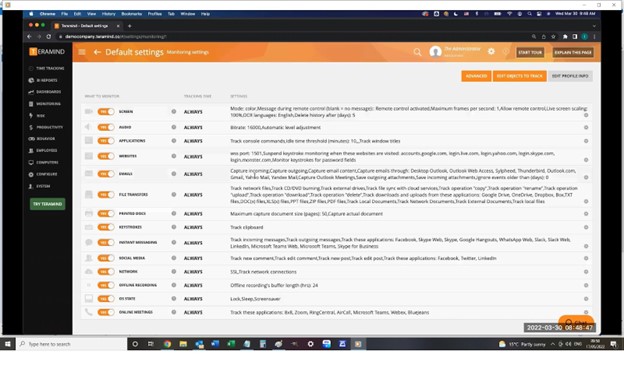 You can set behavioral alerts for any of the software's activity monitoring tools, ensuring no violation goes unnoticed, even if an admin isn't monitoring the system when the violation occurs. In addition to the alert, archiving measures let you review the incident. Teramind is always on and always watching – even if you're not.
Custom Reports
Teramind's reporting capabilities keep administrators in the know, allowing them to review individual employees, groups and the organization as a whole from different angles. The software uses color-coded graphs and charts that are easy to understand.
Reports can be tailored to present the data in numerous ways, depending on which is most beneficial or practical. For example, one set of reports breaks down violations by department, showing where the most frequent or egregious offenses occur. Other reports show employee activity/inactivity time, illuminating which users are most productive.
Risk-Analysis Tool
Teramind includes an embedded risk-analysis tool that can determine your organization's risk level based on the behavioral rules and policies you've set. This tool is especially useful for businesses operating in highly sensitive or regulated industries, such as the healthcare field, which is subject to HIPAA. If an employee's behavior puts your business at risk, Teramind alerts you and helps you tighten user activity to prevent a disaster.
You can restrict employees' ability to use removable devices, which is invaluable if the information stored on company devices can't safely be copied or removed from that machine. Find out more ways to secure your devices and network.
Usability
Teramind wraps its comprehensive features into a user-friendly and intuitive dashboard. With a modern interface and a well-organized layout, it doesn't take long to become familiar with key actions and processes. An overview of all captured data flows through the central dashboard, which can be customized with a variety of widgets to prominently display whatever information is most important. The default dashboard shows security metrics, productivity metrics and who among your employees is currently online. Each widget can be viewed in more detail by clicking on the displayed data.
Available tools are listed in a series of tabs running down the left side of the screen. Tabs include monitoring, risk, productivity, behavior, employees, computers, configure and system. You may see more (or fewer) of these tabs depending on the Teramind package you've subscribed to. Most of the core employee monitoring features appear under the monitoring and productivity tabs, but it's relatively simple to find other tools with just a few clicks. It's also easy to review historic recordings or skip to violations.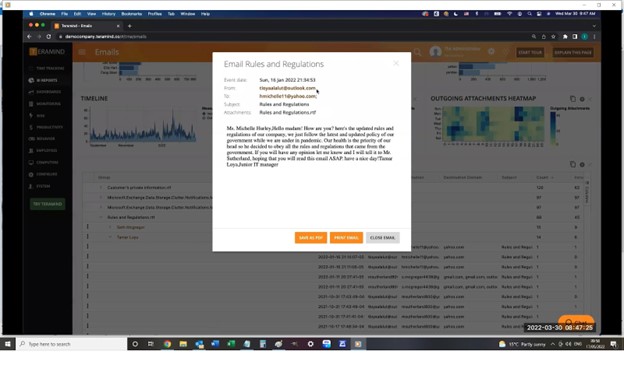 Teramind offers a long list of effective features for monitoring employee actions and responding to (or preventing) violations of company policy. Its activity monitoring tools keep administrators fully apprised of employee activity, flagging anomalous behavior and high-risk activity. None of this is difficult to program through the interface, which by default will take and save screenshots in 10-minute increments. You can either view a user's activity in real time or toggle through their screenshot history. Admins can also take control of a user's device remotely and freeze or lock it if needed.
Teramind Features
| | |
| --- | --- |
| Website and app monitoring | Get reports on all apps and websites employees have accessed. |
| Email and IM monitoring | See every email and instant message. |
| File transfer monitoring | See what content employees print, email or save onto a USB stick. |
| Keystroke logging | Record every keystroke, including special characters. |
| Silent or visible modes | Choose whether employees can see that the software is monitoring them. |
These are the features that make Teramind a particularly strong choice for companies that have to keep close tabs on employee activities, perhaps for regulatory reasons.
Website and App Monitoring
This tool reports on each software application launched and each website an employee accesses. Each component on the list is filterable and includes a video segment of the user accessing the program or website. A bar graph displays the most frequently accessed applications and websites among active users. Preset classifications allow Teramind to determine whether a user is being productive or unproductive based on their use of a particular application or website.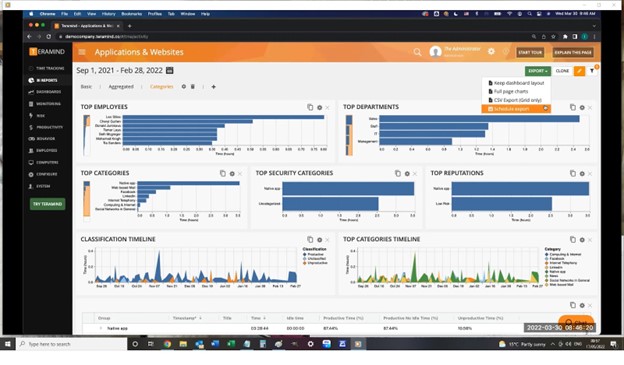 Email and IM Monitoring
The software tracks all incoming and outgoing emails and monitors live chats across multiple platforms, including Facebook, Skype, Google Hangouts, WhatsApp and Slack. Admins can review the content, the participants, and the date and time at which any communications occurred.
File Transfer Monitoring
All file transfers are tracked, including local files, web files and those transferred via a removable device, such as a USB drive. Again, each instance is time-stamped and tagged with a video of the user's screen during the transfer. This also extends to the printing tool, which lists all print jobs a user initiates on any printer they can connect to. A scanned copy of the printed document is saved for admin review.
Keystroke Logging
This feature tracks everything a user types and notes where that activity occurred. It can detect regular key characters, complete words or phrases, special commands and keys, hidden symbols, and more. For example, if an employee Googles "cute cat pics," an admin can view the search, along with the time stamp and a video clip. Although keystroke logging is often seen as invasive, it can be useful for maintaining company security, especially in sensitive industries like personal taxation. It's a function many rival monitoring tools don't offer, making this a key attraction of the Teramind platform. [Read about the laws and ethics of employee monitoring and privacy.]
Silent or Visible Mode
Teramind, like most leading employee monitoring software solutions, has stealth and freelancer modes. Stealth mode runs silently so your employees are unaware the software has been installed on their device. Freelance, or visible, mode runs in the open and can serve as a deterrent to misbehavior or as a tool for part-time and freelance workers who use their personal devices.
Teramind Costs
Teramind has three cloud-based and three on-premises monitoring plans. The cloud plans are charged per user per month and come with a seven-day free trial. The on-premises plans are charged per endpoint per month and come with a 14-day free trial. Volume discounts are available if you plan to have more than 50 users or more than 250 endpoints. However, the vendor's prices are generally higher than those of its competitors, and there's no freemium model like the one noted in our review of ActivTrak.
Here's an overview of Teramind's costs:
Teramind Starter: This plan includes access to core employee monitoring features like website and app tracking, chat and social media monitoring, admin remote control, and activity-blocking capabilities. You have limited access to certain behavioral analytics, policy management, audit and forensic tools.

Cloud: $10 per user per month, billed annually; five-user minimum ($50)
On-premises: $10 per endpoint per month, billed annually; five-endpoint minimum ($50)

Teramind UAM: The user activity monitoring (UAM) plan includes the Starter plan's features, as well as activity monitoring tools such as email and file transfer monitoring, keystroke logging, print monitoring, and optical character recognition (OCR). That last tool can read the text on a user's screen and flag suspicious or prohibited behavior, which is a feature few other employee monitoring software packages offer.

Cloud: $20.83 per user per month, billed annually; five-user minimum ($104.15)
On-premises: $20.83 per endpoint per month, billed annually; five-endpoint minimum ($104.15)

Teramind DLP: The data loss prevention (DLP) plan includes all the employee monitoring features of the Starter and UAM plans, as well as tools to prevent the loss or theft of sensitive company data due to negligence or malicious internal activity. It also includes compliance tools to ensure your company meets the legal standards established by regulations like the GDPR and HIPAA.

Cloud: $25 per user per month, billed annually; five-user minimum ($125)
On-premises: $25 per endpoint per month, billed annually; five-endpoint minimum ($125)
Teramind's prices are relatively high compared to other options, particularly for more advanced functionality, but its sophistication helps justify the premium cost. In particular, OCR monitoring is a great benefit if your staff routinely views PDFs or other read-only files.
Setup
Teramind's automation helps simplify both initial setup and ongoing monitoring. For instance, behavioral rules and company policies can be configured to automatically block certain activities. If you don't want users sending personal emails or engaging in instant messaging during work hours, you can tailor the system to block access to the related platforms. You can block certain websites by setting filters to cover general categories and/or specific sites.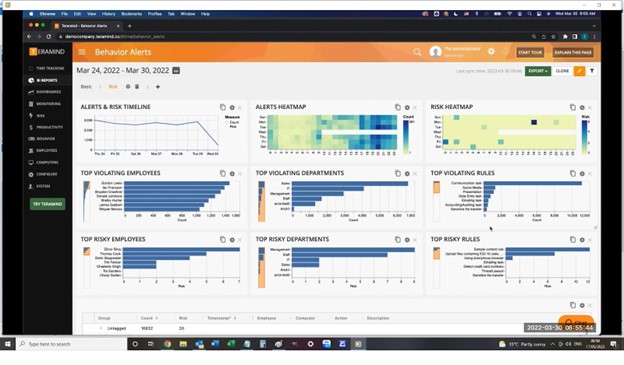 The Teramind website hosts an extensive collection of resources, including tutorial videos, user guides, e-books and brochures. This is ideal for finding answers to queries that crop up while using the platform and for learning functionalities that might not otherwise be obvious. The free live demo is also a valuable feature, using sample employee data to highlight key features.
Customer Service
If you need help, you can reach Teramind's support team 24/7 via phone, email and live chat. The company's customer support provides installation assistance at no additional cost, which is a nice touch.
As mentioned above, the provider's website hosts a comprehensive collection of self-help resources, including FAQs, a knowledge base, video tutorials, e-books and case studies. This can often negate the need to request tech support.
Did you know? Remote workers may be more productive than those who work from a company office, according to research. In either case, employee monitoring software lets you know what your employees are up to, regardless of their location.
Drawbacks
While the presence of an Android app for monitoring employee activity benefits usability, the absence of a corresponding iOS app is unfortunate. It's also disappointing that mobile devices themselves can't be used with Teramind's software, especially given how often iPads and Android tablets are used by off-site staff like sales executives. Adding this feature to a future iteration would bring this solution in line with other platforms that already offer mobile device scanning. For example, InterGuard is compatible with almost every modern operating system.
Methodology
This review was produced alongside reviews and comparisons of nine other employee monitoring software platforms. We watched online presentations by company experts, investigated different functionalities and considered what these applications lacked compared to key rivals.
We also looked at things from the employees' perspective. There is substantial evidence that employee monitoring software benefits morale if good results are shared with employees, but there will be times when surveillance can feel intrusive. In Teramind's case, there is a choice between visible or stealth modes. The former can often serve as an ongoing deterrent to employees who might otherwise feel that they can access inappropriate content or perform risky actions (like printing confidential documentation) with impunity. To make the best decision for your business, check out our guide to choosing employee monitoring software.
FAQs
If you subscribe to Teramind's midrange UAM plan (or its flagship DLP plan), yes, it includes OCR.
Beyond its basic monitoring functionality, Teramind can track active and idle time, also known as productive and unproductive time. It does this for in-house employees as well as consultants, contractors and freelancers. It can also track expenses and payroll, task management, and sick leave, while integrating with productivity tools like Trello, Basecamp and Redmine. If you prefer separate solutions, consider highly rated time and attendance software and the best payroll services.
Yes, Teramind has an Android app that lets you supervise employees at any time from any location. It's free for both cloud and on-premises plans, and it includes real-time productivity reports and live views of users' desktops. However, the app is not compatible with iOS devices.
Overall Value
We recommend Teramind for …
Companies that want to monitor employees' keystrokes or read-only documents like PDFs.
Businesses whose data can't be safely copied, printed or transferred.
Managers who need to set restrictions on what their staff can do.
Teams that want the security of round-the-clock support on multiple platforms.
We don't recommend Teramind for …
Businesses that want to test software with a freemium plan.
Companies that need to monitor smartphones, Chromebooks or Linux-powered PCs.
Managers who want to check up on employees who use iOS devices for work.