ActivTrak remains one of our favorite employee management software platforms. Despite lacking certain desirable features, such as smartphone monitoring, it's easy to use and well priced – free if you're monitoring only three employees.
Pros
ActivTrak offers extremely detailed data analysis and reporting.
The services focus on employee well-being as well as productivity.
You can test the platform over the long term on three employees for free.
Cons
The platform doesn't have smartphone compatibility, even though rivals offer it.
The software can't log keystrokes.
ActivTrak has cloud-based free and paid plans, and there is a 14-day free trial, though the software is always free to use on three or fewer devices.
ActivTrak's workforce insights help you monitor employee productivity, efficiency, workload and tech usage.
The software lets you easily compare analytics across employees and teams.
This review is for small business owners who are considering ActivTrak for their employee monitoring needs.
ActivTrak is our pick as the best employee monitoring software for analytics because it offers comprehensive workforce insights such as activity tracking, website and app monitoring, content filtering, and alerts. The software is easy to install, set up and use, and its dashboard delivers keen insights into user activity and improving productivity across your team. This cloud-based software is compatible with Windows, Mac, Chrome, terminal services and even virtual desktop infrastructures. Managers can use iOS and Android mobile apps to view simplified dashboards and usage reports, but you can't run the software itself on employees' mobile devices.
ActivTrak Editor's Rating:
9.2 / 10
Cost

8/10

Features

9.5/10

Compatible OS

8/10

Usability

10/10

Customer service

9.5/10
Why ActivTrak Is Best for Analytics
There are many employee monitoring tools on the market that can monitor employee activity, identify shirking and report back on productivity. However, ActivTrak's reporting goes into more granular detail, enabling companies to make more strategic decisions. The company bills it as offering insights rather than oversights, meshing with call data and numerous other productivity tools, including Salesforce and Monday.
Imagine a scenario where you're considering introducing a four-day workweek. ActivTrak can generate impact analysis reports, profiling workplace efficiency as well as output. Once you know when people deliver their best work, it's easier to build a case for adjusting the length of the workday.
Other monitoring tools lack ActivTrak's valuable insights like overutilization. It might seem positive when an employee works long hours and delivers more than expected, but this ultimately leads to burnout – and possibly sick leave or even a shocking resignation. ActivTrak allows you and your team managers to identify employees at risk of burnout, such as people who regularly work through breaks or spend too much time in front of their screens, before suggesting coaching opportunities to help them work more wisely and effectively.
This focus on employee well-being, as well as core areas like user activity and employee productivity, means ActivTrak is one of the better platforms in its field for maintaining employee privacy. We particularly welcome the inclusion of a private modes in its 2022 platform, which allows organizations to configure how detailed they want to be in gathering user activity data to protect sensitive information.
ActivTrak can send preprogrammed notifications, but you can also tailor alerts to notify employees when they're violating company policies – such as if they're visiting websites that have been designated as security risks or to trigger other automatic actions.
Usability
ActivTrak is incredibly easy to use, from installation to daily tasks. Its user interface is streamlined and uncluttered, making it easy to navigate, even for first-time users. Everything is neatly organized under well-labeled tabs so that you never have to hunt for what you need. It's easy for employers and managers to track how productive their workforce is on an employee, team and company basis. You can view a wealth of employee data, which the software can quickly break down into actionable insights.
To begin using ActivTrak, you simply install the software and download agents onto the devices you wish to monitor. Once installed, the agent can feed data back to the central dashboard, where company administrators can monitor it in real time.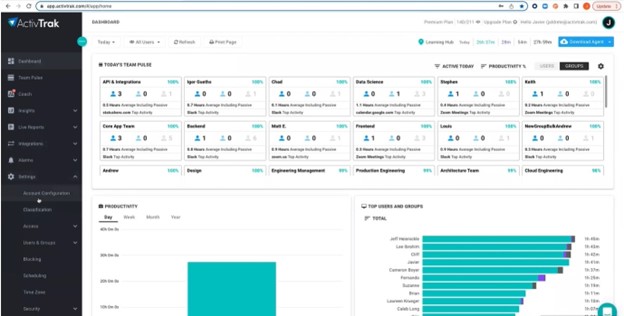 ActivTrak Features
| | |
| --- | --- |
| Application monitoring | Track which software is being used, when, how and by whom. |
| Productivity monitoring | Highlight the usage of sites or apps you've deemed unproductive. |
| Web content filtering | Filter and block specific sites or entire types of web content. |
| Workforce insights | See side-by-side comparisons and current versus historical data sets. |
| Alerts and reporting | Get a real-time overview of individual employees' performance. |
Application Monitoring
ActivTrak includes an application monitoring feature that keeps tabs on the programs users access, when they are doing so and for how long. The most frequently accessed apps appear in a chart on the dashboard, showing how much time your team or a given user spends on certain applications. The charts are clear, though some rival platforms offer more scope to present the information in varied ways, which is often beneficial for presentations or internal documents.
Productivity Monitoring
When configuring the software, you can select websites or applications that you deem "unproductive." These settings are used to gauge the productivity of individual employees and your team as a whole. Using the productivity monitor, you can quickly tell who spends most of their time on task and who is otherwise unengaged while on the clock.
ActivTrak's new Location Insights feature provides business leaders with data regarding employee productivity broken down by location. This advanced productivity data is especially beneficial for employers who want to optimize their hybrid work policies and improve employee work-life balance.
Web Content Filtering
If tagging a website as "unproductive" isn't enough, ActivTrak also allows you to block access to specific types of web content altogether – a service that could help prevent cyberattacks on remote workers in particular. This filtering tool can be useful for preventing employees from navigating to particularly problematic content (e.g., anything related to drugs, pornography and gambling) and maintaining network security. We found it especially neat that you can also establish user risk scores to understand better who is conducting high-risk activities outside of established company policies, which could necessitate retraining.
Workforce Insights
The latest versions of ActivTrak include new analytics insights with varying degrees of granularity. Productive versus unproductive behavior, employee focus and efficiency, tool and application use, workload balances, and technology usage can all be tracked. Side-by-side analyses of how employees and teams compare with each other help identify who is excelling and who needs additional guidance or assistance. You can also use past behavior and activity to set future usage and performance goals.
Alerts and Reporting
Managers can get a real-time view of employee performance. You can run reports to help you analyze the daily, weekly, monthly or annual productivity of individual employees, your team or your entire organization. This data can be used for future decision-making.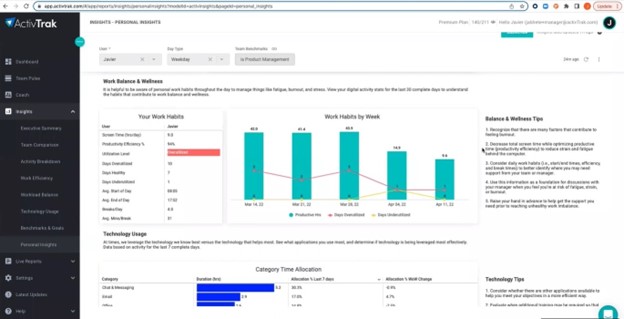 ActivTrak Costs
In addition to its free version, ActivTrak offers paid plans and add-ons (though you must subscribe to an annual contract for access to the latter). If none of the plans suits your needs, the vendor can create a custom plan and quote based on the requirements of a larger enterprise.
Free: This plan, which supports three users only, has employee monitoring features for viewing user activity and gauging overall productivity. The free platform comes with 3GB of storage space and a central dashboard that displays an overview of captured data, website blocking, real-time reporting and scheduled monitoring. That's more than many other similar platforms offer, although there are no add-ons available at this level.
Advanced: This plan requires a minimum of five users. It is $9 per user per month over a minimum 12-month contract, but it supports an unlimited number of users and unlimited data storage. It has advanced employee monitoring functions like USB device detection, risk-level scoring and management, a team productivity pulse, working hours analysis, and advanced Slack and Teams notifications. [Learn more about using Slack at work.]
Premium: In 2021, ActivTrak launched this new plan with advanced insights, which further improved the platform's viability for anyone seeking more detail from their workplace monitoring tools. Billed as offering the best value, the plan costs $15 per user per month over an annual contract. It can support an unlimited number of users (you will need a minimum of five to start), and it includes unlimited data storage. In addition to the features that come with the Free and Advanced plans, this option has premium workforce monitoring insights like employee efficiency, employee workload balance and technology use, historical and team benchmarks, team and personal productivity dashboards, and executive dashboards with organizational indicators. Businesses can try it free for 14 days, which we really appreciate.
Enterprise: Enterprises often need custom employee monitoring plans. Fortunately, ActivTrak can customize an employee monitoring plan to meet your needs.
ActivTrak plans typically cost $9 to $15 per user per month, or you can take advantage of its free plan, which accommodates up to three employees.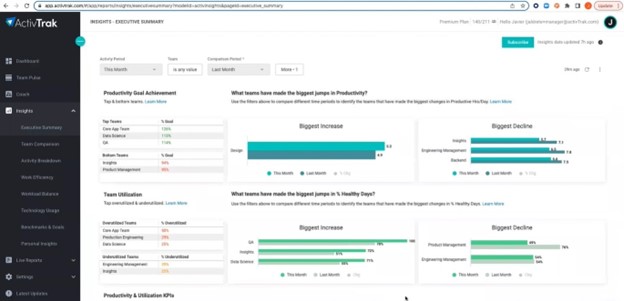 Setup
Because ActivTrak already has roughly 95% of user activities predefined as productive or unproductive, the software is quick to implement. It doesn't take long to become familiar with ActivTrak's intuitive interface. After half an hour of clicking around, you should feel comfortable using the software, enabling you to get up and running without much of a learning curve. You certainly don't need to be overly familiar with this category of software to get started with ActivTrak's operation.
Customer Service
ActivTrak offers several ways to reach customer support. The company's tech support team responds to email requests for assistance, or you can access live chat or call the company's toll-free number for immediate assistance. That's a marked improvement over some employee monitoring platforms, which offer web support only.
The vendor provides 24/7 coverage and multilanguage support. You can also access a dedicated team of experts for more help with onboarding, training or classes. In addition, ActivTrak has many online resources, including FAQs, how-to videos, case studies, blogs, white papers, templates and webcasts.
Drawbacks
While ActivTrak is very good at its core function of monitoring employees, it doesn't offer related or diversified features. For example, competitor BambooHR can assist with everything from onboarding to tracking employee vaccination status. That won't be beneficial for every company, but it could negate the need to run secondary HR software by bringing everything under one roof. See our detailed review of BambooHR for more information.
Another potential limitation of ActivTrak is the absence of keystroke logging. This tool is often useful for tracking what users type in web browsers and applications. While the platform doesn't monitor precise keystrokes, it does track mouse and keyboard activity to gauge user productivity, though rival platforms like Teramind offer keystroke logging. Check out Teramind's full review to learn more.
You might want to look elsewhere if your employees routinely use mobile devices for their jobs. ActivTrak is compatible with Windows, Mac and Chrome OS, but not Android or iOS. Given the popularity of iPads, particularly among employees, that's arguably an oversight, and it's something we'd like to see addressed in future iterations of the company's software.
A distracted workforce hurts your bottom line, which is one reason employee monitoring software can save you money in the long run. By knowing what your employees are up to, you can ensure that productivity and performance are priorities for all staff.
Methodology
This review was produced alongside detailed analyses of nine other employee monitoring software platforms. We attended training courses and got into the nuts and bolts of different platforms, exploring the limitations and boundaries of these applications.
We also considered things from the employees' perspectives. It's been proven that monitoring software can improve staff morale if positive data is visible, but there will be occasions when surveillance begins to feel intrusive. In ActivTrak's case, it's possible to personalize data-capturing controls and settings to fulfill the privacy and compliance needs of your organization. [Read our buyer's guide to choosing the right employee monitoring software platform.]
FAQs
Yes, you can use ActivTrak without paying for it. The company offers a free plan where you can monitor up to three employees at no cost. You don't even need to complete a lengthy sign-up process; a Google account will auto-fill much of the required data for you. However, bear in mind the 3GB data storage cap and limited selection of reports.
Yes, there is a mobile app. Managers can use ActivTrak's mobile app to keep tabs on their team using a simplified dashboard that shows activity and usage reports. However, the software itself won't work on a smartphone or tablet, unless the latter is running either Chrome OS or Windows.
ActivTrak offers add-on features for plans with annual contracts. These include tools for exporting data, app integrations and prebuilt productivity dashboards. Add-ons cost $2 per user per month.
The software works on Windows, Mac, Chrome, terminal services and virtual desktops.
Overall Value
We recommend ActivTrak for …
Businesses that want granular workforce analysis to support strategic decisions.
Managers who are keen to ensure their staff doesn't burn out or become unproductive.
Departments that regularly use other productivity tools like Asana and Slack.
Newcomers looking to run the software free for a while before upgrading.
We don't recommend ActivTrak for …
Businesses that need to monitor smartphones and iPads.
Companies that want additional HR support.
Businesses that would like to log keystrokes rather than take screenshots.