Managing human resources functions can be daunting for small or growing businesses with limited HR personnel. Fortunately, various HR solutions, including the best HR software providers and the best HRO outsourcing companies, can help streamline and automate HR processes and take the burden off your staff. 
Rippling and Zenefits are excellent HR platforms that can handle employee recruitment, onboarding, payroll, time management, benefits administration, compliance and risk management, and workforce analytics. However, their features and structures differ, making one potentially more suitable than the other for various business types. We gathered details from our in-depth Rippling review and review of Zenefits to compare these platforms side by side and help businesses choose the right solution.
Rippling vs. Zenefits Comparison
Pricing
Rippling
Rippling's base workforce management platform is called Rippling Unity. Rippling says its plans start at $8 per user per month; however, you must contact the company to assess the features and services you need and receive a custom quote. 
Consider the following information about Rippling's pricing: 
Various service plans: Rippling Unity has Core, Pro, Unlimited and Enterprise tiers with various workforce management features like global workforce analytics and policy management. However, we were disappointed that we couldn't evaluate their pricing differences and feature valuations. 
Customizable services and features: After your business signs up for the Rippling Unity platform, you can select additional HR, IT and finance features, including U.S. and global payroll, benefits administration, time-tracking tools, compliance tools, recruiting and onboarding services, learning management and much more. Device management, inventory management and app management are also available.
PEO and EOR service: PEO and employer of record (EOR) services are also available. 
While we were impressed at the breadth of features and level of customizability Rippling offers, we wished the platform had more transparency about its pricing. 
Zenefits 
We were pleased to see that Zenefits lists its prices on its website. It's one of the only vendors we reviewed with this level of pricing transparency. Its plans are as follows (pricing reflects a discount for annual billing; you'll pay more for monthly pricing):
Essentials: $8 per employee per month. The Essentials plan includes automated onboarding, time-off tracking, the Essentials mobile app, scheduling tools, integrations, benefits administration with a Zenefits broker and more. 
Growth: $16 per employee per month. The Growth plan includes everything in the Essentials plan, plus configurable people analytics, compensation management and performance management. 
Zen: $27 per employee per month. The Zen tier includes everything in the Growth plan, plus payroll integration, a people hub and employee engagement surveys. 
Notable add-on features include the following: 
Payroll: Payroll is included in Zen, but you can add it to lower-tier plans for $6 per employee per month. 
Services: This add-on costs $8 per employee per month and provides advisory services to help ensure HR compliance. 
Recruiting: Recruiting services start at $35 per month and help you hire and onboard employees. 
Benefits with your broker: Benefits administration with a Zenefits broker is included in all plans. However, if you want to work with your own broker, you'll pay $5 per month per employee. 
We were happy to see that Zenefits offers a 14-day free trial so businesses can test the platform and its features. However, Zenefits charges for a minimum of five employees on its base plans and add-ons —  something very small businesses should be aware of.
Winner
Zenefits is the winner when it comes to pricing. We love its transparent online pricing and affordable rates. Rippling and many other vendors require you to request a customized quote —  though we appreciate that highly customized plans can be challenging to price. We were also pleased to see that Zenefits is flexible in terms of offering multiple plans and add-on options. This is a great way for startups and small businesses to scale their plans as they grow while being mindful of costs. 
HR Services
Rippling 
Rippling offers stand-alone HR services, as well as PEO and EOR services, allowing businesses to customize their HR solution. Notable HR services include the following: 
Employee onboarding and offboarding: Rippling can help with employee onboarding and offboarding, dealing with paperwork, and other tasks.
Employee data management: Rippling can manage all employee data from a central location. 
HR policy creation: Ripping can help your business build custom policies, including PTO policies, mobile device management policies, disciplinary action policies and more. 
Workflow automation: Rippling's workflow automations can help you automate and easily manage HR, finance and IT workflows across multiple systems. 
Vacation and leave management: Ripping can handle leave management headaches while tracking vacation and leave time.
Add-on HR services: You can customize your Rippling package to include employee recruitment, benefits administration, time and attendance, payroll and learning management.
Employees can be onboarded to the Rippling platform within 90 seconds. It has several automation features to streamline the process.
Zenefits
Zenefits offers a wide breadth of HR features and services, including the following: 
Automated onboarding: Create a custom onboarding process and automate it to ease the struggles of hiring new employees. 
PTO tracking: Customize your PTO tracking based on your business's time-off policies. 
Employee management: Employee management functions include org charts, company directories, document management and more.
Employee scheduling: Zenefits can help you create and edit shifts, automate schedule notifications and more.
Analytics: An analytics dashboard can help you visualize workforce trends. 
Integrations: Connect Zenefits to Slack, Google Workspace, Salesforce and more.
Advanced and add-on services: More advanced plans include configurable people analytics, compensation management, performance management, a people hub and employee surveys. Employers looking for an even more comprehensive HR solution can add Zenefits' payroll, recruiting and advisory services.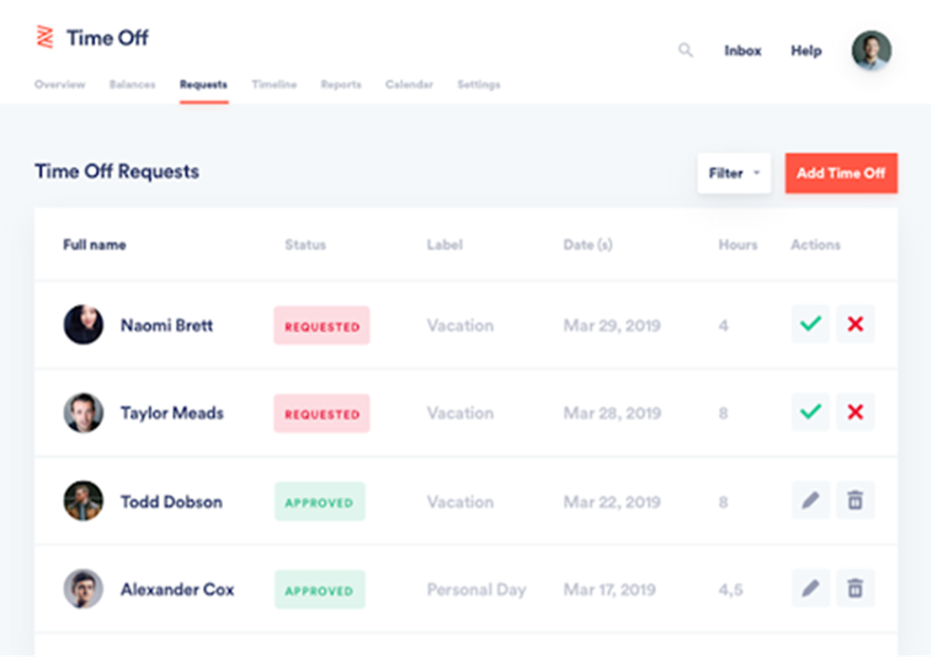 Zenefits can efficiently handle time-off requests within the platform. Source: Zenefits
Winner
While both Rippling and Zenefits offer comprehensive HR functions, we were especially impressed with Rippling's ability to automate so many of those processes. We like that Rippling is a customized solution that allows employers to choose which HR features they need. We also like that Rippling offers HR-adjacent IT and finance management features. Managing all of these processes from one centralized location is ideal. 
Payroll
Rippling 
Rippling provides a quick and straightforward payroll process. Note that if you use Rippling's PEO and EOR services, you must use its payroll platform.
Automated payroll calculations: Rippling automates payroll tax calculations and payroll deductions, including federal, state and local taxes; W-2s; W-4s; and 1099s.
Global and U.S. payroll: Rippling offers U.S.-based and global payroll processing for employees and contractors. Its global payroll capabilities set it apart from many competitors.
Mobile app: Employees can use the Rippling mobile app to view their payments and request time off.
Rippling assists with payroll compliance by overseeing and abiding by state and local labor laws and regulations regarding minimum wage, overtime, meal and rest break laws, and more.
Zenefits 
Payroll is automatically included with the highest-tier Zen plan. Businesses can add payroll functions to lower-level plans for $6 per employee per month. 
Connected platform: Zenefits' payroll functions sync automatically and offers features like time-tracking and benefits administration to ensure accurate deductions. 
Payroll features: Zenefits users can take advantage of unlimited pay runs, multiple pay schedules and pay rates, garnishment support, and direct deposit. Zenefits can also handle contractor payments.
Payroll taxes: Zenefits calculates and files payroll taxes automatically. 
Winner
In terms of payroll automation, Rippling is more powerful and flexible than Zenefits. Rippling users can create customized payroll rules to meet their business's unique needs. The Rippling platform also supports domestic and global payroll, while Zenefits only supports U.S.-based payroll. Overall, Rippling is a better choice for businesses that need a more powerful and flexible payroll solution.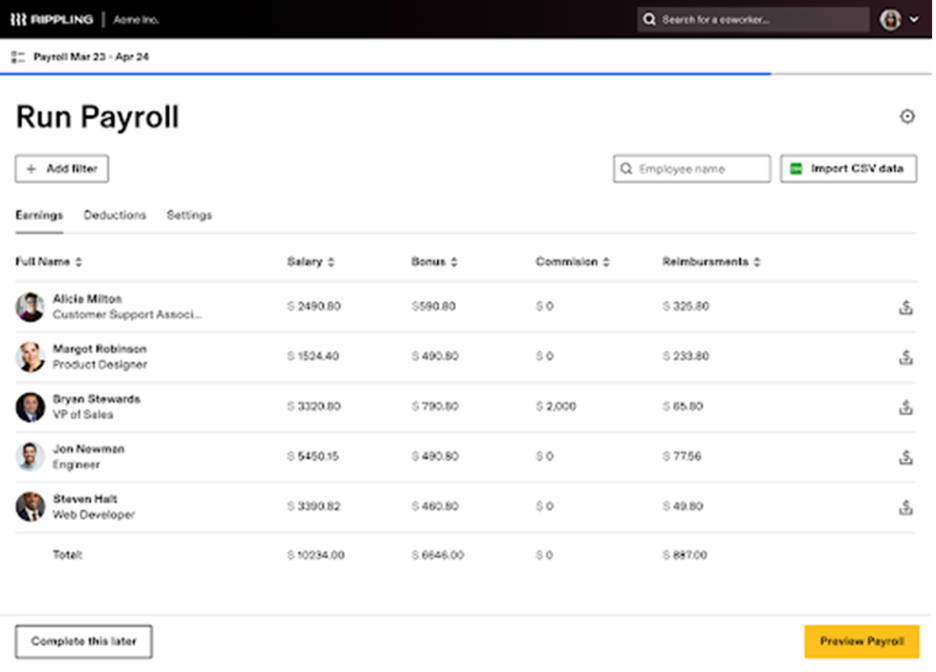 Rippling makes running payroll easy with a quick and straightforward process. Source: Rippling
Usability
Rippling
When testing Rippling's platform, we found it intuitive and user-friendly. It's customizable and can help you automate many HR processes. We really like that employers can use one centralized platform to manage their HR and IT functions. 
Zenefits 
When we tested the Zenefits platform, we were pleased with how visually appealing and easy it was to learn. Zenefits users can choose between self-service and guided product setup options. 
We also like that the Zenefits dashboard displays alerts and crucial information, so you and your employees don't miss anything.
Winner
These two solutions are very different, so rating their usability was a challenge. However, Zenefits wins because of how easy it is to set up and navigate the platform. It's a highly visual platform that new hires will learn quickly. In contrast, it takes a bit more time and effort to customize Rippling's robust automations. Still, while Zenefits is easier out of the box, Rippling will ultimately simplify your HR processes.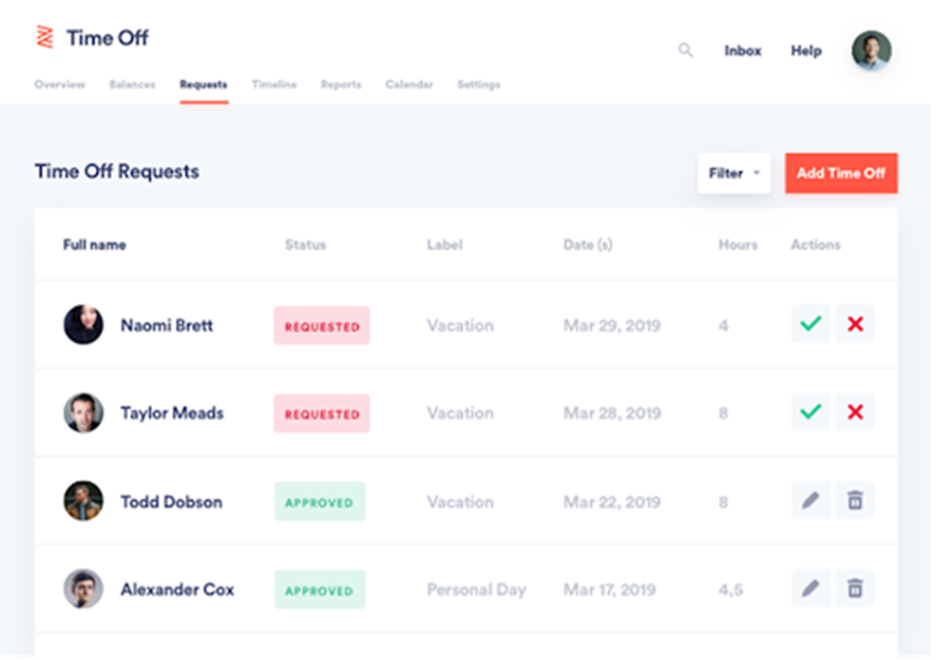 Zenefits users can easily track their workforce with its employee directory. Source: Zenefits
Customer Support
Rippling 
All Rippling plans automatically include email and web chat support. We like that Rippling provides real-time support status response times on its website. Users looking for phone support can add Rippling's Help Desk: HR Support to their plan for an additional fee. Rippling also offers standard online resources like blogs, templates and a help center. 
Zenefits 
Zenefits offers phone, email and web chat support. If you want additional expert support, you can add Zenefits' advisory services for a monthly fee. Zenefits also offers standard online resources like blogs, checklists, guides, e-books, templates and an online training portal.
Winner
Rippling and Zenefits offer similar standard customer support options with various pros and cons. For example, Rippling users must pay an additional fee to access phone support —  a feature included in Zenefits' plans. However, some user reviews say Zenefits can be slow to respond at times. We like that both vendors offer online resources and the option to upgrade to priority support.