TriNet Zenefits is our choice for the best payroll service for businesses on a budget. It's a full-service payroll and HR platform with an integrated scheduling system. It also has a compensation management tool to ensure key personnel aren't underpaid.
Pros
TriNet Zenefits presents affordable modular packages that make it easy for businesses to choose the services they need.
TriNet Zenefits' payroll services integrate seamlessly with the vendor's HR services, including employee onboarding. 
TriNet Zenefits' has a clean, colorful and intuitive user interface (UI). 
Cons
Costs can spiral if your business must pay freelancers and temps or if you need recruitment assistance.
TriNet Zenefits doesn't support international payments.
TriNet Zenefits is a full-service HR platform with an affordable payroll service. 
TriNet Zenefits supports unlimited payroll runs and employee scheduling and calculates benefit deductions and time off automatically.
TriNet Zenefits provides dozens of preprepared reports that simplify HR and payroll operations. 
This review is for small business owners considering using TriNet Zenefits for their payroll processing needs.
Many small businesses need an affordable solution for their payroll and human resources (HR) needs. TriNet Zenefits is a competitively priced cloud-hosted HR solution with exceptional payroll and benefits administration functions. The vendor lets businesses combine HR and payroll services for as little as $14 per employee, per month. Zenefits is ideal for startups or any business that wants to minimize monthly expenses without sacrificing functionality.
Zenefits Editor's Rating:
9.4 / 10
Pricing

9.6/10

Features

9.5/10

Usability

9.6/10

Employee self-service

9.3/10

Customer service

8.8/10
Why TriNet Zenefits Is Best for Businesses on a Budget
Cost is often a significant consideration for businesses when assessing potential vendors. However, no business wants to sacrifice essential functions or settle for shoddy service to save money. TriNet Zenefits is an ideal payroll and HR solution for cost-conscious companies seeking the best value for their investment. It delivers essential payroll and HR services affordably and with minimal setup hassles.
We were impressed with TriNet Zenefits' competitive pricing. The vendor can deliver payroll and essential HR software for only $14 per employee per month (billed annually). This price was the most affordable we encountered during our in-depth review process. Businesses can also add advisory services, benefits administration and recruiting for additional costs. The company clearly outlines three HR packages with various services, making it easy for businesses to identify the best solution for their needs. 
We appreciate Zenefits' pricing transparency. Some platforms we reviewed are less open and require potential clients to request custom quotes. Many businesses prefer a transparent pricing structure that allows them to understand costs, compare offerings and stay within their budgets. 
However, if you require more extensive payroll features and HR support, TriNet Zenefits may not be the best solution for you. For example, costs will add up if you have many contingent workers, such as contractors and temporary employees, or require extensive recruitment support. Check out our review of QuickBooks Payroll if you must pay contractors or have more complex needs.
All TriNet Zenefits' tiers include scheduling and employee time tracking tools, so businesses don't have to turn to a third-party provider for a time-and-attendance system.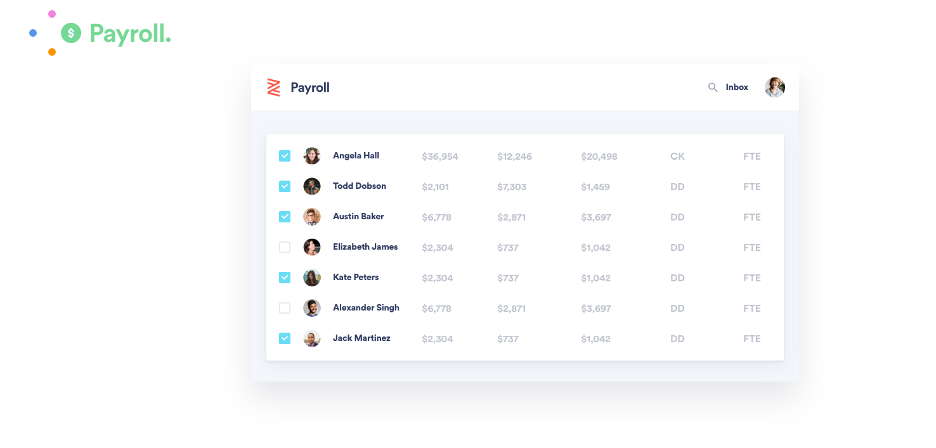 TriNet Zenefits makes running payroll affordable for businesses. Source: TriNet Zenefits
Usability
We liked TriNet Zenefits' clear, navigable desktop interface. However, its mobile app's simplicity and usability impressed us. Your team can look up health insurance information and other employee benefits, send messages to other team members and submit time-off requests via the mobile app.  
Employees can clock in and out via the desktop platform, mobile app or onsite terminals. This data automatically feeds into the payroll system to adjust payments accurately. For example, if someone schedules unpaid time off, they can view their projected next paycheck with the adjusted amount. Offboarding a former employee from payroll is straightforward: Click the Remove from Payroll button next to their user information.
We like that Zenefits presents salary metrics, pay benchmarking and a compensation management tool that aggregates salaries to avoid underpaying key personnel. We also like that the platform will issue a reminder if payroll is late as past payroll runs are listed below previous runs and those pending approval. It's easy to add or adjust payroll runs. 
TriNet Zenefits Features
TriNet Zenefits has ample payroll and HR features that make running your business easier. Here's a look at the features we found notable:
| | |
| --- | --- |
| User-friendly interface | Zenefits is easy to use even if you're not tech-savvy. |
| Simple navigation | Process your payroll run with as few as three clicks.  |
| Employee-comparison tool | A side-by-side chart helps you determine relative salaries and avoid underpaying key personnel. |
| Benefits administration | Apply benefits to new recruits; payroll deductions will be made automatically. |
| Report functionality | Download over 20 reports with a single click. |
User-Friendly Interface
We liked that TriNet Zenefits presents a clean, colorful UI. Some other payroll services we reviewed can appear cluttered and confusing. With Zenefits, there's relatively limited on-screen data, so it's easy to focus on the information at hand. 
Zenefits displays precise payment amounts for all staff members along with the pay date, taxes and reimbursements. It will issue payments and simultaneously distribute digital pay stubs to all employees on that pay run.
Zenefits can handle your business's payroll tax responsibilities. After calculating what you owe, it will file the right payroll forms with the appropriate parties and handle payments.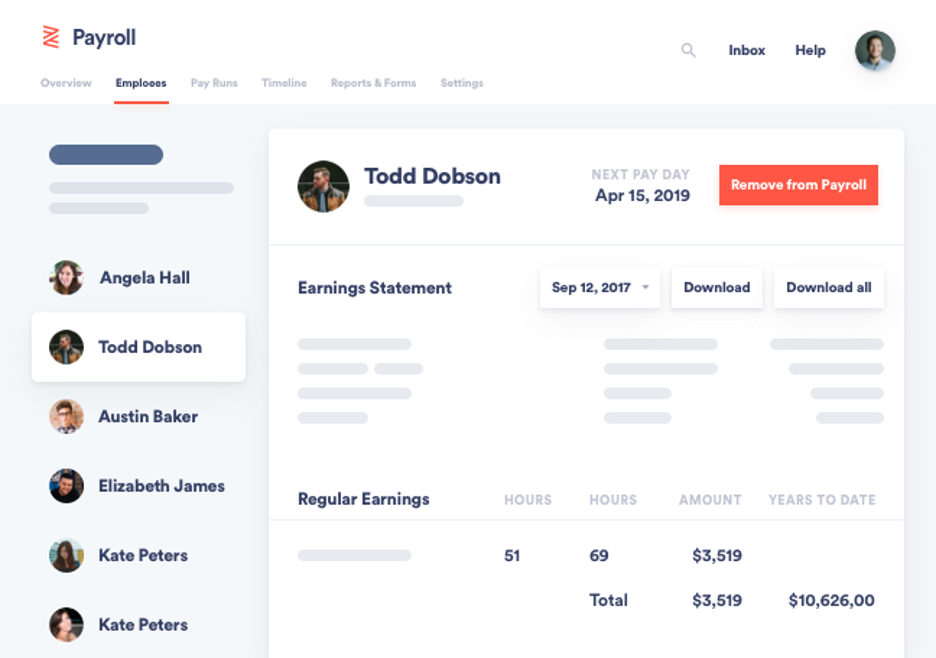 Zenefits has a clear, understandable UI. Select Remove From Payroll if an employee leaves. Source: TriNet Zenefits
Simple Navigation
When it comes to payroll processing and HR management, navigability is crucial. Busy managers don't want to wade through numerous submenus and screens to complete basic tasks. We like that it only takes three mouse clicks to approve and run payroll and issue payments with TriNet Zenefits. You can also summon W-4 tax information, run background checks, place someone on leave or download all documentation relating to a specific employee with a few clicks. 
Compare Employees' Compensation
TriNet Zenefits' compensation management feature impressed us. The tool lets you display employees side-by-side with figures like base pay, hourly rate and tenure listed. This tool is valuable for comparing team members and can help managers spot employees who are being under-remunerated. We didn't see this feature in other payroll platforms we reviewed.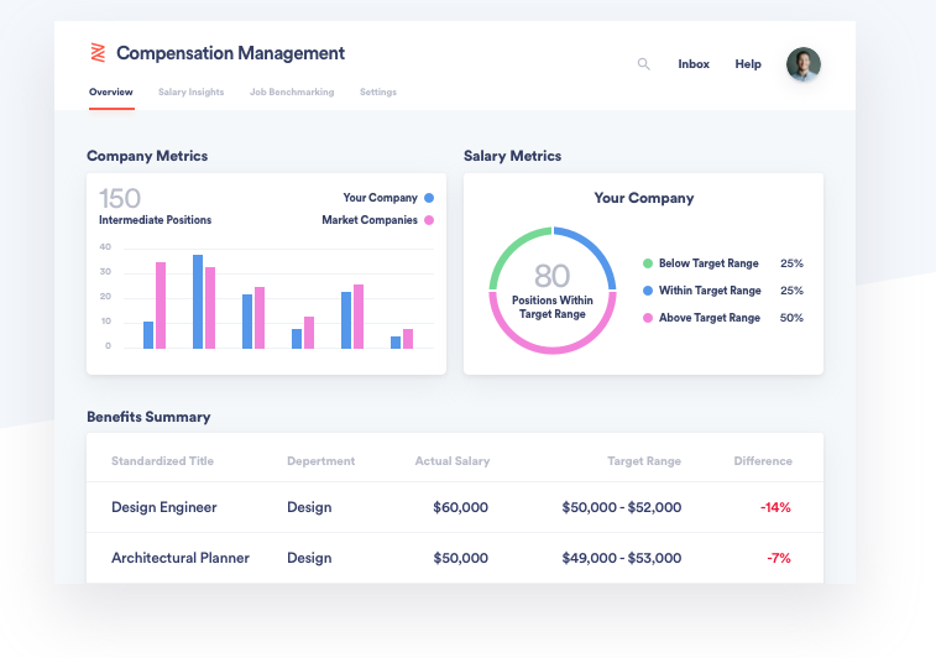 Zenefits' compensation management tools help you set salary benchmarks and better understand ideal employee compensation. Source: TriNet Zenefits
Benefits Administration
We like that TriNet Zenefits makes benefits administration relatively straightforward. There's a six-stage process for selecting and scheduling plans, determining corporate contributions and generating automated letters notifying employees about their entitlements. After signing up for benefits, monthly deductions are applied automatically to subsequent payroll runs. It can set aside funds for garnishments and handle payments to child support agencies. This feature is notable because many payroll services don't provide this option.  
Zenefits will also handle 1099 filings to the IRS and notify the relevant state when an employee is first hired.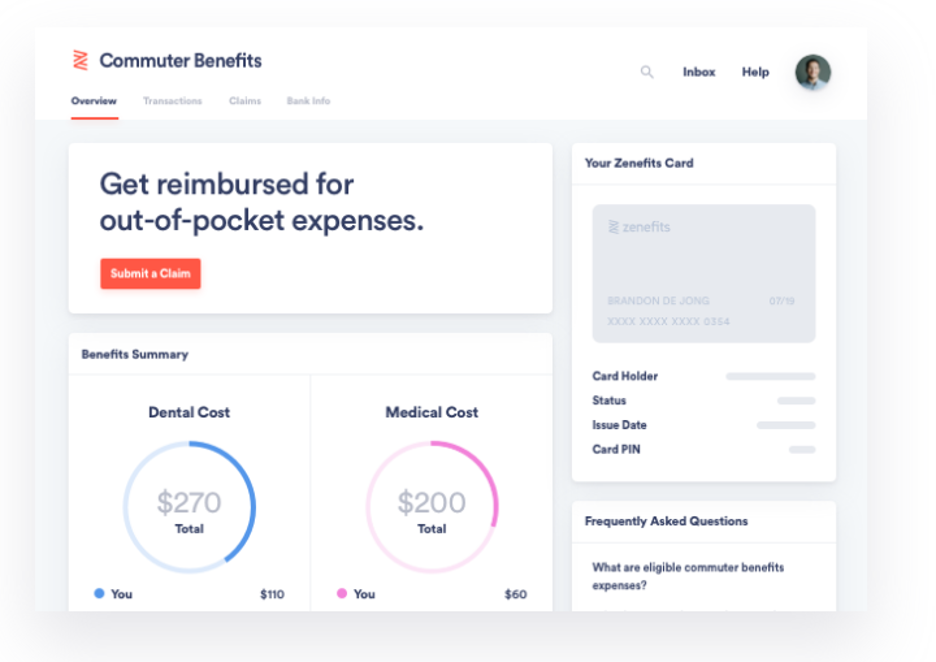 Zenefits makes benefits administration straightforward for businesses and employees. Source: TriNet Zenefits
Report Functionality
Zenefits has a collection of 22 preprepared reports businesses can run after specifying key criteria. There are payroll reports, bank transaction reports, garnishment audits, tax liabilities by pay period, W-2 and W-4 previews and a reported tips function.
We experimented with the system's customizable all-in-one payroll reports. They let you search by payroll or timeline, selected locations and specific data, such as earnings, deductions and taxes. Choose whether you want an Excel or comma-separated values file and select Download to deliver the data to your desktop.
Your payroll schedule determines how many pay periods you'll have in a year. You can remit payments to employees weekly, biweekly, semimonthly or monthly.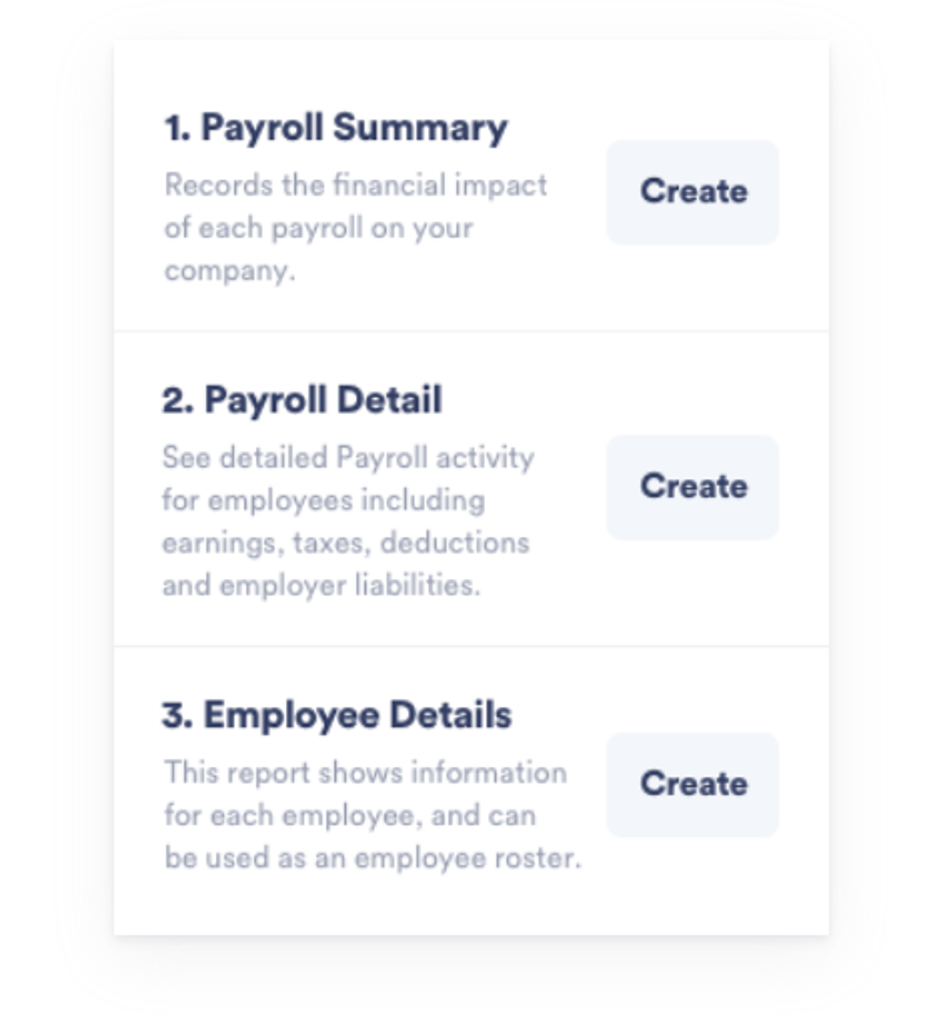 TriNet Zenefits' reports help you get a better understanding of your business. Source: TriNet Zenefits
TriNet Zenefits Cost
Unlike many competitors we reviewed, TriNet Zenefits doesn't offer a stand-alone payroll package. You'll sign up for a base package with HR tools and add payroll and other options. You'll pay for a minimum of five employees. This means that even if you only have three employees, you'll still pay for five.  
We like that Zenefits is transparent about its pricing. Some competitors require a phone call to request a custom quote. While this can help you create a tailored solution, many businesses want to be able to compare plans and prices when selecting a vendor. 
With TriNet Zenefits, modular packages can be assembled using one of three base plans (note that prices reflect a discount for annual billing):
| Name | Cost | Key features |
| --- | --- | --- |
| Essentials | $8 per user, per month | Automated onboarding, analytics dashboards, scheduling and a mobile app |
| Growth | $16 per user, per month | All the above features, plus configurable people analytics and compensation and performance management |
| Zen | $21 per user, per month | All the above features, plus employee engagement surveys and a communication hub with a task manager, announcement posts and the ability to comment |
After choosing a base plan, you can add stand-alone extras: 
Payroll: Payroll services cost $6 per employee, per month and $6 per active contractor (or temp), per month. We were pleased to see that the payroll add-on includes advanced features like mobile pay stubs and automated reminders. Many competitors charge extra for these services. 
Advisory services: Adding HR advisory services costs $8 per user, per month. This includes unlimited access to HR and payroll experts who can advise on expansion, HR compliance challenges, challenging employee situations and more. 
Benefits administration: If you want to use your own broker to administer benefits, you'll pay $5 per person monthly. If you work with a TriNet Zenefits partner, benefits administration is included free in your base plan. 
Recruiting: Zenefits Recruiting powered by JazzHR starts at $35 monthly. Full applicant tracking software will set you back a steep $215 per month and the Pro recruiting package is $323 per month.
While some payroll platforms don't charge new customers until the first payroll is run, Zenefits annual contracts are billed on the day of signing. Monthly contracts are billed on the anniversary of the signing date.
TriNet Zenefits Setup
We like that Zenefits offers registered users a guided tour and live software demo that covers most core functionalities. The desktop interface is intuitive and the mobile app is exceptionally designed. The platform offers 101 online courses for administrators, managers and employees to help them get up and running. There's also a 25-course "learning path" covering payroll basics, adjusting previous payrolls, 401(k) imports and exports and more.
Zenefits offers integrations with over 40 business apps, which can ease your setup process. Partner platforms include Google Workspace, Salesforce, Xero and Zapier.
Zenefits can also save you time during the employee onboarding process. For example, first payments are prorated automatically while dynamic pay stubs provide payroll deduction breakdowns monthly and can be customized by messages. We also like that workers can continue to access their documents after leaving a company – relieving pressure on HR personnel.
TriNet Zenefits Customer Service
Despite TriNet Zenefits' expansive online help resources, its customer support options aren't as robust as some competitors. Telephone and chat support are only available from 5 a.m. to 4 p.m. Pacific time, Monday through Friday. If accessible customer support is your business's priority, check out our review of Paychex. This vendor offers around-the-clock customer service for payroll administrators and employees via phone, chat and an online form.
The Zenefits website has detailed payroll resources that can help answer your questions. However, you'll need to create an account and log in to view information about 401(k) limit enforcement, employee state taxes or how to remove a bank account from the system.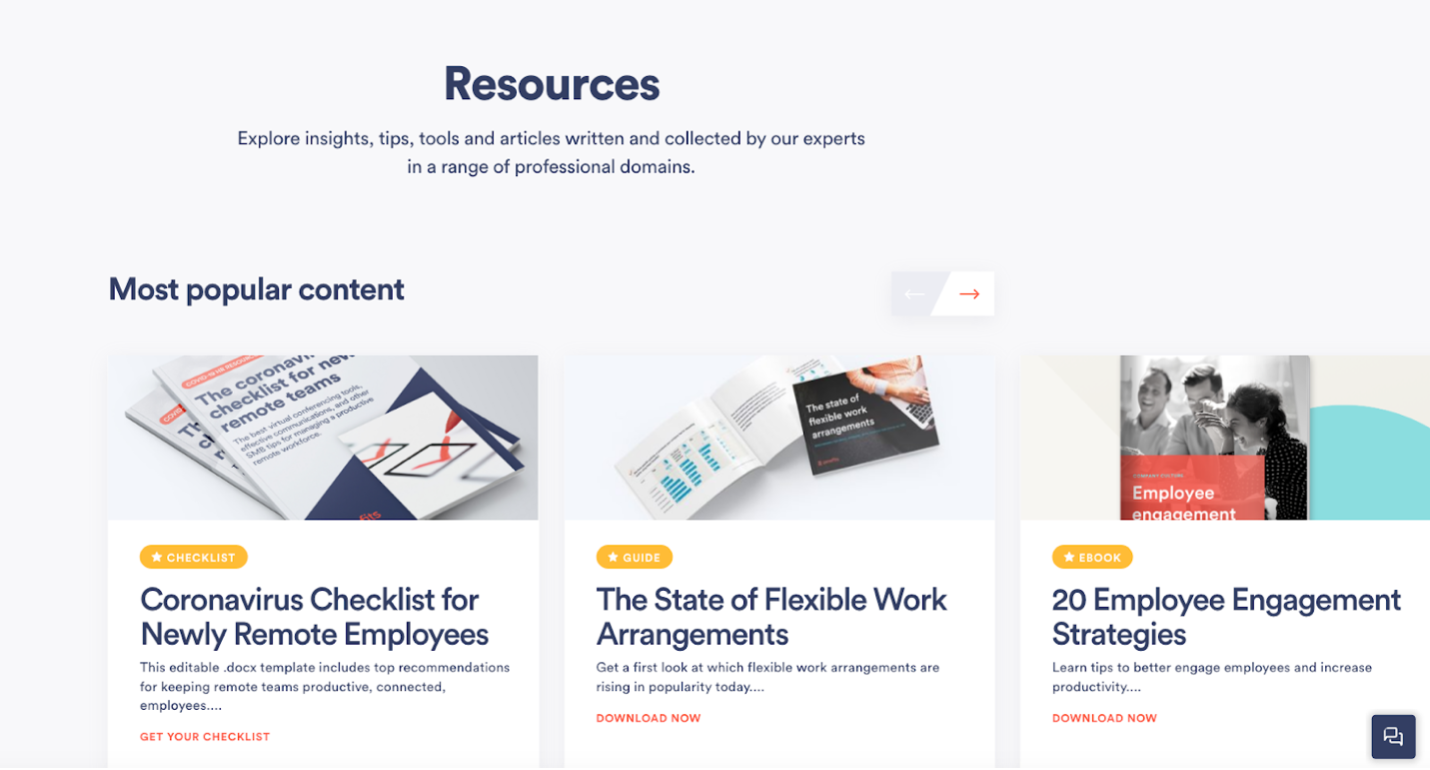 TriNet Zenefits provides extensive online resources to learn more about running a business. Source: TriNet Zenefits
TriNet Zenefits Drawbacks
Zenefits can bring your business many of the benefits of paperless payroll at an affordable price. However, we did identify several drawbacks. 
No 24/7 support: The lack of 24/7 support is a potential drawback for some businesses. You're out of luck if you run into payroll or HR problems outside business hours.  
Payroll is an add-on function: TriNet Zenefits' biggest downside is that payroll is an add-on instead of a stand-alone package. It's only worth your time and money if you need HR functionality. If you don't need HR tools, consider a payroll-focused company like OnPay. Read our review of OnPay to learn about this straightforward payroll service designed specifically for small businesses.
No international support: While the list of payroll functionalities is impressive for the price, TriNet Zenefits doesn't support international payments or overseas banking. If you need a payroll provider that can handle employees who live abroad, consult our review of Rippling. Rippling can pay employees and contractors within minutes, whether they live in the United States or abroad.
Outsourced labor will cost you more: Paying $6 per payroll run for each contractor or temp could become a significant cost for businesses heavily reliant on outsourced labor. In contrast, Gusto lets you pay employees and contractors during the same pay runs; it even offers a plan specifically for contractor-only businesses without full-time employees. Read our Gusto review to learn more.
If your business needs 24/7 support and more robust advisory features, check out our review of ADP Payroll. This vendor has extended support hours and includes business advisors and legal, HR and marketing assistance on higher-level plans.
Methodology
When evaluating the best payroll services, we examined dozens of platforms and their features, including their payroll processes, integrations, customization options, usability and setup. To determine the best payroll solution for businesses on a budget specifically, we looked at pricing options, plan availability and the cost-to-feature ratio. During our in-depth review process, we engaged in a live TriNet Zenefits demo to see how it handles pay runs, HR records, reports and taxes. Our goal is to help businesses choose the right payroll service.
TriNet Zenefits FAQs
Zenefits is primarily an HR platform. It offers full payroll integration as a paid extra. You can't choose payroll without selecting one of three HR packages. Still, costs are very low compared to most rivals.
Zenefits was acquired by rival platform TriNet in 2022. It has since been renamed TriNet Zenefits. The Zenefits name will likely disappear in time, with this platform becoming another part of the wider TriNet product offerings.
Zenefits supports multiple productivity and time tracking integrations, applicant-tracking systems and retirement savings plans. You can also dovetail Zenefits with Xero, QuickBooks, Expensify and NexTravel while Uber and Lyft support is also available. Other integrations cover employee benefits, health and wellbeing, employee engagement and learning software.
Overall Value
We recommend Zenefits for…
Companies operating on a strict budget.
Organizations that want a user-friendly interface and extensive report functionality.
Businesses that need HR software as well as payroll services.
We don't recommend Zenefits for…
Enterprise companies with more than 1,000 staff members.  
Businesses with international employees.
Businesses with many contingent workers, such as contractors, temps and freelancers.