Rippling is our choice for the best payroll service for ease of use. Its intuitive software requires little training, and you can run payroll in as little as 90 seconds. Rippling also integrates with over 500 third-party apps to create smoother workflows.
Pros
The Rippling platform is highly customizable for automated workflows.
The software integrates with hundreds of popular third-party apps.
You can use Rippling as your PEO provider for group benefits and HR services.
Spend Management lets you sync reimbursable expenses with payroll.
Cons
Pricing isn't transparent; you must contact the company for a custom quote.
The vendor doesn't offer a free trial.
Small businesses appreciate intuitive software tools that require little training and work well out of the box. Rippling is an excellent solution with an easily navigable platform. Rippling is well known as one of the best HR software vendors. However, it also provides full-service payroll and tax withholding tools within its suite of HR and employment software. You can use Rippling for unlimited pay runs and pay employees via direct deposit or paper check. Its intuitive interface and customizable workflows make it our choice for the best payroll solution for ease of use. 
Rippling Payroll Editor's Rating:
9.4 / 10
Pricing

9.5/10

Features

9.5/10

Usability

10/10

Employee self-service

9/10

Customer service

9/10
Why Rippling Is Best for Ease of Use
Rippling has all the payroll features businesses need and wraps them up in one of the easiest-to-use interfaces we've seen. The system's user-friendly interface doesn't require much training for new users. Business owners can run payroll in as little as 90 seconds, and the software integrates with over 500 third-party apps to make workflows smoother. When you log into the dashboard, all the key metrics you need to stay on top of business operations are clearly labeled and easy to find.
Rippling's Spend Management system is another fantastic automation feature. It integrates employee expense tracking, bill paying and company credit cards with payroll. This integration makes it easy to reimburse employees using the same system you use for regular paychecks. There's no need to manually reconcile expenses with your payroll software. For these reasons and more, Rippling is our choice for the best payroll service for businesses that prioritize ease of use.
While you can process payroll with the click of a button, Rippling doesn't support automated payroll runs. If automated payroll is a priority for your business, check out our review of QuickBooks Payroll. All its plan tiers let you set up automatic payroll.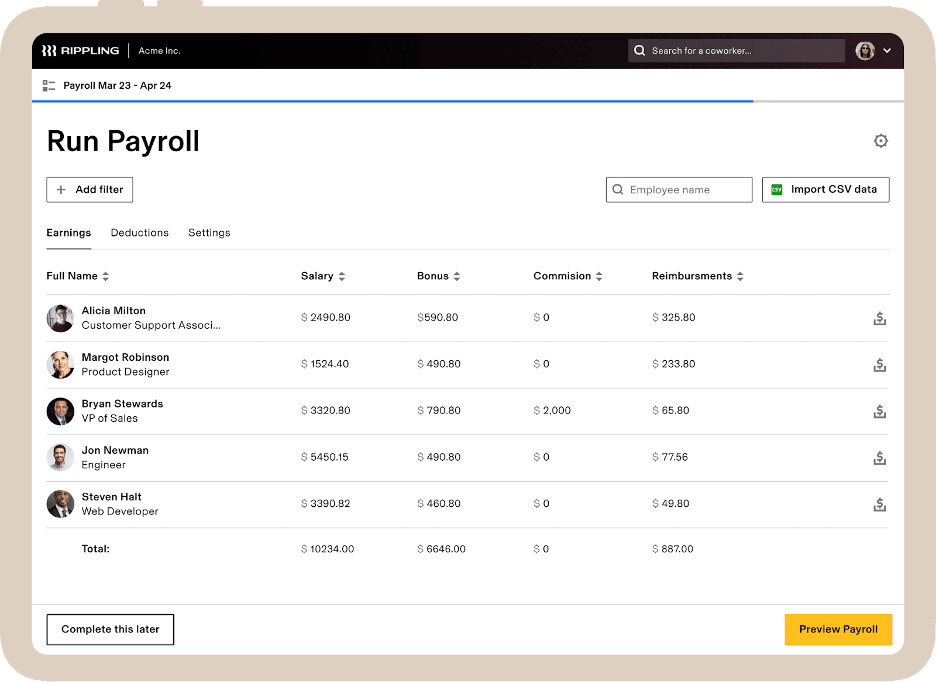 Rippling says businesses can run payroll in as little as 90 seconds. Source: Rippling
Usability
We were impressed by Rippling's easy-to-navigate and user-friendly software. Managers and employees can learn the platform quickly with minimal training.
The interface is straightforward; everything you need is on the home page dashboard. When you log into the system, you'll immediately see crucial information like total hours worked. Hundreds of built-in payroll workflow templates can be customized to suit the specific needs of businesses of any size.
We love that you can use Rippling to automate as many HR processes as you want. The software makes employee onboarding effortless, and the self-service app lets team members log in and view their benefits and expenses or update personal information. We also liked Rippling's Spend Management system, which helps you reimburse employees quickly. 
It's easy to integrate numerous third-party platforms with Rippling to create custom solutions that work for your organization. GitHub, Dropbox, Adobe, Shutterstock, 1Password and HotJar are just a few of the over 500 third-party apps you can choose from. 
Rippling Features
Rippling has virtually all the features businesses need in their payroll software without making the system overly complicated or challenging. Here are some of the features we found notable.
| | |
| --- | --- |
| Full-service payroll provider | Use Rippling to run payroll in just 90 seconds. |
| Automatic tax withholding | Rippling automatically calculates, files and pays your payroll taxes.  |
| Expense management | Set permissions for reimbursable expenses, which are then synced and paid through payroll. |
| Time and attendance | Use the software to easily track and approve employee time and attendance. |
| Benefits management | Manage all of your employees' insurance benefits in one platform. |
| PEO services | High-growth companies can use Rippling as their professional employer organization (PEO). |
| Third-party integrations | Rippling integrates with hundreds of popular third-party apps. |
Full-Service Payroll Provider
We like that businesses can use Rippling as their global payroll provider to pay employees and contractors within minutes, whether they live in the United States or abroad. You can execute unlimited monthly pay runs and pay team members via direct deposit or paper checks. If you have employees outside the U.S., you can set up an international wire transfer in their local currencies. Rippling also plans to introduce bill-paying software to pay, track and manage global invoices and expenses — a valuable feature for freelancers and remote subcontractors.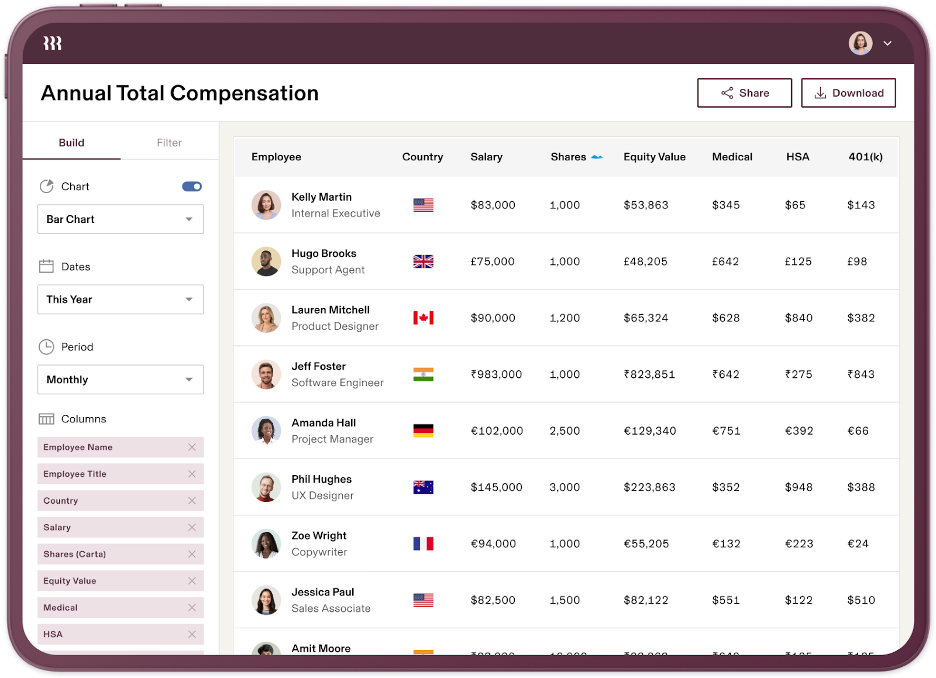 Rippling lets you easily pay your team in the U.S. and abroad. Source: Rippling
Automatic Tax Withholding
Like many vendors in the space, Rippling automatically calculates, files and pays your local, state and federal taxes. At the end of the year, the company automatically generates and distributes payroll forms, including 1099s and W-2 forms, to your employees and contractors. If the vendor makes a mistake on your payroll taxes, it will pay any penalties incurred. The software can also file international taxes — a great perk for companies with offshore workers.
Expense Management
Rippling's unique Spend Management tool impressed us. It syncs employee spending with payroll, automating domestic and foreign expenses. Your staff can forward digital email receipts and view expenses in the same app. Being able to identify and flag duplicate expenses (or disparities between receipts and claimed costs) saves you from tedious expense account manual reconciliation.
We also like that you can set permissions and view and approve employee spending in one place, improving your business's internal controls. This unique expense management system significantly automates and streamlines your company's reimbursements, giving Rippling a further edge over competitors when it comes to ease of use.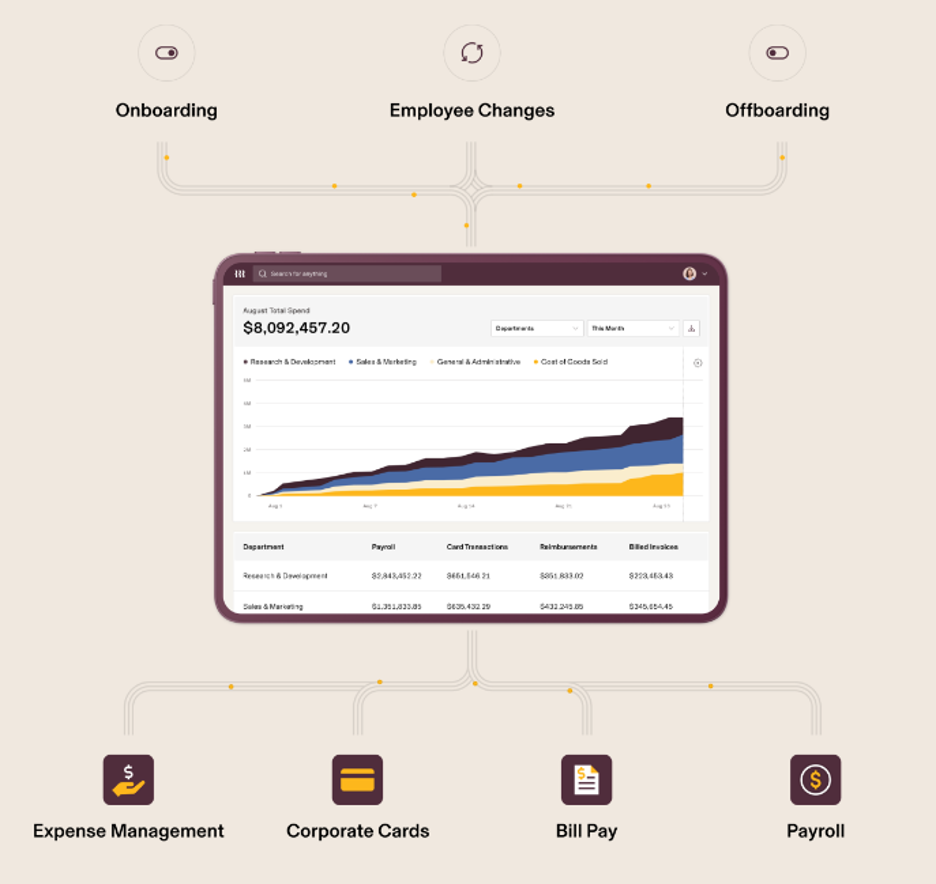 Rippling's Spend Management tool is integrated into its payroll system, so you can manage and report on all spending in a central location. Source: Rippling
Time and Attendance
We like that businesses can add time-and-attendance features to their Rippling payroll package. Rippling supplies some of the best time and attendance software on today's market, which employees can use to clock in and out via computer, kiosk or the Rippling mobile app. The platform includes geolocation restrictions and selfie clock-ins to prevent buddy punching.
This system lets you monitor and approve employee hours; once approved, the time data will sync automatically for payroll processing. The system also uses built-in compliance checks based on the federal, state and local labor laws where your employees work.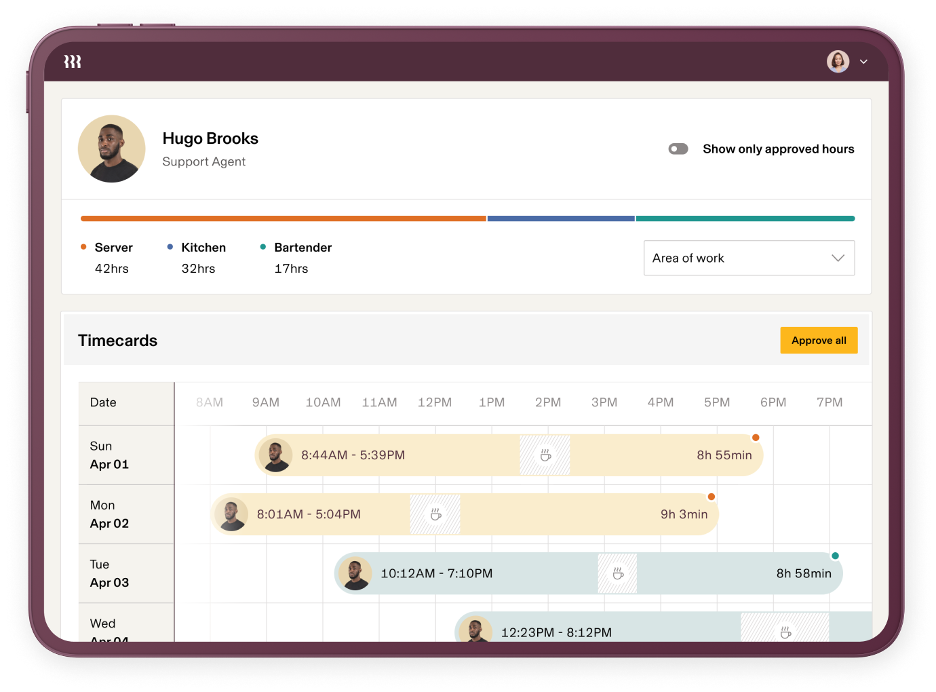 Rippling automatically tracks employees' hours from clock-in to paycheck. Source: Rippling
Benefits Management
Like many competitors we reviewed, Rippling can manage employee benefits, including health insurance, 401(k) retirement plans, health savings accounts (HSAs) and commuter benefits. However, Rippling's interface again stands out for ease of use. 
As you onboard new team members, the system's benefits process triggers automatically across over 4,000 registered benefits providers. The vendor works with popular insurance carriers like Blue Cross Blue Shield and Aetna and ensures compliance with the Affordable Care Act.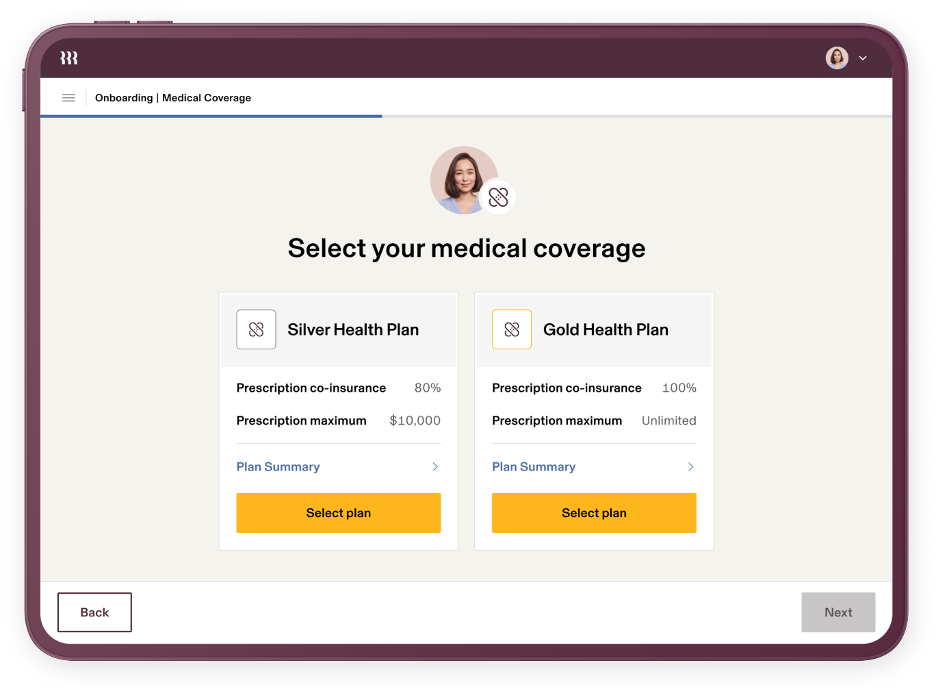 Rippling helps businesses manage employee benefits and automates new hire enrollment, deductions and more. Source: Rippling
PEO Services
We were pleased to note that larger companies can opt to use Rippling as their professional employer organization (PEO). This means Rippling will handle your HR, payroll, benefits and IT needs. We also like that if you reach a point where you no longer need the PEO services, it's easy to remove them from your account and transition back to Rippling's traditional offerings. 
Third-Party Integrations
We were impressed that Rippling integrates with hundreds of popular third-party apps, including QuickBooks, Xero, Slack and Zendesk. This scope of integration helps businesses create customized solutions. Additionally, it means you can share data among all your business software solutions. The system automatically syncs all integrated apps. And if you can't find a specific app in Rippling's App Shop, you can ask the company to add it.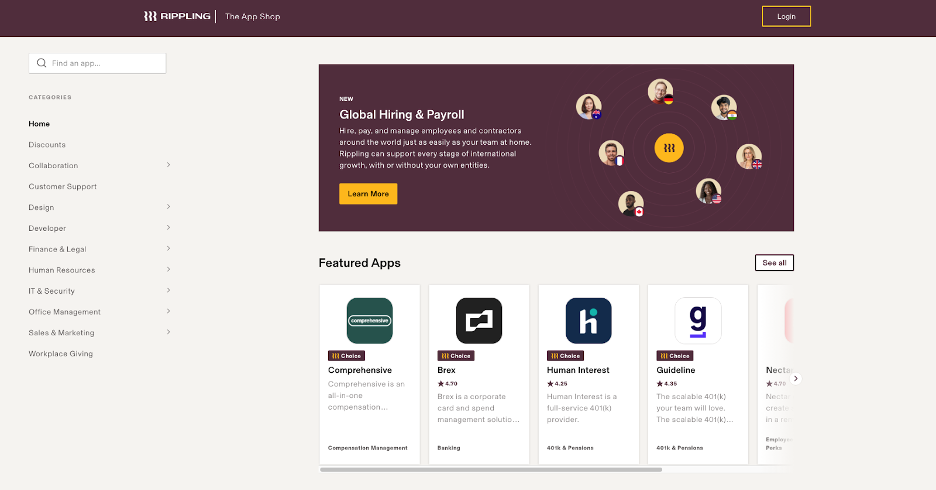 Rippling's App Shop features over 500 third-party integrations. Source: Rippling
Rippling Cost
We were a little disappointed that Rippling isn't as transparent about its pricing as some of the other payroll providers we evaluated. On its website, the vendor promotes that its pricing starts at $8 per user per month. However, there's no way to tell what your actual base rate will be without contacting  the company for a custom quote. Your total costs depend on how many employees and contractors you have, how many states you must run payroll in, and how many add-on features you choose.
You have many options when signing up with Rippling. You can sign up for its payroll services only or add its time and attendance and benefits administration tools as well. You could also decide on its Rippling Unity workforce platform, which combines all the data housed in its HR, IT and finance clouds into one system. Rippling also has an HR information system — an all-in-one software solution encompassing all the vendors' features.
The wealth of options can become confusing, and there's no upfront pricing to help you decide what you want. If you'd prefer to work with a vendor with transparent pricing and a streamlined product, read our review of OnPay. This vendor has one comprehensive plan and clear pricing.
Rippling Setup
We appreciate how easy Rippling makes its setup process. New customers are assigned a representative who will walk you through the setup process. They'll answer all your questions and help you feel confident using the software and running payroll.
We like that the company also provides a setup wizard and detailed how-to guides to help you get started. If you're switching from another provider, Rippling's team can import your data and will even analyze it to ensure no tax payments were missed during the transition. If you encounter any problems later in the implementation process, contact customer support via email or in-app chat.
For companies that need more than payroll services, Rippling combines all employee data into a unified record that includes assigned hardware, corporate finance cards, benefits and insurance policies. The platform is arguably most effective when used in this manner instead of just for payroll processing. The same automated workflows can be extended across HR, IT, finance and other departments, with a combined analytics system that offers PTO and SOC report runs as well as rapid onboarding and offboarding. 
Rippling can even automatically send departing employees boxes for returning hardware, and the company offers warehouse space for the temporary storage of unassigned devices.
Rippling Customer Service
Rippling's customer service is on par with many competitors we reviewed. The vendor offers chat and email support and an online help center. However, the company doesn't typically provide phone support, which could be a dealbreaker for some business owners. (There is an option to transition a live chat to a phone call.) Still, online reviews are positive, with many users saying Rippling addresses customer complaints within 48 hours.
A particularly innovative feature on the vendor's website is its Real-Time Support Status, which shows customers how long it will take, on average, to get assistance. These metrics are continuously updated — a striking commitment to transparency in customer service.
It's worth noting that Rippling isn't accredited by the Better Business Bureau and has an F rating. However, the company has only received a few customer reviews in the past five years. More positively, it has a 4.9 out of 5 rating on Trustpilot, which compares favorably to rival platforms like ADP and Gusto.
Rippling allows customers on a live chat to request a conversion to a phone call if the issue needs more human interaction.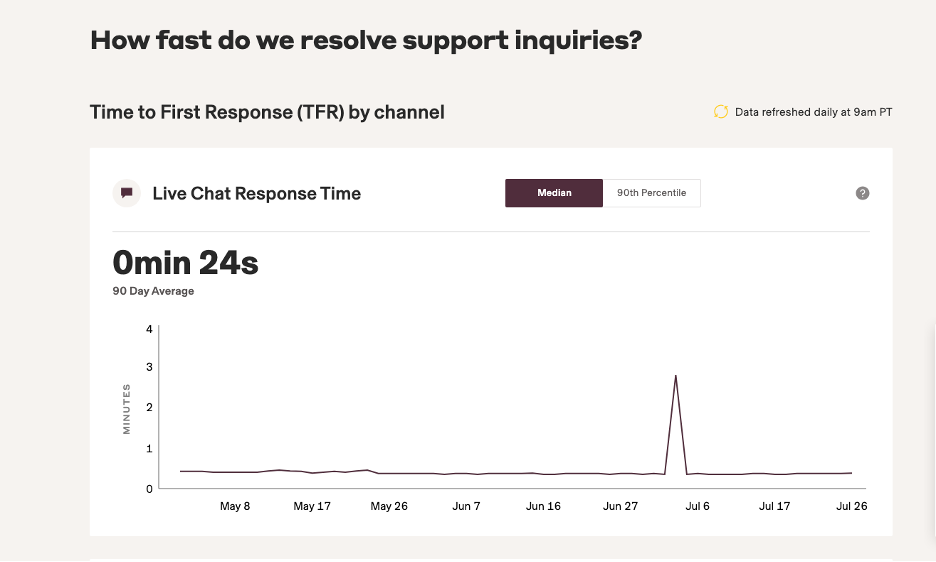 Rippling's Real-Time Support Status indicates how long it will take customers to receive assistance via live chat, email, or a live chat converted to a call. Source: Rippling
Rippling Drawbacks
One of Rippling's downsides is its lack of pricing transparency. Rippling's website states that pricing starts at $8 per user per month, but it doesn't provide additional details about the base fee. This makes it impossible to get a real sense of how much you'll spend on the service without contacting customer support.
Also, unlike some competitors, Rippling doesn't offer a free trial. It isn't the cheapest payroll software on the market, and the service can become expensive very quickly if you have many employees. 
Methodology
When evaluating the best payroll services, we examined dozens of vendors' payroll offerings. We looked at payroll processing, costs, implementation, usability, customer service and other factors. We also checked customer reviews and researched Better Business Bureau ratings. To determine the best payroll solution for ease of use specifically, we focused on the setup process, automation capabilities, required training, integrations and the overall payroll process. Our goal is to help businesses choose the right payroll service. 
Rippling FAQs
Rippling is used for payroll processing, time tracking, benefits management and other services. You can use Rippling to automate nearly all of your HR processes. 
Yes. Rippling integrates with QuickBooks and hundreds of other popular third-party apps.
A PEO (professional employer organization) is an entity that shares many of the responsibilities and liabilities of managing employees. Many employers outsource tasks like benefits administration, payroll, and workers' compensation management to a PEO. The exact HR functions outsourced depend on the PEO and its contract with the business.
Yes. Managers can be given limited discretion to manage HR and finance tasks within the software without granting them full autonomy or oversight. This is great for departmental delegation and maintaining chains of approval before changes are implemented in the system.
Bottom Line
We recommend Rippling for …
Companies looking for intuitive and seamless payroll and HR software.
Business owners that often reimburse employees for expenses incurred while on the job.
Businesses that want payroll software with many third-party integrations.
Companies that need additional features to help them manage a remote, global workforce.
We don't recommend Rippling for …
Companies seeking the least expensive payroll provider.
Business owners who want transparent pricing. 
Businesses that prefer immediate phone support.
Neil Cumins contributed to this article.