Rippling is our choice as the best time and attendance system for ease of use because of its intuitive dashboard, self-service mobile app and workflow automation features. Users can even configure custom alerts, notifications and reports.
Pros
Rippling has a quick implementation process.
Rippling has an intuitive dashboard and mobile app that employees can use to access self-service features.
You can customize your time-tracking rules and logic.
You and your team can create workflows to automate time and attendance processes.
Cons
One-on-one phone support costs extra.
Webchat sessions can be delayed.
Rippling takes less than four weeks to implement.
Rippling has workflow automation features that can streamline HR processes like time and attendance tracking.
This software has an intuitive dashboard and a self-service mobile app for employees to manage their time and pay.
This review is for business owners and managers who are considering Rippling as their time and attendance system.
Businesses seeking easy-to-use time and attendance software want a system that is intuitive and easy to implement. It should be easy for employees to navigate, and it should have automation features to streamline business workflows. Rippling is our choice as the best time and attendance system for ease of use because it offers all of these features and more via its cloud-based dashboard and mobile app. The self-service software lets managers quickly schedule and manage employee hours, and employees can request time off, view their hours worked and receive notifications via their mobile devices. Another valuable feature that aids in usability is a great customer support team – and Rippling offers just that.
Rippling Time and Attendance Editor's Rating:
9.6 / 10
Cost

8.9/10

Features

9.4/10

Integrations

9.4/10

Usability

10/10

Customer service

9.5/10
Why Rippling Is Best for Ease of Use
A great time and attendance system should be easy for your entire team to implement and use, and Rippling is capable of providing that. The company claims an implementation time of less than four weeks. Once you're up and running, you can automate workflows to speed up your HR and payroll processes. 
With Rippling, you can run payroll in as little as 90 seconds.
The automated workflows you can customize with Rippling not only speed up your time and attendance process, but can also help you comply labor laws without even thinking about it. For example, you can automatically enforce overtime and meal break laws based on each employee's work location, which is not something all competitors offer.
The intuitive dashboard and mobile app are great for employees to utilize self-service features and take control over specific time and attendance functions (e.g., clocking in and out, tracking their timesheets, viewing pay periods). We also like that admins can configure custom alerts and notifications to ensure no one misses an important time-tracking step.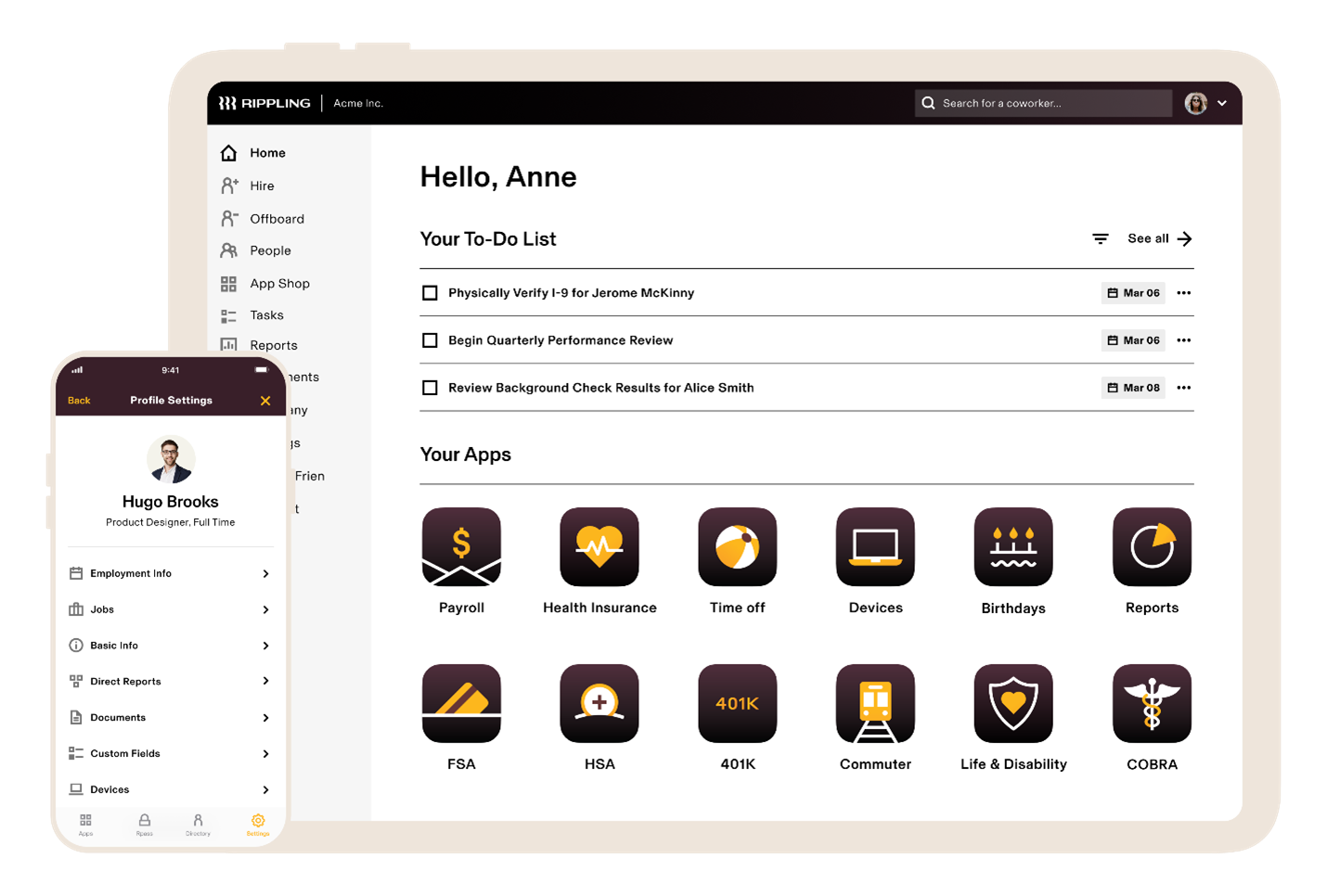 Usability
Rippling is a comprehensive HR platform that makes managing employee time and attendance a breeze. The software has several workflow capabilities that can automate processes, like automatically syncing approved employee hours with your payroll for you to run. We like that you can set rules and logics for custom time tracking. For example, if an employee works on a holiday or more than eight hours in a day, a trigger can set off an automatic overtime pay action. Once you set up these custom automations, you don't have to worry about missing important steps or violating specific business labor laws.
To use Rippling's time and attendance features, you must also subscribe to its employee management platform. Although this isn't a common requirement among competitors, it can greatly simplify your HR process. It gives you access to a plethora of useful features like employee onboarding and offboarding automation, electronic document management, task management, customizable reporting and alerts, and position management. It also includes the Rippling mobile app for iOS and Android devices, which is ideal for employee self-service capabilities.
In case you want a more comprehensive solution that integrates all your HR needs (including time and attendance features) into one platform, Rippling offers add-on features like applicant tracking, employee benefits administration, payroll, ACA and COBRA administration, app management, and device management.
Features
Rippling has several features that can help you streamline and simplify your overall time and attendance process. We like how easy it is to manage employee time and attendance with the intuitive dashboard and mobile app, automations and workflows, alerts and notifications, custom reports, and employee scheduling features.
Here are some of the services you can receive with Rippling:
| | |
| --- | --- |
| Automations and workflows | You can configure automated workflows to streamline time and attendance functions. |
| Alerts and notifications | Rippling lets you configure alerts and notifications for events like overtime requests, missed breaks and unapproved hours. |
| Reports | You can create custom reports and graphs. |
| Time reporting | Employees can clock in using tablet kiosks, computers and mobile devices. |
| Employee scheduling | You and other admins can create companywide policies to simplify employee scheduling and pay. |
Automation and Workflows
The ability to automate workflows and approval processes can greatly simplify time and attendance management. For example, PTO requests can be automatically sent to the appropriate managers for approval or denial, overtime pay can be automatically initiated when an employee exceeds a certain number of hours in a workweek, and approved employee hours can automatically sync to payroll.
Not all competitors offer Rippling's level of customization for setting rules and logic. It can be a great feature if you are looking to streamline your time and attendance process.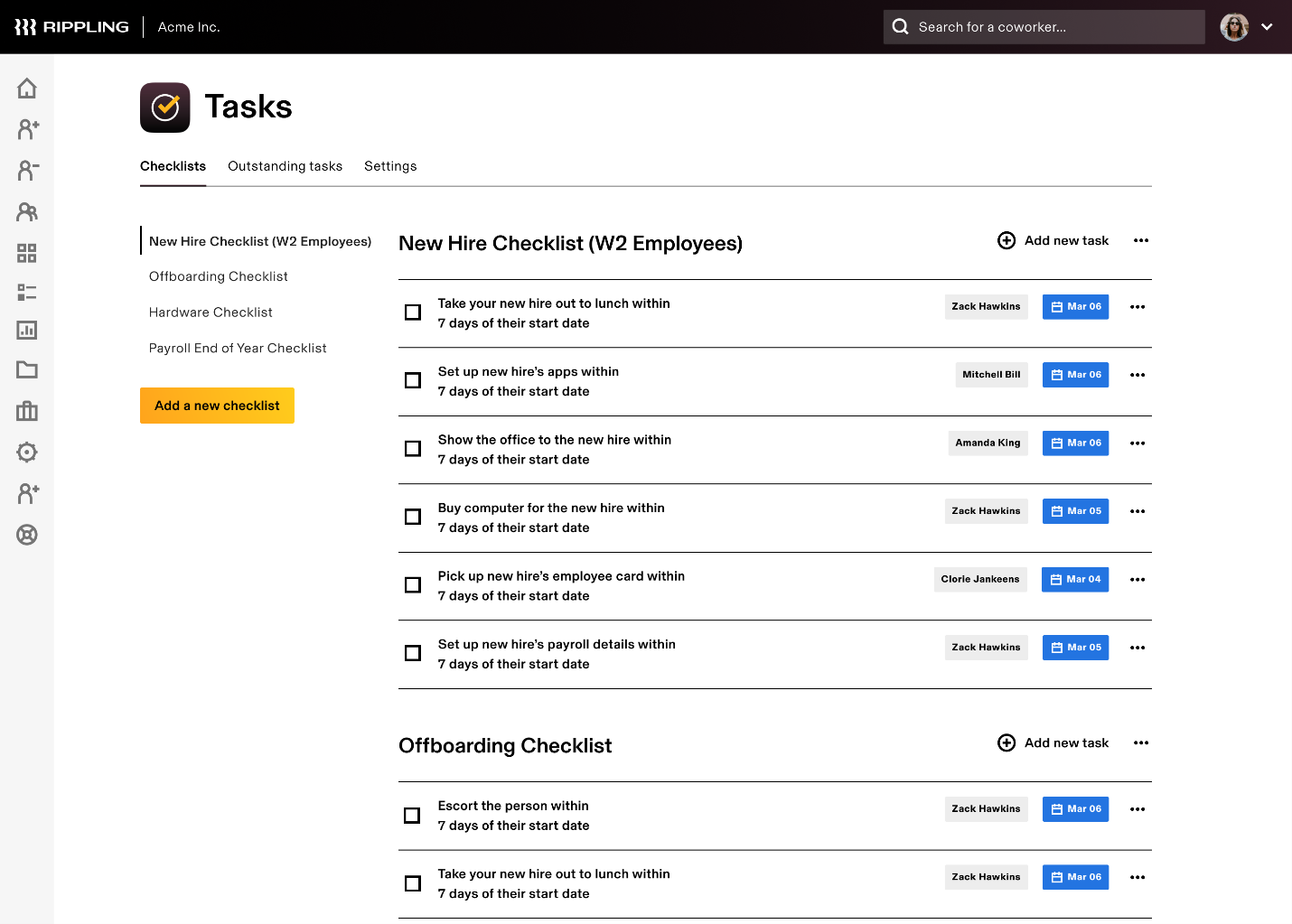 Alerts and Notifications
Rippling has several alert and notification capabilities to help you stay on top of important time and attendance functions. For example, you can set triggers and alerts to notify managers when an employee requests to work overtime, misses a break, or submits unapproved hours.
Alerts that warn you when an employee is nearing overtime can help you stay on top of proper employee scheduling and comply with employee labor laws. Although access to alerts is pretty standard among the systems we reviewed, it is an essential feature if automation of the time-tracking process is your top priority.
Reports
You can create custom reports and graphs of employee data. For example, you can get a visual representation of employee turnover, compensation, and app usage. When your company's managers and key decision-makers have access to reports that are easy to interpret, you can all make better business decisions. Not all competitors offer customizable reporting.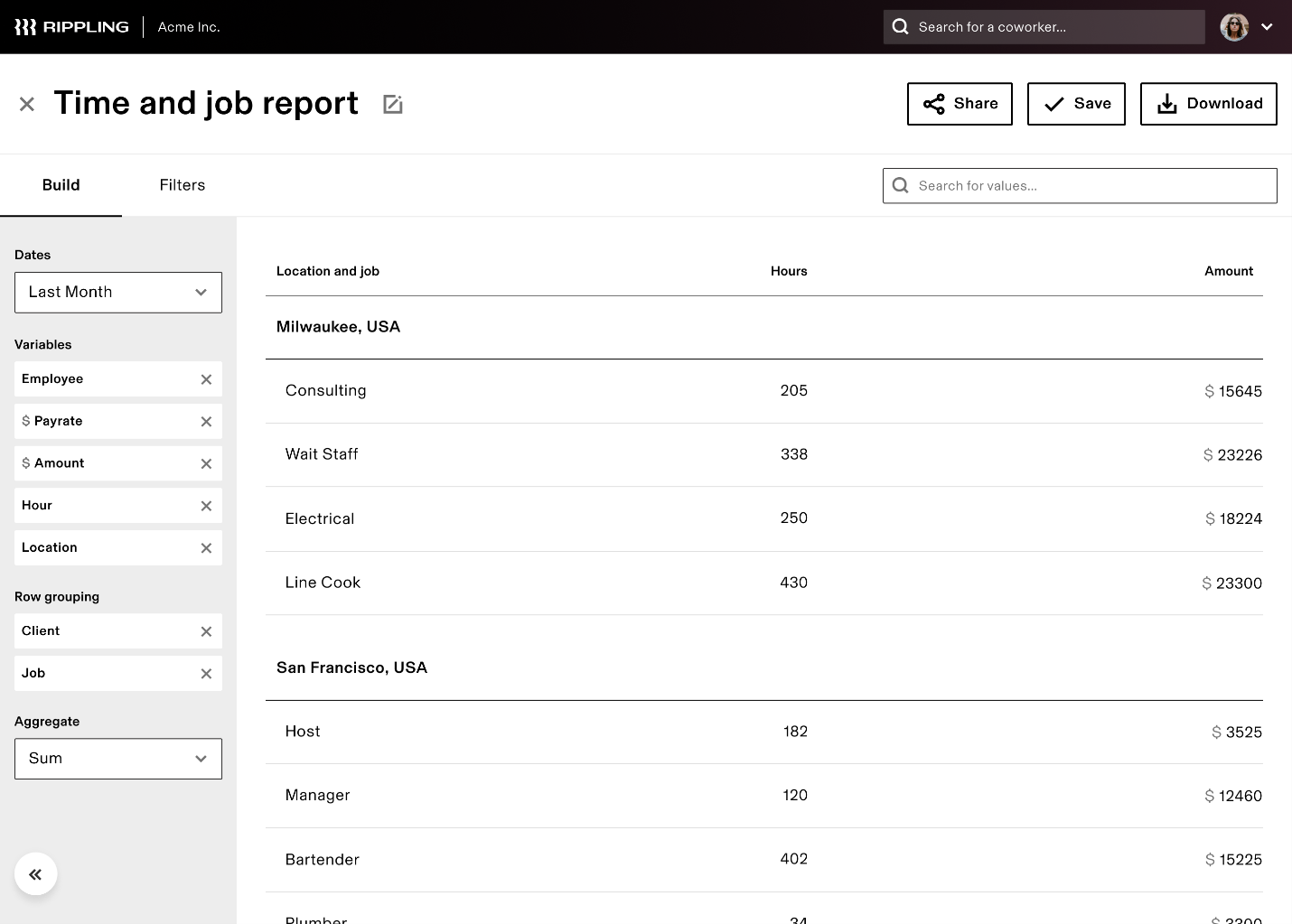 Time Tracking
Rippling is cloud-based software that offers your employees multiple ways to clock in while also preventing buddy punching (i.e., an employee clocking in for someone else). Employees can clock in and out from tablet kiosks, mobile devices, or computers with features like photo clock-ins and geolocation restrictions. We also like that Rippling offers QR code clock-ins, a less-common feature in the time and attendance software we reviewed.
Employees can also submit time-off requests in the Rippling system. Their managers can review, approve, and deny their hours and time off. This is standard for time and attendance software.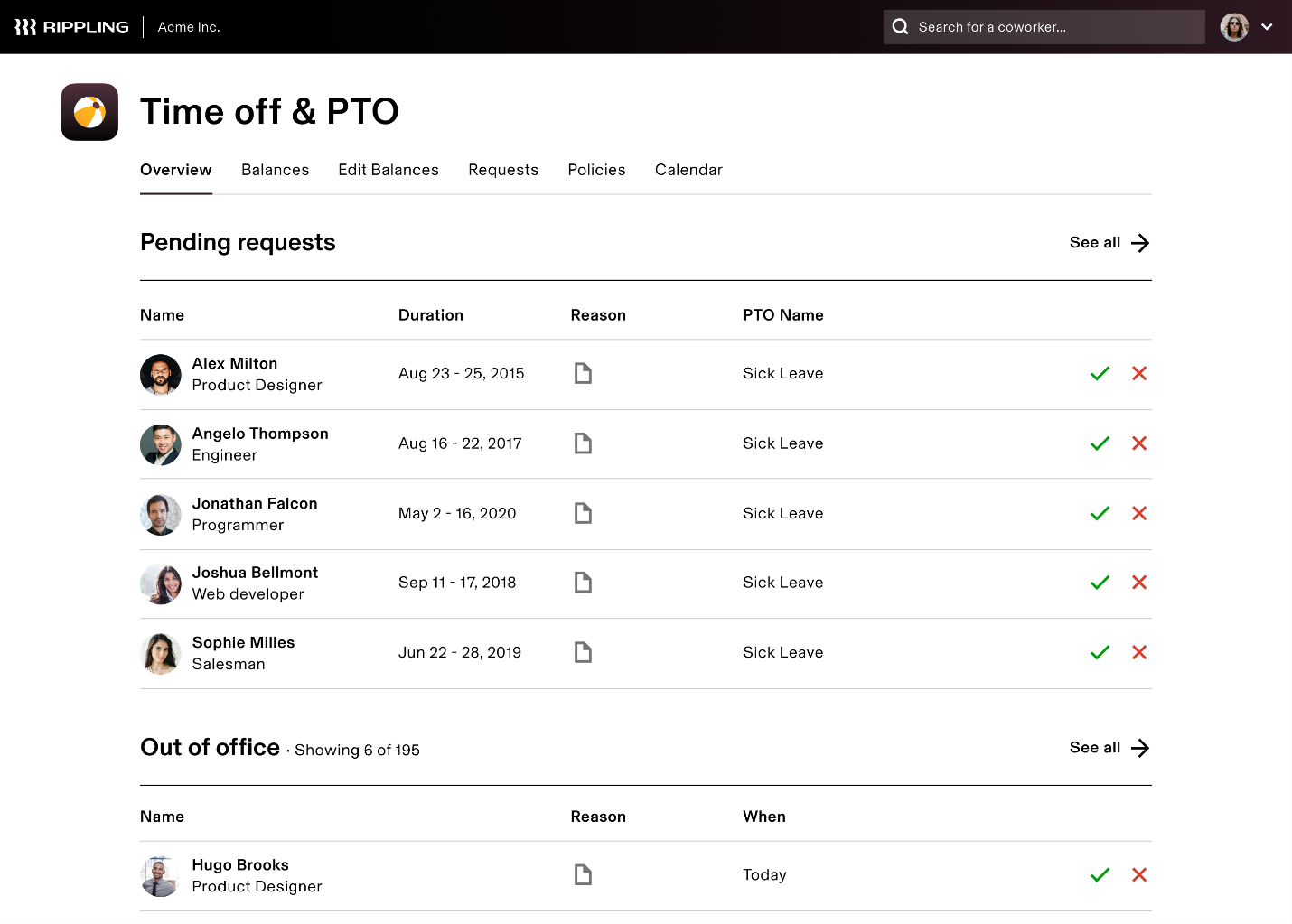 Employee Scheduling
Although Rippling's employee scheduling features are somewhat limited compared to some competitors we reviewed, the software does allow you to create a company holiday schedule and time-off policies that automatically apply to certain (or all) employees. This unique feature can streamline your scheduling process and ensure that employees are being properly paid for the correct hours.
Cost
Rippling's online pricing is not as transparent as some competitors make it. Its employee management platform starts at $8 per month per user, but you will need to contact the company to receive a custom quote if you would like to add on other features, including time and attendance. Although this is a minor setback for those who want a quick look at pricing, Rippling offers many add-ons that some competitors don't. For example, you can add on applicant tracking, payroll, benefits administration, compliance administration, app management, and device management.
Rippling starts at $8 per month per user, with fees for add-ons like time and attendance, payroll, and benefits administration tools.
The total monthly cost of your plan will depend on how many employees you have and which features you need. After testing Rippling, we feel that access to all of these features on one integrated platform can greatly simplify your HR processes.
Combining all Rippling's features can really add up in price. If finding a low-cost time and attendance solution is your top priority, you may want to check out our review of When I Work.
Setup
Rippling can get you up and running in less than four weeks, with an average implementation time of just 2.5 weeks. This is pretty standard for the types of features that Rippling offers. Rippling is cloud-based software, so employees can clock in using a web browser, mobile app or tablet kiosk. Once employees' hours are recorded, they can be approved by managers and instantly sync with payroll. Rippling simplifies this process by allowing managers to mass-approve hours and filter hours to show only unapproved days.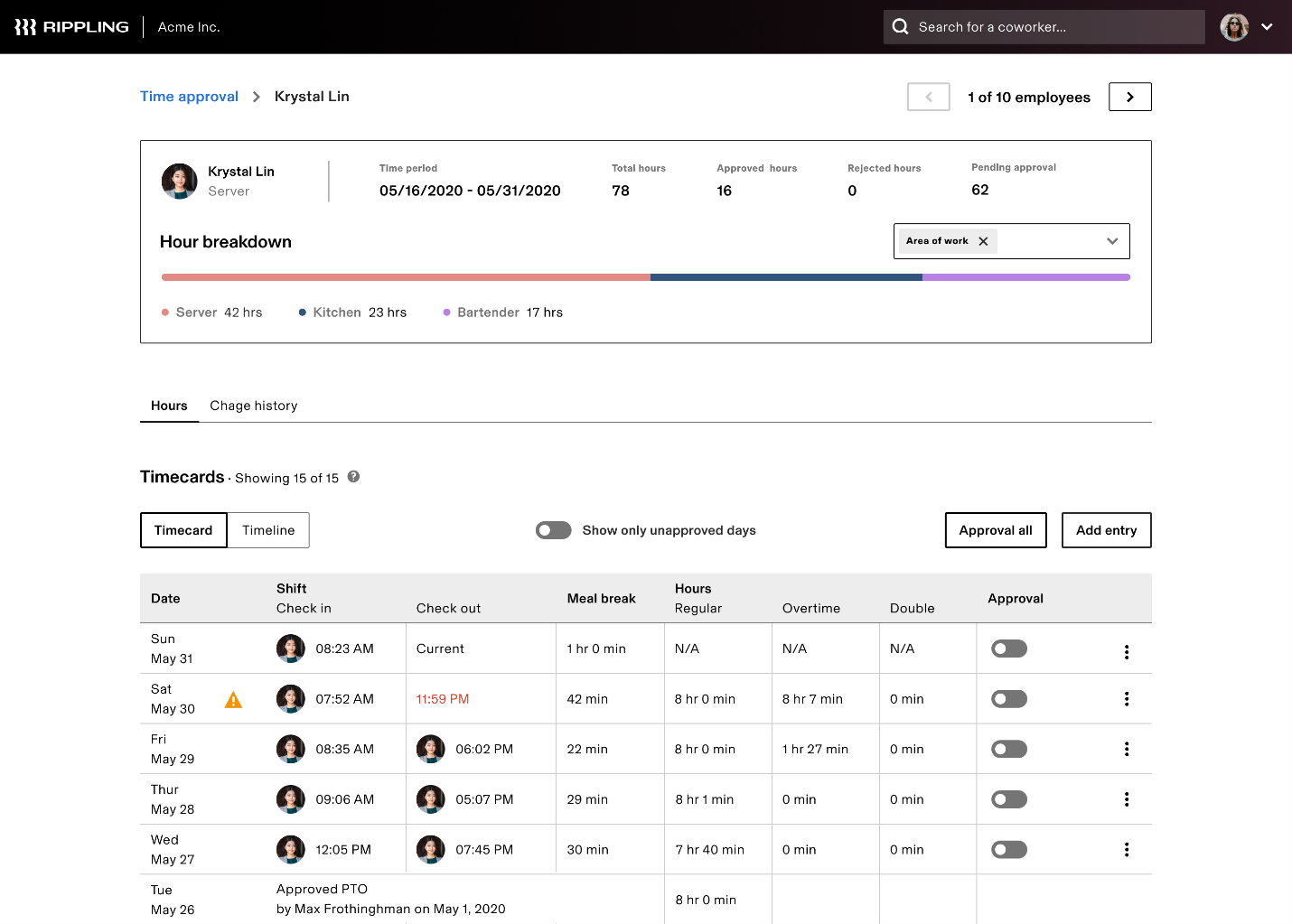 You can set up a variety of other automations as well. Although configuring custom workflows may add a little time on the front end of implementation, they can save you a lot of time in the long run.
Rippling is one of the most flexible time and attendance solutions we reviewed in terms of integrations. It can integrate with more than 400 third-party applications. If the software you use is compatible with Rippling (which is likely, given its wide variety), you'll be able to share data across apps and avoid double entry.
The average implementation time for Rippling is 2.5 weeks, with a maximum of about four weeks.
Customer Service
In case you want additional information on Rippling, it maintains a blog and online help center. You can also gain access to customer support online via ticketing, email and webchat. Although phone support is not initially offered on standard Rippling plans, you can add the HR help desk feature to any plan, which is billed as a small, monthly base fee.
Drawbacks
Rippling's biggest drawback is that it charges a monthly fee for its HR help desk. This real-time compliance assistance and one-on-one phone and email support will cost you an additional monthly fee. Although this isn't a dealbreaker for most, it is something to keep in mind. If you are looking for a time and attendance solution that offers free phone support, check out our review of QuickBooks Time.
Every plan does have access to standard ticketing, email, and webchat support, but some users say that the webchat support can have long wait times. If immediate, live support is a must, you might want to consider other companies or pay for Rippling's additional support.
Methodology
We spent weeks researching and analyzing time and attendance systems to identify the top solutions on the market. We looked at features, pricing, integrations, usability, and customer support, and we even got hands-on experience with demos and product videos when possible. When looking for the best time and attendance solution for ease of use specifically, we prioritized features like dashboard and mobile app usability, implementation, workflow automations, alerts and reports, and self-service capabilities.
What Is a Time and Attendance System?
A time and attendance system is a digital solution that employees can use to clock in and out via web browsers, mobile apps and tablet kiosks. Although the specific features and hardware that each system has may vary, businesses often use time and attendance systems to track employees' hours and locations, schedule shifts, manage paid time off, track job and project expenses, and communicate with team members.
FAQs
Rippling is an all-in-one platform that can serve a variety of HR needs. Every plan includes its standard employee management features (e.g., document and task management, employee onboarding, process automation, customizable reports and alerts, a mobile app), and you have the option to add on other HR functions. For example, you can add on time and attendance, payroll, benefits administration, learning management, and talent management. You can even add on IT products like app and device management, which are not features many competitors offer. Rippling is also available via professional employer organization (PEO) model, if needed. 
Although essentially any size of business in any industry can use Rippling, it mainly serves small and midsize businesses with fewer than 1,000 employees. Computer software companies are its primary consumer, although it also serves other industries, such as IT, marketing and advertising, financial services, higher education, healthcare, insurance, health and wellness, and other professional services.
Bottom Line
We recommend Rippling for … 
Businesses that want a time and attendance system that is easy to learn and navigate.
Businesses that want to automate a variety of their HR processes.
Businesses that need employee self-service features.
We don't recommend Rippling for …
Businesses that want to test out their time and attendance system with a free trial.
Businesses that want free, unlimited phone support.