Thanks to its low interchange-plus rates and rate-lock guarantee, National Processing is our best pick for a credit card processor with low rates.
Pros
National Processing offers multiple integration options and APIs to integrate more credit card payment options.
Its custom-tailored, human-centered customer support approach ensures you get a response regardless of your type of request or problem.
National Processing offers transparent, low prices and works with businesses of all sizes in multiple industries, including high-risk merchants.
Cons
National Processing's monthly fees and rates are expensive in the long run for seasonal businesses or merchants with irregular sales.
Although National Processing works with high-risk businesses, it charges them higher rates because of the risky nature of their services.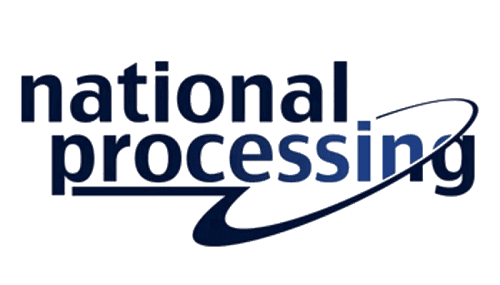 National Processing is our top pick for the payment processor with the best customer experience.
It's favored by merchants of all sizes and multiple industries for its interchange-plus pricing model, transparent charges and inexpensive services.
National Processing's in-house onboarding, underwriting risk and customer support team ensure merchants get everything they need under one roof.
This review is for small business owners from multiple industries looking for a reliable payment processor with transparent pricing, low rates and quality customer support.
We chose National Processing as the credit card processor with the best customer experience. The provider has an interchange-plus pricing model with low, transparent rates, and it offers reliable custom-tailored support regardless of your business size or request.
National Processing Editor's Rating:
8.3 / 10
Pricing

7.5/10

Business-friendly features

9/10

Setup

8/10

Fast deposits

8/10

Customer service

9/10
Why National Processing Is Best for Customer Support
National Processing takes a human approach to customer support, such as what we found in our review of Helcim. But, instead of outsourcing this function, the company equips its in-house onboarding, underwriting risk and customer support teams to handle its clients' requests. 
During our demo, one of the company's reps divulged that the entire business is based around customer experience so merchants can draw more value from the business. If you have an issue with integrations, risk or any other query, you can reach out to a sales representative or the customer support team directly, and they'll try to assist.
National Processing's custom-tailored touch is more focused on its customers. In one instance, a merchant needed a special point-of-sale (POS) software that works only in grocery stores. The company found a way to integrate with that software company to meet its client's needs. Its commitment to ensuring merchants are satisfied goes beyond the typical customer support to connecting with other POS systems or applications its customers use to run their businesses.
National Processing offers its clients a multitude of integration options with different processing solutions and platforms. Source: National Processing
National Processing can get extremely competitive with some of its enterprise merchant accounts by going lower than the advertised rates just to deliver a custom-tailored experience. If you're processing at least $10,000 in sales per month and National Processing can't beat your current rate, it'll give you a $500 gift card – something we've not seen with our other best credit card processor selections.
Usability
National Processing makes it simple to accept credit card or ACH payments. We like the innovative interface design elements and functionality, which offer critical functionality for handling any of your business needs. 
A restaurant table interface layout option is available along with order grouping and delivery management, which we recommend for food service businesses. If you want more convenience and flexibility, the system also supports tableside ordering and provides different item categories, custom menus and in-depth reporting, among other tools. 
Retail businesses will find National Processing's fast and accurate proprietary barcode scanner useful. The scanner works with built-in inventory control tools and a weight scale and printer for fast, accurate product labeling, making it easier to run your store.
From the demo, we found the virtual terminal easy to use and access from a browser on a computer. Besides getting a full overview of the last 31 days of activity on your transactions from your merchant dashboard, you can also:
Input customer information 
Create recurring payment plans
Take MOTO ACH payments
Upload batch files 
Import customer data through tokenization 
Track and categorize inventory
Pull up reports with different date ranges
Search transactions with different date ranges
Send out email notifications for recurring payments
Create and manage user role and access permissions 
We were impressed by National Processing's high-risk merchant account features, which include cutting-edge digital tools for preventing risks like data breaches or fraud that your business might be vulnerable to. You also get chargeback management integrations for easier credit card fraud prevention, chargeback dispute resolution, and refund automation to avoid chargeback (and related) fees.
We like how National Processing checks all the boxes when it comes to how and where merchants accept card and ACH payments.
National Processing Features
| | |
| --- | --- |
| POS system | National Processing offers a simplified way to accept cash or credit and debit card payments through its innovative POS systems. They're flexible and seamlessly integrate with your tech stack so you can process more payments, track inventory, view reports, handle loyalty and promo rewards, manage employees, and offer your customers a delightful experience. |
| Smart terminals | Whether you need a full POS station for your retail store or a tabletop unit for your diner, National Processing's smart terminals offer an intuitive user interface and flexible payment processing options for all business needs. They also integrate with your favorite apps so you can keep your business running.  |
| Virtual terminals | National Processing's virtual POS and virtual terminals are ideal for phone order and online businesses so you can accept payments without hardware. These virtual solutions integrate with popular e-commerce platforms, but you can still use its easy-to-follow API to link your online store. If you operate a phone order business, you can send invoices, hand key transactions, and create recurring payments or payment links. |
| Payment gateways | National Processing offers payment gateway options so you can process credit card payments. From keyed-in transactions to simple payment links, the processor makes it simple to connect payments to an e-commerce gateway or other software so you or your employees can take customers' payments easily.  |
| Mobile processing | This innovative mobile solution is designed for various types of businesses, including mobile delivery and food service businesses. You can process payments on the go while tracking your sales and managing employee attendance and time from your mobile device. |
POS System
At the very least, a good POS system should let you process payments easily, know how much you've sold and tell you how your employees are doing. We found National Processing's proprietary POS system to be beneficial for all types of merchants, as it offers not just payment processing features but also detailed sales reports to help you improve your business- and employee management tools. 
We particularly liked its sales module, which displays your sales reports in an easy-to-use interface by customer, device and payment type.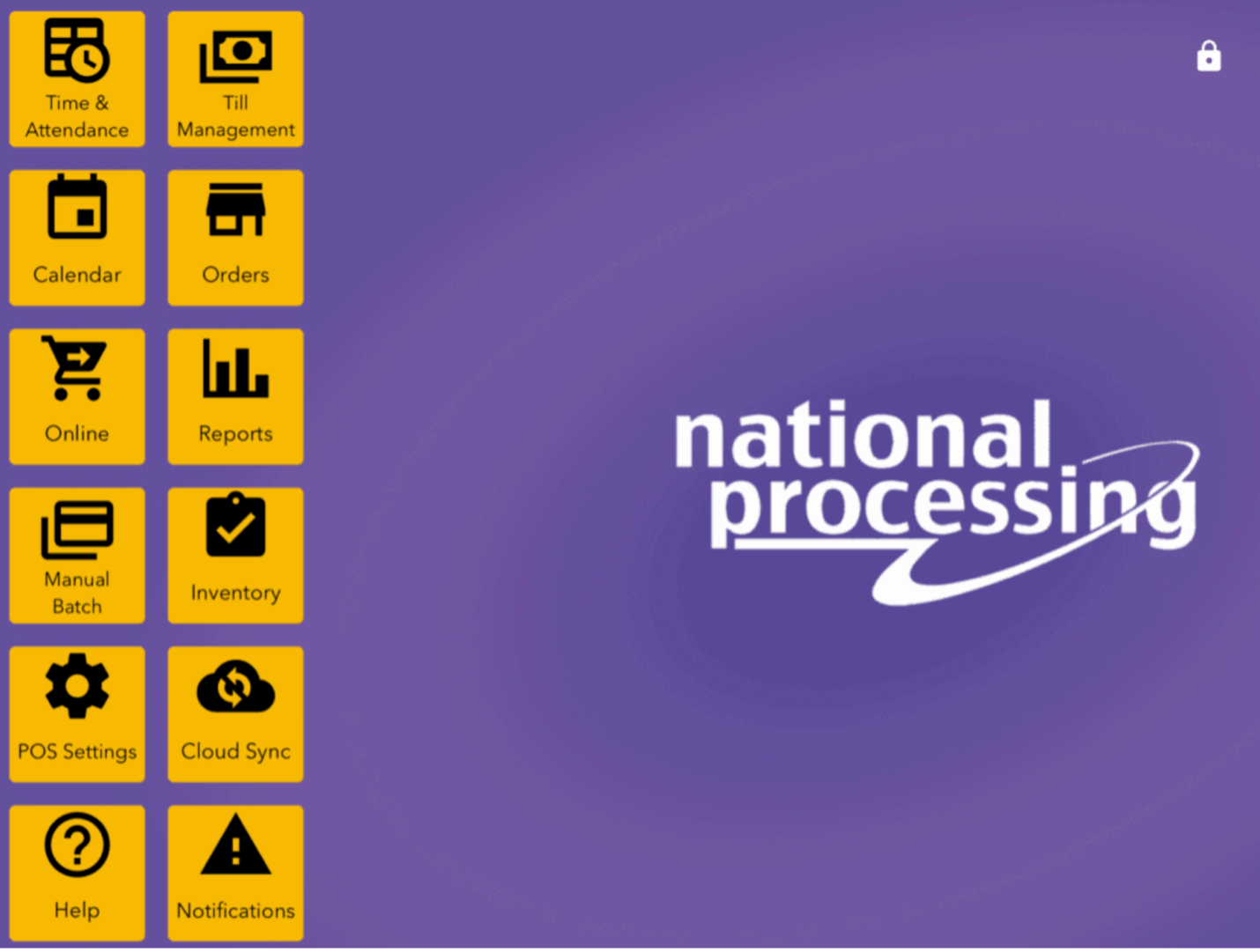 The proprietary National Processing POS has an easy-to-use menu system plus inventory management, staff scheduling, loyalty/rewards program, and cloud-based online reporting and control.  Image source: National Processing
National Processing also partners with several companies that provide hardware, including Ingenico, Clover and Dejavoo, and offers special connections to other service providers to enhance the customer experience.
Smart Terminals
National Processing's smart terminals fit all business needs and provide a flexible way of processing customers' payments. The terminals include an intuitive interface and integration capabilities. You can also use them to create customer loyalty programs and improve marketing opportunities. 
We found smart terminals particularly helpful for restaurant businesses and retail stores, as they allow you to print multiple receipts and reduce employee errors.
Virtual Terminals
As more people order and shop online, it's becoming increasingly important for businesses to offer virtual payment options. National Processing's virtual terminals ensure merchants can accept card payments without a physical terminal and offer customers who prefer using a card for purchases a convenient way of paying other than cash. The software system works best if you're going to a trade show or local event and want to take orders, but you can also accept orders via mail or by phone. 
Virtual terminals are quick and easy to set up, and they provide the same level of security as smart or traditional terminals. Other things you can do with virtual terminals include taking MOTO (mail order/telephone order) ACH payments, viewing your transactions, pulling up reports and customizing your dashboard to get any kind of reporting access.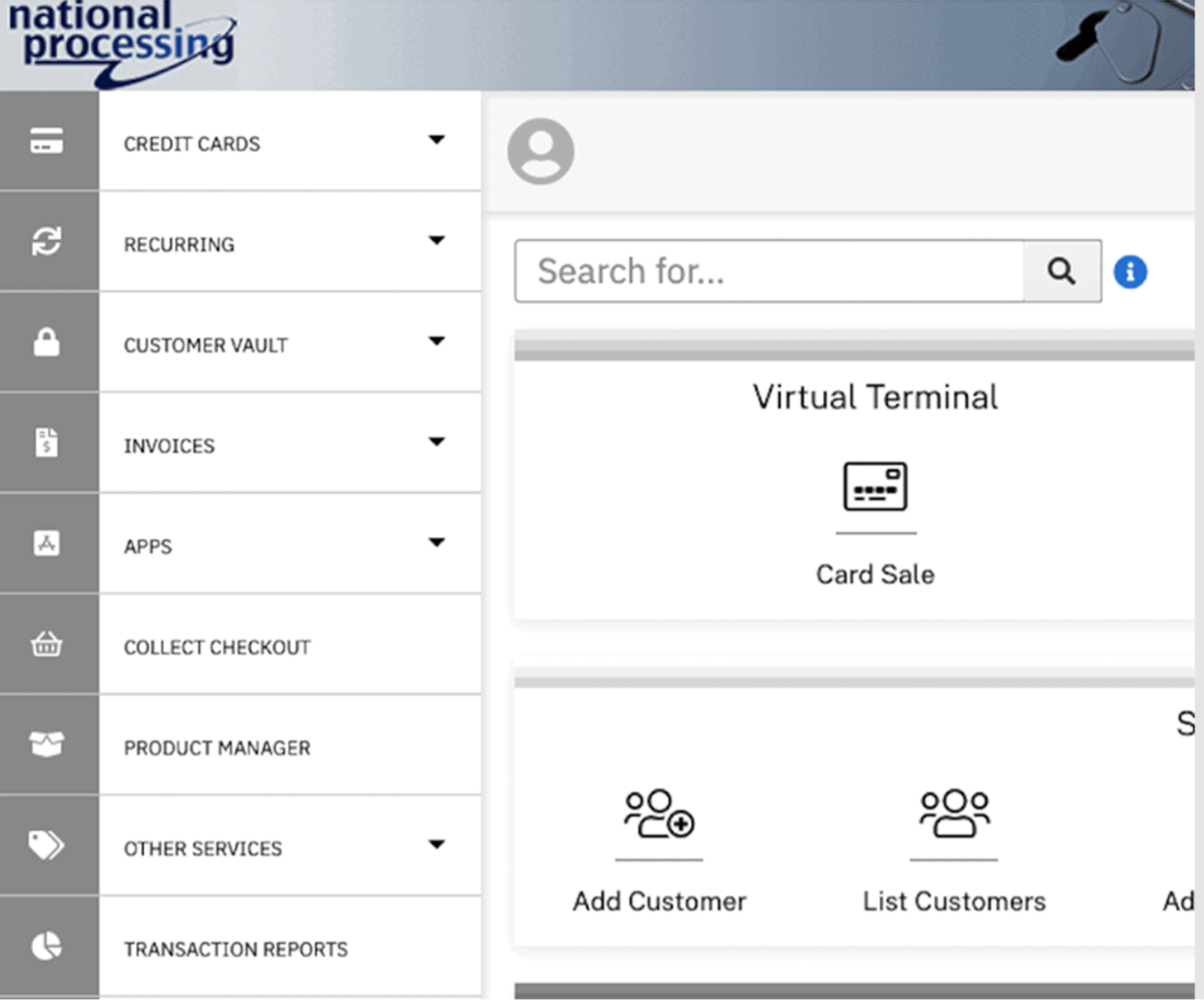 National Processing's virtual terminal lets you accept payments without hardware for your online or phone order business. Image source: National Processing
Payment Gateways
Many other payment processors offer payment gateways, but National Processing provides its own ACH platform and NMI gateway, which are customized for its merchants. 
We like that the company's payment gateways can integrate seamlessly with your existing tech stack, including e-commerce, CMS and QuickBooks. That way, you can offer a seamless process for your customers, from shopping to order placement to making payments. 
These gateways also solve multiple needs at once, particularly tracking all your transactions, inventory and orders. Whether you take phone orders or online orders, you or your employees can take keyed-in credit card payments or use payment links and quickly accept customers' payments.
National Processing also offers easy-to-follow APIs for custom integration. If you want to build a custom website, for instance, you can program the APIs into it with either ACH platform payments or credit cards and start processing transactions.
Mobile Processing
We think you'll find National Processing's innovative mobile solution useful for your business, especially if you process payments on the go. This feature is ideal for businesses in different types of industries, including food service and delivery. It also comes with essential tools for tracking your transactions, sales and orders; processing card payments; and monitoring your employees' time and attendance from a mobile device.
National Processing's integration with QuickBooks can help you organize and streamline your finances for easier bookkeeping and save a lot of time. See our review of QuickBooks to learn more about this accounting software.
National Processing Pricing
We looked further into National Processing's pricing and rates, merchant account application process, and additional fees. National Processing offers transparency in its pricing. The processor uses an interchange-plus pricing model, meaning you'll pay a margin on top of the interchange rate. So, you can set prices accurately and know where you're making money. 
The company clearly lists its pricing so merchants will know how much to pay. You'll pay a low monthly fee and low flat transaction fees, which we think favor large-volume businesses.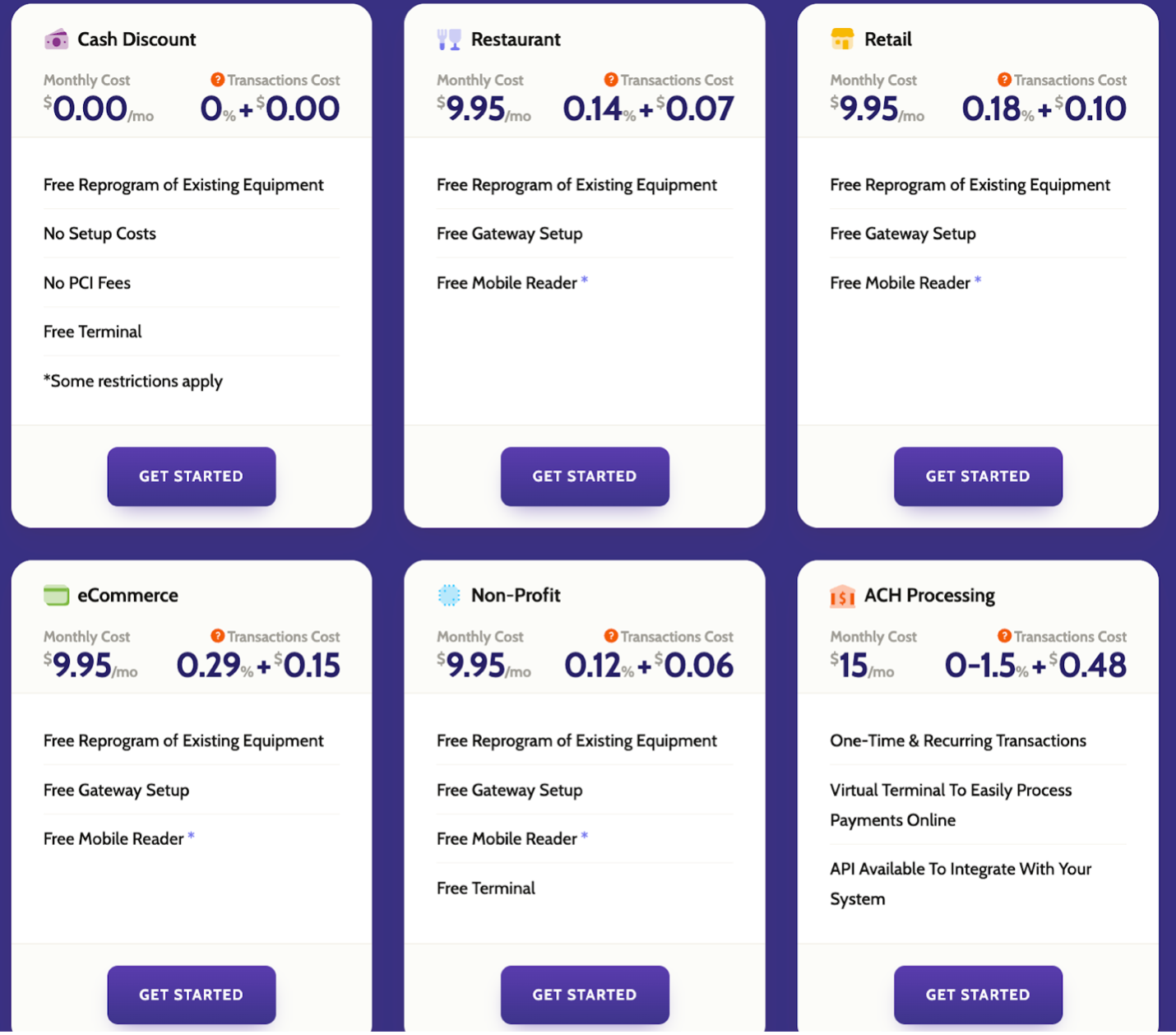 National Processing offers various rate plans based on function and industry, each with interchange-plus pricing and a monthly fee. Image source: National Processing
If you don't want to do the math, National Processing's process fee savings estimator removes a lot of the guesswork by giving you an estimate of how much you'll pay and save with its interchange-plus fee structure. 
To see how much you could save with the processor, just input:
Your industry 
Last month's processing volume
Last month's number of transactions
Last month's total processing fees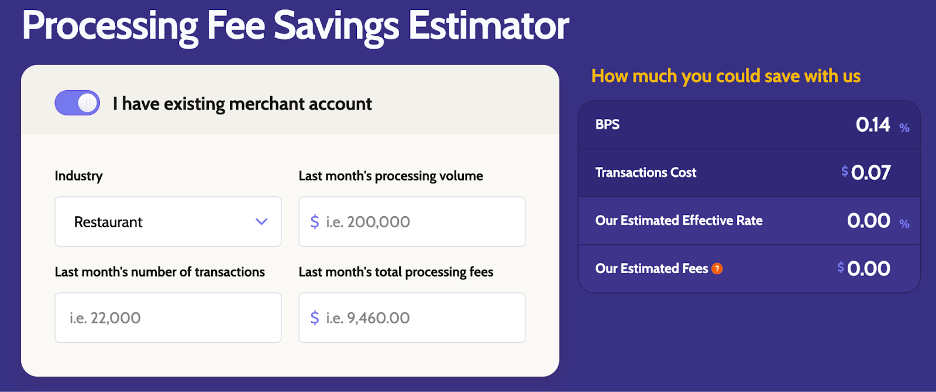 The pricing calculator lets you know how much you'll pay and save by using National Processing's interchange-plus fee structure. Image source: National Processing
National Processing's merchant account includes interchange-plus rates and a fee of about $9.95 per month (for most accounts) as part of the terms of service. We found this fair compared to a processor like Square, which lacks merchant accounts and charges a flat fee per transaction.
Another National Processing feature we liked is its cash discount program, which we recommend for merchants taking cash and debit card payments, as it gives you more opportunities to save money.
New merchants can expect a bit of a wait before their first payout, after which the processor usually deposits payouts in one to three days. However, this is a little longer than some other processors, which offer same-day deposits. See our Clover review and Stax review for examples of such processors).
Setup
Getting set up with National Processing is a straightforward and easy process. Once you provide the relevant information and submit the online application, the approval can take a couple of days, depending on your industry and the structure of your business.
If you need more help, schedule a same-day call with a sales rep or speak to their helpful or customer support team via the company's website.
Small business owners want freedom and flexibility without being locked into long-term contracts with expensive cancellation fees. National Processing has two- and three-year contracts and charges $495 and $595, respectively, in termination fees for canceling a contract before the end of its term. In contrast, we found in our review of Stripe that this rival processor doesn't charge account fees or lock businesses into long-term contracts.
What we like about National Processing's contract setup is your rate is locked in for the contract term. Other payment processors can change your rates at will, which can be frustrating and confusing for merchants. Plus, National Processing promises to waive the termination fee if your business is sold or closed or if National Processing can't meet or beat a competitor's rates. 
We were impressed by National Processing's Referral Program and Merchant Services Affiliate Program, which give merchants opportunities to earn residual income. Such programs are particularly rare, as most providers offer similar programs in the form of independent sales agents. National Processing offers this to merchants with a quality business network and access to influence the marketplace.
Customer Service
Besides flexibility, low rates and essential business tools, merchants also want quality support. National Processing's 24/7 support is available via phone, email, online form and live chat. Live agents are available from 8:30 a.m. to 5:30 p.m. MST, then automated chat bots take over outside of business hours. 
For this review, we contacted a National Processing representative through the live chat option on the company's website, asking about features and support. Within 18 minutes, we received a reply with answers, which aligns with the typical response time of less than 30 minutes. We found human agents replied within 2 to 5 minutes of each question, but you'll still need to present your merchant account details to get the most out of the support session.
Although the customer support agent was helpful and knowledgeable, they still prefer to connect customers with a sales rep or implementation team for further assistance. As of right now, National Processing's chatbots share most of the information a live agent could give you, but the company is continually making improvements and updates to them.
National Processing prides itself on transparency. It's a people-first company that likes its merchants to know exactly what they're getting. It also has a very responsive support team, which you won't always find with some of the more well-known payment processing companies.
Drawbacks
National Processing can save you money if you run a business with a high processing volume. Smaller merchants with an irregular or low monthly volume may not enjoy similar savings, so you'll need to review your figures and use the pricing calculator to determine whether the processor's pricing model is suitable for your business needs. 
Another limitation is that National Processing charges high termination or cancellation fees and higher rates for merchants in high-risk industries. Check its pricing before applying for a merchant account to make sure it serves your industry and the rates are cost-effective for your business.
National Processing is transparent compared to its competitors, so you'll always know exactly what you're getting to help you make more feasible business decisions.
Methodology
We spent 30 days researching and interviewing company reps through product demos of the top credit card processors. We reviewed the companies' hardware and software for usability, availability and reliability; checked their contract terms; and examined the types of businesses and industries they support. Plus, we explored their pricing models, rates and fees so you can easily compare our recommendations and pick the most suitable provider for your business size and processing volume. In terms of payouts/deposits, we focused on the time processors take to deposit money into a merchant's bank account. Finally, we tested their customer support, evaluating them for ease of use, agent knowledgeability and response time. 
National Processing FAQ
National Processing signs merchants to either a two- or three-year contract with a locked-in rate for the contract's term. Depending on the contract, a termination fee of $495 or $595 applies if you cancel before it ends. However, the company promises to waive the termination fee if your business is sold or closed or if it can't meet or beat a competitor's rates. 
National Processing offers various rate plans (with interchange-plus pricing and a monthly fee) based on a merchant's industry and function. Most accounts pay a monthly fee of $9.95, while transaction costs range between 0% to 1.5% plus a fee above interchange rate. 
Payouts typically take one to three days. New merchants may have to wait a bit longer before their first payout.
Overall Value
We recommend National Processing for …
Merchants who prefer short-term contracts.
E-commerce or phone order businesses.
Businesses processing more than $10,000 in transactions.
We don't recommend National Processing for …
Merchants who prefer long-term contracts.
Businesses that don't want to pay monthly fees or an early-termination fee.
Seasonal businesses or those with a low or irregular sales volume.