If you run an online business, you need a way to accept customer payments. But to accept credit cards, debit cards, and even cryptocurrency transactions, you'll need a credit card payment processor, an online cart or top POS system, and a merchant account.
Choosing between different credit card processors can be overwhelming because there are so many great options available. Two of the most popular picks on the market are PayPal and Square.
Whether you should use PayPal or Square largely depends on what you're looking for. Square focuses primarily on companies that offer in-person transactions and may also have online stores. PayPal focuses on online transactions and even allows you to accept some forms of crypto payment.
In this article, we'll break down the pros and cons of Square and PayPal so you know which credit card processing service you should choose and why.
Square vs. PayPal
Not sure where to start your comparison of Square and PayPal? Take a look at this chart for a bird's-eye view of the providers' similarities and differences.
| Similarities | Differences |
| --- | --- |
| Both offer free POS apps. | PayPal accepts online payments in various currencies. |
| Both have flat-rate pricing for individual transactions. | Square offers employee management tools. |
| Both have good integration options with third-party platforms. | PayPal is quicker to set up. |
| Both provide online and in-person POS hardware solutions. | Square offers website creation tools. |
Square: Who do we recommend it for?
Square is a payment processing service that provides credit card processing and POS terminals. It is a particularly good option if you run a brick-and-mortar store, thanks to its variety of hardware options.
However, Square doesn't offer merchant accounts. You'll need to either provide your own or sign up with one of Square's partnered merchant account services.
Square's selection of hardware can't be beat, including its dual-screen register and mobile card reader. All new users receive a free magstripe reader and POS app for mobile devices.
The company charges the same online transaction rates as PayPal, but Square doesn't work with certain high-risk merchants – like gambling enterprises – so it's not the right fit for every business.
Here are some of Square's most important features:
Free magstripe reader with your account
POS software for your business
Free business tools, including a POS app
Low online transaction rates
Connection with a third-party merchant account, if necessary
Wondering if Square is the right choice for your business? Check out our Square review to learn more.
PayPal: Who do we recommend it for?
PayPal is known as one of the best online payment platforms available. It offers excellent online credit card processing fees with no monthly charges, and it's a great choice for retailers that need to begin accepting online payments immediately.
Even though PayPal doesn't offer as many POS or hardware solutions as Square, you can jump into PayPal and start accepting online payments in just a few minutes using PayPal's credit card reader. The company also continues to expand its accepted payments to include cryptocurrencies – such as Bitcoin, Litecoin and Ethereum.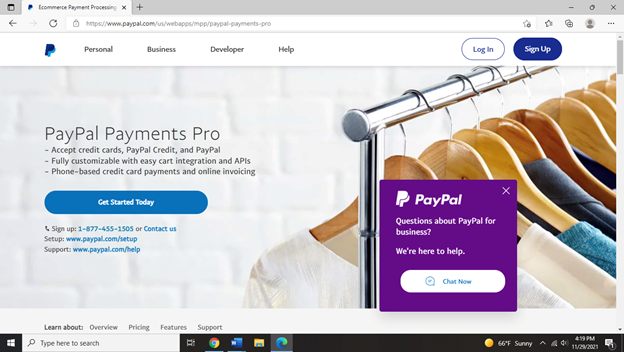 Unfortunately, PayPal charges for certain items that you'd receive for free from Square – like a virtual terminal – and chargeback fees. You'll also need to keep an eye out for extra paid services, like fraud monitoring and recurring payments.
Here are PayPal's most important features:
Free POS mobile app
Acceptance of cryptocurrency payments
Specialty in online retailers
Quick setup
No monthly fees
Product and service criteria comparisons
Let's take a closer look at both Square's and PayPal's standout features. This will help you understand the pros and cons of each service, and see which is the right fit for your business.
| Criteria | Winner |
| --- | --- |
| Plans | PayPal |
| Pricing | Square |
| Features | Square |
| Ease of use | Tie |
| Integrations | Tie |
| Support | Tie |
| Employee self-service | Square |
| Additional services | Square |
Plans
Square: Square offers four plans, ranging from free to $72 per month. Each plan includes an increasing spread of features, like abandoned cart tools, lower processing rates per purchase and discounted shipping. Square's most expensive plan, Premium, is appropriate for large stores that process a high volume of transactions.
Square offers four simple monthly plans.

Source: Square

PayPal: PayPal offers two payment processing plans, Standard and Payments Pro. PayPal Standard takes 15 minutes to integrate with your online shopping cart. Unfortunately, it isn't very customizable and doesn't include access to a virtual terminal. PayPal Payments Pro is more flexible and gives you access to a virtual terminal. With this plan, you have the option to accept 25 currencies from over 200 countries and take phone payments. However, either you or a colleague needs some coding experience to integrate this version of PayPal with your current site.

Winner: PayPal comes out on top for this category because you don't have to pay extra for its monthly plans. Square's higher tiers come with monthly charges in addition to individual transaction costs.
Pricing
Square: Square and PayPal both use flat-rate pricing structures, so you always know how much you'll pay for completed transactions. Square charges 2.6% plus 10 cents for every in-person transaction. Online transactions run you 2.9% plus 30 cents per transaction. Square also offers free card readers when you sign up for a new account. A register or POS system will cost $10 to $799, and Square doesn't have any chargeback fees for disputed transactions.
PayPal: PayPal charges 2.7% plus 30 cents for every in-person transaction. Online transactions are 2.9% plus 30 cents each. PayPal's hardware prices are pretty comparable to Square's, though Square is a bit more expensive. However, PayPal charges a number of fees that Square doesn't – like a $20 chargeback fee and a $30 monthly fee for a virtual terminal.
Winner: Overall, Square has the best pricing options between the two companies. PayPal's in-person transaction rate is higher than Square's, but Square doesn't have added fees for chargebacks and other services.
Features
Square: Square provides an easy online payment service and remote payment flexibility. You can quickly create and send invoices to your customers, and allow your clients to pay via ACH, debit card or credit card. Square even allows you to accept payments over the phone. Should you need to create a website, Square can help you generate one through its website-building tool. Square offers a square-shaped mobile payment device, plus several different solutions for POS registers or terminals.
PayPal: PayPal provides tons of developer tools that allow you to add payment buttons anywhere on your site. It also comes with invoicing and recurring billing controls. PayPal accounts include free chip and swipe card readers, and a chip and tap device if you want to use contactless payments at your retail location. Unfortunately, PayPal doesn't offer POS hardware, so you'll need to use a third-party provider.
Winner: Square offers better features in terms of hardware, plus extra features like a website builder.
Ease of use
Square: Square is one of the easiest payment processing services to use. It's very simple to install and start using, especially if you need to build a website using its drag-and-drop creator.
PayPal: PayPal is also user-friendly, especially because it's designed for online businesses without a ton of bells and whistles. You'll have more customization options if you choose the Payments Pro plan.
Winner: It's a tie between the two companies, as both are very easy to use and don't have a lot of technical features.
Integrations
Square: Square has dozens of online integrations that you can access through the Square App Marketplace. It can integrate with services such as QuickBooks, ZipRecruiter and Xero.
PayPal: PayPal's integrations are slightly different because they're built into various third-party POS terminals and platforms. So PayPal itself may integrate with fewer third-party apps than Square, but those apps – like eBay, QuickBooks and Shopify – integrate with PayPal just as frequently.
Winner: Both Square and PayPal integrate with some of the most popular third-party business and tax software solutions, so this comparison is a tie.
Support
Square: Square has FAQs and troubleshooting content on its website in case you need fast technical support, along with phone support. However, the company's phone support is not available 24/7, so the live chat may be a better option if you need to reach someone outside of business hours.
PayPal: PayPal provides phone support; however, like Square's phone support, it's not available 24/7. The company also offers live chat. Alongside a FAQs and troubleshooting section on its site, PayPal provides a community forum. So, if all else fails, you can ask other PayPal users how to solve a particular problem.
Winner: Square and PayPal tie for support, as neither one offers 24/7 customer support and both provide limited phone and live chat channels.
Employee self-service
Square: Square provides tons of self-service employee management tools, such as timekeeping tools and unlimited permission sets. However, you need to purchase Square for Retail to access many of these features.
PayPal: PayPal doesn't really offer employee self-service tools.
Winner: The winner in the employee self-service category is Square, as PayPal focuses more on single-employee businesses and small online shops. However, you can always integrate your PayPal account with a third-party employee self-service tool if needed.
Additional services
Square: Square is PCI compliant, so you don't have to worry about data breaches. The company offers encrypted transactions, EMV payment hardware, and dedicated fraud monitoring on all your transactions.
PayPal: Like Square, PayPal monitors your company's online transactions for fraud. However, it's not clear whether it also monitors in-store transactions for fraud. Payments Pro transactions place the PCI responsibility on you, since the transactions occur on your site.
Winner: The winner for the additional services area is Square, because PayPal requires its users to take on the PCI security compliance, whereas Square handles all fraud monitoring for you.
Square vs. PayPal recap
At the end of the day, both Square and PayPal are quality payment processing services. Both services have distinct features that may make one of them better for your business needs.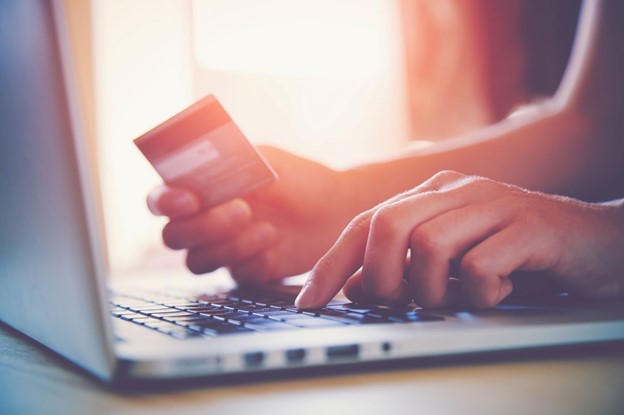 These are some good reasons to opt for Square:
You want to complement your brick-and-mortar business with online shopping.
You need good POS software and hardware.
Employee self-service and management tools are a must for you.
You require constant fraud monitoring.
These are some good reasons to choose PayPal:
You want to offer online shopping only.
You want to accept various payment options and currency types.
You need a quick and painless setup process.
You want a customizable shopping cart.
FAQs
How does Square differ from PayPal?
Square is a retail and online payment processing service. It offers everything your business needs for online and in-person transactions – including payment processing, merchant accounts through third-party providers, and POS hardware. PayPal is different from Square because it focuses on online payment processing and accepting as many currencies as possible.
Is Square or PayPal more secure?
Square might be more secure than PayPal because it offers constant fraud monitoring for its users, whereas PayPal leaves some of the PCI compliance responsibility to its users.
Is Square a safe way to pay?
Yes, Square is secure and fully compliant with PCI regulations.
Does Square beat PayPal?
Square only beats PayPal if you have a retail business. If you have an entirely online business, PayPal might be a better choice because of its streamlined payment tools.