Credit cards don't process themselves; that's where merchant accounts come in. Merchant accounts are a critical part of modern business, where accepting debit and credit card payments is a basic necessity. This guide explains how merchant accounts work, how to set one up, and what you need to know about them as a small business owner.
For a more in-depth look at merchant accounts, check out our article on how to accept credit cards, which will help you figure out whether your business needs a merchant account and how to find the right one.
What is a merchant account?
A merchant account is a business bank account required for businesses to accept debit and credit card transactions, as well as other forms of electronic payments. A merchant account acts as a bridge between a customer's credit account and a business checking account. During a transaction, funds will be immediately available in a business's merchant account, from which they can be deposited into a business checking account. 
Once a payment processor has set up a merchant account for your business, you can begin conducting credit card and debit card transactions with your customers. Since it's a business bank account you'll need a business license to set one up. To begin processing debit and credit card payments, you will usually need some hardware, which would be available for purchase through your credit card processing partner. In some cases, the payment processor might even give you a free credit card reader to help you get started.
Editor's note: Are you trying to choose a credit card processor? If you're looking for the one that's right for you, fill out the questionnaire below to receive more information from our vendor partners.
How to obtain a merchant account
Acquiring a merchant account is relatively easy. Here are the steps to follow to create an account: 
1. Do your due diligence.
The first step in obtaining a merchant account is to do a little research. There's variation in fees and capabilities, and you'll want to know which companies offer the best solution for your business. For example, some processors are oriented toward your industry, while others specialize in a particular transaction type – such as online purchases or retail sales. 
If you have friends in a similar field, ask them for recommendations. You can also look online and compare processors. Your bank may offer merchant accounts, which is something to consider. Your bank may be more likely to approve your business for a merchant account, especially if your company is new. 
In addition to any posted fees, compare the hardware costs, customer support and contract length. The standard merchant account contract is three years, including penalties for early cancellation.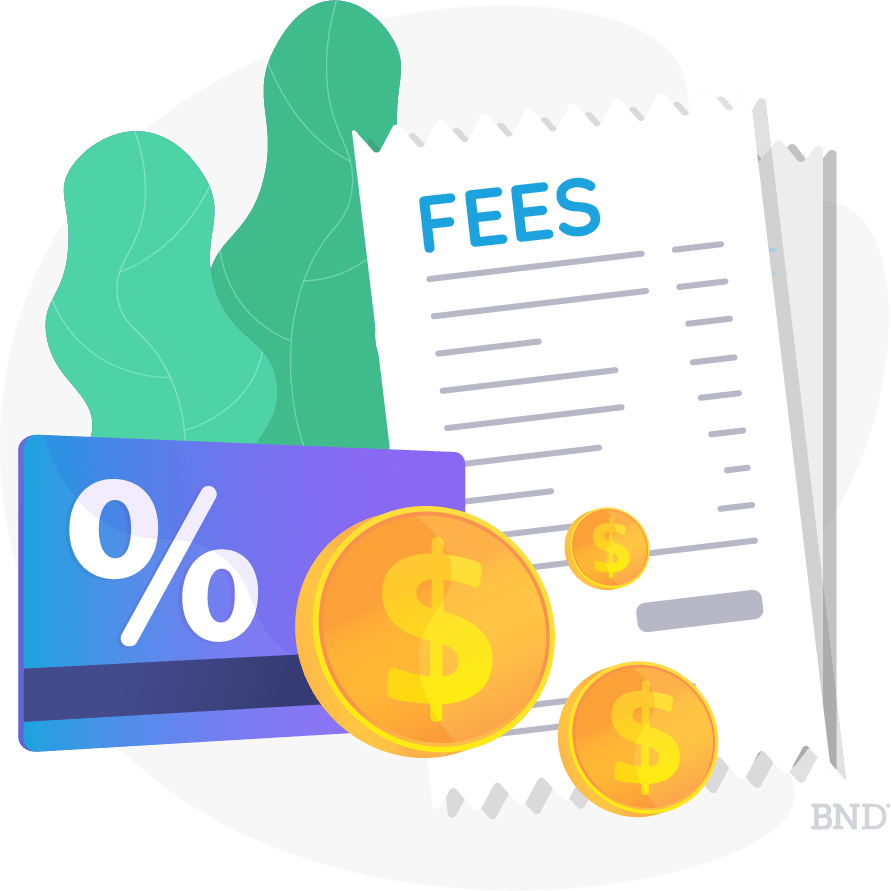 When you apply, your prospective processor should provide clear answers on the type of documentation it requires and how long the approval process might take. If the processor makes unrealistic blanket promises or statements, it's a good idea to take a closer look at the company.
2. Get your paperwork in order.
You will need to provide your business information, including your organization's name and DBA, contact information, length of time in business, your tax ID number, financial statements, business bank account and routing numbers, and sometimes a credit card to pay for the application fee. 
If you've used a credit card processing tool or service before, be sure to provide information about that company – including how long you worked together. It may be easier to get approved by a new company if you demonstrate a successful past relationship.
3. Apply for a merchant account.
Once you submit all the requested information, the processor will likely check your personal and business credit history. Depending on the provider, you may need to pay an application fee. 
Add an old-fashioned cover letter to your application to explain precisely what your business does and why it deserves a merchant account.
4. Wait while your application is reviewed.
The merchant account provider will evaluate your application and decide if you're a good risk. When approving an application, the vendor will take these factors into consideration: 
Amount of time in business
Personal and business credit histories – including bankruptcies or defaults
Whether you have previously had a merchant account
Type of business and future transactions – in person or card not present
Your business is considered less risky if you plan to process transactions in person while customers use their cards on hand. Your company is rated as more risky if you will process cards online or by phone because these transactions are more vulnerable to fraud. To mitigate this risk, some merchant account providers require address verification when cards aren't present.
The merchant account provider will likely approve your application if your business history and transaction type make you a low-risk option. Riskier companies may still be approved, but with additional and higher fees.
Merchant account vendors have a lot on the line. They guarantee a cardholder will receive a promised good or service, so if it isn't delivered, the cardholder is entitled to their money returned.
How payment processing works
These are the steps taken when a credit card transaction is processed:
1. The transaction goes through a payment gateway.
A payment gateway is a mechanism separate from a merchant account that sees if the cardholder has sufficient funds for the transaction. Should your business accept credit card payments over the phone or through an online portal, it requires a payment gateway: A keyed-in or card-not-present transaction is done online through a payment gateway connecting to the credit card company.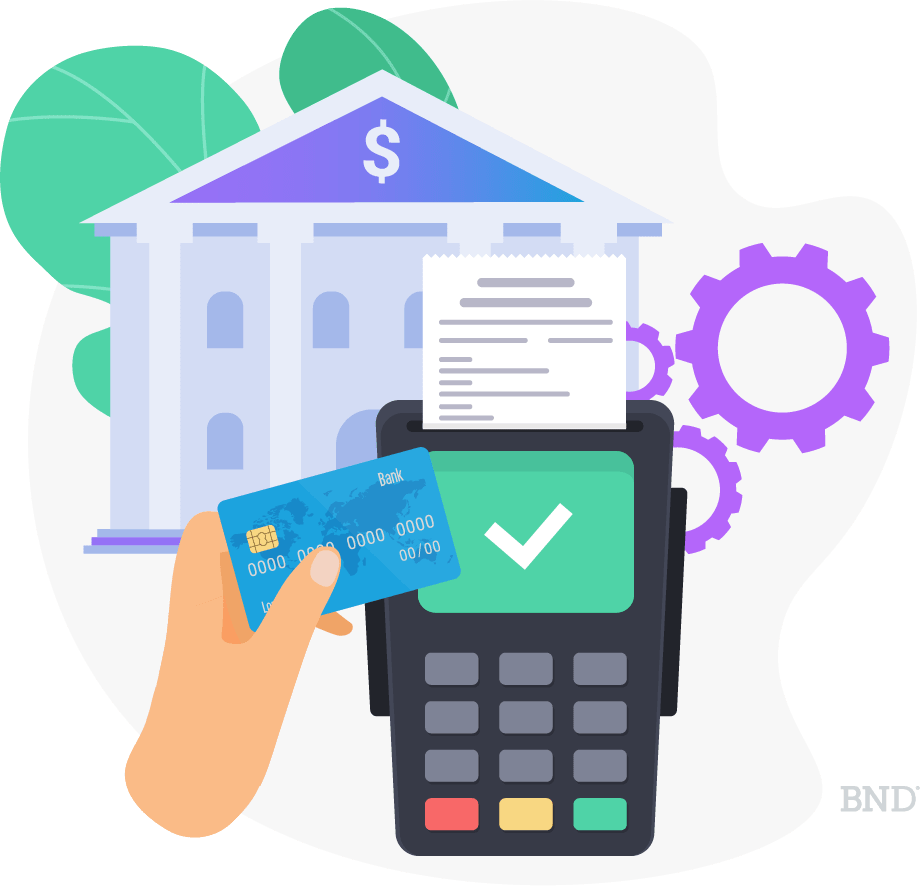 Another valuable tool is a payment gateway, which is useful if your customers frequently place pickup orders ahead of time. The best point-of-sale (POS) systems include a payment gateway that reads the cardholder's data, and checks with the credit card company to ensure the transaction can go through.
The credit card processor you partner with can set up a payment gateway for you at the same time your merchant account is established. However, payment gateways generally cost an additional monthly fee, and card-not-present transactions usually have higher costs than card-present transactions.
2. Money is deducted from the customer's account.
If the transaction is approved, the merchant account deducts the purchase amount from the customer's bank or credit card account – first deducting its transaction fee, usually 3% to 5% of the total. The fees vary depending on the payment type. For example, transaction fees are usually higher for American Express than Visa or Mastercard.
3. Money is deposited into your business account.
Next, the merchant account deposits the money into your company's checking account. These deposits usually occur in batches at the end of the day – or even less frequently – rather than right after a transaction.
4. Customers dispute the purchase.
If there is a customer dispute, the merchant account will need to pull the transaction information to verify it. There is often a fee for this. If a refund is warranted, the merchant account provider will take care of it, withdrawing the funds from your account and depositing the money into the customer's account. There is often another fee for this step.
Editor's note: Are you trying to choose a credit card processor? If you're looking for the right one for you, fill out the questionnaire below to receive more information from our vendor partners.
Types of merchant accounts 
Because your business has unique needs when it comes to payments, these are different types of merchant accounts: 
Retail: This merchant account is for retail establishments with a fixed store location. These companies are typically offered low setup and transaction fees.
Mobile merchants: Your business would require a mobile merchant account if it travels to events, like food trucks. To accept mobile credit card payments, you can acquire mobile credit card processing equipment that is easy to set up and use.
E-commerce: If you sell goods online or by phone, there are merchant accounts that can accommodate your needs – such as e-commerce merchant accounts (explained in more detail below).
Special merchant accounts for e-commerce and phone businesses
As businesses have gone increasingly digital, the payment processing industry has extended its reach to e-commerce companies. If you're building an online business, you're even in more serious need of payment processing services. 
However, the merchant account types available for e-commerce businesses are different from those of brick-and-mortar stores. Here are some e-commerce merchant account categories:
Direct: You apply for a direct merchant account directly at a merchant bank.
Local: A local merchant account is an account in your home country.
Offshore: Also known as an international merchant account, an offshore merchant account is located outside the country.
High-risk: A high-risk merchant account is intended for online businesses with a high percentage of chargebacks and returns.
Third-party: Connected by an additional secure payment gateway, a third-party merchant account contributes to the processor's work – sharing its expenses. This type of account is ideal if you're just starting an e-commerce company.
Generally, merchant transactions aren't posted to the account at the time of purchase or refund. These transactions are usually posted in a batch during the merchant's settlement process.
What fees are charged?
The fees associated with a merchant account vary by provider. Card-present transactions are generally considered the least susceptible to fraud. This means that the rates associated with these transactions are often the lowest credit card processors offer.
In some cases, merchant accounts adhere to a fixed per-transaction rate without any additional fees. Others use an interchange-plus pricing model, which is the credit card company's processing fee plus the merchant account provider's markup. Finally, the tiered pricing model offers several different rates depending on the type of transaction.
Here's a closer look at each model:
Flat-rate pricing: Most commonly employed by mobile credit card processors, the flat-rate pricing model is straightforward. For every transaction processed, you're charged a fixed percentage. For example, every time you swipe a debit or credit card, the processor might take 3% of the value of that transaction. This model is best for your business if it has a low-sales volume or provides small-ticket items.
Interchange-plus pricing: This is one of the most common pricing models for small companies. The interchange rate is the processing rate that the credit card company sets. In interchange-plus pricing, a payment processor will charge this rate plus a markup as its profit. For example, an interchange-plus pricing structure might appear as 2.75% + $0.10 per transaction. The 10 cents in this example is the processor's markup, while the 2.75% is the interchange rate.
Tiered pricing: Tiered pricing breaks down transactions into three categories: qualified, nonqualified and midqualified transactions. Qualified transactions receive the most advantageous rate, while nonqualified transactions are the most expensive. The transaction types in each category vary, but you can generally expect a card-present transaction at a POS system with a regular credit or debit card to be a qualified transaction. In contrast, a keyed-in credit card number over the phone would usually be nonqualified. Midqualified transactions could include keyed-in card numbers using an address verification service (AVS) to verify the cardholder's address for added security.
These are some additional fees beyond the pricing models:
Monthly fee: Sometimes referred to as a statement fee, the monthly fee is charged for preparing your monthly statement and providing customer support.
Gateway fee: If you require a payment gateway for card-not-present or online transactions, you might incur a monthly gateway fee.
Monthly minimum fee: Some payment processors have a minimum number or value of transactions you must complete each month. If you fail to meet this minimum, you could be subject to a monthly minimum fee.
PCI compliance fee: The payment card industry (PCI) has data security regulations to reduce the threat of identity theft and fraud. Many payment processors will help you stay compliant as part of setting up and maintaining your merchant account. Some processors charge PCI compliance fees for these services, but they aren't always disclosed when you inquire about pricing.
PCI noncompliance fee: Some processors charge fees for businesses that do not comply with PCI standards. Usually, you have a few months after signing up to come into compliance, but if you fail to do so within that time frame, you could begin incurring PCI noncompliance fees.
Batch fee: You might be charged a batch fee when you post a batch of new transactions – usually once or twice a day. These fees are often the same as your per-transaction fee, about 10-25 cents.
Address Verification Service fee: If you use AVS to confirm a cardholder's address, the processor might charge this fee. AVS is a fraud-prevention measure most commonly employed by e-commerce businesses and companies that frequently perform keyed-in transactions.
Retrieval fee: You might be charged a retrieval fee when a customer disputes a charge and their bank requests the records related to the sale in question. This isn't the same as a chargeback fee; the retrieval could ultimately prevent a chargeback if the customer's dispute is invalidated.
Chargeback fee: Chargeback fees occur when customers successfully dispute a charge and demand a refund. Chargebacks involve canceling an already processed transaction and returning the funds to the customer. You then have to pay a fee to the processor to cover the processing costs associated with the refund.
Cross-border fees: International transactions generally come with additional fees to cover the costs of exchanging currencies electronically.
Some fees are unavoidable, but not all are common across credit card processors in the industry. Do your due diligence to ensure you aren't caught up in bogus fees from an unethical payment processor.
Alternatives to merchant accounts
It's possible to accept credit cards without a merchant account with one of these alternatives:
PayPal: PayPal processes credit cards, debit cards and bank transfer payments for online businesses on a fee-per-transaction basis. You'd set up a business PayPal account, and then receive coding to add a PayPal button on your website.
Low-volume processing: For small and mobile businesses, several providers enable low-volume credit card processing, including Intuit's QuickBooks payment system, PayPal Here and Square. For more information, read our Square review.
The bottom line is that if you want to accept your customers' debit and credit cards, you need to secure a merchant or alternative account. In today's world, most customers expect to pay with a credit or debit card; many don't carry cash daily. Refusing to set up an account so you can accept these payment forms could upset your customers. Ultimately, not accepting credit cards can hurt your bottom line. 
If you're looking for a payment processing company that can set you up with a merchant account quickly and easily, check out Business News Daily's reviews of the best credit card processors. These payment processors offer exemplary service to suit the needs of your business.
Adam Uzialko, Elaine J. Hom and Sara Angeles contributed to the reporting and writing in this article.