Square is our choice for the best POS system for small businesses. It's an affordable, easy-to-use POS solution with three pricing tiers, including a free version. Use Square to accept payments, track sales and schedule customer appointments.
Pros
Square doesn't issue chargeback fees, which is rare for a POS provider.
Square's POS system works for businesses in various industries. 
The company provides numerous hardware options; you can upgrade your devices with compatible accessories.  
Cons
Square works on iOS and Android devices but won't work on a Windows desktop or tablet.
The company doesn't offer 24/7 phone support with its free plan.
Square charges higher payment processing fees than some other POS providers.

Square is our pick for the best POS system for small businesses because of its affordable hardware and software and broad range of features.
Square is ideal for businesses in various industries and doesn't issue chargeback fees – rare for a POS provider.
Square POS integrates with dozens of third-party apps, such as QuickBooks, Wix and WooCommerce, helping businesses create customized solutions.
This article is for small business owners who want to learn more about Square POS and why we chose it as the best POS system for small businesses. 
Many businesses want a wide-ranging, affordable point-of-sale (POS) system that's easy to use and implement. Square POS is an excellent option that has become a popular choice for retailers, service providers, coffee shops and many other small businesses. Square offers a broad array of hardware options, its software is straightforward to set up and use, its free version is feature-packed, and you can upgrade your devices with compatible accessories as your business grows. 
Square POS Editor's Rating:
9.3 / 10
Affordable pricing

10/10

Free trial

10/10

Robust integrations

9/10

Invoicing and bill pay

8.5/10

Mobile app

9/10
Why Square Is Best for Small Businesses
Square is an excellent POS system option for businesses of all sizes. However, we were particularly sold on Square as a small business POS solution. Its free software plan has robust functionality, and its payment processing fees are straightforward and easy to understand – ideal if you're just starting a business.
Square provides numerous affordable hardware options. However, it also helps businesses accept various payment methods, including contactless payments like NFC mobile payments, on mobile devices without any additional hardware. This means new businesses can start accepting payments without a large upfront investment. 
Square is a hybrid POS system; its software runs via an on-site server, but it uses cloud-based storage for your data.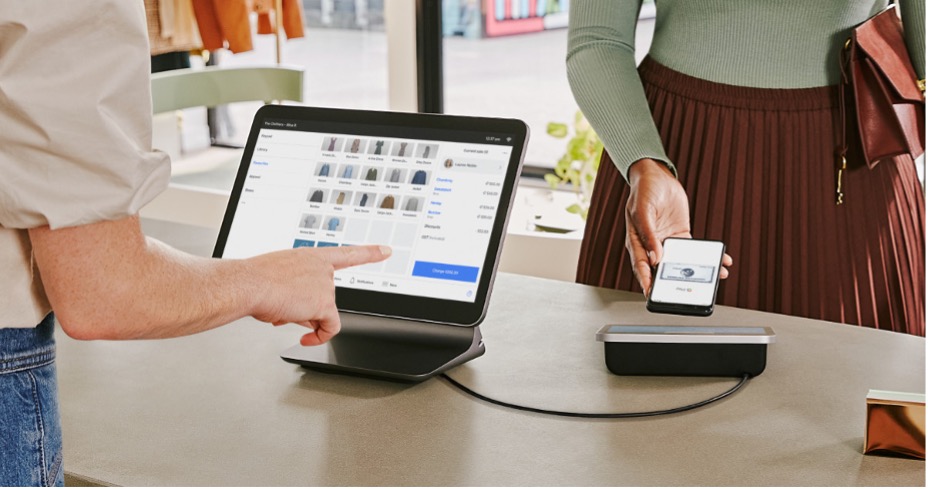 Square is an excellent POS system for small businesses and startups. Source: Square 
Usability
We were impressed by how easy it is to set up and use Square's software. The interface is highly intuitive, and there's no training required to get started. Business owners and their teams should be able to manage setup on their own easily. However, if you do run into problems during setup, you can access chat and in-app support for help. 
Additionally, we were pleased that the company provides an extensive online resource library with how-to articles and guided tutorials. And the Square Seller Community forum is active and helpful, so you should always be able to find someone who can answer your questions. 
We also like that Square's software easily integrates with dozens of popular third-party apps, including Wix and WooCommerce, to help you create a customized solution. Square also features QuickBooks POS integration with QuickBooks Online and Desktop versions.
Square Features
| | |
| --- | --- |
| POS system | Square's POS system allows you to accept payments online, in person and over the phone.  |
| Hardware | Square offers a register, stand, terminal and two different card readers. |
| Square for Retail | Square provides features that allow you to sell products online and in person. |
| Square for Restaurants | You can use Square to manage your menu and run your restaurant. |
| Appointment booking | Your customers can easily schedule appointments with you through Square's appointment-booking feature.  |
POS System
We were impressed by Square's numerous POS system benefits. You can use Square to accept card-present and card-not-present payments, including online and phone payments. You can even accept contactless payments right from your phone by downloading the Square mobile app. You can also set up an online store to start selling online or use the software to make sales through Instagram or Facebook.
We also like that Square comes with detailed POS reporting and analytics features. Track payments and monitor revenue growth over time via Square's POS sales reports. You can also monitor customer preferences and learn why customers return to make repeat sales. You can even create a customer loyalty program and a digital gift card program to drive repeat visits.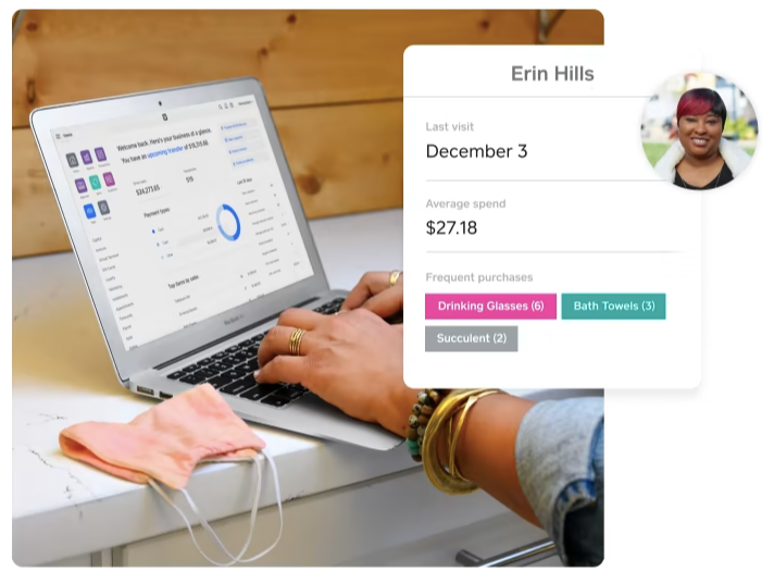 Use Square's POS features to track customer preferences and build loyalty programs. Source: Square
Hardware
We appreciate that Square provides several hardware options so businesses can choose the right setup for their needs. Here's an overview of Square's hardware:
Square Register: The fully integrated Square Register comes with a dedicated customer display. It includes protection from eligible chargebacks and a two-year limited warranty.
Square Stand: The Square Stand turns your iPad into a POS system. It comes with a customer-driven checkout and a built-in card reader.
Square Terminal: The Square Terminal is an all-in-one credit card machine that lets you accept payments and print receipts. Customers can use the terminal to tap, swipe or dip their cards.
Square Reader: The Square Reader lets you accept chip cards and contactless payments.
Square Reader for magstripe: You can plug this reader into your phone to accept magstripe payments.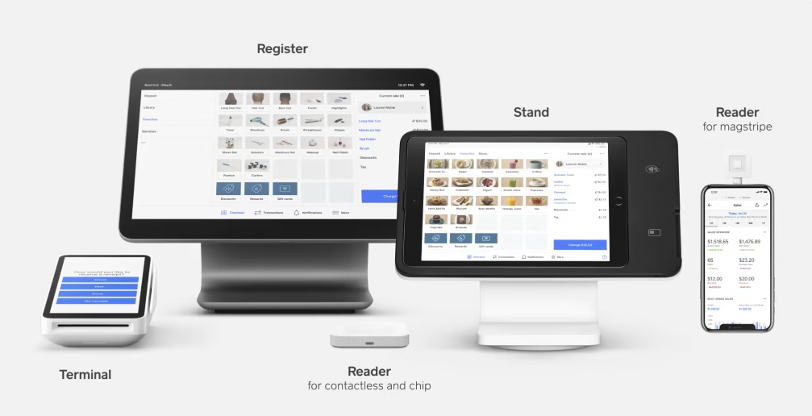 Square provides all the hardware options you need to run your business. Source: Square
Square for Retail
We really like Square's retail features that make it easy for businesses to sell products online or at a brick-and-mortar location. Use the software to accept payments, manage inventory, and streamline operations. We also like that you can use Square to set up a free e-commerce account or integrate an existing online store.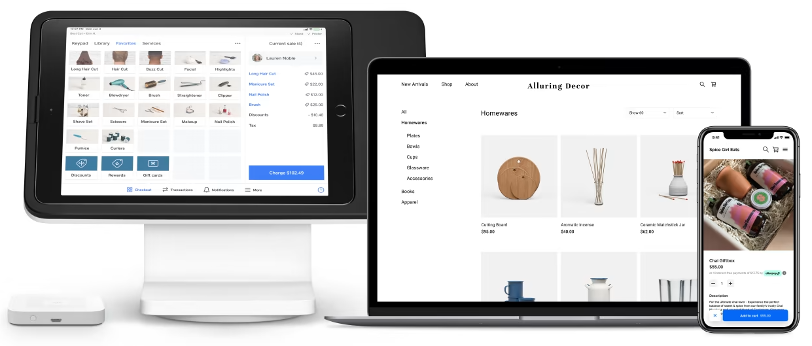 Square for Retail includes inventory management features that help small businesses streamline operations. Source: Square
Square offers buy now, pay later plans that let customers pay for a purchase in installments using Afterpay.
Square for Restaurants
We like that Square is a robust POS solution for restaurants as well as retailers. Use Square's POS system to manage front- and back-of-house operations, handle your menu, keep the line moving, and offer free delivery or pickup on all orders. We also appreciate that Square offers mobile POS features that let you accept tableside mobile payments – keeping customers moving in and out of your restaurant faster.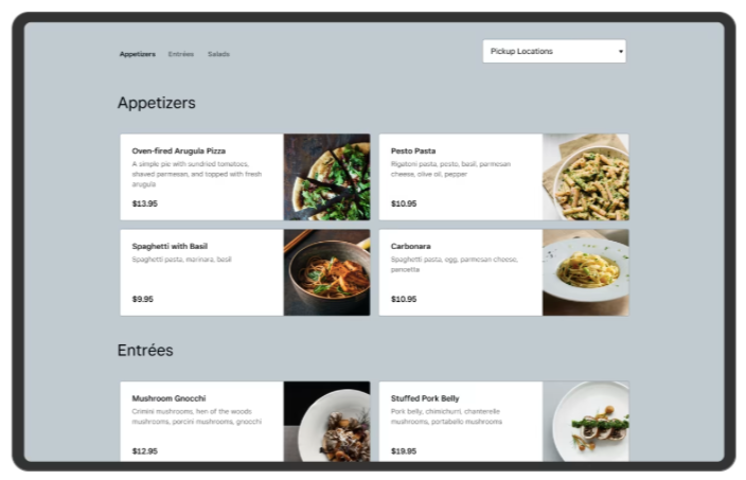 Square for Restaurants includes menu-management features. Source: Square
If you need more comprehensive restaurant POS features, check out our in-depth review of Toast and our TouchBistro review. These POS solutions were designed explicitly for restaurants.
Appointment Booking
We were impressed by Square's built-in appointment scheduling feature. Not many competitors offer this functionality. You can manage your availability from the app and let customers book appointments or classes with you online. This feature makes Square an excellent option for service providers.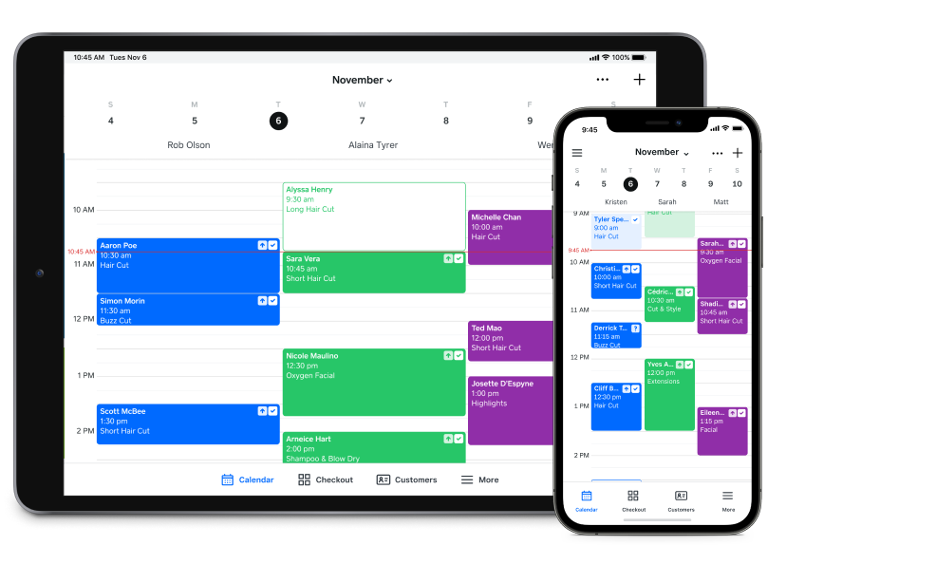 Square's appointment-booking feature simplifies scheduling. Source: Square
Square Pricing
Square offers three software plans: free, Plus and Premium. 
Free: Square's free plan impressed us, allowing businesses to accept payments online, in person or over the phone. Not many competing POS solutions offer such a full-featured free plan.
Plus: The Plus plan costs $29 monthly and comes with advanced features for restaurants, retailers and service-based businesses. 
Premium: The premium plan is designed for companies with more comprehensive needs; it comes with custom pricing. 
You must also pay the following payment processing fees:
In person:6 percent + $0.10 per transaction
Online: 9 percent + $0.30 per transaction
Manual: 5 percent + $0.15 per transaction
Invoices: 3 percent + $0.30 per transaction
Setup
We like that Square makes setting up your POS system seamless. Its easy setup process makes Square an excellent choice for businesses that want to start accepting payments immediately. 
Here's how to get your Square system set up: 
Download the Square app to your mobile device. 
Create your account; Square will then ship you a free card reader. 
Enter your banking information. Square will make two small deposits to your account. 
Once the deposits appear, log in to your Square account to verify your information and the deposit amounts. 
Once you receive your card reader, plug it into your mobile device and begin accepting payments from anywhere.
Customer Service
Compared to some of the more robust customer service options competitors provide, we found that Square falls a bit short. Square has a spotty customer service record, with some complaints online. Many customers report that the company is difficult to get ahold of and say they had challenges resolving certain issues. Additionally, the free plan doesn't come with 24/7 phone support. 
Drawbacks
We found many advantages to using Square. However, we did pinpoint a few drawbacks. First, as noted above, customer service isn't as highly rated as with some competitors, such as Stax. Additionally, while Square's free plan is a significant benefit, you should consider whether you'll be OK without 24/7 phone support. And if your business has more complex payment processing needs, Square may not have the functionality you need. 
Check out our review of Lightspeed if you're interested in a POS provider with more highly rated customer support and more robust payment processing compatibility.
Methodology
When researching the best POS systems for small businesses, we looked for affordable pricing, comprehensive features and overall ease of use. During our evaluation process, we compared Square to over a dozen POS system competitors. Our in-depth research helped us determine where Square stands out among its competitors and where it needs some improvement. 
Square FAQ
Square may be a better option for new businesses seeking ways to cut down on startup costs. However, Clover might be a more comprehensive solution as your business grows and needs to support more transactions. Read our complete Clover review to learn how this POS solution compares with Square.
Yes. Square comes with a free software plan and card reader. If you need additional functionality, you can upgrade to a paid plan.
The best Square alternative depends on what you're looking for in a POS system. If you want the option to use a Windows desktop or tablet, Lightspeed may be a better option. And if you're looking for advanced e-commerce features, you may want to consider Shopify.
Overall Value
We recommend Square for …
Businesses that don't want to sign up for a long-term contract.
Businesses that use iOS or Android devices. 
Any business looking to avoid chargeback fees. 
We don't recommend Square for …
Businesses that need a POS system with advanced functionality and industry-specific features.  
Anyone who wants to run the POS system on a Windows desktop or tablet.