Toast Review
Toast offers a wide range of beneficial features to restaurants, which is why it's our best pick for a POS system for restaurants of all sizes.
Toast offers three pricing plans, including a free plan for restaurants that are just getting started.
Toast's all-in-one POS system is easy to implement and onboard.
This review is for restaurant owners who want to find a POS system that can grow alongside their business as Toast can.
Toast is an all-in-one point-of-sale (POS) system that offers restaurants a wide range of hardware and software options. The company provides three software plans that work for food establishments of all sizes, and the system is easy to set up and implement, regardless of which plan you choose. Toast also has restaurant-grade hardware that is spill-proof and designed to blend in with any type of decor, which is a nice touch. You can use Toast to accept secure payments, and the company offers simple, transparent pricing. Toast is a great option for any business owner looking for a single platform to manage their restaurant.
Toast
The Verdict
Toast is a great all-in-one POS system for restaurant owners. With its various plans, including a free option, you can take advantage of tools like digital ordering and scale the software as your business grows.
Toast Editor's Score: 93/100
| | |
| --- | --- |
| Cost | 90 |
| Features | 95 |
| Hardware | 90 |
| Usability | 95 |
| Customer service | 95 |
Why Toast Is Best for Restaurants of All Sizes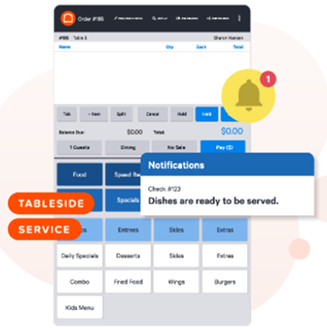 Toast's intuitive software can give you significant insights into how your restaurant is performing. The all-in-one POS system allows you to manage your restaurant's front and back ends with features like delivery management, customized tipping and tableside ordering. This makes Toast an excellent option for restaurants that offer both in-person and takeout dining.
These are just some of the reasons why we've chosen Toast as the best POS system for restaurants of all sizes. Another big plus is that it's an affordable option for new restaurant owners, as the features and support can grow as your business expands. The company offers three software pricing plans, including a free plan. We also really appreciate that the vendor provides transparent pricing on its payment processing services.
If you're interested in getting started with Toast, your best bet is to contact the company about scheduling a free demo. This will allow you to see how the system works and get a custom plan that best suits your business. You'll receive a price quote based on the specific hardware and software you select.
Pros
Toast offers a great variety of restaurant-grade hardware options and accessories to run every aspect of your restaurant.
The cloud-based software is easy to use and implement, and it's available through a free plan.
The POS system has many desirable features for food establishments, including tableside service, online ordering, reporting and menu management.
Cons
If you run a larger restaurant, you'll have to contact Toast for a custom price quote.
You can't use a third-party credit card processor; you have to use Toast's payment processing services.
Usability
Toast is a user-friendly POS system provider that offers a variety of hardware and software options. The company sells restaurant-grade hardware, including terminals, kiosks, handheld devices, a guest-facing monitor and a kitchen display screen.
The hardware options make it easier to manage different aspects of your business. For instance, you can use the Toast Go to accept contactless, swipe and dip payments. Plus, its battery lasts twice as long as those of other iPad systems, which is a great bonus
In addition, Toast's POS software provides everything you need to manage the front and back of the house. The order management feature notifies servers once a customer's order is ready, providing a better guest experience. We also like that you can use the menu management feature to update your menu from any device. You can also manage your menu availability with item countdowns.
Toast Features
| | |
| --- | --- |
| All-in-one POS system | Toast's POS system comes with restaurant-grade hardware, cloud-based software and payment processing features. |
| Digital ordering | Toast offers a full suite of digital restaurant solutions, including online ordering, contactless delivery and takeout. |
| Order and pay | Toast Mobile Order & Pay allows guests to browse a menu on their own devices and order right from their table. |
Toast offers all of the basic features you need when your restaurant launches and plenty of add-on services to fill in the gaps as your business grows. Let's look at some of the main features you can take advantage of when implementing Toast's POS system.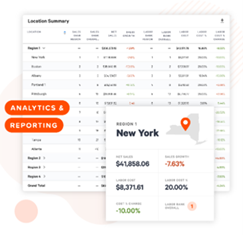 All-in-One POS System
Toast's all-in-one POS system comes with restaurant-grade hardware, cloud-based software and payment processing features. The hardware is designed to support a fast-paced restaurant environment and can fit in with any restaurant theme or decor, which is a nice touch. Because this is an all-in-one solution, you don't need to look to other vendors for credit card processing or other services.
The software is cloud-based, so you can conveniently access your data at any time. It includes the following features.
Tableside service: Your staff can use handheld devices such as tablets to take tableside orders, receive notifications when an order is ready and collect payments. This helps the entire restaurant operate more efficiently and improves the customer experience. Learn more about using an iPad with a POS system.
Menu management: Toast allows you to manage and update your online menu from anywhere, which is another great convenience. You can edit an item's availability, add countdowns for upcoming menu items and include promotions.
Analytics and reporting: One of the most important aspects of a POS system is its reporting features. With the Toast POS, you can monitor your sales over time and identify areas where your restaurant could improve. Find out which POS reports every business owner should run.
Digital Ordering
Toast offers a full suite of digital restaurant solutions, including online ordering, contactless delivery and takeout. These services can improve the customer experience, raise your margins and increase your restaurant's profits.
Online ordering: Toast's online ordering system provides guests a seamless mobile POS experience. With this feature, you'll set up a webpage that customers can access on any device to browse your menu, pre-order meals and purchase gift cards. The tool is fully integrated, so if you make changes to your menu in the POS system, those changes will show up when customers go to place an order online.
Toast TakeOut: With the Toast TakeOut app, customers can place an order and schedule either curbside pickup or contactless delivery. Unlike most third-party takeout apps, Toast TakeOut doesn't charge any commissions.
Contactless delivery: Have you been thinking about offering contactless delivery but don't want to dispatch your own drivers? If so, you may want to try Toast's delivery service. You can use the platform to dispatch local delivery drivers through an on-demand fleet. This service works well with Toast TakeOut.
Email marketing: Toast Now includes a fully integrated email marketing solution. It's more important than ever to stay connected to your customers, and email is one of the best ways to do it. The software allows you to build your email list, create automated campaigns and send weekly newsletters.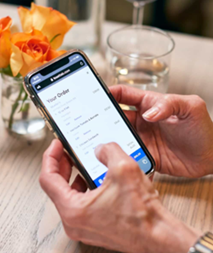 Order and Pay
Toast Mobile Order & Pay is a newer feature. It empowers guests to take charge of their dining experience by ordering meals using their own mobile devices. They can browse your menu, place an order and pay for it right from their table. [Related article: 5 Reasons You Need a Mobile POS System for Your Restaurant]
This feature is more convenient for guests and offers greater flexibility for servers. Waitstaff can focus on upselling customers and providing a higher quality of service instead of dealing with repetitive tasks like processing payments and closing out checks. You can also use Order & Pay to gain valuable data about every customer.
Toast offers online ordering capabilities, takeout support and contactless delivery drivers. It also includes tools to support your marketing campaigns and streamline your dine-in service.
Cost
One of the advantages of Toast is its competitive and straightforward pricing. To get started, you'll choose a plan for your all-in-one POS system. Let's look at the details of what you get with each pricing plan.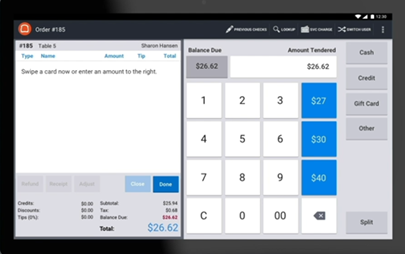 POS Software
If you choose to use Toast's POS services, you'll get one straightforward system to run your entire restaurant. It has all of the features you'd expect in a restaurant POS system, including the ability to take orders, manage your menu and monitor your restaurant's performance.
Starter Kit: The Starter Kit is free, though you may need to pay for add-on features. This plan is ideal for single-location restaurants that want only one or two terminals to get going. It comes with the basic hardware small restaurants need to take orders, accept payments and run operations.
Essentials: This plan starts at $165 per month and comes with menu management, table management and reporting features. You'll also receive three free months of online ordering, valued at $75 per month. Expect access to delivery services and the Toast TakeOut app too. The Essentials plan is ideal for existing restaurants looking to branch out into e-commerce or digital marketing.
Custom: The custom plan is best for restaurants that want to increase revenue and take advantage of Toast's full slate of impressive features. Businesses can use collected data to attract new customers and increase customer loyalty. It includes everything in the first two packages, as well as gift cards, loyalty programs and top email marketing tools. There is no standard price for this option, so you'll have to contact the company directly for specific costs.
You'll also pay a payment processing fee per transaction, but you have to contact Toast for a custom quote. The fee is based on the type and size of restaurant you run.
Setup
After you sign your contract, a Toast Onboarding Consultant will reach out to schedule a kick-off call with you. This 30-minute call will include an overview of the onboarding process and a timeline for implementing Toast into your restaurant's operations.
Your Onboarding Consultant will also confirm your hardware list. According to Toast, it typically takes between seven and 14 days to receive your hardware. Once you do, the Toast team will begin building your menu and configuring your software. The company will also train you and your staff on how to use the software so you feel comfortable managing it on your own.
Customer Service
As a Toast client, you have access to 24/7 customer support via phone, email or live chat. This customer service is available to all customers, regardless of which plan you sign up for.
The company also provides training videos and a comprehensive knowledge base with FAQs and troubleshooting support. These are ideal resources for getting your questions answered in a timely manner.
Drawbacks
The biggest drawback we encountered with Toast is that you are required to use its payment processing services and cannot use a third party. This means businesses have to accept whatever fees Toast charges for payment processing, which might be higher than other payment processing services.
We must also highlight that Toast works with Android devices only, which could be a problem for businesses that prefer iOS devices.
Methodology
To review this product, we compared Toast's services to more than a dozen other POS systems. This research helped us see where Toast stands out and where improvements are needed. See all of our recommendations for the best POS systems for a complete picture.
Toast FAQs
What is Toast?
Toast is an all-in-one POS system for restaurants. The company provides the hardware and software restaurant owners need to run their business. The software makes it easy to accept payments, manage a menu and offer online ordering.
Is Toast easy to use?
Toast's POS software is user-friendly, simple to learn and uncomplicated to train your staff on. Fortunately, if you do run into any problems, Toast provides 24/7 customer support.
Does Toast offer integrations?
Yes. The platform integrates with dozens of frequently used third-party software options for restaurants, like UberEats, DoorDash and OpenTable. This allows you to create a customized solution for running your business.
Overall Value
We recommend Toast for …
Restaurants of all sizes looking for an all-in-one POS system.
Restaurants that want to offer online ordering, tableside ordering and delivery.
Restaurants looking for a customizable POS solution.
We don't recommend Toast for …
Restaurants that want to use a third-party payment provider.
Businesses not in the restaurant industry.
Toast
The Verdict
Toast is a great all-in-one POS system for restaurant owners. With its various plans, including a free option, you can take advantage of tools like digital ordering and scale the software as your business grows.

Jamie Johnson
Contributing Writer
Jamie Johnson is a Kansas City-based freelance writer who writes about finance and business. She has also written for the U.S. Chamber of Commerce, Fox Business and Business Insider. Jamie has written about a variety of B2B topics like finance, business funding options and accounting. She also writes about how businesses can grow through effective social media and email marketing strategies.