It's been nearly two decades since the first visual voicemail services reached the market. The speech-to-text translation space has evolved considerably since then. Today, products offer more accurate transcriptions amid a broader selection of service providers.
We'll explore how visual voicemail can benefit organizations and busy professionals and share some free visual voicemail apps to consider.
What are the best visual voicemail solutions?
Here's a look at seven of the best visual voicemail packages and their platforms. These solutions should work on multiple networks and devices except for the Android, or iOS-specific services, which we've noted.
1. iPhone voicemail (iOS only)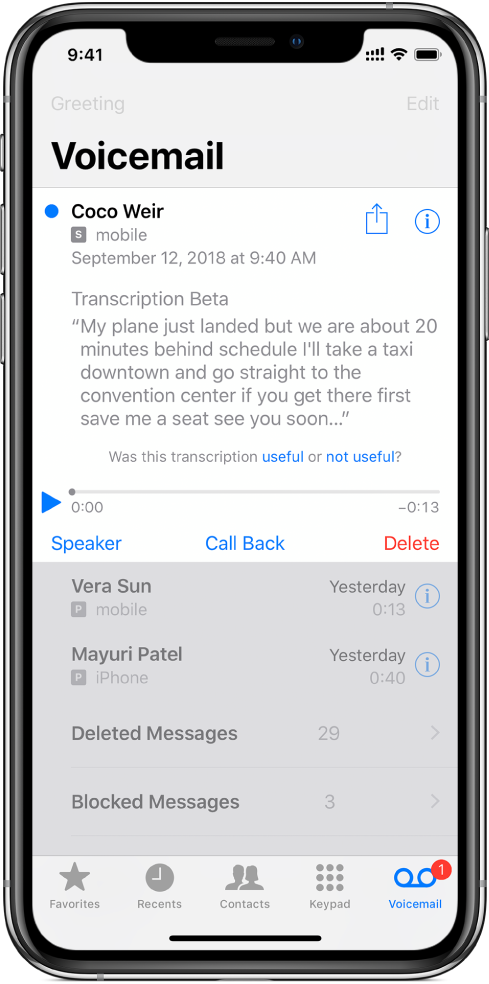 One of the original iPhone innovations in 2007 was an app offering speech-to-text voicemail transcription. Today, to access your iPhone's built-in visual voicemail, open the dialer app and tap the voicemail icon in the bottom right-hand corner. You'll be prompted to set up your visual voicemail inbox if you haven't already.
If you're connected to an audio-only automated voicemail system, your carrier won't provide visual voicemail. If you want to access visual voicemail, downloading a third-party option is your best bet.
If you're debating iOS vs. Android for your business, consider how deeply you rely on Apple or Google products, such as iCloud and Google Docs, in your day-to-day operations.
2. Android voicemail (Android only)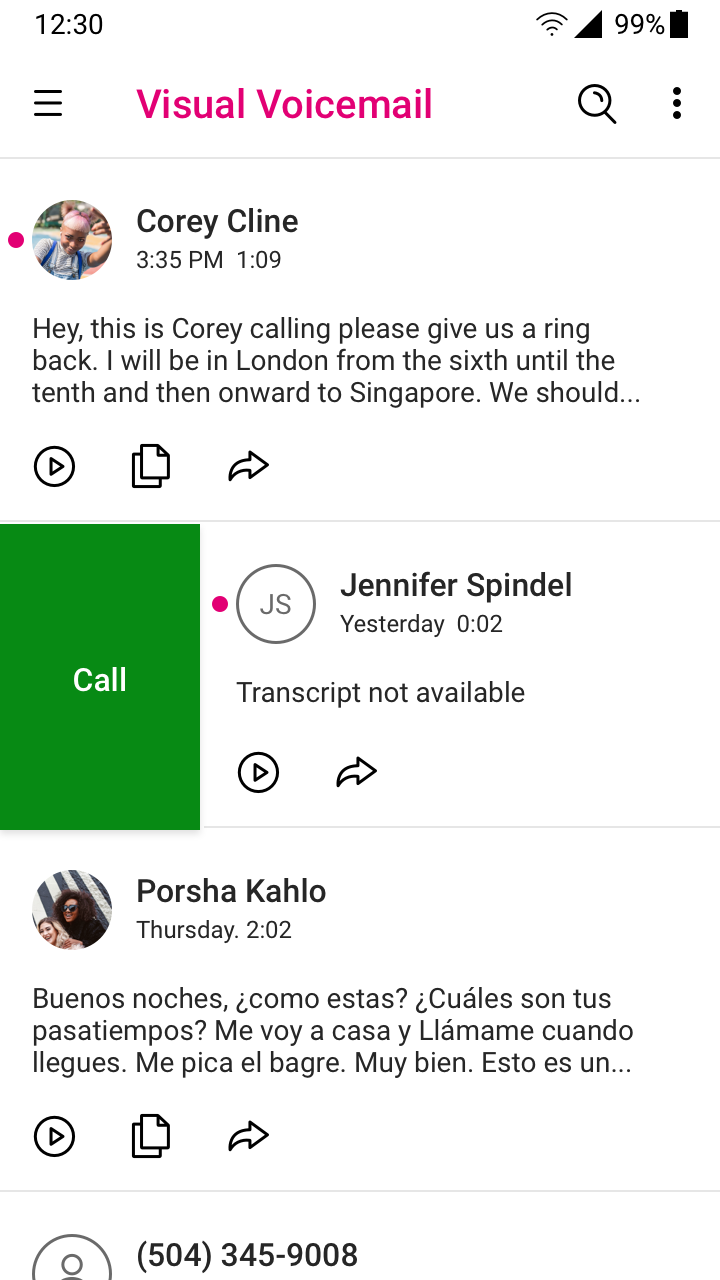 Where Apple leads, Google's Android operating system tends to follow, although this often happens in reverse as well. Android's built-in visual voicemail service lets you view voicemail messages in text form. 
To view voicemails, go into the dialer and select or swipe over to voicemails. When you open each logged voicemail, you should see a Play button (for listening to the message) and transcribed message text. 
If you have an older Android phone or your service provider doesn't offer visual voicemail, try downloading a third-party app.
3. YouMail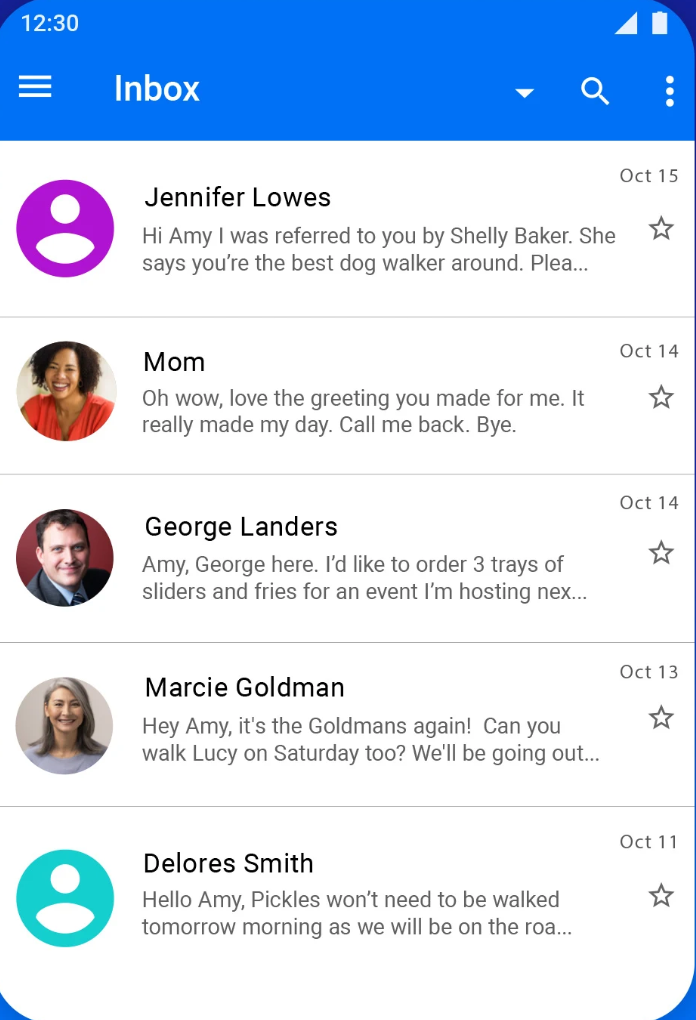 As the original third-party multiplatform visual voicemail service, YouMail claims to stop annoying spam calls and telemarketers with smart caller ID, giving your visual voicemail a junk mail folder.
Other features include the ability to access your voicemail from any device through the cloud and hold conference calls. A Professional account has additional business-centric features, including unified voicemail for multiple phones, auto-reply, call routing and the ability to record greetings.
YouMail's basic package is free, but its monthly premium services start at $11.99. Subscriptions can include other services such as call blocking, virtual phone numbers and even virtual receptionists.
Download the YouMail app for iOS or get the Android YouMail version. 
4. Google Voice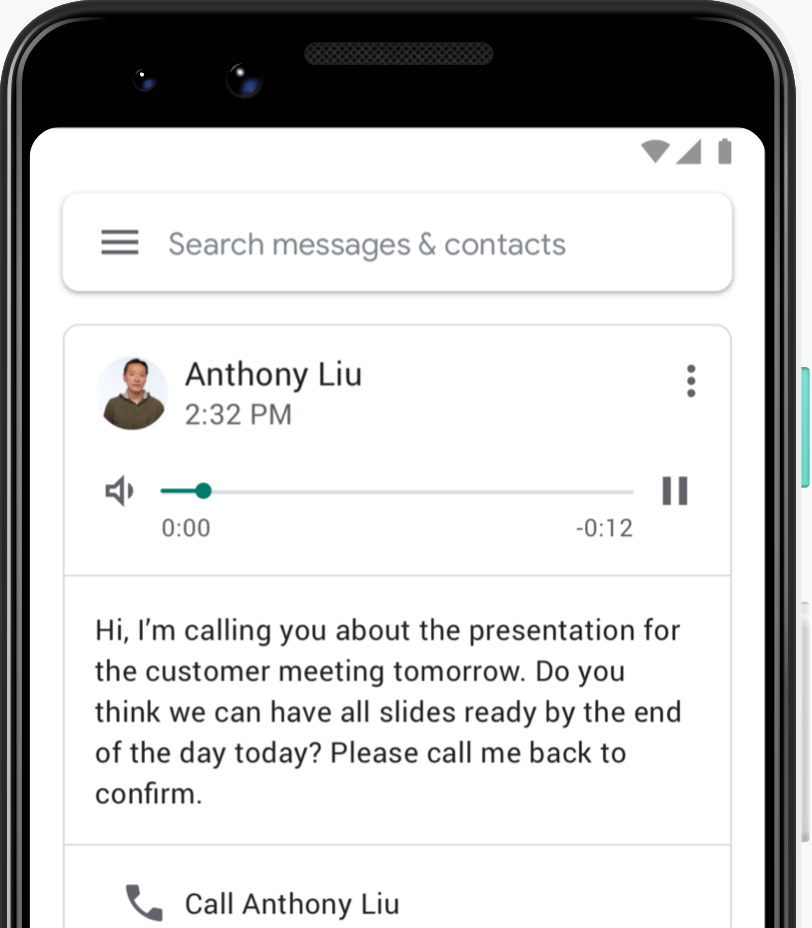 The Google Voice service gives you a phone number for calls, texts and voicemails. This phone number can serve as your business phone number. To sign up for Google Voice, you need a Google account and a United States landline or mobile phone number. Text messaging isn't supported in all geographical locations.
A key aspect of the Google Voice system is that it transcribes reasonably well. You can even have transcriptions emailed to you via Gmail. Google Voice is particularly useful for people who make many international calls or for anyone already embedded in Google's ecosystem, such as Chromebook users.
Download the Google Voice app from the Google Play Store or get the iPhone Google Voice version.
If your business' communication needs are more extensive, consider employing one of the best call center and answering services to ensure your critical calls are answered and handled professionally.
5. InstaVoice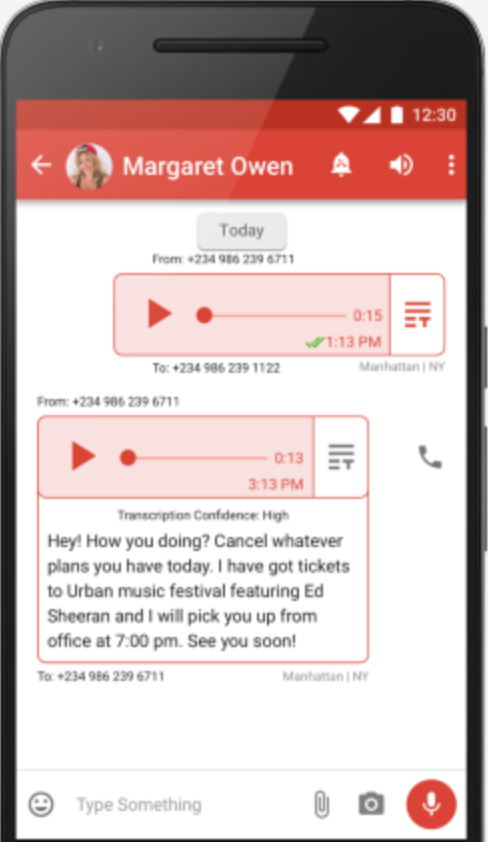 While rival platforms have introduced minimum charges, InstaVoice continues to offer free and unlimited visual voicemail alongside missed-call alerts and voice short message service (SMS).
The InstaVoice voicemail management system allows you to organize, view and reply to messages in various ways. The chat interface organizes your most important conversations, allowing you to review missed calls, text messages and visual voicemail transcriptions. 
You can use the app to send voice messages to your recipient through SMS. Your account can store unlimited messages and you can access your voicemail through any device or via your email.
Premium features, including transcription and voice messages, cost credits, with the app charging 99 cents for 100 credits and $4.99 for 500 credits.
Download InstaVoice for iOS or get InstaVoice for Android.
6. Voxist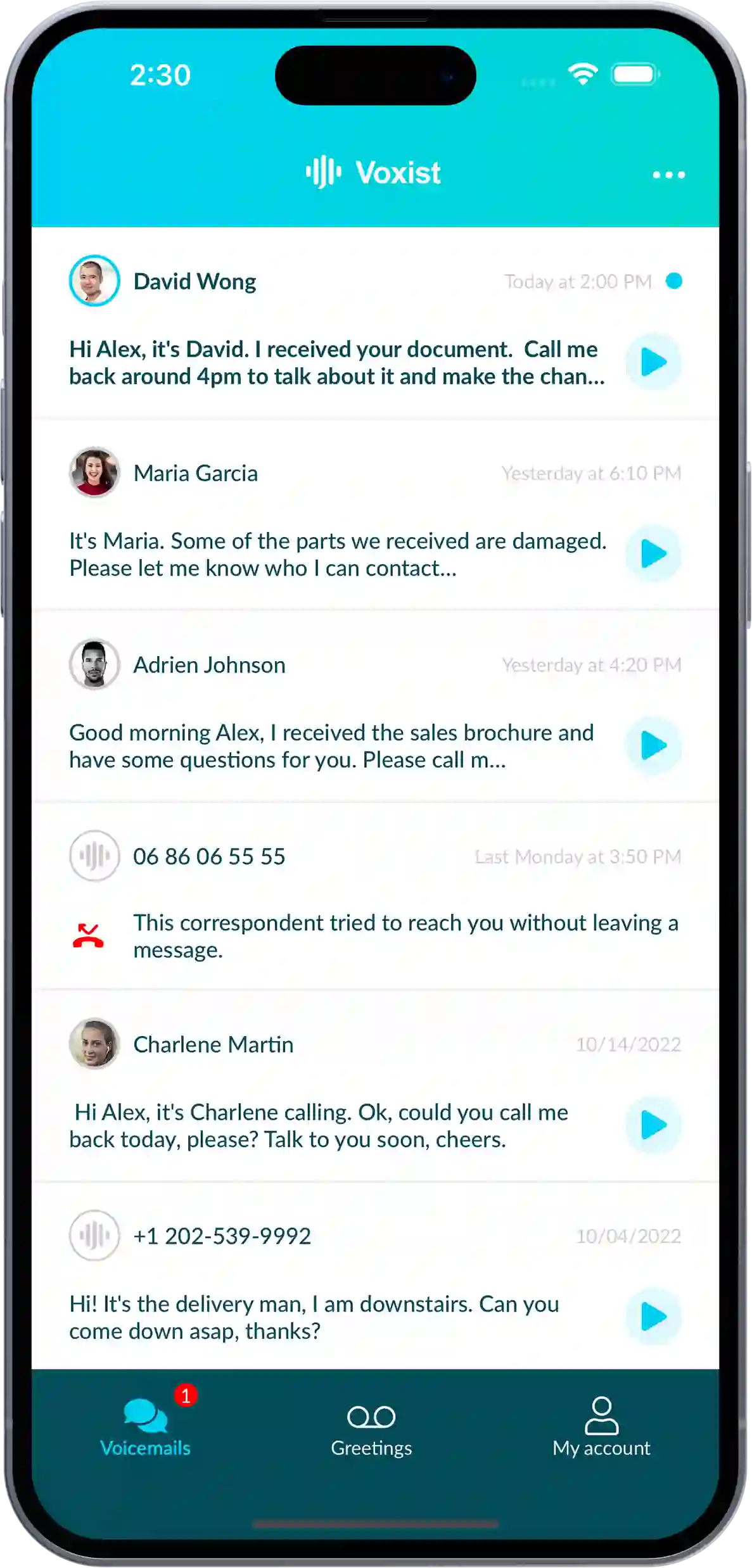 Although it's not available in all territories, Voxist is a free visual voicemail service that allows 10 monthly transcriptions for one number. Transcripts and audio recordings are also available via email.
With the premium service ($4.99 per month), you get 30 monthly transcriptions and even bilingual transcriptions, which is ideal if you regularly field calls from people who speak other languages.
Download Voxist for iOS or get Voxist for Android. 
7. Hi Voicemail (iOS only)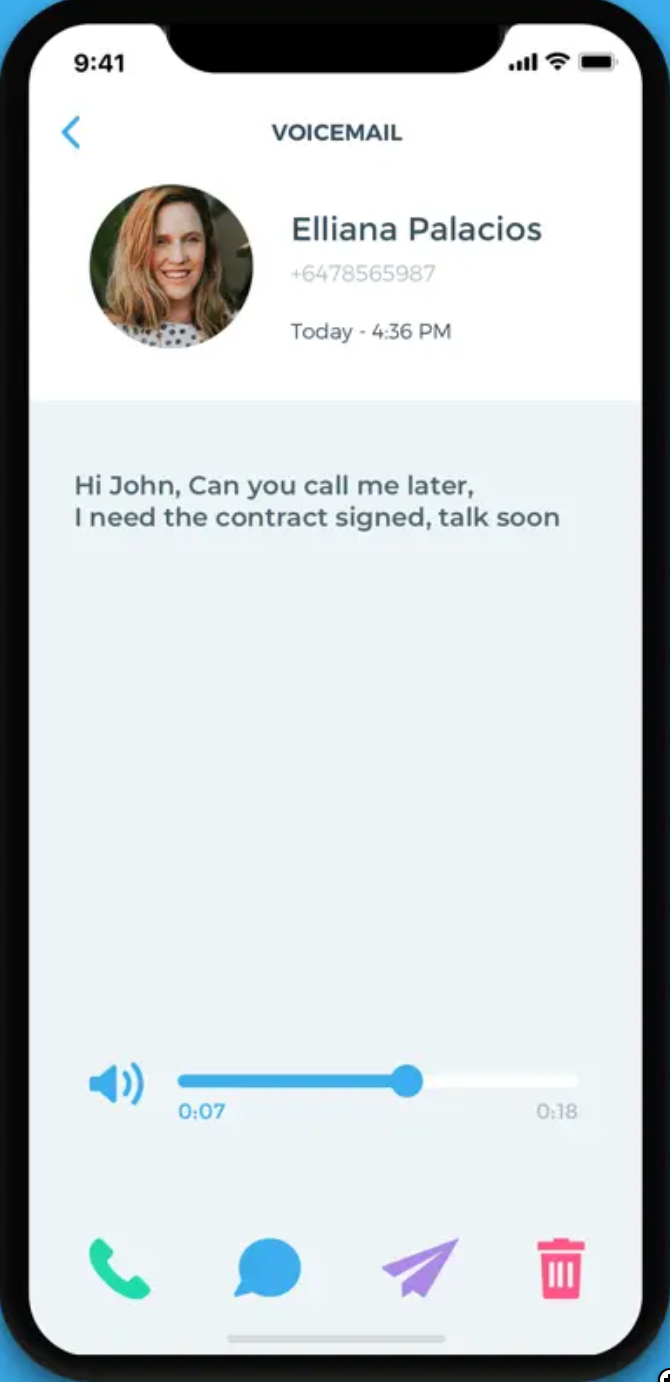 Offering unlimited free visual voicemails, Hi Voicemail is an iOS-only service with free voicemail personalization, preset greetings, cloud storage and spam protection.
Customers willing to upgrade to the PRO version ($5.99 per month) receive an ad-free interface with multiple greetings (including location-specific ones) and the ability to automatically forward voicemails to email. 
Download Hi Voicemail for iOS from the App Store.