Conference calling on Android supports up to five callers at once.
Setting up and managing a conference call on Android devices can be completed in the six steps listed below.
Alternative business phone systems may offer even better quality and reliability to businesses.
This article is for entrepreneurs and professionals who frequently need to organize or attend conference calls and want to know how to set them up using an Android mobile device.
Smartphones running a recent version of Android can be used to host free conference calls anywhere there's a strong cell signal or internet connection. While your mobile device probably will not be able to replace a unified business phone system or compete with one of the related business phone apps designed for Android, it's still a great solution to communicate with small teams or a few members of your remote workforce in a pinch. 
Once you learn how to do a conference call on Android, you'll easily be able to connect up to five callers at one time without any additional software, downloads or fees.
How to make a conference call using an Android phone
If you own a mobile phone running a recent version of the Android operating system, it's easy to merge calls to create an audio conference for up to five people. However, not all cellular providers and plans support this feature. If you don't see any of the steps we've provided for how to make a conference call using an Android phone, check with your service provider to make sure this feature is supported with your plan.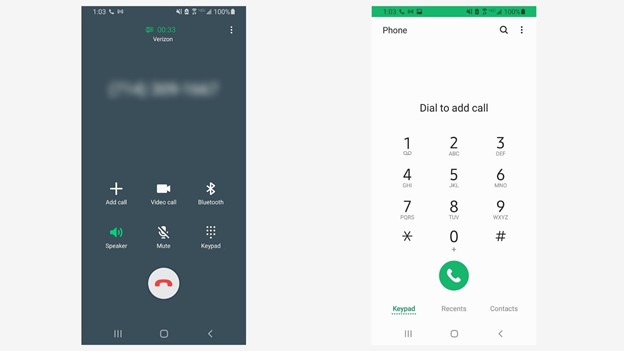 Dial the first person you want to invite to the conference call.


After the call connects, tap the "Add Call" or + icon on the left of your screen.


Dial or select the next person from your contact list.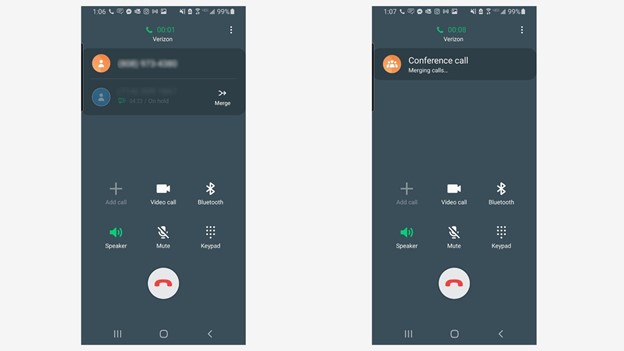 Tap the "Merge Calls" icon (an arrow with two tails) to join the three parties on one line.


Repeat steps 2-4 to add more meeting participants.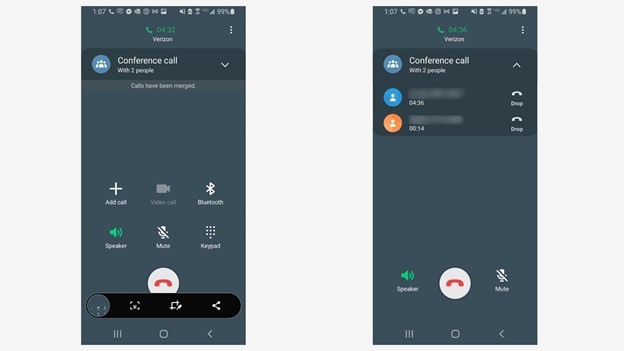 Once you're in the conference call, you can select the "Drop" button on the right of each caller's ID to remove them from the call.
You can set up a conference call using an iPhone as well. It also supports up to five callers at once.
Conferencing calling app alternatives for Android
While Android phones are an excellent option to connect up to five callers at one time without the need to download or purchase any additional software or service, their limitations do lead many small business owners to explore alternatives. 
However, that doesn't mean that you'll necessarily have to choose a phone system that requires new hardware and lengthy contract terms. In fact, many of the best business phone systems on the market today include free mobile phone apps that essentially turn your existing Android phone into a cloud-based phone system with a vast array of advanced features and tools for productivity and communication. 
If your business has multiple locations or high volumes of incoming and/or outgoing calls, you could benefit from a multiline phone system, which offers the ability for multiple parties to communicate simultaneously through the same system.
We analyzed the best business phone system providers and top conference call services to identify the best solutions for the needs of small businesses today. Many of our favorite unified, cloud-based phone systems include free mobile apps for Android that allow conference calls for hundreds of participants. All of the conference hosting services we reviewed include services that allow businesses to host conference calls 24/7 without the need for any advanced scheduling. These services can typically host conferences of anywhere from 50 to 1,000 callers at one time.
RingCentral: Our RingCentral review shows that it is the first on our list for a good reason. It's a standout communications tool that we selected as the best business phone system for collaboration and the best conference call service within a phone system for 2021. The RingCentral app lets users make and receive calls from a separate business phone number on any Android-powered mobile device and host conference calls with up to 1,000 participants. Small business pricing for their phone systems starts at $19.95 per month with personal plans starting at $29.99 per month. All RingCentral plans include unlimited calls within the U.S. and Canada, unlimited business text messaging, HD voice, visual voicemail, and more.


Vast Conference: We selected Vast Conference as our choice for the best overall conference calling service for 2021. Its diverse suite of conference calling solutions provides small businesses with all of the necessary tools and features needed to communicate effectively with remote teams, vendors and clients. Vast Conference offers reservationless services that businesses can use to host conference calls without any pre-scheduling as well as operator-led events for complex conference calls with specially trained leads to assist you. We recommend taking advantage of its 14-day free trial that's available with its Essentials, Standard, and Professional plans, which range in price from $11.99 to $31.99 per monthly user when billed annually – and more expensive monthly billing options are also available. If you need to host conferences with more than 250 participants, you'll have to inquire about the Enterprise plan for a custom conference calling solution and price quote.
FreeConferenceCall.com: If you're looking for a free alternative to Android conference calling, look no further than our choice for the best free conference calling service in FreeConferenceCall.com. This easy-to-use service supports up to 1,000 callers at one time with an impressive list of features and tools you'd be surprised to see from a free service. These features include audio conferencing, HD video conferencing, screen share, recordings, international support, breakout rooms, and apps for desktop and mobile phones. It offers a unique "Pay What You Can" pricing structure that's suggested at $4 per month with an average contribution of $8.21 per month. This voluntary pricing structure is designed to help charities, volunteers and students around the world access free communications tools. It has also recently launched the premium Huddle.Team service that includes a virtual phone number, HD audio and video, screen share with co-annotations, automated text reminders, and personalized hold music options.
Webex by Cisco: If the majority of your conference calling needs revolve around supporting your team members in different locations around the world, you'll definitely want to consider Webex by Cisco, our choice as the best conference calling service for remote workforces. It prioritizes collaboration with Webex Meetings for full-service video conferencing and Webex Teams for internal communication. We definitely recommend starting with the free Basic plan, which includes 50-minute HD meetings with up to 100 participants, screen sharing, calendar integrations, virtual backgrounds, breakout rooms, an interactive whiteboard, and many other impressive features and tools. Webex also has four paid plans that range in price from $15 to $25 per month for up to 200 participants with meeting lengths of up to 24 hours. If you need to host a video conference call with more than 200 participants, customizable plans and pricing for "enterprise" clients are also available. 
Dialpad: Our Dialpad review names it our selection as the best business phone system for voice intelligence. Dialpad is an AI-powered cloud communications platform that takes business communication to a whole new level. Dialpad utilizes speech recognition, natural language processing, machine learning, and real-time coaching to transform all of your conversations into data you can use, including email recaps with transcripts, recordings and action items. These powerful AI tools let you and your team focus on the people and ideas during every meeting instead of taking notes. Dialpad offers a free 14-day trial for its Standard and Pro business communications plans that cost $15 and $25 per monthly user respectively. Enterprise options are also available with custom pricing options for companies that wish to purchase more than 100 seats. You can also opt for its business "Meetings" options that support up to 100 participants for up to five hours and include a long list of intelligent productivity features and integrations. 
Editor's note: Looking for the right business phone system for your business? Fill out the below questionnaire to have our vendor partners contact you about your needs.
The business phone systems above are ideal for business owners and professionals who frequently rely on communication tools and need top-quality technology. But if you need a quick fix for a conference call on the go, you can easily set one up using an Android mobile device.