Your iPhone can work as an excellent solution to host a small conference phone call if your carrier supports it. While it won't necessarily take the place of a comprehensive business phone system or one of the many available business phone apps for iOS, it can allow you to merge five calls at once quickly and easily once you learn the basic steps to host a conference call on iPhone. 
It's worth noting that not every mobile carrier or plan supports audio conference calling on iPhone. If you don't see any of the steps or instructions we've listed below, check with your service provider or reference your monthly bill to make sure you're permitted to make conference calls with your mobile device. If your carrier doesn't support this feature, you may still be able to use Group FaceTime to speak with up to 32 people simultaneously if everyone in your group has access to FaceTime on their device and a strong mobile or Wi-Fi connection.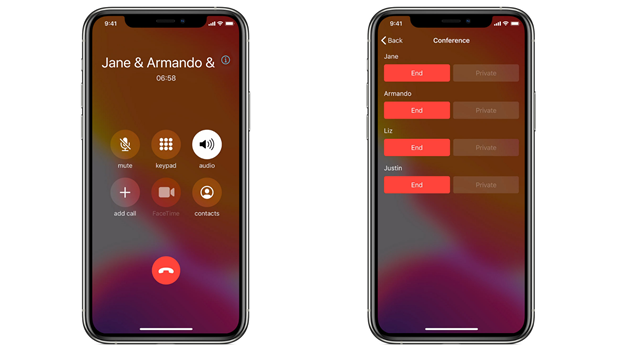 How to make a conference call using an iPhone
If your conference group is small, you can avoid the hassle of dialing into a password-protected conference line and just handle it all directly from your iPhone. While your ability to make conference calls depends on your carrier or plan, the majority of cellular and data plans include this conferencing calling as a standard feature.
You can use your iPhone to conference call with up to five other people.
Call the first number for your meeting and wait for that person to answer.
Tap the "add call" button that has a + sign on the bottom left of the screen.
Call the second number for your meeting and wait for them to connect.
Tap the "merge calls" button with a two-tailed arrow symbol that points up to begin the conference call.
Add additional attendees by repeating steps 2-4.
Note that the maximum number of participants you can conference call with your iPhone is five.
How to remove a caller
You can easily remove any conference call participants at any time. However, only the person who started the conference call can use this feature. If you accidentally remove anyone from your conference call, you can easily add them back or accept them as an incoming caller.
At any point during the conference call, tap the "info" button in the upper right corner — look for the light blue lowercase "i" inside a circle next to your callers' names.
Tap the red "end" button next to the contact you want to remove.
If you do not see this screen or option during your conference call, it's possible that your carrier or plan does not support this feature.
How to add an incoming caller
If someone you've invited to your conference misses the call, they can still attend your meeting if they call you back. Your iPhone will allow you to add incoming calls if you're already participating in a conference call. To add more people to your call, please review the following steps:
Tap "Hold & Accept" on the bottom right of your screen when the person calls.
Once the caller has connected, tap the "merge calls" button on the bottom left of your screen.
If you do not see the "merge calls" button on your screen at this step, it most likely means that your mobile carrier or plan does not support this feature.
How to talk privately
The conference calling or "call merge" feature on iPhone includes an option to speak privately with one of the numbers on your list. The talk privately feature is a good way to pause your meetings or speak with an individual briefly to cover an important talking point you may have missed. 
During your conference call, tap the blue "i" or info button at your screen's top right corner.
Initiate a private conversation by tapping the "private" button on the right side of the screen below the individual's name or phone number.
Conferencing calling app alternatives for iPhone
The limit of five people per conference call with the iPhone is going to be far too restrictive for many business users. However, there are a number of softphone apps, and conference calling app alternatives to iPhone that work on iOS devices including iPhones and iPads. Many of these alternatives offer dedicated business lines for domestic and international calling through your existing iOS devices, letting you easily switch between business and personal calls with different phone numbers while using the same hardware.
Editor's note: Looking for the right business phone system for your business? Fill out the below questionnaire to have our vendor partners contact you about your needs.
Many of these apps are included for free with the best business phone systems, offering a wide variety of professional features for communication, productivity, CRM integration and much more. The following five apps are some of our favorites for small business mobile phone communication in 2021:
If you need to conduct conference calls frequently for your business, consider purchasing a business phone system to ensure clear communication and easy setup. However, organizing a conference call via iPhone in a pinch can be just as effective.