As technology becomes more sophisticated, businesses are gravitating toward softphone apps instead of landline phones to ensure their business phone systems are accessible and cost-effective. But softphones may not be the right choice for every business. Here's everything you need to know about softphones and how to determine if they're the right solution for your organization.
What is a softphone app?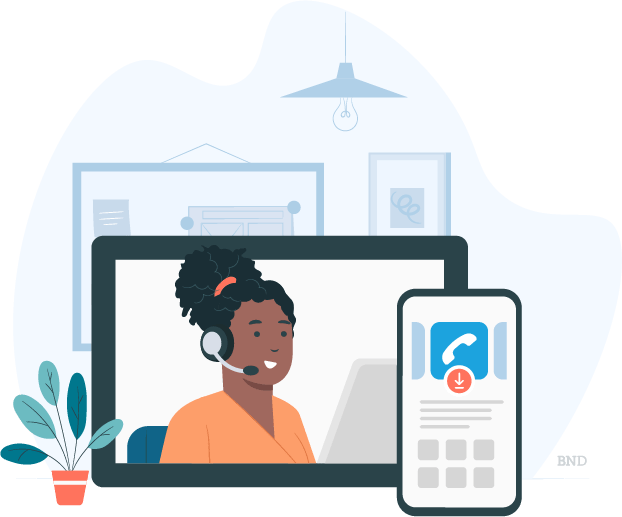 Despite its name, a softphone isn't actually a phone. A softphone (or softphone app) is software that lets you use a computer, phone or tablet to place internet-based calls. 
A voice over Internet Protocol (VoIP) provider typically offers softphone software. Softphone apps have user-friendly interfaces and operate like traditional phones: Users can dial numbers and access features such as voicemail, auto-attendant, and do not disturb. You can also mute calls, place callers on hold and transfer calls. 
Editor's note: Looking for the right business phone system for your company? Fill out the below questionnaire to have our vendor partners contact you about your needs.
How does a softphone app work?
To use a softphone, you need both of these:
A computer, smartphone or tablet that can access the internet 
A VoIP headset or access to a microphone and speaker on your device
Although an internal speaker and microphone will work, a proper VoIP headset ensures the best possible sound quality by diminishing ambient noise.
Factors to consider when choosing a softphone app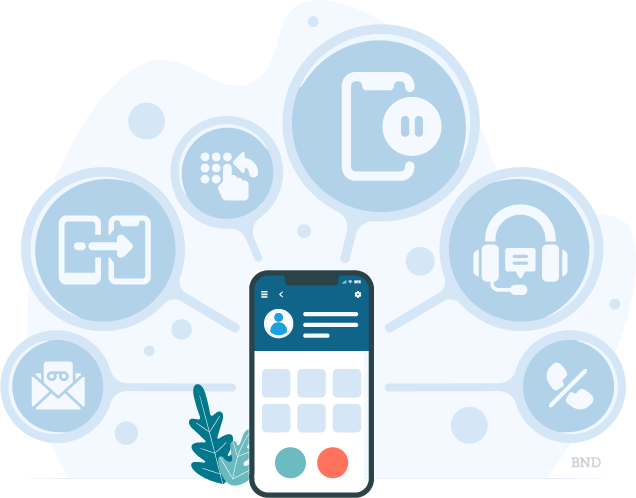 Keep the following considerations in mind when you're choosing a softphone app for your business: 
Weigh the softphone's features and costs. When you're choosing the best softphone app for your business, it's crucial to balance the features you need with the fees you can afford. Potential features include voicemail, call forwarding and transfer, interactive voice response (IVR), redial, hold, auto answer and call ignore. Evaluate potential providers' features and costs to ensure the best bang for your buck. Some providers offer free plans that may work for you. 
Evaluate how many phone lines you need. You should also look at how many phones or lines you will need. Choose a provider that can easily support the number of lines you require.
Determine which operating system (OS) you'll use. Not all softphone apps are compatible with every OS. You must choose software that works with your OS, whether it's macOS, Windows, iOS or Android. 
Investigate integrations. Find out what other solutions the softphone app integrates with. For example, your operations may require an integration with one of the best customer relationship management (CRM) solutions, an email program like Outlook, or a software protocol such as Lightweight Directory Access Protocol.
Consider the protocols your VoIP provider supports. You must also ensure that your softphone supports the same protocol as your VoIP provider. Protocols determine how data is processed and transferred over the network. VoIP services and softphones can support multiple protocols, including SIP, H.323 and MGCP. 
Research the provider's customer support. Investigate any potential provider's customer support options. For example, does it provide 24/7 troubleshooting assistance? What steps must you take if something goes wrong? How can lines be added or removed?
Learn about the provider's security measures. Find out what kind of security measures your provider offers. Softphone apps are susceptible to hacking and malware because they are internet-based, so it's vital to protect against data breaches. 
Pros and cons of softphone apps
Softphones provide many benefits for businesses that need robust, flexible and reliable communication solutions. However, they also have a few drawbacks.
Softphone pros
Softphones are cost-effective. The biggest benefit of softphones is their low cost. Because they're software-based, minimal equipment is required. You need an internet-enabled device and a headset. Maintenance is included in your monthly service fee, and most services include video calls and multiparty conferencing at no extra cost. You can also use softphones to make inexpensive international calls.
Softphones are scalable. Choosing a software-based business phone system gives your business scalability. Your softphone system can easily adjust as your business grows.
Softphones are flexible. With softphone apps, you can make and receive calls from anywhere in the world from your phone, tablet or computer. They're ideal for frequent travelers and businesses that manage remote workforces or have multiple business locations.
Softphones integrate with essential business software. Many softphones include must-have CRM integrations and work seamlessly with other essential business software. 
Softphones are easy to use. Softphones are straightforward and intuitive to use. They often mimic a traditional phone interface with a dial pad and other familiar features.
Softphones are easy to upgrade. Hardware solutions must be replaced when they're outdated. In contrast, softphones are easy to upgrade with simple software updates. Because the software is licensed, you'll receive updates automatically without having to purchase new software.
Softphones facilitate employee communication. With softphones, you can instantly see your business associates' availability and reach them easily. 
Softphones let you host video calls. Users can participate in multiline conferencing without leaving their home or office. No additional expensive equipment is needed to conduct video calls. 
Softphones provide easy access to recorded calls. Cloud-based business phone systems like softphones make it easy to access call recordings. Calls are recorded automatically and stored in online files. Users can click a link to the file to access the recording. 
Softphones help minimize clutter. Softphones can be part of a clutter-free desk, helping professionals maximize space.  
Softphone cons
Softphones need a reliable internet connection. Softphones aren't a feasible option for businesses without a reliable internet connection. 
Softphones require up-to-date devices. Older devices may be incompatible with software apps. Ensure that your employees' devices are robust and can support your softphone app. 
Softphone call quality can be inconsistent. Softphones may not always offer the same call quality as traditional phones, especially when you use your device's internal microphone and speakers.
Check out our review of GoTo Connect to learn about its top-rated softphone system that uses VoIP to deliver voice, text and video communications via internet-connected devices.
Softphone app FAQs
Softphones function much like traditional phones, with features that allow you to do the following:
Make, receive and transfer calls
Manage contacts
Set up call waiting and do not disturb
Assign rules for call forwarding
Keep cell phone calls private
Share contact lists
Instant message co-workers
Make video calls
VoIP is the service that enables you to make and receive calls; the softphone is the software that provides a user-friendly interface on your smart device.
If you use a softphone app on your mobile device, making or receiving calls or texts through the app will not affect any talk time or text message limits on your plan. However, as the calls and texts are routed through the internet, the softphone app may affect your mobile device's data usage.
While VoIP services differ, you can typically use one softphone account on multiple devices. You can send and receive communications through the same number on a mobile device, tablet or computer.
Many softphone apps provide status options that allow you to indicate your current availability.
Softphones may be a great option for your business 
Softphone apps provide significant business benefits that may make them an excellent option for your organization. For example, they're a great productivity-boosting solution if you want a phone system that integrates better with your CRM software or if you have team members in multiple locations. 
Still, before you decide to implement a VoIP system and use softphone apps, consider your business's unique needs to determine if this communication option is right for you. 
Jeremy Bender contributed to this article.