A four-line phone system is a type of multiline phone system that provides lines in groups of four.
These phone systems can be a great option for small businesses, but they are limited to four-line groups.
You should consider your business's current and future communication needs to determine if a four-line system is right for you.
This article is for business owners implementing a business phone system who want to better understand what a four-line phone system is.
A four-line phone system is a popular option for businesses looking to increase productivity, communication and efficiency. A four-line phone system is a unified communications tool that allows businesses to transfer calls easily and communicate both inside and outside the company. 
There are many types of business phone systems available, offering a variety of features and capabilities, so you're sure to find the best business phone system for your organization's needs.
What is a four-line phone system?
A four-line phone system is a type of multiline business phone system that runs four analog (or landline) phone lines through your office. The lines can be internal or external. Internal lines allow employees in your office to communicate with each other, while external lines allow communication with customers, vendors, or anyone else outside the office. If you require more than four lines, most systems will provide the option and the hardware to connect and service additional phones in groups of four.
Four-line phone systems differ from traditional phone systems in that they enable multiple parties to be on the phone simultaneously, whereas traditional phones only send audio data between two parties at once.
Editor's note: Looking for the right business phone system for your business? Fill out the below questionnaire to have our vendor partners contact you about your needs.
How does a four-line phone system work?
A four-line phone system works similarly to a traditional one-line phone. Packets of voice data are sent over telephone network wires to recipients. All four lines run together on the same wire and receive the same calls, creating a system between the four phones.
Four-line phone systems are created through an extension that enables three other phones to be attached to the line. This extension is usually cordless, enabling the second, third, and fourth phones to be placed away from the first phone. This allows employees in each four-line group to have phones at their own desks rather than grouping them all together.
Does your company need a four-line phone system?
Because a four-line system is a subset of a multiline phone system setup, a more specific set of circumstances is required to justify the choice. As the name suggests, these systems only come in groups of four, so you should expect to scale up by four whenever you need to add a line. Here are the types of businesses that may benefit most from a four-line phone system:
Entrepreneurs who want to split their personal and business lines
Small businesses with two or more people who need constant access to a telephone
Any business with a high volume of calls at certain times
Offices with four or more people who need near-constant phone access
Teams of four that consistently need to be on calls together from their own desks
A small business with a handful of employees who need multiple lines for their specific job function, separate team responsibilities, and general business access
Situations where multiple small brands are run from the same headquarters
Businesses in buildings with older PBX systems that don't want to suffer from latency or jitters with a poor internet connection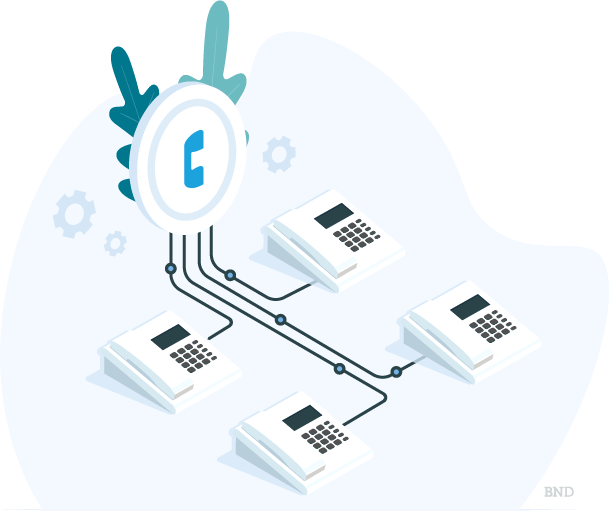 Features to look for in a four-line phone system
You should look for multiple key features when deciding on a four-line phone system. Some features may be included in your package, though you may need to purchase more advanced features as add-ons.
Do Not Disturb: Do Not Disturb sends all incoming calls directly to voicemail without the phone ringing. This feature can be helpful when you're in important meetings or when you can't answer the phone.
Call transfer: This feature lets you transfer calls either to someone else in your multiline system or to an external number (like a sales or call center).
Paging and intercom: Paging allows you to speak to all phones at once via the speakerphone, while the intercom feature lets you make announcements or inform other employees of a waiting call.
Mute and volume control: Mute and volume control functions allow you to mute, increase, or decrease the volume of your speakerphone, phone audio, or ringer.
Hold: Hold functionality varies by phone system, but some systems let you set custom music to play while the caller is on hold.
Caller ID: Caller ID shows you who is calling. You can get caller ID that displays only the caller's number, or that displays the caller's name as well. Caller ID functions help you distinguish between important calls and annoying spam.
Speakerphone: Speakerphone can be helpful if you need to be hands-free while you're on the phone, or if you need a quick and easy way to conference-in someone who is physically in the room with you during a call.
Voicemail: This allows callers to leave you a message if you miss their call.
Automated attendant: An auto-attendant is an advanced feature that greets callers and provides them an employee directory or other information.
Texting: Another advanced feature, texting services allow you to use your existing landline number to text customers on their mobile phones.
Pros and cons of a four-line phone system
It's important to be aware of the upsides and downsides of four-line phone systems so you can judge if one is right for your business.
Pros
Capabilities: The biggest pro of four-line phone systems is the various capabilities and solutions they offer for all sorts of businesses. No matter how your business functions, you can make a four-line system work in your favor. But because there are many feature packages and support plans to choose from, it's important to do your research and explore all your options.




Low cost: Another draw of four-line systems is their low cost. Costs may be higher if you need to purchase new equipment for your employees, but many multiline phone systems are shifting to internet-based models that host all call data in the cloud and send call information entirely over the internet, which helps keep costs lower than traditional phone lines' costs.




Efficiency: Modern four-line phone systems offer a host of communications and productivity-boosting features, such as auto-attendants, conferencing, and Do Not Disturb. Four-line phone systems allow employees to receive and transfer phone calls easily, both within and outside your organization. These features can increase efficiency in larger businesses and give smaller businesses a boost of professionalism.




Scalability: Four-line systems are easily scaled in groups of four, which means they can grow as quickly as your business does. You will need additional hardware from your provider or phone company, including cables, wired or wireless adapters, or an expansion kit that supports multiple phone handsets from one phone jack. Unlike with other communications tools that require an internet connection, you won't have to worry about losing quality when adding more users to a four-line phone system.




Security: Four-line phone systems are also highly secure and reliable compared to some of their modern equivalents. Some providers offer data encryption services and battery backup to continue service in the event of a power outage or internet connection issue. Since your data is not being transmitted over the internet, it's inherently easier to keep private.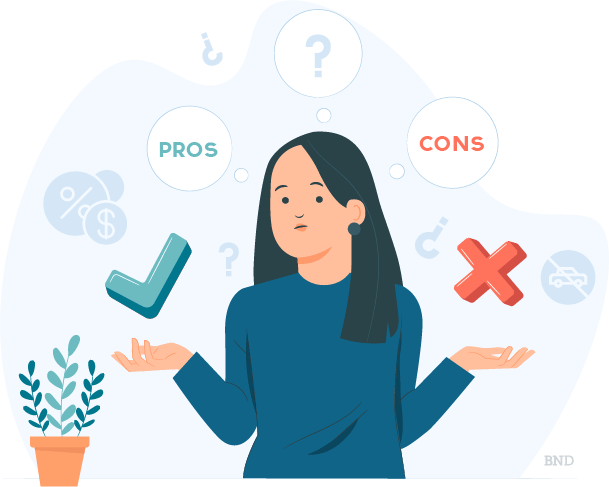 Cons
Groupings of four: The major con of four-line phone systems is that they are restricted to groups of four, which can be detrimental if your business already has a four-line system and needs to grow only by one line. In this case, you would likely need to explore other options, such as a VoIP phone system that provides an internet-based phone number, or a single extension. Otherwise, you'll be left paying for services you don't need.




Expensive hardware: Multiline phone systems are also dependent on cables and hardware. This can be difficult and costly for companies without the necessary equipment, such as a headset or corded phone for each employee. In some cases, lack of access to phone jacks or other installation requirements could force companies to modify their office space to make a four-line phone system function properly. [Don't want to pay a ton for your business phone system? Consider a small office business phone system like Ooma.]




No mobility: A four-line phone system is not ideal for a company with employees who frequently travel or work remotely. These systems can be used only with a traditional desk phone, which is becoming more of a detriment as the business world moves to mobile and flexible communication. In today's business landscape, the lack of mobility is probably the most important factor when companies decide to move away from their older four-line phone systems. [Looking for a highly mobile business phone system? Read our review of Grasshopper.]
As the name suggests, four-line phone systems come only in groups of four, so you should expect to scale up by four whenever you need to add a line.
Four-line phone system vs. VoIP
When both systems are operating under ideal circumstances, issues such as call quality and reliability are relatively insignificant when comparing four-line phone systems to VoIP options. It's the advanced features, cost, and your office's existing equipment that will most likely dictate which phone system is a better fit for your business. 
| Phone system type | 4-line phone system | VoIP |
| --- | --- | --- |
| Monthly cost | $60 to $75 per user | $20 to $60 per user |
| Setup fees | $600 to $1,200 | $0 to $750 (for some cloud-based systems) |
| Call quality | Very high | Dependent on your internet connection |
| Basic features | Call transfer, Do Not Disturb, intercom, hold, caller ID, speakerphone and voicemail | Call transfer, Do Not Disturb, intercom, hold, caller ID, speakerphone and voicemail |
| Advanced features | Texting and auto-attendant | Voicemail transcriptions to text or email, help desk integrations, multi-device support, web-based interface, and more |
| Usability | Very easy to use | Easy to use |
| Availability | Nationwide | Requires a strong internet connection |
| Software integrations | None | CRM software and other project management tools |


Kiely Kuligowski contributed to the writing and research in this article.