Dialpad Review

Jeff Hale
Business News Daily Contributing Writer
Updated Feb 02, 2023
Dialpad is a hosted VoIP phone service provider for calls, texts and voicemail.
All plans include voice intelligence software to transcribe and analyze conversations.
Dialpad offers three business communications plans starting at $15 per month.
This review is for small business owners who are considering Dialpad as their business phone system. 
Dialpad's business communications product is a modern Voice over Internet Protocol (VoIP) and unified communications platform that supports calls, texts and voicemails. The majority of Dialpad's most impressive features use voice intelligence to transcribe meetings, track keywords during customer conversations, detect customer sentiment, and automate post-call summaries with action items and other useful highlights. As a top business phone system, Dialpad offers a strong assortment of cloud-based phone system features. All plans include mobile and softphone support, multilevel auto attendant, custom routing, personal work hours, group messaging and three-way calling. Most features are available to businesses of all sizes, however, some advanced tools are limited to the Enterprise subscribers with at least 100 user accounts.

Dialpad
The Verdict
Dialpad is a modern business phone system with powerful voice intelligence tools. Dialpad helps businesses manage calls, texts, and voicemails with built-in AI to serve as a skilled virtual assistant for notes and post-call summaries.
Dialpad's Editor's Score: 96/100
| | |
| --- | --- |
| Ease of use | 94 |
| Features | 98 |
| Integrations | 95 |
| Pricing | 97 |
| Customer support | 94 |
Why We Chose Dialpad for Voice Intelligence
Dialpad leads the category with a built-in voice intelligence technology that uses artificial intelligence and natural language processing to act as a powerful assistant. This tool uses machine learning, improving over time to understand the subtle nuances and industry terms used by different businesses. Voice intelligence can provide real-time meeting transcriptions and distinguish between each speaker's voice. After the meeting has concluded, the post-call summary can automatically provide a list of action items, highlights and manual notes to recap with colleagues. In contact center settings, managers can monitor the sentiment of all live calls and open a specific transcript for context before offering support. Voice intelligence is available as a standard feature with all three of Dialpad's business communication plans.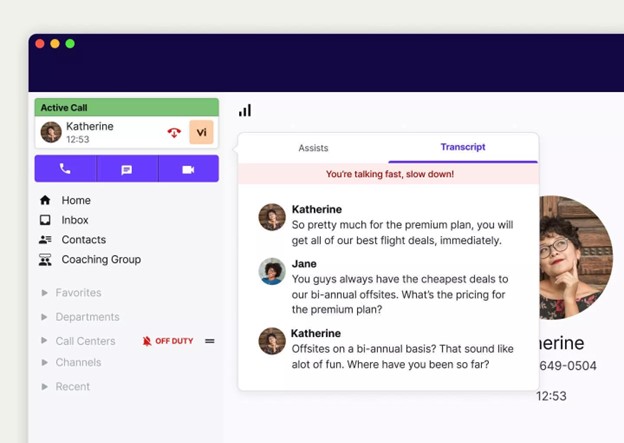 Pros
Post-call summaries act as a virtual assistant for everyone at the meeting.
You can access a separate but free video conferencing tool.
The platform works across iOS, Android, Mac, PC and web browsers.
Cons
No customer service over the phone is available with the Standard plan.
Top-level video conferencing capabilities cost extra.
There is a higher learning curve for some advanced features.
Usability
With so many AI-powered calling capabilities and analytics tools, Dialpad is not among the easiest unified communications platforms to use right out of the box, unlike those in our Ooma review or review of 8×8. However, it's still far from difficult to set up a basic business phone service, make calls, adjust call flows and manage other call controls. Once you're past the initial learning curve with a configured system, the time Dialpad saves on a daily basis, along with the value it adds through voice intelligence features like transcription and post-call summaries, more than makes up for any time lost learning how to use the platform.
One area of usability where Dailpad shines is the mobile business phone app for iOS and Android devices. The app's look and feel are intuitive thanks to a design that's close to the device's operating system. Navigating the menu to place a call, search for a contact, transfer a call, set "do not disturb" and archive a conversation thread is easy. The business phone app also has some unique features, like the ability to share content or data from other software applications.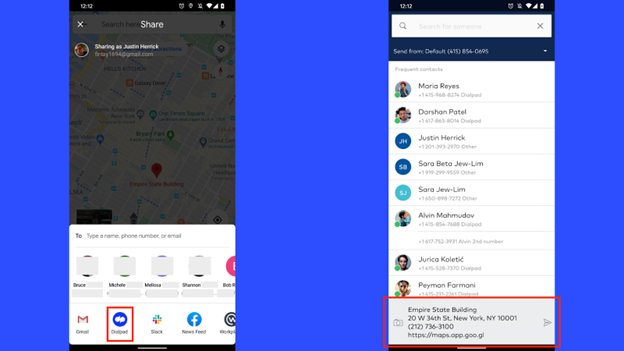 Dialpad Features
While you won't find video communications in any of their business communication plans, Dialpad does offer a separate but free video conferencing product with 45-minute meetings for up to 10 participants, as well as a paid option with extended features. According to their updates page history, Dialpad continues to release new features on a monthly basis.
| | |
| --- | --- |
| Call analytics | Real-time data and transcription analysis track vital information and KPIs. |
| Post-call notes | Automatic action items, meeting highlights and any manual notes help recap with colleagues after each call. |
| Speech coaching | Real-time suggestions facilitate effective communication. |
| 100% uptime service-level agreement | The industry-leading uptime SLA guarantees your system won't have downtime. |
Call Analytics
Dialpad includes basic information for missed or abandoned calls with an informative dashboard that makes it easy for managers to check on team performance and identify calling habits. This tool also includes heat maps to visualize call volume patterns and answer times, allowing managers to see when and where to shift resources the most efficiently. With real-time transcriptions, Dialpad is able to help you measure KPIs with far more data than most business phone systems we've reviewed.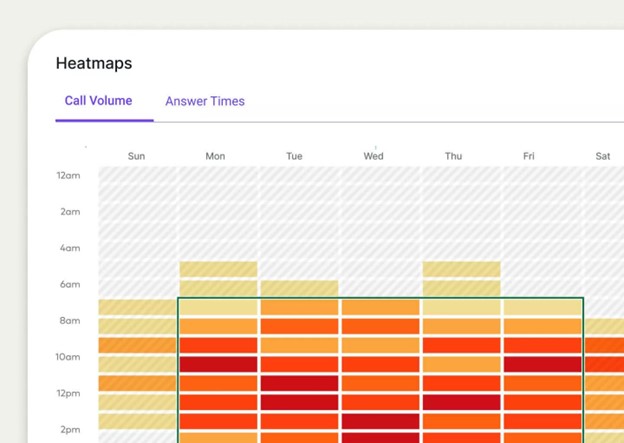 Post-Call Notes
After each conference call or video meeting, Dialpad can send each participant a recap email containing the recording, transcript, action items, highlights, sentiment analysis and other important insights. For example, if someone says "I'll send you an email about the event" during the meeting, Dialpad will add that email as a follow-up action item so nothing slips through the cracks. When everyone at the meeting has access to a capable AI assistant for note-taking, their level of engagement with the conversation is increased and important details are not overlooked or forgotten.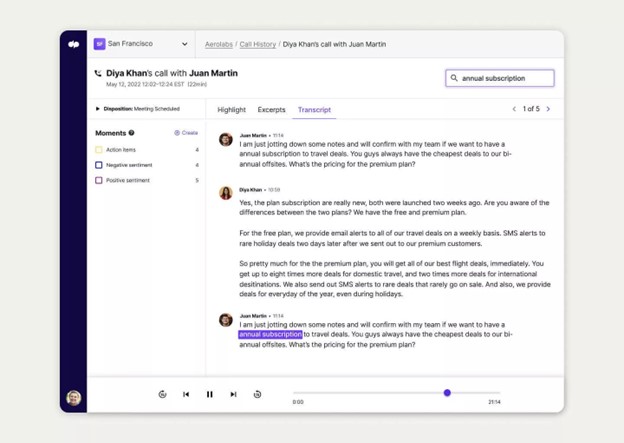 Speech Coaching
Available with all plans for offices in the U.S. and Canada, speech coaching is a live tool that displays real-time suggestions during a call to ensure optimal communication. Users will be alerted if they're speaking too quickly, not leaving enough space for others in the conversation, or using too many filler words like "um" during the call. With speech coaching enabled, new and experienced employees can improve their professional phone etiquette and improve customer outcomes at the same time.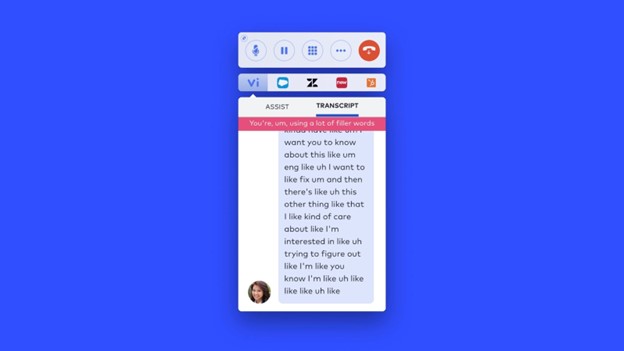 100% Uptime SLA
While many competitors offer service-level agreements of 99.9% uptime, no other provider we've reviewed guarantees 100% uptime. While this guaranteed level of service is only available on Enterprise plans, Dialpad accomplishes it through multitenant architecture with shared servers and databases, geo-located redundancy, and rolling deployments without any scheduled maintenance downtimes. It's safe to assume that all Dialpad subscribers will benefit from the same infrastructure and hardware that supports Enterprise phone systems.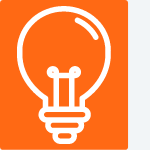 Tip: Take advantage of Dialpad's separate video Meetings software, which is free to Dialpad subscribers.
Dialpad Cost
Dialpad offers three business communication plans with separate products for video meetings, sales dialers, and their contact center. The Pro plan has a three-seat minimum, while the Enterprise plan has a minimum requirement of 100 seats.
| Plan | Price | Features |
| --- | --- | --- |
| Standard | $15 per month per user | Unlimited calling in the U.S. and Canada, unlimited SMS/MMS, basic call management, voicemail transcription, call recording, fax support, ring groups, analytics, and multilevel auto-attendant |
| Pro | $35 per month per user | Everything in Standard, local numbers in 50+ countries, CRM integrations, 24/7 phone support, unlimited meetings, hold queues, and deskphone support |
| Enterprise | Custom quote | Everything in Pro, 100% uptime SLA, extensions, unlimited office locations, enhanced phone support, unlimited ring groups, Azure integration, and retention policies |
Dialpad Setup
Basic phone setup with the desktop or mobile app can take as little as five minutes for most small businesses. Advanced features such as call forwarding, ring groups, multilevel auto-attendant, custom working hours and other communication features require additional time, though. Dialpad's DIY setup guide includes detailed video walkthroughs and comprehensive articles to help you set up the system perfectly. Dialpad also offers a professional implementation service as a paid add-on to any business communication plan, but you'll have to reach out for a consultation to learn more about services and pricing.
Dialpad Customer Service
Dialpad's customer service availability is based on your service plan. Standard plan subscribers can reach a customer support agent 24 hours a day, five days a week, by chat or online with multi-language support. Customer support availability increases to 24/7 and includes phone support for Pro and Enterprise subscribers. Some competitors, including Nextiva, offer 24/7 support by phone, email and chat with all subscription plans. Dialpad customers can add a dedicated account manager to their team for an additional fee.
Dialpad does have an extensive resource center with playbooks, templates, checklists, analyst reports, blogs, podcasts, and company research to help your team learn about industry best practices and Dialpad's capabilities. However, the self-help resources fall short of the university-style training tools we found in our review of RingCentral.
Dialpad Drawbacks
Dialpad's powerful voice intelligence tools and capabilities are only available for offices located in the U.S. and Canada; however, it is currently being tested as a public beta in Australia, New Zealand, and the U.K. Users can still place calls anywhere in the world, but without being able to count on perfect translation with some international dialects and accents.
Customer service is limited to weekdays for Standard subscribers and does not include support over the phone. While this likely won't be an issue for most subscribers, small businesses that operate seven days a week are typically stretched thin on the weekends, which means resolving any technical issues that may come up is a challenge
Methodology
Our editorial staff considered more than a dozen of the leading business phone system providers for review. After conducting our initial research into each potential modern phone solution, we identified 11 of the best communications tools on the market today for small businesses: Ooma, Nextiva, 8×8, RingCentral, Dialpad, GoTo Connect, Grasshopper, Vonage, Kinetic Business by Windstream, Zoom and Net2Phone. Our team spent dozens of hours conducting research, participating in guided product demos, and testing each platform through trial and paid accounts when possible. Finally, we selected the best use case for each platform to help businesses determine which phone system provider offers the best features, tools and price for their unique needs. We chose Dialpad as the best business phone system for voice intelligence because it offers advanced tools that help track conversations automatically, identify follow-up tasks, coach speakers on how to improve their customer service etiquette, and identify opportunities to improve customer satisfaction.
FAQs
Does Dialpad work with deskphones?
While Dialpad's features and information are better suited for softphones and mobile apps, the platform does support a variety of IP phones that can be purchased through an account holder's administration portal. Dialpad is compatible with select Poly desk phones, as well as Obihai phones and adapters for analog devices.
Is Dialpad free?
Dialpad's business phone system isn't free, but it does have a free video communications product called Meetings. This free tool, formerly known as UberConference, allows video meetings for up to 45 minutes with screen sharing, integrations, HD audio and unlimited call recordings with up to 10 participants.
Is Dialpad a VoIP?
Dialpad is a Voice of Internet Protocol (VoIP) business phone system. It uses a device's internet connection to provide unified communications across voice, video, chat, email and fax. Also known as a cloud-hosted or cloud-based phone system, VoIP has largely replaced traditional analog phone systems, also known as landlines, in business settings.
Overall Value
We recommend Dialpad Business Communications for …
Businesses that want the most modern, AI-powered communication tools available.
Businesses that thrive on data for improvement across departments.
International businesses that require multi-language support.
We DON'T recommend Dialpad Business Communications for …
Small businesses that want 24/7 customer support with an entry-level or standard plan.
Large businesses that expect transparent pricing for all services.
Small and midsize businesses that want to use extensions.

Dialpad
The Verdict
Dialpad is a modern business phone system with powerful voice intelligence tools. Dialpad helps businesses manage calls, texts, and voicemails with built-in AI to serve as a skilled virtual assistant for notes and post-call summaries.

Jeff Hale
Business News Daily Contributing Writer
Jeff Hale is a writer and editor based in San Diego with a background in business development and marketing. He has identified new market opportunities for Fortune 500 companies and developed communications strategies and digital branding for tech startups and small businesses. Jeff covers emerging technologies and business solutions with a focus on efficiency and growth. He holds a Bachelor's degree in English from the University of California, Irvine, and an MBA from Chapman University.