Unified communications systems provide cloud-hosted telephony that uses the internet rather than phone lines.
Companies can avoid installing cumbersome hardware by choosing a top business phone system.
The call quality of VoIP can also be better than traditional telephony.
This article is for business buyers weighing RingCentral against Zoom as their unified communications solution.
If you're in the market for a robust unified communications (UC) solution for your business, then Zoom and RingCentral are two names that you've probably already encountered. Zoom has become the darling of stay-at-home workers during the pandemic. But does it have enough firepower to serve the telephony needs of an entire business? 
In this guide, we're going to compare two heavy hitters in the UC world – looking at how suitable both are for your average small business with basic internet telephony needs. We'll also provide a high-level overview of what VoIP solutions are so that you know what you're looking at buying for your business. 
RingCentral vs. Zoom compared 
In this comparison, we're going to look at how Zoom and RingCentral stack up against one another. Zoom's reputation precedes it these days, while RingCentral is an established provider of business UC services that offers video conferencing, VoIP, and call center phone systems, including solutions that allow workers to take calls offsite. Both are great fits for the work-from-home era, but which one is a better fit for business UC needs?
Here are some of these two brands' similarities and differences:
Similarities
Differences

Both RingCentral and Zoom Phone  are VoIP solutions, which means that you can use them in place of traditional telephony tools.
Both RingCentral and Zoom Phone can be used for voice and video-based communications.
Both RingCentral and Zoom Phone  are subscription-based services that you can cancel at any time.

Zoom is primarily known as a video conferencing tool, though it began its push into the business UC market with the 2019 launch of Zoom Phone, a cloud-based phone system.
RingCentral is much more analogous to the type of PBX system that a business might traditionally deploy. It supports both softphone apps and hardphones, meaning that subscribers can take calls. It also has a function to configure call routing, including to off-network endpoints.
Out of the box, RingCentral is the better option if your organization regularly needs to convene large-attendance virtual meetings. While Zoom's limit of 100 attendees can increase to 1,000 with the large-meeting add-on, RingCentral allows 200 attendees on its Ultimate tier. 
The term "softphones" refers to computer programs that can accept and place VoIP calls via applications, whereas "hardphones" are traditional hardware used for the same purpose. The best softphone apps can remove the need for landlines in a business.
Zoom: Who do we recommend this for?
Almost everybody is using Zoom these days. But not everybody is aware of the solutions the company offers besides simple free video conferencing. Zoom also provides these features:
A webinar scheduling and delivery tool
Rooms and workspaces to enrich the virtual conference experience
The best way to compare RingCentral and Zoom head-to-head, however, is by pitting their cloud-based phone systems against one another, as RingCentral lacks direct equivalents for some of Zoom's flagship products (most notably, its end-to-end video conferencing tool).
Zoom Phone is Zoom's cloud-hosted telephony system suitable for the needs of small businesses. It is available in three tiers.
S. and Canada Metered ($120 a year per user): This plan provides a U.S. or Canadian virtual phone number for receiving and placing calls. You can receive and make calls from multiple device types and applications.
S. and Canada Unlimited ($180 a year per user): The main difference between this and the first plan – as the names indicate – is that calling within the U.S. and Canada is unlimited instead of metered on this plan. On this tier, you can also sign up for an add-on that provides unlimited calling to another 18 countries.
Pro Global Select ($240 a year per user): Zoom Phone's top tier offers a direct-dial number and unlimited domestic calling for businesses located within one of 40 supported countries. There's a significant caveat to the unlimited calling clause here, though – it's domestic only. Even by combining this plan with the 18-country add-on, you can't access truly unlimited international calling. 

These are some other features you can take advantage of on one of Zoom Phone's plans:
Assistance from Zoom with porting in existing numbers (known as direct inward dial, or DID)
Toll-free numbers
Dial-by-name directories
Call-tree routing, setup, configuration and update management
As for hardware compatibility, Zoom Phone can be routed into VoIP phones and, of course, Zoom clients. Additionally, because it's part of Zoom, simple phone calls placed or received through its network can be converted into Zoom Meetings (Zoom calls this "elevation") or transferred to a Zoom video room. 
VoIP (Voice over Internet Protocol) works by routing phone call data through the internet. The term also applies to video calling these days. Analog phone systems – or POTS (plain old telephone service) – are gradually being supplanted by these VoIP solutions.
Zoom Phone also doesn't shy away from the top enterprise integrations. All tiers of Zoom Phone can integrate with these programs:
Salesforce
Slack
Microsoft
Google
Various call center platforms, including Genesys, NICE and InContact 
These are some of Zoom Phone's available add-ons that start at $120 per year:
Toll-free numbers
Additional phone numbers
International calling to supported countries
The Zoom Phone Power Pack is available for $300 per user per year. This allows real-time insights into the current call queue and advanced desktop-based analytics. 
Zoom is best for businesses that make extensive use of Zoom's other products, especially meetings and webinars. If your company is already running both internal and external communications on this popular communications platform, then it might make sense to opt for its VoIP offering too. On the other hand, if you're looking to place that system in the hands of a company with the best track record and widest feature set, then RingCentral might be a more logical choice. 
Zoom Phone is also a great choice if your business meets any of these criteria:
You rely heavily on Zoom's main video conferencing tools.
You don't want all the bells and whistles of a fuller-fledged cloud telephony tool.
You don't need global dialing. 
RingCentral: Who do we recommend it for?
Compared to Zoom, RingCentral isn't a tool that most everyday internet users are familiar with. Nevertheless, for businesses that need very reliable and feature-rich VoIP UC, it's a well-established and popular choice. 
RingCentral's service offerings are divided into its MVP (message, video, phone) line, contact center and video meetings. The latter provides a free solution for video conferencing needs, although its popularity has waned in the Zoom era, eclipsed by the better-known giant. 
If you're a small business owner looking to purchase a subscription to power your telephony, one of the MVP plans is probably your most attractive option. RingCentral offers these at four price points and tiers:
Package
Price (per user per month)
What's included (standout features over previous tier)
Essentials

$19.99

Total deployment size (installation base) of 20 users
Unlimited calls within the U.S. and Canada
Automatic voicemail-to-text transcription                              

Standard

$27.99 

Unlimited total installation size (number of users across the organization)
Phone number provisions in over 100 countries 
Meetings up to 24 hours long
Quality-of-service reports

>Premium
>$34.99

Single sign-on
Automatic call-recording capability
Hot-desking support 
Integrations with major CRMs

Ultimate
$49.99

Device status reports and alerts
Unlimited storage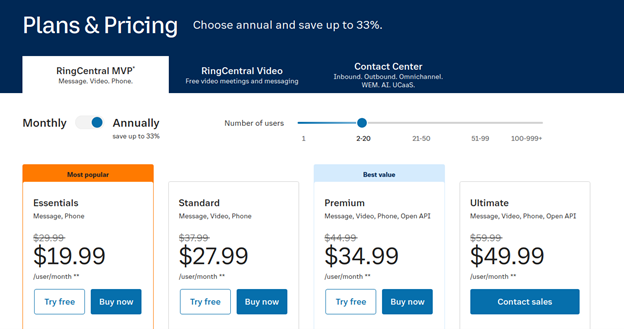 RingCentral offers these add-ons:
More international numbers, starting at $5.99 per month
More international toll-free numbers, starting at $14.99 per month
If you're looking for a powerful cloud-based VoIP system that enables customers to contact you (and you to call them) wherever they are, then RingCentral has a definite edge over Zoom. While Zoom Phone is a worthy program aimed at integrating non-network UC with the Zoom stack, cloud VoIP is the core of RingCentral's business.
RingCentral is also a great choice if any of these statements describe your business:
You have a wide international footprint that requires lots of local numbers.
You have widely dispersed remote staff who need to take calls from customers both on work premises and at their homes.
You receive a lot of inbound phone calls and require advanced capabilities in terms of call-queue management, analytics and screening.
You can learn more about this phone system's features and use cases in our comprehensive RingCentral review.
Product and service comparisons
Zoom and RingCentral offer some of the same features, but how do they stack up against each other? Let's take a closer look at their products and services side by side.
International calling
One of the most important considerations for any business selecting a VoIP tool is what kind of international calling it supports. Destinations and charges vary considerably, as well as the supported countries.
| >Zoom | RingCentral | Winner |
| --- | --- | --- |
| Zoom Phone markets itself as a "global phone system" but only provides connections to around 45 countries. Its website has the list of its local PSTN-supported countries and territories (countries in which Zoom Phone can provide local virtual numbers).  | RingCentral offers a wider worldwide reach and deeper PSTN infrastructure. On the Standard plan alone, you can provision local business numbers in more than 100 countries.  | RingCentral, because it supports more countries than Zoom does, making it a better choice for companies that require flexible international dialing.  |
In today's business era, the ability to make and receive calls from anywhere in the world is essential, so whichever phone system you choose, make sure it has service to the countries you need.
Did you know? "PSTN" stands for "public switched telephone network," which is the mainstream form of traditional telephony. When VoIP carriers support PSTN in a country, they can bridge between their digital systems and traditional analog lines.
Advanced features
Every VoIP carrier provides the ability to receive calls placed from traditional lines or other VoIP numbers. What differentiates one brand from the next is the bells and whistles that provide greater value for managing large inbound call volumes.
| Zoom | RingCentral | Winner |
| --- | --- | --- |
| Zoom Phone supports porting in (DID) from external carriers. It also offers native apps for Windows, macOS, iOS, and Android – meaning that connected users can receive and place calls through endpoints running on any of those operating systems – and native support for standard SIP-based VoIP devices, which means hardware from companies like Yealink and Polycom will also work through Zoom telephony if your business is still using that. | RingCentral has rich additional features that make it the brand of choice for businesses needing to deploy robust cloud-based telephony tools. Add-on features include document sharing, integrations with messaging platforms, and real-time call and meeting participation analytics.  | RingCentral, because it is a fuller-fledged cloud telephony system than its better-known competitor, with more advanced call queuing and analytics features, among other bells and whistles missing from Zoom's VoIP offering.  |
RingCentral vs. Zoom recap
Though RingCentral has the edge in international calling and advanced features, RingCentral and Zoom are both good choices for a cloud-based phone system that supports calling, video conferencing and messaging.
Choose Zoom Phone if your company already extensively uses Zoom's non-UC products and is looking for a basic but capable cloud telephony solution that seamlessly integrates with the rest of the Zoom stack.
Choose RingCentral if your company has advanced VoIP communication needs and is looking to bank on a company with highly capable and scalable cloud-hosted communication solutions for voice and video.
FAQs
What are VoIP solutions?
Traditional analog telephony solutions provide phone communication services by delivering packets over infrastructure that predates the internet. Connecting to such infrastructure requires businesses to deploy specific hardware just for this purpose. This includes both dedicated connections and hardware to provide switching for all endpoints accessing the network.
VoIP has changed all this for the better. By delivering telephony through the same infrastructure that delivers the internet and transmitting it as data on the internet layer, businesses can simply connect to one network in order to handle all their internet and communication needs.
Can I join a Zoom meeting if I don't have an account?
Yes, participants can join Zoom meetings without accounts. However, Zoom Phone operates independently of Zoom's flagship video conferencing tool. If you sign up for this service, your business will receive a virtual phone number that anybody can call in to from a VoIP or regular phone device.
How do I sign up for Zoom Phone?
Zoom sells its cloud telephony product through a demo-based and consultation model. This means that there is no free trial option for businesses that want to test the system without speaking to a sales representative first. 
Where is RingCentral based?
RingCentral is a publicly traded American company based in Belmont, California.