RingCentral and Nextiva are among our top picks for business phone systems due to their strong functionality and flexibility for different business types. 
RingCentral helps remote teams stay connected by offering an easy user experience with a low learning curve.
Nextiva specializes in HIPAA-compliant communications suitable for the healthcare industry and businesses that emphasize security.
This comparison page is for business owners who want a clear analysis of leading business phone systems to help them choose the right platform for their business.
When it comes to cloud-based communications platforms, RingCentral and Nextiva each provide some of the best business phone systems for small businesses. However, the big differences between the two come down to what a business uses them for.  
In our RingCentral review, we found the platform to excel at simplifying communications for everyone. RingCentral can deliver secure communications for anything from a cold sales call to a teleconference with support for up to 200 people. 
In our Nextiva review, it's the intuitive user interface (UI) that stood out as well as the company's flexible service plans. Nextiva is also compliant with the Health Insurance Portability and Accountability Act (HIPAA), making it an ideal choice for the retail and healthcare industries. 
RingCentral and Nextiva Compared
Both RingCentral and Nextiva are quite competitive with their feature sets, but details matter as you dive into more specific needs and use cases. So, let's compare what these unified phone systems have to offer and get a better idea of what they can do.
| Criteria | RingCentral | Nextiva |
| --- | --- | --- |
| Third-party integrations | 2,000+ | 19 |
| Voicemail Transcripts | Yes | Yes, but voicemail transcripts are only available with the Enterprise-tier plan.   |
| Professional Implementation | Yes, RingCentral offers professional services, which include free self-service tools and training for organizations with up to 100 licenses.   | No |
| HIPAA-compliant | No | Yes, with sophisticated security services to protect patient medical and health records.  |
| Mix-and-Match Service Plans | Yes, to help give individual team members the exact service level they require to perform their duties.  | No |
| Threaded Conversations | No | Yes, giving support staff a way to see a full, detailed customer history and context to provide better service.  |
Who Do We Recommend RingCentral For?
RingCentral offers a suite of collaboration tools that make it especially useful for hybrid teams that need to work together virtually. It's also an intuitive system that new users can adapt to quickly, so it won't disrupt your workflow to implement it.
Perhaps the greatest strength RingCentral has to offer is its flexibility, thanks to an open-application programming interface (API) architecture. If your organization has an internal development team able to support custom integrations for RingCentral, you can then unlock support for additional functionality like hosting webinars, artificial intelligence (AI)-based insights for audio and video calls or analytics that provide deeper performance insights.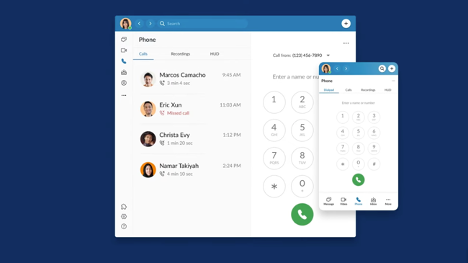 RingCentral offers visual phone calls to seamlessly connect to a colleague using a desktop computer. (Source: RingCentral)
We found RingCentral is a cost-effective service. Pricing plans include the entry-level Core plan for $30 per user, per month, the Advanced plan for $35 per user, per month, and the Ultra plan for $45 per user, per month. 
Each plan offers 100, 1,000 and 10,000 minutes per user and 25, 100 and 200 messages per user, respectively. Additionally, higher-tier plans make useful features available, such as eight-digit phone extensions, advanced call monitoring and unlimited internet fax.
A simple UI that makes it easy for an entirely remote team to collaborate seamlessly. 
Open-API support for custom integrations
AI-based meeting recordings, insights and transcripts
Who Do We Recommend Nextiva For?
Nextiva is a cloud-based business communications platform that's easy to learn and customize. Nextiva uses drag-and-drop functionality to build a call flow, which helps you route callers to the appropriate representative as efficiently as possible, saving you time and ensuring customer satisfaction. Nextiva is also HIPAA-compliant, making it our recommended communications service for the healthcare industry.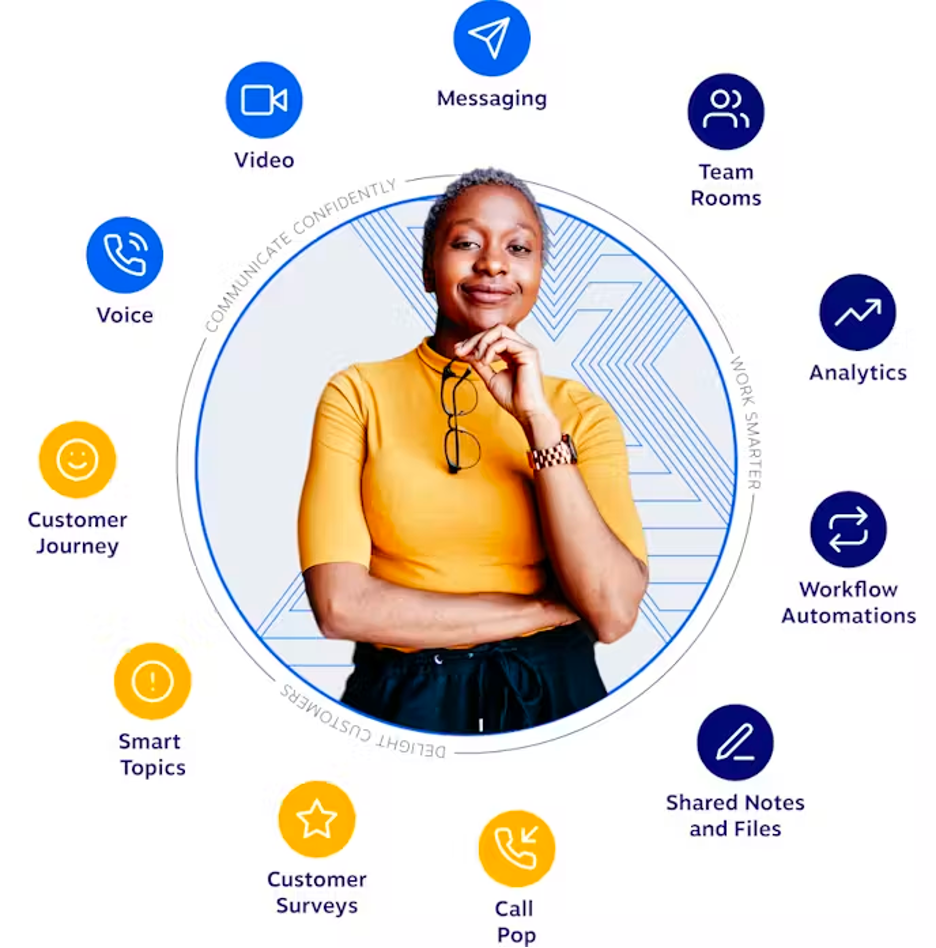 Nextiva offers a complete suite of services with its business telephone system. (Source: Nextiva)
Service costs for Nextiva start at $30.95 per user, per month for its Essential plan; $35.95 per user, per month, for the Professional plan; and $45.95 per user, per month, for the Enterprise plan.
The Essential plan offers basic services like voice and video calls or integrations with Outlook or Google contacts. For additional features, including screen sharing, unlimited participants on video conferences, unlimited video recording and custom integrations, we recommend the Professional plan:
HIPAA-compliant communications
Drag-and-drop functionality for easy call flow mapping 
Threaded conversations help organize and track communications across phone calls, email, short message service (SMS) messages and more
RingCentral vs. Nextiva Comparison
Custom Integrations
RingCentral
RingCentral provides all of the standard office integrations a small business would ever need, such as Microsoft Office, Salesforce or Shadow All-In-One Analytics, to name a few. But we especially liked RingCentral's open API capabilities, which provides an extra layer of versatility if your business has a software development team that can support it. 
Nextiva
Nextiva doesn't allow customers to create their own custom integrations. Instead, Nextiva offers a wide selection of the most popular integrations to help optimize processes for any business. All the integrations Nextiva offers are HIPAA-compliant and meet healthcare industry guidelines.
Winner: RingCentral
RingCentral offers virtually every integration you would ever need, including the ability to build custom integrations with its open API. It's worth noting, though, that Nextiva's lack of integrations is because it has carefully curated a HIPAA compliant list of third-party software, ensuring the platform's overall security. 
Voicemail Transcripts 
RingCentral

Whether you're at a computer or using a mobile device, RingCentral lets you preview voicemail as text messages easily when you're unable to listen to them. Users can also delete and forward messages or return the call directly from the RingCentral app. Because voicemail transcripts are offered for every service level, RingCentral has a distinct advantage in this category.
Nextiva

Nextiva offers everything you'd expect from a voicemail transcription service, but it only comes with its highest service level that costs $45.95 per user, per month.
Winner: RingCentral
RingCentral offers voicemail transcripts for all tiers of service, making it the clear winner.
Professional Implementation
RingCentral
RingCentral offers the basic implementation options that any business can use to create a scalable communications system quickly. How much that professional assistance will cost depends on the complexity of your system and would require contacting a sales representative to get a better idea of what your needs are.
Nextiva
Nextiva offers additional support through a separate feature, the Amazing Service Delivery Package. While this service comes with several prepackaged options and basic approaches for small businesses, it caters more towards businesses with 100 employees and higher. 
Winner: RingCentral
RingCentral offers a tailored approach to implementation for businesses of all sizes, and we always love a tailored service to find the right fit for everyone. Nextiva offers implementation services as well, but they are geared toward large businesses and may not be suitable for every company.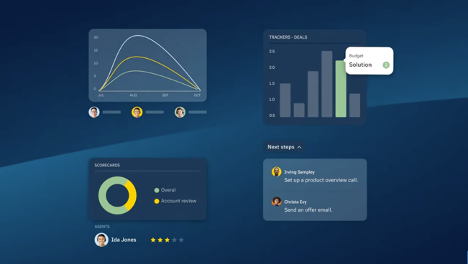 RingCentral provides a detailed visual dashboard to highlight performance analytics. (Source: RingCentral)
HIPAA Compliance 
RingCentral
While RingCentral offers HIPAA-compliant options, it will only provide them to a customer that is considered a "covered entity" or a "business associate," as defined in the HIPAA guidelines. Additionally, the customer must request a business associate agreement from RingCentral. This makes it useful for healthcare businesses but other companies that want HIPAA-level security won't be able to use these services.
Nextiva
By disabling nonessential functionality like voicemail transcription or fax-to-email, Nextiva can create a healthcare bundle that's completely HIPAA-compliant right out of the box. Of course, "HIPAA compliance" doesn't necessarily mean "secure" — that's why Nextiva uses state-of-the-art equipment and security protocols to keep patient-protected healthcare information safe. We liked this extra layer of security that goes beyond regulatory compliance, especially in the era of cyberattacks targeting sensitive business data.
Winner: Nextiva
Simply put, Nextiva makes it easy to create a comprehensive, HIPAA-compliant communications system. While RingCentral provides a serviceable level of HIPAA-compliant options, the process to enable them is a hassle. 
HIPAA-compliant communications systems also create a record that acts like an auditable paper trail that can be verified by any government or regulatory agency.
Mix-and-Match Service Plans 
RingCentral
RingCentral offers three pricing tiers with various levels of service. Businesses can choose a tier for their whole team but may end up paying for services that are underutilized.
Nextiva
If you'd like to choose a different plan for each individual team member based on their specific needs, Nextiva has what you need. Not only does this mix-and-match approach to service plans help give a team the right tools to communicate, but it also helps a business save money by paying for only what they need. 
Winner: Nextiva 
Nextiva gives you the option to build an efficient communications system that doesn't create any unnecessary costs. We feel that you shouldn't have to overpay to make sure each employee gets the tech they need and Nextiva makes that happen.
Threaded Conversations 
RingCentral
While RingCentral offers tools to connect with, engage and guide customers across multiple touchpoints like social, email or telephone calls, it's less convenient to review these communications holistically in a complete archive.
Nextiva
The threaded conversation functionality in Nextiva sort of acts like a mini search engine that can search through customer communications including emails, text messages, voicemails and more. By organizing all communications per customer and connecting them, a business can track down customer details quickly, including past communications, insurance claims, sales information and more. This makes Nextiva work almost like some of the top customer relationship management software out there, giving your sales and marketing teams a useful tool built into your business phone system.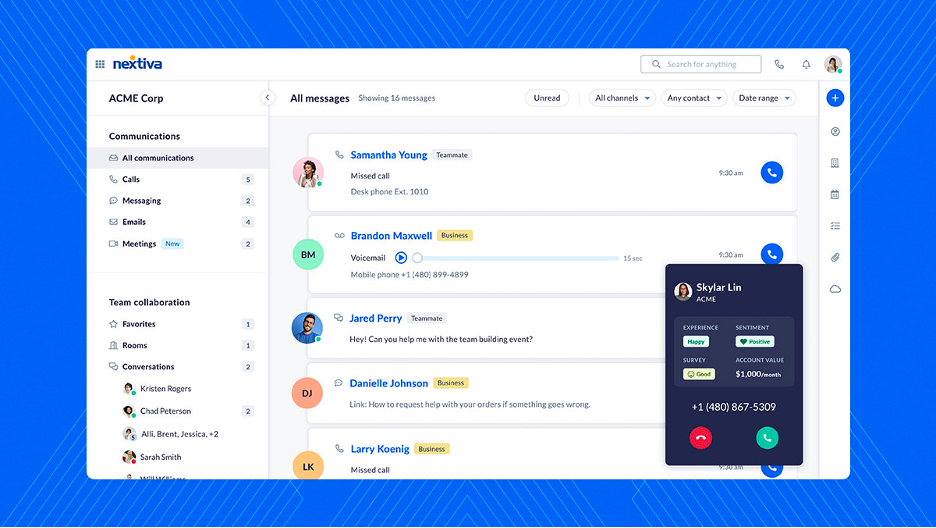 Nextiva's threaded conversations give a team quick access to critical customer details so they can provide better service in less time. (Source: Nextiva)
Winner: Nextiva 
We love how helpful threaded conversations are and Nextiva stuck the landing with this feature. Having each touchpoint for customer communications archived and indexed is an unbelievably useful tip that helps provide an entire organization with insights that streamline and innovate operations.
Threaded conversations can also help save time and improve customer service by providing team members with critical customer information at the right time.
RingCentral vs. Nextiva Recap
Choose RingCentral if:
You need a communications service that connects a hybrid team seamlessly on mobile or desktop. 
You're looking for the flexibility to customize your platform with different third-party or custom integrations. 
You need a simple, intuitive communications platform that can be tailored to the different needs of your organization. 
Choose Nextiva if:
You need a HIPAA-compliant communication solution.
You want a communication platform that's intuitive, versatile and scalable for a medium to large-sized business.
You're looking for options to optimize the efficiency of your contact centers and improve customer satisfaction rates. 
Frequently Asked Questions
Does RingCentral geotrack users?
RingCentral tracks the location of certain devices when access is granted by individual users. Location information for specific users is used primarily for corporate duty of care efforts. 
What is the difference between the Nextiva App and NextivaONE?
NextivaONE is an updated version of the service application under a new brand name — it's mainly a quality-of-life service upgrade. 
What are the minimum system requirements for RingCentral and Nextiva?
For RingCentral: Windows 8.1 (64-bit) or newer, macOS 10.13 (High Sierra) or newer, iOS 9.0 or newer and Android 5.0 or newer. For Nextiva: iOS 12.0 or newer and Android 4.0 or newer. 
Is every call on RingCentral recorded? 
No. Administrators have the option to set up an automatic recording for individual users but it's not active as a default setting. 
Can you text through Nextiva? 
Yes, text messages are offered as a service with Nextiva. However, SMS messaging isn't compliant with HIPAA guidelines, so it isn't included as an option with Nextiva service bundles for the healthcare industry.