RingCentral and Grasshopper are top business phone systems with distinct differences. RingCentral incorporates video conferencing functionality; Grasshopper is audio-only but offers a robust feature set that matches RingCentral in many ways. 
While only one boasts video options, we wanted to see how RingCentral and Grasshopper compare in terms of pricing and essential business phone system features. We reviewed our detailed RingCentral review and Grasshopper review and checked each vendor's website for updates to help organizations choose the right business phone system for their needs.
RingCentral vs. Grasshopper Comparison
Price and Plans
RingCentral
RingCentral's pricing plans are as follows. (Prices reflect annual billing; costs increase by $10 if you choose monthly billing.)
Core: $20 per user per month. The Core tier provides unlimited domestic calling alongside interactive voice response (IVR) tools and SMS and MMS messaging. You'll also get access to RingCentral's integrations with Google and Microsoft apps and the RingCentral API for custom integrations. Additionally, Core includes single sign-on (SSO) capabilities and IT administrator analytics.
Advanced: $25 per user per month. In addition to all Core features, Advanced allows automatic call recording, as well as advanced call monitoring and handling. Integrations expand to include Salesforce, Zendesk and another 300-plus programs (read our Salesforce review to learn more about this robust CRM). You also get multisite management, internet faxing and vital business analytics.
Ultra: $35 per user per month. This pricing package offers unlimited HD video conferencing, messaging, whiteboards, file-sharing and storage. You also get RingCentral's most advanced analytics suite and fully customizable business insights.
Additionally, RingCentral offers eight paid add-ons:
Webinars ($40 per host per month)
Extra international numbers (starting at $5.99 per user per month)
Extra international toll-free numbers ($14.99 per user per month, plus a one-time $25 fee)
Extra vanity numbers (one-time $30 fee per number)
Extra toll-free or local numbers ($4.99 per month)
High-volume SMS messaging ($0.0085 per incoming or outgoing message)
RingCentral Rooms license for higher-end video conferencing ($49 per month or $468 per year per license)
RingCentral Room Connector for integrating RingCentral with your existing hardware ($49 per month or $468 per year per endpoint)
Compared to many competitors we reviewed, RingCentral's Core package is cost-effective for small teams. For just $20 per team member per month, you get highly user-friendly, undeniably powerful business phone system fundamentals. 
However, we were disappointed with how quickly RingCentral's prices increase as your team grows or if you opt into the add-ons. The most expensive tier is likely only cost-effective for larger businesses. You absolutely get what you pay for with RingCentral, but we suggest being 100 percent certain you can afford it.
Grasshopper
Grasshopper's pricing breaks down as follows across four packages:
True Solo: $14 per month (annual billing). The price jumps to $16 if you choose monthly billing. This one-user plan allows for one phone number and one extension.
Solo Plus: $28 per month (annual billing). The price jumps to $31 if you choose monthly billing. With this plan, you get one phone number and three extensions; your user quantity cap disappears.
Partner: $46 per month (annual billing). The price jumps to $51 if you choose monthly billing. This pricing package allows unlimited users, three phone numbers and six extensions.
Small Business: $80 per month (annual billing). The price jumps to $89 if you choose monthly billing. With this plan, you remove all limits on user quantity and extension amounts, though you're limited to five phone numbers.
During testing, a company representative explained that extra phone numbers beyond what your plan allows cost $10 per number per month. You can also pay $75 to get a professionally voice-recorded greeting of up to 250 words.
We were highly impressed with Grasshopper's pricing. Even if you opt into the most expensive pricing plan and choose monthly instead of annual billing, Grasshopper is relatively affordable for fundamental business communications. We also found the add-ons reasonably priced, making Grasshopper one of our top picks for budget-friendly business phone setups.
Winner: Grasshopper
Grasshopper is your best bet if keeping your costs low is your top priority. You'll almost never pay over $100 per month. In contrast, if at least five team members use RingCentral, your costs will reach the triple digits. For business phone fundamentals at a bargain, you'll be happier with Grasshopper.
Free Trial Period
RingCentral
RingCentral offers a 14-day free trial period. We liked this period length, given the exceptional breadth and depth of RingCentral's features. While we would have appreciated a 30-day free trial — which is common with other types of business technology — our two-week trial ultimately gave us enough time to test out the vast majority of RingCentral's features.
Grasshopper
At just seven days long, Grasshopper's free trial left us feeling rushed. Sure, given Grasshopper's relatively narrow feature set, we didn't need a ton of time to fully explore the technology. That said, the longer we spend with a platform without paying for it, the better we can assess whether it's worth its costs. We felt that prospective Grasshopper users would need a longer trial period to make smart buying decisions.
Winner: RingCentral
We got to test RingCentral for seven more days than Grasshopper, and that made all the difference. We were confident in how we felt about RingCentral overall at the end of our trial, whereas Grasshopper's rushed trial left us a bit undecided.
Third-Party Integrations
RingCentral
You can integrate RingCentral with more than 330 apps across over 200 leading business vendors. These integrations include productivity apps, some of the best CRM platforms, and workflow automation tools. You can also use the RingCentral API to develop custom integrations with data management tools, team messaging software and the best text message marketing services. 
We were impressed with RingCentral's suite of integrations. We especially liked that the Google and Microsoft integrations are available to all users. The Salesforce and Zendesk customer management integrations available with the higher tiers also performed exceptionally well. In terms of your software with other platforms, we've seen few brands do it more effectively than RingCentral.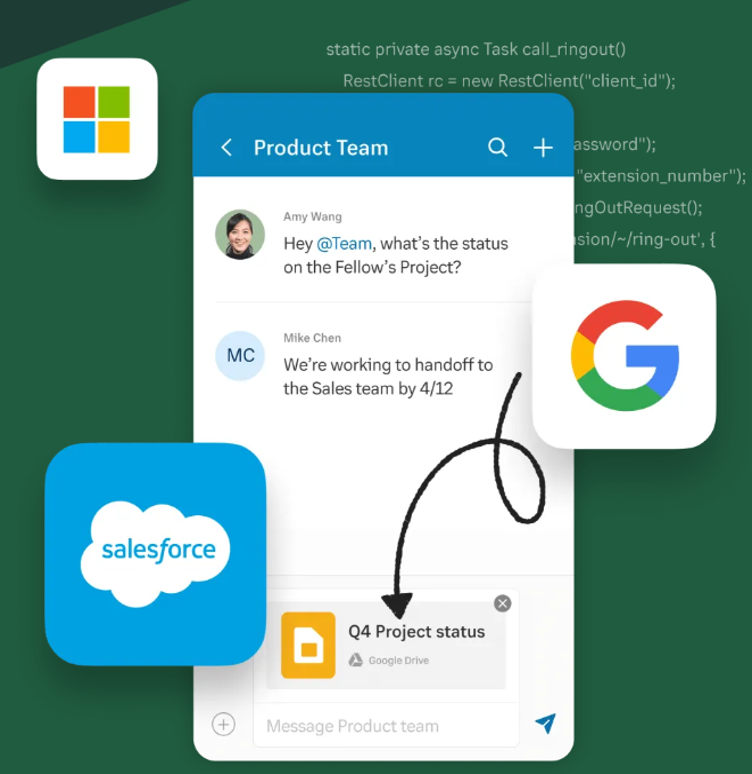 The RingCentral team messaging suite is home to vital integrations with Salesforce, Microsoft and Google tools. Source: RingCentral
Grasshopper
Unlike most other business software, Grasshopper offers no integrations whatsoever with other platforms. This disappointed us, but it didn't quite leave us frustrated. We felt that, for basic business phone functionality, Grasshopper didn't need to connect with other vendors to be effective. Although we didn't like that we lacked integration options, Grasshopper still performed well on the fundamentals.
Winner: RingCentral
If you need to integrate your business phone systems with tools like your CRM and text message marketing platforms, RingCentral is the clear winner. Grasshopper doesn't offer integrations, making RingCentral the only possible choice on this front.
Phone Number and Extension Quantity
RingCentral
Phone numbers: All RingCentral pricing packages include a core business phone number. Each team member also gets a unique phone number, no matter your pricing tier. We liked how many phone numbers this yields, especially for large teams. 
Extensions: The Advanced and Ultra packages provide unlimited extensions. However, RingCentral's Core package doesn't include extensions, and we found this disappointing. Although Core includes many tools we typically wouldn't expect from a business phone system, it managed to exclude this fundamental feature. This factor alone may put RingCentral out of reach for some users, given the cost of signing up for the higher-end tiers.
Grasshopper
Phone numbers: With Grasshopper, you get one to five business phone numbers, depending on your pricing package. Adding extra phone numbers costs $10 per number per month; we found this modest add-on fee completely reasonable. We were impressed with how many phone numbers you get with Grasshopper at each price point and how affordable it is to add more numbers. 
Extensions: You get one to six extensions with the first three pricing packages, plus unlimited extensions with the highest-priced tier. 
Winner: Grasshopper
Although teams of six or more automatically get more phone numbers with RingCentral than Grasshopper, the latter wins on extensions and pricing. You always get extensions with Grasshopper, even if you're a sole proprietor, freelancer or another one-person business. 
Notably, this isn't true of RingCentral; teams seeking a cost-effective business phone system may pay high amounts and still not get any extensions. For small businesses, Grasshopper gives you comparable quantities of phone numbers and extensions at much budget-friendlier price points.
Video Conferencing
RingCentral
With RingCentral, you get more than a business phone system — you also get robust video conferencing technology. Depending on which RingCentral plan you choose, you can hold video conferences of 100 to 200 people. Not all business phone systems include video tools, so RingCentral's inclusion of these features impressed us.
The cherry on top for us was that RingCentral's video suite was incredibly user-friendly and feature-rich. We found it comparable to, though obviously more expensive than, GoTo Meeting, our top video conferencing platform for smaller businesses. 
Read our GoTo Connect review to learn why this platform's video conferencing tools, which allow tens of thousands of participants, impressed us.
Grasshopper
Grasshopper has no video features, though this lack of video technology doesn't make Grasshopper a poor business phone system. For users seeking only audio technology, Grasshopper is still a great pick. However, if you need video conferencing too — rather than using a business phone system alongside, say, Zoom — Grasshopper won't work for you. (We've compared RingCentral and Zoom, too, if you're interested in how their video tools stack up.)
Winner: RingCentral
Between RingCentral and Grasshopper, only RingCentral offers video technology. However, Grasshopper remains a great option if you're covering your video conferencing needs in other ways, like using a video conferencing service.
Mobile App Features 
RingCentral
The RingCentral business phone system mobile app includes tools for team messaging, phone calls, meetings and audio conferencing. Your employees can also use the app to modify individual settings for RingCentral notifications and voicemails. 
We found these features easy to find — and use — in the RingCentral mobile app. We also found this breadth of features impressive. Sure, many platforms for managing nonphone business concerns offer more robust mobile apps. However, compared to other business phone systems' mobile apps, RingCentral gave us impressive on-the-go power.
Grasshopper
You can make and receive calls and send and receive texts from your business phone number via the Grasshopper mobile app. Additionally, you can use the Grasshopper app to read transcribed business voicemails and review your call history. 
All these tools were easy to use within the Grasshopper app, but we were left wanting more. We were disappointed with how much stronger Grasshopper is on desktop than mobile.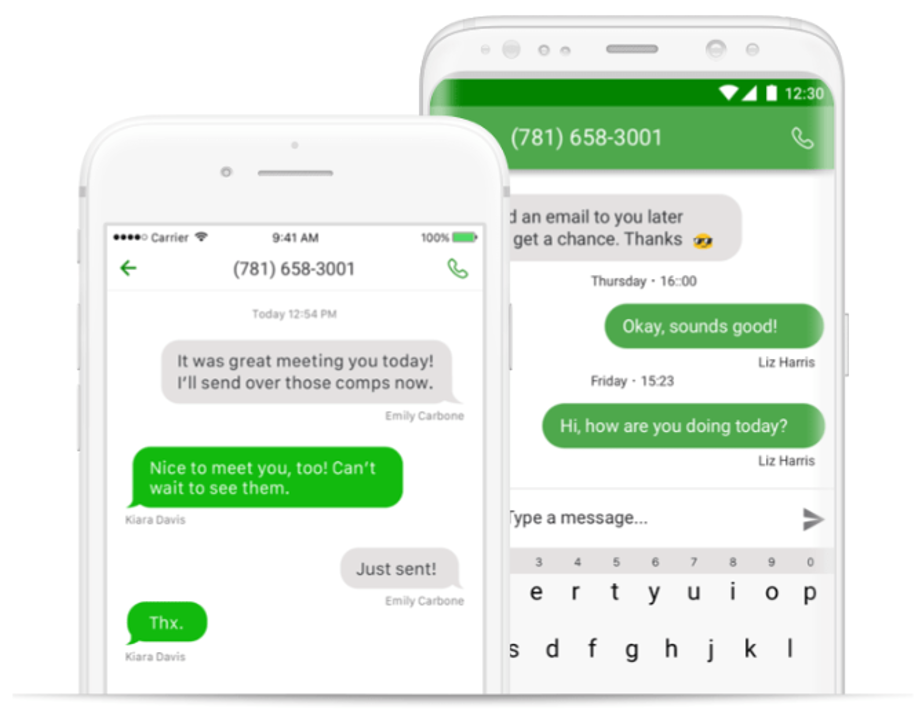 With Grasshopper, business texting looks just like personal texting. Source: Grasshopper
Winner: RingCentral
Both RingCentral and Grasshopper offer intuitive mobile apps, but RingCentral's mobile app is far more feature-rich than Grasshopper's. In fact, RingCentral's mobile app is among the most powerful we've seen across all business phone systems.