RingCentral MVP is the best business phone system for collaboration. The platform offers an industry-leading list of software integrations, virtual conference room experiences, and data center geodiversity to support hybrid and remote teams effectively.
Pros
The RingCentral MVP platform can host HD video conferencing with up to 200 participants.
The system has more than 2,000 business software integrations.
The vendor offers business phone numbers in more than 100 countries.
Cons
RingCentral's entry-level plan is limited to 20 user accounts.
You can't mix and match service plans to suit the needs of different employees, teams or locations.
Month-to-month subscribers will pay up to 40 percent more to avoid a long-term contract.
RingCentral MVP provides cloud-based business communication services for messaging, video conferencing and phone calls.
RingCentral features more than 300 out-of-the-box applications and 2,000 integrations to customize the solution.
RingCentral has business phone numbers available in more than 100 countries.
This review is for small business owners who are considering implementing RingCentral's MVP cloud phone system.
The RingCentral MVP cloud-based business communications platform is designed to make communications simple and effective for everyone. The platform offers video conferencing for up to 200 participants, business phone numbers in over 100 countries, and unlimited calls within the U.S. and Canada. Users can access RingCentral MVP through a web browser, desktop or mobile device operating on Android and iOS. The program features a simple user interface with an easy-to-use administrator portal that includes helpful video tutorials to lighten the learning curve. Most MVP accounts come with 24/7 customer support and professional onboarding with administrator training to help new users optimize their communications platform and phone system.
RingCentral Editor's Rating:
9 / 10
Pricing

9.4/10

Ease of use

9.5/10

Features

9.6/10

Integrations

9.9/10

Customer service

9/10
Why RingCentral MVP Is Best for Collaboration
RingCentral MVP is a reliable business communications platform for messaging, video chatting and phone calls with easy access via web browser, desktop and mobile apps. RingCentral utilizes 32 data centers around the world and direct peering with more than 45 carriers and 200 ISPs to provide a 99.999 percent uptime, ensuring hybrid and remote employees enjoy uninterrupted access and connectivity. For companies particularly interested in collaboration, we love that the team chat and messaging feature operates like a digital workspace, providing you with immediate access to all of your past communications, pinned documents, shared files, and the ability to reach colleagues through chat or an impromptu video call from the same application. 
With plans that include video conferencing, users can hold video meetings with screen sharing and in-meeting public and private chat capabilities on any internet-connected device. In addition to its built-in tools that fuel collaboration between remote employees and teams, RingCentral also works well with third-party applications. Notably, there are more than 300 out-of-the-box integrations available and more than 2,000 integrations you can customize with developers. This makes RingCentral even more usable for needs across your company. If collaboration and synchronicity are your goals, this is the business phone system for you.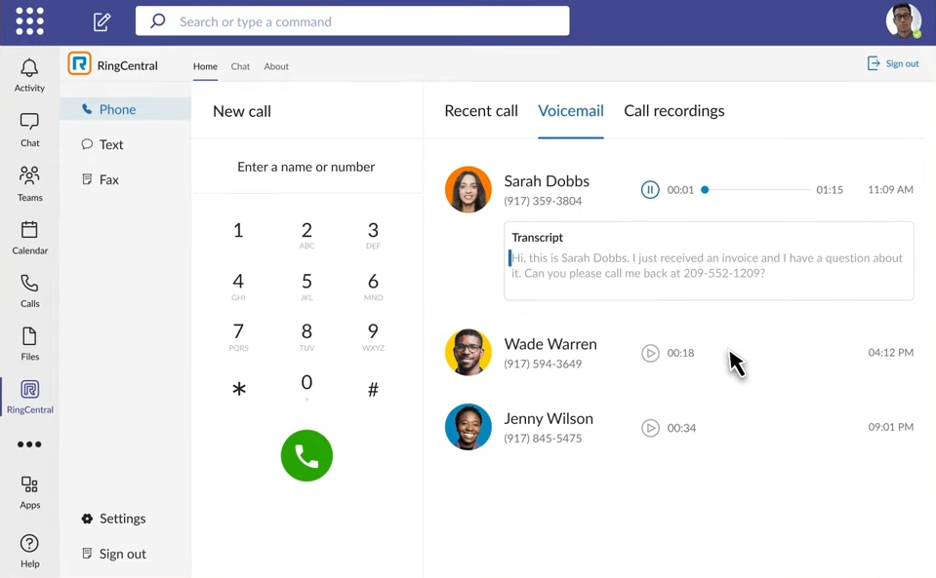 Usability
Despite being feature-rich, RingCentral MVP is still easy to implement and use for administrators and employees. While the platform's simple and intuitive dashboard plays a key role in RingCentral's ease of use, the extensive list of more than 2,000 integrations that can connect your communication workflows with the tools you use the most is equally important. With integrations for highly rated CRMs, SMS, customer service and marketing automation, you can conduct all of your customer-facing communications with the benefits of a unified communications platform and without jumping between software applications for each task. [See our Salesforce CRM review to learn about one possible integration.]
RingCentral MVP recently made some UX improvements we really like. Previously, call-handling settings were different depending on whether you accessed from the application or web portal. Now, the experience across greeting, ring, and missed call settings is consistent on both web and app, making it even easier to navigate the settings menu. 
With administrator permission, end users can modify their call-handling settings to plan ahead for vacations or reroute for sick days, including which devices, such as desk phones or mobile phones, should ring. We also appreciate that RingCentral's mobile app makes it especially easy to keep remote team members engaged and collaborative throughout the workday with video huddles, tasks and events.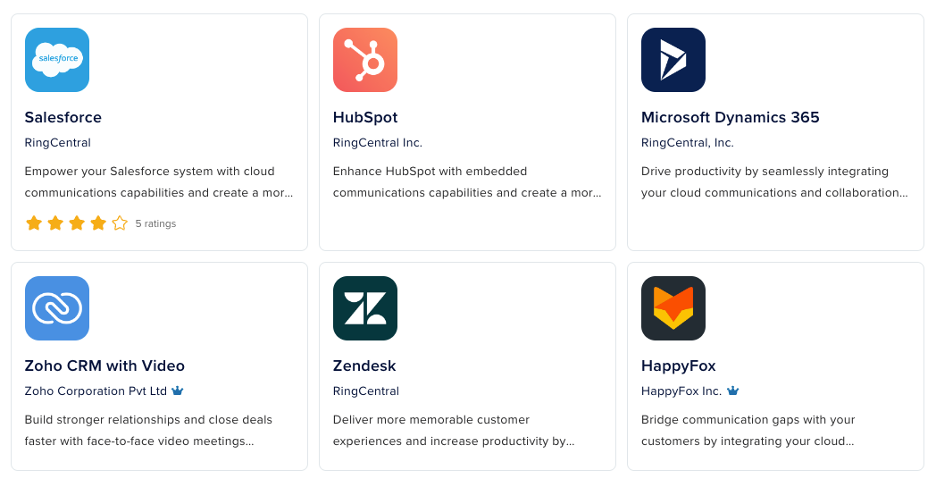 RingCentral MVP Features
| | |
| --- | --- |
| Team chat and messaging | Create a digital workspace to chat, share files and collaborate effectively. |
| Large video meetings | Host HD video meetings with AI-powered features and up to 200 participants. |
| Reporting and analytics | Get insights into your company's communications with live reporting, custom dashboards and historical data with 32 KPIs. |
| Admin portal | Take advantage of visual interactive voice response and menu-based editing with easy-to-understand prompts. |
RingCentral's MVP system is packed with features that can enhance communication and collaboration across your company. Here are a few of our favorites.
Team Chat and Messaging
Whether inside or outside the physical office, online messaging is often the go-to method for workplace communication. RingCentral MVP's team chat is a convenient way to keep in immediate contact with co-workers in different locations, who can hop on a call or video conference directly from the app. The team messaging app also helps you stay organized with dedicated folders and threads for projects, topics and teams. You can send files, pin documents and manage projects by assigning tasks and updating stakeholders with built-in task management tools. We like that the in-app search function lets you find key details from old conversations or meetings, jump to contacts to make a call or connect with hundreds of integrations, including Google Workspace and Microsoft 365.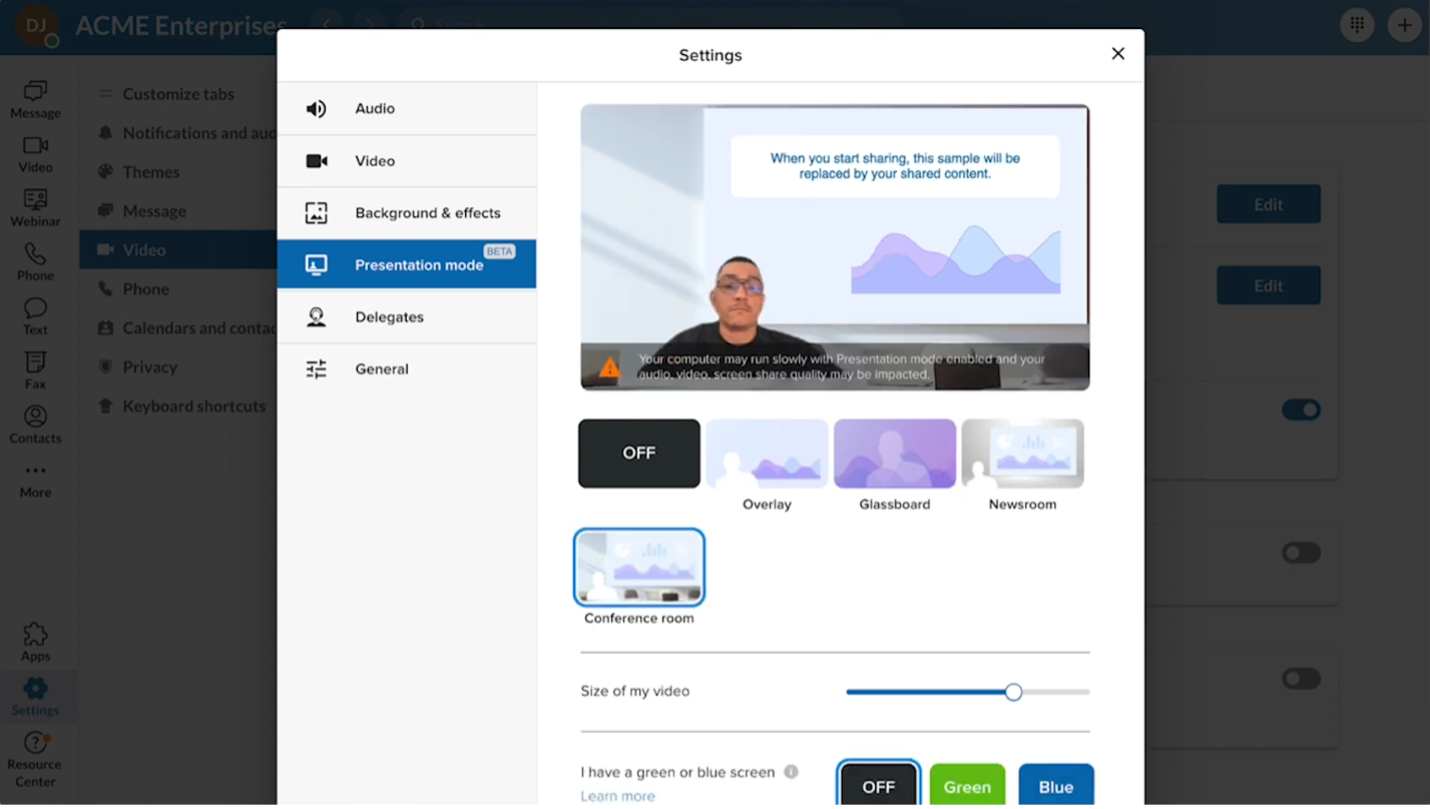 Large Video Meetings
RingCentral MVP offers unlimited video meetings with HD video and audio and support for up to 200 video participants for Premium and Ultimate subscribers; Standard subscribers are limited to 100 participants. Each meeting is protected with end-to-end encryption, passcodes, waiting rooms and other host controls with or without the app. Users can flip seamlessly from mobile to desktop and enjoy advanced meeting insights with recordings that include AI-powered meeting summaries, video highlight reels, keywords and transcripts. With remote and hybrid work taking employees to noisy environments, tools like AI-powered noise reduction automatically filter out unwanted background noise like lawnmowers and barking dogs to ensure a professional level of communication. Other collaborative tools include breakout rooms, team huddles, participant reactions and whiteboards. RingCentral has a separate webinar platform it offers as a free beta option that allows you to invite up to 10,000 participants and 100 panelists.
If the ability to host large video conferences is a top priority, you might want to consider rival system 8×8, which supports up to 500 participants. Learn more in our comprehensive 8×8 review.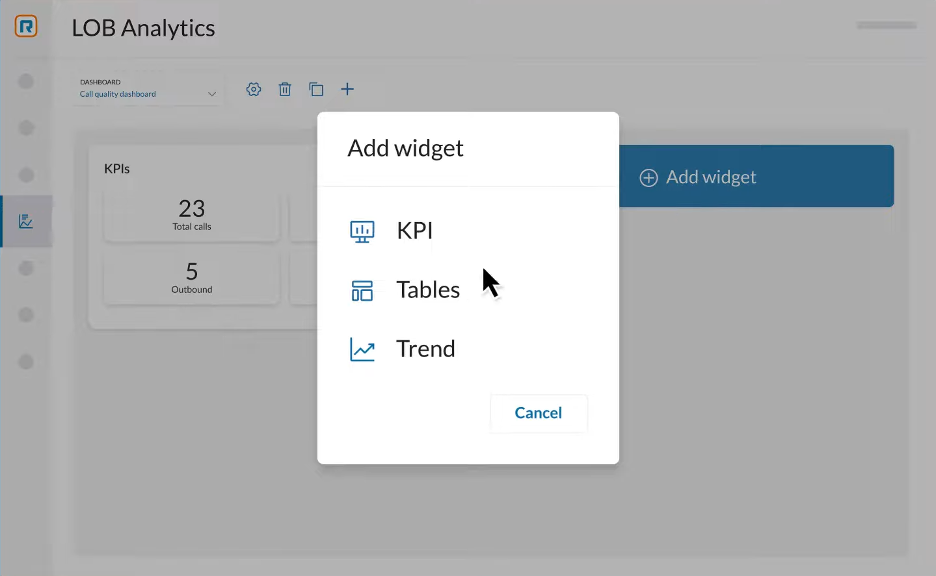 Reporting and Analytics
With RingCentral MVP, you don't need a separate contact center for live reporting on employee and group phone activities to help optimize workflows, empower teams and anticipate opportunities. In addition to real-time data, most plans provide historical reports with 32 KPIs. From the analytics portal, you can find reports for adoption and usage, performance, quality of service, rooms, devices, live data, company numbers, and meetings. The easy-to-use dashboard has many prebuilt templates and opportunities for customization to display the data that matters to your operations. The system also lets you set data-driven alerts and work with interactive reports that cover your devices, rooms, endpoints and network.
Admin Portal
If you've never set up or managed a modern business phone system, making program adjustments for new employees, teams or locations can feel overwhelming. We appreciate that RingCentral gives you the option of working with a visual interactive voice response and menu-based editing to ensure you can build and customize your phone system easily at a moment's notice. From the initial setup process to higher-level customizations, you'll have quick access to essential features with guided instructions and video tutorials within the app.
RingCentral MVP Pricing
RingCentral is in the average price range for its entry-level plan, with most major competitors offering a similarly featured package for around $20 per month per user. However, RingCentral does limit this plan to 20 users, meaning larger businesses will need to sign up for the Standard plan at a higher rate; you can't mix and match different plans for different employees or teams. According to RingCentral, the Premium plan is its most popular business phone offering, with advanced features that include single sign-on, hot desking, real-time analytics and video meetings with up to 200 participants. 
We like that a free two-week trial is available for most plans, with a maximum of five users. RingCentral offers discounts for annual subscribers, which are reflected in the prices below. The company also gives discounts for larger businesses purchasing more than 99 user accounts.
| Plan | Price | Features |
| --- | --- | --- |
| Essentials | $19.99 | Business phone or toll-free numbers, unlimited calls within the U.S./Canada, enhanced business SMS, voicemail to text, team messaging and document sharing |
| Standard | $27.99 | Everything in Essentials, plus 24/7 customer support, business phone numbers in 100 countries, internet fax, audio conferencing, video meetings with 100 participants, 24-hour meeting durations, quality-of-service reports and integrations with business productivity suites |
| Premium | $34.99 | Everything in Standard, plus automatic call recording, single sign-on, multisite admin, 8-digit extensions with site codes, hot desking, advanced call handling, real-time analytics, video meetings with 200 participants, open API for custom integrations and integrations with popular CRM platforms |
| Ultimate | $49.99 | Everything in Premium, plus unlimited storage, device status alerts and reports |
The Essentials plan is available only to businesses with 20 or fewer users.
Setup
Downloading and installing the RingCentral MVP program is a fast and straightforward process. Once logged in to your account, you can begin sending messages, initiating video meetings and placing calls. Mobile users can find the app on Android and iOS app stores. 
For administrators, we like that the Express Setup tool walks you through the steps to set up users, a company greeting, operator extension, dial-by-name directory, call forwarding and other basic communications features. Enhanced onboarding and comprehensive instructions are available free of charge for businesses with at least 20 user accounts. Keep in mind that the amount of time it takes to fully implement RingCentral MVP will depend on how many integrations you incorporate.
We love that you can find helpful training courses for basic and advanced skills through RingCentral University. The vendor's self-paced, video-guided tutorials designed for users and admins provide great instruction on all aspects of the system, including Express Setup for new users. For any new task that feels complicated, you are likely to find a helpful training course through a RingCentral University learning module.
Customer Service
RingCentral doesn't offer the same level of customer support for all of its MVP products. For 24/7 unlimited phone and chat support, you'll need to sign up for the Standard, Premium or Ultimate plan. However, the vendor does have a wealth of online self-help resources, including e-books, guides, checklists, video tutorials, reports, expert Q&A sessions and webinars. All of these resources are great for learning about new features and troubleshooting issues.
Ideal for larger businesses, RingCentral also provides additional, paid professional services for expert IT consulting and managed migrations. RingCentral's professional service experts can help you with UCaaS and CCaaS implementation, VoIP phone system adoption, configuring custom workflows, customer and user onboarding, ongoing support, and managed services.
You should consider Ooma Small Business if you're looking for an entry-level service plan with 24/7 customer support by phone or live chat. Get the details in our Ooma review.
Drawbacks
RingCentral's account maximum of 20 users for the Essentials plan is a major limitation for large companies without complex phone requirements. Other competitors, including Ooma and Dialpad, don't limit the number of users with their entry-level business phone plans. You can learn more about the latter vendor in our detailed review of Dialpad.
Without the roughly 40 percent discount applied to annual subscribers, RingCentral MVP becomes very expensive compared to its competitors with similar offerings. You're left having to decide between a convenient monthly agreement and a lower price point. Businesses interested in a lower rate without a long-term contract should consider Ooma or even Zoom One's free service offering.
Methodology
To find the top business phone systems, we researched and analyzed more than a dozen solutions on the market. These investigations included thorough evaluations conducted through paid and free trial accounts. We also participated in vendor demos whenever possible. With each product, we examined the features, ease of use, implementation process, integrations, costs and customer service options. We selected RingCentral as the best business phone system for companies emphasizing collaboration because of its easy-to-use tools for messaging, video and phone with clear reception and a promised uptime of 99.999 percent.
RingCentral MVP FAQs
Yes, RingCentral MVP has a free trial. New subscribers can try the system for up to two weeks without providing a credit card. Trial accounts are limited to a maximum of five users and two desktop phones. Trial subscribers receive 50 minutes of domestic calling per user. Any hardware purchased for a trial must be returned within 21 days.
No, RingCentral does not have a free plan for its messaging, video and phone platform. However, the company does offer its Video Pro service for video meetings and messaging for free. This no-cost platform provides unlimited meetings with up to 100 participants, short-term storage, virtual backgrounds, and HD-quality video and voice.
RingCentral MVP and Video Pro are different in that the former is a fully featured platform with MVP, which stands for messaging, video and phone, and it's a system you pay for. Video Pro is a free service with more limited usability. In contrast, the MVP product gives you access to dozens of basic and advanced calling features, including integrations with many office productivity software systems and the top CRMs.
Overall Value
We recommend RingCentral MVP for … 
Businesses that can utilize an open API for custom integrations.
Companies that want to host video meetings and webinars with up to 200 participants.
Modern organizations with hybrid or fully remote teams that need to collaborate regularly on projects.
We do not recommend RingCentral MVP for …
Businesses that don't want to get locked into an annual contract.
Large organizations with more than 20 users in need of a basic, low-cost business phone system.
Companies that want to mix and match phone plans to suit the needs of different types of employees.