Zoom plans offer a wide range of metered and unlimited calling options paired with advanced call-handling features, team messaging and industry-leading video conferencing tools all on the same platform.
Pros
All phone plans include Zoom's popular video conferencing tools.
All paid plans come with limited 24/7 global customer service and tech support.
You can mix and match phone plans across your organization.
Cons
Integrations are very limited at all phone subscription levels. 
The metered plans can become very expensive depending on where you're calling.
Understanding exactly what's included with some plans can be difficult.
Choose between pay-as-you-go and unlimited regional calling plans.
Host meetings with up to 300 participants.
All plans include basic 24/7 global customer support.
This review is for small business owners who are considering implementing one of Zoom's phone plans.

Zoom is an outlier among unified communications providers, with its pay-as-you-go metered calling, unlimited regional calling and product bundle that combine business phone service with a separate all-in-one platform. For some independent contractors and small businesses that don't spend much time on the phone, the metered option, at $10 per user per month, could be a cost-effective solution for a basic unified communications platform with all of the call-handling features you'd expect from a modern VoIP phone system. 
However, the metered plan can become expensive quickly, with some pay-as-you-go rates reaching upwards of $5 per minute for outgoing mobile calls to remote destinations. All of Zoom's phone plans include limited 24/7 global customer support, toll-free numbers, voicemail transcription, call recording, call park, auto attendants, hot desking and IP phone compatibility.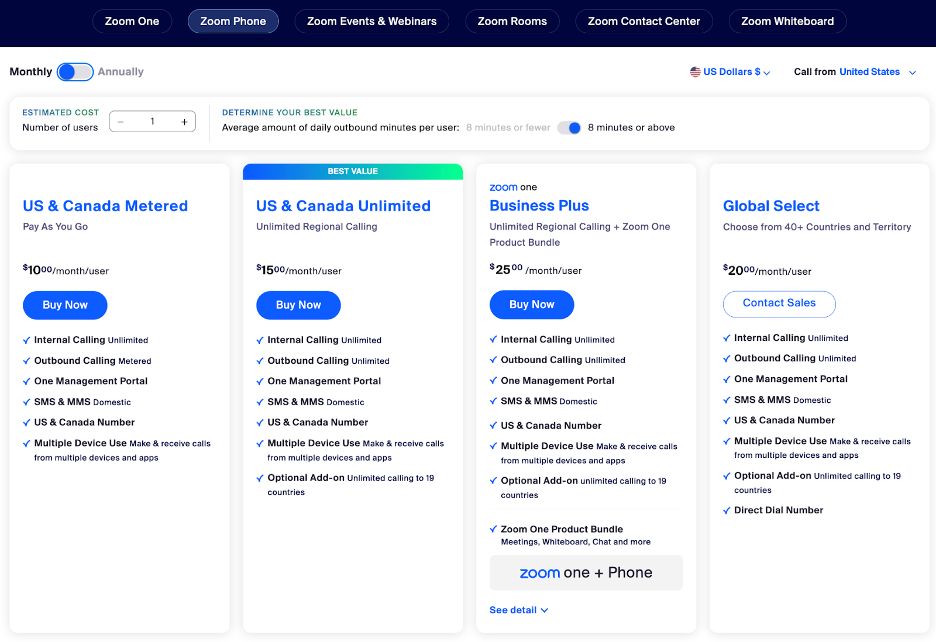 Zoom offers four distinct plans. Source: Zoom
In addition to many standard calling features and tools, Zoom's phone plans also include team messaging and meetings with up to 300 participants. You can also choose from seven paid add-on phone features to customize your plan with additional toll-free numbers, video conferencing hardware, phone hardware and international calling to the U.S., Canada, U.K., Ireland, Australia, New Zealand, Austria, Denmark, France, Germany, Italy, Portugal, Spain, Sweden, Belgium, the Netherlands, Switzerland, Puerto Rico and Japan.
It's important to have a complete understanding of your current and future calling needs before committing to one of Zoom's metered or unlimited calling plans.
Zoom Editor's Rating:
8.8 / 10
Pricing

8.7/10

Ease of use

9.2/10

Features

9.1/10

Integrations

8/10

Customer service

9/10
Why Zoom Is Best Video Conferencing
Zoom became synonymous with video conferencing during the COVID-19 pandemic, evolving into a generic word for a product category, much like Kleenex and Xerox before it. While its popularity may have waned in the past three years, the features and tools that made it the go-to-meeting platform for remote work have not. All of Zoom's phone plans include the option to elevate a call to a video conference with Zoom Meetings or transfer a call to a Zoom Meeting or Zoom Room. Zoom's meeting tools included with the Business Plus plan support up to 300 participants with 30 hours per meeting, 10GB of cloud recording storage and automatic translated captions that make it easy to find important details in past conversations. While Zoom plans include desktop and mobile apps, the technology works on any internet-connected device with virtual meeting capabilities that make it easy to schedule, initiate, join and collaborate regardless of your participants' type of computer, phone or tablet.
During our review process, our team spent time participating in video demos with each company and found Zoom's live presentation to have the highest-quality video with crisp sound and no lag. While Zoom might not be our top pick as a stand-alone cloud-based phone service, any business that spends more time communicating over video than the phone should put Zoom on its shortlist of all-in-one communications service providers.
Usability
Zoom puts phone, video meetings and team chat into one communications platform accessible through the desktop and mobile apps that are included with all phone plans. The phone system integrates with Outlook, Gmail and Google Calendars to provide immediate access to your contacts and schedule to book meetings. While the platform is far from difficult to use, changing some advanced settings like call flows and call queues with drop-down menus gives Zoom's portal more of an enterprise software look and feel than some of the more intuitive platforms, like Ooma, which feels like it was designed for nontechnical end users.
One area where Zoom shines is its ability to jump from a voice-only phone call to a video meeting instantly. Once you've initiated a video call, you can also bring your guest into a virtual conference room with a larger group to help close an important sales deal or brainstorm using the collaborative whiteboard features. Zoom meetings are also very easy to host and attend from any device with an internet connection.
Zoom Features
| | |
| --- | --- |
| Zoom meetings | Modern video communication tools for effective meetings on any device. |
| Workspace reservations | Reserve a physical space remotely and log in for a personalized hybrid office experience |
| Barge/monitor/whisper/takeover | Tools to provide live training or improve customer service and sales outcomes |
| Zoom Phone Power Pack | Add-on feature for enhanced call queue analytics and historical insights |
Zoom's video conferencing features and limitations change quite a bit between the basic version that's included with all metered and unmetered phone plans and the upgraded Business Plus plan. 
Zoom Meetings
Zoom Business Plus subscribers get access to many of the video meeting features that make this platform so popular in remote business settings. That includes meetings for up to 300 people, meeting durations of 30 hours, screen sharing, virtual backgrounds, team chat, annotations, whiteboarding, waiting rooms, breakout rooms, polling, branding, reporting, recording and storage. 
Zoom lets you switch from a voice-only phone call to a face-to-face video conference instantly. You can also take your one-on-one call into a conference room and begin a whiteboard session with templates to streamline processes like building a new flow chart. Once your meeting has concluded, you or anyone on your team can access the whiteboard and any related recordings through a web browser or the app.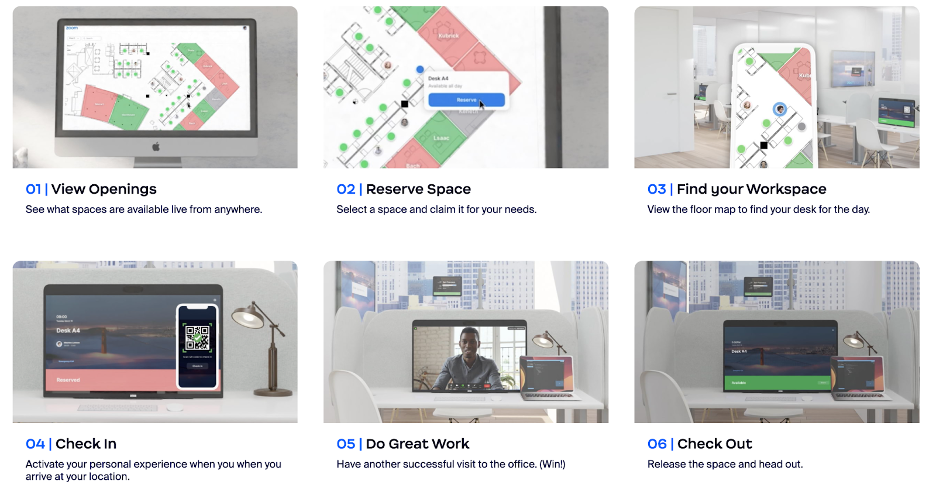 Zoom makes it easy to reserve large conference rooms or small workspaces that put your communications tools at your fingertips once you've logged in to your session. Source: Zoom
Workspace Reservations
This optional Zoom phone plan add-on is the ultimate hot desking solution for hybrid teams and companies with open conference rooms that want to accommodate flexible work styles. Registered users can view openings and reserve their space through a web browser or the app and see who's occupying an available room or desk at any time. For those who don't spend much time in an office, the reservation system includes a detailed map so it's easy to find your workspace quickly. Checking in is fast and easy: Simply scan the QR code at the workstation, conference area or desk phone at your scheduled time. Once checked in, you can begin using a personalized workstation that will have your calendar and contacts ready for you. When your scheduled time is up, the system will sign you out automatically to protect your data.
Barge/Monitor/Whisper/Takeover
Barge, monitor, whisper and takeover are separate phone features included with all of Zoom's phone plans. This set of phone calling features is designed to let assistants, trainees and managers listen in on phone calls to take notes, speak privately to the person they're monitoring, initiate a three-way call or take over a conversation entirely. In combination, they're an essential tool for training new customer service agents on things like business phone etiquette or company standards. They're also helping in providing insights and direction to new sales agents nearing the close of a deal.
Zoom Phone Power Pack
This $25 monthly add-on feature is designed for call center supervisors and managers as well as receptionists. It provides call queue analytics and historical insights managers can use to monitor their team's level of service with custom options to issue warnings and critical alerts at specific thresholds. Admins can look at active calls, waiting calls and calls held. You can also drill down into completed calls, abandoned calls, missed calls and calls forwarded to voicemail.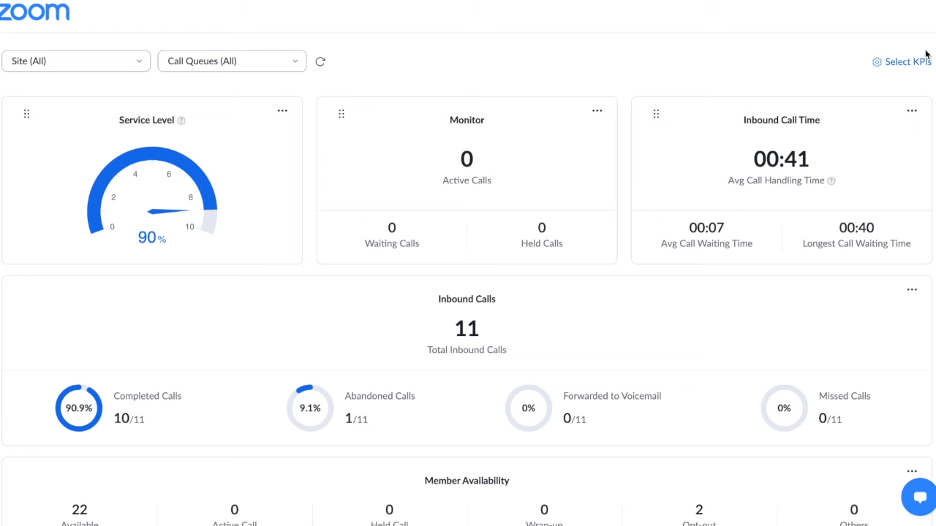 The customizable data "wallboard" can be displayed on monitors or shared with stakeholders to track key performance indicators across the organization. Source: Zoom
The wallboard, or web-based dashboard, can be displayed on a large TV or shared with the leadership team to track the most important calling information. You can filter your boards by office location, department and call queue. With historical data, you can review call service levels with custom configurations across days and hours to identify trends and help optimize your workflow.
Zoom Cost
Unlike most all-in-one communications providers, Zoom offers metered and unmetered phone plans in addition to unified communications offerings. Metered rates can vary from a few cents to more than $5 per minute, so it's important to know where your business is calling the most to determine which plan will be right for you. Zoom offers seven paid add-on phone features, including toll-free numbers, international calling, video conferencing hardware and additional phone numbers. Zoom also offers phone hardware as a service with IP phones, handsets and conference phones from popular manufacturers such as Poly, Yealink and AudioCodes. 
| Plan | Price | Features |
| --- | --- | --- |
| US & Canada Metered | $10 | Unlimited internal calling, metered outbound calling, desktop and mobile apps, domestic SMS and MMS, visual voicemail, auto attendant, call recording, call park, team messaging, IP phone compatibility, video conferencing with 100 participants for 40 minutes at a time, limited 24/7 customer support, and integrations with Salesforce, Slack, Outlook and Gmail. |
| US & Canada Unlimited | $15 | The same features as the metered plan, with the addition of unlimited outbound calling in the U.S. and Canada as well an optional add-on for unlimited calling to 19 countries |
| Global Select | $24 | The same features as the unlimited plan, with the addition of a direct dial number in more than 40 countries and territories |
| Zoom One Business Plus | $25 | The same features as the regional unlimited plan, plus meetings with 300 participants, 10GB of cloud storage, 30-hour meeting limits, single sign-on, automated and translated captions, unlimited whiteboards, and company branding |
Setup
Like the majority of cloud-based phone systems, the setup process is fairly easy and straightforward with an online guide that is accessible to owners and administrators. Once you choose your main company number, or a temporary number if you're porting an existing number, you can specify your extensions and your location for emergency services. From here, you can begin making and receiving calls or begin setting up your phone system management features, like the auto attendant and call queues.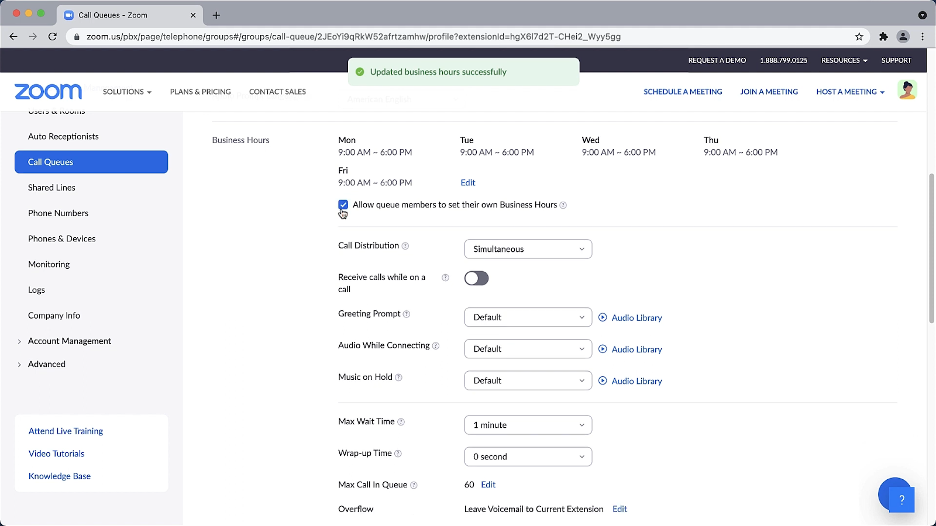 Zoom's call queue menu from the administrator's view Source: Zoom
End users will log in to their Zoom account and select the phone tab to begin personalizing it with their country, local area code and a secure PIN to access their voicemails. If you allow it, your employees can set their own business hours and call rules. 
Customer Service
All paid Zoom plans include 24/7 support, but your total license cost will determine your communication options. All paid plans include support via chatbot and web tickets, but live chat support is limited to clients with subscription plans greater than $50 per month. You'll need to spend at least $200 per month for live phone support or to meet with an agent on video. 
According to a Zoom representative, the company is able to provide AI-based self-service support through its chatbot 60 percent of the time, resolving common issues before human interaction is required. Priority response times vary from one hour to the following business day depending on the issue.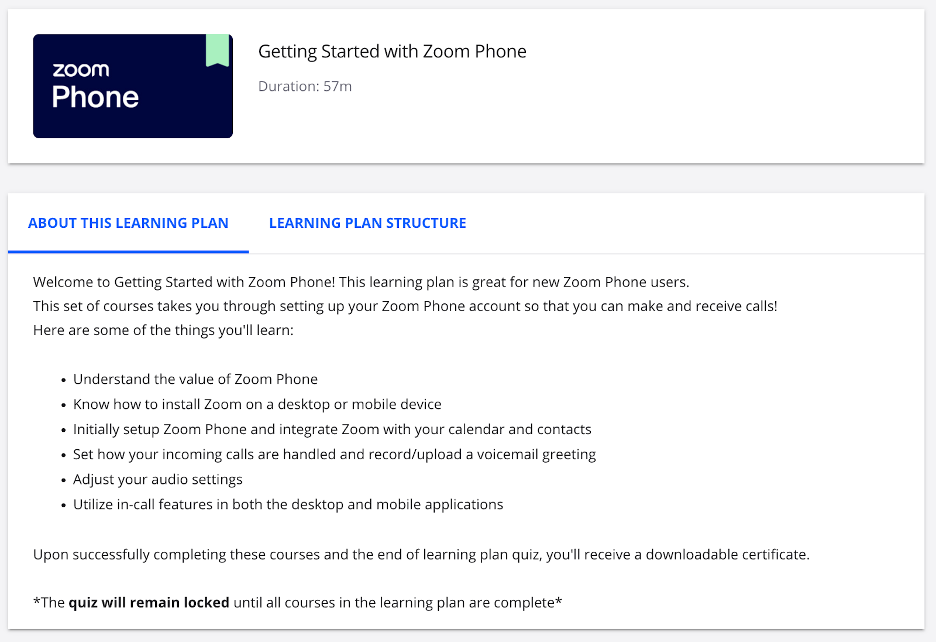 One of the many self-paced courses to learn how to use your phone system and ensure everyone at your business can get up to speed quickly Source: Zoom
Zoom's learning center includes a number of free self-paced education modules that can teach you everything from product and administrator basics to engaging your audience effectively during video meetings. While you'll need to log in to a Zoom account to access these tools, they're available with a free basic account.
Drawbacks
While Zoom's phone system integrates with Salesforce, you won't find many native phone integrations with other popular business applications. While Zoom's meeting service integrates with thousands of software applications, the company lists integrations with only Salesforce, Slack, Outlook, Gmail, Google Calendar and a handful of others for contact centers for its phone system. Direct competitors like RingCentral offer more than 2,000 integrations, while most other business phone system providers we've reviewed include dozens if not hundreds of integration options.
Zoom could do a better job helping prospective customers understand exactly what's included with its phone offerings. On the homepage, Zoom's phone product is nestled within the Zoom One product category instead of appearing as a stand-alone product. The company does not spell out which video features are included with its metered and unlimited phone plans, and the consistent check marks across the feature comparison chart could lead one to believe the same Zoom Meetings features are included with all phone plans. Other areas, like the mention of 24/7 global customer care, don't specify which methods of communication are available with each plan, and the methods can be very limited for small businesses spending less than $50 or $200 per month on Zoom subscriptions. 
Methodology
In searching for the top business phone systems, we investigated more than a dozen platforms. We researched and analyzed each offering, participated in demos whenever possible, and tried free and paid plans. We evaluated each solution based on its tools and features, pricing, limitations, ease of use, setup process and customer service options. We selected Zoom as the best business phone system for video conferencing thanks to its enterprise-grade video output, support for up to 300 participants with the Business Plus plan and ease of use across any device with an internet connection.
Zoom FAQs
While Zoom offers free video conferencing tools for meetings up to 40 minutes, you will need a paid subscription to one of Zoom's phone plans to make and receive traditional phone calls. 
Zoom offers metered and unlimited regional calling plans starting at $10 per month. Outgoing call rates vary widely, with prices as high as $5.70 per minute when dialing mobile numbers in remote locations like the Maldives with a pay-as-you-go plan.
Small businesses can make an easy decision based on their outgoing calling needs. If outgoing calls are few and far between, the metered plan ($10 per month) is a great option. For businesses that make a lot of calls within the U.S. and Canada, the unlimited plan ($15 per month) could work very well. For businesses that make many international calls each month, the global select plan ($20 per month) could be a great choice.
Overall Value
We recommend Zoom for …
Any business that does a lot more communication over video than the phone.
Any business that wants to mix and match phone plans across the organization.
Small businesses that want best-in-class video conferencing tools with a pay-as-you-go phone plan.
We don't recommend Zoom for …
Any business that wants to integrate its phone system with its non-Salesforce CRM and many other popular business applications. 
Any business that spends a lot of time making international phone calls.
Small businesses that want lots of automated, AI-powered features included with their unified communications platform.