GoTo Contact Center Review
GoTo Contact Center is part of an extensive family of cloud-hosted software solutions ranging from password management to remote device access.
GoTo Contact Center presents a straightforward interface that users control through an app or a desktop browser window; both offer near-identical presentations.
A visual flowchart lets administrators and supervisors construct route mapping for calls, including directing them, choosing automated messages and more.
This review is for small business owners who are considering installing GoTo Contact Center software.
The GoTo Connect brand encompasses numerous cloud-hosted platforms and remote access technologies, including a contact center solution, a video conferencing service, and the LastPass password management tool. This review focuses on GoTo Contact Center, GoTo's affordable contact center software, which provides essential features in a straightforward interface. We're impressed by GoTo Contact Center's affordability and functionality. The prices are substantially lower than those of rival platforms, starting at just $33 per user per month. We've reviewed competitors with similarly priced entry-level packages and found that GoTo's basic platform has comparatively better functionality for the price. For these reasons, GoTo Contact Center is our pick for the best contact center software for businesses on a limited budget.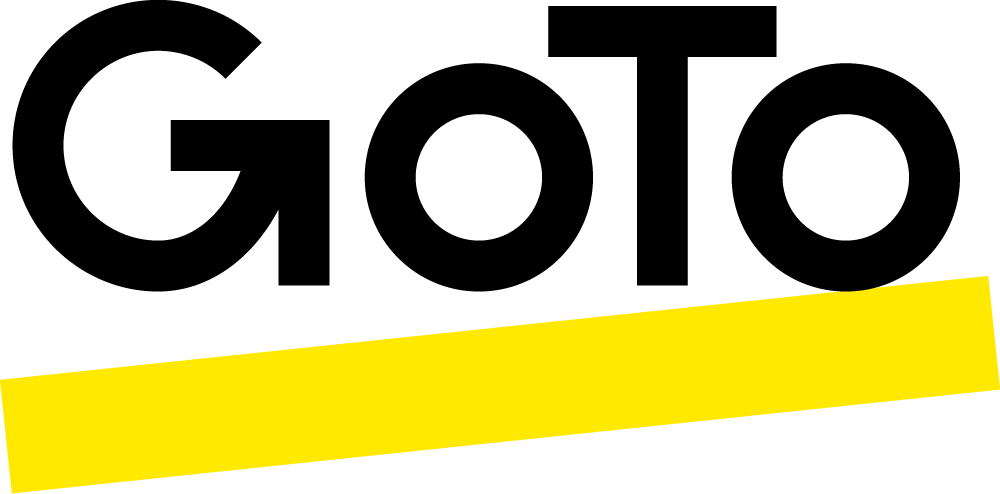 GoTo Contact Center Review
The Verdict
GoTo Contact Center is a straightforward, cost-effective contact center solution that doesn't require software installation. While it lacks the depth and detail of some rivals, it may be an excellent choice for startups and firms operating on a tight budget.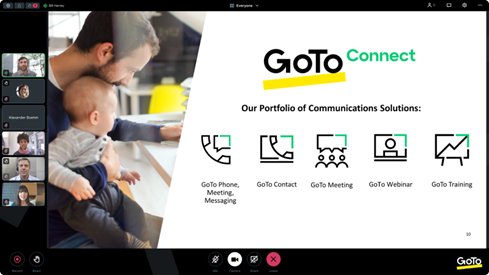 GoTo Connect offers a complete portfolio of communication solutions. Source: GoTo 
If your company needs a password manager, like LastPass, or other functionality beyond contact center software, you can bundle these services into your GoTo contract.
GoTo Contact Center Editor's Score: 83/100
| | |
| --- | --- |
| Pricing | 95 |
| Features | 80 |
| Flexibility | 82 |
| Ease of setup | 94 |
| Support | 65 |
Why GoTo Contact Center Is Best for Firms on a Budget
Small companies with limited budgets rarely need a wealth of extraneous features in their contact center software. They typically want a cost-effective and intuitive platform that's easy for agents and admins to learn. In this context, we found GoTo Contact Center to be a compelling proposition. It offers two subscription package tiers ranging from $33 to $55 per user per month — far cheaper than premium package prices from rivals such as Salesforce Service Cloud.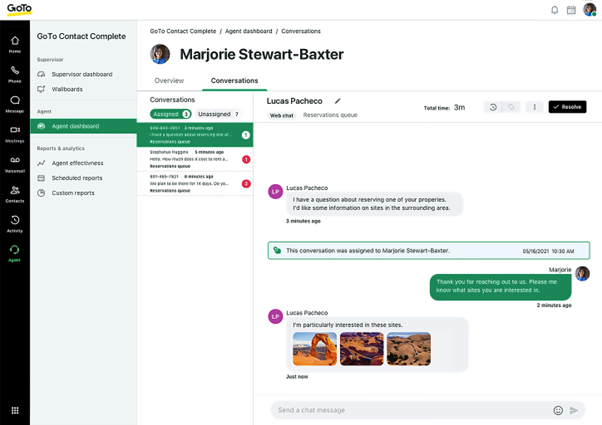 GoTo Contact Center Complete provides an easy-to-use chat queue. Source: GoTo
We also found GoTo's simplicity appealing. Users can download the software as an app or open it in a browser window; both options provide near-identical interfaces. The primary difference is that the downloadable version pins its Call Control tab in the foreground, which is optimal for power users such as switchboard operators and front desk clerks.
If your business provides tech support, consider GoTo's Resolve solution, which offers instant remote support without requiring the user to download software or adjust device permissions. Read our full GoTo Resolve review to learn more.
Pros
GoTo Contact Center offers an affordable pricing structure.
You can use the software in an app-free browser interface.
The intuitive visual call management interface is easy to learn and operate.
Cons
The solution lacks advanced functionalities offered by competitors.
Conferencing tools aren't included in the standard package.
Usability
The interface screen is split into three vertical sections. The left side controls everything from calls to contacts. When a call starts, a call control window opens on the opposite side of the screen, with buttons reminiscent of those on smartphones: Mute, Hold, Settings, Transfer, and Park. We found this to be an intuitive approach that's easy for new agents to grasp.
Unlike some contact center software competitors, GoTo Contact Center supports intelligent call routing and skills-based routing, allowing calls to be directed to agents with particular skills or agents who can speak the caller's language. You can modify call queues by department, with some calls prioritized or limited, and ring-back music selected to indicate promotional messages in between hold music. Users can set periodic announcements, including position announcements, and schedule them for a specific frequency. Naturally, you can also record calls for review to provide effective employee training.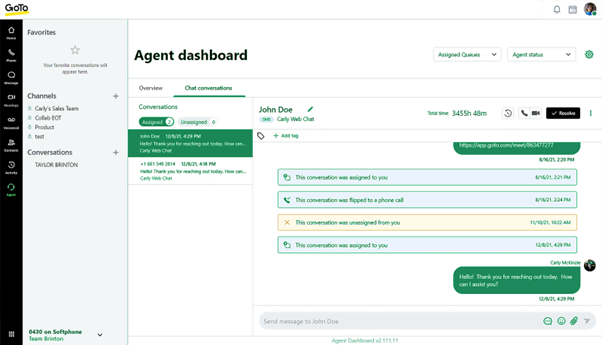 The GoTo Contact Center agent dashboard presents a clear view of a conversation with a customer. Source: GoTo
When we looked at GoTo Contact Center in greater depth, we were pleased to find added functionalities. For example, "Wallboards" open in a new tab with a separate interface displaying crucial call, agent and caller information that supervisors can send to others. We also really like the separate Campaign tab, which lets you upload data such as missed caller lists that can be subdivided among active agents for future contact. This functionality can be vital for setting and measuring key performance indicators (KPIs) across customer-facing personnel.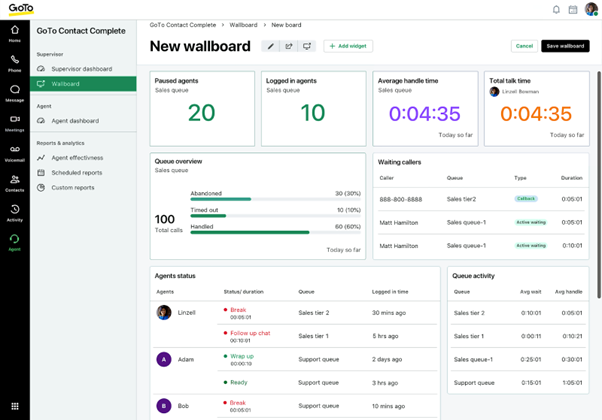 GoTo Contact Center Complete's Wallboard interface displays information about the call, agent and caller. Source: GoTo
Recording calls can help you pinpoint customer service issues and refine phone etiquette to avoid future problems.
GoTo Contact Center Features
| | |
| --- | --- |
| Automated queue callbacks | GoTo Contact Center can manage what happens to unanswered calls down to precise details. |
| Simple agent onboarding | From automated training to customized settings for inbound calls, you can help team members play to their unique strengths. |
| Custom dial plans | Determine what happens to specific calls or callers by dragging and dropping commands into a graphical flowchart. |
| Agent performance tracking | View a colorful visual display to see who's handled the most contacts or talk time; search for agents individually or in groups. |
| Reports and analytics | Get relevant data, such as daily updates and annual overviews, sent as scheduled reports. |
| Related services | Augment GoTo Contact Center with training and webinar tools, password management suites, and remote access services. |
Automated Queue Callbacks
GoTo Contact Center's automated queue callback feature lets you assess live queue totals and broadcast a message, like "You're currently X in line. If you'd like us to call you back, press the pound sign." You can also select which number to display on the outbound dial. Exclusions can include international callers, domestic mobile phones, blocked numbers and toll numbers.
Simple Agent Onboarding
GoTo Contact Center conducts user onboarding via the admin dashboard; the Add User button lets supervisors specify user and call preferences. You can send agents automated emails, like welcome emails and YouTube videos explaining how to handle calls and specific aspects of their role.
Custom Dial Plans
Dial plans provide a visual approach to call flow and routing. They resemble Trello cards with radio buttons; you can drag and drop elements into a flowchart to schedule events. Standard options include detecting faxes, checking voicemail and playing sound clips to on-hold callers.
Agent Performance Tracking
GoTo Contact Center's agent performance management tool works exceptionally well for home-based remote teams. It tracks KPIs such as the volume and proportion of private calls and break times versus time available. This utility helps track productivity and lets admins combine agents into teams or view them individually.
Reports and Analytics
GoTo Contact Center can deliver automated email reports with board info or automated CSV files. Reports can include average call time, duration, outcomes and summaries. The queue caller summary shows the time callers spent in a queue, talk duration, who rang, who handled the call, and the outcome (if it was handled, abandoned or evicted).
Related Services
The GoTo brand markets many other services, which might benefit companies that want to keep communications under one account. These offerings include tools for meetings, training and webinars; the LastPass password management system; and five remote PC and Mac access tools.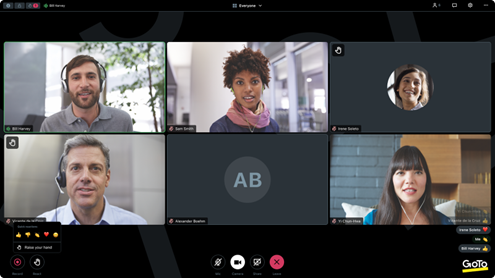 GoTo Meeting is GoTo's video conferencing tool. Source: GoTo
Check out our review of GoTo Meeting to learn more about this multiuser video conferencing tool, which is our pick for the best video conferencing service for smaller businesses.
GoTo Contact Center Cost
There are two primary packages within GoTo Contact Center. Here's how the plans compare:
Core: GoTo Contact Center's basic plan starts at $33 per user per month. Features include auto queue callback, smart call routing, and channel queueing for web chat, Facebook and Instagram.
Complete: GoTo Contact Center's Premium plan includes call analytics, advanced reporting and management tools, customizable admin controls through a supervisor dashboard, and inbound and outbound call monitoring. The cost is $55 per user per month. This is the only tier that supports agent effectiveness reporting.
Tip: Unlike some of its rivals, GoTo Connect offers a straightforward 30-day free trial that includes extensive functionality (comparable to the Complete package). This is a great way to test the platform before you commit to it.
GoTo Contact Center Setup
While other contact center software platforms lock customers into proprietary software, we like that users can access GoTo Contact Center through a web browser. Because the user experience in a browser is identical to the app interface, we think the browser-based option is excellent for desktop users. There's no setup involved beyond creating an administrator account and logging on.
There are three primary access tiers:
Admins: Admins can create call and chat queues, campaigns, chat assistants (live chatbots that can respond to live chat inquiries on your website) and surveys. They can also register and configure other admins, supervisors and agents. Additionally, they can use the interactive voice response (IVR) system to configure the caller experience.
Supervisors: Supervisors can add agents to a call list, listen to a live call, whisper to the agent or take control if needed. They can adjust how long an agent's phone rings before a new agent is instructed to receive the call and how much wrap-up time is available between one call and the next. (Agents can disable this feature if preferred.)
Agents: Agents have a one-page dashboard detailing key metrics, like insights into calls taken and made, what teams are working with call queue opt-in and opt-out, and more. Custom settings let agents pre-save texts and audio messages for voicemails; agents can even place themselves on a break.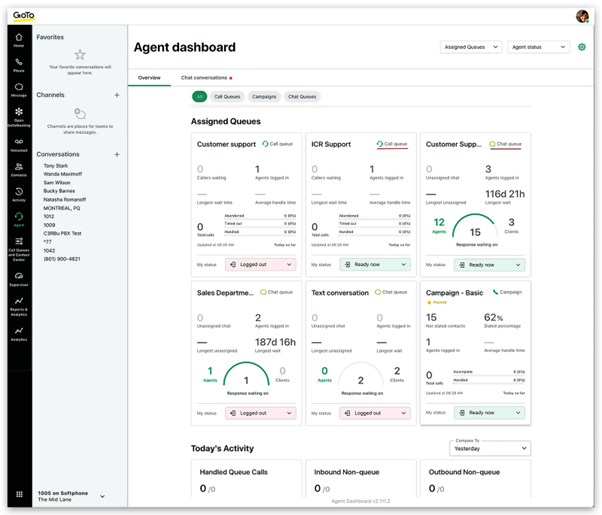 The GoTo Contact Center agent overview screen shows assigned queues. Source: GoTo
GoTo Contact Center Customer Service
GoTo encourages clients to find answers in a searchable online database or use a chatbot to register a support request. The company even partially outsourced question-answering to its customer community, though staff members sometimes contribute.
However, you must register and provide a reason for contacting tech support before you'll see a number displayed on the screen. Other contact center services we've reviewed have far fewer barriers to finding a toll-free number to call.
Other online support tools for GoTo Contact Center include a 20-minute overview, Q&A sessions and self-paced courses. All require registration. We were disappointed not to see support features that other providers include, such as company blogs, podcasts or events. However, we did like that the user forum has over 100 threads and is reasonably active.
Although GoTo Contact Center doesn't make it easy to find a support phone number, it does offer telephone support alongside the ubiquitous live web chat service.
GoTo Contact Center Drawbacks
Any company that expects you to fill in a two-page online form before offering up a telephone number for customers is clearly trying to discourage that sort of communication. We didn't find this barrier among GoTo's competitors, and it's something to bear in mind if you're the sort of person who expects an immediate response to a question.
We must also note that while GoTo Contact Center is a powerful call center management tool, it doesn't extend far beyond that. There's limited scope for setting KPIs, and we found that data recording is considerably more basic than in rival platforms such as RingCentral. For example, RingCentral offers sentiment analysis, customizable coaching packages, agent-overview arbitration and comprehensive data archiving.
Methodology
We took an in-depth approach to understanding contact center software when reviewing the latest platforms. When examining GoTo Contact Center, we conducted in-depth research to uncover its capabilities, unique features and costs. We were intrigued by the service's relatively low pricing, and we compared the features and costs to those of similar products. We examined the customer service offerings and presented the information we felt would best help businesses determine if the service could meet their needs and budgets. Note that we didn't highlight industry-standard features; for example, most contact center providers should promise a 99.999% uptime SLA.
GoTo Contact Center FAQs
Does GoTo Contact Center monitor whether agents are being productive?
In some respects, yes. Agents can be interrupted if they're on personal calls but not if they're handling work calls. They can also be logged out if they miss a specific number of calls. Agents can adjust accessibility for every team or campaign they're listed under, allowing them to focus on specific tasks at any given time.
What information can supervisors see?
The supervisor access dashboard offers a real-time overview of departments, including queue totals, callers on hold, agents on break, longest wait time versus longest call time and more. They can see activity quotas for the day and week, handled queue calls, outbound non-queues and more.
Does GoTo Contact Center sell hardware?
Like other companies in this sector, GoTo will sell you hardware. You can choose from manufacturers — including Cisco, Poly (formerly Polycom) and Yealink — with products including conference phones, multimedia IP handsets and cordless handsets.
Overall Value
We recommend GoTo Contact Center for …
Firms that handle calls in multiple languages.
Companies that want an affordable solution without missing out on essential services.
Remote employees who may find ancillary services (like remote access software) useful.
Firms that want to experiment with a comprehensive free trial before signing up.
We don't recommend GoTo Contact Center for …
Businesses that want to contact their software provider quickly and simply.
Companies keen to take a deep dive into call metrics.
Firms that expect their contact center tools to include HR services.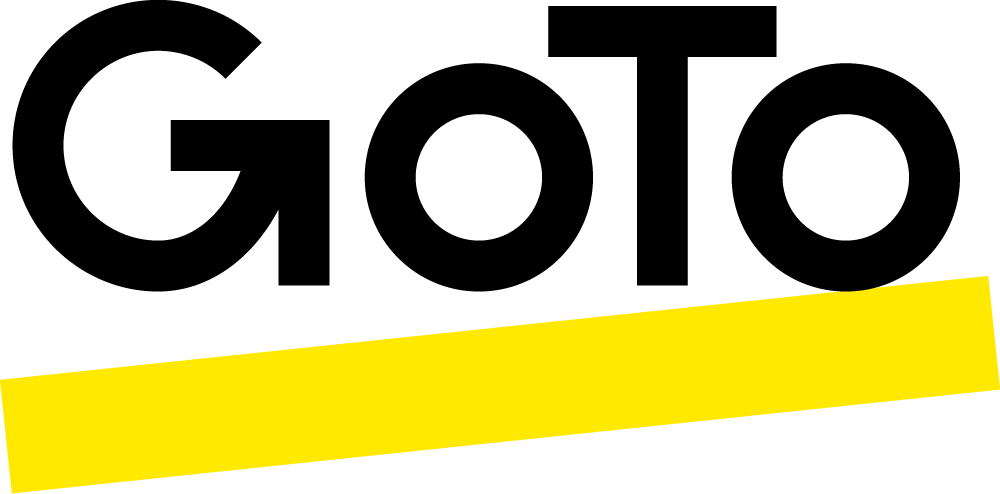 GoTo Contact Center Review
The Verdict
GoTo Contact Center is a straightforward, cost-effective contact center solution that doesn't require software installation. While it lacks the depth and detail of some rivals, it may be an excellent choice for startups and firms operating on a tight budget.

Neil Cumins
Contributing Writer
Neil Cumins is an award-winning writer and journalist from Carlisle, England. With over 20 years of experience writing about technology and marketing on both sides of the Atlantic, he's worked with some of the world's biggest hardware and software manufacturers, as well as countless SaaS brands. An amateur coder and semi-pro photographer, Neil launched his own business in the Noughties, and has subsequently helped many other small firms to grow and prosper.