Nextiva vs. Grasshopper Comparison
Price 
Nextiva
Three plans are available: Essential, Professional and Enterprise.
Prices range from $23.95 per user, per month, to $45.95 per user, per month, depending on the number of users and contract length.
Prepaid 36-month contracts get the biggest discount.
Nextiva's pricing is complex but offers many ways to save a few bucks each month. Monthly prices are based on plan, numbers of users, monthly or annual billing and contract length. Nextiva charges a $99 activation fee for accounts with two users or less. A free local and toll-free number comes standard. Below, you'll see the price for each plan with only a monthly agreement and the lowest discounted price available.
Plan

1-4 users

5-19 users

20-99 users

100+ users

Essential

$30.95 per user, per month

$23.95 per user, per month (36-month contract, prepaid)

$29.95 per user, per month

$21.95 per user, per month (36-month contract, prepaid)

$25.95 per user, per month

$18.95 per user, per month (36-month contract, prepaid)

$24.95 per user, per month

$17.95 per user, per month (36-month contract, prepaid)

Professional

$35.95 per user, per month

$27.95 per user, per month (36-month contract, prepaid)

$33.95 per user, per month

$25.95 per user, per month (36-month contract, prepaid)

$30.95 per user, per month

$22.95 per user, per month (36-month contract, prepaid)

$29.95 per user, per month

$21.95 per user, per month (36-month contract, prepaid))

Enterprise

$45.95 per user, per month

$37.95 per user, per month (36-month contract, prepaid)

$43.95 per user, per month

$35.95 per user, per month (36-month contract, prepaid)

$40.95 per user, per month

$32.95 per user, per month (36-month contract, prepaid)

$39.95 per user, per month

$31.95 per user, per month (36-month contract, prepaid)
Grasshopper
Three plans are available: Solo, Partner and Small Business. 
Pay a flat monthly price starting at $31 after a seven-day free trial.
All plans allow unlimited users, calling and text messages. 
Grasshopper offers three plans, all with unlimited users, meaning you can route calls to as many numbers as you wish. There are extra features for an added cost, such as additional numbers for $10 per month. We like that Grasshopper now allows you to port your current number for free. We also appreciate that it offers a 10 percent discount for annual subscriptions and a 7-day free trial.
| Plan | Cost | Service |
| --- | --- | --- |
| Solo | $31 per month ($28 per month billed annually) | 1 phone number, 3 extensions |
| Partner | $51 per month ($46 per month billed annually) | 3 phone numbers, 6 extensions |
| Small Business | $89 per month ($80 per month billed annually) | 5 phone numbers, unlimited extensions |
Winner: Grasshopper
When it comes to affordability, you can't beat Grasshopper. We like that it offers a flat rate no matter how many users you need to connect. Grasshopper provides all the features your small team needs to make calls without breaking the bank. However, companies needing a comprehensive communications platform will need to look beyond Grasshopper. We love that Nextiva offers pricing flexibility, so you can find a solution that goes beyond simple phone services at the right price.
Calling
Nextiva
Building complex call flows is quick and painless.
Call Pop shows everything you need to know about a caller before you answer.
Easily switch between devices midcall.
Integrate with top business software depending on your plan.
Nextiva offers excellent VoIP phone services with unlimited domestic calling, free local and toll-free numbers, toll-free minutes, the option to port your old number for free and integrations with Microsoft Outlook and Google. All plans boast high-definition voice and an auto attendant to route calls, so your customers can always reach the right person. 
We love that Nextiva is designed to make building complex call flows painless. With a few clicks, the drag-and-drop menu allows you to direct calls to the right department or location, set custom business hours and activate round-robin routing.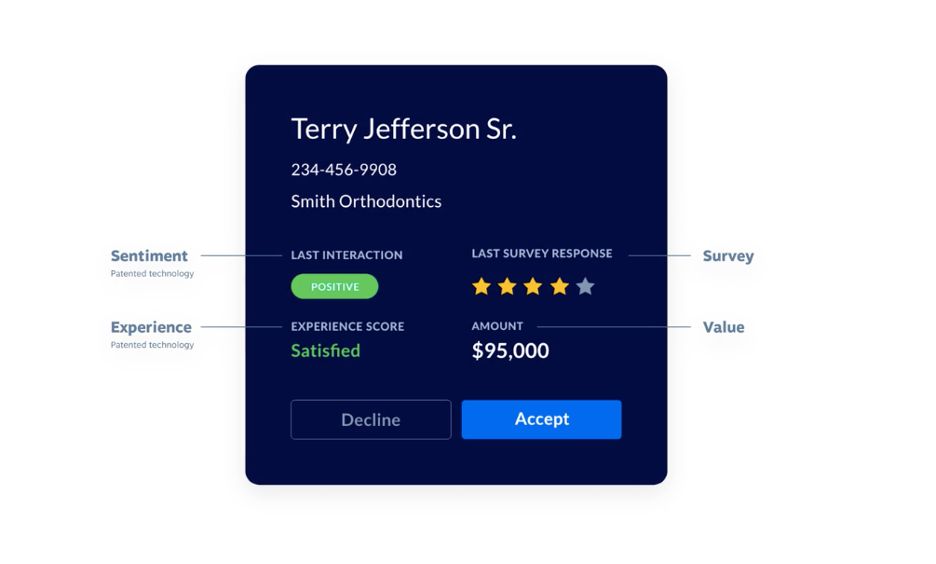 Call Pop tells you everything you need to know about a caller before you answer. Source: Nextiva
Employees can make and receive calls via the NextivaONE mobile app or on their desktop. Call Pop shows important information about the caller, including past interactions, so you can best manage the call. For employees on the go, we appreciate that you can swap devices seamlessly while on a call. Nextiva offers additional calling features only available with high-tier plans, such as conference calling, call recording and advanced integrations.
Grasshopper
Grasshopper offers unlimited calling through a virtual business number.
Setting up call flows is a breeze for admins and employees.
You can use your own phone or VoIP to make calls from the desktop portal.
You can't record calls and there are no business integrations.
Grasshopper sets you up with toll-free, local or vanity business phone numbers or you can port your own number for free. An automated attendant routes incoming calls to your personal phone. Call screening allows you to answer, pass the call on or send it to voicemail. 
Setting up call flows is a piece of cake. Employees or admins can choose when, where and in which order calls should be routed. Plus, employees can transfer calls to another team member with ease.
You can make unlimited calls from your own phone, but caller ID will show your business number. We love that Grasshopper also provides VoIP services so you can call over Wi-Fi, including from your computer. 
Other features that come standard are hold music, dial-by-name directory, conference calling for up to 10 people and custom greetings. We were disappointed that Grasshopper doesn't offer call recording or software integrations. 
Winner: Tie
For basic calling functions, you can't go wrong with either Grasshopper or Nextiva. We love that both make routing calls a breeze. Small companies that use phone conferencing would be better served by Grasshopper. Larger businesses looking for advanced functions like business integrations and call recording should go for Nextiva. 
Not sure whether a toll-free or local number would better suit your business? Read our guide to help decide if you should get a toll-free business number.
Voicemail 
Nextiva
Get email notifications with audio files when you get a voicemail.
Forward voicemails to provide team support.
Voicemail transcription is only available with the Enterprise plan.
Nextiva's voicemail services make sure that you can always provide great service, even when you can't pick up the phone. Record a personalized greeting to let customers know you'll get back to them.
We like that all plans send email notifications with voicemail audio files, so you never miss out no matter where you are. You have the option to forward voicemails to other employees or extensions. But, we would have liked to see voicemail transcriptions available with all plans.
Grasshopper
You can manage voicemails from the app or desktop portal.
Get voicemail audio files and transcriptions by email.
Transcription comes standard.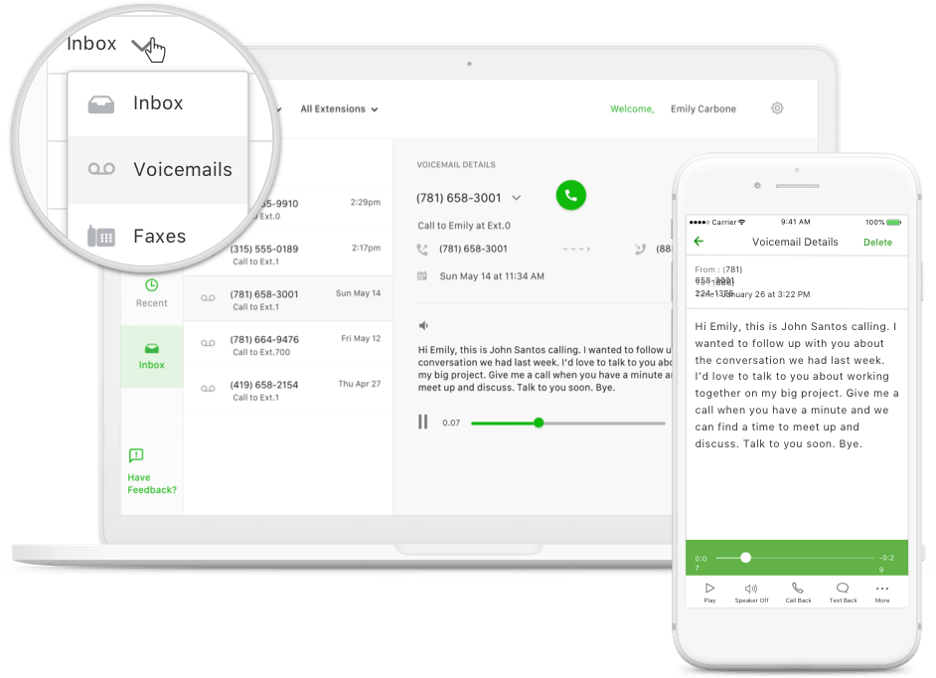 Grasshopper transcribes voicemails and sends the text and an audio file directly to your inbox. Source: Grasshopper
You can manage voicemails directly from the app, keeping your personal and work messages separate. You can also access messages from the online portal when you're away from your phone. We like that you can record customized greetings to let callers know they've reached your business.
Similar to Nextiva, Grasshopper sends voicemail audio files directly to your inbox, but its voicemail transcription standard with all plans makes it shine. Messages are converted to searchable text that you can read on any device. You can see important information easily without having to listen again and provide timely responses via text.
Winner: Grasshopper
Voicemail allows you to serve all callers better but, if you can't answer a call, you probably can't listen to a voicemail either. We've chosen Grasshopper over Nextiva for its standard voicemail transcription, which allows you to read, prioritize and promptly deal with incoming messages, even if you are out of the office or on another call. 
Some mobile carriers and devices provide free visual voicemail apps, which comes in handy if your business phone service doesn't include voicemail transcription.
Additional Features
Nextiva
Keep track of phone, video and messaging communications with threaded conversations.
SMS/MMS are limited based on your plan.
Nextiva takes security seriously and is HIPAA-compliant.
Basic reporting comes standard, but the premium plans offer advanced analytics.
Nextiva offers a complete communications package with multiple communication features beyond phone calls. We like that the platform fosters employee teamwork with chat and collaboration rooms. All plans offer limited video calling, unlimited video recording and unlimited internet fax. We were disappointed that features like unlimited SMS/MMS don't come standard.
A standout feature is threaded conversations, which store all communications together so you can search for information, tag messages, add notes and track transactions.
We appreciate that Nextiva's platform is highly secure, with around-the-clock monitoring, data encryption and security certifications. Companies that need to make sure their communications remain private will be happy to know that Nextiva services are HIPAA-compliant.
Almost half of all security breaches affect small and medium businesses. Read our cybersecurity guide to help you protect your company.
Nextiva also offers basic analytics, but we were disappointed that it's limited to 90 days of data. For more advanced reporting, you'll have to purchase an add-on.
Grasshopper
As a virtual phone service, there are limited features.
Unlimited SMS comes with all plans and MMS with most plans.
You can send automatic texts when you miss a call.
Features like live receptionists and professional greetings cost more.
Grasshopper offers limited features compared to more comprehensive solutions. We like that you get unlimited virtual faxes, unlimited SMS, unlimited MMS for local numbers and basic call reports. One of our favorite features is that you can send a text automatically when you miss a call so clients know they've reached you.
We appreciate that Grasshopper offers a bunch of add-ons to enhance your calling capabilities. For a monthly fee, you can employ live, United States-based receptionists through Ruby. Professional voice actors can record your business greeting. Grasshopper also offers call blasting to decrease wait times and international calling rates. 
Winner: Nextiva
If your company is looking for advanced features to maximize your communications, Nextiva is the way to go. It offers a comprehensive package that allows you to reach customers and coworkers via phone, video or messaging. Its commitment to security and HIPAA compliance makes it an excellent choice for businesses that need serious data protection, such as healthcare providers. But if you only need basic phone services or do a lot of text message marketing, you're better off with Grasshopper.
Customer Service
Nextiva
Customer support is available over phone, chat or email any time of day.
You can access useful articles, videos and webinars in the Support Center.
Nextiva provides excellent 24/7 customer support via phone, chat or email. The app has a help button so you can get the answers you need with a simple click. The online Support Center has easy-to-follow visual articles for using or troubleshooting the platform, plus webinars, videos and useful tips. Nextiva also has a blog focused on making the most of your business.
Grasshopper
You get 24/7 assistance via phone, email, chat, Twitter and Facebook.
Grasshopper's webpage has support articles, a blog and many other resources.
Grasshopper offers around-the-clock support by phone, email, chat, Twitter and Facebook. We found it easy to get in touch with helpful customer service reps. You can find support articles on its website for assistance with setup and use. Grasshopper also offers a blog, a learning academy and a host of resources to help small business owners and entrepreneurs maximize their potential. 
Winner: Tie
We love that Grasshopper and Nextiva offer excellent customer service. From solving issues on your own to talking to an actual person no matter the time of day, both make sure using their platform won't be a challenge. 
Nextiva vs. Grasshopper Recap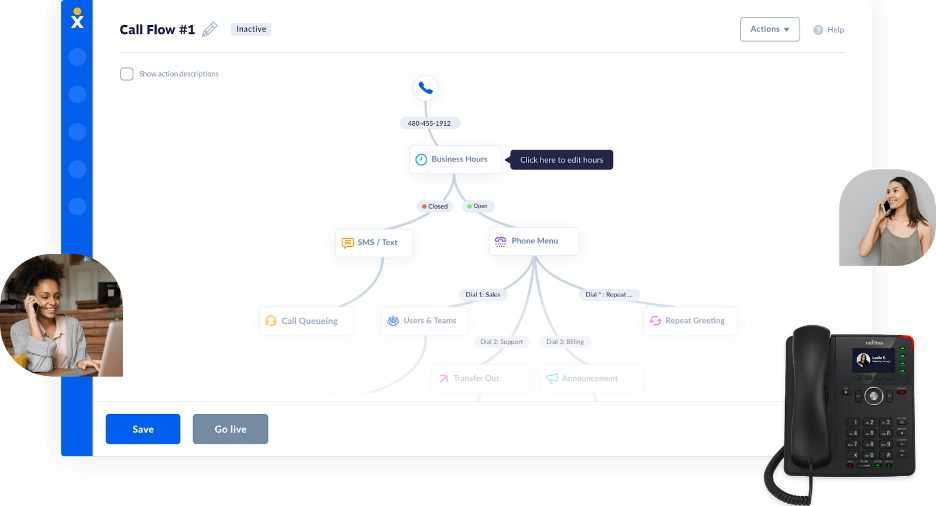 Create complex call flows with a few clicks. Source: Nextiva
Nextiva and Grasshopper offer outstanding phone systems at a great value, but in very different packages.
Choose Nextiva if:
You want to easily build complex call flows and quickly get incoming call insights. 
You need superb security and HIPAA compliance.
You're looking for a comprehensive communications platform that includes video, messaging, collaboration tools and software integrations.
Choose Grasshopper if:
You want to project a professional image with a business number.
You need to route calls to your mobile workforce and deal promptly with missed calls.
You're looking for an affordable solution without paying for unnecessary advanced features.