A price quote is given before any work is started. It details how much a project or job will cost.
An invoice is provided after the work is complete. It lists the final costs and when payment is due.
Both documents are critical to the financial success of your business.
This article is for business owners who want to learn more about the differences between price quotes and invoices.
When running a service business, two key components of your work processes are letting your customers know how much the services they need completed will cost and then billing them for the work when it is completed.
Providing formal price quotes and invoices is a professional way to run your business. They help keep you and your company organized, maintain cash flow and can even assist in generating referrals. While quotes and invoices share some similarities, they serve different roles, so it is important to understand what each one is and when they should be used. 
What is a quote?
A price quote lists how much a project may cost before any work is started. A quote is more than an estimate. A quote is issued after you or a representative of your company has visited the site or spoken with the customer regarding their project needs. It includes accurate pricing for materials, plus labor costs, taxes and applicable discounts.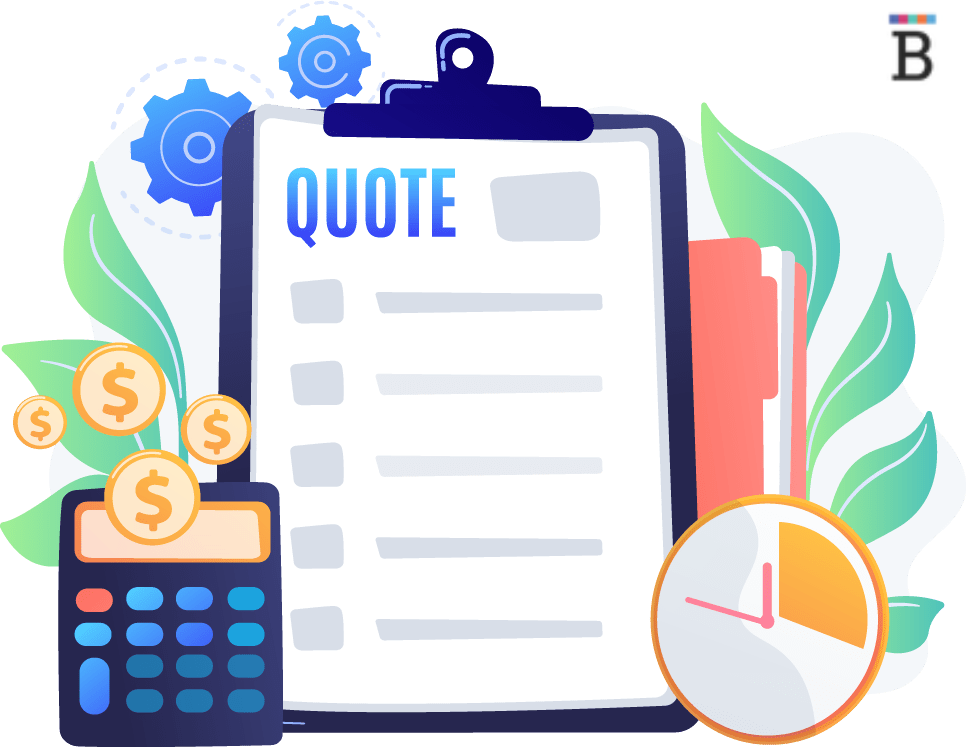 A formal quote, which is always given in writing, should include the following:
Company branding, which can be printed on company letterhead or can include your logo and contact info
A professional greeting, including a note thanking the customer for their time
A line-by-line itemization of products and services requested by the customer
Additional product or service options to inform the customer of relevant offerings your company can provide
A price quote isn't a document you want to rush to complete. Take time to ensure there are no mathematical mistakes, or spelling or grammatical errors. If there are, you and your business look unprofessional.
Before finalizing a quote, follow these rules:
Do not provide the quote if you can't provide the products or services.
Do not undercut your services. A quote and invoice that do not match can lead to disputes, which can lead to nonpayment and a hit to your reputation.
Do not assume. The more detailed the quote, the better.
Product quotes
Service quotes

Before finalizing your quote, check to ensure that you can deliver on:

Product quantities
Logistics
Delivery
Overhead costs

When finalizing a service quote, keep the following in mind:

The cost of similar jobs
How long routine tasks will take so you don't undercut your work
Include extra costs such as product accessories and additional labor
Many customers will get three quotes for larger jobs. You may be inclined to keep costs down, however, the cheapest quote is not always the one that a customer chooses. Focus on your key strengths and exceeding your customer's expectations so your quote will stand out.
Before you start any work, have the customer approve the quote by signing it. Depending on the scope of the work, you may also require a deposit (a portion of the total amount). If a deposit is required, it should be noted on the quote and a receipt should be given for record keeping.
If the scope of the work significantly changes, consider writing a new quote and having the customer approve the changes before you begin. Having the changes in writing can cover your business in case of any discrepancies or disputes.
A price quote lists all of the costs (materials, labor, etc.) involved to complete a project or job for a client. It is issued before any work has started but after speaking with the customer or visiting a job site.
Best practices for providing quotes
Be transparent.
No matter what business you run, customers appreciate it if you are transparent with your pricing. It establishes professionalism and trust between the business and the customer, and it  can be beneficial for referrals.
Stay organized with quote software.
Preparing formal quotes can help you keep track of and segment your leads. When you are responsible for multiple quotes per day, use an official quote form (preferably an electronic quote solution like HouseCall Pro, Jobber, or mHelpDesk) rather than jotting things down on scratch paper.
When it's time to follow up, you will know what day you wrote the quote, the current contact information for the customer and which leads are the most likely to convert to a sale. Plus, using quote software can automate the follow-up process, so you can spend more time following up on new leads and engaging your current customers.
Avoid undercutting yourself.
An electronic quote is helpful for multiple reasons. First, listing all the charges for a customer can prevent you from forgetting necessary charges that could cause conflict later.
Or perhaps the client wants to change their order. Within a few clicks, you can create a custom order for the customer to approve. You can even use the quote to upsell services the customer may be unaware of.
Taking the time to prepare a professional quote helps you stay organized, it can ensure you don't undercut yourself, and it creates an opportunity to potentially upsell to customers.
What is an invoice?
An invoice is sent once the work has been completed. It should list the following:
An invoice or reference number
Company contact info
Customer info
Important dates (issue date, due date, delivery date, etc.)
Transparent line-by-line costs
Sales tax (if applicable)
Any additions or credits
Payment instructions
Late payment terms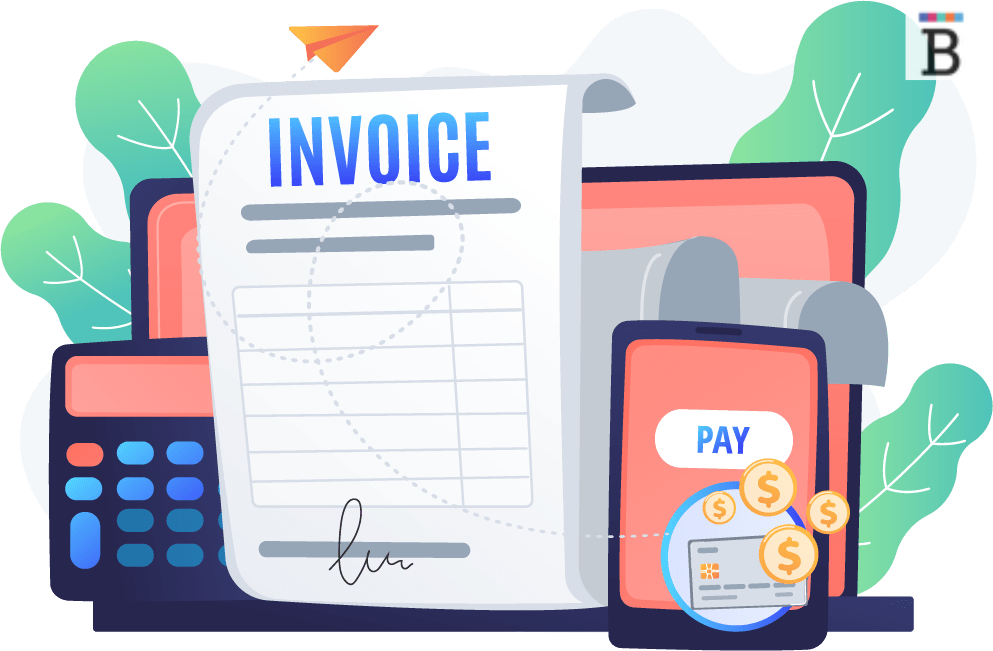 You should send an invoice within 48 hours of completing a job. Quickly providing the customer with an invoice allows them adequate time to pay and dispute any charges they were not expecting.
Customers do not always pay on time; therefore, decide on your late payment policy before you start writing quotes and invoices. If the customer does not pay on time, you can charge a flat late fee or an interest rate. Include your late payment policy on your price quotes and invoices so customers are aware of the penalty if they do not pay on time.
Send an invoice within 48 hours of completing a job. Always include company payment policies (especially your late payment policy), due date(s), company contact information and accepted payment methods on all invoices.
Best practices for creating invoices
Make it seamless.
When you send an invoice, it should be instantly recognizable to the customer so they know that it is from your business and what it's for. Invoice software like QuickBooks and Xero can help you integrate your branding into your invoices.
The invoice should be easy to read and contain sufficient white space. The more well organized your invoices are for customers to read and understand, the more likely you are to get paid on time.
Stay professional with customers who are difficult.
Not every customer is going to be your favorite, but that can't affect how you treat them. If a customer refuses to pay or confronts you with a discrepancy, remain calm and approach the situation with a problem-solving mindset. Start a conversation, and mediate the process so you can get paid. Legal action should be a last resort.
Maintain a close eye on your cash flow.
When you send an invoice directly after a job or order has been completed, map out your cash flow. Taking the time to invoice daily can prevent you from getting behind and help you get paid more quickly. It can also ensure you have extra cash on hand for any unexpected expenses that can crop up, while also helping you keep to your monthly budget.
Create a paper trail.
When a customer doesn't pay, a well-written, professional invoice and follow-ups can serve as a paper trail. To ensure a customer treats your invoice seriously, it must include payment totals, due date(s), accepted payment methods, cancellations, warranties and interest/late fees.
Electronic invoices are superior in this instance, as it's easier to prove a customer has received it by text or email as opposed to a paper invoice in the mail.
Offer multiple payment methods.
When sending a professional invoice, consider offering multiple payment options for customers. While cash is great for some jobs, not everyone can pay by cash or check.
Credit and debit card payments are convenient for growing businesses. Plus, offering online payment options like PayPal, Venmo and Zelle are quick, trackable ways to get paid electronically. Most of these services charge fees. [Decide whether your business will pay these fees or account for the cost of these fees on the invoice.
Include a thank-you note.
Customers can never hear thank you enough. Larger businesses may find a standard greeting works best such as "Thank you for your business." Smaller businesses can include a personalized note that applies to the specific product or service.
Plus, once your customer receives the thank you note, they have confirmation that their payment has gone through, and they might even refer you to friends and family.
Can you use a quote as an invoice?
No, a quote should be sent before any work begins. Quotes need to be accurate but can increase or decrease based on changes to the scope of the job or any customer requests as work is ongoing.
Once the work is complete, an invoice should be issued to the customer to collect the final payment. The amount on the invoice should match the total on the price quote. However, if there were any changes to the quote, including customer changes or a pricing error on your part, these discrepancies should be discussed with the client before the invoice is sent.