When running a business, two vital components help ensure your financial well-being: quotes and invoices. Price quotes let customers know how much your products or services will cost, and invoices serve as final bills once you've completed the job, project or product delivery.
Formal price quotes and invoices ensure professionalism and are critical to your business's financial success. They help your business stay organized, maintain cash flow and even generate referrals. While quotes and invoices share some similarities, they serve very different roles. We'll outline everything you need to know about issuing price quotes and invoices for your business.  
What is a quote?
A price quote lists project or product costs; it happens before you start work or deliver goods. A quote is more precise than an estimate. You'll issue a quote after you or a company representative visits a work site or speaks with the customer about their needs. Quotes include accurate pricing for materials, labor costs, taxes and applicable discounts.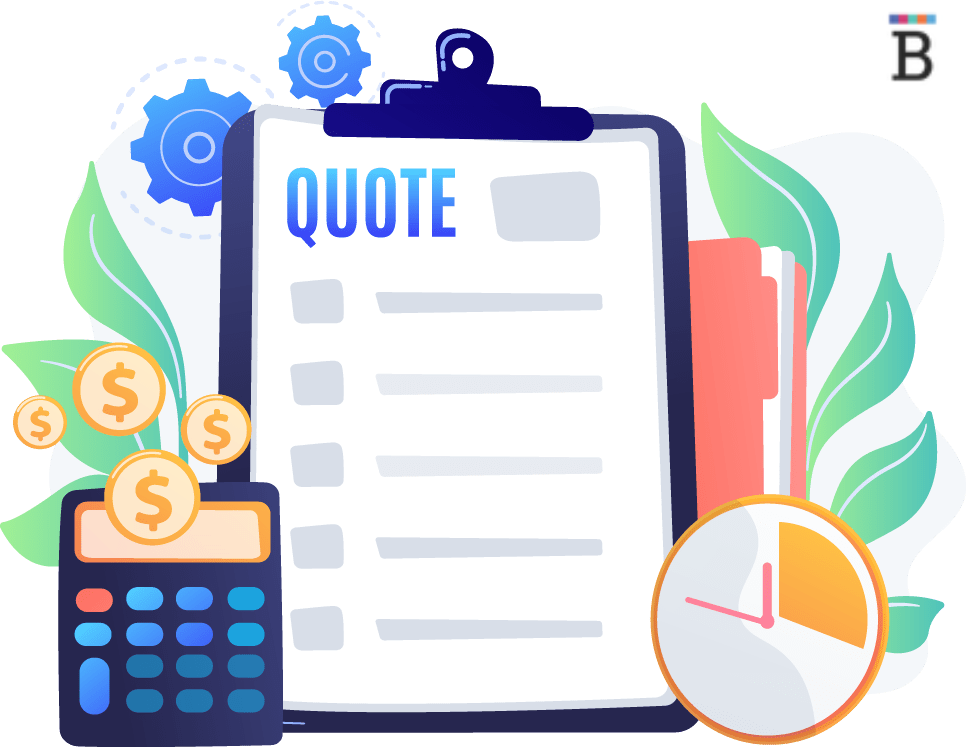 A formal quote is always given in writing. It should include the following:
Consistent company branding: Your visual brand should be prominent on your quote. You can print your quote on company letterhead or add your logo and contact info to an accounting software template.
Professional greeting: Your price quote should include a professional greeting that thanks the potential customer for their time.
Itemized pricing: Your price quote should include a line-by-line itemization of the customer's requested products and services.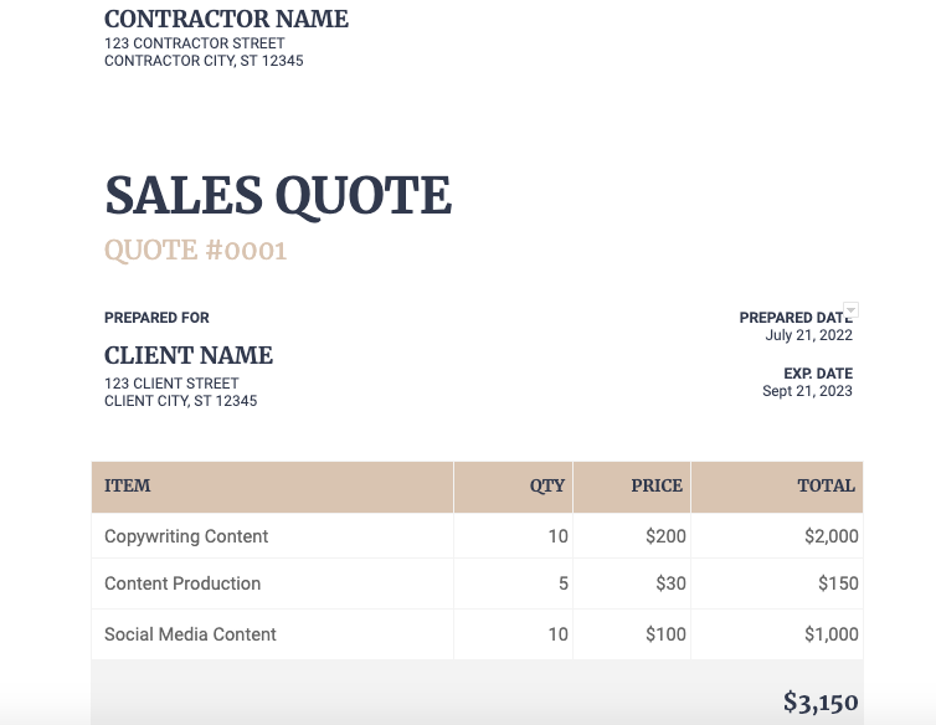 Best practices for providing quotes
Consider the following best practices when creating and submitting quotes: 
Use software to prepare quotes. The best accounting software and specific quote software can help you prepare quotes quickly and accurately. Software tools provide an accurate record of your quote so you know what it entailed, when it was written and when you submitted it. It automates the follow-up process so you can spend more time generating new leads and engaging current customers. Additionally, software solutions make it easy to adjust or amend the quote according to the client's wishes. 
Don't rush your price quote. Take your time and ensure your quote is free of mathematical, spelling and grammatical errors. A mistake-riddled quote makes you look unprofessional.
Be transparent on your quote. Customers value transparent pricing. Transparency establishes professionalism and trust and can build customer loyalty. It can even help generate business referrals. 
Add suggestions and additional options. Share additional product or service options on your quote that the customer may find valuable. Quotes can be an excellent upselling and cross-selling tool.
Avoid undercutting yourself on your quote. It's crucial that you don't forget necessary charges that could cause conflict with the customer later. Again, software tools can help automate the process and keep you from undercutting yourself. A quote and invoice that don't match can lead to disputes and nonpayment – and a hit to your reputation.
Don't try to be the cheapest quote. Many customers get three quotes for larger jobs. While you want to keep costs down and win the job, the customer isn't always after the lowest prices. Focus on your strengths and exceed your customer's expectations so your quote will stand out.
Don't begin work until the client approves the quote. Before you start work, have the customer approve and sign the quote. Depending on the work's scope, you may also require a deposit (a portion of the total amount). If a deposit is required, it should be noted on the quote, and a receipt should be given for bookkeeping
Write a new quote if necessary. If the scope of the work significantly changes at some point, consider writing a new quote and having the customer approve the changes before you begin. Having the changes in writing can cover your business in case of discrepancies or disputes.
Make your quote as detailed as possible. Your quote should include all expected charges, no matter how minor. You want to avoid surprising the customer on the invoice when the job is finished.
Don't quote a job you can't do. If you can't provide the expected goods or services, don't submit a quote. Don't waste your time and your client's time. It's not worth the potential hit to your reputation.
Product quotes vs. service quotes
Your quote will differ depending on whether you provide products or services. 
Product quotes: Product quotes should include product quantities, logistics, delivery information and overhead costs. 
Service quotes: Service quotes should take into account how much similar jobs have cost in the past. Additionally, consider how long routine tasks will take so you don't undercut your work. Be sure to include direct and indirect costs, such as labor and product accessories. 
What is an invoice?
An invoice is a bill that outlines the costs your client incurred. You create an invoice and send it after completing the work. Invoices should list the following:
An invoice or reference number
Company contact info
Customer information
Important dates (issue date, due date, delivery date, etc.)
Transparent line-by-line costs
Sales tax (if applicable)
Any additions or credits
Payment instructions
Late-payment terms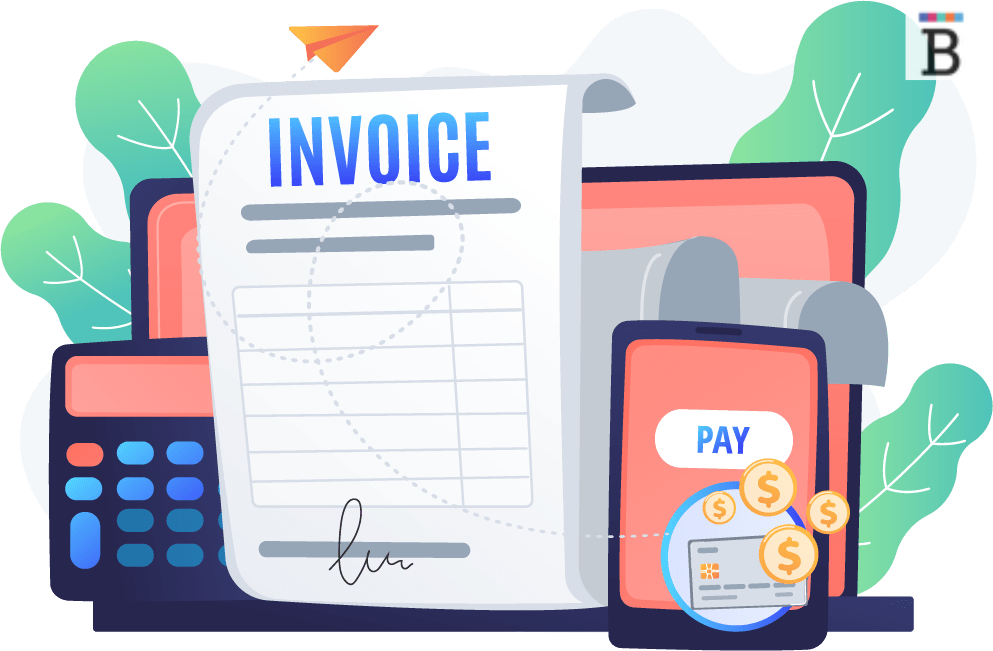 During the B2B billing process, it's important to emphasize the agreed-upon payment terms, such as net 30 or net 60, and specify how you want the payment delivered.
Best practices for creating invoices
To ensure a customer treats your invoice seriously, it must include payment totals, due dates, accepted payment methods, cancellations, warranties, and information about interest and late fees.
Consider the following best practices for creating and submitting invoices: 
Use software tools to create your invoices. Like quotes, software tools make invoice creation quick and easy. Use accounting software or the best invoicing apps to make your company's invoicing process less time-consuming and more accurate.
Include your branding on invoices. Include your logo and branding on your invoices. Customers should be able to instantly recognize your invoice and know what it's for. Read our review of QuickBooks Online and our FreshBooks review to learn how these tools automatically integrate your branding into your invoices.
Ensure your invoice is easy to read. The invoice should be easy to read and contain sufficient white space. The more well organized your invoices are, the more likely it is you will get paid on time.
Send invoices promptly. You should send an invoice within 48 hours of completing a job. Quickly providing the customer with an invoice allows them adequate time to pay and dispute charges they weren't expecting.
Watch your cash flow during the invoicing process. Consider your cash flow situation during the invoicing process. Frequent invoicing can prevent you from getting behind and help you get paid more quickly. It can also ensure you have extra cash on hand for unexpected expenses while sticking to your business budget.
Offer multiple payment methods on your invoice. If possible, offer multiple payment options on your invoice to help you get paid faster. Not every client can pay by cash or check. If you accept credit cards, spell that out on the invoice. PayPal, Venmo and Zelle are also quick, convenient and trackable ways to get paid electronically. However, note that many of these services charge fees. Decide whether your business will pay these fees or account for their costs on the invoice.
Include a thank-you note with invoice payment receipts. Your invoice should include a note thanking customers for their business. However, you should also send a payment receipt that includes a thank-you note. Thanking your customers for their payment is good business that generates goodwill and demonstrates your sincere appreciation. Plus, when they receive a thank-you email, text or note, they'll know their payment has been received. 
Include your late-payment policy on the invoice. Customers don't always pay on time, so spelling out your late-payment policy on your invoice is crucial. You can charge a flat late fee or an interest rate. Decide on your policy ahead of time, and include it on your quote as well.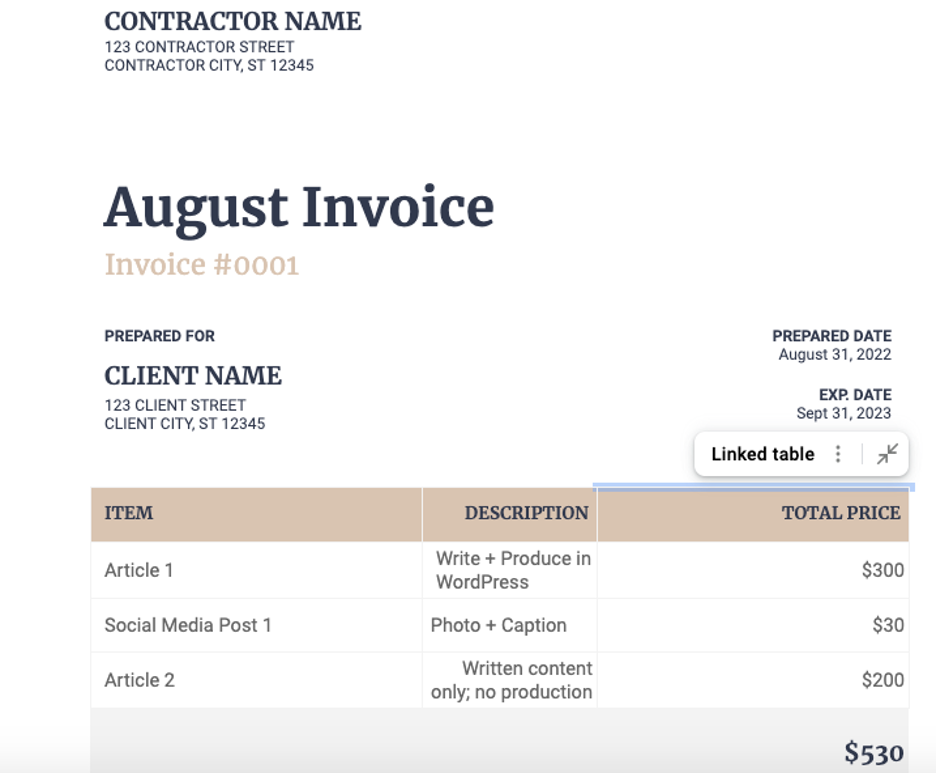 What if a customer doesn't pay? 
Even if you do everything right, you may experience nonpaying customers. If a customer refuses to pay or confronts you with a discrepancy, stay calm and approach the situation with a problem-solving mindset. Start a conversation and mediate the process so you can get paid. Sending someone to collections should be a last resort.
Your well-written, professional invoice and follow-up notices – including debt collection letters – will serve as a paper trail of their nonpayment if you are forced to take legal action. 
If cash flow is tight and customers are refusing to pay their bills, consider using an invoice factoring service. These companies can help you get the money you need while you're waiting.
Quote and invoice FAQ
Can you use a quote as an invoice?
No. A quote should be sent before work begins. Quotes must be accurate but can increase or decrease based on changes to the job's scope or customer requests.
Once the work is complete, an invoice should be issued to the customer to collect the final payment. The amount on the invoice should match the total on the price quote. However, if there were any changes to the quote, including customer changes or a pricing error on your part, these discrepancies should be discussed with the client before the invoice is sent.
What are the legal requirements for quotes and invoices? 
There aren't necessarily any legal requirements for quotes. Quotes should accurately inform a customer or client of a product's or service's projected price. However, if you send a written quote and the client accepts it and signs it, they will be legally bound to the agreement. 
Regarding invoices, you're legally required to include the buyer's and seller's full names and addresses, the order or invoice number, invoice date, company tax ID, registration numbers, details of deliverables and associated costs, and the total amount due. 
What are the best practices for managing quotes and invoices?
When managing quotes and invoices, it helps to follow templates, require acceptance signatures for quotes and send invoices promptly to ensure on-time payments. The more detailed you are, the fewer issues you'll face when getting paid.
Additionally, many business owners automate the process using software tools for their quotes and invoices. Software solutions help you create, send, and track quotes and invoices efficiently so you can handle jobs and receive payments promptly. 
Are there different types of quotes and invoices? 
There are two primary types of business quotes: 
Estimated quotes: Estimated quotes involve the total projected cost for a specific labor or service.
Detailed breakdowns: Detailed breakdowns specify individual items and deliverables and their associated costs.
Various invoice types exist, from standard sales to recurring invoices. However, most business owners use three primary invoice types:
Pro forma invoices: A pro forma invoice is essentially a pre-invoice. It operates similarly to a quote by detailing projected costs.
Interim invoices: Interim invoices break down the costs of different labors and services as they're completed. You can send out multiple interim invoices throughout the process.
Final invoices: Final invoices are the standard invoice format. They include the total cost of your work at the end of a project or completion of a service. 
Quotes and invoices help maintain your financial health
Quotes and invoices are different (and crucial) documents that outline a project or product's projected and total costs. Quotes provide detailed expected cost breakdowns. They're delivered to customers and must be approved before a project starts. Clients should sign the quote to ensure the document becomes legally binding.
When the job is done, you create an invoice detailing the final costs of each product or service you provided. It's best to send the final invoice to your client promptly so they can process it and start the payment process. 
Sammi Caramela contributed to this article.