Time Doctor Review
Time Doctor takes about 10 minutes to set up, enabling administrators monitor time, attendance, breaks, web, and application usage almost immediately.
The cloud-based software works best for users that don't need geotracking or built-in scheduling tools.
Time Doctor integrates with over 60 third-party applications, including payroll and product management software.
This review is for small business owners and managers who want a time and attendance system with productivity features.
Employee productivity improvements can increase a company's profitability while reducing labor expenses. They also help staff achieve a better work-life balance. Time Doctor is the best time and attendance system for optimizing processes and decreasing distractions, thanks to its individual and administrative activity reporting features, as well as its ability to track logins, breaks, and time sheets. Time Doctor helps to keep employees focused, helps leaders allocate time and streamlines payroll processes.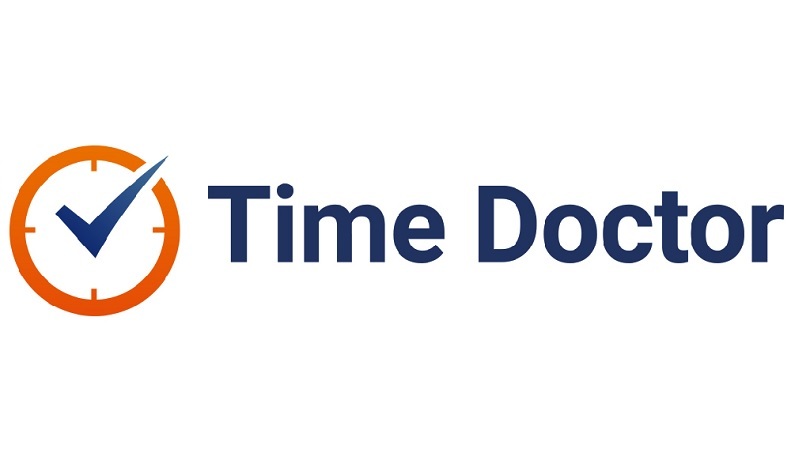 Time Doctor
The Verdict
Time Doctor is a system that satisfies the time and attendance needs of individuals and teams whether they are working on a PC, laptop or mobile device.
Time Doctor Editor's Score: 89/100
| | |
| --- | --- |
| Cost | 90/100 |
| Features | 85/100 |
| Integrations | 89/100 |
| Usability | 88/100 |
| Customer Service | 91/100 |
Why Time Doctor Is Best for Employee Productivity
It can be easy to get distracted while working at a computer, and the increase in remote work has many managers concerned about time accountability. Time Doctor empowers staff to manage their time more effectively through distraction alerts and daily activity metrics. It also provides detailed insights for supervisors, including productivity reports that can help them acknowledge top performers and coach underperformers.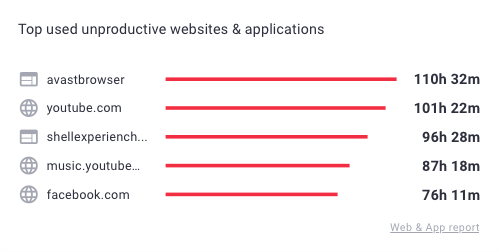 Learn how employees spend their time when they're on the clock. Source: Time Doctor
We liked that many tracking features, like screenshots and keyboard activity, can be turned on and off, making Time Doctor a good solution for companies looking to spot-check productivity without impinging upon employee privacy. It works especially well for small agencies and technology providers who need data to improve their time estimations for projects or want to provide clients with accurate billable hours. In addition, Time Doctor automates time sheets, allowing administrators to export them to an integrated payroll service or software.
Encourage buy-in from your team by pointing out features that enhance individual performance and improve work-life balance while offering incentives for employee or company-wide productivity improvements.
Pros
Time Doctor offers workday insights to help small teams improve workflows.
It continues tracking time, even if employees lose their internet connection.
Optional keyboard and mouse tracking shows if workers are inactive during work hours.
Cons
Time Doctor doesn't have a shared time clock option.
It lacks GPS tools and other features for mobile workforces.
Usability
Time Doctor isn't complicated to use but does require staff to adjust habits when using the interactive version. We liked that it has a guided on-screen setup process and works on Windows, Mac, Linux, Android, iOS and Chrome operating systems. Time Doctor stays on in the background as an interactive or silent app depending on your preferences.
The interactive application alerts employees who appear distracted and recommends that they stop tracking time when visiting non-work-related sites. In contrast, the silent app doesn't have a user interface for employees. Instead, it monitors employee activity during company-wide working hours. Both options provide workday insights to administrators.
Time Doctor goes beyond time sheets with its Work-life Balance Widget. It helps managers spot workers at high risk for burnout while saving time with automated email reports and notifications. You can also benchmark time using idle time records and activity summaries. Time Doctor has more than 60 integrations with the best CRM software, payroll providers and help desk tools.
Time Doctor Features
Time Doctor offers the key features we looked for in the best time and attendance software, as well as some advanced tools that serve to boost productivity organization-wide. Here's a look at the ones we liked the most.
| | |
| --- | --- |
| Time tracking | Get accurate time sheets with automatic clock-ins or reminders and alerts when employees miss a shift. |
| Individual time management | Improve your own performance by learning which apps or websites distract you and how you spend your time. |
| Productivity dashboard and reports | Explore individual and team productivity to understand how staff behavior impacts project progress and profitability. |
| Integrations | Make it easy for employees to use Time Doctor with Chrome extensions for timer access in their most-used applications. |
| Employee monitoring | Configure settings to track idle time and activity while workers are on the clock. |
Time Tracking
While most time and attendance tools require employees to log in and out, workers can configure Time Doctor to begin tracking when they start using their computers. Alternatively, staff can receive a reminder to clock in at a certain time. From there, Time Doctor will monitor time worked, and employees can categorize work activities by task or project. Workers using the interactive program can take paid breaks, but Time Doctor doesn't track unpaid breaks. If a user pauses tracking without selecting a paid break, a gap appears in the timeline.
Unlike Clockify and TimeClock Plus, Time Doctor doesn't have built-in scheduling tools. But you can import your schedules via a CSV file and use them to monitor time, attendance and absenteeism. If you need scheduling features as part of your time and attendance system, consider our Clockify review or TimeClock Plus review.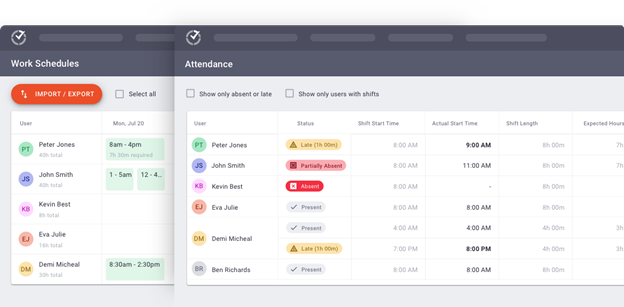 Automatically compare attendance to work schedules to monitor time reporting. Source: Time Doctor
Individual Time Management
The best employee tracking apps empower employees to better manage their time. However, most time and attendance tools we reviewed didn't track activity. Others, like Clockify, only monitor basic details and lack the in-depth insights Time Doctor offers. We were impressed with how Time Doctor helps workers understand their habits by offering tips for improving productivity.
The user interface shows permanent, current, next, future and completed tasks, whereas the dashboard highlights the top activities, most-used apps and a time sheet summary. Along with the dashboard, users can receive weekly reports detailing the applications and websites they use. Time Doctor also displays the time spent in calls and meetings, including who else is on the calls. It shows a pop-up during idle periods encouraging users to return to work or eliminate workplace distractions.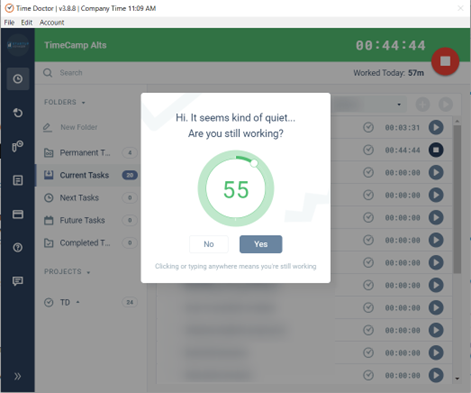 Employees receive on-screen alerts if they're inactive. Source: Time Doctor
Productivity Dashboard and Reports
Few time and attendance platforms drill down into the granular details of employee and team productivity. Time Doctor is unique in that it tracks how workers spend their time, allowing administrators to analyze behavior patterns. Employee and manager dashboards highlight top data points, while customizable reports let managers track and analyze time spent on projects, clients and tasks.
We like how the Activity Summary report breaks down each user's active minutes and unproductive hours. Other reports show logged billable hours and time spent on client projects or tasks. We especially liked how Time Doctor's Timeline report gives a chronological view of tasks and breaks.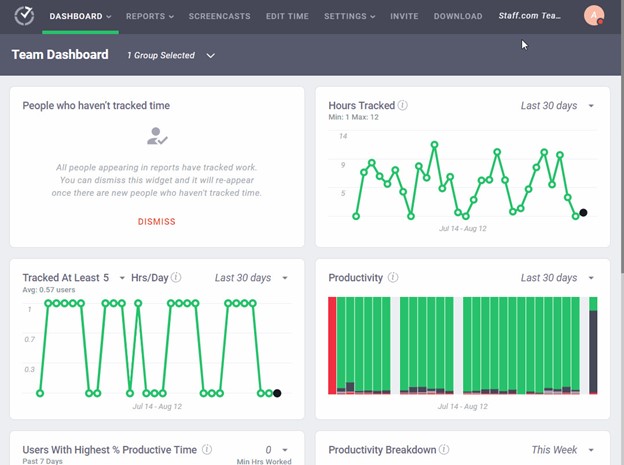 Get a snapshot of productivity levels for teams and individuals. Source: Time Doctor
Integrations
Similar to Clockify, Time Doctor integrates with various third-party tools via Chrome extensions. The extensions put a button into the apps where users can start or stop tracking time without leaving the program. It connects to fewer tools than TimeClock Plus but far more than QuickBooks Time. However, the payroll integrations are minimal. Time Doctor provides a compatible CSV file for ADP, Gusto, Wise and others. Unfortunately, it lacks automated or bi-directional syncing.

Time Doctor integrations insert a "Start Timer" button into connected apps, like Jiro. Source: Time Doctor
Employee Monitoring
While other time and attendance software like When I Work verify identity only during logins, Time Doctor stays active throughout the day. It has several optional and customizable features for tracking employee activity. For instance, you can configure screenshots for every three, 15 or 30 minutes or get video screen captures for Premium users. The settings can vary by team member and help managers identify training opportunities or workflow adjustments.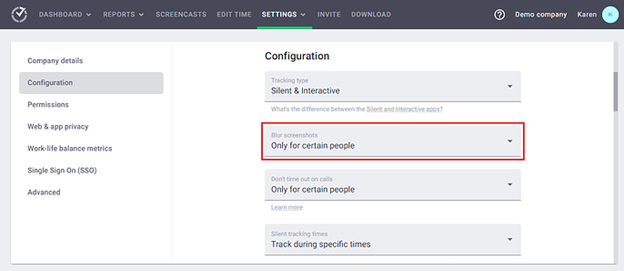 Configure settings to monitor employee activity throughout the day or during specific times. Source: Time Doctor
Administrators can also receive automatic, trigger-based email notifications. There are over nine performance-related options, including work-life balance, time editing and attendance. However, Time Doctor doesn't save keystrokes or mouse clicks. It isn't a keylogging tool.
Time Doctor Cost
Time Doctor has three plans and offers a 14-day free trial with no credit card required. Time Doctor is more expensive than other time and attendance systems, including Buddy Punch and OnTheClock. Users who pay annually receive two free months of service, which brings the cost down. However, Time Doctor is the only platform we reviewed offering a significant number of employee productivity features.
The least expensive plan tracks time and activities but lacks integrations. Depending on the size of your business, the mid-tier package may be a better fit because it integrates with customer relationship management software, payroll and communications tools. The highest tier provides the most visibility into productivity with its unlimited groups. This feature lets you create groups for each project or client, giving granular insights about productivity on a particular project, task or job.
Time Doctor service plans include:
Basic: The Basic package costs $7 per user per month or $70 per user with annual billing. It offers time and activity tracking, unlimited screenshots and task and project management. Users can create one group or department, and Time Doctor stores data for one month.
Standard: The Standard version is $10 per user, per month, or $100 per user with yearly prepayment. It includes everything from the Basic plan, plus app and URL tracking, integrations, email alerts and payroll options. Users can have three groups or departments, and Time Doctor stores data for six months.
Premium: A Premium subscription costs $20 per user per month or $200 per user with annual billing. It has all Standard plan features and adds VIP support, video screen capture and an internet connectivity report. Users can create an unlimited number of groups or departments and store data indefinitely.
Time Doctor Setup
Unlike more complex time and attendance systems, Time Doctor only takes about 10 minutes for an administrator to set up and around three to five minutes for employee configuration. You can start a free trial of the Basic, Standard or Premium plans, and after it's up, you can enter payment details to continue with the service.
Time Doctor provides free onboarding support for companies with 20 or more users.
We liked that Time Doctor provides on-screen prompts for account setup, making the process as easy as following a few simple directions. This includes creating projects and tasks or importing customer data. You can also define productive and unproductive websites and applications. Once complete, send email invites to your team. Employees click on the link to verify their email addresses and create passwords. Depending on your company policies, your staff may need to verify permissions. Time Doctor provides on-screen prompts and a PDF onboarding manual.
Time Doctor Customer Service
Time Doctor supplies a searchable knowledge base with in-depth how-to guides, video tutorials and FAQs. Many help articles include GIFs that walk you through each step. Time Doctor doesn't offer a community forum or phone support, which isn't uncommon among time and attendance providers. But Time Doctor customers do get unlimited email, chat and help ticket assistance 24/7, which is better than When I Work or QuickBooks Time, which have more limited hours. Plus, users can chat inside the Time Doctor dashboard or via a web browser.
Although Time Doctor doesn't offer phone support, you can open a chat conversation and provide your contact details and preferred callback time. A Time Doctor product specialist will call you back.
Time Doctor Drawbacks
Time Doctor is excellent for monitoring employees and tracking how they spend their time. But it isn't a complete scheduling tool that tracks paid time off (PTO) or allows shift swapping. Nor does Time Doctor offer geofencing capabilities. You can't confirm where your staff is located or track mileage. For cases like these, consider our QuickBooks Time review for mobile workforces and our When I Work review for on-site teams.
Additionally, Time Doctor lacks phone support, something that most other time and attendance vendors in our review offered. If you prefer to be able to contact a support representative by phone, Time Doctor may not be the best choice for you.
Methodology
To find the top time and attendance apps, we researched and tested more than a dozen platforms. We considered features, integrations, pricing, usability, and customer support. In addition, we looked at how each tool functioned in different workplaces, from fully remote to hybrid configurations. When evaluating features for productivity, we specifically looked at employee and manager reporting features that help improve performance.
Time Doctor FAQ
Does Time Doctor need access to a computer's camera?
Screenshots and recordings are optional Time Doctor features that require access to employees' cameras. If these options aren't used, then a camera isn't needed.
Can Time Doctor provide employee location data?
No, Time Doctor doesn't have GPS capabilities or share location information with employers. But, administrators can require intermittent screenshots or screen recordings, which may disclose your location.
Does Time Doctor have project management tools?
Time Doctor has limited project management features that allow administrators to set up clients, projects, and tasks. However, it doesn't support in-app communication, and in most cases, you'll want to use a dedicated project management platform.
Overall Value
We recommend Time Doctor for …
Employers wanting to understand employee workflows and behavior.
Individuals or small teams looking to increase productivity.
Staff that uses desktop computers or mobile phones for most of their work.
We don't recommend Time Doctor for …
Organizations wanting built-in scheduling and PTO management.
Companies that need to track field worker locations.
Businesses that prefer phone-based customer support.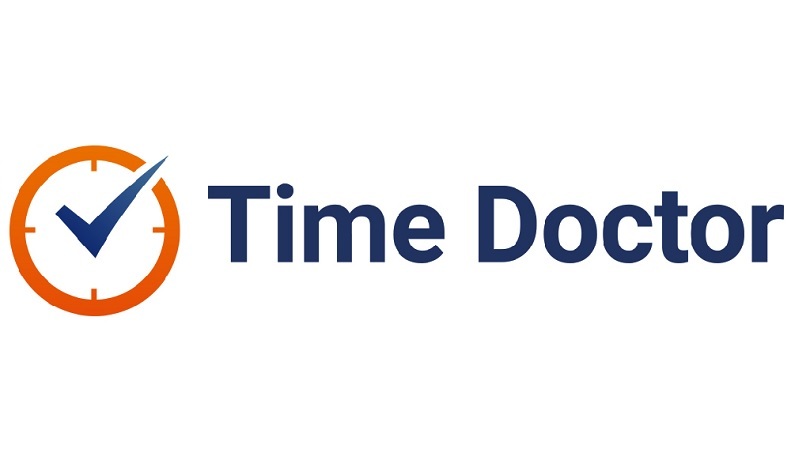 Time Doctor
The Verdict
Time Doctor is a system that satisfies the time and attendance needs of individuals and teams whether they are working on a PC, laptop or mobile device.

Jessica Elliott
Contributing Writer
Jessica is a technology writer specializing in business communications, marketing and customer management tools. She analyzes software and breaks-down complex subjects, helping leaders make strategic decisions.