TCP by TimeClock Plus is our choice as the best time and attendance system for businesses that are ready to scale up because of its flexibility. It offers multiple time clock options, as well as various services plans and add-ons.
Pros
TimeClock Plus automates time collection and paid time off (PTO) tracking.
Job-costing tools help leaders understand project revenue and expenses.
TCP offers hundreds of integrations with enterprise software and apps.
Cons
Mobile apps aren't included in the Essentials or Professional packages.
TCP doesn't offer price transparency; all subscriptions require a custom quote.
TimeClock Plus offers several time clock options, including web browsers, mobile clock apps, touchless badge readers and biometric clocks.
TCP has three plans and several add-ons, with pricing available via a custom quote.
TCP integrates with hundreds of enterprise resource planning (ERP), human capital management (HCM) and payroll tools.
This review is for business owners, C-suite executives and HR professionals who are considering TimeClock Plus for their time and attendance system.
As a business grows, leaders need software solutions that expand to meet new needs while boosting efficiency. And increasingly, they want cloud-based platforms to replace on-premises ones. TimeClock Plus (TCP) offers a competitively priced entry-level plan with time and attendance tools designed for midsize and large enterprises. It scales to a full-featured time, attendance, reporting and scheduling system, providing visibility into workforce costs and policies.
TCP also has add-ons available at each tier, allowing organizations to select the necessary tools without upgrading their service plan. Its flexible software and hardware options make TCP our top choice for scaling businesses that want to implement one of the best time and attendance software platforms.
TimeClock Plus Editor's Rating:
9.4 / 10
Cost

9/10

Features

9.8/10

Integrations

9.9/10

Usability

9/10

Customer service

9.2/10
Why TimeClock Plus Is Best for Scaling Businesses
As a company grows, it often has to switch software providers to improve workplace and operational efficiency. TimeClock Plus scales with an organization, offering basic plans, add-ons and advanced subscriptions that can meet the needs of businesses of all sizes. TCP's highest tier increases workforce visibility substantially, which we found useful for businesses with multiple locations. It also supports multilingual needs, which is ideal for companies expanding across international borders.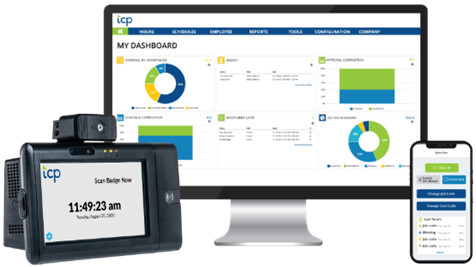 Expand your time management capabilities with built-in reporting tools, hardware and device-specific applications. Source: TimeClock Plus
TCP has multiple punch-in and time-tracking options, including a web browser, a mobile app and biometric time clocks. TCP also offers thermal sensors, which can help confirm that your staff isn't sick when they clock in. That's a feature we didn't encounter in our review of other time and attendance software.
TCP's cloud-based solution is less expensive and easier to install than its on-premises version.
Usability
One aspect many large and growing businesses look for in a time and attendance system is the versatility to handle all of their timekeeping needs, especially as their teams evolve. TCP offers a comprehensive platform that tracks when employees come and go, generates schedules and manages paid time off, all of which can greatly simplify the timekeeping process.
The customizable, cloud-based software is relatively easy for employees to use, letting them clock in and out through a terminal or personal computer. However, we found the mobile applications to be less user-friendly (and more expensive) than competing apps. Companies with mobile workforces may prefer more intuitive smartphone solutions, like those evaluated in our QuickBooks Time review.
From an administrator's perspective, TimeClock Plus does have a learning curve. But, in most cases, this is due to the vast number of configurable features and tools. Once you incorporate TCP into your time, attendance and scheduling process, you can automate a wide range of functions, thereby saving time and cutting down on manual administrative work. It also offers the most integrations of any time and attendance system we reviewed and works with every major payroll provider.
TimeClock Plus Features
TimeClock Plus has comprehensive features and add-on capabilities. Here are some of the features that we liked the most:
| | |
| --- | --- |
| Time tracking | Automate employee time collection with time sheet tools, geofencing and overtime management settings. |
| Hardware | Choose time clock options that work best for your team, such as analog or digital versions. |
| PTO management | Handle simple and complex PTO with leave-management features. |
| Employee scheduling | Create and track staff schedules with shift planning and substitute management tools. |
| Reports and dashboards | Catch time sheet errors and use data to improve time tracking and scheduling. |
Time Tracking
As your business grows, it becomes more challenging to track employee hours across locations, salaried and hourly roles, and shifts. While most time and attendance tools assist with time management, we appreciate TCP's level of automation and oversight. Supervisors can set exceptions for individual team members related to overtime and missed breaks. The software also provides overtime management settings, including weighted overtime configurations, overtime thresholds and comp time settings.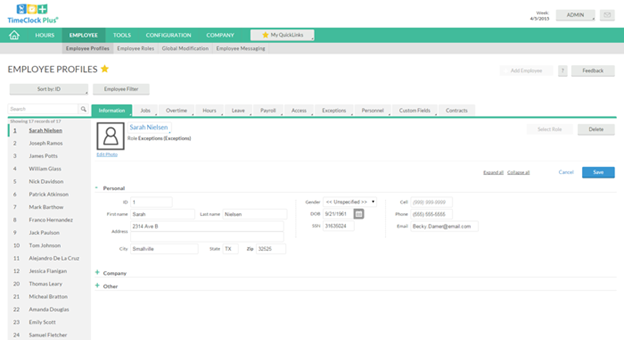 Managers and supervisors can use advanced tools to view an employee's status, edit logins or transfer payroll data. Source: TimeClock Plus
TCP has time-tracking capabilities for employees who work from home, in the field or at the office. With the TCP mobile app, administrators can establish geofences to record where an employee clocks in or out. When I Work offers a similar tool but doesn't have the advanced job code management and job-costing features of TimeClock Plus.
Hardware
While many TCP competitors offer mobile and web-based time clocks, we found that few provide dedicated hardware options. TimeClock Plus has several terminals that support how your staff clocks in and out, including PIN entry, touchless badge readers, and facial or fingerprint scanners. Although it lacks the photo option that When I Work provides, companies can use the biometric time clocks to scan fingerprints or faces to confirm employees' identities.
If you want to prevent buddy punching, consider our When I Work review for a time and attendance software platform that supports a photo clock-in/clock-out feature.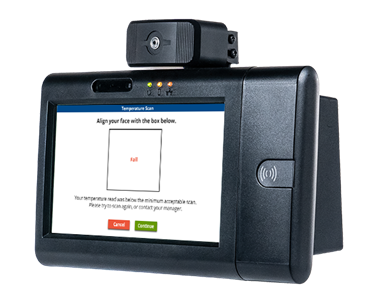 TCP's thermal sensor helps your business enhance safety while complying with HIPAA and the Americans with Disabilities Act. Source: TimeClock Plus
In addition, TimeClock Plus offers a unique thermal sensor. It verifies employee temperatures before letting them log in and denies entry if they have a fever. You can use the data to track seasonal trends and anomalies. With the ability to mix and match hardware, it is possible to use, for example, badge readers on a factory floor, facial recognition tools in labs and mobile devices for remote staff.
TimeClock Plus lets you manage security levels at different locations by selecting hardware that finds a middle ground between convenience and safety.
PTO Management
Not all time and attendance services offer leave management, but TimeClock Plus provides tools for tracking vacation and sick-time accruals. It also supports long-term requests, including those related to the Family and Medical Leave Act (FMLA). Employees can request time off online by selecting the date from a calendar, choosing a reason (leave code) and adding an optional description. Managers also complete leave-management processes online, which makes requests easier to track.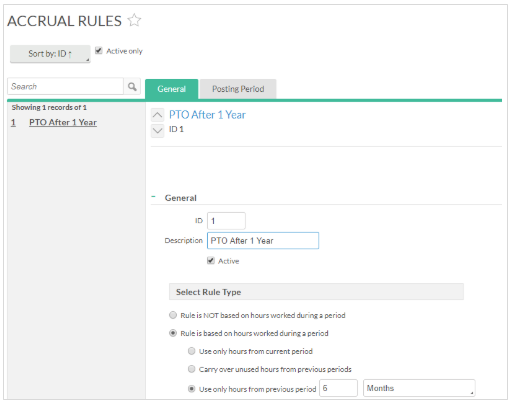 Configure advanced rules for PTO accrual using TimeClock Plus. Source: TimeClock Plus
Employee Scheduling
Some time and attendance tools support employee scheduling but lack complex scheduling capabilities. With TimeClock Plus, employers can set qualification requirements, allow employees to trade shifts, get coverage assurance and comply with collective bargaining agreements. However, shift-planning features that let workers swap and drop shifts (substitution management) are available only as an add-on to the Professional and Enterprise plans. Most competitors also include some version of this tool in their mid- or upper-tier subscriptions.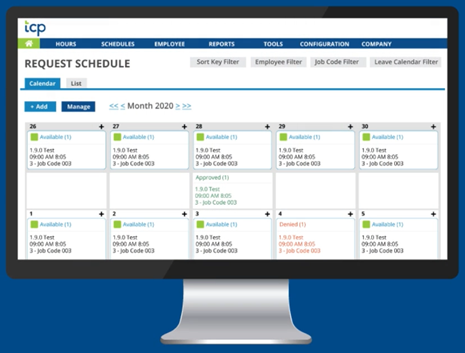 TimeClock Plus allows you to see schedules in a list or calendar view and filter the results by employee or job code. Source: TimeClock Plus
The shift differentials function sets TimeClock Plus apart from competitors. It lets administrators schedule shifts and account for pay differences among shifts. This is a good solution for companies that offer higher pay for third-shift or weekend work.
Reports and Dashboards
Larger organizations require data for informed decision-making. While most time-tracking tools offer basic reports, TimeClock Plus provides sophisticated analytics and reporting solutions. Predefined reports include an in-depth payroll statement with hours and labor costs for each job code and an exception report that tracks more than 30 anomalies. TCP also supports customized reports, allowing users to build them with specific workforce parameters.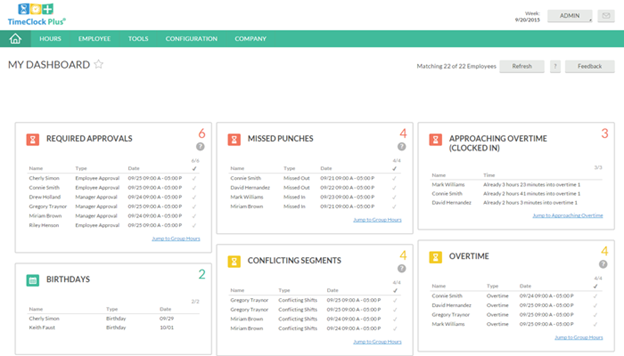 Personalize your dashboard by selecting widgets for time-off requests and overtime alerts. Source: TimeClock Plus
We especially liked that managers at each location can create custom dashboards showing the metrics that matter most. While your HR staff may want birthdays and anniversaries on the screen, your frontline supervisor may prefer to see immediate staffing concerns, like missed logins or conflicting time segments.
TCP's automated reporting features capture up to five levels of job costing per labor code, providing advanced insight into your workforce.
TimeClock Plus Cost
TimeClock Plus offers three time-tracking and workforce management plans. Each subscription includes one or more add-ons, such as mobile apps, time clock hardware or job costing. Unlike competitors, TCP doesn't provide pricing information online or offer a free trial.
The entry-tier plan, Essentials, lacks employee scheduling tools and has limited use cases. Most growing organizations will find the Professional version suitable, especially since it has nine add-on features, including shift differentials, annualized employee management and advanced leave. Enterprise subscriptions have most add-ons as standard features, giving large businesses access to advanced workforce management tools.
Here is a breakdown of each plan:
Essentials: The Essentials package includes a custom dashboard, customer support during business hours and basic reports. It offers job codes, employee management, and time and attendance tools.
Professional: The Professional version is ideal for fast-growing businesses because you can add several features as your needs expand. It includes everything from Essentials and adds PTO and leave management, payroll exports and employee scheduling tools.
Enterprise: The Enterprise plan is for organizations with more complex needs. It has all features from the Professional package and adds job costing, 24/7 support and TCP mobile apps. It also supports multiple languages and advanced leave and overtime rules.
TimeClock Plus offers several time clock options. Web clocks come with all plans and work in a computer browser. Mobile app login capability requires an add-on to Essentials or Professional programs or is included with the Enterprise version. Lastly, users can choose hardware such as biometric readers, badge-activated devices and temperature scanners.
TimeClock Plus Setup
After speaking with a TCP sales agent, you can purchase your system and begin the setup process. For cloud-based solutions, the customer receives an email with links to the software in about 30 minutes or less. For on-premises deployments, you must wait for the software to arrive by mail. After setting up your company in TimeClock Plus, you can provide employees with a WebClock link to let them clock in and out.
Because TCP offers many customization and configuration options, the initial setup can be more challenging than it is for other time and attendance software. Hardware comes preconfigured but requires on-site installation.
TimeClock Plus Customer Service
Like many time and attendance software providers, TimeClock Plus has free webinars, a searchable resource library and other documentation on its website. Most support articles include screenshots to assist administrators in configuring or troubleshooting. TCP provides customer support via phone, email, web chat and ticketing.
Technical support is available Monday through Friday between 7 a.m. and 7 p.m. Central time. Essentials and Professional plan users can add 24/7 support for a fee, and this level of service comes standard with Enterprise plans.
TimeClock Plus Drawbacks
Because TimeClock Plus is geared toward midsize and large companies, the software may feel overwhelming to small teams or companies without a dedicated HR department. A more straightforward solution, such as OnTheClock, takes less time to deploy yet offers similar features, like fingerprint-enabled logins.
TCP includes mobile apps with only some plans, which is a disadvantage for mobile workforces. You can add it for a fee, but it may be less expensive to use a system that includes mobile apps as a standard feature with all subscriptions.
Methodology
We analyzed more than a dozen time and attendance systems to find the best solutions for employers. Our research included hands-on experience through free trials, demos and interactive product videos. When choosing the top use cases for individual tools, we considered pricing, features, usability, customer support and integrations. In this case, we reviewed the capabilities required for scalabilities, like advanced customization, workforce management analytics and multilocation scheduling.
TimeClock Plus FAQs
No, TimeClock Plus only tracks employee clock-in and punch-out times. It doesn't monitor online activity or provide data about visited websites or programs.
Yes, TimeClock Plus integrates with every major payroll provider, including Paychex, ADP and QuickBooks. It also connects to many human capital and enterprise resource planning systems, like NetSuite, SAP and Sage.
Yes, TimeClock Plus supports on-premises and cloud applications. Typically, companies can deploy cloud-based solutions more quickly, but some organizations prefer downloading the software to an in-house server.
Overall Value
We recommend TimeClock Plus for …
Midsize and large enterprises.
Companies with complex workforce management requirements.
Businesses that want a custom time and attendance solution.
We don't recommend TimeClock Plus for …
Very small businesses and startups.
Organizations that are looking for a simple mobile time-tracking app.