Clockify is the best time and attendance software for businesses with hybrid teams (on-site and remote employees). The cloud-based dashboard can be accessed from any computer or mobile device, and it has several project- and task-tracking features.
Pros
Clockify provides unlimited time tracking on free and paid plans.
The software offers team chat features with real-time messaging.
The Pro and Enterprise versions include GPS tracking.
Cons
Clockify doesn't offer shift scheduling tools.
The software lacks integrations with payroll providers.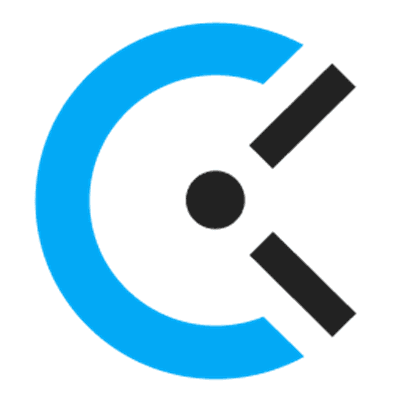 Clockify offers a free version and four paid plans, all of which support an unlimited number of on-premises and virtual users.
Integrated client billing and expensing tools make Clockify an excellent solution for project-based work. See our guide to expense tracking tools for other great solutions that keep tabs on your spending.
Clockify's key features include assignment scheduling, time tracking and performance reporting.
This review is for business owners, freelancers and managers who are considering Clockify as their time and attendance system.
Hybrid workforces require time-sheet and time-tracking apps that are accessible from multiple locations. Clockify's flexible, cloud-based software works equally well for on-site and remote employees. An on-premises kiosk handles logins at the workplace, and off-site employees can use their mobile phones, tablets or desktop computers. Clockify offers the most important features we looked for in a time and attendance system, including GPS, time-off tracking and integrations. These tools and others make Clockify our top choice for hybrid teams with remote and on-site employees.
Clockify Editor's Rating:
9.3 / 10
Cost

9.9/10

Features

9.4/10

Integrations

8.7/10

Usability

9.5/10

Customer Service

9/10
Why Clockify Is Best for Hybrid Teams
Hybrid workforces need flexible tools to accommodate employees who switch between on-site and off-site work. Likewise, supervisors want the ability to manage remote workers, monitor productivity and approve time-off requests easily. In our testing, we found that Clockify's cloud-based platform meets the needs of employees regardless of their work location. Mobile, desktop and web apps work on private or shared devices. Administrators can configure accounts for manual time entry, and users can enable GPS tracking, which allows supervisors to monitor fieldwork and workers' last known location.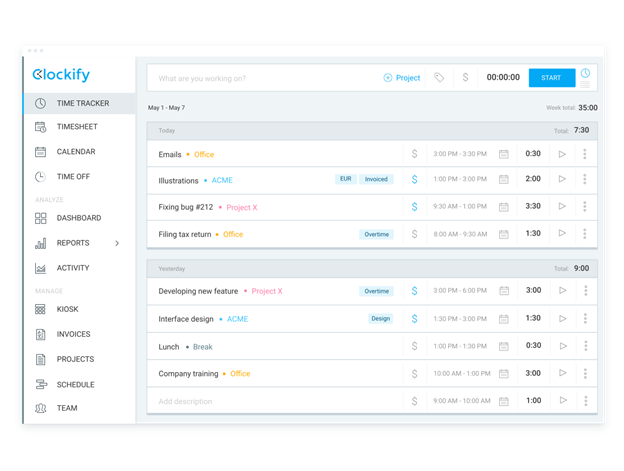 Clockify users can track their time on desktop and mobile devices or clock in through a shared kiosk. Source: Clockify
We especially liked that Clockify is also an activity-tracking application. It runs in the background, monitoring web and app usage. With activity data, individuals can self-monitor their performance and understand how distractions affect their work. Clockify also has in-app messaging to connect hybrid teams and improve company culture by keeping remote workers in touch. 
Have your employees connect their Clockify calendars to Google Calendar or Microsoft Outlook to sync their schedules and add events.
If you're looking for a time and attendance system with even more robust integrations, check out our TimeClock Plus review.
Clockify Features
Clockify has all of the most important features we looked for in the best time and attendance software, including timekeeping, reporting and management features. Some of the tools listed below are available only with higher-tier plans, however, so it's important to select the plan that meets your business's needs.
| | |
| --- | --- |
| Time tracking | Track time automatically or manually using mobile devices, desktop computers or a shared on-site kiosk. |
| Project tracking | Assign project tasks to team members while monitoring progress and costs. |
| GPS tracking | Ensure time-sheet and billing accuracy by confirming where and when employees work. |
| Integrations | Make it easier to track time by connecting Clockify to the apps your staff uses.  |
| Reports | View reports and dashboards to gain real-time and historical insights for better decision-making. |
Time Tracking
Although time tracking is a common feature of time and attendance software, Clockify expands on that by offering more than 20 time-tracking features, which depend on the service plan. All plans let users monitor an unlimited number of projects or timecards. Staff can start and stop timers or enter hours manually on their devices. Conversely, admins can set up a kiosk where on-site staff can clock in and out. 
The auto-tracker tool observes time spent using software and sums up inactive and active time totals. Unlike Time Doctor, Clockify doesn't share activity data with employers. The Pro and Enterprise versions provide additional control measures, allowing supervisors to disable manual time entry and changes. These plans also have GPS functionality and can take screenshots every five minutes while employees work. 
If you want deeper insights into your employees' activity data from your time and attendance system, consider our Time Doctor review.
In addition, the time-sheet feature tracks time spent on projects and tasks, including billable and non-billable hours. Only Standard, Pro and Enterprise plan users can review and approve time sheets for payroll submission. 

Use the Timesheet view to enter time manually or review time logs. Source: Clockify
Project Tracking
Clockify's project management features are ideal for hybrid project-based freelancers, small teams and businesses. Not all time and attendance tools work for project-based teams, but Clockify stands out in this aspect. It helps supervisors manage clients and projects, from assigning employees tasks to monitoring progress. We liked how administrators can define different hourly rates for workspaces, users and projects, making it easier to bill clients and estimate project costs. 
Pro and Enterprise users can also track project expenses and fixed fees, like retainers or day rates. The web and mobile apps allow employees to upload receipts, and administrators can add expense details to invoices through the built-in invoicing tool.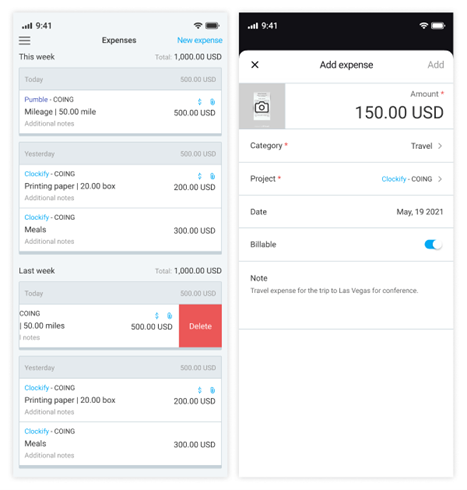 Quickly enter new expenses and take a photo of the receipt from an iOS or Android smartphone. Source: Clockify
GPS Tracking
For businesses with field staff or teams that go to a client's site, the GPS tracking tool enables more accurate time logs. Similar to QuickBooks Time, Clockify records the location every time the timer is started or stopped in the mobile app. The app will record location changes while tracking if the user moves more than 500 meters (roughly 1,640 feet). Unfortunately, though, GPS tracking data is available for only seven days, after which Clockify deletes site information.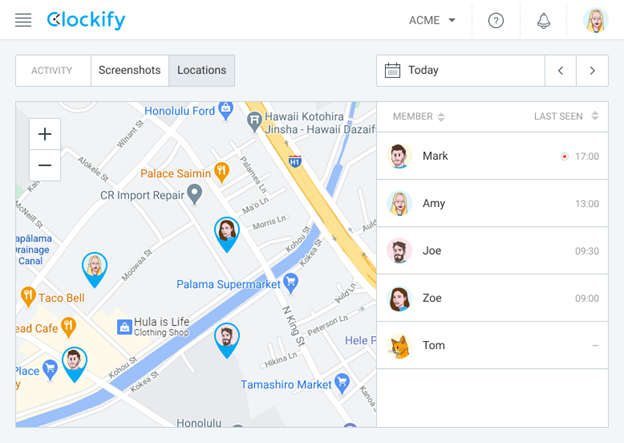 Track employee locations throughout the day or review up to seven days of location data. Source: Clockify
Reports
Like other time and attendance products, Clockify provides many reports and has visually appealing dashboards. These are valuable for small business owners, who can see how hybrid staff members spend their time and estimate future labor costs. Admins can filter reports according to date, department, group, project, tag or user.
We liked how Clockify lets business owners customize what users see in shared reports and lets them export reports as PDF or CSV files. Alternatively, Clockify admins can share a link with clients or employees. Plus, the dashboard provides a snapshot of staff activities, including individual projects and tasks. Again, the dashboards are tailored to each user's status, such as project managers and individual workers.

Clockify's Team Dashboard shows all active workspace members, and users can change views to see total tracked time or recent team activity. Source: Clockify
Integrations
Nearly all time and attendance tools offer basic tracking integrations, which let users easily track time without switching tabs or applications. Clockify connects with over 80 tools — more than other software we reviewed, like Buddy Punch and PurelyHR. It integrates with project management and customer relationship management (CRM) software. Clockify also has an open application programming interface (API) and supports Zapier. 
For example, you can track time on Trello cards, help tickets in Jira or time spent per lead in Salesforce. Clockify also offers built-in QuickBooks Online integration and connects to Microsoft Outlook and Google Calendars so that users can track time during events. However, Clockify doesn't integrate with third-party payroll providers such as ADP or Gusto. If this is a dealbreaker for you, consider TimeClock Plus, which has built over 500 direct payroll modules.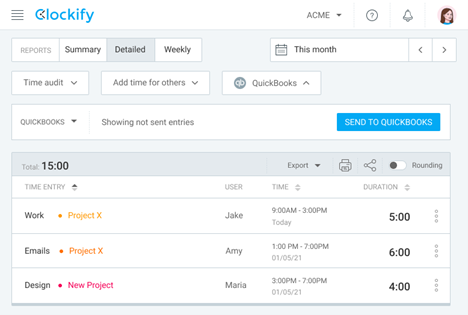 View sent and unsent time clock entries to ensure your QuickBooks Online account is up to date. Source: Clockify
Clockify Cost
Clockify offers five service plans, ranging from a free version to a plan that costs $14.99 per user per month. The free plan is more comprehensive than the free version of any other time and attendance software tool we reviewed. Paid plans are competitively priced, with base subscriptions costing less than Time Doctor and QuickBooks Time. Clockify also gives a 20% discount when you pay annually and has a seven-day free trial.  
Solopreneurs, freelancers and small agencies may find the free plan more than sufficient. However, paid subscriptions provide advanced reporting and scheduling features, which work better for larger hybrid teams. 
Here are Clockify's five plans:
Free: The Free plan lets you track time and attendance for an unlimited number of employees and projects. It offers unlimited reports, as well as API and software integrations.
Basic: The Basic plan is $3.99 per user per month when billed annually or $4.99 per user per month when billed monthly. It has everything in the free version, plus administration features, kiosk functionality and project templates.
Standard: The Standard plan is $5.49 per user per month when billed annually or $6.99 per user per month when billed monthly. It includes all features in the Basic plan and adds automatic alerts, QuickBooks integration, task rates and invoicing.
Pro: The Pro plan is $7.99 per user per month when billed annually or $9.99 per user per month when billed monthly. It has everything in the Standard package, plus GPS tracking and reporting tools for expenses, labor costs and profits.
Enterprise: The Enterprise plan is $11.99 per user per month when billed annually or $14.99 per user per month when billed monthly. It builds upon the Pro plan by adding single sign-on capabilities, audit logs and admin access to user accounts.
Clockify Setup
You can start with a free Clockify account and add projects or tasks. The free version includes employee kiosk pins, project templates and time tracking. Or, sign up for a seven-day free trial of Clockify Pro, which adds expense reporting, scheduling tools and GPS tracking. Both versions let you invite an unlimited number of team members and access Clockify's onboarding checklist. 
You can download the Clockify time-tracking app via a web browser extension (Chrome, Firefox, Edge), desktop app (Mac, Windows, Linux) or mobile app (iOS, Android). Administrators can add other admins, project managers and regular users. Once in the app, individuals can configure profile and workplace settings. 
Users can access a personalized dashboard to see billable versus non-billable times and projects they're working on. You can also customize your account by creating projects and tasks, delegating assignments and setting hourly rates.
Customize user permissions, dashboards and reports to give employees and clients the necessary information without sharing private company data.
Clockify Customer Service
Like other time and attendance software providers, Clockify offers various online resources, including video tutorials, a searchable knowledgebase and a community forum. But Clockify stands out for its one-on-one support. You can contact the company 24/7/365 via a toll-free number, email, web chat or an online contact form — something that wasn't guaranteed with other time and attendance software providers. Clockify's average response time is about an hour, and customers generally report satisfaction with support calls and agents' abilities.
Clockify Drawbacks
Although Clockify works well for project-based businesses and hybrid teams, it's less useful for retail, restaurant and service environments. It lacks the more robust scheduling features offered by providers such as When I Work, including the ability to create shift-based schedules, notify employees of changes, or let them swap shifts. Consider our When I Work review for a time and attendance system that makes shift scheduling easy.
Clockify can also feel limiting for rapidly growing businesses. Other time and attendance systems provide additional features to prevent time theft and verify identities. For these capabilities, we liked OnTheClock, which includes biometric login and work IP recognition options. 
Methodology
We researched dozens of time and attendance systems to identify the top solutions on the market. Along with hands-on experience through demos and free trials, we considered features, pricing, integrations, usability and customer support. We selected the best software for hybrid teams by looking for tools with on-site and remote functionality, including geolocation services, mobile apps, calendars and kiosks.
Clockify FAQs
Clockify provides a snapshot of user activity, such as location and time spent on various projects. Upper-tier plans include screenshot functionality. However, the system doesn't share details with administrators about which programs and websites the employee used and visited.
Yes, Clockify offers kiosk, desktop and mobile functionality, which is perfect for on-site and remote employees. Hourly workers can clock in and out using the kiosk for simple time and attendance tracking, whereas project-based teams can manage more intricate details, like billable and non-billable hours.
Yes, Clockify users can view, add or modify tracked time using the free time sheet feature. Any data recorded from the time tracker tool shows up there, and you can create templates to simplify weekly time sheets.
Overall Value
We recommend Clockify for …
Businesses with hybrid teams (in-office and remote employees).
Companies that want to track projects, tasks and clients.
Freelancers and small companies that need a free time-tracking solution.
We don't recommend Clockify for …
Restaurant or retail businesses that are looking for shift scheduling tools.
Companies that need built-in payroll provider integrations.