Accounting software is essential for more than keeping your books current. It's also vital for tracking cash flow, invoicing clients and paying vendors. Comprehensive accounting solutions run reports that help business owners make smart financial decisions and offer supplemental tools ranging from inventory management to payroll to keep your operations flowing smoothly.
QuickBooks and Xero are popular accounting software platforms for small businesses. We'll compare their essential accounting features, pricing, integrations and more to help you choose the right accounting software for your needs. 
QuickBooks vs. Xero Comparison
Price and Plans
QuickBooks
QuickBooks' pricing plans are as follows, with a 30-day trial available for all tiers. If you forgo this trial, you can halve the below starting prices, other than for Self-Employed. That said, the fact that you can only get lower pricing without a trial really frustrated us.
Simple Start: $30 per month; one user. You can access tools for receipt capture, expense and income tracking, cash flow management, mileage tracking, and tax deductions. Simple Start also includes features for tracking sales tax, creating and sending estimates, generating basic accounting reports, and managing 1099 contractors.
Essentials: $55 per month; up to three users. Essentials includes everything in Simple Start, plus connected sales channels, bill management, time tracking and more detailed reports.
Plus: $85 per month; up to five users. The Plus plan includes everything in Essentials, plus inventory management and project profitability tools.
Advanced: $200 per month; no user caps. Advanced includes everything in Plus, along with more in-depth accounting reports, batch invoice tools and expense creation features. You can also manage employee expenses, run business analytics through Excel, restore data, and automate workflows. You'll get a dedicated account team that can offer on-demand training online alongside premium integrations and access control tools.
Self-Employed: The Self-Employed plan is distinct from the four above pricing tiers. The lowest of its three service levels ($10 per month) includes tools for distinguishing business from personal expenses. You can also use this tier to maximize your tax deductions, track mileage, and automatically calculate your quarterly taxes. Two higher-priced tiers — $15 and $20 — offer tools including quarterly tax filing and CPA assistance. All prices double after three months.
We like that QuickBooks offers extensive features in each pricing package. We also like that QuickBooks is transparent about features and pricing online. Unlike some other vendors, QuickBooks leaves no questions about what you get for your dollar. 
Xero
Xero's pricing tiers are as follows. Note that the company occasionally offers limited-time discounts.
Early: $13 per month. This plan handles quotes and invoices. You can send unlimited quotes and up to 20 monthly invoices. You can also enter up to five bills per month for payment. Bank reconciliation, expense data capture, and a short-term cash flow and business snapshot are also included.
Growing: $37 per month. This pricing tier eliminates the quote and invoice caps associated with the Early package.
Established: $70 per month. This pricing package includes multicurrency accounting, advanced analytics, project tracking and expense-claiming tools.
We like that Xero never limits user numbers, which makes the platform an excellent choice for teams small enough to need low-cost accounting software but large enough that several people will use the platform. We also like that Xero has an optional Gusto payroll integration for each platform at no extra cost. This is a great way to automate employee payment recording.
All Xero pricing plans include 24/7 online customer support; you can cancel with one month's notice.
Winner
QuickBooks barely edges out Xero in the pricing category. Both platforms ultimately ranked among the most affordable we encountered, and we appreciate how transparent both are in their pricing. However, QuickBooks is our winner because you get much more with its two highest-priced tiers than with Xero's highest-priced tier. You might pay more for QuickBooks, but the platform's value per dollar justifies its higher costs. 
Free Trial 
QuickBooks
QuickBooks offers a 30-day free trial, but there's an unfortunate catch: You give up the lowest possible prices to obtain this trial. (The QuickBooks prices we listed above assume you take advantage of the free trial.) We find it frustrating that QuickBooks encourages new users to seek lower initial monthly prices instead of securing a free trial. This is one of the very few problem areas we've identified with QuickBooks.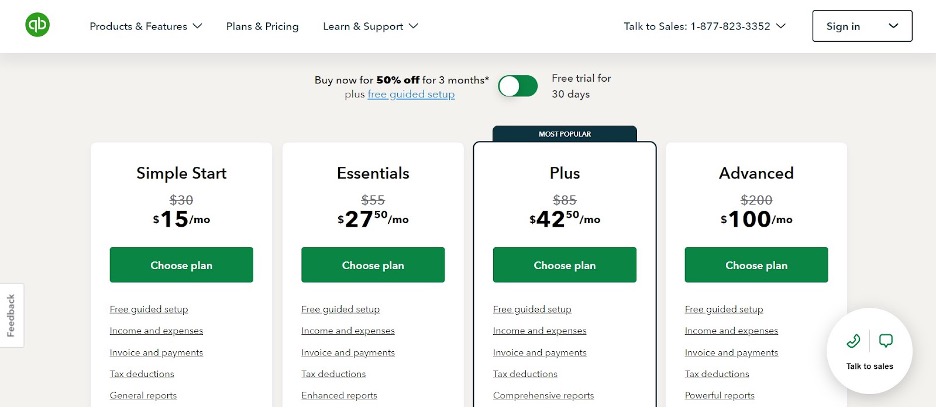 When you take a closer look at QuickBooks' pricing table, you'll see that its most affordable prices only apply when you forgo the free trial. Source: QuickBooks
Xero
Xero offers a 30-day free trial with no strings attached. You can cancel anytime, you'll get 24/7 support during your trial, and your prices don't change based on whether you pursue the trial. We like this level of accommodation — it's rare and highly beneficial among the many free trial offers we've encountered while reviewing business software.
Winner
Xero's free trial is clearly the winner in this category. Your free trial doesn't increase your pricing if you commit to the platform, and the around-the-clock support access is remarkable for a free trial.
Third-Party Integrations
QuickBooks
As the leading business accounting software platform, QuickBooks is unsurprisingly a standout when it comes to integrations. The platform offers high-quality built-in integrations with many leading business software vendors. For example, QuickBooks integrates with Square, Gusto, PayPal, eBay, Shopify and Etsy.
Beyond built-in integrations, QuickBooks offers more than 750 connections with other platforms — a quantity that impressed us. Some of QuickBooks' most popular app integrations include the payment app BILL, the line of credit solution Fundbox, and the expense management platform Expensify.
Xero
We were especially impressed with Xero's built-in Gusto payroll integration. When we tested Xero, this seamless integration powered the entirely automatic updating of our accounting records when we ran payroll through Gusto. We also liked Xero's built-in integrations with the payment processor Stripe, the CRM HubSpot, the email marketing platform Mailchimp and the e-commerce platform Shopify.
Approximately 100 additional integrations are available with Xero. We liked that Xero's app store neatly organizes and categorizes these apps. This makes it easy to find the integrations you need and compare several options side-by-side.
Winner
Although both platforms offer robust integrations, QuickBooks is our winner because it offers hundreds more than Xero. Plus, QuickBooks has uniquely powerful built-in integrations with key e-commerce and payment platforms like PayPal, Amazon Business and eBay. These integrations give your accounting software capabilities other platforms can't match.
Bill Pay
QuickBooks
You can review and pay outstanding bills in QuickBooks, and the platform will automatically record and match your vendor payments and invoices. We like that paying bills automatically reconciles your expenses.
You can also use QuickBooks to schedule payments in advance, including partial bill payments. We were impressed with this flexibility — you can make appropriate payments for your current cash flow. 
Our only QuickBooks bill-paying disappointment was that you can't access the feature via the Simple Start package. Bill pay is only available for the three highest-priced packages. If the most affordable QuickBooks solution is your priority, you forgo the ability to pay bills through your software.
Xero
Xero is an excellent solution for daily accounting activities like tracking and paying bills. The platform makes it extraordinarily easy to review and pay outstanding bills. You can just as easily review expenses and purchase orders. 
Perhaps our favorite Xero bill pay feature is that you can use the platform to schedule batch payments for one or many vendors. This is the easiest tool we encountered in any accounting software platform for making timely payments in one click. We were delighted that Xero makes it so simple to keep up on your accounts payable and avoid late payment fees.
We also like that you can use Xero to set recurring bills, generate billing reports, and store and organize all your bills. This makes the tool as great for payment as for understanding your cash outflows. Plus, you get bill pay tools no matter which package you choose, although you can only pay five bills per month with the Early plan.
Winner
Xero doesn't just beat QuickBooks when it comes to bill pay features — it outperforms all other accounting software we reviewed on this front. If you've been struggling to pay your vendors in full or on time, Xero is more likely to eliminate this challenge than any other platform.
Expense Tracking 
QuickBooks
All QuickBooks pricing packages include automatic expense importing and categorization. You can also take photos of receipts and upload them from the mobile app. QuickBooks will automatically match receipts to recorded expenses or generate new expenses accordingly.
You can also use the QuickBooks mobile app to track mileage and run expense reports and cash flow statements. From the desktop suite, you can set custom rules for categorizing all expenses. You can add billable expenses to the invoices you send clients via mobile or desktop. 
Many accounting solutions have expense tracking tools, but we found that QuickBooks makes them especially user-friendly. It takes just a few clicks to run through various accounting functions and get your expenses in order. In our eyes, QuickBooks' expense-tracking features are among the best around.
Xero
As with QuickBooks, you can use Xero to automatically import and categorize expenses. Other mutual features include receipt photo upload, mobile app mileage tracking, expense reporting and adding billable expenses to client invoices. 
However, Xero provides the unique ability to reimburse employee expenses, including mileage reimbursement. We like that this is a built-in platform feature you can also use from the mobile app. With QuickBooks, you must reimburse employees outside the platform. However, Xero is missing some of our favorite QuickBooks expense-tracking features, such as cash flow statements. 
On top of that, we were disappointed that Xero's expense-tracking tools are only available with its costliest pricing package. This is the exact opposite of QuickBooks, which makes these tools available to all customers.
Winner
QuickBooks wins this round. QuickBooks makes its state-of-the-art expense-tracking features available to all customers. Although Xero's tools are nearly as high in quality, only users who pay for the vendor's most expensive plan can access them. Plus, only QuickBooks includes cash flow statements in its expense-tracking suite. Choose QuickBooks if you need exceptionally robust expense management within your accounting software.
Invoicing 
QuickBooks
QuickBooks includes standard invoicing features and advanced tools. Its standard features include creating invoices from the mobile app and customizing invoices with your company logo and branding. Like most platforms, you can also use QuickBooks to view invoice payment status and remind clients to pay their bills. Other standard features include one-click payments, recurring payment invoices, adding billable hours to invoices and converting estimates into invoices. 
QuickBooks also includes impressive unique accounting tools, including adding outstanding balance amounts to client payment reminders. You can also automatically record and match customer payments, accept tips via invoices, and split estimates into several invoices. We like that the latter feature, which isn't common in accounting software, boosts cash flow for businesses operating on estimates. 
The QuickBooks built-in client account network is an especially standout feature. Since QuickBooks is the most widely used accounting software worldwide, it operates a network through which you can find clients that also use the solution. This makes requesting and receiving payments easier. You can take payments via card, Venmo, PayPal, Apple Pay and ACH. 
Xero
As with QuickBooks, you can use Xero to generate custom branded invoices, send client payment reminders, and view invoice payment status. Other shared features include recurring invoices, one-click client payments and mobile invoicing. We found all these features to be user-friendly in Xero, and we were happy that they are available to all users.
That said, we found Xero's invoicing tools a bit limited overall. For example, you can't use Xero to accept tips via invoices as you can with QuickBooks. On top of that, you can only convert quotes, not estimates, to invoices in Xero. This disappointed us, but not as much as the narrow client payment options available. You can only accept payments via card or direct debit with Xero, boxing out clients who prefer newer technologies.
Winner
QuickBooks offers more invoicing tools and client payment options than Xero. While you can certainly use Xero to check most of your invoicing boxes, you get more flexibility and options with QuickBooks.
Reporting 
QuickBooks
You can use QuickBooks to run roughly two dozen prebuilt accounting reports, whether using the mobile or desktop QuickBooks version. Additionally, with QuickBooks Plus and Advanced, you can create custom reports. Across all pricing plans, you can also create custom tags for your reports.
We were highly impressed with QuickBooks' reporting features. The platform's reporting suite is among the most powerful we encountered while reviewing accounting software. 
Xero
With Xero, you get access to built-in reports with highly customizable layouts. We liked that these reports are interactive, which makes it easier for us to measure key performance indicators (KPIs). We also found it easy to apply formulas in Xero to compare our budget and actuals side by side. 
A standout Xero reporting feature is the ability to mark the reports you run most often as favorites. This way, you can access these reports near-instantly upon logging into Xero. Plus, no matter what, profitability reporting and data are available right from the Xero dashboard. Xero's reporting tools impressed us overall, even though other platforms include a wider variety of reports.
Winner
QuickBooks offers more reports than Xero, plus you can create custom reports and tags. You'll still be in a good position for reporting if you go with Xero, but QuickBooks is the superior choice if reporting is your priority.