On national days, embark on advertising campaigns that use the occasion to inspire customers to make purchases.
Smart social media use involving phrases, images and discounts relevant to the occasion are key to a successful campaign.
Prominent national days include Small Business Saturday, International Women's Day and National Friendship Day.
This article is for small business owners and marketers interested in using national days to boost their advertising.
There's no shortage of fake holidays created for marketing purposes, like National Doughnut Day, World Emoji Day or National Leave the Office Early Day. These national days provide content for your social media marketing team and can be a great way to drive engagement and make some sales. 
However, while many of these days have their perks (who doesn't love a day centered on doughnuts?), many probably don't relate to your business. This guide offers tips for small businesses that want to identify the best days for their marketing strategy and how to harness them.
Editor's Note: Looking for information on social media management services? Use the questionnaire below and our vendor partners will contact you to provide you with the information you need:
National Doughnut Day – first Friday of June
National Doughnut Day represents a reason to grab a sweet treat, and several brands without a direct connection to doughnuts often take part in the festivities. This is a day where your business can showcase its voice and identity.
If you have a fun and laid-back company culture, do something like Google has done by using doughnuts to spell out your brand name. If your organization is more serious, buy your staff doughnuts for the day and post a photo to social media of your team enjoying the food.
Customers want to interact with brands they can connect to. By shining a light on your team, you'll appear more personable. Spend some time getting to know your customers too. If you're a customer-facing business, consider offering doughnuts to the people who support you on that day.
National Friendship Day – first Sunday of August
This day is trickier to use for marketing than National Doughnut Day. While it's not as easy to relate National Friendship Day to your business, this day can be an incredible opportunity to generate engagement on social media when done correctly.
You could go the route of Kentucky-based Good Foods Co-op and use the day to promote your products and get people talking about what you're selling.
Your business could take a page out of an NBA team's playbook and share a photo, video, or GIF of the relationships between your staff members. Customers enjoy the chance to get a behind-the-scenes look at the people running your operation.
Petco used the day as a reason to post an adorable photo of a lizard. While this post didn't directly sell a product, it encouraged engagement and made use of a day designed for marketing.
There are endless ways to use National Friendship Day for advertising purposes. With proper planning and execution, this day could be perfect for generating social media engagement.
National Coffee Day – Sept. 29
Much like National Doughnut Day, National Coffee Day offers your business a chance to engage customers regardless of your industry. If customers wait in your store while completing their purchase, consider offering free coffee on National Coffee Day. Advertise the promotion on social media to spread the word and draw increased traffic to your store. The small gesture can go a long way toward generating customer loyalty.
In the past, Charmin got creative on social media and made a somewhat crude joke that got people on social media talking. For a brand that sells something as ordinary as toilet paper, generating engagement isn't easy. With a creative joke on social media, the company generated buzz.
Black Friday, the Friday after Thanksgiving
A huge sales day for retailers, Black Friday signals the beginning of the Christmas shopping season. Your business can also find deals on Black Friday for the things it needs to operate every day. With people on the lookout for deals and discounts, major companies like Best Buy slash prices on items in hopes of selling tremendous quantities of products. Many of these major corporations find success on Black Friday, but that doesn't mean your small to midsize business can't see a boost in sales.
"I always produce a separate holiday collection released a day or two before Black Friday so people have a sense of urgency in purchasing as much as possible because product supplies are limited," said fashion designer Misha Kaura. "For example, I had a 250% increase in orders last Black Friday alone partially due to Instagram."
While your smaller business likely won't generate the advertising excitement that a company like Best Buy or Amazon might, you can still offer several discounts on items that may serve as good holiday gifts.
Advertise your discounts on social media and stress the value of coming to a local business with smaller crowds. By emphasizing the importance of a personal touch, you can take advantage of Black Friday and set your business up for our number one national day for advertising.
Small Business Saturday, the Saturday after Thanksgiving
While Black Friday and Small Business Saturday don't have quite the same made-up feel as a National Friendship Day, the days were still developed solely for marketing purposes. First recognized in 2010 thanks to efforts from American Express, Small Business Saturday gives small businesses a chance to fight back against major companies thriving on Black Friday and Cyber Monday.
Luckily for businesses, neither Black Friday nor Small Business Saturday require you to make a creative connection to the day. If you're a small business, you're immediately connected to Small Business Saturday. To make the most out of the day, visit the Small Business Saturday website put together by American Express. Exploring it months in advance will give your business a chance to plan for the event and develop social media campaigns to engage customers and boost sales.
National days for good causes
According to Qgiv's roundup of fundraising statistics, nearly 7 in 10 Americans donate money to a cause they support every year. Your target audience can be compelled to shop if part of their purchase goes toward charitable organizations. Plenty of national days fit the bill for such initiatives, like Rare Disease Day on the last day of February or World Cancer Day on Feb. 4. Look for a cause that might be near and dear to your target customer's heart and donate some proceeds of each sale.
About 70% of Americans donate money to charities every year.
An especially successful example is Apple and RED's World HIV/AIDS Day campaign. To increase sales while raising money for charity, the two brands annually collaborated on an exclusive line of red iPhones, iPods and Apple Watches. They've run this campaign every year since 2006, raising just under $270 million for HIV/AIDS research in that time. All the while, Apple has successfully sold more of its products.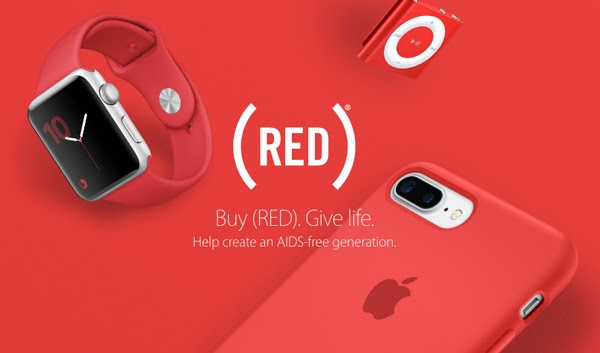 National Grandparents' Day or Children's Day – first Sunday after Labor Day or second Sunday in June
If your company sells anything that older consumers might find useful, National Grandparents' Day is a great advertising occasion. Promote discounts to drive sales, targeting your actual customers as well as people who might buy them gifts.
The same logic applies to National Children's Day if you sell kids' products. You can't quite target kids in advertising, since they don't typically shop, but their parents have needs. After all, kids require immense attention and care, and with the right messaging, you can convince parents that your product will help them.
Post about your discounts on your social media channels. (Yes, you can target older consumers on social media, despite their reputation as an analog generation.) You'll fare best if you write copy and gather images for your campaign – and schedule it all – well in advance. Social media tools such as Buffer and Hootsuite can help on this front.
International Women's Day – March 8
Pretty much any brand with products not targeted exclusively at men has women customers. Even men's brands may see women customers buying gifts for men. That's why International Women's Day is an excellent day for advertising your brand.
Many major brands take International Women's Day as a chance to advertise themselves. A prominent example is IKEA's 2021 video campaign with musician Zara Larsson. On International Women's Day 2021, Larsson appeared in an IKEA video announcing the launch of an equality game called FiftyFifty. IKEA was fully aware that the timing of this announcement likely spurred some people to buy from it.
How to prepare for national days
To take advantage of national days, keep these two major tips in mind.
1. Plan ahead.
If you forget and see that tomorrow is National Friendship Day, your business is going to have a tough time putting together a social media campaign that will generate engagement in just a day. The planning process around national days should start weeks, if not months, in advance.
"I think a big part of being able to generate engagement via social is by planning," said Sophie Duncan, content manager at Imagine Media Consulting. "Make sure that you have a plan and you know when you're going to post what content."
Duncan stressed the importance of brands understanding their identity and leaving adequate time to create advertising campaigns centered on national days.
National Retail Solutions, a company that sells point-of-sale (POS) systems, provides their clients with actionable data to help them take better advantage of trends, including those related to national days. It provides sales data on trends approximately three to six months in advance of when customers might be more inclined to purchase certain products. By providing the businesses using its POS systems with data and advice on how to handle upcoming holidays or national days months in advance, NRS prepares them to take advantage of those holidays. The organizations can use that data to plan for social media marketing campaigns or to offer different products on a national day or traditional holiday to boost sales.
"We're already now looking at Thanksgiving and Christmas," said Diana Stern, vice president of marketing at NRS. "It's a lot about offering the communities we serve the ability to feel connected."
Whether it's a widely celebrated holiday like Thanksgiving or a less traditional celebration like National Doughnut Day, your business needs to plan ahead to create the best advertising campaign. 
2. Stay focused.
Avoid posting about national days if they have no connection to your business. A pizza parlor tweeting about how customers should grab a slice for National Health Day doesn't make much sense. Posting on days that don't complement your business may turn customers off and reduce engagement. Remain true to your business and find national days that genuinely connect to your organization to include in your marketing plan.
"Just because national days abound doesn't mean they're relevant," said Kelsey DeMarco, director of operations at marketing agency Secret Fort. "Don't just latch on for the sake of social content. Have a strategy. After all, nobody likes the person at the party that just talks to talk." 
Max Freedman contributed to the writing and reporting in this article. Source interviews were conducted for a previous version of this article.