A content calendar is a written schedule of content that you plan to publish.
There are many benefits to creating an editorial calendar, including producing more compelling content and making collaborate with different team members easier.
You can create a content calendar in a spreadsheet, but you can also turn to more robust tools to simplify the process.
This article is for content creators who need help starting and organizing a content calendar for their company.
Creating and publishing content regularly requires organization. That's where a content calendar comes into play.
While some are more robust than others, a content calendar helps you plan content weeks or months in advance. Starting a content calendar from scratch might seem intimidating or overwhelming, but it's doable. Read on to learn why a content calendar is important to your content marketing efforts and how you can create one.
Editor's note: Looking for the right project management software for your business? Fill out the below questionnaire to have our vendor partners contact you about your needs.
What is a content calendar?
A content calendar, sometimes called an editorial calendar, is a schedule of the content you plan to write, produce and publish. You can use a spreadsheet, an actual calendar or different tools to create one.
The purpose is to ensure that you know when your content – whether it's a blog entry, social media post, email or something else – is expected to go live. You can include when and where the content will be published, the name of the author, when it was assigned and other elements that will help keep you keep track of the details. It can also help you stay focused as unforeseen circumstances arise.
Key takeaway: The goal of a content calendar is to help you manage all of the content you expect to publish on any channel.
Benefits of using a content calendar
If you've ever tried to manage content without an editorial calendar, then you know it is difficult. You can lose track of deadlines or stories altogether.
With a calendar, you can:
Stay organized. You don't have to remember a due date or if you assigned a story to a freelancer. Everything is in front of you in your content calendar.
Get a bird's-eye view of your content. At a glance, you can see what content you have planned for weeks or months ahead of time. It can help you determine if you are following your content strategy.
Be consistent. A content calendar can make it easier to post content on a regular schedule. For example, a calendar can keep you updated so you post three times a week to your blog or create specific content each week on your social media channels.
Build better content. Strong content is purposefully crafted and strategically timed. Timely content might need to be created quickly, but even these unexpected assignments should be informed by a broader strategy.
Make content creation less stressful. Instead of spending time each day or week wondering what you will write, a content calendar has you set for weeks or months ahead. This allows you to plan ahead and ensure you can meet your publication deadlines.
Collaborate more effectively. You may involve several people in your content creation process. A content calendar ensures everyone is aware of the projects – and the deadlines. You can turn to tools to help your team stay up to date on tasks dictated by your calendar.
Prioritize the right content. A content calendar can help you accomplish this in several ways. Whether it's an obscure day, such as National Pizza Day, or a more well-known event, such as Earth Day, you can ensure you are producing content around it if it's relevant to your business. A content calendar can also help you more easily sort through trending and evergreen content so that you can publish more pressing information first.
Spot gaps in content. Because you have all your content laid out in front of you, you can spot if anything important is missing with your plans.
Key takeaway: A content calendar has many benefits, including reducing the stress involved with producing content, enhancing team collaboration, and prioritizing the right content that allow you to create stronger content.
Examples of content calendars by type
Content calendars can be used to organize your social media and blog posts, email campaigns, and more. Editorial calendars may look different as they are adapted across channels, but generally, you want to include the title or headline of the piece, the publishing dates, important events, and any necessary assets, such as an image or infographic.
For any type of content you create, a calendar of recurring events is always good to have. It can help you plan content around trending moments. Check out the example below for March 2021: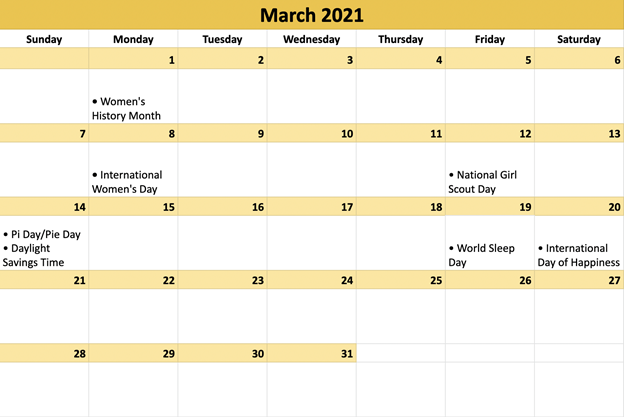 This can be a starting point for your content calendar. Below are a few examples of content calendars by type:
Social media. Those who run social media pages often juggle several platforms; one of the most important benefits of a social content calendar is you can see what content will be published across different channels. This calendar may also include more information than other types, because you're likely to post on social media several times a day and even on weekends.
Let's say your company sells beauty products. Here's how you might handle a social media calendar: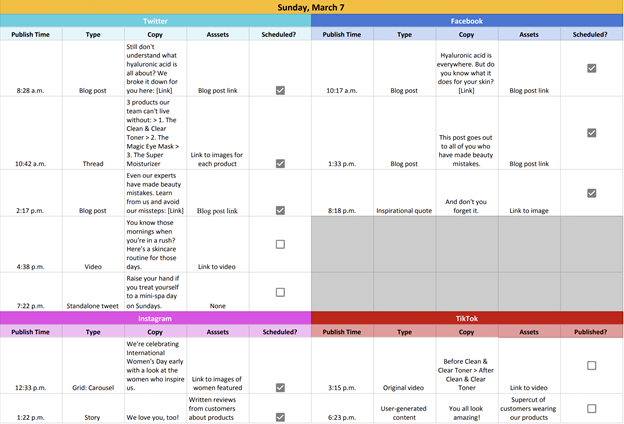 Since social media can depend on blog content, it may only look a few weeks into the future. However, a content calendar for a blog may be more long term, with some companies looking months or even a year in advance.
If you're managing a lot of content, you want to sort the calendar by blog section or deadline, so a color-coded spreadsheet may be ideal. You may also want a calendar that allows you to tag important players.
Check out the example below that projects a content calendar for a bank that services  small businesses and how that might look: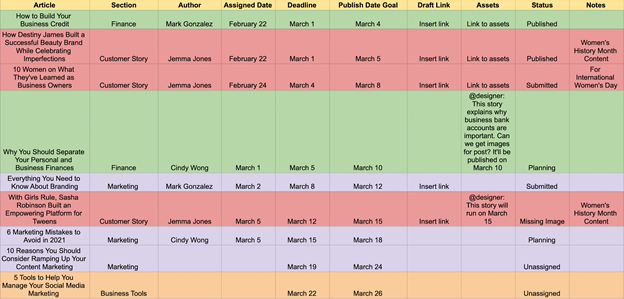 You can use email marketing to promote your own content, introduce products, welcome new customers and conduct surveys. This involves speaking to a lot of audiences. Some emails are suited to all your customers; others should only go to a small portion of your total audience.
One of the key components of your email content calendar is defining your personas. If you run a membership platform for content creators, for example, your email content calendar may look like this: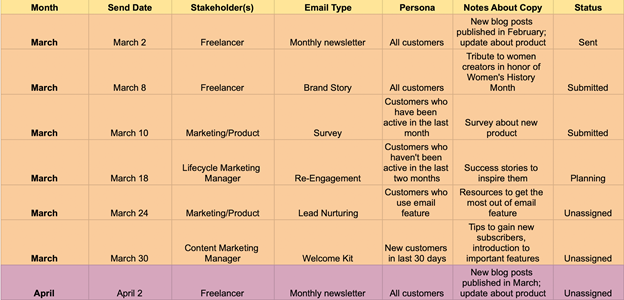 These examples were all created on spreadsheets, but this may not work for you. If you're looking for something more powerful or easier to sort through, you can try one of these project management software tools:
Key takeaway: Editorial calendars can vary, depending on factors such as the company, the industry, the channels you publish to, but generally, you want to include the headline or title of the item, the publishing date, important events, and accompanying assets, such as photos or graphics.
How to develop a content calendar
Below is a step-by-step guide to developing your own content calendar:
Analyze your existing content.
Start with auditing your content. Use analytics to see what has worked and what hasn't. For example, if you see that customer stories and case studies perform well, then you want to continue creating those stories. Focus on your goals; if you want to generate more leads, for example, consider which content is capturing new leads and how to build on that success.
Decide what types of content you'll pursue.
Whether you're creating a content calendar for a blog entry, social media post, or email, you should know exactly what kind of content you will create. For your blog, for instance, this may mean deciding what types of posts make the most sense. For social media, this entails selecting the platforms your target customers use and that you will post to. And for email, it means establishing what emails you'll send to customers. It also involves a thorough understanding of how you will segment your audience and which segments will receive which types of content.
Research keywords and brainstorm content
Before you fill out your content calendar, you want to brainstorm and conduct keyword research so you come with ideas on what types of content to produce.
If you operate an e-commerce store that sells 3D printed miniatures, perhaps you want to target keywords like "dungeons and dragons minis" in your blog posts. (This is an example, but keyword research will yield keywords that are worth targeting). You could then use photos of your 3D printed products on your social media platforms and link back to your blog post on your website. You could also include a teaser of the blog post in your email newsletter. This way, the content is repurposed for multiple marketing channels.
Find the best platform for your calendar.
When picking a platform, consider your budget, the size of your calendar and what features you need. Some calendars require more manual work than others; explore your options to find what best makes sense for you.
Determine what elements your calendar needs.
You should be able to customize your calendar to fit your needs. Your calendar will likely include different elements, but a few common ones you may add to yours are:
Writer
Editor
Deadline
Publish date/Live date
Section/Platform
Copy
Links to assets
Link to published post
Consider sharing your content calendar to all key stakeholders, with editing permissions enabled. That way, everyone can update the calendar in real time.
Start a library for your assets.
If you have all of your assets in one place, then you can spend less time looking for them. Use a platform that you can access on different devices and that you can share with different members of your team.
Create a workflow.
How often do you want to publish content? Will you need to send your content to other teams for approval? How are you creating new ideas for content? Who is assigning and creating the content?
Create a process that accounts for each step. You should list how your business will ideate, create and distribute content.
Create, publish and distribute content.
Once you have your workflow set up, you can start assigning content to be created, tracked, published and/or distributed.
Key takeaway: Developing a content calendar may seem overwhelming, but in a few steps, you can create one and start creating, publishing, and distributing content.  
Content calendar templates
While you can create a calendar from scratch, there are templates to make the process easier. Here are a few that you can use:
Key takeaway: You can create a content calendar from scratch, or you can use a template to get started.