Snapchat is a social media tool that supports short, temporary sharing of photos and videos.
Businesses can advertise on Snapchat with traditional ads, branded filters and lenses or geotags.
When using Snapchat, make your content fun, brief and engaging.
This article is for small business owners who want to learn how to use Snapchat for business.
Snapchat is often thought of as a user-to-user social media platform, and many businesses neglect to consider it as part of their social media marketing strategy. Despite this conventional wisdom, Snapchat offers brands a unique opportunity to connect directly with their audience in a number of fun and personable ways. If your target audience uses Snapchat, develop a strategy around the platform that promotes your brand. This guide will give you all the tools and information you need to do so successfully.
What is Snapchat?
Launched in 2011, Snapchat is a social media app that allows users to send short, temporary photos, videos and chats that disappear after a short amount of time — typically mere seconds. Snapchat also offers interactive features like Snap Maps, which allow you to view the locations of your friends; Stories, which live on your profile for 24 hours; Bitmoji avatars; and a Discovery tab for finding new content.
Today, Snapchat boasts more than 750 million active monthly users. According to DataReportal, more than 380 million of those users are between the ages of 18 and 34, which makes the platform an ideal place for brands that primarily target Gen Z and Millennial users.
How to set up Snapchat for business
You need to create an account to use Snapchat. Registration can only be done on a mobile device.
First, download the app. From there, the onscreen directions will prompt you to add your birthday, choose a username, enter your email address, and start adding friends from your phone's contacts list. 
To set up a Snapchat Business account, follow the steps above, then set up an account with Ads Manager here.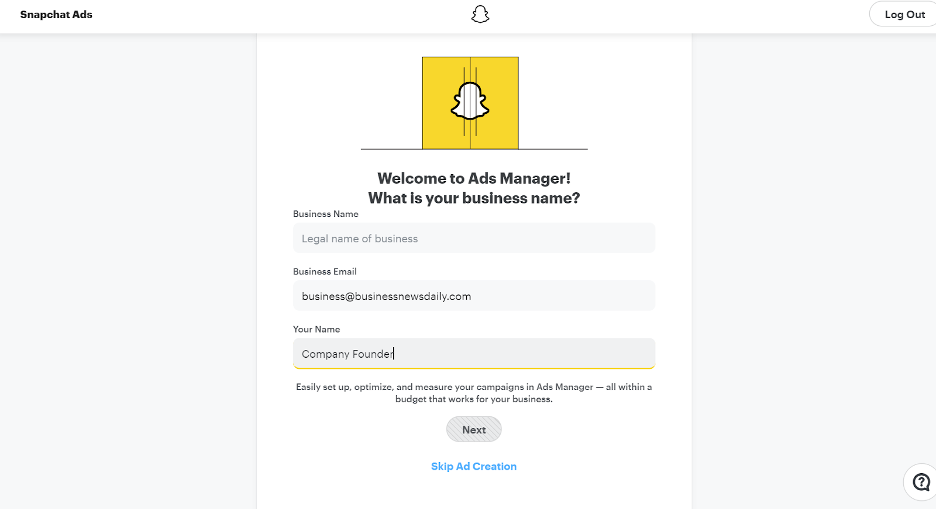 When signing up for Snapchat Ads Manager with a business account, you'll only need to fill out a few simple fields. However, you will need to provide a payment method before you proceed. Image source: Snapchat
Complete the following steps to create your business account:
Input your business name and select the country you will be doing business in.
Create your first campaign to be set up with your Ad Accounts.
Enter a payment method for your first Ad Account.
How to use Snapchat for business
Snapchat is often thought of as a user-to-user platform, but that's not necessarily the case. Businesses can use Snapchat to engage their audiences on a personal level, giving them a close-up view of the brand and injecting some new personality into their marketing strategy.
The anatomy of a Snap
Now that you've signed up for an account, it's time to navigate the opening screen. When you first open the app, the screen defaults to a standard back-facing camera setting. On this screen, you can turn the camera into "night mode," turn the flash on and off, flip the camera around, search nearby snaps, and go to your profile.
To take a photo, press the bottom circular button. Press and hold the button to take a video. Once you take a photo, you can adjust how long the picture will last (from one to 60 seconds) when it is sent to a friend. Before you send your Snap, you can edit your photo by adding emoji stickers, filters, links or text.
You can also save your photo to your memories before you send it out. Once you're ready to send the photo or video, you can decide which friends see it or if you want to add it to your Snap Story, a feature discussed in depth later in this guide.
Customizing your profile
Snapchat is an unconventional social network in that it doesn't allow users to customize an extensive profile. However, it does offer space for users to provide some information about themselves, such as a bitmoji and username.
At the default screen, the ghost or bitmoji in the left-hand corner leads to your profile. Here, you can view your Snapchat score, which is the total number of Snaps you've sent and received. On your profile is a yellow square, which is generated into a QR code. Rather than searching for a user manually, a user can focus their Snapchat camera on another user's code to add them without typing their name.
Interacting with other Snapchat users
There are several ways to interact with other Snapchat users. Unlike with most social networks, these interactions are all private, except for the Stories feature.
Adding users: To add users to your friends list, you'll need to either search for their usernames, pull them from your phone's contacts list, or add them using their specific QR code.
Viewing Stories: You can view and reply to other users' Snap Stories. They will be notified of both actions.
Sending Snaps: Snapchat allows you to send and receive photo and video content with other users. These interactions are what built and established the entire platform. If you screenshot a Snap, the sender of the Snap will be notified.
Instant messaging: With the instant messaging feature, you can chat privately with users. When you reply to a user's Snap sent to you, or to a portion of their Snap Story, your reply will be sent as an instant message. If you screenshot an instant message, the sender of the message will be notified.
Snapchat Stories
Post a photo or video to your Snapchat Story and it will remain on your profile for 24 hours. A Story is a great way to show your audience the daily operations of your business. It gives potential customers an idea of what an average day at your workplace is like. In addition, it gives your employees an opportunity to express their personalities.
You'll be able to see which and how many users view your story, which allows you to gather demographic data about your audience and determine whether or not your target customers are engaged with your content. You can also A/B test different types of content to see which is more effective at soliciting a response from your target audience.
In addition, Snapchat supports Live Stories, which allow you to livestream content to your followers in real time. These allow users "who are at the same event or a specific location to contribute Snaps to the same community narrative," Snapchat announced in a release. This can be especially useful for brands when attending live events or offering time-limited promotions 
Location services should be turned on if you want to contribute to Live Stories. For instance, major cities, including Los Angeles and New York City, have their own Live Stories that are always ongoing. These can also be oriented around a specific event, such as the Super Bowl or the Oscars.
How to advertise with Snapchat
There are many ways to advertise on Snapchat, including Snap Ads, sponsored geofilters and sponsored lenses. Major brands like Vans, Coca-Cola and JPMorgan Chase & Co. have used Snapchat for marketing campaigns.
Snap Ads are full-screen vertical videos that can be up to three minutes long. Some offer an interactive element, such as a call to action to visit a specific link. A Snap Ad should provide information about your company and what its products and/or services are.
Gatorade, for instance, once featured an 8-bit tennis game that celebrated Serena Williams' 23rd Grand Slam victory. For more creative guidance and development, check out the company's guide to Snap Ad attachments. The possibilities are endless.
Sponsored geofilters
Sponsored geofilters allow users to send Snaps from specific locations. The lenses can cover a specific location, like coffee shops or department stores. For instance, if your business has multiple branches, you can set the geofilters to your specific locations. If you're familiar with the platform, you'll notice major cities and its boroughs have different filters, like Brooklyn and Manhattan in New York City.
Additionally, a geofilter can be also applied nationwide under a certain theme or holiday, like Cheerios' National Cereal Day and Michael Kors' National Sunglasses Day filters.
Many brands use geofilters to promote events. If you go to settings and select On-Demand Geofilters, you'll find dozens of templates. You can customize these with colors and words. With pricing ranging from $5 to $20 per day for a geofilter that covers the space of an average suburban home, geofilters can be a great way to reach a hyperlocal audience. 
For example, a brick-and-mortar retail store could purchase a geofilter covering the walkable area nearby their storefront, encouraging people to come by and shop. This could be particularly useful to broadcast a discount or event that's going on for a limited period of time.
Sponsored lenses
Sponsored lenses are more interactive than geofilters. Filters are applied after a video or picture is taken, prior to sending to friend(s) and/or adding to a Snap Story. Lenses have special facial recognition technology, which allows users to become dogs, pretend to be Santa Claus, turn into demons, wear flower crowns, and even puke rainbows through the app. It happens in three steps: it detects a user's face, reacts to the user's expression (like sticking a tongue out or queuing music), and creates the final product.
If your company sells cars, for example, your sponsored lens could have a user driving a new car with a Little Trees air freshener. The company says this product is their most popular, driving on average three times higher brand awareness than mobile norms and two times lift in purchase intent.
Snapchat Discover
Snapchat Discover acts as a news feed that allows users to view content created by prominent media organizations like Vice, Cosmopolitan and ESPN. Similar to the Stories feature, Discover Stories compile both audio-video and photo content that links to articles and graphics through a Pinterest-like dashboard.
In 2018, Snapchat launched its own merchandise store that lives inside Snapchat Discover. In the Snap Store, users can buy items such as a dancing hot dog plush doll and a streak hat. Currently, the store only features Snapchat items. However, in the future it could serve as an in-app commerce platform for other brands, which would be big for small businesses.
While brands do have the opportunity to advertise within Discover Stories, the costs are often out of reach for many small business owners. Strike Social reports these ads begin at $50,000 for daily rates.
Snapchat tips and tricks
Now that you understand the basics of Snapchat, here are a few tips and tricks to use the app to your brand's advantage.
Document your company's day-to-day operations. Use the app's Story feature to walk followers through business operations at your workplace. Give them an exclusive sneak peek they can't see anywhere else on social media. You can also use your Story to host Q&As or showcase new products.
Upload content regularly. Don't let your followers forget that you exist. Use the app regularly to upload frequent content. Snap Stories are a good opportunity for this, especially for capturing what it's like to work for your business.
Interact with other users. Many users use the app's messaging feature, so be sure to answer any messages that come your way. The same goes for returning photo Snaps.
Sponsor a Snap Ad. Ten-second audio-visual clips are more traditional, but allow you the creative freedom to drive an advertisement using video content as you would on Twitter, Instagram or a similar site.
Sponsor a lens. Inspire users to engage with your brand's awareness by bringing it to life. Find a way an average customer would engage with your business's products or services and apply it to a lens. If you sell coffee, it could be as simple as the filter allowing the user to drink coffee. As mentioned earlier, sponsored lenses are the most effective on the entire platform.
Design a sponsored geofilter. For example, if you use Snapchat in any McDonald's across the country with your location settings on, a McDonald's themed geofilter will appear while flipping through your different filters before sending a snap. You could do the same with your business.
If you're going to incorporate Snapchat into your broader social media marketing strategy, have a content calendar planned so your brand consistently generates new content. Infrequent use of Snapchat won't help grow your audience.