April Fools' Day is a chance for businesses to showcase their creativity and connect with their audience in a lighthearted and comical way. It's not for everyone, but for those companies that do participate, it can be an opportunity to stand out and bring a smile to people's faces. Some companies never fail to impress with their clever and playful April Fools' pranks year after year.
Companies use social media marketing to create funny PR stunts, introduce crazy products and share fake news stories to attract attention and generate buzz. April Fools' Day provides a unique opportunity for companies to showcase their brand culture and guide customers toward their actual products or services by using humorous PR stunts and outlandish ideas. It's a chance for brands to test the waters with unconventional or offbeat concepts, evaluate their potential, and turn them into reality.
This special day can also be used to bring attention in a new way around an existing or brand-new product, especially if the product needs to match the company's image. These faux advertisements, while amusing, are part of a wider marketing strategy to showcase the culture of a brand and point customers to its real products. [Learn more about advertising vs. marketing.]
Here are some successful stunts from past April Fools' Days:
Dr. Squatch spices things up with a jerky surprise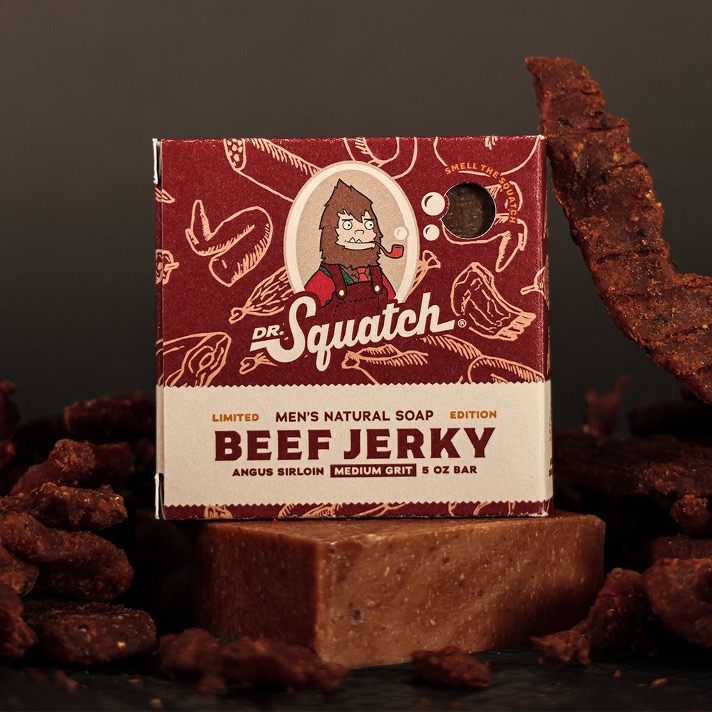 Dr. Squatch, a personal hygiene brand based in Los Angeles, launched a one-of-a-kind product that attracted a lot of hype: beef jerky bar soap. Taking full advantage of the launch, Dr. Squatch allowed customers to purchase the soap on its website. But there was a catch!
When the customers added the beef jerky soap to their cart, they were surprised with an April Fools' pop-up message. The message encouraged them to sign up for Dr. Squatch's text messages, which keep subscribers up to date on the latest product launches and sales. Promoting the lighthearted prank, Dr. Squatch took to social media to generate some laughter.
Text message marketing can be an effective tool to reach customers, but mind your etiquette. Avoid common text message marketing mistakes to make sure your audience responds to your text message campaigns in a positive way.
McDonald's Sprite is in a league of its own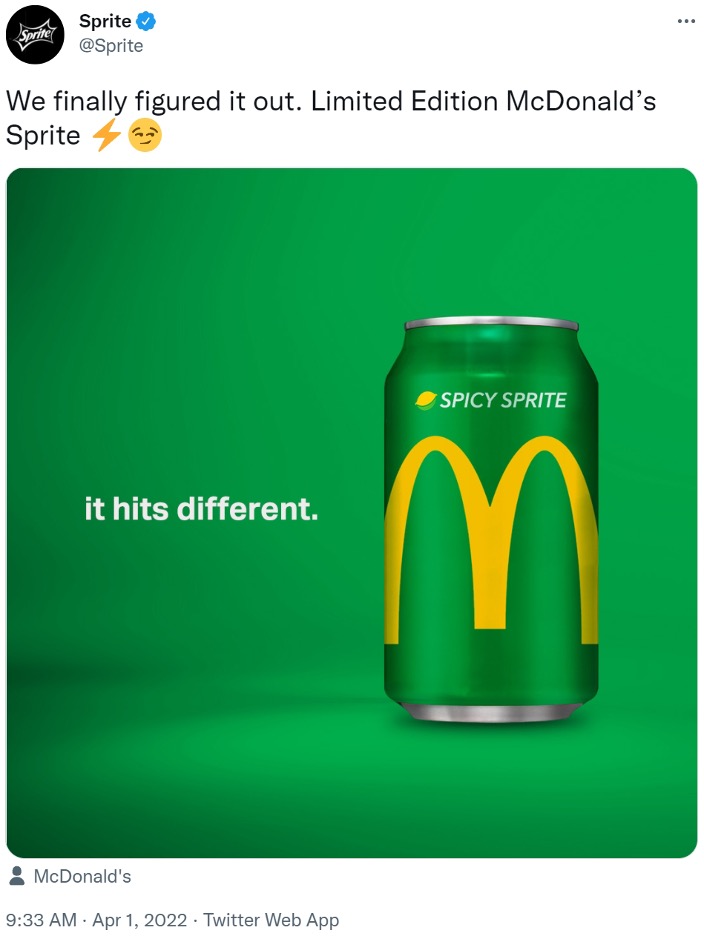 In 2022, Sprite and McDonald's teamed up to create a hilarious prank promoting a canned version of McDonald's Sprite. The idea of a co-branded canned McDonald's Sprite was so believable that it fooled many people. To take the prank to the next level, the official Sprite Twitter account shared a photo featuring dinosaurs and a giant cup of Sprite, playfully suggesting that the beverage may have caused the extinction of prehistoric creatures. 
Customers joined in on the fun by sharing their own photos and videos related to Sprite on Twitter. One customer's post, featuring a selfie of them holding a cup of Sprite with the caption "Good Luck to me" went viral with over 100,000 likes, prompting a witty response from the official Sprite account. Another customer shared a video capturing the unique sound their Sprite made, garnering over 150,000 views.
Using Twitter can be a powerful tool to raise awareness about your business and allow your brand to interact with its customers. It offers the capability of a more direct and immediate way to communicate with them.
Budweiser Budbnb Presents: A Hay-Cation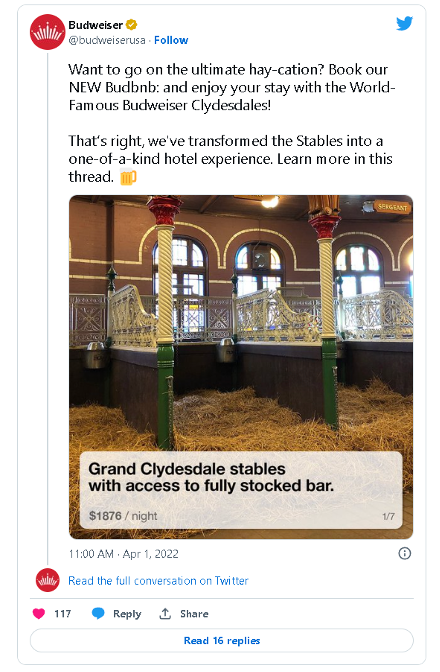 Daydreaming about your next vacation? Budweiser presents its new Budbnb hay-cation! Get ready to enjoy a cozy evening with the famous Clydesdale horses in Budweiser's hay-filled stables. Budweiser joked around by offering its guests a rustic, luxurious, one-of-a-kind experience for the low price of $1,876 per night featuring a plush hay bed fit for a king, a fully stocked bar, and the chance to discover memorabilia and features to take you back to 1885.
7-Eleven Tiny Gulp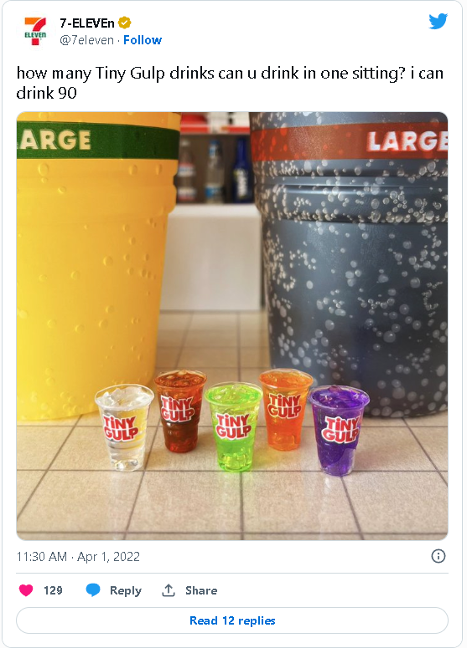 In 2022, 7-Eleven, the world's largest and most widely recognized franchise, wanted to expand its Big Gulp line and cater to its customers by launching a little surprise. Introducing Tiny Gulp: For just 7 cents for 0.7 ounces, you can quench a small fraction of your thirst. 
While the bit was clearly just for fun, it served to reinforce one of the brand's iconic offerings. The net result is more than just a joke that customers can be in on, but a reminder that 7-Eleven and the Big Gulp are synonymous.
Velveeta gets in on the skin care trend
Velveeta, normally known for its meltable cheese, debuted a cheesy skin care line through a video on social media in 2021. The featured products included a serum, daily moisturizer and night cream in an ad stating, "The creaminess of Velveeta, now in skin care. V by Velveeta."
The company went a step further by having interested consumers sign up with their names and email addresses to find out when the products were available. While the products were obviously fake, the waitlist proved an effective way to generate sales leads and grow the company's email marketing contact list. [Learn how to write a sales plan of your own.]
PayPal lets you print money
Credit card processing company PayPal posted on Twitter in 2018 that it had added a new feature, allowing customers to print money directly from their phones using the PayPal app. While a mobile ATM might be yet another convenience smartphones give us eventually, the technology is not quite there. The company's joke tweet did go viral, however, bringing a slew of new customers to its mobile app and increasing its overall brand awareness. 
You can now Print Money directly from your phone. Launching on the PayPal app. Will you be using it? pic.twitter.com/XiidEwV3La
— PayPal UK (@PayPalUK) April 1, 2018
If you have a small business or are a sole proprietor, you might be able to incorporate PayPal into your daily accounting if you haven't done so already.
eHarmony finds love for dogs
It's hard to say how man's best friend got along before eHarmony finally solved the doggy dating problem. On April 1, 2018, after nearly 20 years of assisting the creation of long-lasting relationships for humans, former eHarmony CEO Grant Langston unveiled the Furever Love feature. The Canine Compatibility Companion Service was designed to get pups into long-term relationships. The prank featured posts from prospective doggy dates Johnny Cash, a diminutive canine in search of a long-term relationship, and Kona, a hopeless romantic looking for a monogamous tug-of-war partner.
eHarmony's canine algorithms were based on some solid science, the announcement claimed, including a scholarly report on "Love and Canine Relationships in America" and data from a proprietary "bark and tail wag measurement" scale.
Sam's Club introduces bulkcoin
Some April Fools' jokes rely on the timeliness of their pranks to catch the public unawares. That was Sam's Club's angle on April 1, 2018, when it introduced its own cryptocurrency, "bulkcoin."
"The world of currency is rapidly advancing, and Sam's Club just shoved its way to the front of the line," the warehouse club's corporate site announced. "The bitcoins and litecoins and teenytiny coins weren't cutting it for our value-seeking members." 
The site backed up this tongue-in-cheek claim with a video of the bulkcoin payment process and a special offer of a 2,400-pack of bulkcoin for $19.98 – an offer with the potential to "stabilize the hella crazy market."
Elon Musk falls off the wagon
When Elon Musk tweets, people listen – lots of people, some of whom were not amused by a series of communiques from the Tesla CEO on April 1, 2018. 
Beginning with a tease of "important news in a few hours" and ending with a photo of a passed-out Musk, his head resting on a Model 3, the tweets announced Tesla's pending bankruptcy. 
"There are many chapters of bankruptcy," Musk tweeted, "and, as critics so rightly pointed out, Tesla has them *all*, including Chapter 14 and a half (the worst one)."
April Fools' Day fell on a Sunday in 2018, and while many considered Musk's tweets an obvious prank, Tesla's shares dropped 5 percent when the markets opened the following morning. Luckily for Musk and Tesla, share value bounced back by the next day.
How Can Small Businesses Harness the Power of April Fools' Day?
When a campaign really resonates with the desired audience, it can spread like wildfire on social media, giving your brand a significant boost in exposure and even attracting new customers. Drawing inspiration from big brands on how to use humor to connect with your audience can provide valuable insights for small businesses to create content that resonates with their target market and drives engagement.
Taking a cue from the examples above, you can craft your own prank for April Fools' Day to amuse your customers. Your content might just go viral and draw a lot of attention to your brand. Be thoughtful about your audience and what they might find amusing, or you could end up in the midst of a public relations firestorm. Consider keeping it light so that your target audience is likely to laugh with you – and maybe even tell their friends. By using humor and creativity to engage with their audience, small businesses can build brand awareness, generate buzz and create a stronger connection with their customers.