April Fools' Day is a popular day for companies to trick their audiences with fake products or announcements.
Social media allows these antics to go viral and reach new audiences for the company.
A successful April Fools' Day joke can bring greater attention to a company's products and overall brand – but these pranks can backfire too.
This article is for small business owners and marketers looking for examples of successful April Fools' Day pranks from large companies.
Intentionally misleading consumers is generally bad for business – unless it's April Fools' Day, of course. While brand shenanigans have dissipated over the last few years amidst the seriousness of the COVID-19 pandemic, companies are slowly resuming the tradition.
Through humorous PR stunts, outlandish products, and phony news stories, companies generate a fair amount of buzz by effectively utilizing social media marketing and going viral. These faux advertisements, while amusing, are part of a wider marketing strategy to showcase the culture of a brand and point customers to its real products. [Learn more about advertising vs. marketing.]
Here are some successful stunts from past April Fools' Days – though some of them had their pitfalls.
Velveeta gets in on the skin care trend
Velveeta, normally known for its meltable cheese, debuted a cheesy skin care line through a video on social media in 2021. The featured products included a serum, daily moisturizer, and night cream in an ad stating, "The creaminess of Velveeta, now in skin care. V by Velveeta."
The company went a step further by having interested consumers sign up with their names and email addresses to find out when the products were available. While the products were obviously fake, the waitlist proved an effective way to generate sales leads and grow the company's email marketing contact list. [Learn how to write a sales plan of your own.]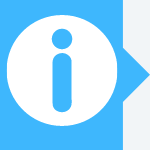 Key takeaway: You can boost your business's email marketing with or without a viral joke. Check out our best picks for email marketing software and services.
Burger King unveils the Chocolate Whopper
In March 2018, two decades after Burger King used April Fools' Day to debut its "Left-Handed Whopper," the fast-food chain's marketers struck again. This time, the menu mischief featured a Chocolate Whopper, with syrup standing in for ketchup and white chocolate rings playing the part of the onions. Introduced in a 30-second video, the flame-grilled chocolate patty was topped by candied blood oranges and milk chocolate lettuce leaves. For the seriously sweet-toothed, it was a burger made in heaven. Then again, maybe not.
Taco Bell buys the Liberty Bell
Speaking of farcical fast food, remember that time Taco Bell bought the Liberty Bell? Or so it seemed back in 1996, when the company ran a full-page advertisement in six major newspapers. The name of the beloved national symbol would be changed, the ad claimed, but not to worry: The Taco Liberty Bell would remain on display for the public to enjoy. The claimed purpose of the transfer of ownership was to reduce the national debt. That lofty goal didn't impress the angry folks who called the National Park Service to complain, including aides from the offices of two United States senators.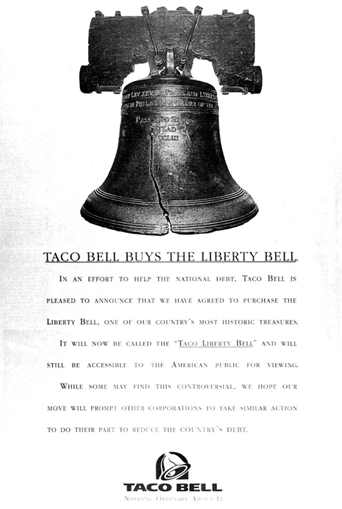 Despite the incensed public (and the harassed National Park Service employees who had to calm them), the prank was incredibly successful, generating publicity worth many times the cost of the ad space. The White House got in on the joke too, with then-press secretary Mike McCurry's announcement that the purchase was part of an ongoing privatization effort. The Lincoln Memorial, he said, was being refurbished by Ford Motor Co. and would be renamed "the Lincoln-Mercury Memorial."
PayPal lets you print money
Credit card processing company PayPal posted on Twitter in 2018 that it had added a new feature, allowing customers to print money directly from their phones using the PayPal app. While a mobile ATM might be yet another convenience smartphones give us eventually, the technology is not quite there. The company's joke tweet did go viral, however, bringing a slew of new customers to its mobile app and increasing its overall brand awareness. 
You can now Print Money directly from your phone. Launching on the PayPal app. Will you be using it? pic.twitter.com/XiidEwV3La

— PayPal UK (@PayPalUK) April 1, 2018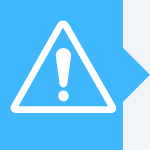 Did you know?: PayPal offers credit card processing services for small businesses and freelancers. 
eHarmony finds love for dogs
It's hard to say how man's best friend got along before eHarmony finally solved the doggy dating problem. On April 1, 2018, after nearly 20 years of assisting the creation of long-lasting relationships for humans, eHarmony CEO Grant Langston unveiled the Furever Love feature. The Canine Compatibility Companion Service was designed to get pups into long-term relationships. The prank featured posts from prospective doggy dates Johnny Cash, a diminutive canine in search of a long-term relationship, and Kona, a hopeless romantic looking for a monogamous tug-of-war partner.
eHarmony's canine algorithms were based on some solid science, the announcement claimed, including a scholarly report on "Love and Canine Relationships in America," and data from a proprietary "bark and tail wag measurement" scale.
Amazon delivers authors
Speaking of a match made in heaven, how about meeting your favorite author in your own living room? That's what Amazon Publishing advertised in a tweet on April 1, 2018. The promo video featured bestselling crime writer Patricia Cornwell going above and beyond to fulfill a fan's order. The trip from Cornwell's yacht to the customer's front door is the stuff of adventure movies – and highly polished April Fools' Day stunts.
BBC reports on spaghetti tree
This prank, ranked by CNN as the greatest news media hoax of all time, proves it doesn't take high tech (or much tech at all) to pull off an April Fools' joke for the ages. That's what the BBC did in 1957, when its current-affairs program Panorama broadcast a story from Switzerland. Viewed by an estimated 8 million, the three minutes of footage appeared to show a family harvesting pasta from their backyard spaghetti tree. The harvest was a huge success, reported the authoritative narrator, due to favorable weather and the "virtual disappearance of the spaghetti weevil."
"Spaghetti" was not a household word in the U.K. in the '50s. Perhaps that explains why so many Britons fell for the stunt and reached out to the BBC for advice on how to grow their own.
Sam's Club introduces bulkcoin
Some April Fools' jokes rely on the timeliness of their pranks to catch the public unawares. That was Sam's Club's angle on April 1, 2018, when it introduced its own cryptocurrency, "bulkcoin."
"The world of currency is rapidly advancing, and Sam's Club just shoved its way to the front of the line," the warehouse club's corporate site announced. "The bitcoins and litecoins and teenytiny coins weren't cutting it for our value-seeking members." 
The site backed up this tongue-in-cheek claim with a video of the bulkcoin payment process and a special offer of a 2,400-pack of bulkcoin for $19.98 – an offer with the potential to "stabilize the hella crazy market."
Elon Musk falls off the wagon
When Elon Musk tweets, people listen – lots of people, some of whom were not amused by a series of communiques from the Tesla CEO on April 1, 2018. 
Beginning with a tease of "important news in a few hours" and ending with a photo of a passed-out Musk, his head resting on a Model 3, the tweets announced Tesla's pending bankruptcy. 
"There are many chapters of bankruptcy," Musk tweeted, "and, as critics so rightly pointed out, Tesla has them *all*, including Chapter 14 and a half (the worst one)."
April Fools' Day fell on a Sunday in 2018, and while many considered Musk's tweets an obvious prank, Tesla's shares dropped 5% when the markets opened the following morning. Luckily for Musk and Tesla, share value bounced back by the next day.
Using April Fools' Day to your small business's advantage
Taking a cue from the examples above, you can craft your own prank for April Fools' Day to amuse your customers. Your content might just go viral and draw a lot of attention to your brand. Be thoughtful about your audience and what they might find amusing, though, or you could end up in the midst of a public relations firestorm. Consider keeping it light and amusing so that your target audience is likely to laugh with you – and maybe even tell their friends.
Hannah Tayson and David Mielach contributed to the writing and reporting in this article.