Motive is our pick for the best GPS fleet tracking service for companies that prioritize safety. As well as ensuring ELD and IFTA compliance, it combines the best of human and AI analysis to identify risky driver behaviors, flagging them through an intuitive dashcam and safety-focused drivers' app.
Pros
Refresh rate can be as low as one 1 second for vehicle trackers.
Humans add an extra layer of oversight to the standard AI risk detection.
Motive messaging app lets admins communicate with teams, groups and individuals.
Driver-specific app is ideal for tracking expenditures and ensuring ELD compliance.
Cons
It lacks the depth of integrations and assets offered by rivals like Samsara.
Drivers are informed of transgressions, but there are no rewards or motivations to improve.
Prices aren't published, and we struggled to obtain even ballpark figures.
Motive's proprietary hardware covers everything from dashcams to GPS vehicle tracking to refrigeration monitoring equipment.
It's unique in offering human oversight of live video footage recorded by drivers, alongside algorithmic analysis.
The dashcam offers features as diverse as engine-off recording, driver-controlled activation and a light bar messaging system.
This review is for small business owners and fleet managers who want to learn more about Motive's fleet tracking technology.
Motive is our choice as the best GPS fleet management system for businesses focusing on real-time vehicular safety. It offers a number of features that are unique, giving fleet managers and supervisors granular insight into driver behavior through a blend of AI and human-powered monitoring. Vehicle safety is monitored in real time, and this platform is well suited to companies required to adhere to electronic logging device (ELD) mandates, hours of service (HOS) regulations and International Fuel Tax Agreement (IFTA) regulations.
Originally known as KeepTruckin' when it launched in 2013, Motive rebranded as the company's focus expanded beyond trucking and logistics. The company manufactures its own range of hardware, including specialized tools for refrigeration, and a GPS tracker that can be connected to vehicles via 6/9 pin sockets and the conventional OBD-II port. The company also attempts to deliver a holistic overview of driver behavior from the provision of fuel cards and a driver-specific mobile app focused on safety and compliance.
Motive Editor's Rating:
8.7 / 10
Cost

7.8/10

Features

9/10

Refresh time

9.5/10

Usability

8.8/10

Customer service

8.6/10
Why Motive Is Best for Live Safety Analysis
We rate Motive so highly in safety analysis because the company's fleet offering is firmly centered on improving driver competence and minimizing risky behaviors. The standard dashcam is the most informative and proactive on today's market, while the footage it generates isn't just scanned by the usual AI systems for examples of harsh cornering. Every clip also receives human oversight, which can detect events like stop sign violations or sudden lane changes that a computer algorithm may miss.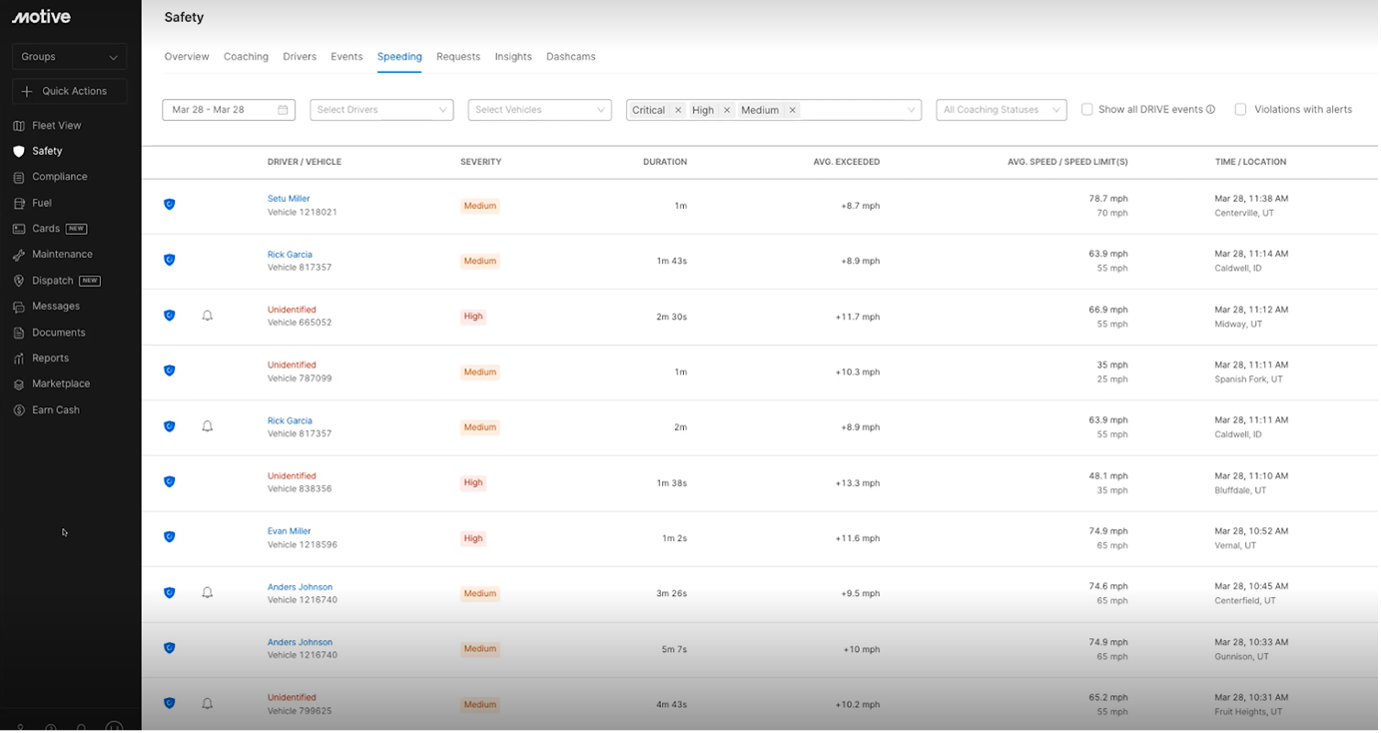 Motive gives fleet managers a detailed window into the overall safety practices of their drivers, enabling proactive coaching that can prevent accidents and reduce maintenance costs.
Motive isn't alone in generating driver safety scores, but it is unique in segmenting drivers into distinct categories. A long-distance driver wouldn't be expected to make as many sudden braking maneuvers as a city-based truck driver, for instance. Motive's DRiVE scoring system (an acronym for Driver Road Vehicle Environment) can differentiate between urban and rural driving routes, trucks and vans, and different traffic volumes and road types. As a result, it won't penalize a driver with urban routes in the same way as it would a rural-based driver, enabling managers to see who is the safest in each vehicle type or environment. It's a differentiation we'd like rival firms to adopt in their own scorecard systems.
Risky or dangerous driving actions are added to the Coaching tab of the Motive app for drivers to watch later. Managers can also add instructive Pro Tips, such as "too close to the vehicle in front – always maintain a three-second following distance."
Usability
The centerpiece of the Motive desktop interface is the Fleet Management screen. This intuitive interface is powered by Google, with traffic and weather overlays helping to explain late arrivals or unexpected idle time. Tabs running down the left side of the screen allow managers to switch between different Motive services like Maintenance and Cards – the latter a new addition that tracks spending on a company-issued Mastercard. The Maintenance screen handles both preemptive and scheduled maintenance for things like oil changes, and the Reports tab enables managers to run a report (CSV or PDF) of every active fault code across their entire fleet sent to the desktop, mobile app or a designated email inbox.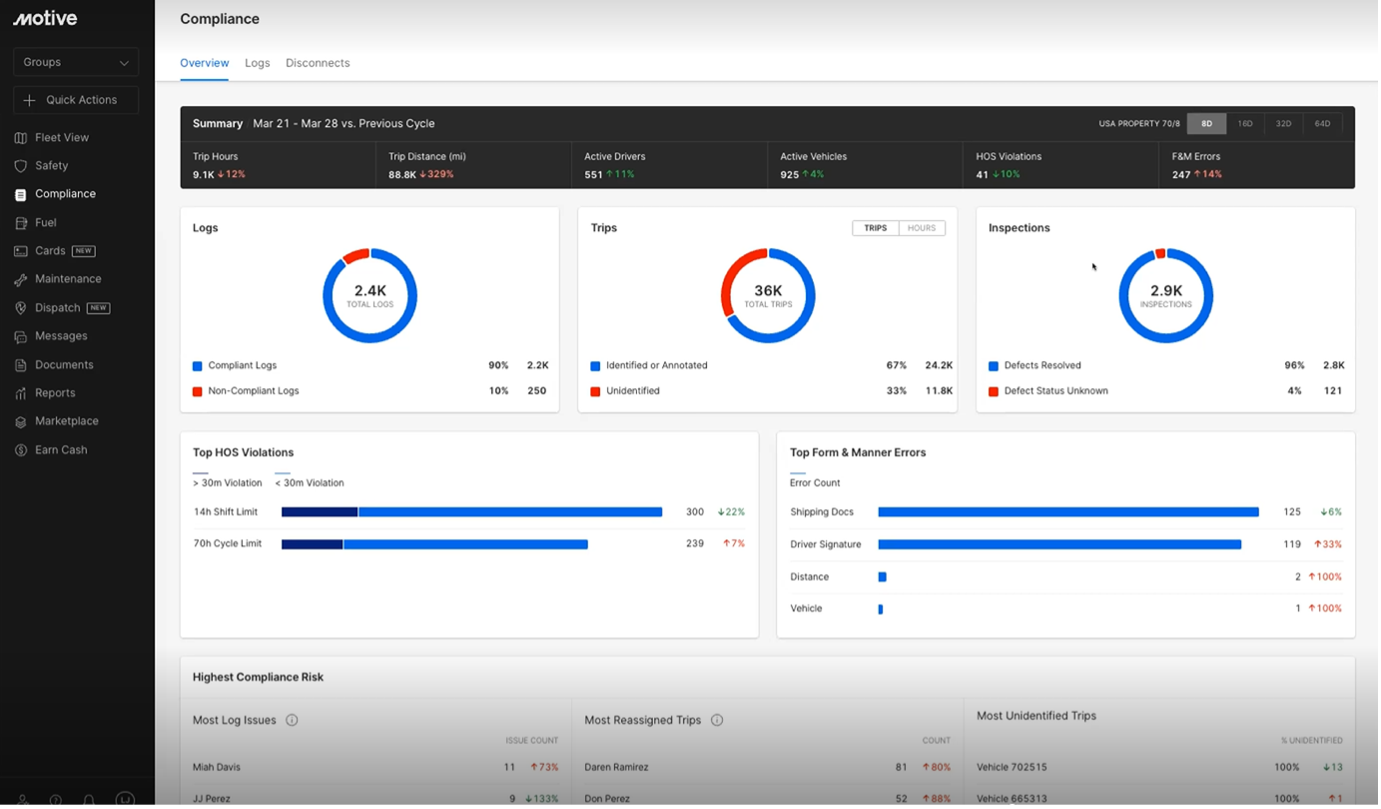 Motive's compliance dashboard shows fleet managers an overview of how well they're meeting regulatory requirements fleet-wide.
You can create multiple maintenance schedules and apply them to specific vehicles or types of vehicles, with maintenance intervals often automatically calculated for you.
Motive Features
| | |
| --- | --- |
| Human and AI behavior analysis | Motive uses teams of people to rate and tag video clips for violations that AI systems missed. |
| Trailer and equipment tracking | Hardware is installed in minutes, offering the same geofence boundaries as vehicle trackers. |
| Advanced dashcam | Some dashcams passively record, but Motive's dashcam uses a light bar to convey immediate feedback to drivers. |
| Drivers app | Rather than being confronted with an admin-heavy interface, drivers have their own simplified app. |
Human and AI Behavior Analysis
When choosing a GPS fleet tracking system, driver monitoring and coaching is an important factor for many fleet managers. As well as on-demand recall, the Motive dashcam will alert drivers in real time to around 10 potentially risky behaviors, such as speeding and harsh acceleration, using a color-coded lightbar. This is augmented by a team of between 300 and 400 Motive employees in a data center, scrutinizing video footage in near real time. They can identify actions the dashcam might miss, such as stop sign violations and drifting between lanes. These are then flagged and tagged as violations, with clips sent to that driver's mobile app (if it's installed) with recommendations on how they could improve their driving standards.
Motive aims to review every video clip within 10 minutes, and in February 2023, it managed that in 94 percent of cases. Indeed, it's normal for footage to be reviewed inside 5 minutes and then graded in terms of severity. This is a feature no other GPS fleet tracking company we reviewed presently offers, and it's a key reason why we recommend this platform for firms seeking to cut their insurance bill or prioritize accident reduction. Unsurprisingly, Motive has managed to negotiate insurance discounts through certain providers, including Sentry Insurance and Progressive.
Motive's annotations team grades clips by severity and tag violations the AI system missed, for granular, near-immediate oversight of driver behavior.
Trailer and Equipment Tracking
Motive also markets a product called the Asset Gateway, which is a silver-colored tracker attached to the roof of trailers and equipment. Drawing its power from the sun, it offers minute-by-minute pings and location-specific notifications on conditions such as cargo temperature. If you need to mount it lower down, there is an option to install it using a seven-way trailer cable connection, though this will probably require a mechanic.
Supplied with a five-year warranty, the Asset Gateway can deliver geofence and dormancy alerts, the latter covering extended idle time (over two minutes by default, though this period can be extended if desired). The reports it generates are accessible through the same Motive Fleet Management dashboard used for vehicles, and results can be exported as either CSV or PDF files. We also like the fact the Asset Gateway can be used without the vehicle towing it being equipped with a tracker. We found that to be invaluable if you're using a third-party trucking or logistics firm to transport your cargo.
Advanced Dashcam
We were particularly impressed with the Motive dashcam. Most competitors offer a dual-facing HD dashcam, but none is this sophisticated. AI modeling detects unsafe driving behaviors, providing near-instant feedback to drivers through a light bar whose numerous colors indicate different issues. The driver is therefore given real-time guidance through the dashcam on aspects of their driving they could improve upon.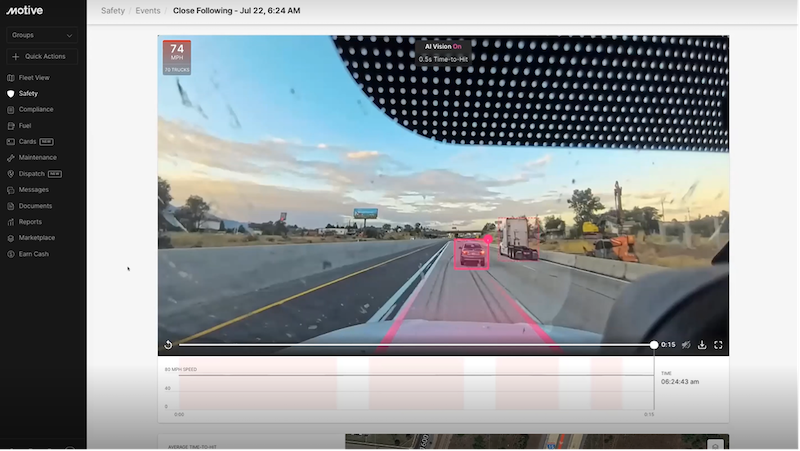 Motive's dashcam features AI tools that can help automatically monitor conditions and coach driver's on safety best practices.
The dashcam's features also extend to in-cab audio, offering 104 hours of constant recording time and the ability for drivers to activate recording voluntarily. Engine-off recording will normally continue for 10 minutes, but that period can be extended if a driver is taking a lengthier break or making a delivery in an unsafe area, for instance.
Drivers App
Many GPS fleet tracking platforms we reviewed (including the ones in our review of Azuga and our Force by Mojio review) offer a mobile app, which is usually shared between drivers and managers/administrators. While the latter can still monitor their fleets through either desktop or app-based interfaces, Motive has also developed a dedicated app for drivers. This presents a streamlined interface with four key section headings: Compliance, Maintenance, Messages and Performance. This places all the information a driver needs on their mobile device, without unnecessary administrative detail. It's worth noting that drivers don't have to install this app for Motive to work, though it integrates well with other Motive features like its fee-free Mastercard fuel card.
Although the app initially proved glitchy during our demonstration, its merits are obvious. There are dedicated buttons for logs, support and documentation, and drivers can take photos of damage to their vehicles and upload it. Inspection prompts are proactively offered in the app, and an extensive list of checkable parts includes air lines, dents and fuel levels. Once the driver selects a vehicle and location and signs out, they're ready to roll.
Motive Pricing
Motive does not publish its pricing publicly, and the company declined to provide ballpark figures when we asked. Other review platforms have encountered the same issue. It's been reported elsewhere that the ELD device costs $150 and monthly vehicle fees start at $25, with dashcams available from $15 per device per month. However, we've been unable to independently confirm these prices, which may vary anyway according to fleet size.
Opaque pricing is a major drawback that will deter some prospective clients from proceeding. It's particularly disappointing when rivals like Force by Mojio advertise transparent pricing of $18 per vehicle per month front and center in their marketing literature. On a brighter note, Motive doesn't lock users into three-year contracts as many rivals do; it offers annual contracts, with five-year warranties on proprietary monitors and dashcams.
Motive doesn't advertise pricing or promote free trials. It will sometimes offer a 14-day trial to potential customers, but this may not be available to everyone.
Setup
In terms of installing hardware, we're pleased to see Motive offers more than the obligatory OBD-II port for its GPS tracker. You can also install it using a six-pin, nine-pin or Mack connector. Supplied with a five-year warranty and boasting a 500MB storage capacity, it can track locations to a specific building, which means geofence boundaries can be as small as a single yard or garage. There is an automatic notification if the device gets disconnected.
If you need further help during installation, an extensive directory of guides and information is available on the Motive website. A mechanic will likely be needed only if you're installing a trailer tracker through a seven-way cable connection.
The Motive app supports English, Spanish and French languages, automatically defaulting to the device's set language.
Customer Service
While some GPS fleet tracking companies offer limited phone support, Motive operates a 24/7 800 number. You can also request assistance through a chatbot, or via a simple three-field form that doesn't force you to provide an account number or other data before you submit a contact request. Some users have reported needing to file multiple requests before an issue is addressed, though.
Motive's online Help Center breaks web support down into categories: drivers, managers/admins and installers. This searchable directory of resources is extensive but text-only; there are no YouTube tutorials or podcasts here. There is support for the Motive Open API, with over 110 third-party apps already provided by the likes of Tomorrow.io, Volvo Construction, CAT and FuelBI.
Drawbacks
Unnecessarily opaque pricing is a major drawback compared to platforms like ClearPathGPS, where every asset is listed beside a clear pricing structure. Motive users have raised concerns about billing issues and an inability to get customer service queries resolved right away. The company doesn't promote free trials but offers them to some customers, which will be frustrating if your business isn't offered one.
Motive doesn't support SMS alerts for geofence infringements or idling events, which could reduce the immediacy of responses from admins. It's compatible with Canadian rules and ELD regulations but not suitable for use in Mexico. Also, it lacks features like a CRM or online booking capabilities. These are valuable additional services offered by some competitors.
Methodology
Selecting a GPS fleet tracking system can be tough, so we did some of the heavy lifting for you. We spent countless hours researching and analyzing GPS fleet tracking systems to identify the top solutions on the market. We looked at hardware, features, pricing and contracts, usability, refresh times, and customer service, and we even got hands-on experience with demos and product videos when possible. When searching for the best GPS fleet tracking system for small businesses specifically, we focused on how comprehensive each service's features are, how easy the product is to set up and use, and whether the product can easily scale. In Motive's case, we spoke to senior personnel, quizzing them about the figures behind their claims and exploring the integrations currently available.
Motive FAQs
Yes, it does. As well as offering its own driver fuel cards, the Motive interface displays fuel efficiency, fuel levels and average mpg over time periods extending up to 12 weeks. It can also calculate the highest fuel economy, idling time percentages and even estimated CO2 emissions. Being able to filter by vehicle type or driver group (delivery drivers, maintenance crews, etc.) also identifies high and low levels of fuel economy, potentially influencing future fleet choices and helping to cut down on fuel costs.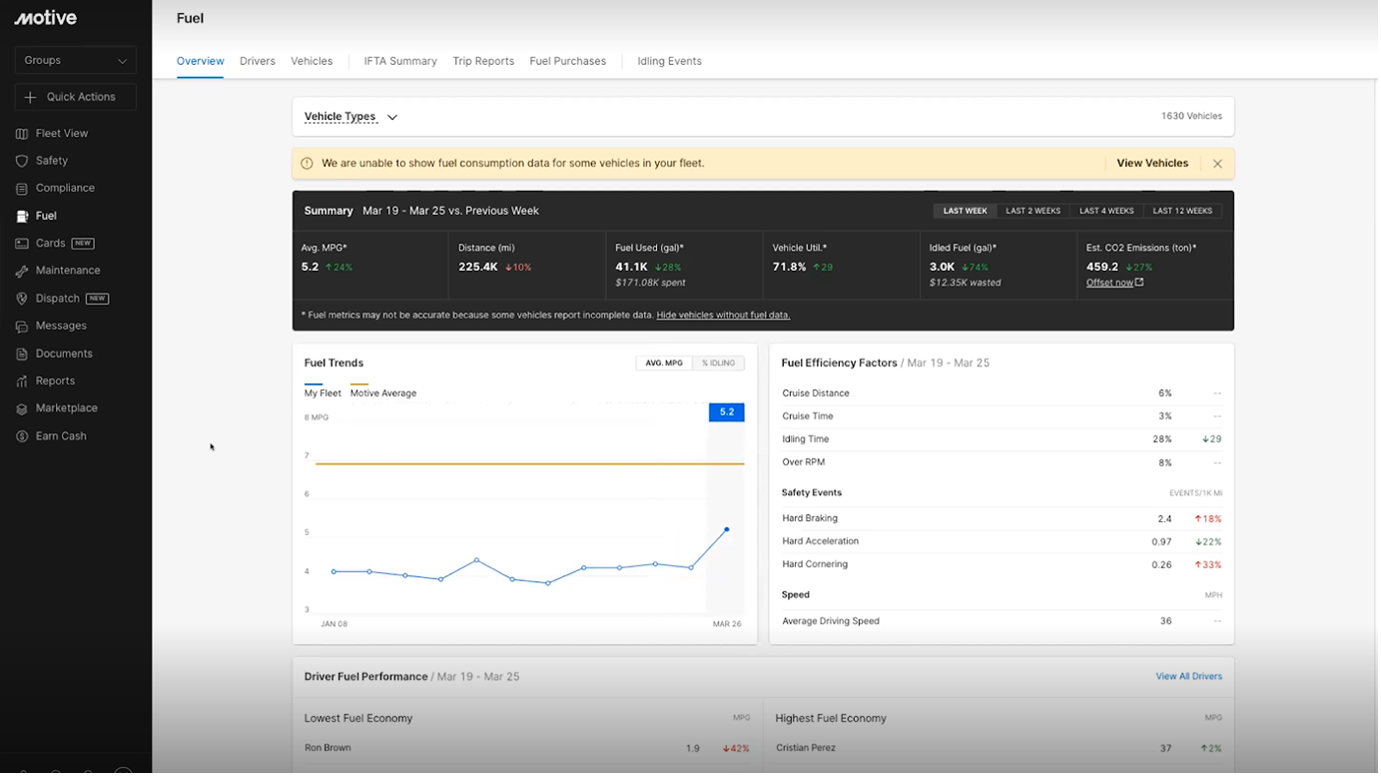 Motive gives fleet managers insight into fuel efficiency and how to cut down on costs.
There are dedicated IFTA summaries, which can be exported as reports. These include trips by state, as well as fuel purchases using either receipts, the Motive fuel card or third-party fuel card integrations.
Motive uses a combination of AI tools and human reviewers to keep tabs on driver safety and grade performance. Fleet managers can use this information to identify at-risk drivers and proactively coach them to improve safety and reduce fleet maintenance costs.
Overall Value
We recommend Motive for …
Fleet managers who want real-time safety updates as well as conventional telematics tracking for fleet vehicles.
Managers who want to be able to rank their drivers according to the environments they drive in, rather than comparing long-distance truck drivers to urban van drivers.
Companies looking to gain granular oversight on employee fuel spending.
Businesses where trailer tracking is required with permanent power supplies.
We don't recommend Motive for …
Companies that want to test software without committing to a long-term contract.
Businesses seeking to provide customers with live driver updates or two-way customer messaging.
Firms that want clear, up-front pricing.
Read related article: If improving driver safety is a priority, our review of NexTraq explains why this rival platform also performed strongly in terms of its standard safety features.