Samsara GPS Fleet Management Review
Samsara offers a wide variety of hardware, including tracking devices, cameras, environmental monitors, temperature probes, asset trackers and card readers.
Samsara's intuitive software offers real-time tracking and live alerts that provide an exceptional user experience (UX).
Samsara's GPS fleet management solutions can be customized to suit the needs of many businesses.
This review is for small business owners and fleet managers who want to understand Samsara's fleet management solution.
Samsara is our choice as the best GPS fleet management system for startups. Small businesses with limited resources need a GPS fleet management system that's easy to use and affordable to both purchase and maintain. Samsara's intuitive platform provides real-time tracking and customizable contracts, as well as industry-specific tracking plans. This ensures every dollar counts, as companies receive software (and a service) that meets their needs, rather than paying for generic packages potentially aimed at bigger firms or companies in different industries.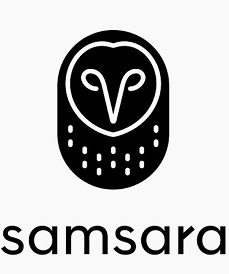 Samsara GPS Fleet Management
The Verdict
Samsara is our pick for the best GPS fleet management service for small businesses because of its intuitive interface, advanced fleet management features and real-time visibility. It has everything you need to maintain ELD, IFTA and DVIR compliance.
Samsara simplifies the process of complying with safety regulations through a robust set of fleet safety and compliance features. A unified compliance dashboard lets companies manage their fleet and maintain compliance with electronic logging device (ELD), hours of service (HOS), International Fuel Tax Agreement (IFTA) and driver's vehicle inspection report (DVIR) regulations.
Editor's Score: 92/100
| | |
| --- | --- |
| Cost | 81 |
| Features | 98 |
| Refresh time | 98 |
| Usability | 95 |
| Customer service | 90 |
Why Samsara Is Best for Startups
Samsara is the best option for startups and small businesses because of its scalability and advanced feature set. It's one of the most comprehensive tracking solutions we reviewed, and it offers truly real-time visibility, giving employers and fleet managers the data they need to make critical decisions as soon as possible. Samsara clearly understands that every small business is unique, and its GPS fleet management systems reflect that. Instead of cookie-cutter packages designed for a wide audience, Samsara offers custom fleet management plans based on specific needs.
Many companies claim to offer real-time visibility, but Samsara is one of the few companies we reviewed that offers to-the-second updates and full visibility.
Samsara has all the features small businesses need to successfully track their fleets, optimize vehicle performance, and improve driver safety and behavior. You can access dashcams for complete fleet visibility, integrate fuel cards for optimal fuel performance, and view a plethora of alerts and reports for overall fleet management. Samsara can also help you maintain compliance with a variety of important legal regulations, which can be a major benefit to startups and SMEs that don't yet have a compliance manager on their payroll.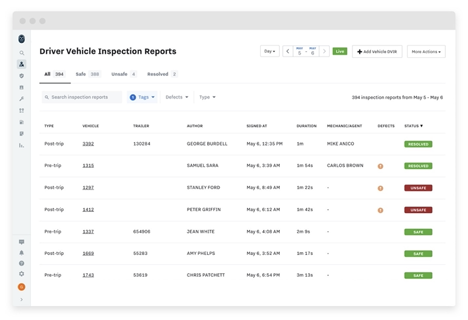 Pros
You can track your fleet in real time.
Samsara can serve various industries and help businesses maintain compliance with all relevant regulations.
The software integrates with a variety of third-party applications, making the platform even more valuable to small businesses.
Samsara also offers maintenance and management tools for buildings, equipment, staff compliance and other related areas.
Cons
Samsara doesn't list pricing online, so you'll need to fill out an online form or contact a representative for a quote.
There is no free trial.
Clients must sign up for at least three years, with a minimum of three vehicles.
Usability
Although Samsara can service various business types, it best serves clearly defined industries like transportation and logistics, food and beverage, construction, government, and passenger transit. The company has industry-specific solutions, so it can tailor your system to best match your specific needs, increasing overall usability for you and your team. That's good, because many of the packages in today's $28 billion global fleet management market feel generic and may not suit smaller firms in particular.
We found Samsara's software intuitive and easy to navigate, which is another benefit for time-poor startups with numerous other pressing tasks to handle. You can build mobile-friendly monitoring dashboards that display the information most pertinent to your business, while live tracking enables real-time fleet management.
Samsara Features
Samsara is a comprehensive fleet management system that offers plenty of real-time fleet management services:
| | |
| --- | --- |
| Tracking hardware | Choose from plug-and-play tracking devices, cameras, asset trackers, and various other accessories. |
| Driver safety and performance | Manage drivers' performance with in-cab dashcams, behavior reports, driver training and rewards programs. |
| Fleet maintenance and optimization | Samsara tracks engine diagnostics, fleet health and maintenance. It also tracks fuel usage and integrates with fuel cards. |
| Alerts and reporting | Receive real-time alerts and reports, as well as a helicopter view of your fleet. |
Tracking Hardware
Samsara offers a wider variety of hardware than its competitors do. In addition to standard plug-and-play devices, you can set up in-cab cameras to get a direct view of what your driver is seeing. Samsara also offers other trackers and accessories:
Environmental monitors
Asset trackers for powered and nonpowered equipment, including trailers
Wireless door and cargo monitors
Panic and privacy buttons
Engine immobilizers
Auxiliary input hubs
IP indoor and outdoor cameras (for monitoring parking lots, garages, etc.)
ID card readers
Access to such a wide variety of tracking devices and accessories is ideal for small businesses to compile a custom tracking system suiting their specific needs. It's also great for small businesses that need a basic tracking solution to start with, while intending to expand with other devices and accessories. As your company grows, it's reassuring to know that Samsara's software can support over 10,000 separate assets.
Driver Safety and Performance
Samsara's software provides an overview of driver behavior. You can track speeding, rapid acceleration and abrupt braking, and geofencing as usual, but not all fleet management applications we evaluated provide data on aggressive cornering as Samsara does. We found it easy to score drivers so they understand which specific areas need improvement. The integrated dual-facing HD dashcams are similar to those of rival platforms like Azuga, which allow the viewing of footage in real time and the recording of safety-related incidents for subsequent analysis. There are also front-facing-only dashcams available. In the event of issues being reported, drivers can receive in-cab feedback and video coaching to improve their performance.
Rewarding your drivers for safe driving practices can improve their performance and even increase employee retention.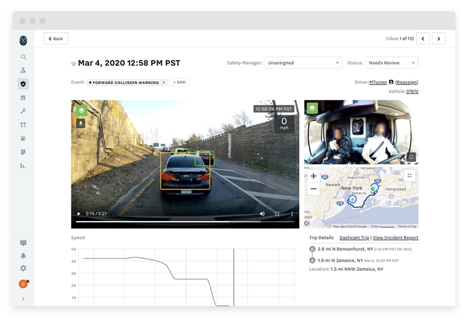 You can get a live view when your team members practice harsh driving. Source: Samsara
Fleet Maintenance and Optimization
Samsara's hardware and software generate excellent maintenance reports that give you insights on the condition of your vehicles. You can manage preventive maintenance and analyze vehicles during breakdowns. Samsara allows you to track fuel consumption, idle time and utilization so you can plan routes better and coach drivers to adopt more fuel-efficient habits.
Fuel card integration is a great way to cut down on fuel costs and optimize your fleet. Samsara is one of the few companies we looked at that can integrate with FLEETCOR-issued fuel cards (e.g., Comdata, Fuelman, Universal Premium). Small businesses often need to save money wherever they can, and fuel card integration is a great way to do so.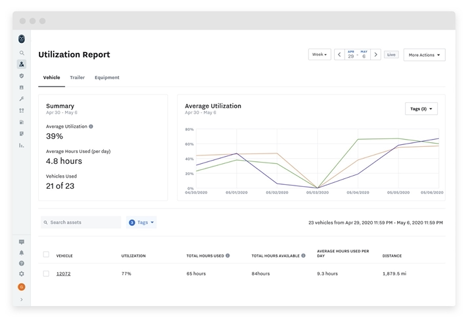 Alerts and Reporting
Samsara's live alerts mean you can stay truly up to date. You can set up alerts for driver behavior, engine diagnostics, geofencing and more. Samsara refreshes every second, making it one of the few companies we reviewed that provides real-time tracking. Many GPS fleet management services supply breadcrumb-style updates, where the software refreshes every 10 seconds to two minutes, but Samsara can tell you exactly where each vehicle is at any given second.
It offers an advanced, helicopter view of your fleet, zooming in over individual vehicles, which appear as an arrow on the map as they follow their route. The level and accuracy of this tracking elevates Samsara above many other companies in this market.
Restaurants benefit from mobile POS systems because they are easy to use, allow for quick checkout, and enhance customer service.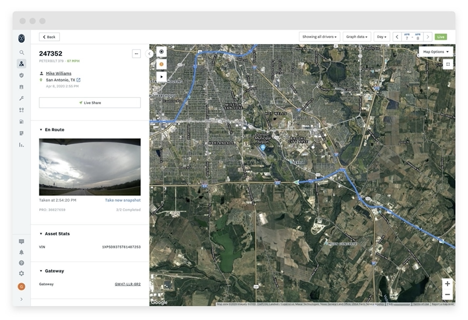 Samsara Cost
Samsara's GPS fleet management services comprise both one-time hardware and licensing costs and recurring monthly fees. Unfortunately, the company doesn't list its pricing online; you have to call its sales department or fill out an online price configurator for a representative to contact you with a custom quote. Although this adds a little time to the initial implementation process, a truly customized solution is ideal for many small businesses, as opposed to a standard, preset tracking plan based on generic requirements. It's worth noting that Samsara's tick-box enquiry form is very similar to the one used by other companies in this industry, notably Azuga.
Samsara supports a wide range of fleet sizes, starting from just three vehicles, and it can scale to meet your business's needs as your fleet grows. This means you can partner with Samsara as a startup and stay with it as your small business expands. On the downside, a 36-month contract is standard. Although similarly lengthy contracts are common in the fleet management industry, we did find a few GPS fleet management companies that offer shorter contracts. For example, our review of Force by Mojio highlights that no contracts are required, and there's even a 60-day free trial.
Setup
Signing up with Samsara starts with contacting a representative to set up an account that matches your needs and budget. Once this has been done, installing and using its hardware is pretty simple. Samsara offers only plug-and-play GPS fleet management devices rather than hard-wired systems, so drivers and managers should be able to install a device within minutes using the OBD-II port of their vehicle.
Samsara is compatible with third-party integrations and open APIs, from manufacturers (Ford, Stellantis, GM) to fuel card providers to maintenance firms. Connecting it to your other business platforms is possible, but this may add a little more time to your overall setup.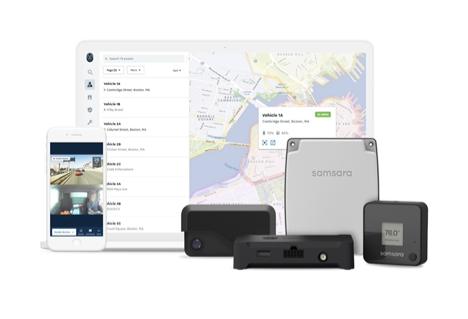 Customer Service
Samsara is accredited with the Better Business Bureau and has an A+ rating. We found all of Samsara's online resources quite valuable; there are regularly updated blogs and webinars, videos and product tours, plus guides to everything from fuel card management to collision avoidance technologies.
If you need one-on-one support, you can reach Samsara representatives by phone, email, webchat or help ticket. Customer support is available 24/7, which is superior to the 60 hours of weekly support provided by rivals such as Force by Mojio.
Drawbacks
Although Samsara is an excellent GPS fleet management service for small businesses, we noted a couple of limitations, mostly regarding pricing and contracts. The most significant potential drawback of Samsara for small businesses is the requirement for at least three vehicles. If you need tracking for only one or two vehicles, a rival solution like the one in our GPS Trackit review might be better, as GPS Trackit imposes no minimum fleet size restrictions.
The other significant drawback is Samsara's average contract term of 36 months. While this is standard across the fleet management industry, a short-term or month-to-month contract may suit startups better in their volatile early stages of growth. This lack of flexibility is compounded by the lack of online pricing – a real deterrent for companies that want to do quick price comparisons without having to speak to someone.
Methodology
Selecting a GPS fleet management system can be tough, so we did some of the heavy lifting for you. We spent countless hours researching and analyzing GPS fleet management systems to identify the top solutions on the market. We looked at hardware, features, pricing and contracts, usability, refresh times, and customer support, and we even got hands-on experience with demos and product videos when possible. When searching for the best GPS fleet management system for small businesses specifically, we focused on how comprehensive each service's features are, how easy the product is to set up and use, and whether the product can easily scale. In Samsara's case, we also studied its real-time updates and customizable contracts.
Samsara FAQs
How do I log in to Samsara?
Logging in to the Samsara platform is simple, whether you are using the mobile app or a web-enabled device. You need a driver's name, password and fleet ID to log in. Simply go to https://cloud.samsara.com/signin_driver and enter your credentials to log in.
How does Samsara ELD work?
If your fleet needs to adhere to the ELD mandate, install the Samsara ELD into each vehicle's OBD port. Once it's connected, your driver can log in to the Samsara driver portal or app to record when they are on and off duty. The ELD hardware will automatically record essential information like engine diagnostics and safety details, and the driver portal will record driving data.
Overall Value
We recommend Samsara for …
Small businesses that need to track three or more vehicles or assets.
Businesses requiring real-time telematics on their fleet.
Fleet managers who want a comprehensive tracking solution that can scale with their business.
Companies who also need services like temperature maintenance and site security.
We don't recommend Samsara for …
Businesses looking for preset tracking system plans with online pricing.
Fleet managers looking for a short-term or month-to-month contract.
Read related article: If improving driver safety is a priority, check out our review of NexTraq, which earned our best pick for safety features.
Neil Cumins also contributed to this article.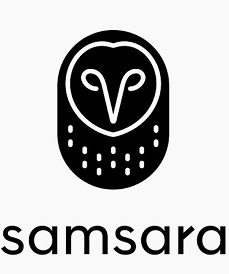 Samsara GPS Fleet Management
The Verdict
Samsara is our pick for the best GPS fleet management service for small businesses because of its intuitive interface, advanced fleet management features and real-time visibility. It has everything you need to maintain ELD, IFTA and DVIR compliance.

Neil Cumins
Contributing Writer
Neil Cumins is an award-winning writer and journalist from Carlisle, England. With over 20 years of experience writing about technology and marketing on both sides of the Atlantic, he's worked with some of the world's biggest hardware and software manufacturers, as well as countless SaaS brands. An amateur coder and semi-pro photographer, Neil launched his own business in the Noughties, and has subsequently helped many other small firms to grow and prosper.