GPS Trackit Review
GPS Trackit has month-to-month contracts, a 30-day, money-back guarantee and no minimum requirements.
GPS Trackit offers comprehensive tracking features and unlimited live training.
You can customize and automate reports and alerts with the software.
This review is for small business owners and fleet managers who want to understand GPS Trackit's fleet tracking solution.
GPS Trackit is our choice for the best GPS fleet management system for managers who want granular control over the reports and data they receive about their fleets. It allows firms to create custom fleet tracking plans that match their requirements at that time and then evolve their reporting as circumstances change. Notable attributes include the ability to automate and customize reports and the events that trigger live alerts. You can receive live traffic and weather updates, which might influence journey planning, and even monitor the temperature of heat-sensitive cargo across up to three temperature zones per trailer.

GPS Trackit
The Verdict
GPS Trackit is our pick for reporting because it offers a variety of advanced analytics. You can customize and automate reports, set up event-triggered alerts, and access video telematics with dashcams.
We also like the flexibility offered by GPS Trackit, which doesn't lock customers into long-term contracts or impose minimum fleet size requirements; firms can even try out the system risk-free thanks to a 30-day money-back guarantee. The ability to choose between plug-and-play and hardwired tracking devices is another positive, while companies that want dashcams or asset/trailer trackers are also well served. GPS Trackit's dedicated offering for public transportation providers is unparalleled in this sector.
Editor's Score: 88/100
| | |
| --- | --- |
| Cost | 86/100 |
| Features | 95/100 |
| Refresh time | 80/100 |
| Usability | 88/100 |
| Customer service | 90/100 |
Why GPS Trackit Is Best for Granular Reporting
For your business to extract optimal use from fleet tracking software, the system should turn collected data into reports that provide valuable insights about your fleet. Although some software providers only offer standard reporting, we prefer reports that are customizable and easy to read. GPS Trackit lets you customize reports to show the specific data points you find valuable, such as driver safety and performance, vehicle health and route optimization. We also found that GPS Trackit goes one step further by letting you automate reports, so you can receive them however often you'd like. Reports can be viewed, exported and printed.
GPS Trackit's alert function can be triggered by specific events, allowing you to respond to situations as soon as they occur and limit potential negative consequences. Depending on the issue, this could result in substantial cost savings. The level of alert customization GPS Trackit offers is just as useful as its reporting capabilities. If you need to maintain ELD compliance, use GPS Trackit's electronic logging device software and hardware to obtain the necessary reporting. The firm's electronic logging device (ELD) solutions also support Canadian and Mexican rules, and offer Spanish and Canadian French language options.
If you get GPS Trackit's ELD add-on, you can set up custom alerts and predesignated industry-specific alerts and notifications.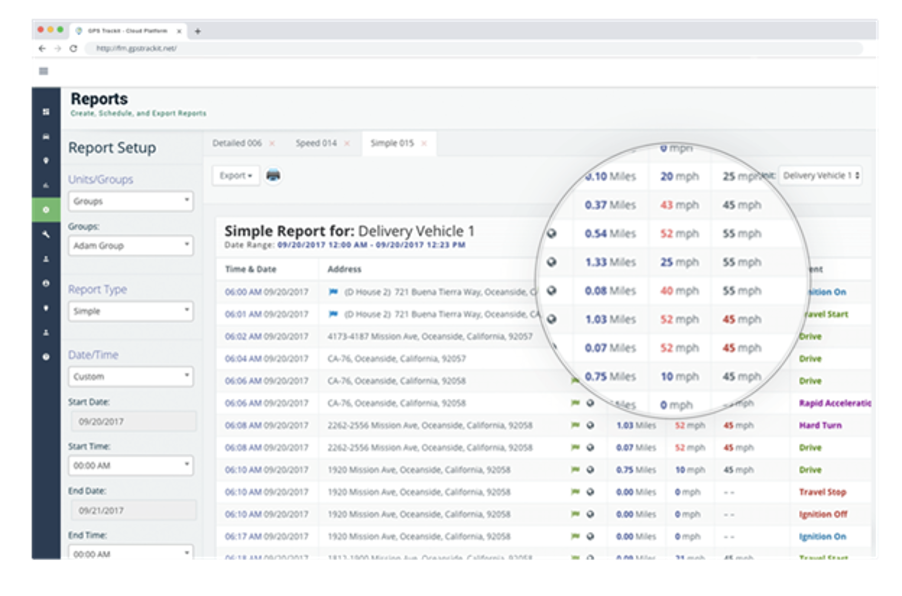 GPS Trackit lets you customize reports to show the data you need. Source: GPS Trackit
Pros
Reports can be extensively customized and automated.
GPS Trackit offers live traffic and weather reports.
There are no minimum fleet sizes or contract lengths.
There is a wide choice of in-vehicle hardware.
Cons
The refresh time of up to 60 seconds is among the slowest of the companies we reviewed.
The mobile app features are limited compared with the web dashboard.
Pricing is hard to obtain, and installation isn't included.
Usability
Once your devices are installed correctly, you can track and view fleet data on your computer, tablet or smartphone. We found that the mobile app's features are more beneficial for viewing than for changing settings. This is particularly significant because the level of customization offered by GPS Trackit requires a lengthy initial setup, and it may take a while to get familiar with the software's full array of functionalities. If your team struggles with this learning curve, you can take advantage of GPS Trackit's free personalized training, which is unusual in this sector.
The cloud-based software provides tracking updates every 30 to 60 seconds, giving you a breadcrumb trail of where your drivers are. Near-real-time tracking is common in the industry, so GPS Trackit is off the pace compared with rivals such as Force by Mojio. However, there is an impressive mobile-friendly two-way messaging utility that incorporates message history, canned messages and a notification bar.
GPS Trackit Features
| | |
| --- | --- |
| Alerts and reporting | You can customize and automate reports and event-triggered alerts. |
| Tracking hardware | GPS Trackit offers plug-and-play and hardwired trackers, dashcams, ELDs, asset trackers and trailer trackers. |
| Driver safety | You can access driver scorecards and safety alerts. |
| Maintenance and optimization | GPS Trackit has vehicle health features such as diagnostic reports, maintenance schedules and integrated fuel cards. |
| Public transport monitoring | GSA-approved real-time GPS tracking is designed for transit authorities. |
Alerts and Reporting
The real-time alerts from GPS Trackit can be customized to report specific events related to driver safety and performance, such as hard driving (e.g., speeding and harsh braking), vehicle maintenance and geofencing. You can also set up after-hours alerts and power takeoff alerts, including tow and boom alerts, all distributed via text and email.
In addition to alerts, GPS Trackit has detailed reporting options. Instead of limiting your options to standardized reports (as some competitors do), GPS Trackit lets you create custom reports. This gives your team valuable insights about the parts of your fleet that matter most to your business. For example, you can create reports based on landmark interactions, speeding, mileage (including miles driven in each state, to track fuel taxes), temperature and driver safety. We were impressed with how simple it was to dissect the data. You can break down reports by individual drivers or entire fleets, and GPS Trackit separates key metrics and data into dashboards for valuable insights on safety, efficiency and performance.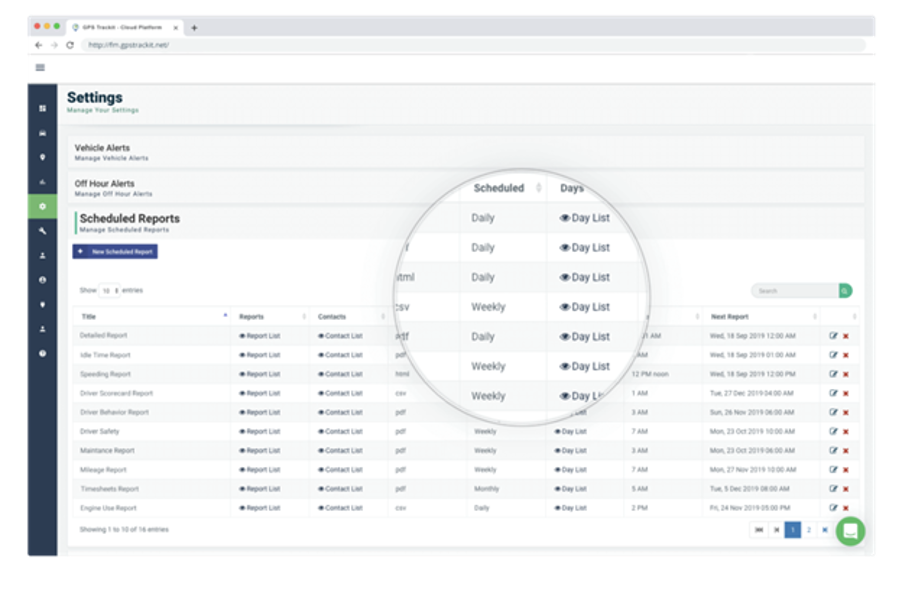 GPS Trackit lets you set up automated reports. Source: GPS Trackit
Tracking Hardware
GPS Trackit offers OBD II port hardware, a self-certified ELD and two hardwired tracking devices. Although installation is not included in the price, GPS Trackit's hardware is relatively simple to install on your own, and live data is displayed through Google Maps. The company also offers a wider selection of affordable tracking hardware than many competitors do, including the following devices:
Three separate dashcams, ranging from forward-facing-only to a 4K dual-facing device with eye-tracking technology and livestreaming
Hardwired tracking devices with a choice of external or internal antennas and wireless firmware updates
A battery-powered asset tracker
A trailer tracker
In-cab voice coaching is offered to reduce risky driver behavior in response to AI-assessed incidents of harsh driving, inattentiveness and other potential risk factors. You can also use GPS Trackit hardware to detect unauthorized vehicular movement or theft, including remote power disconnections and tow alerts.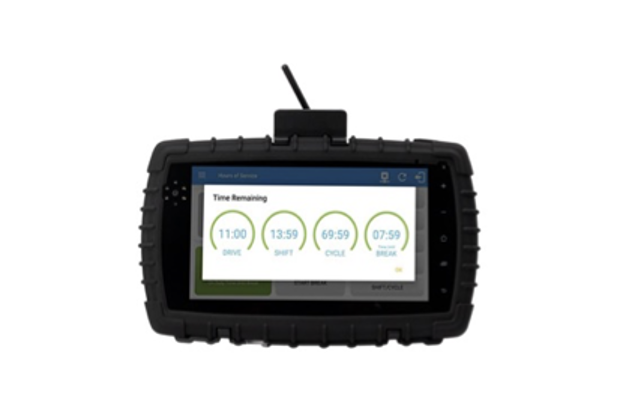 GPS Trackit offers ELDs for businesses that need to maintain ELD compliance. Source: GPS Trackit
Driver Safety
GPS Trackit provides the usual safety features, including color-coded driver scorecards and safety alerts. It tracks harsh braking and acceleration, speeding, excessive idle time, whether a driver is yawning and even how frequently they're blinking. Armed with this information, you can help your drivers improve their habits and cut down on idle time that can ultimately hurt your bottom line. You can also view real-time interactive maps of vehicle locations or set up reports and alerts to stay abreast of vehicle maintenance and marquee safety issues. The Trends feature allows managers and admins to monitor the performance and behavior of all drivers or individuals on a weekly, monthly and/or quarterly basis.
You can even monitor in-vehicle temperature when transporting heat-sensitive items. We didn't find this option in many rival systems, though it is offered by NexTraq as well. If you add a dashboard camera or four-channel video hardware, you can also record firsthand footage of events, which is especially useful following an accident.
Maintenance and Optimization
GPS Trackit provides detailed vehicle diagnostics, including the status of the following:
Brakes
Coolant
Cruise control
Ignition
Oil pressure
These and other notable issues are summarized in reports that help you schedule preventive maintenance and manage vehicles if they break down. The software also offers detailed reports on fuel performance, so you can analyze and optimize routes, coach your staff on fuel-efficient driving behaviors, and manage fuel costs. It's possible to integrate fuel cards to monitor spending, which isn't a feature all competitors offer.
Public Transport Monitoring
In addition to offering the usual digital video recording hardware, GPS Trackit has developed bus fleet management software. These tools — which include live alerts, asset tracking, anti-bunching and automatic passenger counters — aim to simplify public transportation management. The data can be shared with drivers or distributed to customers via Android and iOS passenger apps.
The system can be extended to passenger enhancements such as LED signs, onboard TV advertisement screens, Americans with Disabilities Act-compliant announcer video systems and onboard Wi-Fi. With the exception of Teletrac Navman, no other GPS fleet tracking provider we reviewed offers anything like this, making GPS Trackit an obvious choice for public transport firms.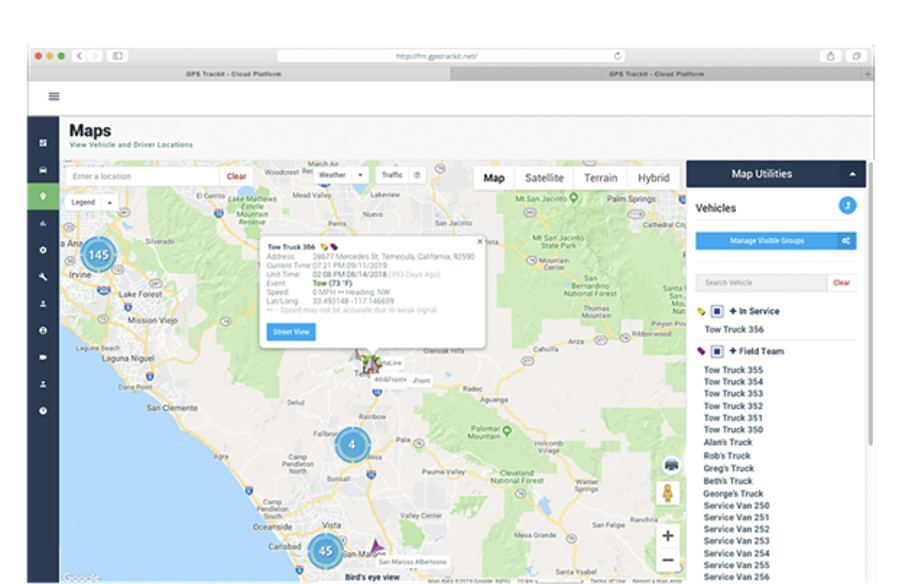 You can view live interactive maps of where your drivers are. Source: GPS Trackit.
GPS Trackit Cost
GPS Trackit offers custom GPS fleet tracking plans even for businesses with just one vehicle. You can purchase hardware devices outright or lease them for a monthly fee; either way, they come with a lifetime hardware warranty. This is one of the few companies we reviewed that doesn't have any long-term contract requirements, enabling companies to partner with GPS Trackit on a month-to-month basis. If you decide to pause or cancel your subscription, GPS Trackit doesn't charge a cancellation fee (although you may be charged if you don't return your leased hardware). There's even a 30-day money-back guarantee, so you can try the services risk-free.
The cost of your monthly subscription will depend on the features and hardware you need. GPS Trackit doesn't advertise pricing, but figures obtained from the company late last year suggested services typically start at around $23.95 per month, which includes the hardware but not installation. Rates tend to go up once you add features such as ELD compliance or asset tracking. To obtain a quote, you'll have to call GPS Trackit or complete a five-page online form.
GPS Trackit offers customized, month-to-month service plans, and you can buy or lease the hardware.
GPS Trackit Setup
Although GPS Trackit offers device installation and free live training, businesses can often set up and install the devices on their own. The hardware usually arrives within seven days of the order. GPS Trackit offers both hardwired and plug-and-play devices, so the installation time will depend on which type you have. Device installation involves connecting the device's power wire and mounting the GPS antenna.
Should you encounter problems, you can head to the GPS Trackit website, which is packed with e-books, guides and webinars. There's also a company blog with more than 800 entries stretching back over a decade and split into a dozen categories, including industry news, fleet management and customer service.
GPS Trackit Customer Service
GPS Trackit has an A+ rating with the Better Business Bureau and is accredited by the rating agency. At the time of this review, GPS Trackit had a score of 4.5 out of five stars on Trustpilot, based on 120 reviews. This solid online reputation far outstrips the performance of rivals such as Verizon Connect. Because GPS Trackit users don't enter long-term contracts, the company is incentivized to provide excellent customer support. It's one of the only GPS fleet tracking companies we analyzed that offers customers free unlimited live training and expert support.
Representatives are available by phone and online from 8 a.m. to 8 p.m. ET. However, those hours do not match the 24/7 support offered by some competitors we reviewed. If you need around-the-clock support, check out our Azuga review.
We were delighted to see Call Sales and Call Support buttons prominently positioned on the website's homepage, with a single click loading the relevant number. That's a level of simplicity no other GPS fleet tracking company offers. Another impressive feature is the newly added knowledgebase, which includes a blend of articles, tutorials and videos inside a searchable website directory.
GPS Trackit offers unlimited live training and free expert support around the clock, though the live-chat pop-up that appears on every page of the website quickly becomes irritating.
GPS Trackit Drawbacks
We didn't find any significant drawbacks to partnering with GPS Trackit. But prospective users will need to contact the company to learn their specific costs, as the company doesn't list pricing online anymore. It's also unclear how much the hardware installation costs; this service isn't covered in the standard fee, so you'll have to ask GPS Trackit. Firms seeking a fleet management solution with transparent online pricing might wish to read our review of ClearPathGPS.
Another potential limitation is the refresh time. GPS Trackit promises updates every minute, which is among the slowest we've encountered in our GPS fleet tracking research. Check out our Samsara review if you need an almost-instantaneous look at your vehicles' locations. There's also no way to provide customers with tracking links or to give them scheduled driver ETAs, which is a function that many other GPS platforms we reviewed now offer.
Methodology
Choosing a GPS fleet tracking system can be challenging. That's why we did some of the heavy lifting for you. We spent countless hours researching and analyzing GPS fleet tracking systems to identify the top GPS systems on the market. We looked at hardware, features, pricing and contracts, usability, refresh times, and customer support, and we even got hands-on experience with demos and product videos when possible. When searching for the best GPS fleet tracking system for reporting specifically, we focused on things such as the types of reports the software offers, how easy the reports are to navigate and export, and how often the data updates. When assessing GPS Trackit, we were especially impressed by the wealth of available data and the granularity of the reporting.
GPS Trackit FAQs
What integrations are available for GPS Trackit?
GPS Trackit integrates with Amazon Web Services, Google Maps and LTE technology. Technology partners include Fleetio, ServiceTitan, ProMiles, SmartWitness, WEX Fleet Cards, SpeedGauge, Fleetcor, Jonas Software and Trucker Tools. There's also a marketplace with over 40 solutions relating to areas like accessories and asset tracking, cameras and compliance, diagnostics and driver management. You can also build your own advanced integration capabilities via GPS Trackit's open API.
Does GPS Trackit provide training?
Yes. If you or your team require additional assistance with the system, you can easily connect with an expert support team for free training. GPS Trackit also offers free product demos, and its customer support representatives are available online and by phone.
Does GPS Trackit support specific industries?
The company makes a big play about tracking equipment for construction hardware. It also offers engine use logging, employee arrivals/departures, billable hours calculations and custom-shaped geofencing for precise supervision of construction sites.
Overall Value
We recommend GPS Trackit for …
Fleets that need customizable reporting.
Businesses that don't want to be locked into a long-term contract.
Companies that transport temperature-sensitive loads.
Public transportation companies that want to optimize customer communications and marketing.
We don't recommend GPS Trackit for …
Managers who require up-to-the-second updates.
Fleets that need preordained tracking plans with transparent online pricing.

GPS Trackit
The Verdict
GPS Trackit is our pick for reporting because it offers a variety of advanced analytics. You can customize and automate reports, set up event-triggered alerts, and access video telematics with dashcams.

Neil Cumins
Contributing Writer
Neil Cumins is an award-winning writer and journalist from Carlisle, England. With over 20 years of experience writing about technology and marketing on both sides of the Atlantic, he's worked with some of the world's biggest hardware and software manufacturers, as well as countless SaaS brands. An amateur coder and semi-pro photographer, Neil launched his own business in the Noughties, and has subsequently helped many other small firms to grow and prosper.