Azuga GPS Fleet Tracking Review

Neil Cumins
Business News Daily Contributing Writer
Updated Dec 02, 2022
Azuga users can create custom service plans that are tailored to their fleet management needs.
Azuga's plug-and-play fleet tracking hardware can be self-installed within minutes.
The Azuga mobile app is robust, with features for both drivers and administrators.
This review is for small business owners and fleet managers who are considering Azuga for their fleet management solution.
Azuga is our choice for the best GPS fleet tracking system for improving the standards of your fleet. It uses a blend of information, competition and remuneration to encourage better driving across the board, giving it a distinct competitive advantage in this congested market. We also like Azuga's simplicity and its focus on reducing maintenance costs across larger fleets.

Azuga GPS Fleet Tracking
The Verdict
Azuga provides fleet tracking services with easy-to-install hardware, robust software features, advanced alerts and reporting, scalable service plans and unlimited customer support.
Editor's Score: 90/100
| | |
| --- | --- |
| Cost | 81/100 |
| Features | 90/100 |
| Refresh time | 92/100 |
| Usability | 95/100 |
| Customer service | 92/100 |
Why Azuga Is Best for Improving Driving Standards
In the age of live video streaming and ubiquitous social media activity, examples of poor driver behavior can tarnish the reputation of any business. Even a brief live video of a vehicle bearing your firm's branding being driven aggressively, erratically or inappropriately could create a PR problem.
Effective recruitment and regular refresher training goes a long way to optimizing driving standards, but Azuga helps to share this burden with a series of rewards and incentives. The ability to rank drivers in a standards-based table – letting them see how their results compare to those of their colleagues – taps into everyone's competitive spirit. Offering table-topping performers quarterly rewards from blue-chip brands like Domino's and Amazon adds a fiscal incentive to going easy on the brake pedal or trying to meet the fuel efficiency goals (which can be set for each driver). Meanwhile, a partnership with DriveActive provides courses and training for repeat offenders, from knowledge checks to guidance on avoiding aggressive driving.
Key takeaway: Azuga incentivizes drivers to optimize their behavior using techniques other GPS platforms don't offer at present.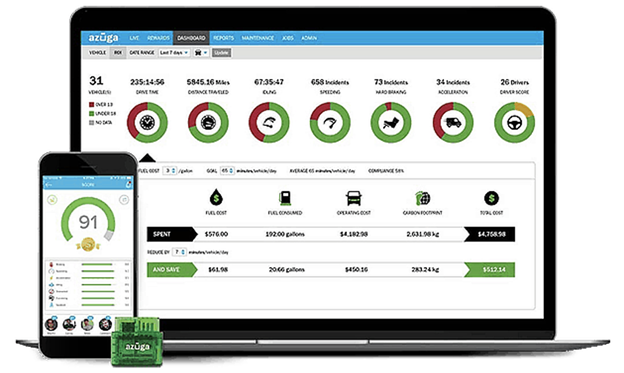 Pros
Drivers are incentivized to improve their behavior behind the wheel.
You can self-install Azuga's plug-and-play devices within minutes.
Azuga offers a plethora of online resources and training.
The customer support team is helpful and easily accessible.
Cons
Azuga requires a three-year contract.
It is not accredited by the Better Business Bureau.
Usability
Several factors require consideration when looking for an easy-to-use GPS fleet tracking system. Hardware should be easy to install and learn, supported by flexible and scalable plans alongside a customer service team that is easily contactable and ready to help. Azuga checks all these boxes, in addition to offering a robust set of fleet management features. Reports refresh as frequently as every 15 seconds, providing constantly updated fleet data visibility. We like how drivers and fleet managers can message one another directly within the platform, streamlining communications.
Azuga's plug-and-play hardware can be installed within minutes. The dashboard is easy to navigate, doesn't require lengthy training sessions, and can be accessed via a computer or mobile device. It's easy to grasp that vehicles shown in red on the Google Maps interface are committing harsh driving, while orange vehicles are idling and green ones are proceeding normally. If there's anything you're not clear about, Azuga's knowledgeable customer support representatives can be reached by phone, email, web chat or a ticketing system.
Azuga's plans are customizable, allowing you to select the fleet management features you need. Alongside this welcome flexibility, we found the dashboard simple to navigate. It can be accessed via a computer or mobile app, so you can manage your fleet from anywhere.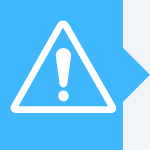 Did you know?: Azuga can be used to conduct vehicle inspection reports, using smartphone photos to report defects alongside file import/export functionality.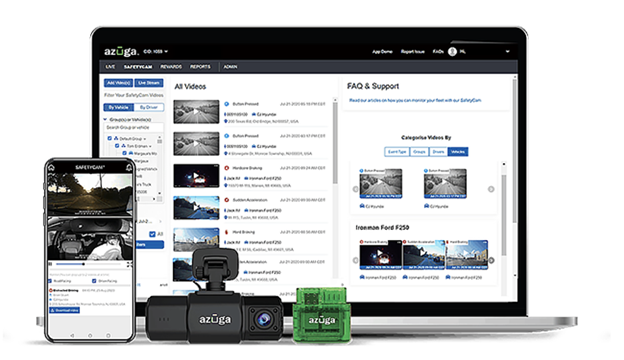 Azuga Features
Here are some of the services you receive with Azuga:
| | |
| --- | --- |
| Tracking hardware | Azuga's plug-and-play tracking devices can be installed and activated within minutes. |
| Driver safety | Users can add personalized safety coaching and a feature that blocks mobile device use while driving. |
| Maintenance and optimization | Users can access fuel card integration and Azuga FuelSaver, plus discounts on tires and maintenance. |
| Alerts and reporting | Users can view live, scheduled and customized reports. |
| Mobile app | Azuga has a feature-rich mobile app for drivers and admins. |
Tracking Hardware
Azuga offers plug-and-play fleet tracking devices that are easy to install via the vehicle's OBD-II port, though you can also hard-wire devices if preferred. You can choose from a long-life asset tracker or a rechargeable tracker. We were impressed with the asset tracker's five-year battery life, while standard devices should last six months on one charge.
Azuga's trackers are easy to install, keeping you updated on where your vehicles/assets are at all times. Even their OBD-II devices are accurate to within five feet, which is useful in built-up areas where multiple deliveries might be scheduled for the same street. The front- and rear-facing dashcams record in HD, with integrated microphones (which can be disabled by administrators) and the ability to record 15-second clips. Their AI technology recognizes eating and smoking, while a dedicated parking mode records break-ins. Footage is available for up to 12 months, but older clips may be accessible on request.
If you allow drivers to drink water on the move or call clients with their current ETA, these actions can be blocked from triggering alerts. That's especially beneficial for long-distance drivers, and it's another example of how adjustable Azuga's settings are, even if it might take a while to get the software configured to your optimal preferences.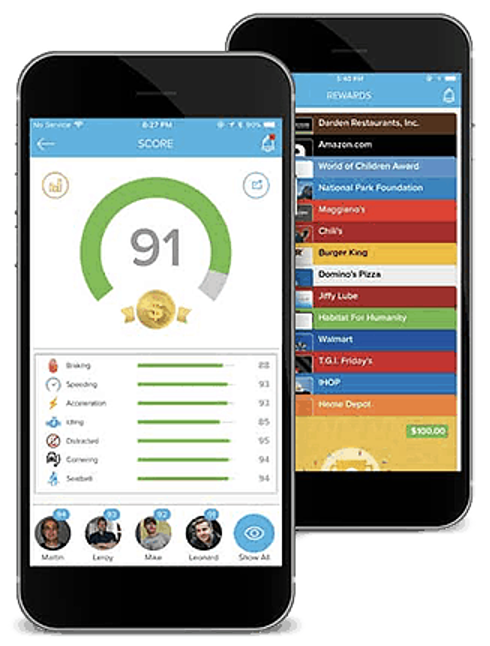 Driver Safety
Azuga provides excellent driver safety features, including driver scorecards, which are common in the fleet tracking industry. This is one of the few GPS fleet tracking services to share scorecard information, so both the administrator and the driver can see the driver's performance. Additionally, users can view real-time alerts on hard-driving behaviors, like rapid acceleration, abrupt braking, speeding and excessive idle time. Azuga also offers a unique add-on that lets you block drivers from using their smartphone while driving.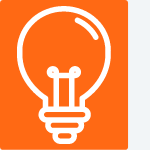 Tip: If driver safety is your top concern, you can add on Azuga Coach, a personalized video-based safety coaching feature./p>
Maintenance and Optimization
Azuga helps businesses maintain safe vehicles and equipment, as well as optimize fuel usage, by providing real-time data. For example, users can view past service records and items that need to be fixed immediately. We also like that the software can notify you if the equipment is overdue for an inspection or maintenance.
Azuga offers unique features to help reduce fuel costs, such as fuel card integration and Azuga FuelSaver, which tells your drivers where the closest gas station with the cheapest fuel is. Not all of the systems we examined offered this feature. It's also possible to set alerts if the fuel level in a particular vehicle drops below a certain level. This ensures drivers aren't at risk of running out of fuel, which draws the grit that accumulates at the bottom of a gas tank into the engine and risks expensive remedial work being required.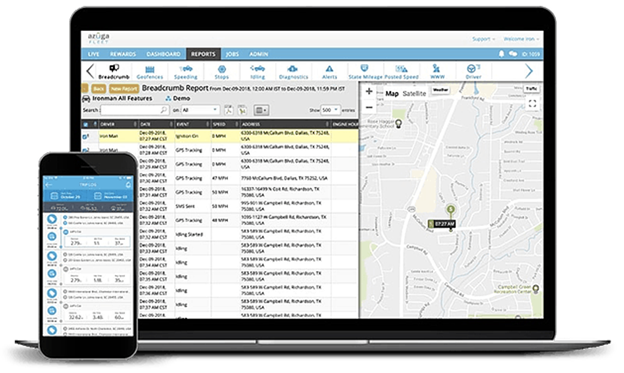 Alerts and Reporting
Small businesses can access a variety of live, scheduled and customized reports through the Azuga platform. These reports include essential details regarding driver safety and behavior, geofencing, vehicle maintenance, fleet safety, and fuel efficiency. Some plans even have diagnostic reports, like battery and fuel levels, check engine lights, and panic and sensor alerts. Our analysis found that the best GPS fleet tracking systems include this ability to customize reports.
Key takeaway: Azuga will immediately flag any OBD-II device that is unplugged, in case a driver is trying to manipulate or cover up their telemetry data.
Azuga promotes its software's ability to help clients and companies alike find their nearest available driver, with Uber-esque real-time tracking. This data can be shared with relevant audiences through email links, and it's even possible to chat with the driver via a Google link.
Mobile Apps
Every Azuga plan comes with access to Azuga Fleet Mobile, a feature-rich mobile app for iOS and Android devices. The app includes views and features for both drivers and admins, offering a wealth of fleet management functions. For example, you can view fleet health and maintenance, trip logs and tags, and driver timecards and performance alongside rewards programs and vehicle diagnostics. One feature that stood out is the ability for drivers to locate their vehicle, which helps your team get on the road faster.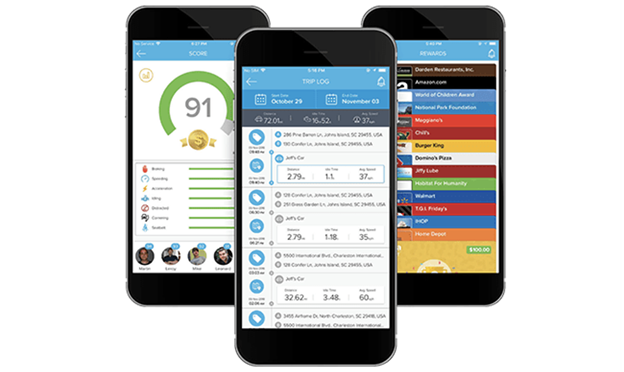 Azuga Pricing
Azuga charges a one-time device fee, plus a recurring monthly service charge. Because the monthly fee is influenced by the specific services you need, Azuga doesn't list its pricing online. Although this is standard in the industry, some companies we reviewed were more transparent about their pricing. For example, ClearPathGPS lists pricing for two preset plans.
Besides the standard GPS tracking features, you can add enhanced tracking tools, like scheduled maintenance, electric vehicle data, enhanced vehicle data, and trip logs and tags. Azuga also includes the FuelSaver, SpeedSafe (identifies risky driver behavior), SafetyCam (dual-facing HD cameras) and Azuga Coach (video-based safety coaching). We like that Azuga is highly customizable and flexible, allowing users to create a solution that best suits their business.
One significant advantage of signing up for Azuga is the discounts on tires and vehicle maintenance it offers, following its 2021 acquisition by Bridgestone. We welcome anything that reduces vehicle maintenance costs in these challenging times. Maintenance reminders can be scheduled.
On the downside, Azuga requires users to sign a 36-month contract. Although this is standard in the GPS fleet tracking industry, some other companies we reviewed don't lock their customers in for such a protracted period. If you'd like a shorter-term solution, Jobber might be preferable.
Key takeaway: Azuga's pricing is customizable. There is a one-time device fee, plus a recurring monthly service fee that depends on the features you want.
Setup
Azuga offers plug-and-play devices that you can easily install yourself. You simply insert the device into the OBD-II port of your vehicle, wait two minutes and then turn on your vehicle before letting it idle for a couple of minutes. When the LED starts flashing and changes color, the device is ready to track your vehicle and driver data.
Once the hardware is installed, it connects with the vehicle's computer and GPS satellites to gather data on the vehicle and its location. That information can be accessed instantly via Azuga's easy-to-use software. A software update scheduled for the final quarter of 2022 will see the introduction of unlimited usernames and passwords, improving the platform's flexibility.
Customer Service
We found Azuga's online resources quite helpful. The company's website is filled with blogs, webinars, videos, documentation, success stories, open API documentation and an ROI calculator. If you still have questions about Azuga's services, you can access product training resources.
If you're looking for more personalized support, you can reach out to an Azuga customer support representative via phone, email, web chat or a ticketing system. When we posed as a small business owner and contacted Azuga to test its customer support, we were pleased with the promptness of the representatives and the assistance they provided. The visual pricing form on the website is highly intuitive, guiding people with limited industry knowledge through three screens of tick-boxes before assembling a customized fleet pricing quote – though you do have to provide contact details to receive the findings.
Drawbacks
One potential downside of Azuga is that it requires a 36-month contract. This length is relatively standard in the fleet tracking industry, but it does involve a substantial commitment. If you are looking for a fleet tracking solution with month-to-month terms, consider our review of Force by Mojio.
Another drawback of Azuga is that it isn't accredited by the Better Business Bureau. While this isn't a deal-breaker for us, we do like to see our best picks accredited. However, Azuga does have a positive reputation on other review sites.
Methodology
Finding the right GPS fleet tracking system can be tough, which is why we did some of the hard work for you. We spent hours researching and analyzing GPS fleet tracking systems to identify the top solutions on the market. We looked at hardware, features, pricing and contracts, usability, refresh times, and customer support. We even got hands-on experience with demos and product videos when possible. When searching for the best GPS fleet tracking system for ease of use, we focused on features such as hardware installation, flexibility, scalability, software usability and customer support. In terms of Azuga, we also paid attention to its driver incentivization programs, which are unique within the industry.
Azuga FAQs
How do I use Azuga?
Azuga is simple to install and use. First, you plug the Azuga GPS tracking device into the OBD-II port of your vehicle. Once it's initialized, the tracker will track and record vehicle and driver data and integrate it with the Azuga platform. You can then use a computer or mobile device to view the recorded data.
Whom is Azuga fleet management for?
Azuga is an intuitive telematics solution designed for businesses that want a customizable and easy-to-use platform. It can serve businesses of all sizes and sectors, though marketing literature describes it as being optimal for industries such as plumbing, telecommunications and trucking.
How easy is Azuga to set up?
Azuga offers plug-and-play tracking devices, so setting up your platform is simple. However, if you do need help with Azuga's hardware or software, you can access the company's comprehensive online resources and customer support.
Overall Value
We recommend Azuga for …
Firms seeking to use every possible mechanism for improving driving standards.
Companies that want a fleet tracking solution that is easy to learn and use.
Businesses that want access to 24/7 customer support.
We don't recommend Azuga for …
Businesses that need hardwired vehicle trackers.
Startups looking for short-term or month-to-month contracts.
Companies that require to-the-second tracking.
Read related article: Check out these clever ways to reduce fleet maintenance costs.
Neil Cumins also contributed to this article.

Azuga GPS Fleet Tracking
The Verdict
Azuga provides fleet tracking services with easy-to-install hardware, robust software features, advanced alerts and reporting, scalable service plans and unlimited customer support.

Neil Cumins
Business News Daily Contributing Writer
Neil Cumins is an award-winning writer and journalist from Carlisle, England. With over 20 years of experience writing about technology and marketing on both sides of the Atlantic, he's worked with some of the world's biggest hardware and software manufacturers, as well as countless SaaS brands. An amateur coder and semi-pro photographer, Neil launched his own business in the Noughties, and has subsequently helped many other small firms to grow and prosper.