Force by Mojio has a plethora of valuable accountability-focused features. With 10-second refresh times, you can view driver location and status, receive critical alerts, and share driver locations with customers.
Pros
Force has near-real-time reporting with updates every 10 seconds.
You can share driver locations with your customers.
You can receive alerts if a tracking device is unplugged.
It can store trip timelines and details for up to 18 months.
Cons
It doesn't serve large fleets.
It's not meant to track large vehicles.
It doesn't offer industry-specific GPS solutions, while competitors like Jobber and Verizon do.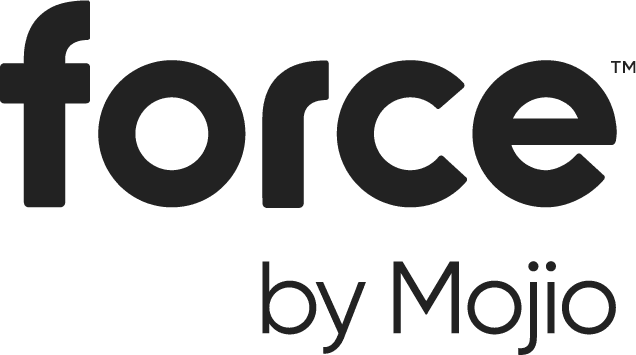 Force by Mojio costs $18 per vehicle per month, with hardware devices provided free.
 It's easy to install and set up, and simple to track driver activity via web and mobile apps.
 You can hold drivers accountable with driver scores and detailed trip history reports.
This review is for small business owners and fleet managers who want to learn more about Force by Mojio's fleet tracking system.
Force by Mojio is our choice as the best GPS fleet tracking system for driver accountability. Holding your drivers accountable for their actions is critical when you operate a vehicle fleet for your business. Businesses focused on accountability want a telematics solution that can generate data on how drivers are performing behind the wheel and how efficient they are with the routes they take. Force by Mojio meets these needs and more.
Clients can accurately track driver performance, monitor vehicle health and hold them accountable for poor driving. In addition to accessing essentials like geofencing, driver scorecards and vehicle health monitoring, you can track drivers' start and end times, view driver location and status with 10-second refresh times, and share driver locations with your customers. Vehicle locations are accurate to within 10 feet, which is ideal for delivery firms that may have multiple drop-offs on a single street or within a small local area.
Force by Mojio is one of the most cost-effective GPS tracking options we reviewed, with tracking rates of just $18 per vehicle per month, free GPS hardware and a 30-day free trial. Its hardware has been installed in over 1 million vehicles.
Force by Mojio GPS Fleet Management Editor's Rating:
9 / 10
Cost

9.2/10

Features

8.5/10

Refresh time

9.5/10

Usability

8.9/10

Customer service

8.7/10
Why Force by Mojio Is Best for Driver Accountability
Force by Mojio has a variety of tools dedicated to maximizing driver accountability. In addition to standard features like driver scorecards and vehicle maintenance reports, it offers detailed trip history reports that you can store for up to 18 months. You can also set up live location-tracking links so your customers can accurately track their drivers en route and view ETAs. Force by Mojio has a refresh time of about 10 seconds, which is faster than many competitors. 
You can set up Force to notify you if a driver enters or exits a geofenced area, unplugs their tracking device or engages in unsafe driving behavior. It'll even preemptively warn you when a vehicle needs maintenance based on user-specified intervals and/or usage patterns, and display live engine management warnings.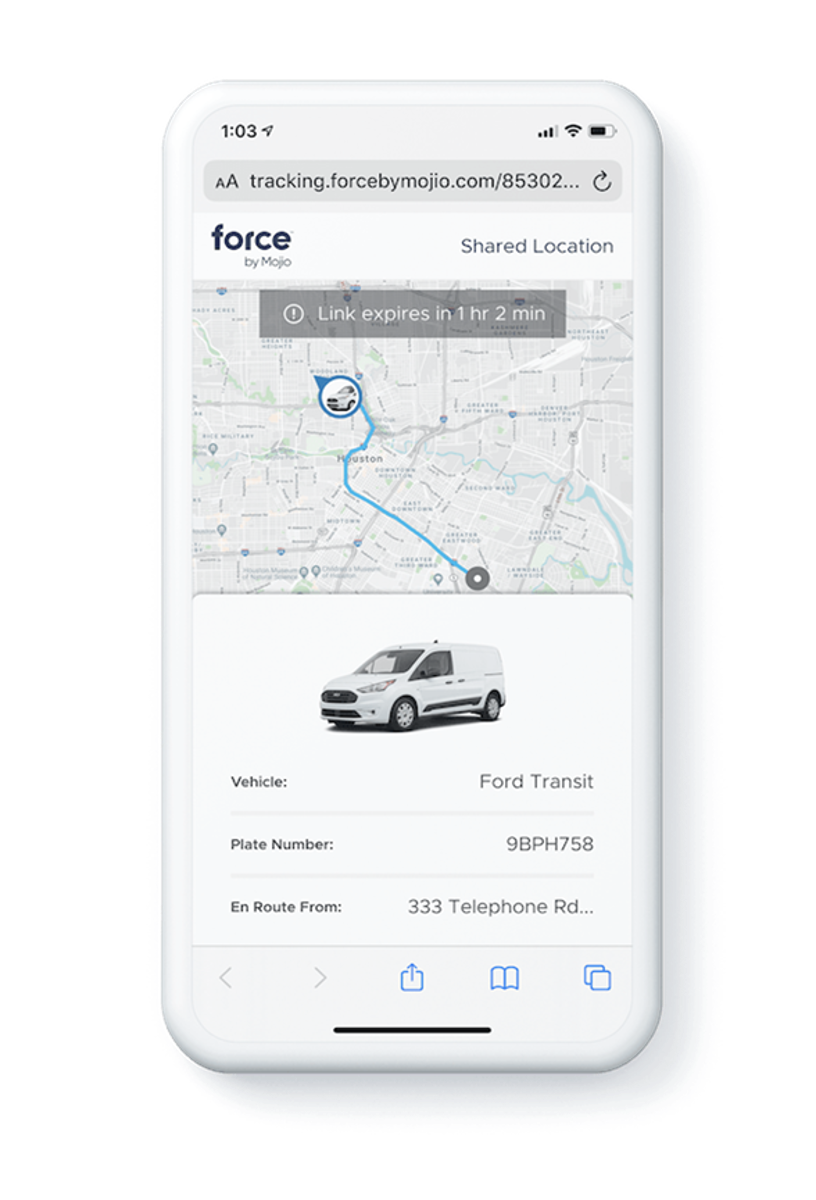 You can send customers live tracking links with their driver's location Source: Force by Mojio
Force by Mojio has several features to hold drivers accountable, like geofencing, driver scorecards, trip history reports, location-tracking links, and location and behavior alerts.
Usability
We found Force by Mojio's platform quite user-friendly. Admins can access the software on computers and mobile devices, while drivers can tap into the system via their dashboard on mobile devices. Platform mobility means you can access fleet data from any location. A feature we liked about Force by Mojio is that it is hardware- and vehicle-agnostic, meaning it can work with any device or vehicle type. This gives you the flexibility to track whatever you need. You can also adjust the groupings on the dashboard for different employee categories: service personnel, delivery drivers and others.
Force offers near-real-time tracking, with refresh times of 10 seconds or less. This is quicker than most competitors we looked at, and it could be important for managers who need an accurate overview of where their drivers are. This accuracy also underpins the Location Sharing links, which can be shared with customers as an option, giving Uber-style live tracking for a user-specified time period.
The desktop dashboard is laid out in a straightforward manner with six main tabs:
Vehicles
Drivers
Services
Geofences
Reports
Alerts
The level of accessible detail impressed us. In the Vehicles tab, you can examine everything from vehicle VINs and odometer readings to how many miles each driver has covered. A feature we particularly like is the Tire Check Analyzer, which uses photography to determine the condition of tires. If any of the tire treads is approaching its wear bars, Mojio has established a 20% discount agreement with Goodyear to help reduce fleet maintenance costs.
Force by Mojio Features
| | |
| --- | --- |
| Driver safety | You can access driver scores to help you reward safe drivers and coach unsafe ones. |
| Driver accountability | Force offers geofencing, detailed trip history reports, and live location-tracking links that you can send to your customers. |
| Tracking alerts | You can set up alerts to be notified of various events or anomalies. |
| Vehicle health and maintenance | Force offers vehicle health monitoring, maintenance records and predictive maintenance alerts. |
| Idling data | Track how long vehicle engines are idling, and calculate potential savings from changing behavior. |
Driver Safety
Force by Mojio can help you improve driver safety and accountability with RoadScore. It can track hard driving behaviors like speeding, harsh acceleration or braking, cornering and idling time. It generates an overall score out of 100 for each trip, adding each figure to that driver's rolling average. These behaviors can be recorded as individual and average driver scores and reports, either per journey or overall in a ranking table. You can review scores and reports, allowing you to reward safe drivers and coach poor drivers. Driver scorecards are an important tool, which is why they're a standard feature across this industry.
Software that monitors vehicle idling can give you insights on ways to reduce idle time, which can have a positive impact on your firm's bottom line.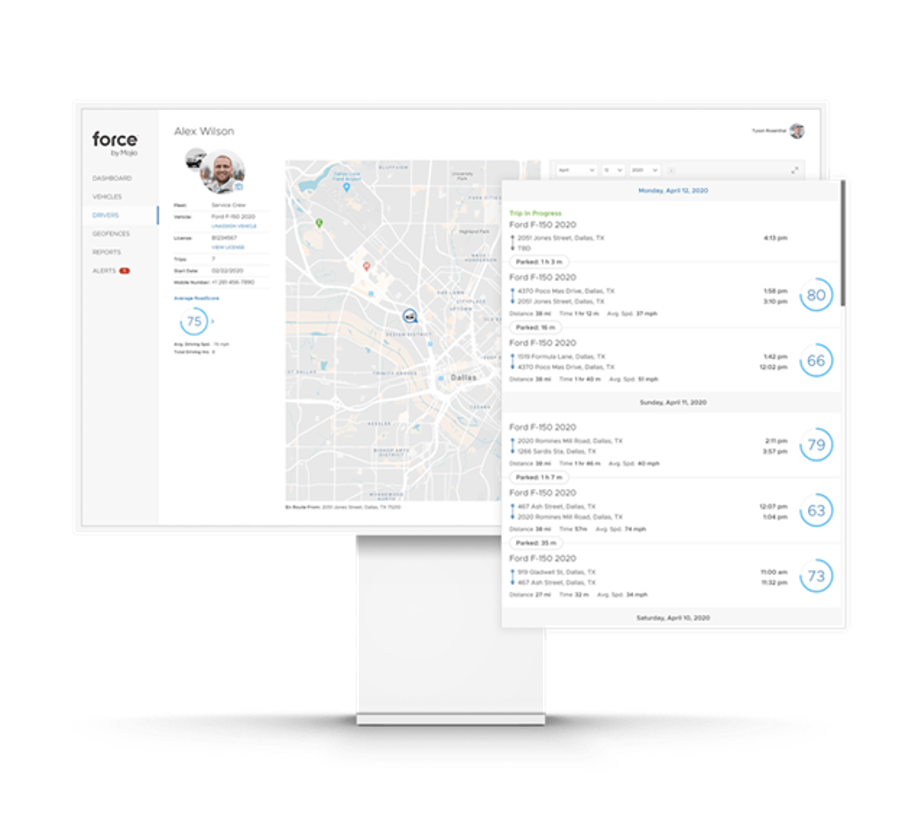 Force tracks driver activity and safety. Source: Force by Mojio
Driver Accountability
Force by Mojio offers geofencing, which is essential to ensure drivers are where they're supposed to be. Geofence areas can be a specific dwelling or building, a radius from a particular location, or a user-defined polygon. In addition to tracking driver location, you can hold drivers accountable with detailed trip history reports. Force creates an automatic record of every trip your drivers make, including details like start and end times, routes, mileage, and driver performance.
Trip history reports remain accessible for 18 months, though competitors like Verizon offer two years of historic fleet data. The RoadScore behavior logging system is a great way to support or disprove customer complaints about a driver's behavior, and Mojio believes it would be strong enough evidence to stand up in disciplinary or criminal investigations. 
Trip history reports can be exported to spreadsheets in CSV format for tax, accounting or planning purposes.
We find the live location-tracking links incredibly beneficial, telling customers exactly where their driver is. This transparent communication can enhance the overall customer experience and hold your drivers accountable for their locations. You can set the tracking links to expire at a certain time, which is a feature not many competitors offer.
Tracking Alerts
A great way to keep your drivers accountable is to learn about their behavior as soon as it happens. You can do that with automatic alerts. Force by Mojio offers a total of 11 push notification alerts to keep you informed about everything from low fuel levels to vehicle recalls to speeding infringements. Location alerts notify you whenever an employee enters or leaves a job site, or drives outside a customized geofenced area.
We found you can also get alerts when a driver engages in unsafe behavior, when a tracking device is unplugged or when a vehicle is bumped/towed/disturbed while parked. With vehicle health and even low fuel alerts, you can ensure your vehicles are properly maintained and optimized, ensuring your drivers are meeting your expectations behind the wheel.
Later this year, Force will add a crash alert notification, using an algorithm developed by Bosch and based on airbag technology. This will provide real-time updates about bumps and shunts, who was driving, and where the crash occurred.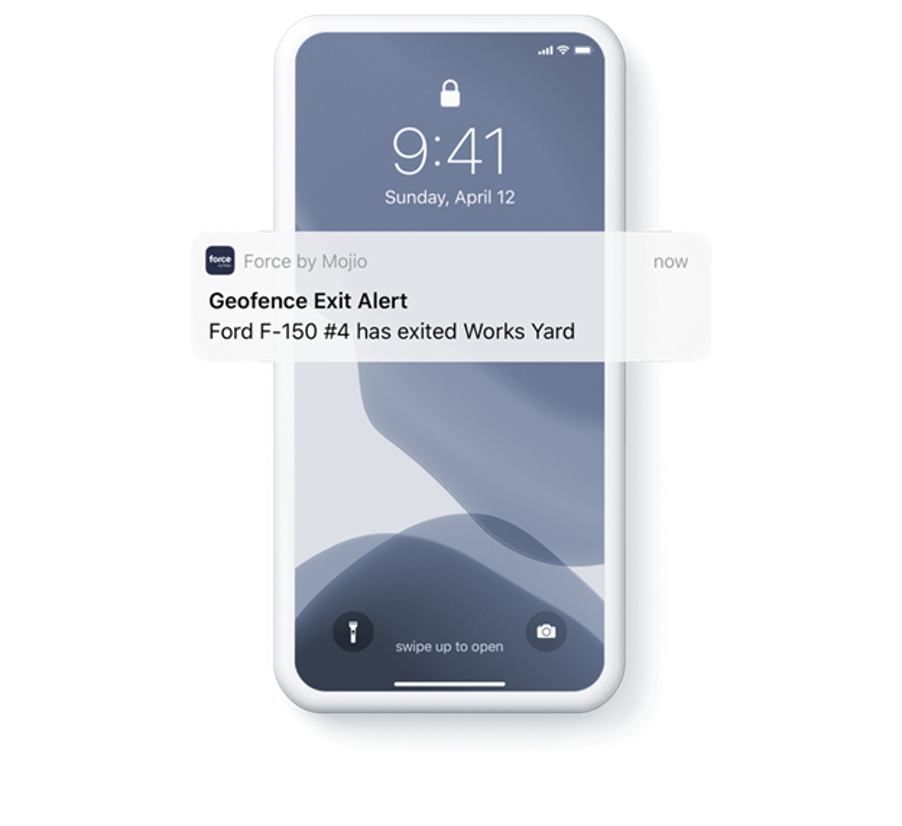 Managers can receive a variety of driver activity alerts. Source: Force by Mojio
Vehicle Health and Maintenance
Instead of relying on your drivers to notice (and notify you) when something goes wrong with one of your vehicles, Force by Mojio can do it for you. We like how the platform monitors the health of each vehicle and notifies you as soon as there's an issue, with instant notifications of engine management errors, for instance. You can also set up predictive health alerts in case something quickly needs your attention, while Force stores maintenance data for future reference.
The vehicle screen includes everything from IMEI and VIN data to odometer readings to details of individual journeys. You can check diagnostic codes, learn about vehicle recalls and even check the battery voltage of individual vehicles. Managers with one eye on the bottom line will appreciate the recently added Maintenance tab under the Services heading, which lists all service intervals, when the last service happened and when the next one is due, and – critically – how much they cost. This might even steer you toward replacing fleet vehicles that are becoming costly to maintain.
Idling Data
Another new feature for 2023 is the inclusion of detailed idling data, from a percentage of the vehicle's running time to averages by driver. There's even a cost-savings calculator, which will explain that a certain percentage reduction in idling time could save a particular sum of money. Each driver can see only their own data, but administrators get an overview of everyone's behavior, and this data can be exported as a CSV file.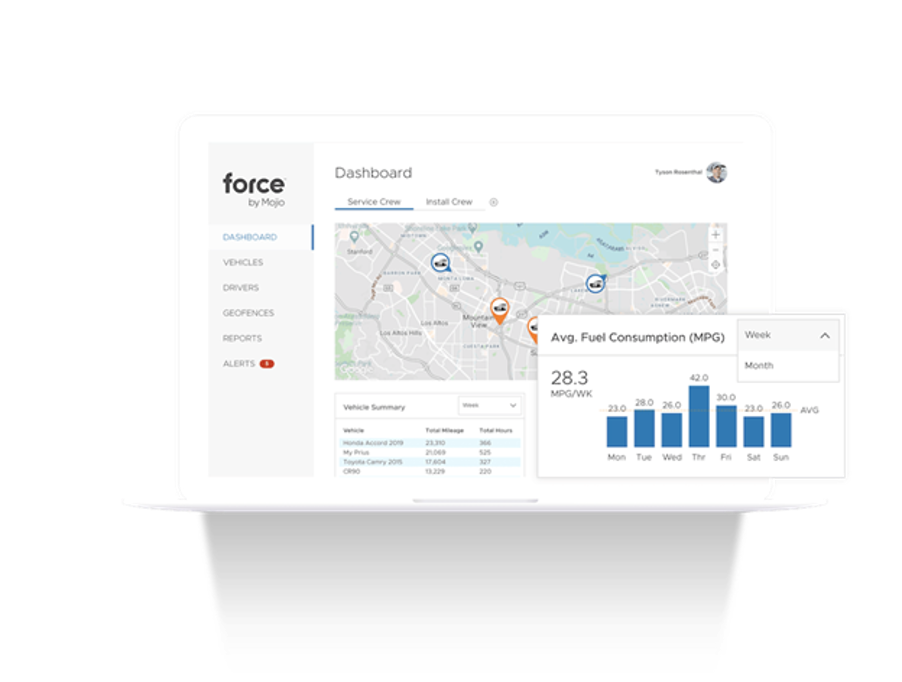 Force can track vehicle health, maintenance and activity (such as fuel usage). Image Source: Force by Mojio
Force by Mojio Cost
Force by Mojio is one of the least expensive GPS fleet tracking systems we reviewed, with plans costing as little as $18 per vehicle per month, though ClearPathGPS still manages to undercut it. Instead of charging additional hardware fees like some competitors do, Force includes GPS tracking devices for free with each purchase, which could save you several hundred dollars.
Some competitors impose contracts of up to three years in length, whereas Force by Mojio offers its services on a month-to-month basis with no contracts or hidden fees. It also offers a 30-day free trial, so you can test it risk-free before deciding if it's the right GPS tracking system for you. It claims free two-day shipping, so you can get tracking hardware in no time.
If you cancel your free trial, be sure to return your tracking devices within 30 days, or else you will be charged $150 for each device.
Setup
Force by Mojio prides itself on being an easy-to-use platform with quick installation. Since each plan includes plug-and-play GPS trackers, installing each device is as simple as plugging it into your vehicle's OBD-II port. Once the device is installed, it can begin tracking data. You can create user accounts to view the Force by Mojio dashboard on your computer, tablet or smartphone.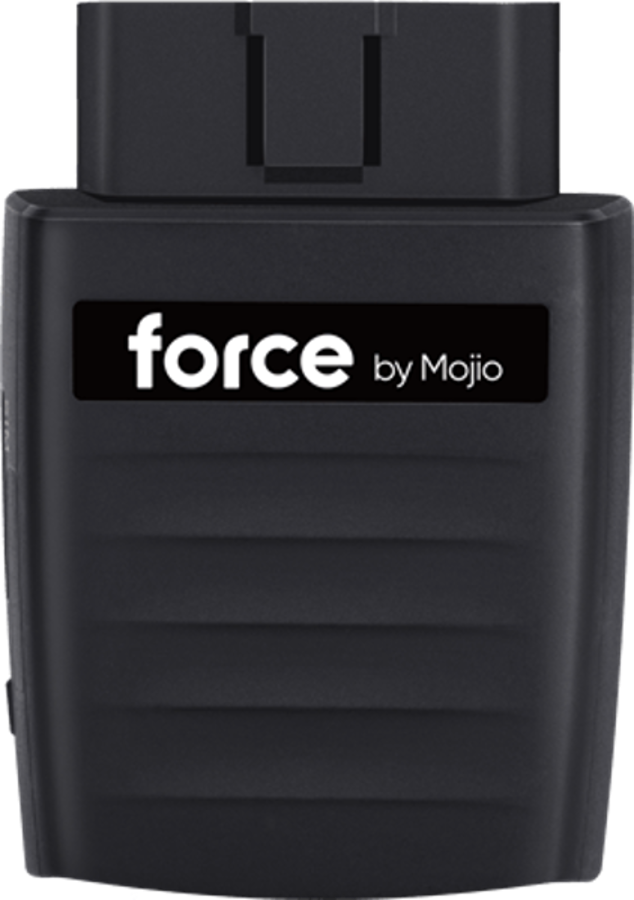 Plans include free plug-and-play hardware. Source: Force by Mojio
Customer Service
Mojio offers some helpful online resources, including FAQs, a blog and a product overview video on Force, alongside a demo that shows how the platform works. We like that support representatives are available by phone, email and web chat, with relatively lengthy service hours: 12 hours a day, five days a week. This is good for businesses that need assistance slightly outside of standard business hours. Even so, accessibility is less impressive than arch-rival FleetUp, which offers four ways to get in touch at any time of day or night.
Mojio are proactive in terms of acting on client feedback, with recent revisions often made in response to demands for additional data or services. The software receives regular but incremental updates, rather than occasional generational leaps, which means there won't suddenly be a new interface to learn mid-contract. For instance, the 2023 version has introduced a Trails function in response to customer feedback. This allows you to see all trips taken by a particular vehicle within a single map view, ordered by date and stretching back over a period of up to 18 months.
Drawbacks
Force by Mojio targets a very specific user base: small businesses in the field and home service industries. Because of this, businesses with large fleets will not be able to use Force. This type of niche service can be great for small businesses, but you will need to seek other vendors if you have a larger fleet.
Clients in border states should note that Mojio works across the United States only. If your drivers are regularly crossing into Mexico or Canada, that's a major drawback compared to rivals like Samsara, which we've reviewed separately. With $2 billion in goods and services crossing the Canadian border alone on a daily basis, the lack of international coverage could represent a barrier to some firms adopting Mojio.
Another potential drawback is the limits on vehicle size. Force by Mojio is designed to track field and home service vehicles like pickup trucks and vans, not large vehicles like 18-wheelers. If your fleet consists of trucks and trailers, you'll be better off with another GPS fleet tracking vendor. One alternative is profiled in our review of Azuga, which offers features like reverse gear alerts for trucks that aren't allowed to travel backwards for safety reasons. Firms with a fleet of trucks and semis might want to look at KeepTruckin's heavy industry-based GPS tracking solution, complete with 24/7 customer support.
Finally, Force by Mojio does not currently offer a dashcam, which is a common offering in the GPS fleet management space. Dashcams can be used to record and review incidents on the road and support additional driver training. The footage they capture can also be used to protect the company from legal liability in the case of accidents or other problems.
Methodology
Choosing a GPS fleet tracking system can be challenging, which is why we've done much of the heavy lifting for you. We spent countless hours researching and analyzing GPS fleet tracking systems to identify the top solutions on the market. We looked at hardware, features, pricing and contracts, usability, refresh times, and customer service, and we even got hands-on with demos and product videos when possible. When searching for the best GPS fleet tracking system for driver accountability, we focused on features like driver performance tracking, routing and navigation, vehicle health, and alerts and reports.
Force by Mojio FAQs
Instead of serving a wide variety of businesses, Force by Mojio caters specifically to small firms in field and home service industries. Most of its customers have fleets of between one and three vehicles. With this target audience in mind, Force by Mojio offers a low-cost fleet tracking solution with the features small home service businesses would need. These include driver safety and performance details; vehicle maintenance tracking, alerts and reports; navigation; and routing.
It's connected to the OBD-II port in compatible vehicles as a plug-and-play solution. However, there's currently no option for hardwiring, which is something rivals like NexTraq offer, so there is potential for the devices to be removed or stolen. Force told us that it is hoping to add a hardwired option to its tracking devices by summer 2023. We'll update this review once it's available.
No, Force by Mojio does not currently offer a dashcam. Most competitors that we reviewed do offer a dashcam, so this is a significant drawback. However, a dual-facing dashcam is currently in development and is expected to be released in Q3 of 2023.
Overall Value
We recommend Force by Mojio for …
Businesses in a home or field service industry.
Small businesses that need to track anywhere from two to 30 vehicles.
Fleets that want low pricing with no contracts.
We don't recommend Force by Mojio for …
Large fleets.
Fleets with heavy-duty vehicles or semi trucks.
Buyers needing dashcams – though one is in development.