Verizon Connect is our best pick for midsize fleets because it is very easily scaled, meaning it can grow or shrink along with your company. Verizon makes it easy to manage your entire fleet and offers flexible feature options.
Pros
Verizon Connect is a big company with some of the best telematics platforms and solutions in the industry.
Verizon Connect plans are flexible and easily scalable.
Verizon has numerous customization options including access and security levels, workflow scripts, time zones and languages.
The hardware works across the United States, Canada and Mexico
Cons
The Verizon Connect platform may have a bit of a learning curve.
A 36-month contract is the default subscription offer.
Pricing is opaque
Verizon Connect offers hardwired and plug-and-play hardware as well as dashcams.
Customers benefit from a dedicated account manager, alongside extensive support.
Plans are customized based on features and pricing.
This review is for business owners and fleet managers who are considering Verizon Connect as their fleet tracking service.
Verizon Connect is our choice for the best GPS fleet tracking system for industry-specific clients. Many of its features will appeal to firms with a granular interest in one industry, such as distribution or utilities. Extensively customizable and backed with comprehensive after-sales support, it's a complex platform whose functionality repays time invested in its initial setup. For instance, Verizon's proprietary maps can be overlaid with geographic information system (GIS) data such as power or sewer lines.
Verizon Connect is also a good fit for companies with midsized fleets requiring a tracking solution. It offers a number of monitoring and regulatory services, including electronic logging device (ELD) and International Fuel Tax Agreement compliance.
Verizon Connect GPS Fleet Management Editor's Rating:
9.1 / 10
Cost

8.2/10

Features

9.9/10

Refresh time

9.6/10

Usability

9.1/10

Customer service

8.5/10
Why Verizon Connect Is Best for Industry-Specific Companies
Companies focused on a particular industry tend to share certain characteristics. They need granular asset supervision, the ability to vary access privileges according to staff seniority, cross-state coverage and compatibility with different time zones. In all these areas, Verizon Connect delivers. Formed from the merger of Telogis, Verizon Networkfleet and Fleetmatics, Verizon's solution is quite distinct from its more generic rivals. For instance, instead of using Google Maps, it uses a proprietary mapping system.
For organizations focusing on one particular industry, we welcome the sheer depth of customization options under Verizon's hood. This is often more valuable for single-industry firms than companies with branches in multiple sectors, as micromanagement may be more important. Simple touches like being able to relabel specific assets within the system ensure a level of industry-specific focus that rival platforms struggle to replicate. Verizon can also supply an analytics expert to ensure data (and the accompanying reports) are tailored to your sector's characteristics. Even the fleet solutions listed on Verizon's website are grouped by industry, such as distribution or construction.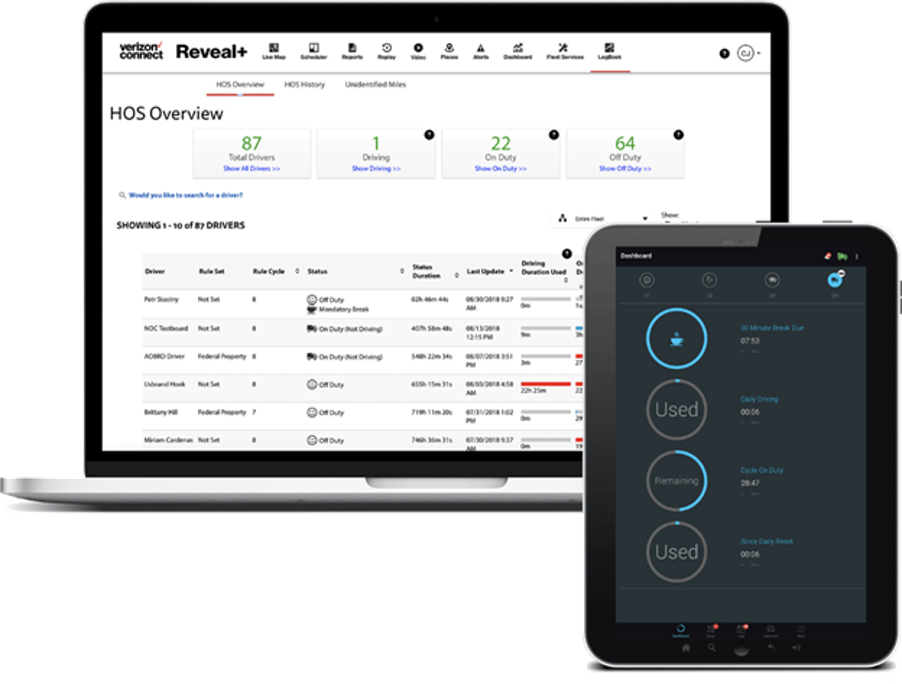 Verizon Connect can help you comply with various laws and regulations. Source: Verizon Connect
Verizon Connect is more customizable than its competitors in other respects too. You can scale subscriptions easily as your business grows. Alongside a wealth of training and educational resources, the platform can even educate you on how to optimize your fleet.
Verizon Connect is comprehensive, scalable and customizable and it offers a variety of reports and training resources.
Usability
Verizon Connect is a powerful fleet management tool that comes with a wealth of features. By offering greater customization than many other fleet tracking options, the initial setup can be time-consuming as you learn your way around the software. We think that time investment is worthwhile because it should ultimately streamline your fleet management processes. Verizon Connect offers live training options on topics such as onboarding, outcome courses, ELD compliance, integrated video, fieldwork and nonpowered assets.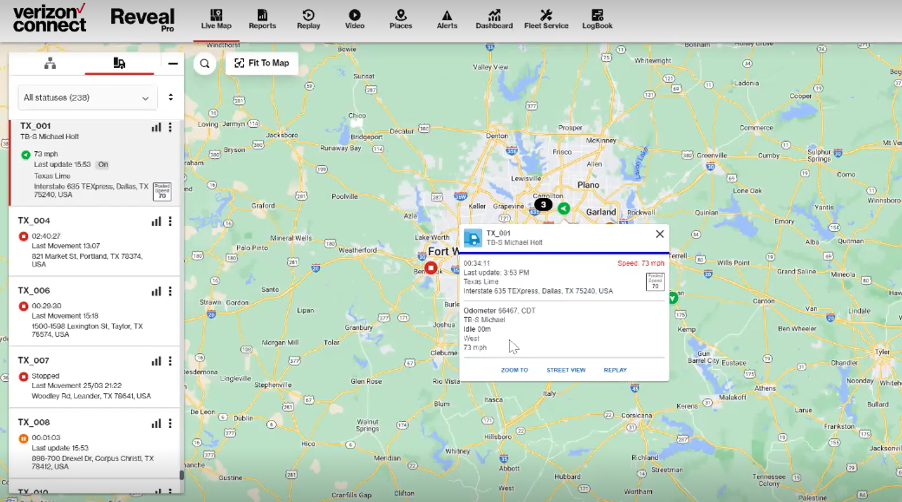 Verizon's live map interface allows fleet managers to keep tabs on their entire fleet in near real-time.
Verizon says 70 percent of total customer usage time is spent on the live map interface, where a traffic-light color-coding system identifies stationary, idling or moving vehicles. Right-clicking a vehicle icon reveals further data, such as daily reports, Google Street View images of that location and device health check reports. It's also possible to run exemption reports, only showing moving vehicles or trucks with temperature-controlled cargo. You can even amend how long an engine is allowed to idle before it's flagged.
Verizon Connect Features
| | |
| --- | --- |
| Hardware | You have a choice of hardwired or plug-and-play devices. |
| Customization | Verizon Connect is highly flexible and customizable to meet your specific needs. |
| Geofencing and mapping | Geofencing and mapping are managed through Verizon's own proprietary mapping software. |
| Alerts and reporting | You can set up standard alerts and view a plethora of data and analytics with reports. |
| Driver safety and performance | You can track drivers with scorecards and in-cab dashcams. |
| Fleet maintenance and optimization | Track fuel cards, optimize fuel usage, schedule vehicle maintenance and receive service alerts. |
Hardware
Verizon Connect has several hardware options, ranging from simple plug-and-play technology to more advanced devices. You can elect to fit the former yourself or have technicians install the latter into trucks and larger fleets. This flexibility is ideal for fleets that have a variety of vehicles and assets. For example, some users may opt for the simple installation of plug-and-play devices, whereas others may not have an OBD II port to plug the device into, resulting in the need for a more secure hardwired device. Competitors including Force by Moj.io only offer one of these methods.
Another benefit of this system is its ability to identify underutilized hardware or machinery, which may not be contributing enough to the company's bottom line with existing levels of use.
Verizon Connect's GPS tracking software is hardware-agnostic, so you can access your fleet data from a variety of devices.
Customization
One thing that sets Verizon Connect apart from competitors is its customizability. We were impressed with how users can tailor various features to target the platform to their fleet. For example, you can set multiple time zones and languages, which is ideal for companies whose fleets span a variety of states and regions.
Because larger fleets and industry-specific companies tend to have a distinct hierarchy of workers, additional security measures are often required. Verizon Connect offers the unique capability of customized security levels with unlimited users. It's also notable that you can customize day-to-day tools like scripts and alerts as well as term labeling. For example, a construction company might want to change the generic term "vehicle" to "crane" within the system, so it makes more sense to their team. Not all platforms offer this level of control.
Geofencing and Mapping
As you'd expect, Verizon Connect offers geofencing support. Geofences are virtual shapes added to a map that trigger alerts when a vehicle enters or leaves. This is especially useful for security, as any number of nominated personnel can receive alerts when a vehicle leaves a set location. Uniquely in this sector, Verizon Connect will suggest geofence locations proactively receiving regular visits, helping to identify important addresses and clamp down on potential moonlighting.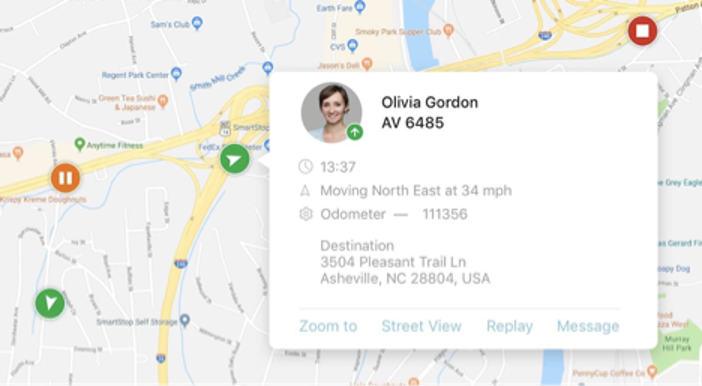 Fleet managers can track the movement of their drivers in near-real time. Source: Verizon Connect
You can also use Verizon Connect to plan optimized routes, schedule and dispatch drivers and view traffic and data overlays. Most of the companies we reviewed have a GPS engine backed by Google Maps, which provides a host of GPS features. Connect is backed by Verizon's own mapping software, so your vehicles will be tracked by one of the most reliable communications companies on Earth. Unique features include weight and height restriction data for certain roads — a feature truck drivers will certainly appreciate.
Alerts and Reporting
With Verizon Connect, you can gain access to a variety of alerts and reports. Tracking is updated every 30 seconds, though rival platforms like Samsara and Motive offer fully live data that's accurate to within a couple of seconds. You can set alerts for events as diverse as idling or late starts, speeding and harsh driving, geofence breaches and video events. The ability to monitor hard driving and other types of vehicle activity is valuable for managing larger fleets. Like many other tracking solutions, Verizon Connect lets you configure and receive alerts within its Android and iOS mobile app.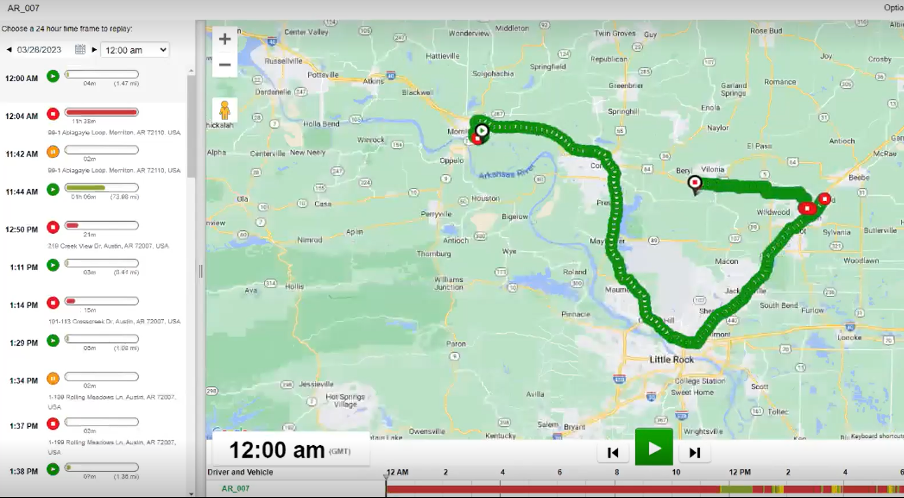 Fleet managers can easily track a vehicle's route to ensure it is on schedule and in the right geographic area. Alerts can be configured to automatically notify a manager if a vehicle is off course.
If you're looking for data and analytics, Verizon Connect offers a variety of reports that can be viewed in regular updates, timelines or continuous feeds. We found these reports provided valuable insights that could underpin educated business decisions across a whole organization. Unlike many competitors, Verizon Connect can supply an analytics expert to help guide you through the many reports. These can be broken down into categories — safety, fuel, compliance and so forth — before being run according to selected groups/vehicles/drivers over a 30-day period or on a daily basis.
Driver Safety and Performance
If driver safety and performance are primary concerns, you can use Verizon Connect's tracking features to collect driver data and compile it into scorecards for you to understand how drivers are performing better. We like how this data can be used to incentivize great driving habits or coach inexperienced drivers with training videos. Road safety is also optimized with optional roadside assistance for commercial trucks, ranging from towing to winching.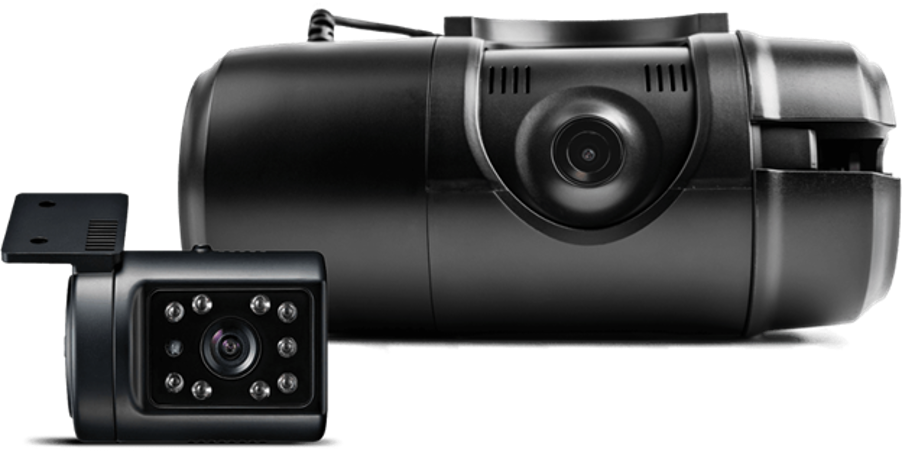 Verizon Connect has commercial-grade cameras with cloud storage. Source: Verizon Connect
In-cab high-definition dashcams allow supervisors to view harsh driving events, with incidents immediately uploaded to the cloud and viewable for 90 days. Unusually, you can opt for a dual-facing dashcam or choose a road-facing one instead, depending how important driver behavior/privacy is. Choose the former and the camera's in-built AI can even detect people eating at the wheel. Verizon reviews and classifies every uploaded video automatically, with a reported 110 million clips already processed by its machine learning (ML) software. 
These dashcams can't be livestreamed, but because they save to SD card, they'll continue to record even in remote areas with no cellular coverage. Improved artificial intelligence (AI) edge processing now identifies six driver-facing and four-road-facing hazards (smoking and tailgating, respectively), alongside the usual harsh braking and acceleration detection.
Video clips are graded by severity, from Minor to Major, while fleet managers and administrators can rate the AI's verdict on each clip to improve the system's ML accuracy.
Fleet Maintenance and Optimization
Verizon Connect records a variety of fleet and driver data that can help you optimize fuel usage and maintain vehicles and assets, cutting down on idle time and reducing fuel costs by displaying the monetary value lost between target and actual mpg figures. Diagnostic data supports proactive service alerts and schedule maintenance based on time, engine hours or distance traveled while a vehicle service can have its status updated across your entire system automatically. Verizon says their software would prevent a fuel card holder from being followed to a garage by their spouse and filling that vehicle instead, by calculating metrics, such as sales receipts, tank capacity and previous mileage. On a related note, a new feature for 2023 is the ability to track remaining battery charge in electric vehicles.
Verizon Connect Cost
Verizon Connect historically didn't publish pricing online. Previously, the company began to advertise prices starting from 76 cents per vehicle, per day, with standard packages typically costing about $40 per vehicle, per month. Verizon has now restored its original policy, refusing to provide even ballpark figures for its services when we spoke to them for this year's review. Despite the company's claims that customers care more about quality and service than headline figures, we prefer the approach of competitors like Force by Mojio, who are completely open about the cost of their packages.
One advantage of Verizon Connect is that it can scale to meet your business' needs. Even if you have only a few vehicles, Verizon Connect can set you up with a plan that works for your business. On the downside, the company typically requires a 36-month commitment. This isn't out of the ordinary for the industry, but we did find GPS fleet tracking providers that offer shorter contracts and some even offer month-to-month services. Verizon Connect is a large telematics provider and it's no surprise that it operates on longer-term contracts, although it has promised to look at introducing contract flexibility for American customers.
If you are looking for a GPS tracking solution that operates on a month-to-month basis, check out our GPS Trackit review or our review of Force by Moj.io.
Verizon Connect frequently offers discounts and special pricing. It might be worth investigating whether any deals are available when it's time to enquire about GPS fleet tracking solutions.
Verizon Connect Setup
Because Verizon Connect has so many features, it may take a while to get everything set up and customized. There'll be a steeper learning curve than plug-and-play providers with generic software, but that can be offset by the overall robustness and usefulness of the platform. At least there are step-by-step instructions for how to get set up, including a quick-start checklist. Having access to resources like this can greatly ease the burden of setting up your fleet management platform. Verizon also offers assistance with hardware installation.
Once your tracking system is up and running, the operation is simpler than setup. You can access the dashboard easily to monitor and assess fleet analytics from a desktop computer, tablet or mobile phone. Historic reports can be run on data up to two years old to identify insights and extrapolate forecasts.
Verizon Connect Customer Service
In addition to 24/7 phone support plus live chat, ticketing and email support, Verizon Connect provides a designated point of contact for your fleet tracking account. This means you'll have direct contact information for someone at the company. This personalized support is a standout feature of Verizon Connect's service. Although other fleet tracking services we reviewed also offer this feature, it's nice to know that even with a company as big as Verizon, your business won't get lost. This point of contact can also help you with technical and support issues or direct you to a specialist who can provide a solution.
Verizon Connect offers helpful online resources, such as blogs, e-books, case studies, webinars and glossaries. The company also offers product demos and live training.
Verizon Connect Drawbacks
One possible drawback of Verizon Connect is that it has poor reviews with the Better Business Bureau (BBB). It is not accredited with the BBB and the company had an F rating at the time of this review. While this is not necessarily a direct reflection of the type of service you will receive with Verizon Connect, we would like to see our top picks have more positive ratings.
Although Verizon Connect offers custom plans and pricing, it generally is on the pricey side for GPS fleet tracking software. This higher pricing is often not a problem for midsize fleets that have the capital to spend, but if you require a low-cost fleet management solution, consider ClearPathGPS.
Methodology
Choosing a GPS fleet tracking system can be tough, so we did some of the heavy lifting for you. We spent hours researching and analyzing the best GPS fleet tracking systems to identify the top solutions on the market. We looked at hardware, features, pricing and contracts, usability, refresh times and customer support and we got hands-on experience with demos and product videos when possible. When searching for the best GPS fleet tracking system for midsize fleets, we focused on features, such as scalability, customization, comprehensiveness, optimization and reporting. With Verizon Connect, we explored the customizable software and its unusual features like bespoke asset labeling.
Verizon Connect FAQs
Verizon Connect is a GPS fleet tracking solution that is used to monitor fleet operations, like driver performance and vehicle maintenance. Fleet managers can use the insights gained from Verizon Connect to improve driver safety and performance, optimize fuel usage, maintain safe and healthy vehicles and assets and improve overall productivity and efficiency.
When a new driver joins your fleet, you can add them to your Verizon Connect account easily by selecting Account Profile > Admin > Drivers > Create a New Driver. Once you've landed on the Create a New Driver page, enter essential driver details, such as their name, driver number, employee ID and contact information. If you want to track the driver for ELD compliance, you will need to select the ELD Compliant box.
If you want to add an existing user as a driver, you can do so by selecting Account Profile > Admin > Users and Roles > User List. Edit the user info and save your changes. You can also share limited data with contractors and third parties.
Overall Value
We recommend Verizon Connect for …
Midsize and larger fleets, typically owned by companies in one industry or sector.
Firms that require video telematics with driver-facing and roadside-facing dashcams.
Businesses that want customization options for time zones, languages, employee access, security levels, workflow scripts and alerts.
We don't recommend Verizon Connect for …
Fleets that need a preset GPS fleet tracking plan with online pricing.
Businesses that want clear, unambiguous pricing structures from the outset
Companies looking for short-term or month-to-month contracts.
Related article: Find out more about ELDs by reading our comprehensive guide to ELDs.