Verizon Connect GPS Fleet Management Review
Verizon Connect offers hardwired and plug-and-play hardware, as well as dashcams.
Verizon Connect is a comprehensive and reliable fleet management solution that includes useful features for tracking and managing your fleet and drivers.
GPS fleet management software is a useful tool for streamlining operations and cutting expenses. Check out our tips for reducing fleet maintenance costs for other ways to improve efficiency.
This review is for midsize business owners and fleet managers who are considering Verizon Connect as their fleet management service.
Verizon Connect is our choice for the best GPS fleet management system for midsize fleets. Businesses operating midsize fleets need a comprehensive and easy-to-use solution, and Verizon Connect hits those marks. The platform is one of the most customizable on the market, making it ideal for midsize and larger fleets that have unique fleet management needs. It even has multilanguage and multi-time-zone options, so you can cater your software to drivers in various locations. Verizon Connect has several features that can meet any compliance need, including electronic logging device (ELD) and International Fuel Tax Agreement compliance.
Verizon Connect GPS Fleet Management
The Verdict
Verizon Connect is our best pick for midsize fleets because it is very easily scaled, meaning it can grow or shrink along with your company. Verizon makes it easy to manage your entire fleet and offers flexible feature options.
Editor's Score: 91/100
| | |
| --- | --- |
| Cost | 82/100 |
| Features | 99/100 |
| Refresh time | 96/100 |
| Usability | 91/100 |
| Customer service | 85/100 |
Why Verizon Connect Is Best for Midsize Fleets
Verizon Connect formed when Verizon merged three major GPS fleet management companies: Telogis, Verizon Networkfleet and Fleetmatics. The integration of these three companies gives Verizon Connect a different level of scalability than its competitors. While it supports fleets of all sizes, its capabilities are ideal for midsize fleets. Verizon Connect has a comprehensive set of features, making it ideal for midsize fleets that need a robust tracking solution.
Because midsize fleets often travel across various states, it can be tough to ensure you are maintaining legal compliance across all locations. Verizon Connect can help you comply with laws and regulations through its tracking hardware and software.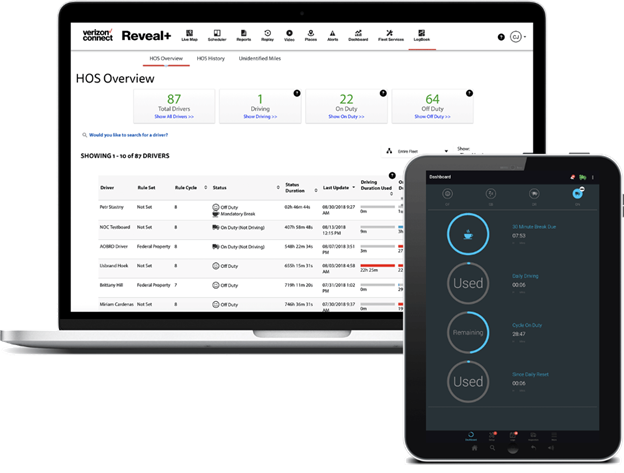 Verizon Connect is more customizable than most competitors. We like that you can easily scale plans as your business grows and that it provides a wealth of training and educational resources. We also found it valuable that Verizon Connect offers a variety of reports and can even educate you on how to use them to optimize your fleet.
Verizon Connect is comprehensive, scalable and customizable, and it offers a variety of reports and training resources.
Pros
Verizon Connect is a big company with some of the best telematics platforms and solutions in the industry.
Verizon Connect plans are flexible and easily scalable.
Verizon has several customization options, such as security levels, workflow scripts, time zones, languages and alerts.
Cons
The Verizon Connect platform may have a bit of a learning curve.
It typically requires 36-month contracts.
Usability
Verizon Connect is a powerful fleet management tool that comes with a wealth of features. It is more customizable than many other fleet management options; that complexity may be a bit challenging in the beginning, but it can streamline your fleet management process once you master it. Because Verizon Connect has so many features, it can take a while for some users to learn how to use it. However, if you need assistance, you can access live training. Verizon Connect offers training options on topics such as onboarding, outcome courses, ELD compliance, integrated video, field work and nonpowered assets.
Once you set up your tracking system, you can easily access the dashboard to monitor and assess fleet analytics from a desktop computer, tablet or mobile phone.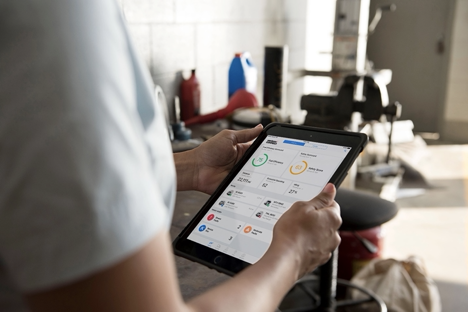 Features
Verizon Connect provides valuable services for fleets of all sizes, and the platform works on desktop computers, tablets and mobile phones. Here are some of the services you can receive with Verizon Connect:
| | |
| --- | --- |
| Hardware | You have a choice of hardwired and plug-and-play devices. |
| Customization | Verizon Connect is highly flexible and customizable to meet your specific needs. |
| Geofencing and mapping | Verizon Connect offers geofencing and mapping through Google Maps. |
| Alerts and reporting | You can set up standard alerts and view a plethora of data and analytics with reports. |
| Driver safety and performance | You can track drivers with driver scorecards and in-cab fleet dashcams. |
| Fleet maintenance and optimization | You can track fuel cards, optimize fuel usage, schedule vehicle maintenance and receive service alerts. |
Hardware
We like how Verizon Connect has several hardware options, ranging from simple plug-and-play technology to more advanced devices. You can elect to install the hardware yourself (typical for plug-and-play devices) or have technicians install it for you (typical for hardwired devices).
Having the flexibility to choose what device type you want is ideal for midsize fleets that have a variety of vehicles and assets. For example, some users may opt for the simple installation of plug-and-play devices, whereas others may not have an OBD II port to plug the device into, resulting in the need for a more secure hardwired device. Some competitors offer only one of these methods.
Verizon Connect's GPS tracking software is hardware-agnostic, so you can access your fleet data from a variety of devices.
Customization
One thing that sets Verizon Connect apart from many competitors is its customizability. We were impressed with how users can customize various features to target the platform to their fleet. For example, you can set multiple time zones and languages; this flexibility is ideal for fleets that span a variety of states and regions.
Because a midsize fleet likely has a hierarchy of workers, there is a good chance that it requires additional security measures. Verizon Connect can help by offering the unique capability of customized security levels with unlimited users.
We found it useful that you can customize day-to-day tools, like scripts and alerts, as well as term labeling. For example, you might want to change the term "vehicle" to "crane" within the system so it makes more sense to your team.
Geofencing and Mapping
Verizon Connect, like many fleet management companies we reviewed, provides geofencing support. Geofences are virtual shapes you can add to your map that trigger alerts when entered or exited. This is especially useful for security, as you can receive alerts when a vehicle leaves your business's location.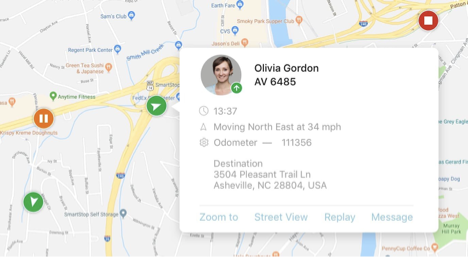 You can also use Verizon Connect to plan optimized routes, schedule and dispatch drivers, and view traffic and data overlays. Most of the companies we reviewed have a GPS engine backed by Google Maps, which provides a host of GPS features. Connect is backed by Verizon's own mapping software, so your vehicles will be tracked by one of the globe's most reliable communications companies.
Alerts and Reporting
With Verizon Connect, you can gain access to a variety of alerts and reports. Tracking is updated every 30 seconds, so you can see updates in near-real time. You can set alerts for things such as activity, idling, speeding, harsh driving, geofences, late starts, sensor activation, towing and video events. The ability to monitor hard driving, speeding and other types of vehicle activity is super valuable for managing a fleet of vehicles. Like many other tracking solutions, Verizon Connect lets you configure and receive alerts within its mobile app (Android and iOS).
If you're looking for data and analytics, Verizon Connect can surely deliver. It offers a variety of reports that can be viewed in regular updates, timelines or continuous feeds. We found that these reports provide valuable insight that allows fleet managers to make educated business decisions across the entire organization. Unlike many competitors, Verizon Connect goes above and beyond and can supply an analytics expert to help guide you through the many reports.
Driver Safety and Performance
If driver safety and performance are your primary concerns, you can use Verizon Connect's tracking features to collect driver data and compile it into scorecards for you to better understand how drivers are performing. We like how this data can be used to incentivize great driving habits and coach less-experienced drivers. One safety tool we especially like about Verizon Connect is its in-cab fleet dashcams. We like the level of visibility they provide, allowing you to view harsh driving events and incidents. Although video telematics are becoming more popular in the industry, not all competitors offer dashcams yet.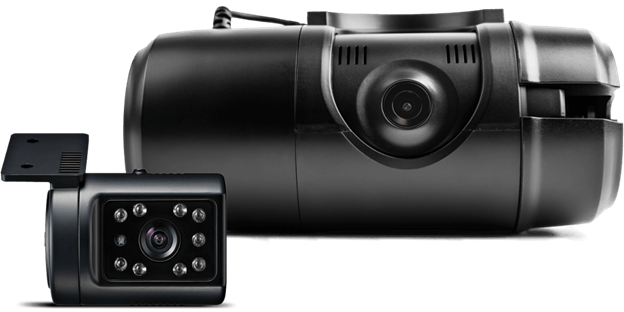 Fleet Maintenance and Optimization
Verizon Connect tracks a variety of fleet and driver data that can help you optimize fuel usage and maintain vehicles and assets. For example, you can view idle time and track fuel cards to cut down on idle time and reduce fuel costs. We also like how you can receive service alerts and schedule maintenance based on time, engine hours or distance. When you service a vehicle, you can have the vehicle status automatically update across your entire system. These features are standard across the industry.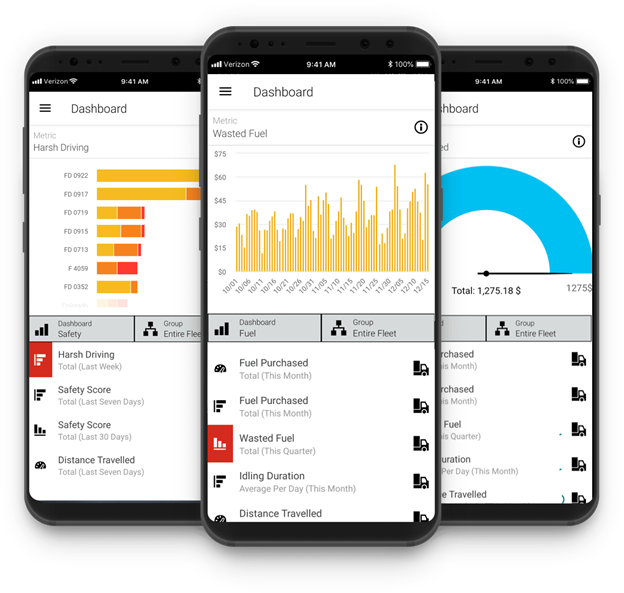 Pricing
Although Verizon Connect averages a monthly rate of about $40 per vehicle per month, it doesn't provide pricing online as some competitors do. Instead, it offers flexible services and rates, so you'll need to speak directly with a company representative if you're interested in learning more about pricing for your specific needs.
During our review, we found that Verizon Connect frequently offers discounts and special pricing. It might be worth investigating whether any deals are available.
Another advantage of Verizon Connect is that it can scale to meet your business's needs. Even if you have only a few vehicles, Verizon Connect can set you up with a plan that works for your business. This range is likely a factor in why Verizon Connect doesn't publish all of its pricing information online.
One thing to keep in mind is that the company typically requires a 36-month commitment. This means you'll have to sign a three-year deal to work with Verizon Connect. This isn't out of the ordinary for the industry, but we did find GPS fleet management providers that offer shorter contracts, and some even offer month-to-month services. Verizon Connect is a large telematics provider, and it's no surprise that it operates on longer-term contracts.
If you are looking for a GPS tracking solution that operates on a month-to-month basis, check out our GPS Trackit review.
Setup
Because Verizon Connect has so many features, it can take a while to get everything set up and customized the way you want it. There may be a bit of a learning curve for some users, but that challenge can be offset by the overall robustness and usefulness of the platform. We like that there are step-by-step instructions for how to get set up, including a quick-start checklist. Having access to resources like this can greatly ease the burden of setting up your fleet management platform. Verizon Connect also offers assistance with hardware installation.
Customer Service
In addition to live chat, phone, ticketing and email support, Verizon Connect provides a designated point of contact for your fleet management account. This means you'll have the direct contact information of someone at the company. This personalized support is a standout feature of Verizon Connect's service. Although other fleet management services we reviewed do offer this feature, it's nice to know that even with a company as big as Verizon, your business won't get lost in the shuffle. This point of contact can also help you with various technical and support issues or direct you to a specialist who can provide a solution.
Verizon Connect offers helpful online resources, like blogs, e-books, case studies, webinars and glossaries. The company also offers product demos and live training.
Drawbacks
One possible drawback of Verizon Connect is that it has poor reviews with the Better Business Bureau (BBB). It is not accredited with the BBB, and as of 2021, the company had an F rating and nearly 90 complaints listed on the BBB site. While this is not necessarily a direct reflection of the type of service you will receive with Verizon Connect, we like to see our top picks have positive ratings.
Although Verizon Connect offers custom plans and pricing, it is generally on the pricier end for GPS fleet management software. This higher pricing is often not a problem for midsize fleets that have the capital to spend, but if you require a low-cost fleet management solution, consider our review of ClearPathGPS.
Methodology
Choosing a GPS fleet management system can be tough, so we did some of the heavy lifting for you. We spent hours researching and analyzing GPS fleet management systems to identify the top solutions on the market. We looked at hardware, features, pricing and contracts, usability, refresh times and customer support, and we even got hands-on experience with demos and product videos when possible. When searching for the best GPS fleet management system for midsize fleets, we focused on features such as scalability, customization, comprehensiveness, optimization and reporting.
What Is GPS Fleet Management?
GPS tracking systems are a combination of hardware and software that tracks and records a variety of fleet information, such as location, driver safety and performance, vehicle health and maintenance, and fuel usage and optimization. Businesses often use fleet management systems to optimize overall fleet performance, as well as ensure that their drivers, vehicles and assets are safe and secure. The reports generated from GPS fleet management data can help fleet managers make educated business decisions and improve their processes.
Industries that typically benefit from GPS fleet management systems include construction, utilities, heavy equipment, agriculture, landscaping, retail, manufacturing, distribution, government, oil and gas, food and beverage, and rental fleets.
FAQs
What is Verizon Connect used for?
Verizon Connect is a GPS fleet management solution that is used to monitor fleet operations, like driver performance and vehicle maintenance. Fleet managers can use the insights gained from Verizon Connect to improve driver safety and performance, optimize fuel usage, maintain safe and healthy vehicles and assets, and improve overall productivity and efficiency.
How do I add a driver on Verizon Connect?
When a new driver joins your fleet, you can easily add them to your Verizon Connect account by selecting Account Profile > Admin > Drivers > Create a New Driver. Once you've landed on the Create a New Driver page, enter essential driver details, like their name, driver number, employee ID and contact information. If you want to track the driver for ELD compliance, you will need to select the ELD Compliant box.
If you want to add an existing user as a driver, you can do so by selecting Account Profile > Admin > Users and Roles > User List. Edit the user info, and save your changes.
Bottom Line
We recommend Verizon Connect for …
Midsize or scaling fleets.
Fleets that want video telematics with driver-facing and roadside-facing dashcams.
Businesses that want customization options for things such as time zones, languages, employee access, security levels, workflow scripts and alerts.
We don't recommend Verizon Connect for …
Fleets that need a preset GPS fleet management plan with online pricing.
Fleets that are looking for short-term or month-to-month contracts.
Verizon Connect GPS Fleet Management
The Verdict
Verizon Connect is our best pick for midsize fleets because it is very easily scaled, meaning it can grow or shrink along with your company. Verizon makes it easy to manage your entire fleet and offers flexible feature options.

Skye Schooley
Staff Writer
Skye Schooley is a human resources writer at business.com and Business News Daily, where she has researched and written more than 300 articles on HR-focused topics including human resources operations, management leadership, and HR technology. In addition to researching and analyzing products and services that help business owners run a smoother human resources department, such as HR software, PEOs, HROs, employee monitoring software and time and attendance systems, Skye investigates and writes on topics aimed at building better professional culture, like protecting employee privacy, managing human capital, improving communication, and fostering workplace diversity and culture.