If your small business has started to grow, it might be time for you to choose a payroll software provider before you reach the point of needing employees. If you already have employees, then payroll software can improve the way you manage your team's payroll needs. 
It's pretty common for small business owners to opt for free payroll services, but these apps aren't usually the best choice in the long run. Designed mainly to manage automated payments distributed to your employees, good payroll software should also help your business comply with tax laws and reduce costs normally associated with payroll, which can quickly increase if you choose the CPA route rather than automated software. 
When it's time to make your choice on the best payroll software, you'll likely run into two top options: ADP and Paychex. Both companies are widely regarded as leaders in the payroll software industry, and there's no denying the benefits they each bring to small business owners  around the country. Both ADP and Paychex have been in the payroll industry for decades and have grown to offer much more than just payroll. 
But how do you know which one is right for your business? Searching through all that each has to offer can be a little overwhelming for any business owner. We did the research so you don't have to and created this ADP vs. Paychex comparison, highlighting what you need to figure out which payroll software is the best fit for your business.
ADP vs. Paychex
| Feature | ADP | Paychex |
| --- | --- | --- |
| HR support | Yes | Yes |
| Benefits services | Yes | Yes |
| Wage garnishment services | Yes | Yes |
| Automated direct deposit | Yes | Yes |
| Paper checks | Yes | Yes |
| Pay cards | Yes | Yes |
| 24/7 customer service | No | Yes |
| Online marketing support | No | Yes |
| Employee handbook support | Yes | No |
| Integrated app marketplace | Yes | No |
Both ADP and Paychex have longevity in the payroll industry, and they offer quite a few of the same features. Here's a recap of what ADP and Paychex have in common:
Human resources support
Benefits services
Wage garnishment services
Automated direct deposit
Paper checks
Even with all the similarities, we found a few distinct differences on our ADP vs. Paychex list. The main difference is the types of businesses they seem to focus on helping, but we also came across a few more:
Paychex offers 24/7 live support.
Paychex offers online marketing services. 
ADP offers employee handbook assistance.
ADP has a built-in app marketplace, making integration easy.
Who should use ADP?
If you own a small business that is quickly growing into a thriving company or already has multiple employees, we found that ADP might be the best choice for your company. While ADP has earned a great reputation for servicing small businesses, this software offers several packages for you to choose from as your business grows. ADP's highest pricing tier offers a large variety of benefits and can handle businesses with thousands of employees.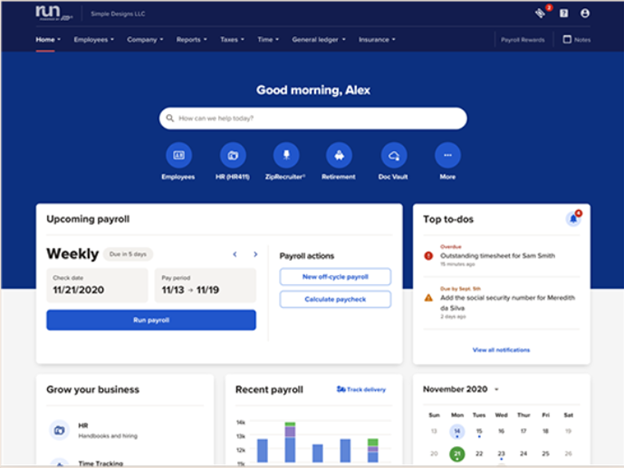 For small business owners interested in only payroll services, the Essential package is a great option to meet your needs. This package includes basic payroll services, IRS forms for employees, state forms, reporting features, and an online portal where employees can manage their payroll information. 
If you're a business owner who needs a little more than the basics, like state unemployment insurance or check-signing services, enroll in the Enhanced package. This plan has all the perks of the Essential package along with a few more features, including poster compliance, prepaid cards and wage garnishment services.
The next option is the Complete package, which includes all the features of the Essential and Enhanced packages in addition to HR services. This package also gives you access to the HR Help Desk, assistance with employee handbooks, and background checks.
HR Pro is ADP's most advanced package. It includes both HR support and full payroll services.
In addition to the services included in each payroll package, ADP offers add-on features like time and attendance tracking, employee retirement services, benefits administration, and recruiting assistance. 
Employee benefit options include group health insurance and business insurance through insurance agents who have partnered with ADP.
Here's a short list of our favorite ADP features overall:
Built-in employee handbook wizard 
Employee assistance, from recruiting to retirement plans
App marketplace for easy integration
Regular offers of introductory rates for new businesses
ADP customizes prices based on the package and add-ons you choose for your business. On average, you can expect rates to start between $150 and $180 if you select the most basic package.
Who should use Paychex?
While this software offers plans capable of handling businesses of any size, we'd definitely recommend it for startups and very small businesses that aren't rapidly scaling just yet. 
Widely known as one of the best payroll and HR service providers, Paychex has an endless list of features available to small and midsize businesses. 
This software has also been recognized by Inc. as the best HR outsourcing service for small business owners. Not only does Paychex offer services for time and attendance tracking, recruiting, and compliance, but this payroll provider also offers onsite HR professionals for business owners who prefer hands-on assistance. Let's take a closer look at the packages Paychex offers.
The most basic plan, Paychex Go, is designed for very small businesses with no more than nine employees. This package provides simple online payroll software, hiring assistance, time and attendance tracking, and payroll tax administration. 
If you're a business owner employing between nine and 49 people, Paychex Flex Select is designed for you. This package includes all the features of Paychex Go in addition to mobile app access, third-party vendor integration, and digital marketing assistance. 
For larger businesses with over 50 employees, there's the Paychex Flex Enterprise plan. This plan is specifically designed to handle the needs of large businesses, even those with thousands of employees, and includes all the features of Paychex Go and Paychex Flex Select. 
Like ADP, Paychex offers add-ons, many of which go well beyond the expectations of a payroll service provider. For instance, startup business owners have the option to take advantage of tax services, financial management solutions, and even online marketing through Paychex. 
Paychex offers incorporation assistance for startups, which can be especially helpful to new businesses looking to get off the ground with as little trouble as possible.
Paychex costs begin at $59 monthly for the Paychex Go plan, while Paychex Flex Select and Paychex Enterprise are customized based on your business's needs. 
Overall, here's what we love about Paychex:
Incorporation assistance for startups
Onsite HR professionals
Marketing assistance
Free mobile app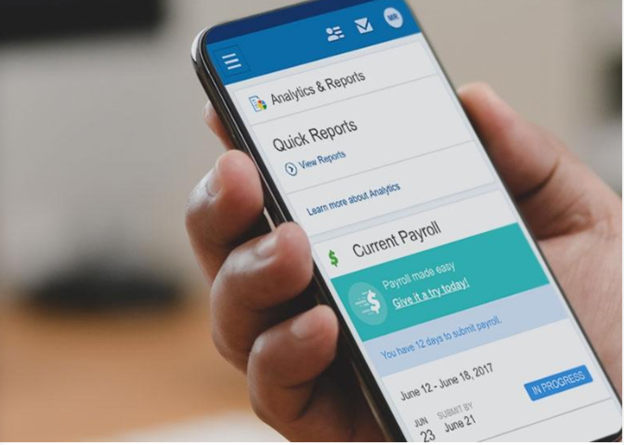 ADP vs. Paychex recap
The ADP vs. Paychex debate ultimately boils down to your business's needs. 
Paychex is best for small businesses and startups.
If you own a startup or very small business, we'd recommend you make Paychex your first choice. While ADP offers plans for small business owners, those plans can't beat the value of the onsite HR help and 24/7 live support that Paychex brings to the table. 
Any new business owner could use a little guidance with incorporation, compliance or online marketing to grow their business. Paychex helps with all of these and much more, with a basic plan that starts at a much lower rate than ADP's. If you own a startup, it always helps to explore more budget-friendly options, even if you decide that option doesn't work for your business. 
ADP is best for growing and large businesses.
On the other hand, if your business is expanding or already a pretty large company, you're more likely to find ADP the best match for your payroll software needs. ADP is a great option for handling employee benefits – it even offers in-person benefits assistance. If you own a large business, employee retention may be a top priority for you, which is why ADP also goes beyond recruiting assistance, with services to help you promote employee growth and assist with retirement plans. 
If you've been in business for a while, you might already use other accounting or time and attendance software that has become an asset to your company, which brings us to yet another reason ADP would be a great fit: It comes with an app marketplace that makes integration very simple for business owners like you.
In the long run, the winner in the ADP vs. Paychex debate all depends on you. Again, both offer amazing payroll services, and both have great reputations in the industry for good reason. With that in mind, take a close look at all the extra features each one offers, and determine which features you need most for your business. We're sure looking at your choices from that perspective will ultimately lead you to the best payroll software for your company. 
FAQs
How much does ADP payroll cost? 
ADP offers custom pricing for its payroll software, based on the features you choose to include in your plan.
Is Paychex better than ADP? 
Whether Paychex is a better option depends on the size of your company and your individual business needs. We found Paychex to be most effective for small businesses and startups, while we prefer ADP for growing businesses and large companies.
Does Paychex offer employee benefits? 
Paychex offers a number of employee benefit options, including retirement services and group health insurance. 
What's included in ADP plans? 
ADP plans, depending on which you select for your business, include payroll processing, time tracking, and an employee handbook wizard.