Zoho Assist streamlines customer service and technical support with secure tools to access remote computers and help customers resolve technical issues efficiently.
Pros
Zoho Assist offers industry-leading compatibility for Windows, Mac, Android, iOS, Linux, Raspberry Pi and Chrome OS.
The vendor provides flexible monthly and annual pricing options with volume discounts for all terms.
The system integrates well with key third-party business applications as well as Zoho's expansive suite of workplace software products and services.
Cons
Zoho charges extra for common add-ons like video conferencing, voice over internet protocol (VoIP) call minutes and storage beyond 5GB.
You'll pay extra for access to 24-hour weekday customer support.
There is a 2GB limit for file transfers between connected machines.
Zoho Assist is a cross-compatible remote access system with features and support for Windows, Mac, Linux, iOS, Android, ChromeOS and Raspberry Pi.
Zoho Assist integrates seamlessly with the vendor's suite of Workplace software solutions and key third-party business applications.
Zoho offers a limited free plan that may include enough tools to suit small businesses and independent contractors.
This review is for small business owners shopping for remote access software.
Zoho Assist is a simple and effective enterprise-grade remote support and unattended remote access software solution. It offers a variety of service plans and payment options for businesses of all sizes. This cross-platform software stands out from competitors thanks to its ability to establish web-based, on-demand connections with remote computers, mobile devices, IoT devices and servers running on Windows, Mac, Linux, iOS, Android, Chrome OS and Raspberry Pi. Zoho Assist also integrates seamlessly with the vendor's suite of Workplace business tools and third-party applications to potentially serve as a unified, all-in-one platform for all of your customer data and communications.
Zoho Assist Editor's Rating:
9.5 / 10
Pricing

9.6/10

Ease of use

9.6/10

Features

9.3/10

Integrations

9.4/10

Security

9.8/10
Why Zoho Assist Is Best for All-in-One Remote Support and Access
Zoho Assist combines essential features with an easy-to-use dashboard, support for every major operating system, seamless integrations with Zoho Workplace and third-party applications, valuable diagnostic service tools, web-based connections and the ability to combine remote access with support through the same platform. When integrated with the rest of Zoho's business software solutions, like the Zoho CRM, we love how well Zoho Assist fits in as part of a centralized source of customer communications and data.
The system also includes effective communications features with options for chat, audio and video to reduce your reliance on third-party or off-application tools. Zoho Assist additionally boasts effective tools for mobile remote support, and in some plans, the ability to connect with IoT and Raspberry Pi devices. Its extensive compatibility outshines competitors. These characteristics are why we found Zoho Assist to be the best remote access software for businesses seeking an all-in-one system.
The Zoho software suite includes some of the best accounting software on the market. Get all the details in our review of Zoho Books.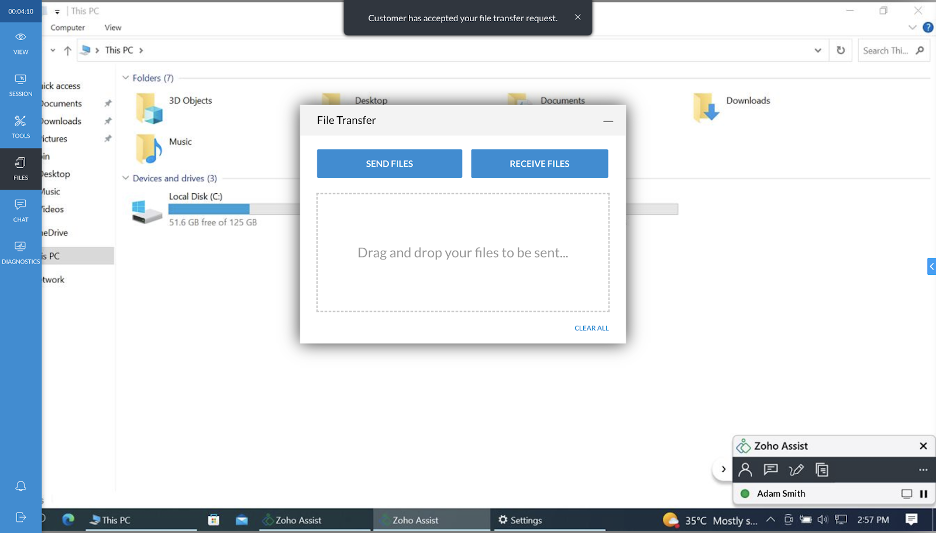 Drag and drop to transfer small files quickly and securely between remotely connected computers and devices. Source: Zoho Assist
Usability
While none of the major remote access software platforms we reviewed are difficult to use, Zoho Assist sets itself apart with a large list of supported operating systems, including Raspberry Pi and IoT devices. Once you've moved past the initial setup process and adjusted the appropriate permissions, you'll be able to see your list of configured unattended remote devices and organize them into groups with customizable permissions. Accessing a device from your Unattended Access tab is as easy as clicking Connect and beginning a remote session.
As a stand-alone unattended access solution available via two paid plan options, Zoho Assist's competitive collection of essential and advanced features make it very user-friendly. You can remotely turn on your office computer whether it's hibernating, sleeping or powered down. Once connected with a secure key, you'll be able to quickly access and share important files, print documents, and use the multimonitor navigation functions to enjoy the same efficient work setup from anywhere. Bulk deployment for large companies is easy to complete, and all data is protected during remote sessions with two-factor authentication, end-to-end SSL, AES 256-bit encryption and inactive session timeout.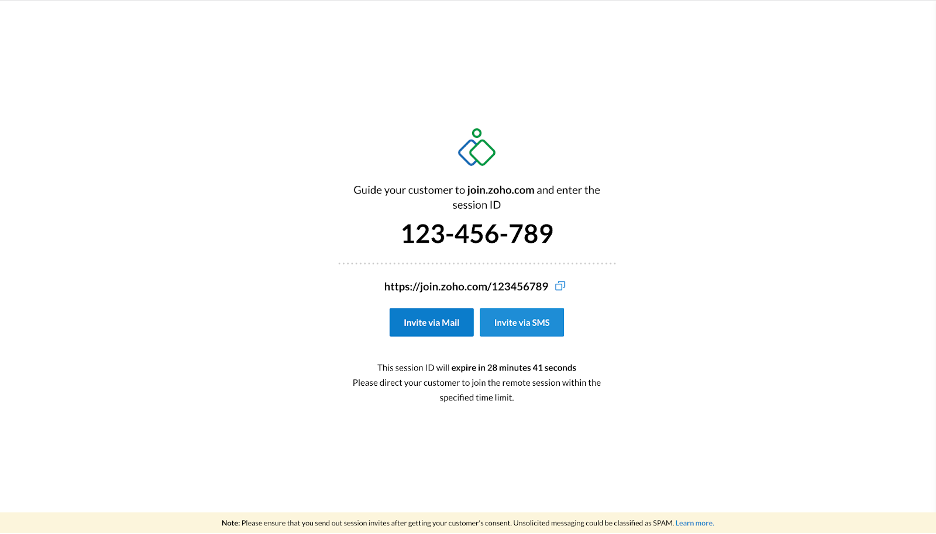 Invite customers to join a secure web-based remote support session over email or text message. Source: Zoho Assist
As a stand-alone remote support solution sold across three paid plan options, Zoho Assist provides customer support technicians with all the tools they need to troubleshoot customers' computers and mobile devices. Communication during web-based sessions includes text, audio and video chat options, as well as screen swapping and sharing. A scheduling function lets technicians provide support at the customer's preferred time, with reminders to ensure nobody misses the appointment. Other features like drag-and-drop file transfer and multimonitor navigation make it easy for technicians to assist customers and boost productivity.
Zoho Assist Features
| | |
| --- | --- |
| Interactive communications | Use multiple methods of communication, screen sharing and annotations to resolve issues effectively. |
| Diagnostic tools | Execute command prompts, automate tasks, manage hardware, and gain control over programs for fast troubleshooting. |
| Customization | Design custom templates and branding that includes your company's name, logo, favicon and URLs. |
| Mobile support  | Use the Zoho Assist mobile app for iOS and Android to provide remote support that's truly remote. |
Interactive Communication
Zoho's remote support and unattended access products provide a range of communication tools to resolve customer issues and collaborate with colleagues effectively. Support technicians can communicate with customers through chat, audio and video to quickly grasp the problem and provide exceptional customer service during sessions. You may also record sessions for internal training purposes or to share with customers if the resolved issue returns.
These same communication features make it easy to collaborate with co-workers through the same machine. With annotations and the use of a virtual whiteboard, you can draw, erase, highlight and use text during demonstrations and meetings to illustrate your ideas without confusion. As great as these features are, you may want to consider our review of rival ConnectWise Control if communication is your top priority. We found that system to be the best for communication.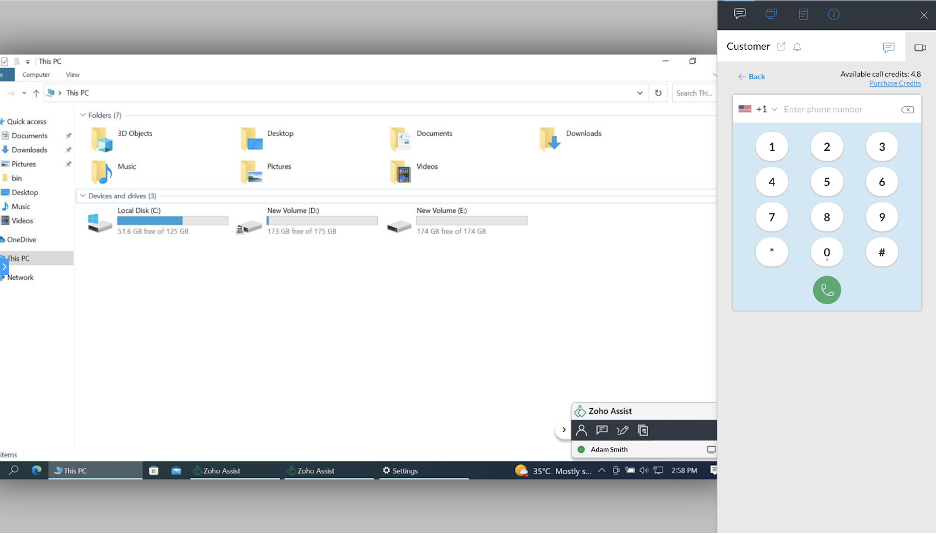 Reach your customers over the phone using add-on VoIP credits. International rates may apply. Source: Zoho Assist
Diagnostic Tools
Zoho Assist makes it easier for technicians to diagnose and resolve issues by providing access to a wide range of machine data, such as installed software and hardware as well as the details of the CPU. Even if a remote machine is powered off, you can use Wake on Lan and begin performing system diagnostic activities using the command prompt, task manager, device manager, software, registry editor, groups, users, printer and other installed hardware. When your support technicians have instant access to the right information, they can identify the root cause behind poorly performing applications, processes and drivers in less time.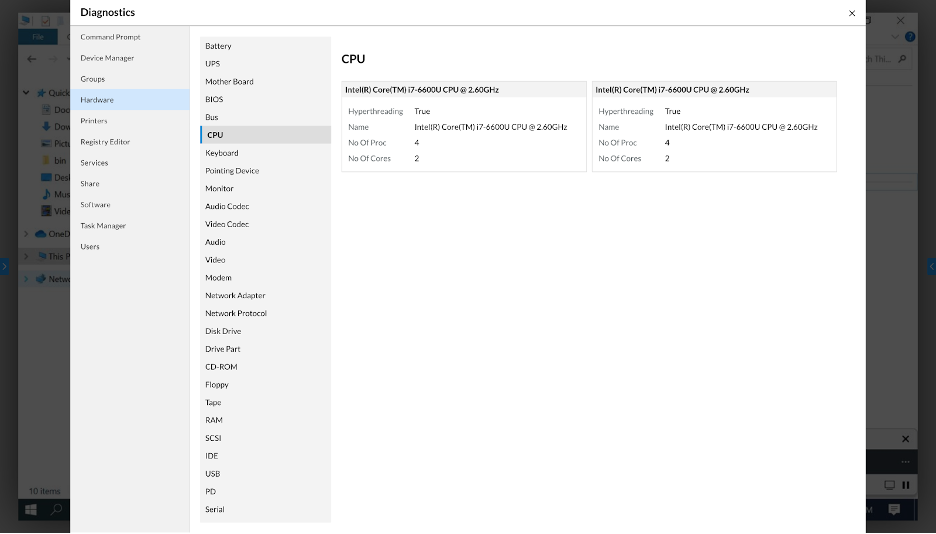 Diagnostic tools provide you with the necessary information to diagnose and resolve hardware and software issues quickly. Source: Zoho Assist
Customization
We appreciate that Zoho provides a number of customization options to streamline operations, optimize reporting and present a professional branded experience for your customers in support settings. For example, you can customize email templates to ensure consistent brand communication when sending session invitations, or add the lightweight widget with a simple HTML snippet to turn any landing page or blog entry into an entry point for joining a remote session.
Zoho also lets you manage your technicians with detailed user-defined permissions and groups to ensure everyone has the access they need to work securely. With custom reporting options, you can maintain comprehensive records for each remote support and unattended access session to analyze your company, individual or group performance and make the necessary adjustments to ensure you're using resources efficiently.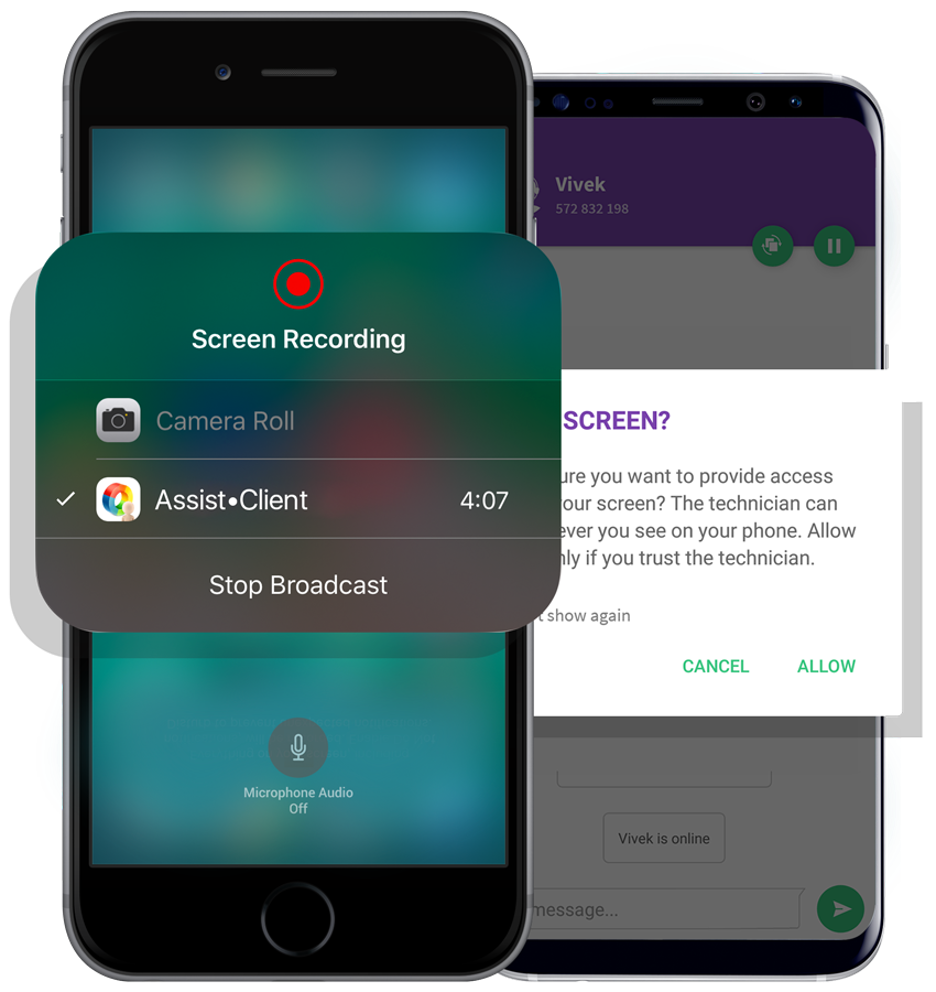 You can request to record mobile sessions for training purposes and quality assurance. Source: Zoho Assist
Mobile Support 
The Zoho Assist mobile app, available for iOS and Android, allows you to access customers' screens from the convenience of your mobile device. You can also support customers' mobile devices with the ability to remotely control iOS and Android devices. With the mobile app installed, customers can connect with a secure session key and share their screens with technicians who can better understand, diagnose and troubleshoot issues with all of the necessary information at their fingertips. During mobile sessions, you can communicate with your customers through instant chat to gain further clarity about the issue they're experiencing.
Zoho's mobile support requires the app to be installed on both devices, unlike the web-based computer support.
Zoho Assist Cost
Zoho Assist has a limited free plan, three paid remote support plans, and two paid unattended access plans. With annual subscriptions, you can save more than 15%. Keep reading to find out the prices of and differences between the packages.
Free: The free option supports one remote technician and five unattended computers. It comes with a long list of features, including instant chat, clipboard sharing, user management, organization roles, desktop app, Zoho SalesIQ integration, Zoho Desk integration, multimonitor navigation, remote Ctrl+Alt+Del, idle-session time out, two-factor authentication, log reports, basic customer support, Zoho Assist APIs and support for Windows, Mac, Linux and Chrome OS.
Remote Support – Standard: For $10 per month per technician when billed annually or $12 when billed monthly, the Standard plan includes everything in the free version, along with remote screen blanking, file transfer, reboot and reconnect, session transfer, screen-capture, voice chat, email configuration, and integrations with Zendesk, ServiceNow, Freshdesk, Jira and Google Contacts.
Remote Support – Professional: At $15 per month per technician when billed annually or $18 when billed monthly, the Professional plan includes everything in the Standard version, plus session scheduling, notes, screen swapping, screen sharing, mobile and IoT device support, custom email templates, and advanced reporting.
Remote Support – Enterprise: At a cost of $24 per month per technician when billed annually or $28 when billed monthly, the Enterprise plan includes everything in the Professional package, along with video chat, annotation, remote print, session recording, service queue, extra cloud storage, extra VoIP credits, session audit, department organization and a customer widget.
Unattended Access – Standard: At $10 per month per technician when billed annually or $12 when billed monthly, the Standard plan covers access to 25 unattended computers with an unlimited number of users or technicians. It includes everything in the free plan, plus computer grouping, group permissions, bulk deployment, Wake on LAN, file transfer, remote power, session confirmation, multi monitor navigation, custom reports, mobile apps and screen-capture capabilities.
Unattended Access – Professional: For $15 per month per technician when billed annually or $18 when billed monthly, the Professional plan includes everything in the Standard version, along with advanced reports, custom email templates, department organization, bulk deployment via Distributor, diagnostic tools, custom domain mapping, mobile and IoT device support, session audits, contact management, annotation, remote print, session recording, and services queues.
Optional add-ons include cloud storage starting at $4 per month for every additional 5GB, VoIP phone call credits priced at $1 per credit and premium customer support that costs 20% of your total license fee. Volume discounts are available as well. Like some of its peers, Zoho Assist offers free trials, giving you no-fee access to its services for 15 days.
Setup
Installing Zoho Assist is relatively fast and easy for unattended computer setup. The installation client provides you with simple and clear instructions, while pop-ups walk you through the required settings and permissions to get started with a remote access session within a few minutes. Once the software is installed, you can connect with a single click and begin working with the software and data on your remote machine.
In mass deployment settings, you can configure a large group of computers and devices through a deployment link, configure group policy, set startup script for Active Directory networks or Microsoft Intune for Windows environments, and set up distributor and domain. It's all relatively straightforward, even for those without IT certifications.
If you're looking for more help with setup, Zoho sells an Enterprise Support Plan that includes help with onboarding and one-on-one training sessions. However, its 24-hour assistance is only available Monday through Friday. If 24/7 customer service is important for your organization, check out our review of GoTo Resolve and our RemotePC review.
Customer Service
Zoho Assist provides free basic support and charges for its more robust Enterprise Support Plan. Basic customer service is available during set hours on weekdays through email, chat and phone. Enterprise support, priced at 20% of your total license fee, gets you around-the-clock customer service Monday through Friday with a three-hour response time. You can even receive quarterly reporting of your feature usage with recommendations for getting the most out of the platform.
Enterprise support customers also receive help with onboarding and one-on-one sessions with Zoho Assist product specialists. This level of support is only available for customers with more than 100 unattended computers or five enterprise technicians.
Fortunately, Zoho Assist also provides a robust digital resource center with regular training webinars, product roadmaps, user guides, self-help articles, blogs and community forums to learn about best practices or troubleshoot minor issues. However, if you prefer dedicated assistance, competitors GoTo Resolve and ConnectWise Control both provide 24/7 customer service.
Drawbacks
Zoho Assist's customer support services are limited in their availability whether you opt for the free basic support or the Enterprise Support, the latter of which is relatively expensive. The basic support included with all plans is limited to weekdays with no advertised response times. Even with the Enterprise Support plan that costs 20% of your total license fee, you won't be provided with a dedicated support specialist, and response times can be as long as three hours during weekdays, with no support provided over the weekend.
For media- and technology-focused companies that regularly make large file transfers between remotely connected machines and devices, Zoho Assist's 2GB cap may prove troublesome. However, the system doesn't require you to use any intermediate storage such as USB, FTP or cloud-based storage solutions. It increases the level of security through what's effectively an encrypted tunnel for file transfers.
Methodology
When looking for the best remote PC access and support tools available, we closely researched and examined a range of products. These evaluations included participating in live demos, using trial accounts, testing the software on various operating systems and devices, and reaching out to customer service representatives as if we were customers.
We investigated each vendor's pricing and their platforms' features, ease of use, setup process, security and limitations. We took integrations and customer support into account. Overall, we found Zoho Assist to be the best all-in-one remote support and access solution because it is capable of both services while integrating with the rest of Zoho's software suite for a streamlined experience.
Zoho Assist FAQs
Yes, Zoho Assist has a free version that's worth checking out for many small businesses. At no charge, it includes more than a dozen remote support and unattended access features for one remote technician and five unattended computers.
Yes, Zoho Assist is safe to use. The vendor provides many security tools, including SSL certification, 256-bit AES encryption and two-factor authentication, and it's compatible with most antivirus software. Features like the action log viewer allow you to track activities across your organization, with auditing and reporting tools for detailed analysis. Zoho Assist also ensures secure sessions with inactive timeout, which terminates sessions automatically if the devices are left idle for a predetermined amount of time. [See cybersecurity tips for remote workers.]
Yes, Zoho Assist offers a 15-day free trial with no credit card required. The free trial, along with the company's fully free plan, provide ample opportunity for small, medium and enterprise-level businesses to test many of the features of the vendor's remote support and unattended access plans.
Bottom Line
We recommend Zoho Assist for …
Businesses of all sizes in search of a single solution for remote support and unattended access.
Small businesses and independent contractors that want a free tool to facilitate remote support and unattended access.
Companies looking for an easy-to-use dashboard to navigate remote support and unattended access sessions.
We don't recommend Zoho Assist for …
Businesses that regularly transfer files larger than 2GB during remote sessions.
Companies in need of weekend customer support hours or time-sensitive assistance.