RemotePC is a simple and effective remote computer access solution with a solid list of useful features and unlimited user licenses with most annual plans.
Pros
With RemotePC, you can access any configured computer or Android device from anywhere with an internet connection.
All business-focused plans include unlimited user accounts.
All plans include the same 12 essential features to serve most small business needs effectively.
Cons
RemotePC's consumer plans are available only with an annual subscription.
Not all remote access features are available for every operating system supported by RemotePC.
Video conferencing is limited to 50 participants.
RemotePC offers secure remote access for PC, Mac, Linux and Android machines from any internet-connected device or browser.
RemotePC pricing is based on the number of computers with unlimited user licenses for most subscription plans.
All RemotePC plans include 24/7 customer support via email and chat.
This review is for small business owners seeking the best remote access software.
RemotePC by IDrive is a secure way to easily access office computers, personal computers and Android devices from any machine with an internet connection. The lightweight software enables secure and instant access to everything on your computer with the ability to take full control of any configured machine. Once you've established a secure connection between devices, you can effortlessly transfer files, print documents, listen to audio files and view everything with the same multimonitor setup running at nearly 60 frames per second (fps). Many of the same fast and secure features that make RemotePC such an effective tool for remote access also make it a valuable solution for IT support staff who need fast and secure access to customers' computers to resolve issues. Altogether, these features make RemotePC the best remote access software for small businesses.
RemotePC Editor's Rating:
9.6 / 10
Pricing

9.9/10

Ease of use

9.9/10

Features

9.5/10

Integrations

9/10

Security

9.5/10
Why RemotePC Is Best for Small Businesses
We found that RemotePC has the right combination of basic effective features, simple accessibility and an attractive price, making it an excellent fit for small businesses and individuals. Compared with other remote access software, RemotePC provides more affordable options without sacrificing quality. In fact, we rated the software 9.6 out of 10 — the highest rating among the remote PC software we reviewed (except for Splashtop, which received the same rating). The mid-tier SOHO (small office or home office) plan comes with great tools and support, with unlimited access for up to 10 computers and an unlimited number of user licenses for less than $8 per month without a long-term commitment. The price drops to just under $5 per month with a two-year commitment.
We love that all RemotePC plans come with 12 essential standard features, including unlimited remote access, remote reboot, always-on access, file transfer, remote printing, whiteboard collaboration, browser-based access, RDP (remote desktop) connector, video conferencing, and 24/7 support via chat and email with limited phone support.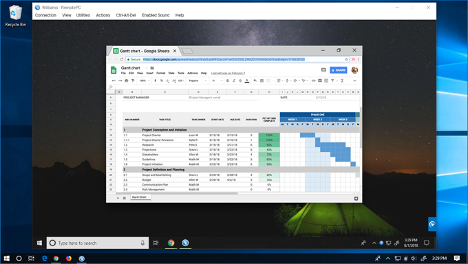 This is how RemotePC appears after connecting to a Windows machine from a Windows computer. Credit: RemotePC
Through our research, we also found that RemotePC serves small businesses effectively as an alternative to the best VPN services, allowing multiple users to access licensed software on the same machine at the same time from outside the office. If you're attempting to access a configured Windows system from a less-than-ideal internet connection, you can toggle between performance mode and classic mode, and RemotePC will reconfigure the connection for different frame rates to provide the best user experience. With RemotePC Viewer Light, your team members will always have access to the data and files they need from any web browser while on the go without installing additional software for a secure connection.
All RemotePC Team and Enterprise plan subscribers also get access to HelpDesk, the vendor's web-based support solution for technicians to provide uninterrupted remote support without any software installations on the customer's side. All of these features and the company's price points make RemotePC our choice for the top remote access option for small businesses.
Many features are limited for connections to remote Linux machines. If you rely primarily on Linux operating systems, take a look at our review of Zoho Assist, which boasts extensive compatibility.
Usability
RemotePC stands out for its ease of use for remote access, IT support and HelpDesk software, the latter of which is included in the upper-tier Team and Enterprise plans. Compared with other software, like Wrike and Splashtop, RemotePC boasts better usability for all experience levels, especially during the setup process.
That said, we participated in a live demo and tested the midlevel SOHO tier, setting up secure connections with Mac and PC machines to see how easily we could access and use the features and tools.
Because most remote access software solutions are similar in functionality, we think the initial setup is a major aspect in defining the ease of use. With RemotePC, we found it fast and easy to install the software on our desired machine and configure the necessary permissions without any advanced computer skills or support from the provider. The ease with which you can access your configured computers from a web browser without installing additional software on a second machine adds to our view of RemotePC as an easy-to-use remote access solution.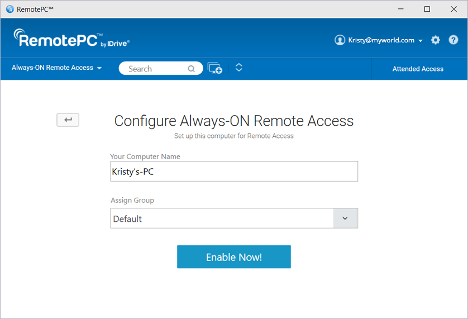 Remote PC's Always-ON feature ensures you can take complete control of your remote computer anytime. Credit: RemotePC
In a pinch, the ability to grab files from your office or home computer via your mobile phone can be a lifesaver. Once you establish a secure connection from your phone, you'll have the option to use a range of finger gestures to navigate your machine from a touch-screen phone or tablet. While we wouldn't say access from a mobile device can replace a computer for full-time work, it's still a very attractive feature for business travel or when you need to check system data after hours.
No matter which computer or internet-connected device you're using with RemotePC, you can always access important data or files from any of your configured home or office computers.
RemotePC Features
| | |
| --- | --- |
| Access via web | Get secure access to configured remote machines without the need to download any software. |
| Multi-to-multi monitor | View multiple monitors from a remote computer on one screen or multiple screens for efficient work. |
| Performance viewer | Enjoy speeds of nearly 60 fps for exceptionally fast remote access performance. |
| Collaboration | Work alongside colleagues via the same remote machine, using chat and whiteboard to communicate effectively. |
Access via Web
The ability to securely access data and transfer files from a web browser on your configured PC, Mac or Linux machine is an essential feature for remote work and business travel. Through our testing, we found that RemotePC Viewer Lite makes it easy to establish a fast and secure connection to online remote computers through a web browser without any software installation. Your secure connection is established with a personal security key that never touches IDrive's servers. Once connected, you can change remote viewing settings for better quality or speed, lock your computer, access files, and work as if you were sitting in your office chair from thousands of miles away. If no-download access via the web is a priority for your business, you may also want to consider our review of GoTo Resolve, which doesn't require downloads either.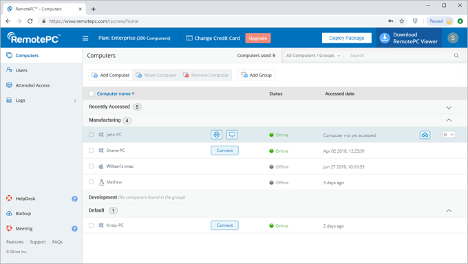 Access any of your online remote machines quickly and easily from a web browser. Credit: RemotePC
Multi-to-Multi Monitor
If the tools or type of work you do at the office require multiple monitors to perform efficiently, it's important to be able to use a similar setup elsewhere without a loss of productivity. We liked that RemotePC provides all users with the option of viewing multiple remote monitors on a single screen at the same time or displaying each monitor on a different screen to effectively mirror the office experience. With the ability for more than one person to access the same remote computer at the same time, the multi-to-multi view option also makes it easy to navigate the system without interfering with one another.
Performance Viewer
Thanks to its Performance Viewer function, RemotePC touts its speed of up to 60 fps as "possibly the world's fastest remote access for computers from anywhere." Beyond the more consumer-focused ability to enjoy high-definition video games or other graphics-intensive media during a remote session with a Windows machine, we found that it's also an especially helpful tool for dealing with limited bandwidth. If you're trying to connect from an area with a low internet speed or high latency, you can toggle between better speed or better quality to optimize your remote session performance.
The Performance Viewer feature is available only for connections to a Windows-based remote computer. For a remote PC product that also has high frame rates with Macs, check out our detailed review of Splashtop.
Collaboration
We liked that RemotePC comes with remote collaboration tools that can make teamwork more effective. For example, the ability for multiple users to connect to the same machine and perform tasks simultaneously increases efficiency and saves time. The standard multiuser whiteboard feature lets you draw on the remote computer to brainstorm, solve problems and share concepts with colleagues or customers. At the end of your group session, you can screenshot the whiteboard to ensure everyone has the relevant notes. The live chat feature is also available during remote sessions to communicate through a simple text interface, and your activities can be logged for reporting purposes.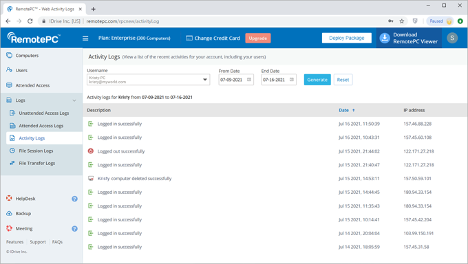 RemotePC can automatically collect data for activity reporting for all of your computers and users.  Credit: RemotePC
RemotePC Cost
After comparing RemotePC with other remote access software on the market, we found that RemotePC provides great remote access at an affordable cost without skimping on quality or features.
RemotePC's prices for its two consumer-focused plans are based on the number of users and computers. However, pricing for the three business-focused plans is based on the features included as well as the number of computers, with annual and monthly payment options. Additional computer licenses are available to purchase for each business plan, with an advertised maximum of 10,000 computers. Some features, including Endpoint cloud backup and RDP Connector, are add-ons with an additional cost for certain plans.
The pricing outlined below is based on a two-year subscription for a savings of up to 50 percent.
Consumer 

Cost: $29.25 for two years of service
Supports: One user license for access to one computer

Consumer

Cost: $59.25 for two years of service
Supports: One user license for access to two computers

SOHO (most popular)

Starting cost: $119.25 for two years of service
Supports: Unlimited user licenses for 10 computers; plans for up to 25 computers are available for $224.25
Added features: Endpoint cloud backup and the ability to add and organize users

Team

Starting cost: $449.25 for two years of service
Supports: Unlimited user licenses for 50 computers; plans for up to 10,000 computers are available for $42,742.50
Added features: Everything in SOHO, plus HelpDesk and active directory (IdP) sync

Enterprise

Starting cost: $899.25 for two years of service
Supports: Unlimited user licenses for 100 computers; plans for up to 10,000 computers are available for $42,742.50
Added features: Everything in Team, plus computer grouping, deployment, user permissions and set roles for access
While small businesses may be hesitant to commit to a lengthy two-year contract, especially when RemotePC gives only a seven-day trial period, the pricing is cheaper the longer you commit.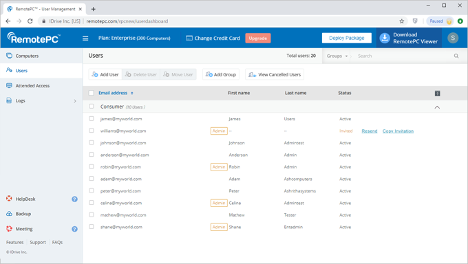 Enterprise subscribers can set user roles and permissions for their organization. Image source: RemotePC
Setup
The initial setup for RemotePC is fast and easy without needing the support of a dedicated IT staffer to adjust complicated user permissions. Once you download and install the RemotePC application on your machine, you log in to RemotePC from the desktop application and select "configure now." Simply name your computer and click "enable," and you'll immediately be able to access your remote machine from any internet-connected device.
Accessing your remote computers after installation is as easy as logging in and selecting the computer you'd like to access. Then, since no download is required on the device you're connecting to, you just use the RemotePC Viewer Lite to establish the hookup.
Remote desktop software like RemotePC can serve three distinct purposes: connecting remote employees, providing technical assistance and delivering customer support.
Customer Service
All of RemotePC's subscription plans include the same access to 24/7 customer support via email and chat, with weekday phone support for technical issues available from 9 a.m. to 8:30 p.m ET. In our experience with cloud-based software service providers, it's rare to see the inclusion of such a wide range of support hours and methods with every subscription plan.
After participating in multiple live product demos with the vendor's customer and technical support staff, in addition to reaching out for technical support questions, we found the representatives at RemotePC to be especially helpful and courteous in answering all questions to our satisfaction.
On its website, RemotePC also has a limited set of tutorial videos, informative blog articles and a FAQ section with easy solutions to popular questions, though some of its competitors offer more robust online help centers.
Drawbacks
Through our testing, we found that not all of RemotePC's features work on every type of operating system it supports. For example, the Performance Viewer feature requires a Windows-based remote computer that can be accessed from Mac or PC machines. If you're operating on a significant number of Linux machines as your licensed remote computers, you'll experience restrictions with some basic features, including transferring files, recording sessions, watching videos, using whiteboards and printing remotely.
RemotePC has a relatively small list of available integrations with most subscription plans. At the time of our review, the full list of integrations was limited to Zendesk, Freshdesk, Freshservice, Jira, OneLogin, Okta, Azure AD, Keycloak, Google Workspace, Active Directory, Apple Remote Desktop and Jamf. In contrast, our ConnectWise Control review notes that the rival vendor provides more than 100 integrations and extensions.
Methodology
We spent hours researching and analyzing remote PC access and support tools to find the best products on the market. This process entailed live demonstrations, trial periods with different platforms and communications with customer service teams. We posed as customers and experimented with the software on various devices and operating systems.
With each product, we took a close look at features, costs, usability, the implementation process, security measures and available integrations. To determine the best option for small businesses, we considered the tools, amount of user licenses and the number of computers accessible at different price points. Combined with its user-friendliness, RemotePC set itself apart.
RemotePC FAQs
No, there is not a free version of RemotePC. Check out Zoho Assist for a vendor with a limited but free plan. However, businesses can at least try RemotePC's upper-tier Team or Enterprise plan via a seven-day trial that doesn't require a credit card.
RemotePC is very secure. The system has multiple levels of security, including industry-standard TLS v1.2 and AES 256-bit encryption, personal user-defined keys, two-factor authentication, trusted devices and an option to blank the host screen so no one can see what you're doing on a remotely accessed machine. The software is also compliant with HIPAA, GDPR, PCI, SOC 2 Type and FIPS.
No, RemotePC is not the same as a VPN, as it's not considered a virtual private network (VPN). However, remote access software like RemotePC can be used to effectively change the location from which you're accessing a computer or licensed software application, giving you the flexibility to bypass potential location-based restrictions.
Overall Value
We recommend RemotePC for …
Small businesses interested in a simple and effective remote access solution.
Companies that place a high value on customer support availability.
Scaling organizations looking for a software solution that can evolve with its needs.
We don't recommend RemotePC for …
Businesses with a significant number of Linux computers that need to be accessed remotely.
Companies that want to connect to Mac machines to use graphics-intensive applications at a high frame rate.
Organizations seeking an expansive list of third-party software integrations.